Completed meetings and events 2020-2021
Thu 15th October 2020 27th Charter - Hats off to Bronte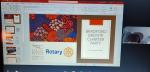 The theme, Hats off to Bronte, encouraged us to wear our creative headgear which set the tone of the evening
Thu 10th September 2020 Putting thought into fund raising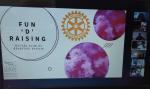 Rotarian Darren led 2 weekly meetings about Fund Raising . He got our minds into gear when he talked about the hows whys and whats of the think-plan-do approach.
Thu 30th July 2020 Better Start Bradford

Gill Thornton, Head of Programme for Better Start Bradford gave us an update.
Thu 23rd July 2020 Give a Duck Foundation

Brian Curran told us about the Give a Duck Foundation which supports children with cancer.
Thu 16th July 2020 Bradford Bid Update

Jonny Noble, Bradford Bid Manager joined us on Zoom to update us the second year of the Bradford Bid Partnership and all the activities they have been involved in.
Thu 9th July 2020 Bradford Live at Home Scheme

A short while ago we supported Julie Maude from the Bradford Live at Home Scheme by providing books for their Books, Buns and Brew initiative.
Thu 2nd July 2020 Handover July 2020

We offered our appreciation and heartfelt thanks to President Jan for all she had done for the club during 2019/2020 which had been a very tough year.
future
calendar
district events
local events