Completed meetings and events 2019-2020
Wed 24th June 2020 Thanet Disabled Riding Centre to give a donation

Past President Kevin Winzer with Caroline went today to give a donation to help this very worthwhile cause.
read more...
Fri 19th June 2020 Support for the Healthcare Ethiopia Partnership from our Club

An organisation started by midwives from Canterbury to provide education and training to local people in Ethiopia
read more...
Sun 31st May 2020 Final day of Nickie's excellent fundraising walk this time from Broadstairs to the Hugin Viking Boat display at Pegwell Bay, Ramsgate

Fit as ever, Nickie starts with yet another sunny day to complete her walk.
read more...
Sat 30th May 2020 The start of day three of NIckie's journey

Nickie Holding's third day's walk with one of her dogs from Margate seafront to Broadstairs Viking Bay
read more...
Fri 29th May 2020 Day Two of Nickie Holding's fundraising walk

This time the walk started from MInnis Bay and ended at Margate seafront at Stone Pier and the Turner Centre
read more...
Thu 28th May 2020 Nickie Holding's Fundraising event on behalf of the Club

Spanning four days Nickie will be walking her dogs from Reculver to Ramsgate to raise funds for our charities using a crowdfunder site set up by our President Rob Yates.
read more...
Fri 8th May 2020 Supporting Front Line Workers during Covid-19

Donating fabrics to be converted into Scrubs for the Pilgrims Hospice at Margate plus one club member (Yvonne Baxter) using her sewing skills to create four sets of scrubs from scratch.
read more...
Fri 13th March 2020 Margate Made and Westgate Galleria

A talk to be given on a local project
read more...
Fri 21st February 2020 Race Night

A night where the dexterous can beat everyone to the line and pop the balloon!!
read more...
Fri 17th January 2020 Dreamboats and Petticoats

An evening of song and dance including songs from the 50s and 60s.
read more...
Sat 4th January 2020 Presidents' New Year get together

Good food, good company and plenty of games to play
read more...
Wed 25th December 2019 Rotary Clubs delivering Christmas Dinners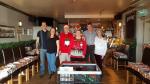 Members of our club joining Margate Rotary Club in supporting local vulnerable members of the community by giving them a treat on Christmas Day
read more...
Mon 9th December 2019 Santa at Tescos, Ramsgate

Father Christmas was at Tescos, Ramsgate today with his elves.
read more...
Sun 1st December 2019 Crocus planting at the Sunken Garden, Westgate

Club members joined members from Margate Rotary Club and other volunteers in planting crocus bulbs that will result in purple crocuses
read more...
Fri 8th November 2019 - Fri 21st February 2020 Events to come with info

At a glance guide to future events. More details can be found in the list for all events
future
calendar
district events
local events