Completed meetings and events 2022-2023
Mon 15th August 2022 Weekly Meeting at Middlemore
Bob Snedker & John Tippett to arrange
Mon 8th August 2022 Weekly Meeting at Green Acres
Clive Brown has arranged a Tapas Evening at Green Acres. Partners are welcome.Please confirm to Clive if you are attending and how many of you.
Mon 1st August 2022 Business Meeting at Middlemore
.
Mon 25th July 2022 Weekly Meeting at ????
.Nigel Chilton & Mike Hales to arrange
Mon 18th July 2022 Weekly Meeting at Middlemore
.Arranged by Helen and Jon Evans
Mon 11th July 2022 A visit to the Napton Cidery
Arranged by Susan Watkins and Edward Baker
read more...
Sun 10th July 2022 Handover Teaparty
Handover first for 3 years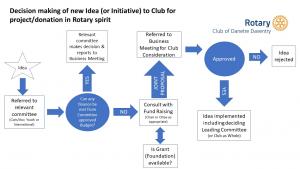 Mon 4th July 2022 Business Meeting at Football Club
.At this Meeting we will be joined by the new Area 7 Assistant Governor Dawn Denton to review our plans for the year ahead.
calendar
local events