Completed meetings and events 2020-2021
Mon 14th September 2020 Club Zoom Meeting
The Speaker tonight is David Annand from Transform Housing
Mon 10th August 2020 Club Zoom Meeting
Speaker tonight is Helen Shiers from PSDS
Mon 13th July 2020 Club Zoom Meeting
Speaker tonight - Rebecca Compton from Jigsaw Trust
Mon 6th July 2020 Club Zoom Meeting
The Rotary Year starts 1st July (previous meetings can be found under '2019-20'). Handover tonight from Chris Lawrence to this year's Club President, David Parkin.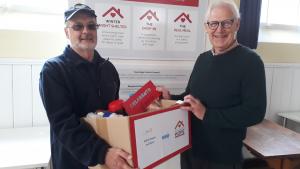 Mon 6th July 2020 - Donation to the Renewed Hope Trust Food Bank
On his penultimate day in office, Club President Chris Lawrence handed over a token foodbox to John Bartlett of RHT to celebrate our donation during lockdown of £3000.00 to this new Food Bank.
calendar
district events
local events