Completed meetings and events 2020-2021
Tue 29th June 2021 No formal meeting, 5th Tuesday
Tue 22nd June 2021 Jimmy Young - "Play Something Different"
Tue 15th June 2021 Kindra Jones - 1066: An exploration of the Bayeux Tapestry
Tue 8th June 2021 Assembly (Provisional date)
Tue 1st June 2021 Council meeting re-scheduled from 24 May. No general club meeting this week, after Bank Holiday
Tue 25th May 2021 Masters of Mirth, The Sequel - Mike Storr
Mon 24th May 2021 Council meeting postponed to 1st June
Tue 18th May 2021 A&Os with new committees (was AGM)
Tue 11th May 2021 AGM (was A&Os)
Tue 4th May 2021 No Formal Meeting after Bank Holiday
Tue 27th April 2021 Banned by the BBC - We can't let you broadcast that! David Clark
Tue 20th April 2021 Rotary Club of Cochrane, Alberta - Martin Parnell. This talk will be followed by a short SGM
Tue 13th April 2021 Malt Whisky, A matter of taste - Jimmy Young
Fri 9th April 2021 Gin Tasting Event
A Gin Tasting event with a difference - on Zoom! More details later
Tue 6th April 2021 No Meeting, Gin Tasting event on Friday 9th
Tue 30th March 2021 Thefts, Fakes and Forgeries - Ann Marie Michel
Tue 23rd March 2021 Victoria and Albert: Agents for Change - Margaret Mills
Tue 16th March 2021 From England to Barbados & Demerara in 1803 - Peter Covey-Crump
Mon 15th March 2021 Council Meeting
Tue 9th March 2021 Sponsoring Stoves in Africa by Maya Smethers, followed by A&Os
Tue 2nd March 2021 The 4 Way Test - Johnny B Brokken, Creek Valley Rotary Club
Tue 23rd February 2021 International Night - The work of Oxfam - Heather Tudge
Tue 16th February 2021 The sky's the Limit - Michael Ogden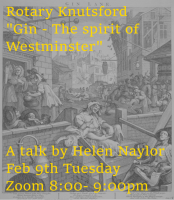 Tue 9th February 2021 GIN: the spirit of Westminster - from the slums to the Savoy
One of Helen Naylor's "Bringing London's History to Life" talks
Tue 2nd February 2021 "Understanding Personal Identity" A talk by Bill Brewer
Bill is Professor of Philosophy, King's College, London; but you won't need a PhD to understand his talk!
Mon 1st February 2021 Council Meeting
Tue 26th January 2021 A&Os
Tue 19th January 2021 Jimmy Young - "It's the journey that counts - Riding a Harley Davidson"
Tue 12th January 2021 Mike Storr - Matters of Mirth
Tue 5th January 2021 "The Two Ronnies", talk by Richard Green
A look back at two icons of entertainment - with some audience participation. Bring 4 candles!!
Tue 29th December 2020 No formal meeting, 5th Tuesday
Tue 22nd December 2020 No Meeting, Christmas
Tue 15th December 2020 Jonathan Jones - "A Christmas Carol by Charles Dickens"
Tue 8th December 2020 Christmas Message
Address by the new Bishop of Chester, the Rt Rev Mark Tanner, and Christmas music from Barrie Dodgson
Tue 1st December 2020 Mike Wabe - "Torrid Tales of the Tower"
Tue 24th November 2020 SGM
Tue 17th November 2020 Foundation Night, Guests welcome!
Talk by Anne Baker, Chair of Global Village Café Trust, working to support refugees throughout the world.
Mon 16th November 2020 Council Meeting
Tue 10th November 2020 A&Os
Tue 3rd November 2020 Malcolm Darroch - "In Flagrante Collecto - or how philately can get you everywhere"
Tue 27th October 2020 Stephen Tonkin - "Time and Calendars"
Tue 20th October 2020 Eric Jackson - "Wonderful Things - the discovery of the tomb of Tutankhanum
Tue 13th October 2020 David McCadden
"Working with Police Overseas"
Tue 6th October 2020 Mark Lewis - "The World of Art Deco"
Tue 29th September 2020 No formal meeting, 5th Tuesday
Tue 22nd September 2020 Katrina van Grouw, Writer, Artist, Ornithologist
"Unnatural Selection"
Tue 15th September 2020 Chris Hillier - Salter's Brewery
A date with history, and free ale (but not tonight)!
Mon 14th September 2020 Council Meeting
Subsequent meetings subject to Covid 19 situation
Tue 8th September 2020 A&Os, Committees to chose actual time & date
Tue 1st September 2020 No meeting after Bank Holiday
Tue 25th August 2020 Zoom Speaker Phil Godfrey (for APS) Scotland Tour
Tue 18th August 2020 Walk, Lovell Quinta Arboretum
Walk only now, due to government covid requirements. Meet in Swettenham Arms car park (2m apart!) at 5pm with face coverings
Tue 11th August 2020 Zoom Speaker - Graham Harrison
Arsenic, The Victorian Housewife's Friend
Tue 4th August 2020 Zoom Speaker, Keith Stevens
Climate Change? What Climate Change?
Tue 28th July 2020 Speaker, Dr Ian Bedford
Garden Bugs: Co-habit, Conserve or Control
Tue 21st July 2020 Zoom Speaker, Ian Smith - State of Mind
Mon 20th July 2020 Council Zoom Meeting
Tue 14th July 2020 A&Os, Committees to chose actual time & date
Tue 7th July 2020 Handover + Quiz
calendar