Completed meetings and events 2018-2019
Mon 24th June 2019 President's Dinner
President's dinner
Mon 17th June 2019 Newbury Rotary: The Past and the Future - Part 4
Continuing the discussion of Rotary.
Mon 10th June 2019 Ghosts in the Tower of London
By an ex Para, a vicar and a former Rotarian
Mon 3rd June 2019 Club Assembly
Club Assembly
Mon 27th May 2019 Bank Holiday
Day off. No meeting
Mon 20th May 2019 Angela Ryan
Recovery in Mind
Mon 13th May 2019 Malcolm Phillips
Fraud Victim Support Officer. How not to be scammed. Extended meeting up to about 8pm.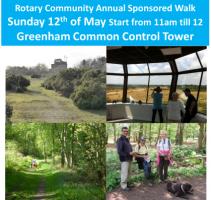 Sun 12th May 2019 Rotary Community Annual Sponsored Walk
Sunday 12th of May. Start between 11 am till 12.
Download Flyer from
here
See Details for more downloads.
read more...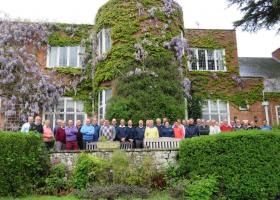 Thu 9th May 2019 Charity Golf Day at Donnington Valley Golf Club
In Aid of Parkinson's UK Newbury and District Branch and other local Rotary charities.
Download entry form from
here
Mon 6th May 2019 May Day Holiday
No meeting
Mon 29th April 2019 Felix Francis - 5th Monday
TBD
Mon 22nd April 2019 Easter Monday - No meeting
Once again it's time to consider the health benefits of chocolate.
Mon 15th April 2019 Club AGM
AGM
Mon 8th April 2019 Meeting
Meeting
Sat 30th March 2019 Spring Quiz Night 2019
7.00pm for 7:30 start at the Portal Hall Burghclere. Includes Fish & Chip supper.
read more...
Mon 25th March 2019 Cren Sandys-Lumsdaine
"Anyone For Tea" - One hundred and fifty years in the tea industry.
Mon 18th March 2019 The Past and the Future - Part 3
Meeting
Mon 11th March 2019 Tony Churchill
Joint author of "Watch Out" Kids safety.
Mon 4th March 2019 Business Meeting
Business meeting
Sat 2nd March 2019 South Wales Male Choir Concert
The South Wales Male Choir - Côr Meibion De Cymru
7pm Saturday 2nd March 2019 at St Nicolas Church, Newbury. Tickets on sale at the
Corn Exchange
read more...
Mon 25th February 2019 Working of Foundation - Karen Eveleigh
Clare Carter Foundation and VTT in Uganda.
Mon 18th February 2019 Sue Wood - Bee Keeping
Partners welcome
Mon 11th February 2019 The Mayor
The Mayor Margo Payne and her husband John.
Thu 7th February 2019 Skittles Evening
Taking place at the White Hart, Stoke, Hurstbourne Tarrant, SP11 0NP
Get the ball rolling at 7:00pm, food served at 8:00pm.
Mon 4th February 2019 Business Meeting
Meeting
Mon 28th January 2019 Newbury Astronomical Society
Richard and Nicky will talk about the James Webb Space Telescope. This space telescope will be the successor to the Hubble Space Telescope and provide greatly improved resolution and sensitivity. Partners and guests welcome.
Mon 21st January 2019 Ashley Gold
The joys of working in Iran, Pakistan and India.
Mon 14th January 2019 Starting a Satellite Club
A talk by Laura Bond and Sarah Benson.
Mon 7th January 2019 Business Meeting
Business meeting
Mon 31st December 2018 New Years Eve - No Meeting
No meeting
Mon 24th December 2018 Christmas Eve - No Meeting
Merry Christmas
Mon 17th December 2018 Christmas Dinner & Fred Davison
Black Tie event. And you'll find out all the things you never knew about Christmas.
Mon 10th December 2018 Bruce Irving
Sand Dams
Mon 3rd December 2018 Business Meeting
Business meeting
Mon 26th November 2018 Chris Philip
End Polio and Activities in India
Mon 19th November 2018 Headhunters, Cannibals and Pirates
Roy Wood reveals all. (Hopefully not about his family history). Partners welcome.
Mon 12th November 2018 Jacqueline Scoins-Cass
Wheelchair basketball
Mon 5th November 2018 Business Meeting
Business meeting
Mon 29th October 2018 5th Monday - George Sallit
The Universe: The more we know the less we understand.
Ultimately we will know everything but understand nothing.
Mon 22nd October 2018 Mary Rye, Zita Lang - Newbury Twin Towns
Meeting
Mon 15th October 2018 The Past and Back to the Future - Part 2
More time travel. We will enjoy what is to come.
Mon 8th October 2018 Lucy Hunt
The Carbon Trust - Energy Conservation"
Mon 1st October 2018 Business Meeting
Business meeting
Mon 24th September 2018 Andy Pinkard
Custom made equipment for the disabled.
Mon 17th September 2018 Grace Ryder - Home Start West Berkshire
Meeting
Mon 10th September 2018 Newbury Rotary - The Past and the Future
Peter Kay explains all.
Mon 3rd September 2018 Business Meeting + Rtn Dickson
Pseudo business meeting + "Promoting Morality of Human Rights through Service in Rural Kenya".
Mon 27th August 2018 Bank Holiday
Stay at Home
Mon 20th August 2018 Newbury Bowls Club
We all roll up at the Bowls club in Victoria Park at 6pm.
Mon 13th August 2018 Russell Downing
The life and times of Russell Downing.
Mon 6th August 2018 Business Meeting
Business - Lose at Head & Tails
Mon 30th July 2018 Rev. John M. Bacon: the curious curate from Cold Ash.
A talk by Fred Davison about this inventor.
read more...
Mon 23rd July 2018 John Holt
West Berkshire Therapy Centre and Future Plans
Mon 16th July 2018 Summer BBQ
Eat more than usual.
Mon 9th July 2018 Garry Poulson
Garry who is Chairman of The West Berkshire Suicide Prevention Action Group and Rotary Friend will tell us about the work of the group.
Mon 2nd July 2018 Handover and Business Meeting
XY > XX
calendar
district events
local events