Completed meetings and events 2021-2022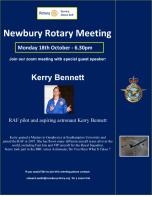 Mon 18th October 2021 Kerry Bennett
Kerry Bennett Flight Lieutenant with the RAF
Mon 11th October 2021 Phil Howarth
An interesting and lighthearted talk from Phil Howarth of Hawkridge Distillers. He will be telling us all about Gin.
Mon 4th October 2021 Business Meeting
Business meeting
Mon 20th September 2021 Tim Dellor
Tim Dellor, Sports Editor at BBC Berkshire will be talking to us.
Mon 13th September 2021 Normal Meeting + Karen Eveleigh
Our new DG Karen Eveleigh will be visiting us.
Mon 6th September 2021 Business Meeting + Nell Knight
Nell Knight (young carers project worker) will speak to us either before or after business matters.
Mon 30th August 2021 Bank Holiday
No Zoom today...
Mon 16th August 2021 The Reverend Anthony Smith
A talk about life as a Parish Priest and other anecdotes
Mon 9th August 2021 Newbury Astronomy Club
Richard Fleet will be giving a talk on "The Winchcombe Meteorite".
Mon 2nd August 2021 Business Meeting
Talking the Biz
Mon 19th July 2021 The Rotary Kids Out Partnership
Steve Cartwright will give the presentation.
Mon 12th July 2021 Imam Mobasshir Mushtaq
Imam Mobasshir Mushtaq will talk about his work as an Imam in Newbury
Mon 5th July 2021 Business Meeting
Do the biz
calendar
district events
local events