Completed meetings and events 2022-2023
Mon 8th August 2022 Kate Hodges - Donnington Valley
Kate Hodges district lead on rotary membership.
Mon 1st August 2022 Business Meeting - Zoom
Business meeting
Mon 25th July 2022 DG 1090 Marius to Visit at Donnington Valley
Marius to address the meeting.
Mon 18th July 2022 Home Start Charity - Zoom
A talk by Grace Green from the Home Start charity.
Mon 11th July 2022 Business Meeting (Special) - ZOOM
Business meeting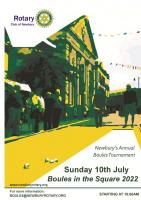 Sun 10th July 2022 Boules in the Square 2022
Newbury's Annual Boules Tournament. Click on the DETAILS button for a selection of images from the day's event.
read more...
Mon 4th July 2022 President's Handover - At Donnington Valley
In, out...
calendar
district events
local events