Completed meetings and events 2017-2018
Wed 27th June 2018 Club Assembly and Annual Hand Over
End of the Rotary Year, when President Derek Barker will hand over to President-Elect Geoff Simmonds
Wed 20th June 2018 The Mead Centre
An update on progress of the The Mead Centre redevelopment at the United Reform Church by Geoff Shaw and John Reedon
Wed 13th June 2018 Speaker Paul Day, Mayor of Newport Pagnell

Our new Mayor will talk about plans for Newport Pagnell.
Wed 13th June 2018 Kids Out!!!!!
Slated Row pupils to Whipsnade
Sat 9th June 2018 Newport Pagnell "Vintage Day"
Rotary volunteers to act as Stewards for events in The Methodist Church.
Sat 26th May 2018 Plant Sale - Olney
Annual sale of bedding plants
Wed 23rd May 2018 Business Meeting - Members Only Please
Discussing projects
Wed 16th May 2018 My Experience of Being High Sheriff - Peter Kara
Peter is a Past President of the Rotary Club of Bletchley, and has just completed a year as High Sheriff of Buckinghamshire.
Wed 2nd May 2018 Firemens' Charity - Tim Parkin
Talk to our Club
Wed 11th April 2018 Annual Cheese and Wine Evening

At Lavendon Village Hall.
This year will see David Robertson awarded a Paul Harris Fellowship to his long-term dedication to our Club and his community.
Wed 4th April 2018 Rotary Global Scolar Mima Fondong

Mima will tell us about her background, her course, what she aims to do after completing her studies.
Wed 14th March 2018 Schools' Technology Tournament
Annual event. Local heat to be held this year at Denbigh School.
Wed 7th March 2018 New Member Talk

Our new member Brian Nuttell will tell us about his life before joining our Club.
Sun 18th February 2018 David Massingberd-Mundy Memorial Bench
A bench on Bury Common was devoted to the late Rotarian David, who had been a champion of Newport Pagnell, Bury Common, and our Rotary Club
Wed 7th February 2018 Young Musician Competition
Local heat to be held at Ousedale School
Wed 31st January 2018 Operation Raleigh to Nepal
Hannah Fletcher will talk about her experiences as an Operation Raleigh volunteer in Nepal.
Sun 21st January 2018 Frugal Lunch

Super Soup Lunch at the home of Rotarian John Goss. Funds raised to local causes.
Wed 10th January 2018 MK Venture Scouts

A talk by Steve Powell about the group's activities
Wed 3rd January 2018 Laura McManus - Medical Student in Malawi
Laura will talk about her assignment at a hospital in Malawi.
Wed 13th December 2017 Business Meeting and Christmas Dinner
Members only please.
Wed 6th December 2017 Hadrian's Wall Cycle Ride - Sustrans Route 72

A presentation by Rotarian Chris Carvell about the ride. It is hoped to raise enough sponsorship for two Shelter Boxes.
Sat 11th November 2017 Barn Dance
Annual family-friendly barn dance with live music
Wed 8th November 2017 Open Evening for Prospective New Members
Presentations and Displays about what Rotary International, RIBI and our Rotary Club do in the local community and globally.
Wed 1st November 2017 Milton Keynes Food Bank
A talk by John Marshall, Project Manager
Wed 18th October 2017 Induction of Satellite Club members
A mass induction of 13 new Rotarians, members of the Woburn Sands and District Satellite of the Rotary Club of Newport Pagnell
Wed 4th October 2017 Talk by Rotarian Dianne Kitchen
A "My Job" talk by our newest Club Member.
Wed 4th October 2017 Talk by Rotarian Dianne Kitchen
A "My Job" talk by our newest Club Member.
Wed 20th September 2017 Visit by District Governor Cheryl Law
Update on District activities and objectives
Wed 13th September 2017 Helicopter Search and Rescue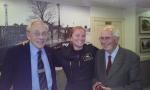 A talk by Captain Kate Simmonds.
Wed 6th September 2017 Talk by Rotary Scholars and Volunteers
Talks by Hannah Fletcher on Operation Raleigh in Nepal, and by Rotary Global Scholar Lusine Mehrabyan
Sun 3rd September 2017 Typhoo Tea Party
Raising funds for End Polio Now.
Wed 30th August 2017 5th Wednesday with Parters and/or Friends
"A History of British Sit-Com" by David Pibworth.
Wed 23rd August 2017 Business Meeting - Members Only Please
Project discussions
Sun 20th August 2017 Summer BBQ
At Brickyard Cottages, Chicheley
Wed 16th August 2017 Fellowship Meeting
Including presentation of cheque for £4,000 to Willen Hospice.
Sat 12th August 2017 "Bucket Collection" - Newport Pagnell
For Willen Hospice and Local Causes
Wed 9th August 2017 Ride High MK
A presentation by Rachel Medhill about the work of the charity Ride High in Milton Keynes.
read more...
Wed 2nd August 2017 Operation Raleigh to Nicaragua
A talk by Jessica Vale about her experiences with Operation Raleigh in Nicaragua.
read more...
Wed 26th July 2017 Business Meeting - Members Only Please
Discussion of projects, social events and club administration.
Wed 19th July 2017 Memories of Concorde
Presentation by Rotarian Neil Beeton on flying at Mach 2 in Concorde
read more...
Wed 12th July 2017 Adventure to India
Talk by Barbara Middleton and Alan Rice-Smith about their experience taking part in mass immunisation against polio of 170M children in India
read more...
Wed 5th July 2017 Club Assembly and Presidential Handover
Members Only Please
future
calendar
district events
local events