Completed meetings and events 2017-2018
Sun 13th May 2018 St Albans Rotary Charity Cycle Ride 2018

Only a month to go to the annual Rotary charity cycle ride!
read more...
Wed 7th March 2018 Rotary Technology Tournament 2018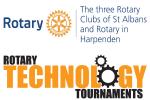 The 2018 Rotary Technology Tournament will take place on 7 March 2018 at the Marlborough Science Academy
Fri 26th January 2018 Royal Marine Band Concert 2018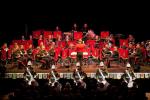 The Royal Marines Band plays at the St Albans Arena
read more...
Mon 11th December 2017 Carol Concert 2017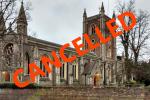 Today's carol concert at St Peter's has had to be cancelled as a result of the recent heavy snowfall and forecast icy conditions
Fri 20th October 2017 Quiz Night 2017
Come along to our Quiz Night on 20 October 2017. Everybody is welcome.
read more...
Thu 21st September 2017 - Sun 24th September 2017 Visit by the Rotary Club Frankenthal/Pfalz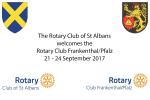 The Rotary Club of St Albans is looking forward to the visit by the Rotary Club of Frankenthal/Pfalz on 21-24 September 2017
Thu 21st September 2017 September Twilight Meeting
September's Twilight Meeting will take place at the Harpenden Golf Club, Hammonds End
read more...
Tue 12th September 2017 Disaster relief in the Caribbean

The Club donates £2,950 to fund five ShelterBoxes. Members donate sufficient for another seven - 12 in total
read more...
Wed 23rd August 2017 August Twilight Meeting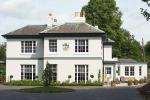 August's Twilight meeting will take place at the Prae Wood Arms
read more...
Mon 21st August 2017 Demand visit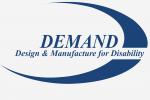 Club members visit Demand's workshops
read more...
Wed 16th August 2017 National Citizen Service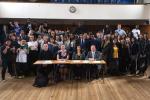 Club members participated in the National Citizen Service's summer programme in the first three weeks of August
read more...
Tue 18th July 2017 A busy meeting on Tuesday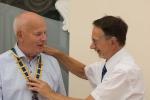 Presentations to HAD and incoming President and Vice President
read more...
Mon 10th July 2017 - Fri 21st July 2017 Usborne dictionaries for St Albans schools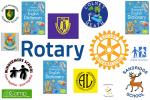 Club members have spent the last two weeks of the summer term presenting Usborne Illustrated Dictionaries to Year 6 pupils at St Albans Schools
read more...
Thu 6th July 2017 Charity Cycle Ride presentation 2017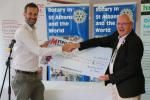 Paul Bishop, on behalf of HAD (Hertfordshire Action on Disability), receives a cheque for £4,000
read more...
future
calendar
district events
local events