Completed meetings and events 2020-2021
Thu 31st December 2020 ZOOM Club Meetings being held whilst People Events remain suspended until further notice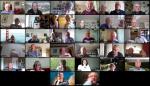 You are welcome to contact us via email or telephone by clicking on the 'Contact' link at the base of this page. See reports of our activities below
read more...
Fri 25th December 2020 - Sat 26th December 2020 Seasons Greetings
Christmas Greetings from all members of the Rotary Club of Cirencester
Sun 8th November 2020 CIRENCESTER ROTARY CLUB'S VIRTUAL SPONSORED 'LEJOG' WALK FOR LOCAL CHARITIES
Cirencester Rotarians and their partners will be donning their walking boots in a group sponsored walk, in aid of this years' chosen charities
read more...
Wed 30th September 2020 £2,000 each to The Big Yellow Bus Project and Cotswold Counselling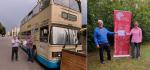 Our two nominated Charities for the year receive early major funds from Club despite limitations of the current Pandemic
Tue 29th September 2020 Rotary - Bingham Library Trust - St James's Place Youth Initiative. Connect - Innovate - Resource #Make a Difference - Join our meeting

The Rotary Club of Cirencester, Bingham Library Trust (C-Hub) and St James's Place Wealth Management have teamed up to promote a new initiative for young people over the age of 18 who are in employment, education or looking for job opportunities.
read more...
future
calendar
district events
local events