Completed meetings and events 2019-2020
Mon 29th June 2020 Club Meeting
Talk on Modern Slavery, by Rotarian Bob Handley
Mon 15th June 2020 Club AGM
Club AGM
Mon 8th June 2020 Club Assembly
President Elect Denise outlines her plan for the new Rotary year
Mon 1st June 2020 Donations discussion
Discussion about what end of year donations to make
Fri 8th May 2020 - Sat 9th May 2020 Ross Beer and Cider Festival 2020
Event POSTPONED, next ROSSBEERFEST will be on 1st & 2nd MAY 2021
However, please note on the 8th May the Spitfire flypast will still go ahead. The aircraft should be over the Market Hall at approximately 11.57
read more...
Mon 13th April 2020 Bank Holiday
No meeting
Mon 6th April 2020 The Work of Cancer Research UK
Julie George, Community Legacy Manager, CRUK, Wales & Cotswolds, will give a talk on the current work on Cancer Research.
Mon 30th March 2020 Social Evening
An 'open' social meeting to which prospective members are invited
Wed 25th March 2020 - Wed 30th September 2020 Coronavirus - Community Support - Medication Delivery

During the pandemic support has been provided to Cohens Pharmacy, Benjamins Pharmacy and Boots Pharmacy with the co-ordination and delivery of patient prescription to the Ross-on-Wye community
read more...
Mon 23rd March 2020 Ross Meeting Centre
Pat Dazeley will talk about Ross Meeting Centre
Mon 16th March 2020 Stroke Awareness
Jo Weston from The Stroke Association will give a talk on stroke awareness in advance of our planned 'Know Your Blood Pressure' day
Mon 9th March 2020 Business Meeting
Business Meeting for members
Mon 2nd March 2020 Wilton Bridge Petanque Club
The Petanque club has been invited to come and outline their proposals for creating new pitches in Ross and be presented with a cheque
Mon 24th February 2020 Social Evening
Social evening open to prospective members
Sun 23rd February 2020 Ross-on-Wye Pancake Races 2020
A very successful event, enjoyed by all which included race categories; toddlers (under 5), 5-7 year, 8-10 years, 11-16 years Adult (female) & Adult (male)
read more...
Mon 17th February 2020 Bob Chadwick, Water Stress in the UK
Former Club President will talk to us about water supply stress in the UK and his current role with Water Audit Surveys Ltd, http://www.waterauditsurveys.com/
Mon 10th February 2020 Business Meeting
Members only business meeting
Mon 3rd February 2020 Chris Tindall, Hereford Vocational Training
Chris will be giving a talk about his organisation and the training he provides for his client group
Mon 27th January 2020 Welcome to Rev and Mrs Semple
Rotary welcome to the new Rector of Ross on Wye and his wife
Mon 20th January 2020 Social Evening
A social meeting open to prospective new members
Mon 13th January 2020 Business Meeting
Members only meeting
Mon 6th January 2020 Matthew Bailey of Baileys DIY
The history and future of Baileys
Mon 2nd December 2019 Dean Archaeological Group
Phil Riches, Chairman of Dean Archaeological Group will give a talk on the recent work of the group in the Forest of Dean
Mon 11th November 2019 Business Meeting
Monthly Business Meeting
Sat 9th November 2019 President's Night

Social Club event for friends and family
Mon 4th November 2019 Orchard Trust
A speaker from the Orchard Trust will talk to us about their residential services for people with disabilities in the Wye Valley and Forest
Mon 28th October 2019 How Farming has changed in my lifetime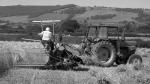 Richard Stirling, retired farm manager
Mon 21st October 2019 Social Evening
Quiz Night
Mon 14th October 2019 Business Meeting
Monthly business meeting
Mon 7th October 2019 Enviroability

Paula Evans from Enviroability will give us an update on how things are going following their move to the new premises.
Mon 30th September 2019 ROSCARS
Presentation of ROSCAR awards
Mon 23rd September 2019 Social Evening
Another of our monthly 'fun' evenings
Mon 16th September 2019 In Their Shoes

Talk by Joanne from In Their Shoes, an organisation supporting children with mental health issues.
Sun 15th September 2019 Steve's Tractor Ride

Steve from the Horizon Centre gets his wish
Mon 9th September 2019 Business Meeting
Business Meeting
Mon 2nd September 2019 District Governor Visit

DG Judy Powell will pay her annual visit and address us
Mon 26th August 2019 No Meeting Bank Holiday
No Meeting Bank Holiday
Mon 19th August 2019 Severn Freewheelers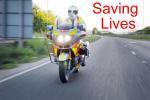 Nigel Warwick from Severn Freewheelers talks about their support services to local NHS using their own motorcycles.
Sat 17th August 2019 - Sun 18th August 2019 Ross Model Railway Exhibition 2019

20 + Exhibitors and Traders. Held at John Kyrle High School (HR9 7ET). Ample parking, disabled access. Refreshments. Adult £4, Child £3, Family (2+2) £10
read more...
Mon 12th August 2019 Business Meeting
Business Meeting
Mon 5th August 2019 TBA
Speaker TBA
Sat 3rd August 2019 Ross Carnival
Come and talk to us at Ross Carnival on The Rope Walk and see how we are working with Ross Men's Shed
Wed 31st July 2019 Merton House
Visit by Lord Mayor of Birmingham
Mon 29th July 2019 Team Rubicon
Richard McSweeney will give a presentation on the work of Team Rubicon a group of ex - military personnel who provide rapid disaster support around the world, most recently in Mozambique.
Mon 22nd July 2019 SOCIAL GAMES EVENING
Games evening darts, dominoes, shove halfpenny etc
Mon 15th July 2019 Speaker Brian Roe-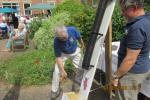 Speaker Brian Roe "My Job"
Mon 8th July 2019 Business Meeting
Members only
Sun 7th July 2019 Merton House - Annual Garden Party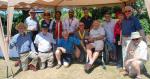 Rotarians from Ross-on-Wye helped at the Merton House Annual Garden Party in 2018 and 2019 with the sale of locally produced strawberries, ice creams and hot/cold beverages. A fun time was had by all
read more...
Mon 1st July 2019 Handover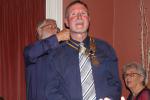 2019 The President's Handover - our last meeting at The Chase Hotel
future
calendar
district events
local events