Completed meetings and events 2020-2021
Thu 15th April 2021 Ron Sutherland: Jane Cox - Cavers Auld Kirk
Rotarian Jane Cox tells members of the development of Cavers Auld Kirk from a church to a family home
Thu 1st April 2021 Linden Warburton: Andy Maybury - Teviot Electric Car Club
Andy is the coordinator of Teviot Electric Car Club and will tell us of its development and current activities.
read more...
Thu 18th March 2021 Business Meeting and Art Quiz

Brief business meeting, followed by online art quiz
read more...
Thu 4th March 2021 Ron Smith: John Manuel, Hawick's Burgh Surveyor 1874 - 1900

Club President Ron talks of the research he undertook into the Manuel family.
read more...
Tue 2nd March 2021 Worth the wait: Crocuses at Galalaw

Purple for Polio
read more...
Thu 18th February 2021 Associate Member George Hogg talks of his career
George tells us particularly of his work with The Brothers of Charity
read more...
Thu 4th February 2021 Nicola Douglas: Technology in Schools
Nicola Douglas of Selkirk High School speaks to Hawick Rotarians on Zoom
read more...
Fri 18th December 2020 - Sat 19th December 2020 Presentation of Tablets to two local groups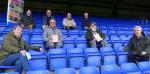 Electronic tablets are presented to two local groups for help with those suffering from dementia or memory loss etc.
read more...
Fri 11th December 2020 - Sun 13th December 2020 Presentation of Cheques to Local Groups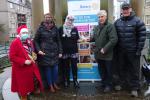 Handover of cheques to three local organisations benefiting from the funds raised by Ron & Pat's Seven Trigs Walk
Thu 3rd December 2020 Ellen Miller: Eildon Care & Repair
Ellen is happy to speak to Hawick Rotary Club by Zoom. She will give the history of what Eildon Care & Repair have done and what they do now, including how people aged 60+ can join for £40 pa and what they get for that.
Thu 19th November 2020 Ron Sutherland: Seven Trigs Challenge report
Ron reports back to members on the challenging walk undertaken by him and by wife Pat on Friday 13th November
Fri 13th November 2020 Seven Trigs Challenge - Safely Home!

Ron & Pat Sutherland safely complete their sponsored walk in aid of local charities
read more...
Thu 20th August 2020 Sandy Bannerman: Marion Short - Hawick's Resilience Group
Guest speaker Marion Short will tell us of the activities of Hawick's Resilience Group during the Coronavirus emergency.
read more...
Thu 13th August 2020 Weekly Meeting
As part of the gradual return to physical meetings, we hope to 'eavesdrop' on British Rotary's President Tom Griffin as he meets with the Kelso Club earlier that evening. His visit there will be recorded and sections shown to Hawick members
read more...
Thu 6th August 2020 Award of Honorary Membership

Past president Andrew Suddon is made an Honorary Member of the Hawick Club
read more...
Thu 6th August 2020 Back in Business!!!!!
Our return to Mansfield House Hotel after the Coronavirus lockdown
read more...
Thu 2nd July 2020 Meeting by Zoom: Jim McPherson talks about Hub Schools
Members have been sent 'invitations' to allow them to join this virtual meeting of the Club using the Zoom facility
read more...
future
calendar
district events
local events