Welcome to our website which we hope will give you some information on our Club and on its activities.
Rotary International's theme for this year is that Rotary Opens Opportunities. We start that year however in a very strange position in that the Coronavirus lock-down has restricted our regular social meetings, our fundraising activities and our interaction with our community. We can only hope therefore that those doors will open to allow us opportunities very soon.
Hawick Rotary Club is a smallish one, but therefore no member will be, indeed can be, left out of our activities. We are always seeking additional members, to bring diversity, enthusiasm, determination and with a strong community spirit. We extend an invitation to all to join us. Come for one meeting when the speaker is of special interest to you, join as an associate member for a trial period of a year, or dive in at the deep end and commit to being a part of our team for the longer term. If you would like to become involved, contact our Membership Convenor Linden Warburton at lawarb44@btinternet.com
I myself have been a member since 2004, club secretary for three years and am now also taking on the role of president. There are particular challenges ahead. In order to support a range of both local and international charities and groups we need to raise funds, and to do that we need to hold events! In recent years we have donated locally to Act1Youth theatre group, to Artbeat, to Cycling Without Age and we have brought more widely organised competitions such as Young Artist, Young Chef, Young Musician, and Young Photographer to local schoolchildren. Recently we were able to draw together £11,500 of funding to help victims of flood damage in our community, particularly including £9,000 to restore the Polysport facility at Newcastleton. International charities helped have included 500 Miles, End Polio Now, On Call Africa. If you would like to be a part of all of this, why not get in touch with Linden.
Ron Smith, President 2010-21

Photo above : 'The Horse': possibly the best known landmark in Hawick, and a symbol of the town's historic traditions. However, we're an active club, and, while aware of our successful history, we're trying always to look forward, keen to welcome new members who will bring freshness and new ideas.
We aim to bring Rotary to the attention of townsfolk and to this end have planted a crocus display on a grassy slope at Heronhill Bank on Weensland Road. The crocuses are an emblem of Rotary's project to End Polio Now and their planting in 2017 incorporated a donation by local Rotarians to this project.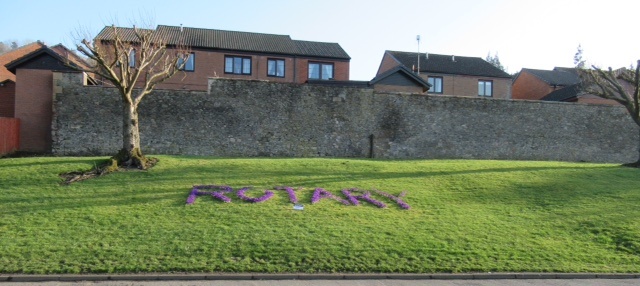 Photos by Derek Lunn and Jack Swanston