Future meetings and events
Thu 1st August 2019 at 12.00 - Tue 30th June 2020 - 12.00 Peak District Boundary Walk Aug 2019 - June 2020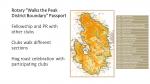 Rotary clubs walk the Peak District Boundary
Mon 23rd March 2020 at 09.00 - Mon 22nd June 2020 - 09.00 Covid-19 Pandemic

Due to the Covid-19 pandemic, all meetings and events have been cancelled or postponed until further notice
Wed 8th April 2020 at 09.00 - Wed 10th June 2020 - 09.00 Rotary Short Walks Around Buxton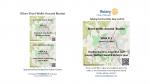 Within the government restrictions of once per day local exercise, these maps will support the local community. https://www.gov.uk/coronavirus . When restrictions are lifted, they will support visitors to Buxton.
Fri 24th April 2020 at 09.00 - Tue 30th June 2020 - 17.00 Locked down but not out. Collecting ring pulls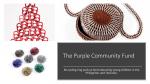 We continue to support communities far and near. Please collect ring pulls from drinks cans to support the Purple Community Fund https://www.p-c-f.org/get-involved/upcycle/
Sat 16th May 2020 at 09.00 - Sat 30th May 2020 - 17.00 Cards for foundation

Kim has made more cards to sell for Foundation. Please contact Kim if you are interested in buying some.
Wed 27th May 2020 at 18.30 - 21.30 Regular meeting
Wed 27th May 2020 at 18.45 - 20.30 Club on-line meeting: May 27th @ 6:45 pm
On-line Meeting. Another Zoom experiment with the RIBI webinar where Mike McGovern, the chair of the RI Polio Plus Committee, is presenting. All visitors are welcome to attend.
Sun 31st May 2020 at 10.30 - 16.30 Grand Charity Bazaar & Summer Fair : CANCELLED

Save the date: Sunday May 31st. Pavilion Gardens. Further information will follow. CANCELLED DUE TO CORONAVIRUS
Wed 10th June 2020 at 17.30 - 18.30 Club Council Meeting at Palace Hotel
Wed 10th June 2020 at 18.30 - 21.30 Regular meeting
Sat 13th June 2020 at 19.30 - 20.30 Lichfield Band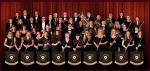 Concert by the award winning Lichfield Concert Band.
This 35 piece band will be performing a varied programme including show music from the West End, film scores, classical greats, jazz and much more.....definitely something for all musical tastes.
Wed 24th June 2020 at 18.30 - 21.30 Handover Club Assembly