This year we are celebrating our 100th anniversary with a variety of activities.



As part of Rotary International, we undertake various service, social, fun and fund-raising Activities. For more insights visit our Facebook Page, check out our Club Leaflet, or have a look at the video below about our Club.
Learn more from Rotary Basics and We're For Communities; you might find Women in Rotary informative?
If you live in/near Buxton, please get to know us by helping with some of our Projects or visiting us? Use our Contact Form or ring our Secretary, John Cassidy t: 01298 79054 to find out more.
In 2017, Rotary's own Charity - The Rotary Foundation (TRF) - celebrated 100 years of 'Doing Good in the World', having spent over $3 Billion on humanitarian projects; 91% of TRF funds goes directly to programmes.
The Beautiful Town of Buxton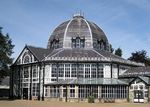 Buxton borders the Peak District National Park, and has excellent hotels, restaurants and an Opera House. View our Town's 2-minute Video to see for yourself! Find your way around Buxton via Town Map, but check our Weather before you come!