The Rotary Club of Buxton was awarded the George Taylor Trophy by DG David Hood and the District Exec for the best all round club in the District in 2019-2020
We are given this for the varied and well run things we have done in the year and special mention was made of our help to the emergency services when the Todbrook dam was nearing collapse.
Well done everyone.
As part of Rotary International, we undertake various service, social, fun and fund-raising Activities. For more insights visit our Facebook Page, check out our Club Leaflet, or have a look at the video below about our Club.
Learn more from Rotary Basics and We're For Communities; you might find Women in Rotary informative?
If you live in/near Buxton, please get to know us by helping with some of our Projects or visiting us? Use our Contact Form or ring our Secretary, John Cassidy t: 01298 79054 to find out more.
In 2017, Rotary's own Charity - The Rotary Foundation (TRF) - celebrated 100 years of 'Doing Good in the World', having spent over $3 Billion on humanitarian projects; 91% of TRF funds goes directly to programmes.
The Beautiful Town of Buxton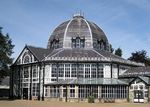 Buxton borders the Peak District National Park, and has excellent hotels, restaurants and an Opera House. View our Town's 2-minute Video to see for yourself! Find your way around Buxton via Town Map, but check our Weather before you come!