The club is now meeting Tuesdays 6pm
at
The Glen Golf Club, North Berwick
New members always welcome!
Use "Contact " above for more information
WELCOME FROM THE PRESIDENTS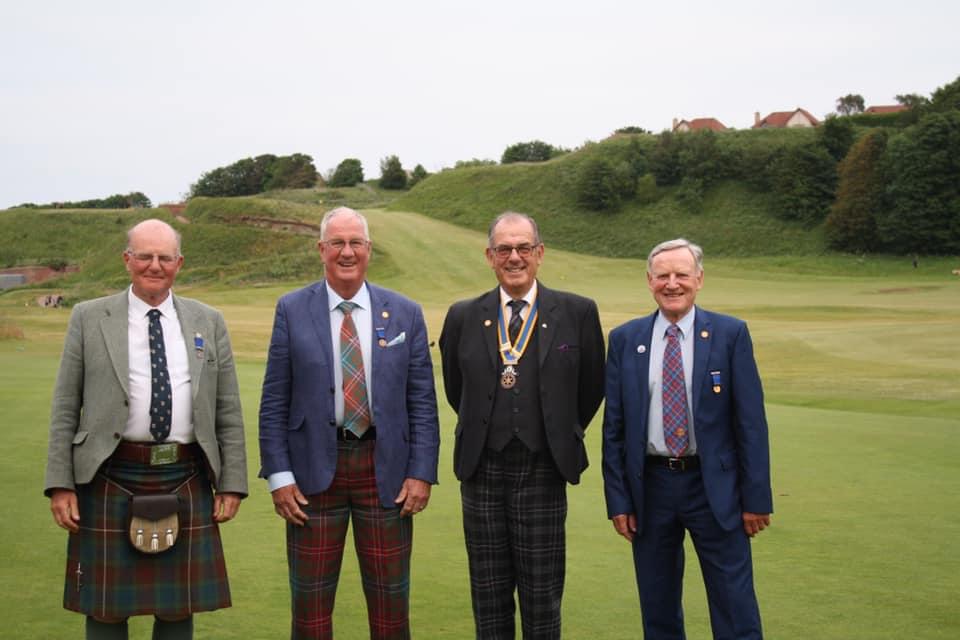 This year for the first time the club elected 4 members of the club to be Presidents throughout the Presidential year 2021 to 2022. All four Gordon Symon, Bruce Wilson, Andy Izat and Ian Donald have served as Presidents in the past and are looking forward to an exciting year ahead and leading the club forward.
Each will serve a 3 month term starting with Andy then Gordon followed by Ian and finishing off with Bruce who will in June hand over the reins to our only second lady President Debbie Renton.
The club has started to meet face to face but we are able to welcome speakers using zoom and have interactive meetings.
We meet in the Glen Golf Club on Tantallon Terrace every Tuesday at 6pm where members can hear a variety of speakers as well as take part in other themed nights and activities. We invite other Rotarians to join us either in person or interactively on Zoom.
We organise and carry out various fundraising events such as our Charity Golf Day which partially supports Children's Hospice Across Scotland (CHAS) as well as organising a successful annual Classic Car Tour which raises money for local organisations as well as other nominated Scottish based charities. This year's tour will take place on Sunday 24th April 2022 with a run from Tesco at North Berwick into the Borders returning to Gosford House at Longniddry.
We always welcome potential new members to the club and would be pleased to see anyone interested in the activities and ideals of Rotary to help not only locally with projects, organisations or individuals but also on a National as well as on an International basis.
At the same time we would welcome anyone who would like to help the club achieve its aims and objectives without the commitment of full membership. If you are interested in helping in either way please contact the club via our Facebook page or via the contact page of this website.
We look forward to being able to help our local Community not only financially but also by helping where help is needed to support local groups and organisations in a more practical way.
We and all our members will uphold the Rotary ideal of "Service above Self"
---
Read our Questions and Answers about Rotary,
If you wish, please click here for a virtual tour of North Berwick via North Berwick's website. Enjoy your tour, and when you get the chance drop by and see the sights.
For the golfers who happen to be surfing this site, there are many golf courses in this area for you to choose from Muirfield, Gullane, Luffness, Aberlady, Whitekirk, North Berwick: The Glen (East), Tantallon and North Berwick (West).

The 13th at the Glen Golf Club in North Berwick (East)
NORTH BERWICK TWITCHING
For the twitchers who happen to be surfing this site, you could not find a more wildlife rich area. The Bassrock, in centre top above is home to more than 100,000 gannets, making it the world's largest single rock gannet colony. Have a look at the Scottish seabird centre. (if link does not work directly from page, right click link, select open in new tab, )
You really have to see it to believe it. But here is a selection of up-to-the-minute photos to give you some idea! Just click on the link.
For details of the Highland Games please click here, keep checking for updates.
Have a very pleasant tour around our website, should you wish further information, whether about Rotary or the area, please get in touch via the contact form.
Last amended: 12th Dec 2021 (ShawP)
Links checked: 19th Sept 2021 (ShawP)