Featured pages
Rotary Club of Torquay - welcome! Please scroll/swipe down through this page to find out more about us, in addition to the pages linked in the menu, top-left.
Youth Service
---
Youth competitions include Young Chef, Youth Speaks, Young Writer and Young Photographer.
details
---
About us
Coronavirus situation16th March
The Club Monday meetings have been suspended because of the coronavirus situation.
Best wishes go out to all members in these extraordinary times when we must each remember to play whatever part is necessary in the national interest.
Torquay Rotary Club was formed in 1920 as the first club west of Bristol, and initially comprised 27 local businessmen with the Mayor of Torquay as President. It immediately identified the needs of Torbay Hospital (then in Higher Union Street) and began fund-raising initiatives on its behalf, which continue to the present day. In 1922 the club inaugurated a scheme for blue plaques on local buildings of note and two years later hosted clubs from all over Britain and Ireland for what was only their fifth ever conference.
Immediate Past President Roger Heath hands over to President Maureen Macdonald.
TORQUAY Rotary Club are not meeting at the moment because of coronavirus - but that doesn't stop the members getting on with their community projects.
Social distancing doesn't make things any easier but as our picture shows, the two metre rule was clearly observed as a couple of litter picker tools came in handy for transferring a £300 cheque from Rotary past president Roger Heath, right, to Riviera Life Link food bank chief Ian Williams. The cheque was a small part of the proceeds from Roger's fundraising efforts last year
The club has been supporting the food bank all through the virus emergency and this car boot full of food and household necessities was just the latest instalment. Current Rotary president Maureen Macdonald, who masterminds the operation with colleague Lyn Smith, also 'handed' over a clutch of cheques for the food bank from Rotary members.
Torquay Rotarians have also put together a £1,000 thank-you boost for local NHS 'front line' health workers and will be making a suitable presentation when an appropriate gift has been identified.
In September Torquay Rotary Club will be marking 100years of service to the local community.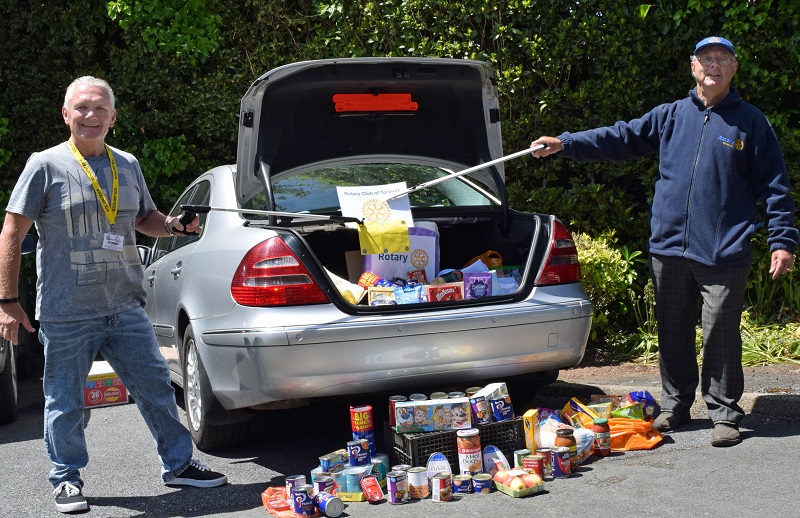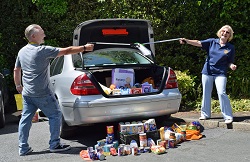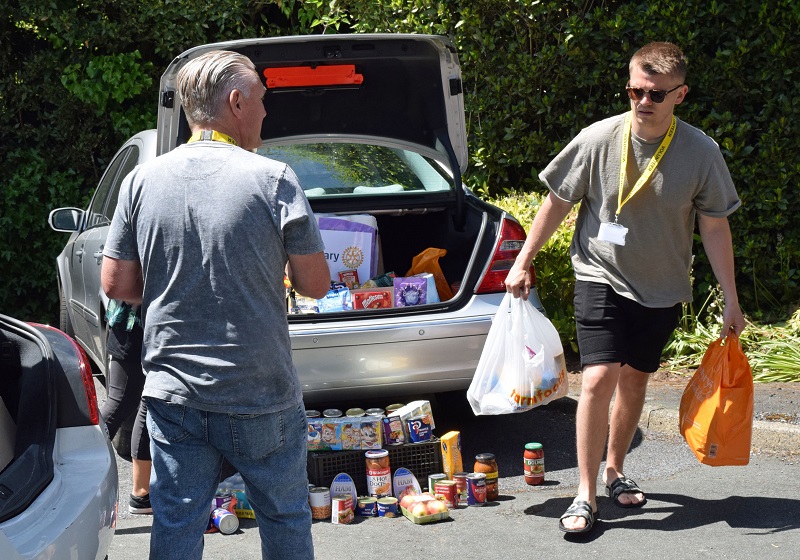 Happening soon...
Meetings and events happening soon
Monday 8th June 13.00
Zoom meeting, Club Assembly
---
Club Assembly
Monday 15th June 13.00
No meeting
---
Monday 15th June 14.30
Council, Old and New Council
---
Monday 22nd June 13.00
Zoom meeting
---
Monday 29th June 13.00
Lunch ~ Handover to be confirmed
---
future events Past Events calendar district events local events
---
---