THE ROTARY CLUB of FLEETWOOD is one of the oldest clubs in the Fylde
and meets every Wednesday at 5.45pm at the Strawberry Gardens Pub, Poulton Road, Fleetwood. Meetings start at 7pm but there is an option to have a meal beforehand for which we gather between 5.30pm and 6pm.
You will be made very welcome.
If you would like to attend any of our meetings please contact our Hon. Secretary
David Simpson: tel: 01253 825035; e-mail: jemadanph@btinternet.com
Click HERE to find us.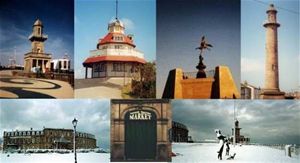 Fleetwood is located in North West Lancashire, at the mouth of the River Wyre, on the southern shore of Morecambe Bay, the second largest bay in the United Kingdom. The town was founded in the early 1830s by Sir Peter Hesketh-Fleetwood, and designed in part by the Victorian architect, Decimus Burton. The old part of Fleetwood is centred around the Mount, the last in a line of sand hills, with the streets radiating outwards, reminiscent of a spider's web.
The town has experienced many ups and downs throughout its existence, especially devastating has been the grievous loss of most of its fishing fleet following the Icelandic Cod Wars in the 1970s and the cutbacks in fishing quotas during the 1980s and 1990s.
Fleetwood is renown worldwide for its tram system. In 1885 it was the first tramway to be electrified in Great Britain, and until recently, Fleetwood was the only UK town where trams ran along the main street.