Club news
We have been busy since October with collecting coats for the needy: we were able to do this because of the generosity of both Storefirst who gave us storage free gratis, Padiham Tesco who made a collection box to put in their store and Lidl who also had a collection box. 250 coats, jumpers, socks and blankets and several items of childrens clothing were collected in just over 2 weeks and given to charities who know how best to use the items and who to give them to.
In September we gave out small Collins dictionaries to several local schools and asked the children to enter a writing competition, the title being Climate Change.There were some excellent entries and the winner in each school was presented with a box of art materials and a certificate. The overall winner of all the schools got the same prize but also a sheild and two special pens. The school also got a shield, engraved with the winners name, to keep for a year.
Now we are having 'face to face' meetings we have been fortunate to have some good speakers and also a couple of celebrities namely the MP Anthony Hegginbotham and Adam Partridge the auctioneer.
We have recently had a visit from the Armed Forces Support group and a talk about Global Sight Solutions. both extremely interesting. An event held in September was a 'Call my Bluff' evening where we had to guss the correct meaning of words. It was an excuse to get together, enjoy pie and peas and have a good laugh!
We need volunteers to help at different times of the year so, if you can spare an hour or two please let us know.
Santa is doing the rounds VERY soon so look out for him. If he's in your area you will hear him coming!! He'll have the lollies for the children.
If you can donate please do but you don't have to.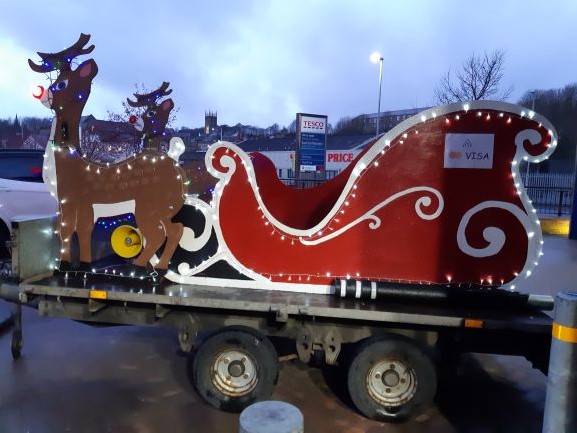 Watch this space for more news