About us
Highfields Students Win Bursary Awards From Matlock Rotary Club




Matlock Rotary Club has been giving bursary awards for the last 7 years to students at Highfields School, Matlock.

The bursaries are intended to give students a helping hand towards the costs of studying at university or undertaking an apprenticeship, which can amount to a figure of many thousands of pounds over the completion of a course.

This year, two bursary awards were made to Nina Durbidge, who is studying Design for Film and Television, at Nottingham Trent University, and Lucie Allen, who is studying English Language and Linguistics, at Manchester Metropolitan University.

The President of Matlock Rotary Club, Phil Pegg, visited Highfields School on "A" level results day, to confirm that the bursary applicants received the results that they needed to attend their courses and to congratulate them with their success.

Phil Pegg said "It is very rewarding to be helping students at the beginning of their university life."




President Phil Pegg presents a bursary award to Lucie Allen




President Phil Pegg presents a bursary award to Nina Durbidge





DOVEDALE DIPPER 2019 - REPORT


The Charity supported by Matlock Rotary this year was Derbyshire Autism Services who attended and supported the event enthusiastically. After deducting expenses the entry money will go to them. The hidden benefit is that many of the entrants are sponsored for their own good causes; I spoke with a runner who was supporting a charity for Multiple Sclerosis, I am sure that there are others.
Despite the dire forecast of thunder storms later in the day, the weather held off and the event was a great success. Everyone was accounted for and the drop out rate was low. The event was fully booked at 417 well before the day., There were some no shows as expected with the heavy rain forecast being but we had a very good turnout, well over 350.
My day started early moving a few hundred sheep from the car park which they had broken into through a wall. From then on all went to plan with great help from Peak Running who will be taking over the event, Raynet who managed all communications with the Checkpoints with their usual efficincy, MediPatrol who were delighted to have a completely boring day and Matlock Inner Wheel and friends who kept all fed and refreshed with tea, coffee, baked potato and filling (450) and fruit salad. Marking out the course and the sweeping on the day was done by our friends from the High Peak Group of the LDWA. Special thanks to go to them. The atmosphere was cheerful and feed back was very positive - a great end to Matlock Rotary's Dovedale Dipper and a great start to Peak Running Dovedale Dipper for next year.
A big thank you to Simon Brister who created this event 17 years ago and has proved to be an event on the running calendar not to be missed and to the Rotarians who have made it possible.
Phil Pegg President Rotary Club of Matlock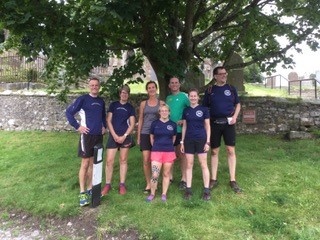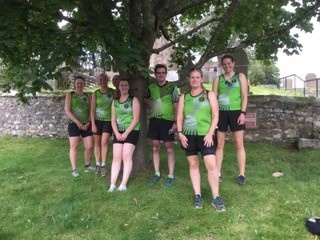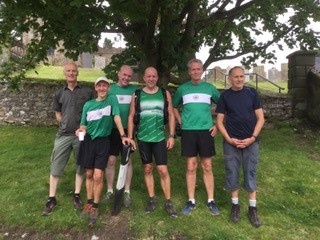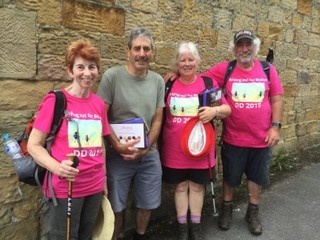 Dovedale Dipper Reprieve
Matlock Rotary Club initiated the popular Dovedale Dipper in 2003 and decided this year that the 2019 event would be the last 27 mile and 15 mile challenge walking and running event they would promote.
After announcing this, the club received a number of enquiries from interested parties expressing regret that such an iconic event should end, and offering to take over organising the event for 2020 and for future years.
Matlock Rotary are delighted to announce that Peak Running have agreed to run the Dovedale Dipper for next year and future years, and are actively working in tandem with the Rotary club at this year's event which takes place on Sunday 4th August.
Peak Running have considerable experience in organising events on the trails and in the hills in Derbyshire and the Peak District, including the popular Brooksie's Bash Trail Race and Hob Hurst's Fell Race. Visit www.peakrunning.co.uk for more information.
'I am absolutely delighted that Andy and Chris at Peak Running are carrying on this event. We have had many emails from past participants regretting that 2019 might be the last. I am very confident that the event will go from strength to strength' said Simon Brister the Rotary member and fell runner who initiated the original event.
Andy Brooks from Peak Running said "as a runner the Dipper is one of my favourite events and, having been the first finisher of the 27-mile challenge at the inaugural edition back in 2003, it is special to me. So, as soon as I saw that 2019 may be its last year, contacting Simon and the team at the Rotary was an obvious thing to do. Chris and I are delighted to be taking the reigns from 2020, and enabling this great event to be enjoyed by runners and walkers from far and wide for many more years to come.
Anyone wanting to take part this year should do so quickly – with pre booked entries well over 350 towards the 400 limit spaces may be restricted. Bookings can be made via www.matlockrotary.org


Matlock's new top team.
Monday night saw the installation of Matlock's new President for the year 2019/2020 - Phil Pegg (centre), President Elect Tom Moloney and Vice President Janice Bicknell


MATLOCK ROTARY CLUB CELEBRATE 91st BIRTHDAY

President Paul Edwards was in the chair, when the Rotary Club of Matlock, celebrated their 91st Birthday at Matlock Golf Club, on Monday 18th March 2019.
Principal Guests on this occasion were Rotary District Governor Dr Cheryle Berry MBE, President of Matlock Inner Wheel Gill Oldroyd and guest speaker Dr Geoff Miller OBE.
Past President Paul Fryer was Toastmaster for the evening, Past President Mel Askew gave his Thought for the Day, Rotarian Tom Moloney presented the roll call of visiting clubs and guests, visiting Ripley President Owen J Briggs brought their greetings in his inimitable style and President Elect Phil Pegg proposed a thoughtful toast to Rotary International

Cheryle Berry, Rotary District Governor, responded and reminded Rotarians of the part they could play in the International theme for the year to 'Be the Inspiration'. In addition, she complimented the Matlock Club members on their programme of work over the last year and proposed a toast to their continued success.
President Paul Edwards then responded, outlining, with justifiable pride and considerable humour, many of the noteworthy activities of the Matlock Club over the last year.
He named some of the many beneficiaries and thanked his colleague Rotarians and the people of Matlock and district for their excellent support of the club and its projects.

The final toast to visitors and guests was proposed by Rotarian Janice Bicknell, before the evening was rounded off with a truly memorable and very humorous presentation from Derbyshire, Essex and England cricketer and selector Geoff Miller,
The formal dinner, organised by Past President John Shipman, was attended by 27 Matlock Rotarians and their guests plus representatives and guests of 17 other Rotary Clubs – a total attendance of 98.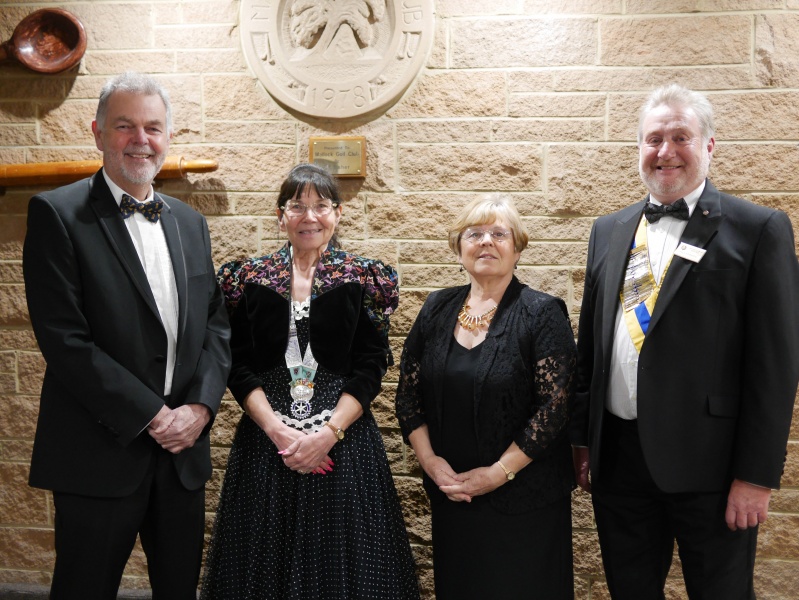 left to right
Geoff Miller, Cheryl Berry, Barbara Edwards, Paul Edwards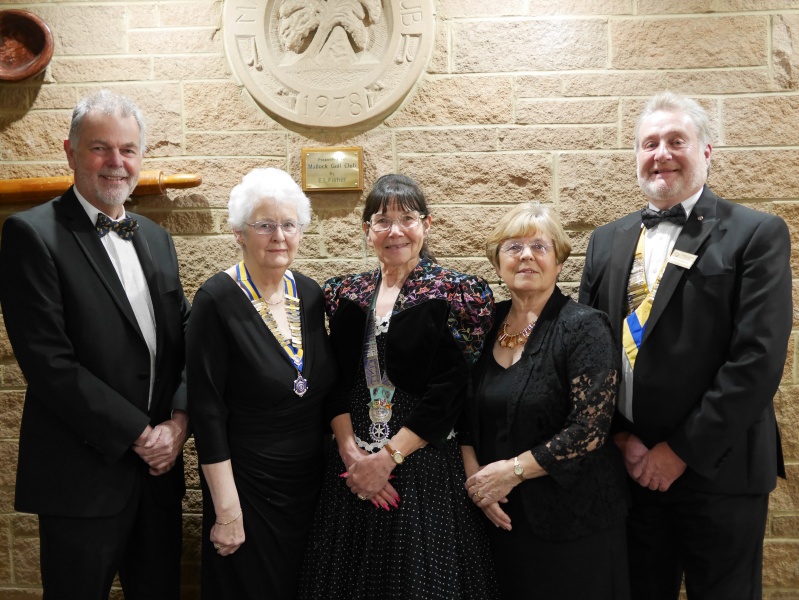 left to right
Geoff Miller, Gill Oldroyd, Cheryl Berry, Barbara Edwards, Paul Edwards.
Rotary Clean up!
To mark the start of the 'the Great British Spring Clean 2019' Matlock Rotary club have been out in force in the community.
Members of the public may have spotted members who have been out collecting litter from different areas of our community. The Club had two teams of collectors both of whom were able to find 'loads of rubbish' discarded by the public.
One team concentrated on the many footpaths off Chesterfield Road and the other went further afield to clear Lant Lane and Allen Lane.
'It was gratifying that various members of the public stopped and thanked us when they saw what we were doing' said President Paul Edwards.
The organisers, Simon Brister and Peter Wigglesworth had spent some time assessing which areas were most in need of a clean and settled on these two areas for the Club's first 'Litter Pick' which is likely to become an annual part of the club's community volunteer work.
'It is extraordinary how many drivers must throw used bottles, cans, coffee cups etc., out of the car window once they are out of sight on quiet country lanes. On some sections we found large quantities of the same beer can suggesting the same culprit' said Simon.
Al. together members collected 18 large bags of rubbish.
The club would like to thank Ros and her team at the District Council environment team for their help.
Photo. 6 members of team 1 after the Chesterfield Road collection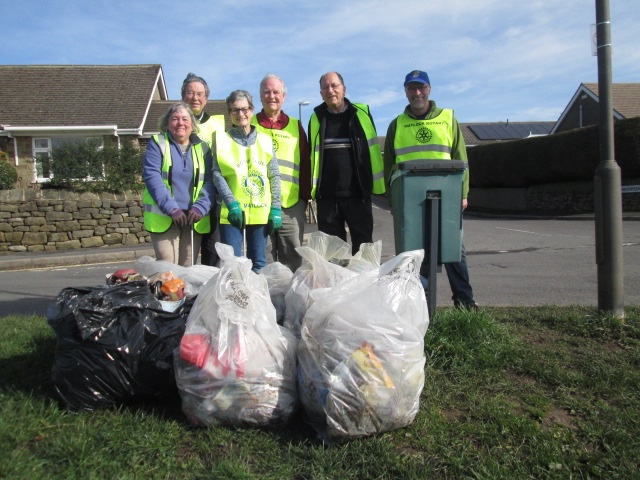 Rotary Crocuses 'Rise and Shine' at Whitworth Park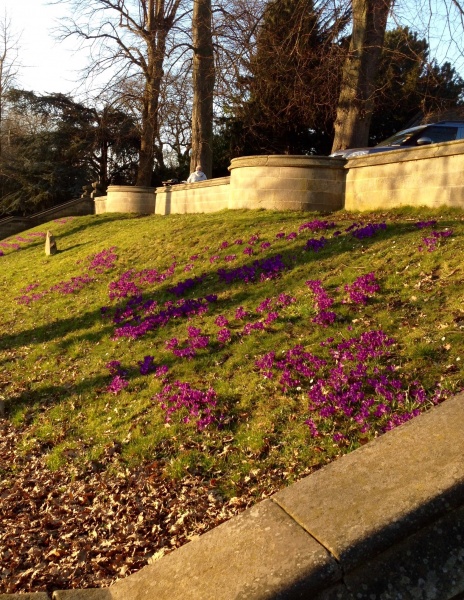 Matlock Rotary Club Awards a Community Grant to the Limelight Friendship Group
Matlock Rotary Club recently awarded a Community Grant of £300 to the
Limelight Friendship Group, based at the Limetree Business Park, off
Limetree Road, Matlock.

Limelight Friendship Group is for the over 60s in the Matlock area and it
provides refreshments and activities such as board games, crafts,
indoor bowls and visiting speakers. The group aims to encourage
lonely isolated older people to come out of their homes, to make
friends and enjoy a variety of activities for free. 

The grant application is for the purchase of exercise equipment for the
group, to pay for visiting speakers, who cover subjects such as
health, scam awareness, hobbies and subjects of interest, and to help
pay for the general costs of running the group, including purchase of
board games and possibly gardening tools.

Currently around 20 elderly people attend the group once a fortnight.

The Limelight Friendship Group also works with Age UK.

Further details of the Matlock Rotary Club's Community Grant scheme can be
found on the club's web site or by ringing Peter Wigglesworth on
Matlock 56259

 
 


 
 


Louise Crawley, of the Limelight Friendship Group, receives the Community


Grant from Paul Edwards, President of Matlock Rotary Club


 


Great Rotary initiative


Matlock Rotary Club Awards Community Grants

Matlock Rotary Club has recently approved four Community Grants to projects in the Matlock area.
Bryn Apperley, the Vice-Chairman of Matlock Town Football Club, received a grant for his sterling efforts in organising a Christmas Day Dinner, for around 20-25 elderly people in the Matlock area, who would otherwise be spending Christmas alone. The three course meal will be provided on Christmas Day in the club lounge at Matlock Town Social Club.
The Do Something Different Club, represented by Christine Smith, Sadie Packard and David Brown received a grant to cover the costs of funding drivers who provide transport for the club members. The Do Something Different Club is an out and about lunch club for those who are housebound in the Matlock area and has about 20 members. Drivers pick the club members up from home and take them back after their trip out.
Darley Dale Primary School, represented by David Monkhouse and Michelle Waters, received a grant towards a defibrillator to be installed on the school's outer boundary wall, enabling the community to also have access to it. This vital piece of equipment will save people's lives who have suffered from a heart attack.
Limelight Friendship Group is for the over 60s in the Matlock area and it provides refreshments and activities such as board games, crafts, indoor bowls and visiting speakers. The group aims to encourage lonely isolated older people to come out of their homes, to make friends and enjoy a variety of activities for free. The grant awarded by Matlock Rotary Club will enable the group to buy some exercise equipment and help with costs of running the club.
A presentation evening was held at Matlock Town Social Club on December 13th, where cheques were handed over and the applicants had the opportunity to meet the President of Matlock Rotary Club and fellow Rotarians.
A total of five Community Grants have been awarded this year and further applications are welcome. Please visit the Matlock Rotary Club web site for further details or contact Peter Wigglesworth on Matlock 56259.
Paul Edwards, the President of Matlock Rotary Club said "I am very pleased to be giving grants to local community projects. This is what the Rotary Club is about. We raise money during the year at various events and collections and we give it back to worthwhile projects."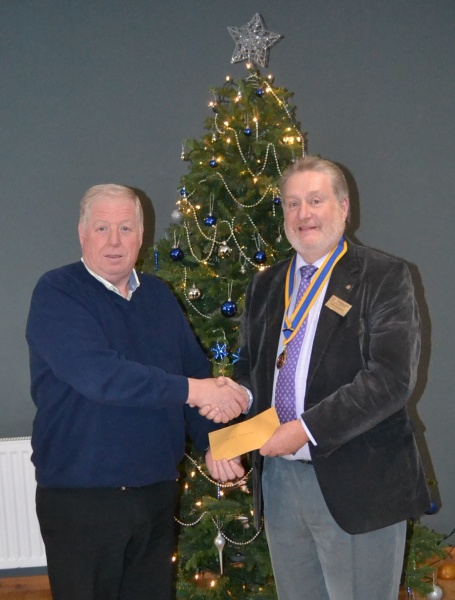 Left to right, Bryn Apperley and Paul Edwards
Left to right, David Brown, Christine Smith, Sadie Packard and Paul Edwards
Left to right, David Monkhouse, Michelle Waters and Paul Edwards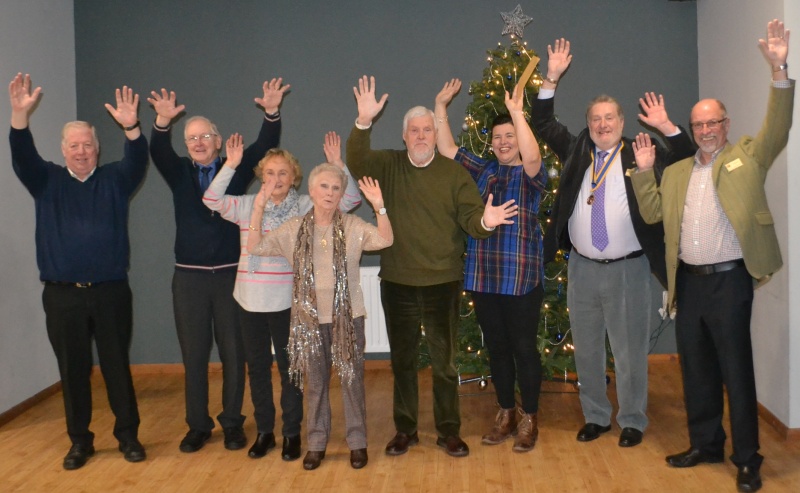 Left to right, Bryn Apperley, David Brown, Christine Smith, Sadie Packard, David Monkhouse, Michelle Waters, Paul Edwards and Peter Wigglesworth
Matlock Rotary Club Helps Starkholmes Village Hall
Matlock Rotary Club recently launched a Community Grant Scheme and is pleased to announce that the first Community Grant has been awarded to Starkholmes Village Hall.
The Village Hall needed to replace its folding tables with a brand new set, including a trolley for moving them in and out of storage. A total of 14 tables were purchased and these will be used at events held at the Village Hall.
Matlock Rotary Club was asked if it could provide funding through its Community Grant Scheme (see web site matlockrotary.com) and as the application met the grant criteria it was approved and the tables and trolley were purchased.
Starkholmes Village Hall Committee thanked the Matlock Rotary Club for their grant at a recent visit by a Rotary Club member to see the tables and present a cheque for £725.60(grant and donation).
Photo1 Peter Wigglesworth, of Matlock Rotary Club, presents a cheque to Denise Peck
Photo 2 Left to right Mark Wilson, Annette French, Denise Peck, David Peck, all from Starkholmes Village Hall, assemble the tables.
.
Highfields Students Win Bursary Awards From Matlock Rotary Club

Matlock Rotary Club has been giving bursary awards for the last 6 years to students at Highfields School, Matlock
The bursaries are intended to give students a helping hand towards the costs of studying at university, which can amount to a figure of many thousands of pounds over the completion of a course.This year, two bursary awards were made to Rebecca Lowrie, who is studying Mathematics with Spanish, at Heriot-Watt University in Edinburgh, and Mark Thornley, who is studying Quantity Surveying at Nottingham Trent University. Mark also has been recruited by Balfour Beatty as an apprentice.The President of Matlock Rotary Club, Paul Edwards, visited Highfields School on "A" level results day, to confirm that the bursary applicants received the results that they needed to attend their courses and to congratulate them with their successPaul Edwards said "It is very rewarding to be helping students at the beginning of their university life."
Photo1 President Paul Edwards presents a bursary award to Mark Thornley
Photo 2 President Paul Edwards presents a bursary award to Rebecca Lowrie


16th Annual Dovedale Dipper
This annual event took place on Sunday 5th August and despite temperatures of 27 degrees a great day was had by all without injury or loss of any competitors. Good turn out from some running clubs - see below - so thanks for that - they helped make up a total of over 400 entries. Many thanks to all Rotarians and other helpers who made the day possible. We should have raised a goodly sum for the British Skin Cancer charity.
Here are the runners at the 15 mile start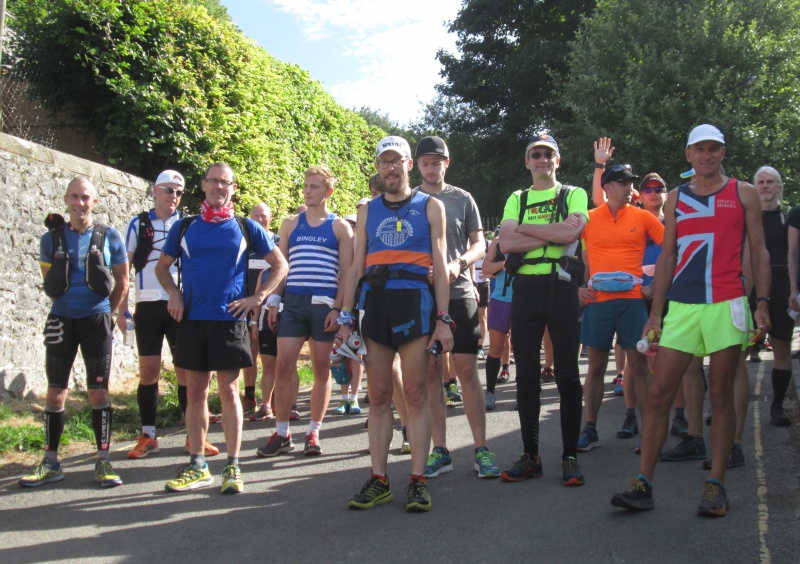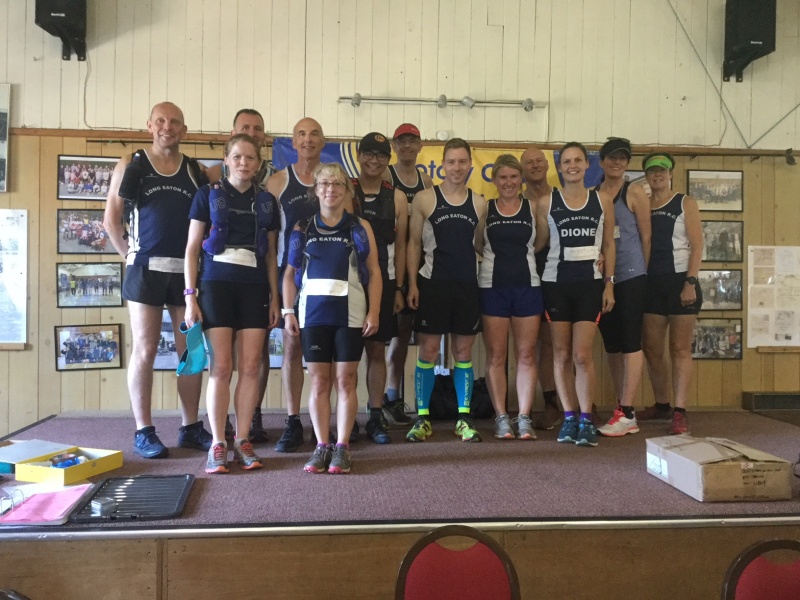 LongEaton Running Club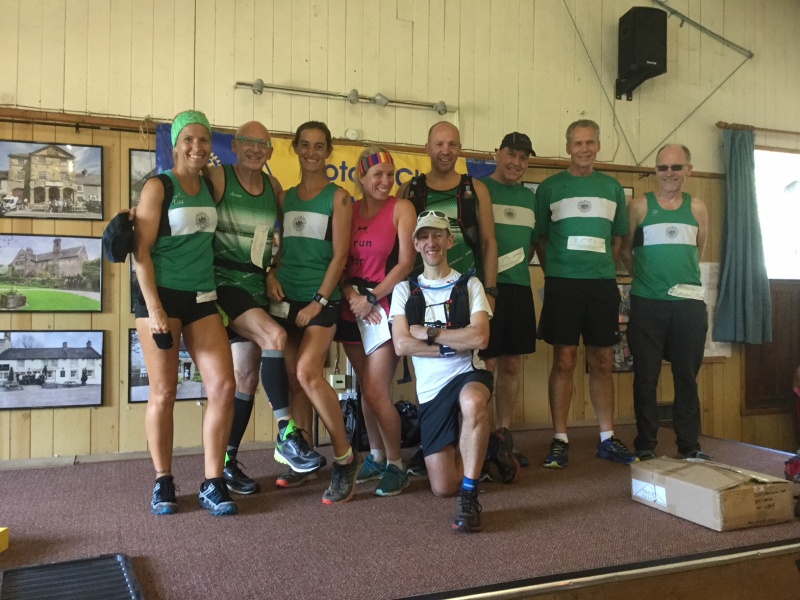 Kenilworth Athletics Club
and Glossopdale Harriers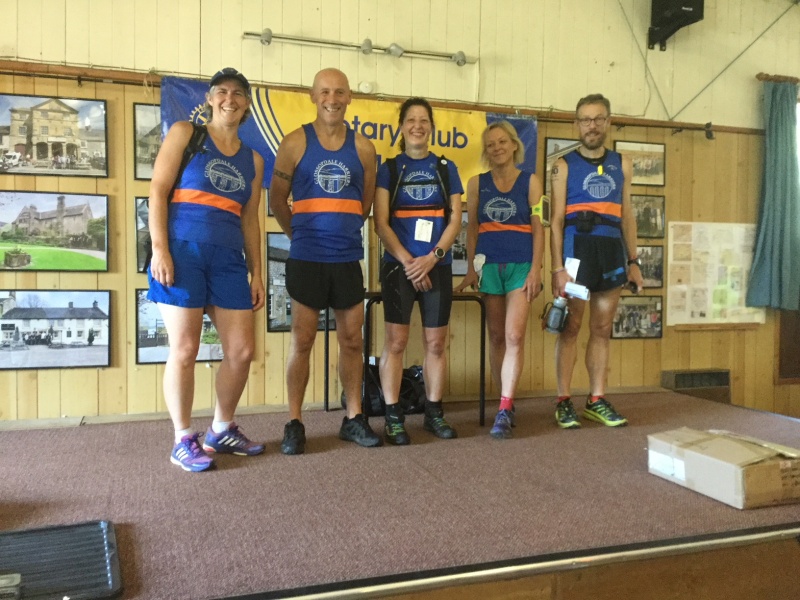 ASHOVER CLASSIC CAR AND BIKE SHOW SUCCESS

Best car at Ashover: Well done John Gregory of Kilburn, near Derby, awarded 'best car' at the 2018 Ashover Classic Car & Bike Show with his 1962 Austin Healey 3000. Trophy presented by Chesterfield Scarsdale Rotary president Ron Enock.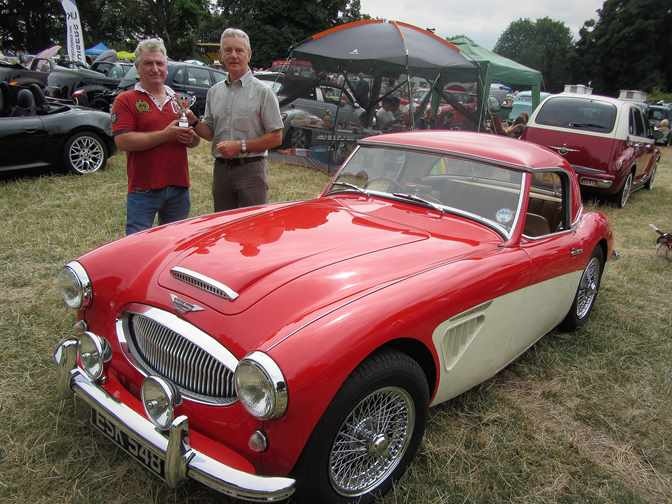 Best bike at Ashover: Congratulations to Jess Bamford of Codnor who won 'best bike' at the 2018 Ashover Classic Car & Bike Show with his very rare 1929 Indian 4 1260cc American motor bike. Trophy presented by Chesterfield Rotary president Barry Thompson.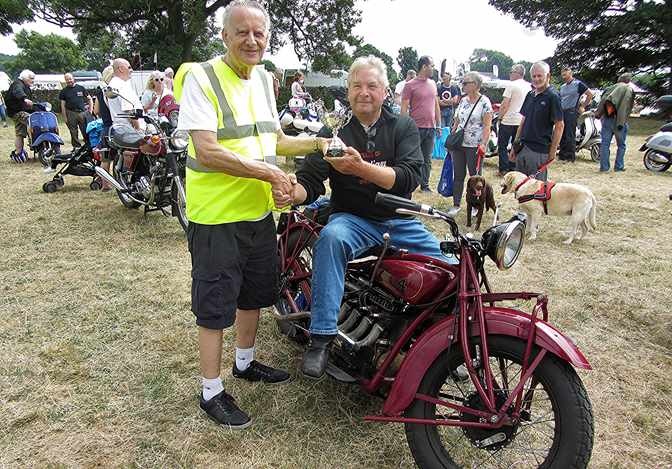 There is a video of the presentations on facebook.
NEW PRESIDENT FOR MATLOCK ROTARY CLUB
Paul Edwards, former Ofsted Inspector, police officer and ex-headteacher of Wirksworth Junior School, is the new President of Matlock Rotary Club for the 2018-2019 Rotary Year.
Paul was installed as President at the Club Meeting on Monday 2nd July held at The Remarkable Hare in Matlock.
Paul said that his main objectives for the Matlock Club during his Presidential year are to:
Celebrate our 91st anniversary year with successful fund raising, socials and fun within the community

Involve the club in a major local project – details to be released later and to become more involved with local schools

Continue our well known and highly successful programme of events

Ashover & Cromford Classic Car & Bike Shows

Dovedale Dipper 26 & 16 Mile Challenge Runs & Walks

Matlock Victorian Market Mulled Wine Stall

Enhance links with local schools and other organisations.
The 35strong Matlock Rotary Club meet on Monday evenings at the Remarkable Hare, Dale Road, Matlock and are always looking to meet people who might be interested in helping out occasionally at events or becoming a Club member – just Google Matlock Rotary Club for details.
Other officers for the new Rotary year, are President Elect Phil Pegg and Vice President, Tom Moloney.

Photo: Left to right – Vice President Tom Moloney, President Paul Edwards and President Elect Phil Pegg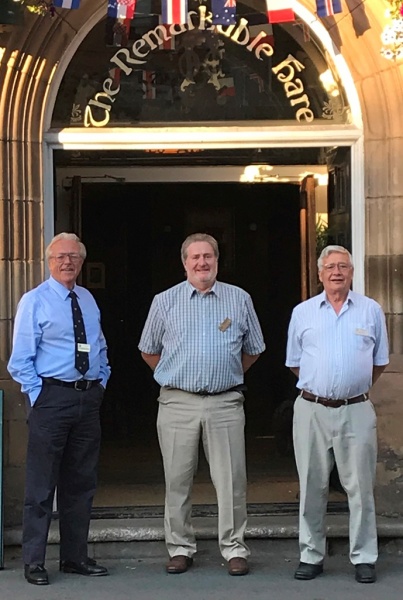 40 Not Out
Ian Garritty, of Megdale, Matlock has received an award from Matlock Rotary Club for being a member of the club for an amazing 40 years.
Ian joined Matlock Rotary Club in 1978 when Matlock was a centre for textile manufacturing and limestone quarrying, beer was 43p a pint and petrol cost 76.5p a gallon.
Ian has attended the club regularly over his 40 years of membership and was President of the club in 1992.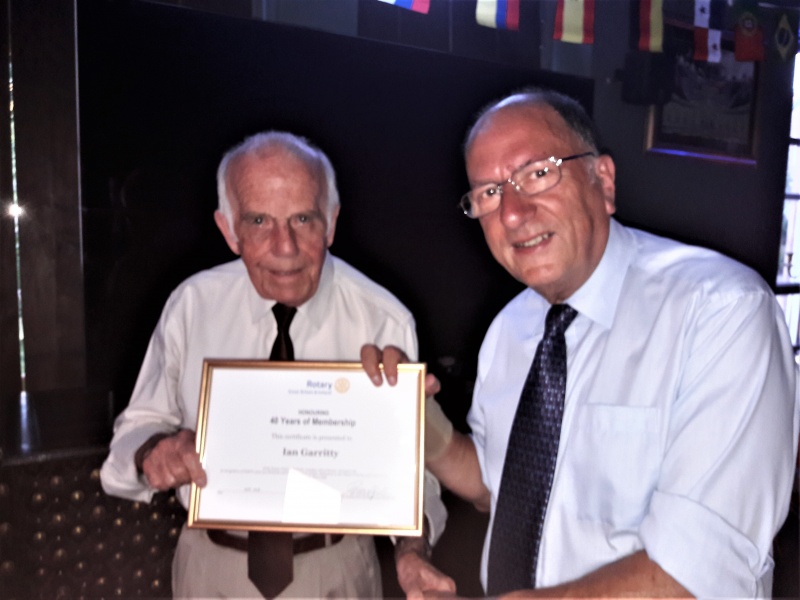 Ian Garritty receives his long service award from the Matlock Rotary Club President, Julian Hammond
Cracking Classic Cars at Cromford
Four years ago, Matlock Rotary Club and Matlock Rugby Club took a punt at organising a classic car and bike show, not knowing whether it would be a success. It has now grown into an established show and attracts visitors and exhibitors from far and wide.
This year's show, held on June 17th, at Cromford Meadows, drew in over 200 classic cars and around 20 classic motorbikes. Visitor numbers were over two thousand and everyone had a great time.
A lovely carnival atmosphere was provided by Ashover Band playing popular brass band music.
The funds raised by the show go towards developing the facilities at Matlock Rugby Club and funding Rotary projects in the community, such as the Highfields School Bursary Award, or helping charities and good causes.
The best car in the show was awarded to Dave Bull of Chesterfield, the proud owner of an immaculate 1949 Buick Dyna Flow.
The best motorbike in the show was awarded to Jon Lambley, of Matlock, who owns a beautifully restored 1949 Vincent Series B Rapide.
The President of Matlock Rotary Club, Julian Hammond said "I am delighted by the support that we have had for the show and I would like to thank the organisers, our partner, Matlock Rugby Club, all the exhibitors and stallholders, and the children's ride providers for making this show a success."
Photos below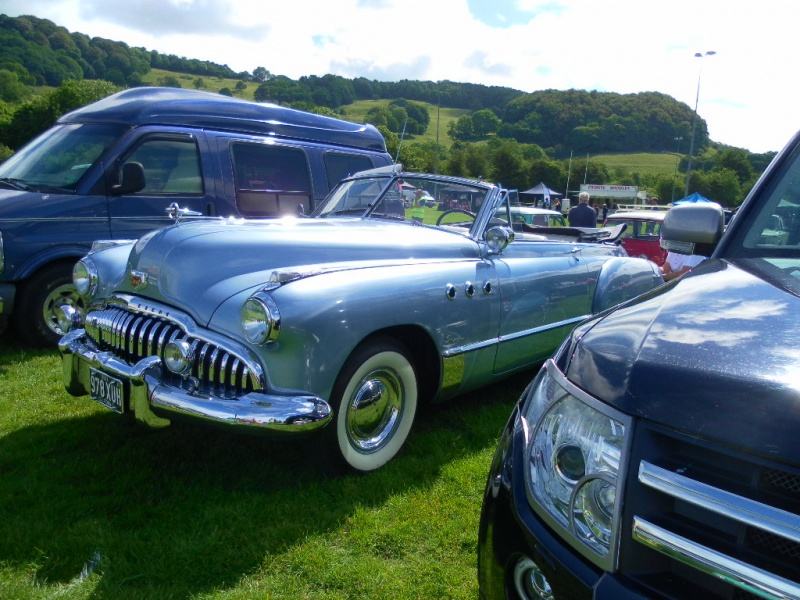 1. The winning car, 1949 Buick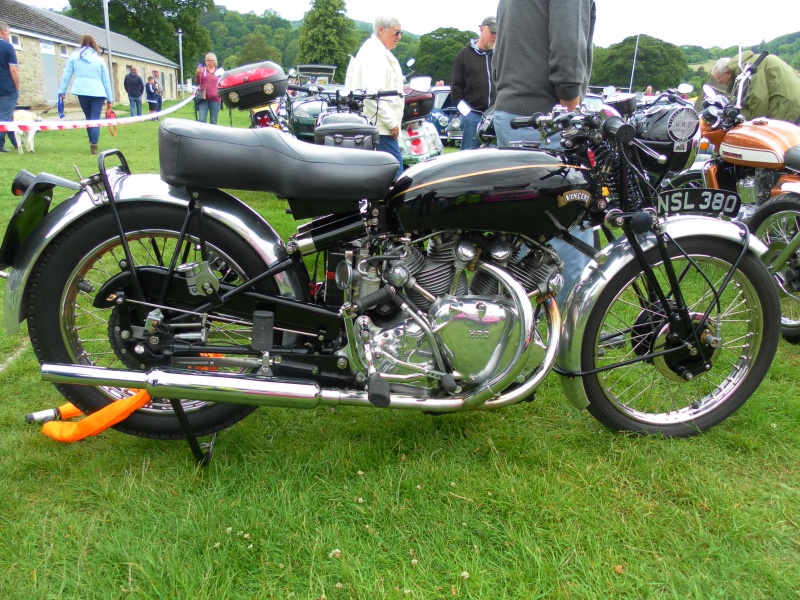 2. The winning motorbike, 1949 Vincent B Rapide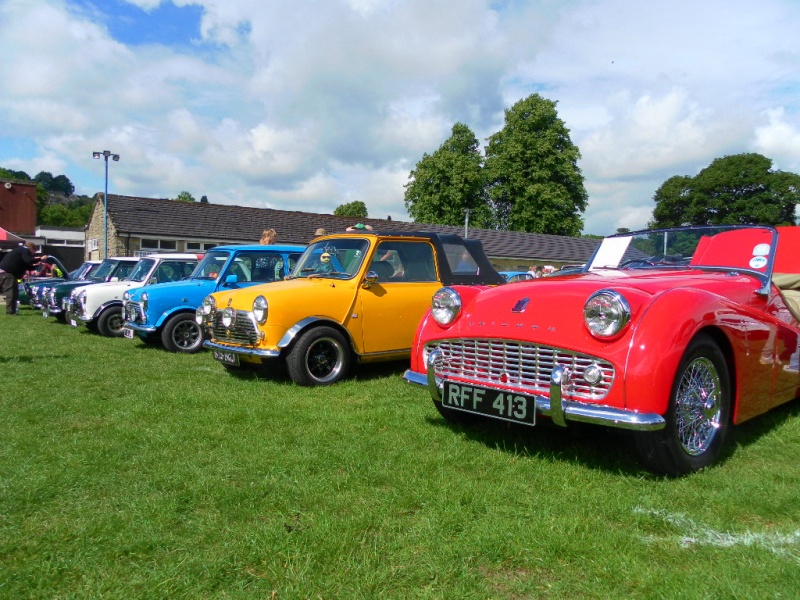 3. Cars at the show
4 and 5 The President Julian Hammond awarding the trophies to the winners -
Dave Bull in the white shirt
Jon Lambley in the black shirt





Happening soon...
Meetings and events happening soon
Monday 21st October 19.00
Speaker Adele Appleby - re Treetops Hospice
---
Monday 28th October 19.00
Visit to Aquabox (Daytime visit)
---
Monday 4th November 19.00
Committees
---
Monday 11th November 19.00
Speaker meeting - speaker finder Andrew Leadbeater
---
future events Past Events calendar district events local events
---
---
---
Rotary News
Be part of a global network of volunteers, trying to make the world a better place. Please also see the 'links & news' page for information from the local district and live feeds from Rotary International and Rotary International in GB&I.
Flexibility creating new opportunities for new members
---
RotaKids supporting their local community
---
---
Meetings & Venue
Where and when: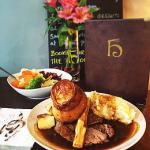 We meet on Mondays at 18:45 for 19.00
(
Mondays (except bank holidays)
)
We meet be at the Remarkable Hare at 77 Dale Road, Matlock DE4 3LT
01629 580850