MATLOCK ROTARY MEETS AT The Fishpond South Parade, Matlock Bath.
Club activities can be found on the what we do pages off the main menu top left.
Welcome from President Tom Moloney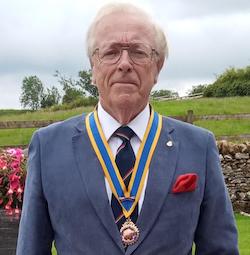 Tom Moloney is the current President of Matlock Rotary Club. Tom, a keen sailor and ex- Director of Pinkerton, the American Detective Agency, who are the origin of the term 'Private Eye'. Tom was responsible for Anti-Counterfeit Operations on behalf of major international clients throughout Europe, Middle East & Africa. He will now endeavour to steer the club through the choppy waters ahead, as Matlock Rotary Club adjusts to the Covid 19 era
Tom, who lives at Pikehall and has two grown up children said, " I am looking forward to my year as President, despite the difficult times ahead. It is a challenge I shall embrace and the club will come out of the crisis stronger and more modern, meeting the needs of members and future members by being inclusive, open to change, flexible and worthwhile to the local community, as well as being involved with National and International projects such as End Polio Now and disaster relief."
We held our first physical event of 2021 at the Matlock Golf Club on 9th August 2021 where we had RGBI Executive Chairman David Ellis join us. We are currently meeting face to face on the second and fourth Mondays at the Fishpond in Matlock Bath our permanent new home.
Our recent Charter was held at the Fishpond in Matlock Bath attended by our Guest Speaker the derbyshire Police and Crime Commissioner Angelique Foster
Community Grants are still available to community organisations in the area, that need financial support and meet the criteria of being locally based and delivering services that provide positive benefits. Details of the grant are available on the club's web site.
Bursaries will again be awarded to students at Highfields School in Matlock, to help them with their studies at University or College, including apprentice training.
Throughout the year ahead, grants may also be made to worthwhile organisations, such as foodbanks, depending on the availability of funds.
New members are also welcome, and again details of how to join us can be found on the club's web site.

Help us raise funds when you shop, by signing up and using Easyfundraising. A Donation is made by the retailer direct to Matlock Rotary Trust Fund as a Thank You. It costs you nothing. Click here to sign up