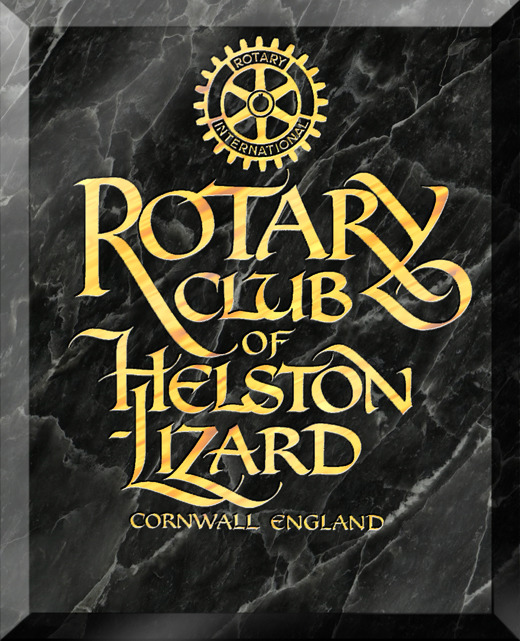 The Rotary Club of Helston-Lizard was chartered on 29 April 1987 with 28 members. We currently have 37 members plus 4 Honorary members.
The Club serves the community around the town of Helston and the Lizard Peninsula and is part of Rotary District 1175, covering 83 Rotary Clubs in the South West Peninsula of Devon, Cornwall and the Isles of Scilly.
What we've done...
21 February 2023. Following the resignation of Chris Andrews, the Club elected Immediate Past President Chris Butteril as Club President and Rtn Steve Ford as Immediate Past President.

(L-R) Treasurer Roy Treloar, President Nominee Henry Dunstan, President Chris Butterill, Secretary Allan Loveday, President Elect Peter Mueller.
3 December 2022. The Club resumed its annual Old Folks Party at Carleen Village Hall with support from the ladies of the Inner Wheel who made an excellent record of the event on their website here
2 August 2022. The Club celebrated the well-deserved award of a Paul Harris Fellow to Past President Steve Ford for his unstinting and continuing service to the Club

Steve Ford (L) is presented with his Paul Harris Award by Immediate Past President Alan Nicholls (R)



Our handover evening took place on 12 July 2022

Club Members celebrate in "Gardening Attire" as

Past President Chris Butterill hands over to incoming President Chris Andrews on behalf of President Alan Nicholls
---
Club Future Events in 2023...
Weekly meetings are held each Tuesday at Whealdream, 7:30 for 8pm. Please contact the Secretary if you wish to visit us: secretary@helstonlizardrotary.org
Tue. 28th Mar. - Fellowship - Visit from Penzance Rotary, Whealdream -

Nick Wills

Mon. 3rdApr. - RCHL Council -

Pres. Chris Butterill

Tue. 4th Apr. - Fellowship, Whealdream - George Blight
Tue. 11th Apr. - Business, Whealdream - Bob Calleja
Fri. 14th Apr. - Partners Night - 19:30 - Inn and Still - Host: Pete Mueller
Tue. 18th Apr. - AGM, Whealdream - Allan Loveday
21st Apr. - Twinning Visit to The Rotary Club of St Brieuc-Grande, David Platt

Sat. 22nd. April - District Assembly, Tavistock Collage

Tue. 25th Apr. - Fellowship, Whealdream - Tony Smart

Ths. 27th. Apr. -

RCHL Council -

Pres. Chris Butterill

Tue 2nd. May -

Business

, Whealdream - Adam Corbridge

Tue 9th. May -

Fellowship, Whealdream

-

Neil Cottingham

Tue. 16h. MAY -

Fellowship, Whealdream

- Steve Ford
Tue. 23rd. May -

Fellowship, Whealdream

- Derek Crow

Fri. 26th. May - Sportsmans Dinner - Epworth Hall -

Speaker is Nigel Redman

Tue. 30th. May -

Fellowship, Whealdream

- David Ford

Mon. 5th. June -

RCHL Council -

Pres. Chris Butterill

Tue. 6th. June - Club Assembly

, Whealdream

- Chris Dale
Sat. 10th June - Presidents Night at the Greenbank - Pete Mueller

Tue 13th. June -

Business, Whealdream

- Paul Knight

Tue 20h. June -

Fellowship, Whealdream

- Henry Dunstan

Tue 27th. June - Handover

, Whealdream

- David Cromey

Mon. 3rd. July -

RCHL Council -

Pres. Pete Mueller

Tue. 4th. July -

Fellowship, Whealdream - Steve Ford

13th to 16th July Goodwood Festival of Speed – Chris Butterill 2023 at the
29th Sept. - Charity Golf Day, Mullion Golf Club. Contact: Hjalmar Wara