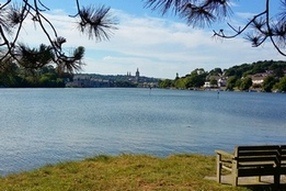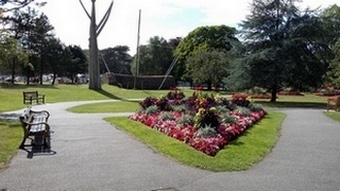 Boscawen Park in mid-summer
The city from Boscawen Park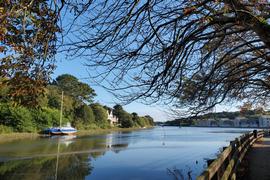 Down river from Truro (clarerphoto)
The Club's 25 active members give their time and talents to help with local and international concerns, and try to have as much enjoyment as possible in doing so.
Since January 2023 we have been meeting at Truro Golf Club, generally every fortnight on Monday evenings.
Members of other Rotary Clubs are always welcome, as is anyone interested in finding out more about membership. Would-be visitors are advised to check on this website to see when the meetings are held, and then to contact the Club's Attendance Officer using the "Contact Us" form.
For more information about Rotary and the Club, click here or use the Membership Enquiry link at the foot of this page.
To view the Club's Privacy and Accessiibility Policy, scroll to the foot of this page or click here.
Some events from 2022 and 2023
The Mayor of Truro's Charity Golf Day

The Viv Hendra Memorial Lecture

The National Young Writer Competition,

Rotary Youth Speaks Competition

Boscawen sends to Ukraine

Support for Truro Foodbank and Shelterbox.
And from previous years....
The Big Rotary Cornish Coastal Footpath Challenge
In August 2020 we walked the Cornish Coastal Footpath. But there was more to it than that. See the story
Here
VE75 Anniversary Walk from Lands End to London
See the page of the walk and including our Club montage in front of the Victoria Memorial.
VIA THIS LINK
1000 mile Challenge: John O'Groats to Lands End
see the Page of the first week See our photo as we celebrate the completion of our walk under the famous Lands End sign
Via This Link
Via This Link
Burns Night January 2020
Burns Night was great fun, Gyl gave "the Ode to The Haggis" in authentic voice and Kyle piped it in.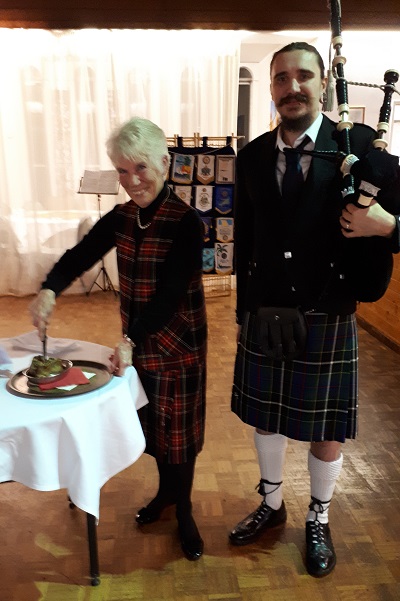 St. Petroc's Visit
We recently welcomed our St Petroc's Society friends to the club and heard about the encouraging reduction in homelessness in the county in the last 3 years.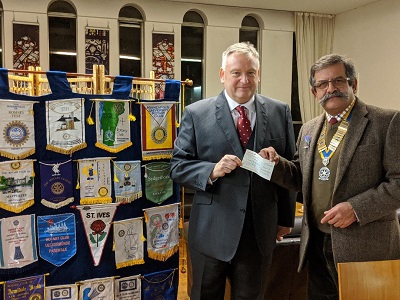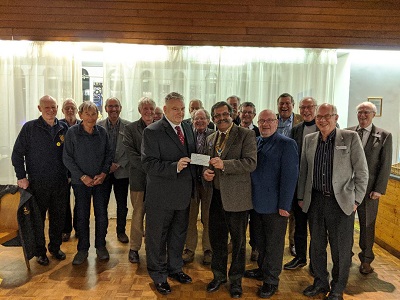 Mooch around Mylor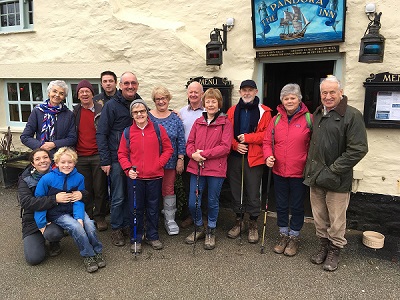 Our annual post Christmas walk took us from Mylor, to the Pandora Inn and back. There were even some non walkers who went straight to the pub, but they all had genuine "sick notes" (look closely)
Christmas Lunch at the Alverton
Father Christmas has completed his tasks and enjoys a well earned rest.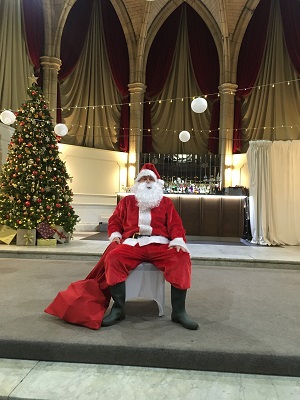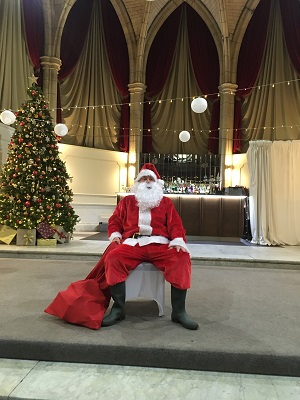 Carol Singing at the Cathedral
We sang carols at Truro late night shopping evenings, and collected for St. Petrocs Society. We were also joined by friends and family members, and our Town Crier got the message out loud and clear.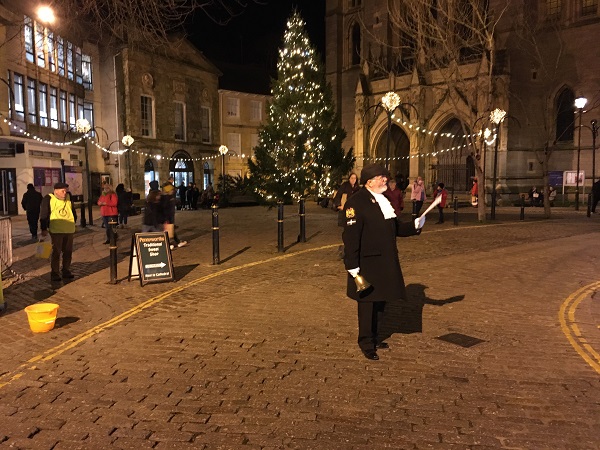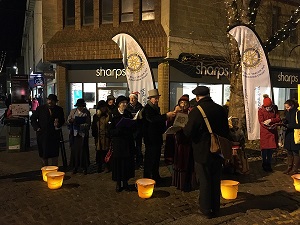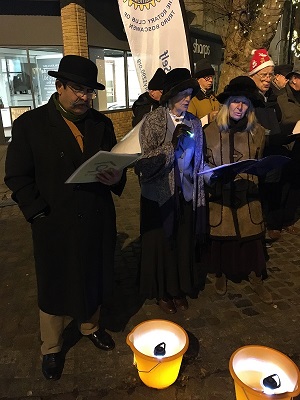 4 October: Talk by India and Lancashire cricket legend Farokh Engineer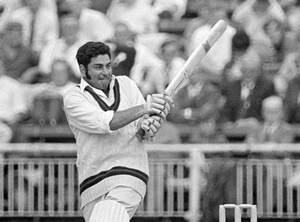 At the Burrell Theatre, Truro School, Farokh spoke about his career in first class cricket around the world,in aid of Mumbai street children and St Petroc's.
Cricket bats signed by the game's modern "greats" were raffled and auctioned.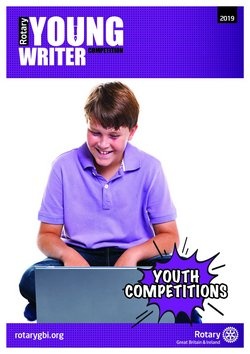 This year's theme was "Connections".
2019 RYLA Certificate presentation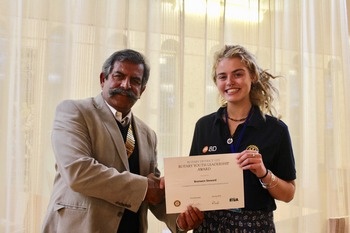 At the weekly meeting on 24 September, President Raj Dhumale presented a Rotary Youth Leadership Award (RYLA) certificate to Bronwen Steward, one of this year's successful participants supported by this Club.
10 May 2019 : 22nd Annual Charity Golf Day in association with the Mayor of Truro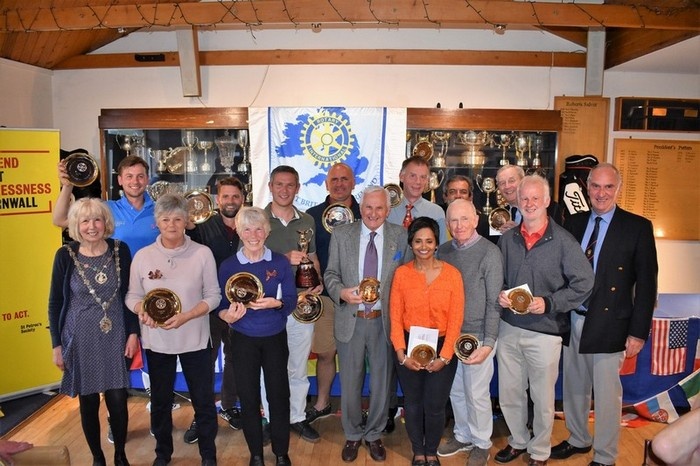 The Mayor of Truro (left) and all the winners
Another successful Charity Golf Day, sponsored by Truro Motor Company Volvo, enabled Rotary Club President David Hughes to present cheques for £1,200 each to three local charities: the Mayor's Charity (Addaction), St Petroc's and Cornwall Air Ambulance.
The profit on the day was of the order of £4,500, with the balance going to other charities supported by the Rotary Club. Rotary Club ladies raised over £1000 on the Grand Draw and tombola - with thanks to all generous donors and ticket purchasers!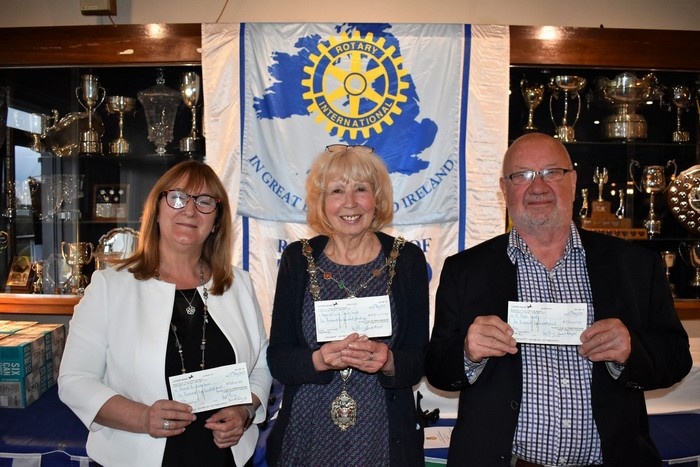 Mayor of Truro Lindsay Southcomb;
(l-r) Air Ambulance Fundraising Director; Jackie Southen;
Geoff Tate (Chairman, St Petroc's Society)
Thirty seven teams took part, on a course in fine shape thanks to Truro Golf Club staff. The teams that went out in the morning had the best of the weather; those in the middle of the day had a wetting, and the last teams out avoided the rain. The winning team was from Lillicrap Chilcott ( (Mark Bracey, Alec Penrose, Shaun Eamer, and Luke Taylor) with a record score for the competition of 100 Stableford points.
All the results and pictures of the day (thanks to Alan C) will follow shortly
12 April 2019 : another concert : The Medical Maelstrom : Truro School
We were delighted to have secured the services of this well-known and talented trio of doctors for an evening of music, song, and amusement in aid of Shelterbox.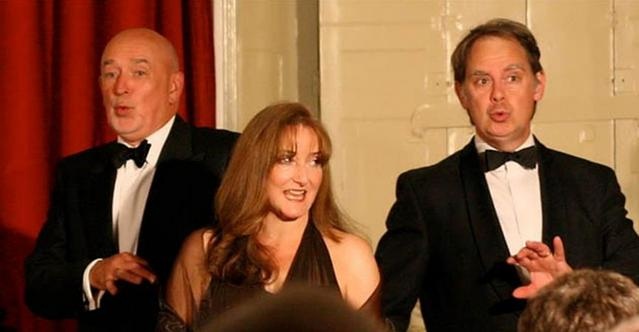 Nearly 200 people saw and heard a unique blend of music and topical humour, including old and new favourites. The evening raised over £2,500 for Shelterbox (the East African appeal) and other Rotary charities.
More details are
here.
4th March 2019: An evening featuring presentations to local charities
At an "open" meeting for members and their wives, President David Hughes handed over cheques totalling more than £5,000 to ShelterBox, St Petroc's, Cornwall Hospice Care, the Cornwall branch of the National Autistic Society, and Penhaligon's Friends. The money had been raised by a number of "fun raising" activities such as carol singing, quiz nights, concerts and golf days.
More details
2018-2019 Youth Speaks for Truro primary schools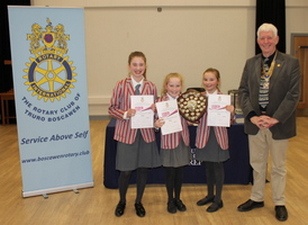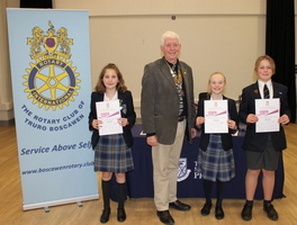 Six schools took part at Truro Prep School on 24 January 2019.
Once again, the topics covered were engaging and topical, and the standard was very high.
The winners were Polwhele House School (left) and Truro Prep School (right) were second. Polwhele House gained further success at the western area final in Penzance, going forward to the District Final in Saltash on 16 March.
Competing aganst ten other teams from the whole of Cornwall and Devon,
on this occasion Polwhele House came second, with chairman Eliza taking the honours as the best in that role - a terrific team achievement for a very small school!
Well done!
More
on
the topics discussed, and photos.
31 January 2019: Charity Concert in aid of Shelterbox
Despite the worst night of the winter so far, with travelling difficult, an audience of just over 100 braved the conditions to reach Truro School's chapel. They were well rewarded for their fortitude with a wonderful concert.
Nearly £1,600 was raisd for Shelterbox and other Rotary Club-supported causes.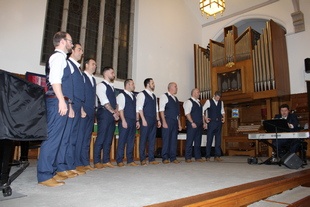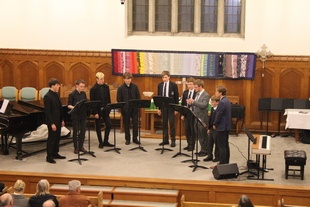 Celtic Male Ensemble
Truro School Barbershop Boys
Both choral groups were a little depleted, but the professionalism of the Celtic Male Ensemble and the Truro School Barbershop Boys ensured a high standard of singing.
More
details
Activities in the past year
Members and friends are taking to High Cross to sing carols on Wednesday "late night shopping" evenings in aid of the St Petroc's Society, which is aiming to eradicate street homelessness in Cornwall.
Carol singing in aid of the St Petroc's Society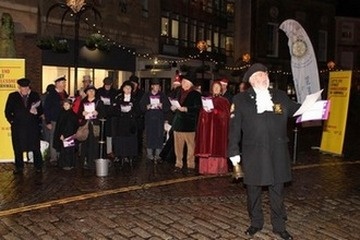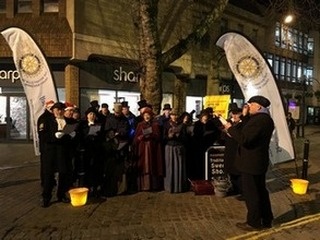 Ably assisted by the City Crier, Lionel Knight, just under £500 was raised over three evenings.
More pictures
Annual City of Lights Parade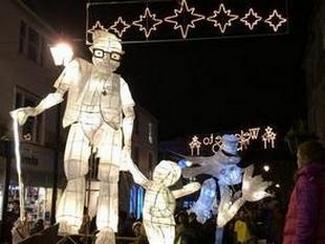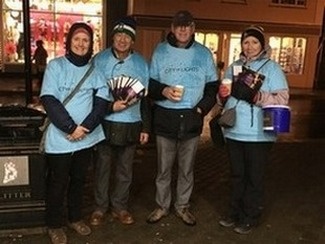 On a damp and blowy evening, a number of members turned out to assist as marshals for the annual City of Lights parade. As always with this event, there were some impressive lanterns, this year supporting the theme,
"Remember".
Rotary International Purple4Polio project to End Polio Now
President of the Club, David Hughes, and Rotarian Viv Hendra joined the Mayor of Truro, Lindsay Southcombe, and members of the Truro in Bloom team at Trafalgar Roundabout on Sunday morning, 18 November, to plant 10,000 crocus corms on the roundabout at the entrance to the city. They flowered in February 2019, and will multiply.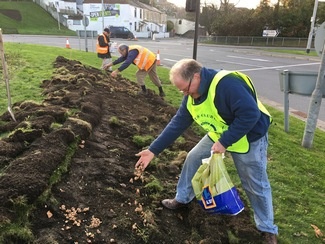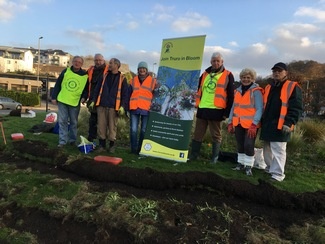 5,000 of the corms were donated by the Club to the City's Mayor on 9 September as part of the Rotary International
Purple4Polio
project
. This
END POLIO NOW campaign, sponsored by Bill Gates of Microsoft, has seen millions of pounds raised since 1988 to provide vaccinations to end the disease. While there were only 20 new cases in 2017, there is still more work to do.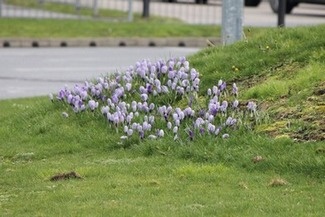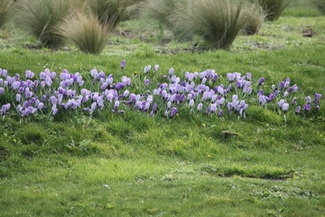 Rotary Clubs across the world are supporting the campaign through the purchase of purple crocus corms.
What we do
We encourage and support schools and young people
2018-2019 Young Chef: 9 October 2018 at Richard Lander School
12 young chefs took part in the school based round, with each one cooking two courses for one person. As well as producing some mouth watering food within a strict timescale, the youngsters also had to show their costings, meal plan and menu to the judges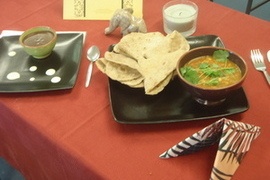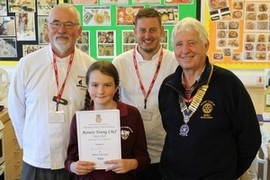 The winning entrant was Tiffany (L - with judges Nick Pickles, John Felton, and Rotary Club President David Hughes) and (R) her winning entry of Ghana Masala served with warm chapatis, with a pudding of mint and dark chocolate mousse. With second-placed Dexter, Tiffany went on to the Cornwall area round on 13 December, where Dexter won the first place and Tiffany came third.
More information and pictures
2017-2018 Young Writer - "A Different Perspective" - further local success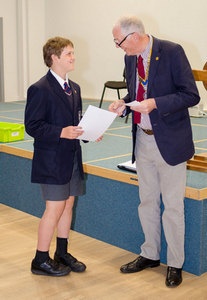 Rotary Club prizes and commendations were awarded to entries from St Erme with Trispen Community School, Truro Prep and Richard Lander School.
The
local winner at primary school level, Pax McDowell (Truro Prep School left, with President Peter Bayly) won the
age group.
District (Devon and Cornwall)
Information about this year's topic, "My Inspiration", is in schools now
12 June 2018 : Rotary Kids Out at Flambards organised by RC Helston Cober Valley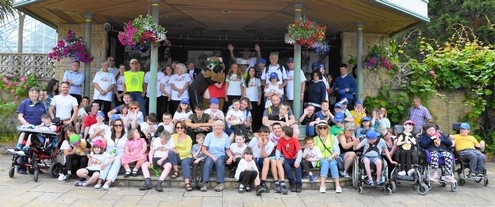 Over 70 children from Curnow School, Redruth, and Nancealverne School, Penzance, with helpers, spent a day at Flambards Theme Park sponsored by Rotary Clubs in West Cornwall.
Rotary Youth Leadership Awards (RYLA) : A " life changing experience" for three young men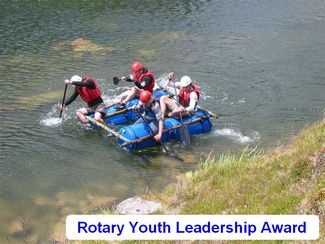 At the beginning of July, the Club sponsored three young people on the RYLA course, sharing the costs with their employers. Reporting back to members at a recent meeting, they all agreed they had taken part in a life changing experience. Click
here for a full report.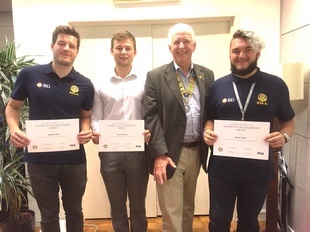 The programme offers young people aged 14 – 28 the opportunity to learn valuable leadership skills, and develop confidence. The young people selected spend a week attending seminars, camps or workshops where they take part in activities designed to improve leadership and communication skills, learn about businesses and institutions, explore career paths, share ideas and experiences, learn how to coordinate youth activities and community service projects in the community, and discuss creative approaches for resolving family, social, and professional conflicts.
Do you have a young person working for you who would benefit from a week's course of this nature? Would you be prepared to help us with the sponsorship of such a candidate?
If you can answer "yes" to both questions, please get in touch using this
Contact
link, or the link at the bottom of this page.
We support local needs, the local community, and local charities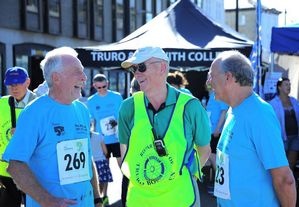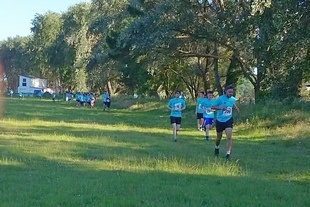 (United Response) 5 kilometre charity run and
Participating or helping as course marshals on the
ROC
at
the Trelissick Family Fun Run in aid of the Merlin MS Centre.
The events raised a combined total of around £18000.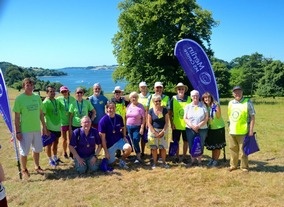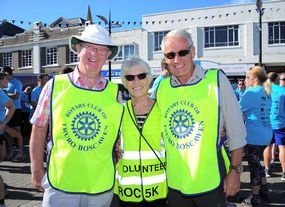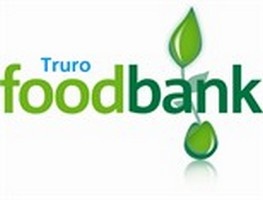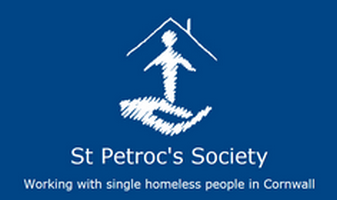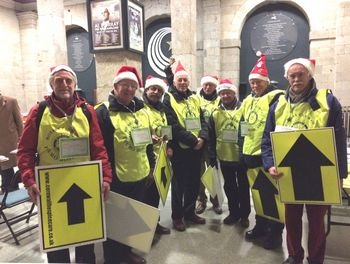 Members volunteer to help at the Foodbank each week.
We support the St Petroc's Society throughout the year, and help with marshalling for the Cornwall Hospice Care Santa Fun Run at Christmas.
The Club was represented at on 9 September.
Truro Day
As part of the Rotary International Purple4Polio project to
End Polio Now, the President handed over a box of 5000 crocus bulbs to the City's Mayor Lindsey Southcombe for planting around Truro.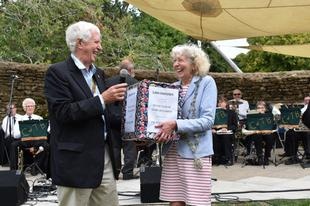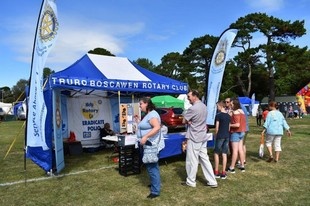 More pictures
and we engage with international projects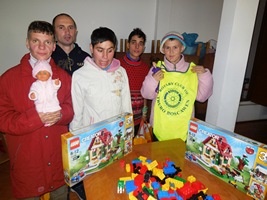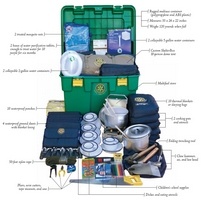 The White Cross Mission in Romania
Shelterbox Disaster Relief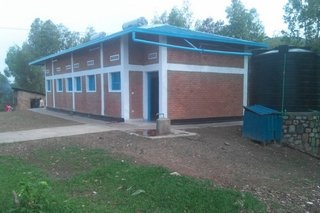 Refurbishing the Komera Centre in Rwanda
The Club's latest international project has now been handed over, following the construction phase
A second smaller phase of the project to rebuild the kitchen is now under way - details to follow
Click here
to find out more, and to see more pictures of the project, including a video made by the Committee's Chairman on a visit to Rwanda, please
How we raise funds to support these activities
21st Annual Golf Day in association with the Mayor of Truro, 11 May 2018
Close to £6,000 was raised for the Mayor's Charity (Cancer Research UK), Cornwall Blood Bikes, and the Club's Trust Fund.The winners of the perpetual Boscawen Trophy (sponsored this year by Truro Motor Company Volvo) were The Piranos from Perranporth Golf Club; the winners of the ladies'
were a team from Humberts Estate Agents.
competition
All the results and more pictures are
here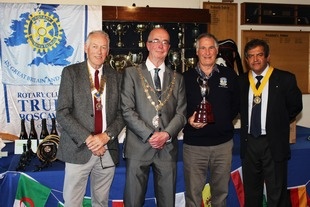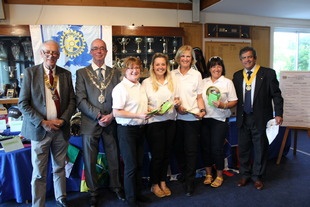 Winners : The Piranos (capt.
David Crossley, with trophy) Winning ladies :
the Humberts team
Also shown are
Rotary Club President Peter Bayly, Mayor of Truro John Tamblyn, and Raj Dhumale (Event Organiser)
(l-r)
Raj Dhumale presented cheques for £1,500 each to the Mayor and to Mark Holdroyd of Cornwall Blood Bikes.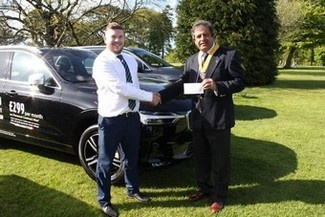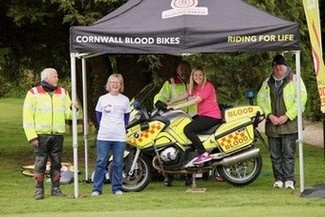 Alex Walker presents Volvo's sponsorship cheque Cornwall Blood Bikes and Cancer Research UK
Singing Christmas Carols at High Cross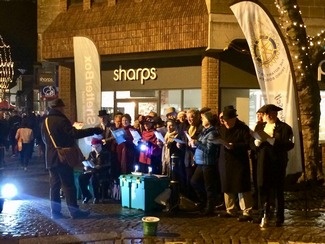 Last Christmas, Club members, wives, and friends formed a "community choir" to sing carols at High Cross in front of the Cathedral on the Wednesday "late night shopping" evenings before Christmas. Despite bad weather limiting this experiment to one and a half evenings, over £300 was raised for Club charity funds.
Beginning on 5 December, and on a further three occasions, our "choir" once again will strike up, with many dressed in Victorian costume to help the festive spirit along. Do come and join in.
Proceeds to the St Petroc's Society.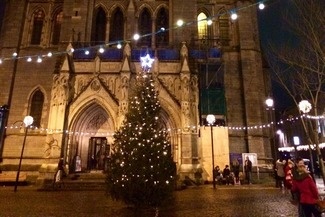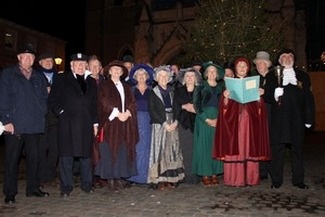 **************************************************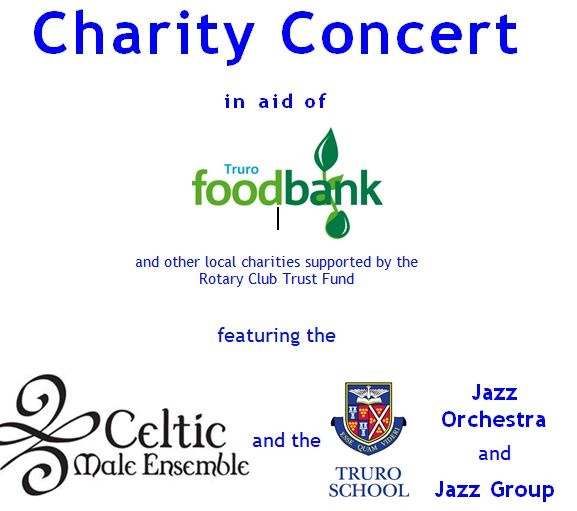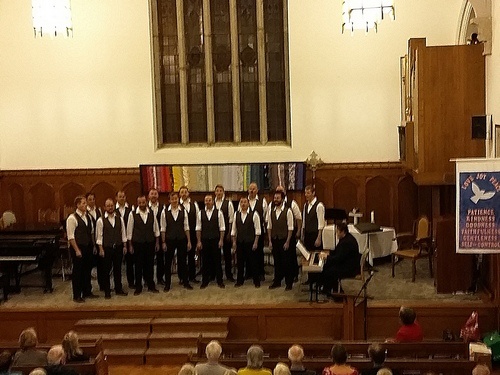 The concert, in the Chapel of Truro School on 19 October, raised over £1,000 for the Truro Foodbank.
The Rotary Club of Truro Boscawen
Members of RI/RIBI wishing to attend a meeting are asked to use the Contact link at the foot of the page prior to attending or, at short notice, ring the Attendance Officer on 01872 277762. Bookings close at 0900 on the Friday before the meeting.
The Rotary Club of Truro Boscawen was chartered on 30 June 1989 and six of its founders remain members. We are always glad to welcome members of Rotary International and their partners, and anyone interested in discovering more about Rotary. This link will take you to the Club's Contact page for information on different activities. Alternatively please use the Contact link in the menu at the foot of the page
Home page updated 2023-05-10