The River Gryffe flows from the Gryffe Reservoirs and emerges near Kilmacolm. It then flows through Quarriers Village, Bridge of Weir, Houston and Crosslee before joining the Black Cart river near Glasgow airport. The surrounding area is known as the Gryffe Valley, and it provides the name and the catchment area for Gryffe Valley Rotary.
Our weekly meetings are held at a new venue, the Fox and Hounds in Houston. The meetings are sometimes accessible via Zoom. Please look around the website to see more of what Gryffe Valley Rotary does and contact us if you have good ideas for projects or are interested in joining us.
We are a friendly club with 40+ members with a diverse range of backgrounds and interests. Most hail from Houston, Bridge of Weir and Kilmacolm with others from Brookfield, Howwood, Kilbarchan and Lochwinnoch. We enjoy our speaker meetings and through our joint efforts we like to give something back to the broader community through three branches of Rotary service - Community, Youth and International. By the end of the Rotary year we had raised more than a £280,000 pounds in support of charitable causes in these three areas!

Our club is all about helping others less fortunate than ourselves and our ethos is governed by three principles - Fun, Fellowship and Funds:
FUN - we like to have a good time! We aim to enjoy a decent meal and an array of informative and entertaining speakers at our weekly meetings, and we organise a series of social events (like a Burns Supper and our BBQ in the summer) when we invite our friends and families to join us in having a good time whilst of course helping us to raise money.
FELLOWSHIP - we aim to maintain our membership at around 45 -50 members ie big enough to achieve something worthwhile but small enough to ensure that everyone knows everyone and can create and sustain friendships. Our meetings are friendly and convivial, and we welcome visits from other Rotarians. We encourage those about to retire or recently retired, or new to the area to join us.
FUNDS - apart from our own efforts, time and energy, we need funds in order to be able to help most of the good causes we identify. Social events help raise much of our cash, but we attend shows, organise quiz sheets, raffles etc and will rattle cans if it helps. Thus far as a club we've raised more approaching £300,000 and have disbursed it to a wide variety of local and international projects which we select from time to time, as well as to Rotary's own Foundation charity which aims to advance worldwide understanding, goodwill and peace with major projects like the Global Polio Eradication Initiative.
Check out here to find out more about us or better still why not come along to a meeting and see what we are getting up to. We'd love to see you so just use the "Contact Form" tab above and we can set up your visit. If you are concerned that you won't know anyone, why not come along with a few friends. Who knows you may want to join us!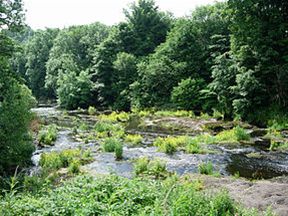 The River Gryffe
Website Visits