Featured pages
Welcome to the website of the Rotary Club of Royal Wootton Bassett Town. Please scroll/swipe down through this page to find out more about us, in addition to the pages linked in the menu, top-left
Santa Claus is Coming to Town
---
Timings and routes for Santa's 2019 visit to Royal Wootton Bassett are on the poster
details
---
About us
All photographs on this website are protected by Copyright of WBTRC or the individual photographer
---
Thought for October
Remember, today is the tomorrow you worried about yesterday
Dale Carnegie
---
Please remember that if you cannot attend on an evening when you are designated as "Host", it is YOUR responsibility to arrange for a stand-in. Just sending your 'apologies' to the President does not count!!



WBTRC RAISES £3000 FOR PROSTATE CANCER UK
The Club raised the terrific sum of £3000 in its annual Charity Golf Day that was held by kind permission of Brinkworth Golf Club and presented a cheque to Mike Breakell of Prostate Cancer UK at a Meeting on 18 November. The presentation included Judy Powell, our current District Govenor who was making her formal visit to the Club, and are pictured with Club President (and Councillor) Stephen Walls (not to be confused with Stephen Watts, the current Town Mayor!!) and Rotarian Harry McLaughlin who was the event Mastermind.
President Steve has chosen PCUK as 'his' charity fro the year and so we hope to be repeating this presentation in a year's time. In the meantime, huge thanks to BGC for allowing us to stage the event, to Hulbert & Woodall for all the printing and to all our Club Members, partners and friends for their involvement and commitment to making this such a success.


We have a date for next year - 14 June - please put it in your diaries/calendars now and come along to help us support this incredibly worthwhile charity.

PS - I can't post the photo at the moment - but I'll do it asap





---
ROTARY INTERNATIONAL HAS MADE THE FOLLOWING ANNOUNCEMENT


Wild poliovirus type 3 certified eradicated on World Polio Day
Today, on World Polio Day, Rotary and its Global Polio Eradication Initiative (GPEI) partners announced that wild poliovirus type 3 (WPV3) has been eradicated worldwide.
WPV3 is only the third infectious human disease-causing pathogen to be eradicated in history, following smallpox and wild poliovirus type 2.
This achievement means that two of the three wild polio strains have now been wiped out, an important marker of progress against the disease.
The announcement comes on the heels of recent news that Nigeria has gone three years without a case of wild poliovirus, which means that the entire African region could be certified wild poliovirus-free in 2020.
Huge thanks to everyone who has supported our 'End Polio Now' campaign over the past years. Our fight continues to eliminate the Type 3 Virus

---
ANNUAL YOUTH CHALLENGE WON BY YOUNG DANCERS
RWBTRC & RWB&DRC are delighted to announce that Teams from the RWB School of Dance were placed first and third the Youth Challenge held at the RWB Academy on 29 September 2019. The RWB WBLETS intervened to take second pace in a spirited final that involved the Teams in making wind powered buggies, an event that saw every emotion from elation to frustration coupled with huge quantities of innovation.
It was a brilliant day for the youngsters during which they faced a range of tasks that challenged their mental gymnastics, spacial awareness and general knowledge with a couple of 'fun' challenges such as charades, thrown in to lighten the proceedings.
We received a tremendous amount of support from local businesses especially "Box & Seal" , "Hulbert & Woodall" and "Dan's Deli" and, of course G4S who allowed us to use the Academy facilities and ensured everything was working properly for us.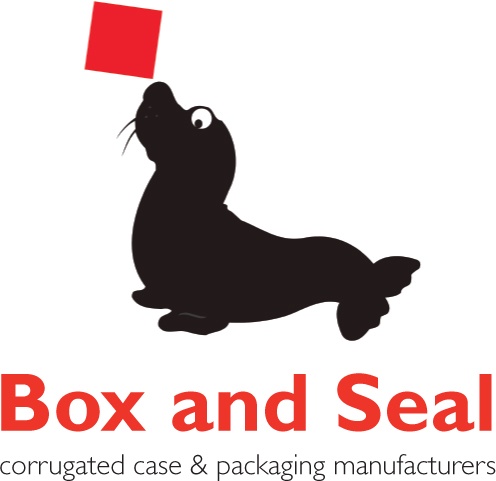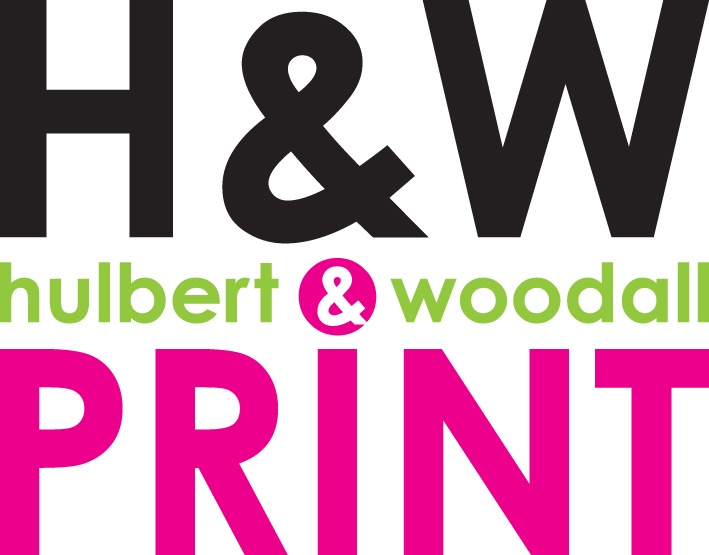 Very many thanks to all the Rotarians and their partners - and to "Power of 10" for running the challenges; to the RWB Mayor, Cllr Steve Watts and our District Governor Elect, Chris Firth for presenting the awards; and of course to all the young people whose participation was fundamental to the success of the day.
All the photographs - including a few blurred ones that I have to edit - are available by going to the banner page above and clicking on 'Details'.
---
2020 CHARITY CALENDAR LAUNCHED
RWBTRC was honoured to be joined by the Town Mayor, Councillor Steve Watts and the Town Crier, Owen Collier, for the official launch of the Club's 11th annual Charity Calendar, on Saturday 7 September. The Guests were welcomed by the Club's President, Councillor Steve Walls, and a large number of the Club members. Readers will recall that the Club invited amateur photographers to submit entries for inclusion in the calendar. There was a good response to this challenge and 12 photos were selected for inclusion in the Calendar. Each of these entries will be rewarded with a copy of the Calendar and the overall winner, whose photo appears on the front cover, will receive a canvas print of his work.
The selected photographs were taken Teri Evans, Nick Bolton, Stuart Frelick, Beth McInally, Lawrence Smith, Laurence Upton, Penny Birch, Kathryn Cook, Alana Coote (our youngest entrant, aged 10), Anthony Marson and Edith Cameron.
And the winner of the front page competition was Dominic Thomas
Thank you all for supporting this effort, now please go an buy one of the calendars - they're only £5 each


---
NEW PRESIDENT TAKES UP THE REINS
For the first time since the Club was founded in 2002, we found that we didn't have a member with the right background to take on the Presidency - who had not done so before. With great dedication and commitment, therefore, Steve Walls has become our first 'retread' President - saying "at least this time, I'll know what I'm doing!" Welcome back to the President's Chair, Steve and we all wish you a very happy year in office.
---
MAJOR BOOST FOR RAF BENEVOLENT FUND
In recognition of our close ties with the Royal Air Force at Lyneham and the 100th Anniversary of the RAF in 2018, the Club agreed that the major beneficiary of our charity work this (Rotary) year would be the Royal Air Force Benevolent Fund - which celebrates its own 100th anniversary in 2019. On 15 April, an Ambassador for the RAFBF joined Club members for supper and to receive a cheque for £2000. In response, we heard of the brilliant work that the RAFBF does for serving and retired members of the RAF and their famillies and we are proud to support such a worthy charity.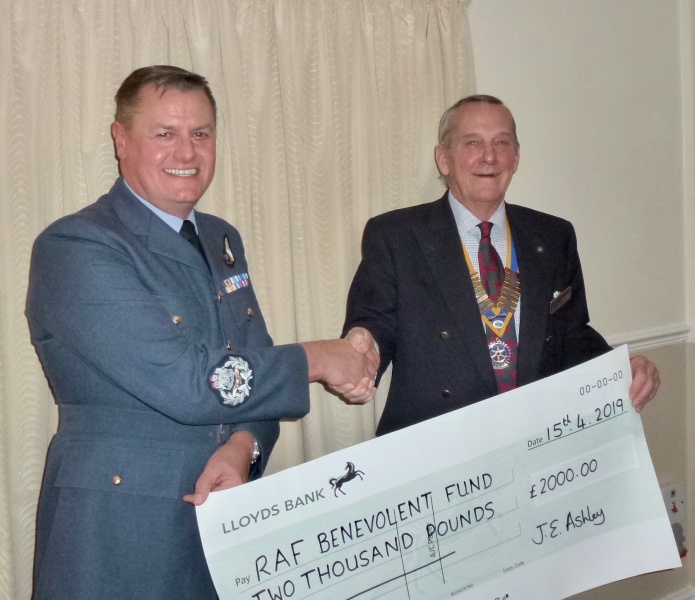 FATHER CHRISTMAS SLEIGH THANK YOU
The December 2018 'sleigh season' was one of the best on record and a major reason was the ability to produce coloured lighting and good quality Christmas music for the duration of the daily outing. In the 'old days' the power was provided by a noisy old 2-stroke generator that did nothing for Santa's health, let alone the future of the planet. So the experts had got their heads together and rewired the sleigh to run on low voltage led lights powered by a big battery; a bit of residual 240V kit was run through an inverter. So far so good, but the only batteries were 'second-hand' having seen life in other applications and we needed to carry 2 batteries to change over halfway through the evening. It was not an ideal situation.

However, in December 2018, Guy Collister, MD of the Swindon Caravans Group agreed to lend us a 'top of the range' battery for the duration of the collections and we were finally able to deliver reliable, good quality sound and lighting to the folks of RWB and the surrounding villages. So a huge 'thank you' to the SWINDON CARAVANS GROUP for their generosity in supporting our fund-raising sleigh activities.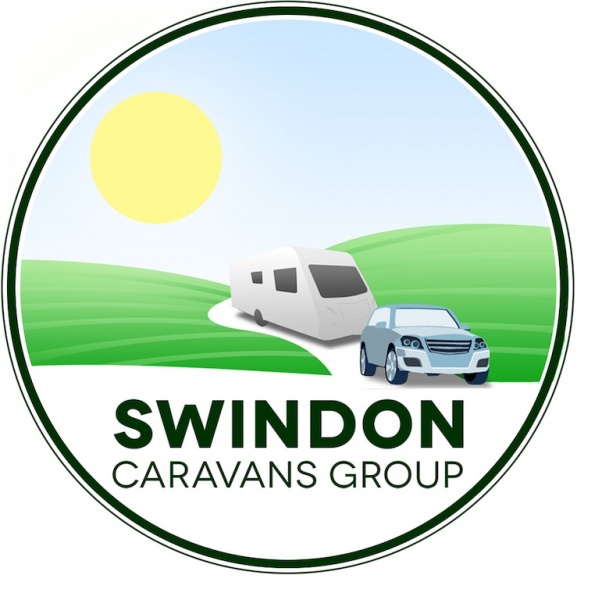 ---
END OF YEAR SUMMARY
As we approach Christmas and the end of 2018 , we thought you would like to know what we have been up to during the past 12 months. Together, the Rotary Clubs of Royal Wootton Bassett (RC of RWB Town and RC of RWB and District) have completed a plethora of activities ranging from 'fundraising' to just 'fun' and supporting the young people of the local community. Here is a summary of who we have helped and how we have raised the funds to do so.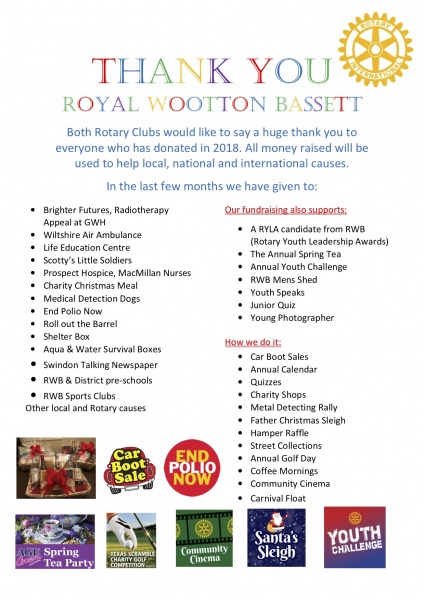 Thank you to all our friends and co-citizens of RWB for your support and generosity. We'll be back!!
---
BRIGHTER FUTURES RADIOTHERAPY APPEAL
You have seen information on this page about our Club's participation in the above appeal and we can now share with you the formal Press Release on the status of the Appeal and Rotary's contribution to it. Our huge and humble thanks to everyone in the RWB Area who has supported all our fundraising events over the past few years - from our Charity Shops in Boroughfields to our Annual Calendar and Golf Days. Give yourselves a big 'pat on the back'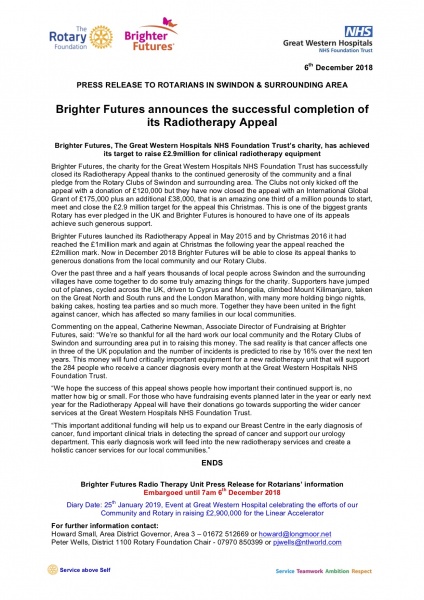 ---


Welcome
Welcome to the Website of the Rotary Club of Royal Wootton Bassett Town. We are a small but active group of ladies and men committed to changing people's lives through our fundraising activities in the local community. We have supported charities in our own community and as far afield as Africa, the Far East and the Caribbean. Alongside our charitable work, we aim to have fun and enjoy each other's company through an ongoing programme of meetings and events.
RWBTRC is proud of its connection with the Town which is situated towards the southern extreme of the Cotswolds and just north of the Marlborough Downs. Now a small market town, Royal Wootton Bassett was originally larger than its neighbour, Swindon but has become very well known around the world for the dignified respect that was given when the bodies of servicemen killed overseas were repatriated through nearby RAF Lyneham. As a result of these selfless and spontaneous acts of respect and remembrance, Her Majesty the Queen conferred the title of 'Royal' on the Town in October 2011 when HRH The Princess Royal handed the Letters Patent to the Mayor, Councillor Paul Heaphy. Although the repatriations moved to RAF Brize Norton following the closure of RAF Lyneham, the Town - and RWBTRC - maintains close contact with the new occupants of the Lyneham base - The Defence School of Electrical and Mechanical Engineering - and the military in general. RWBTRC has been a proud supporter of Help for Heroes through the annual calendar project although, recently, all our efforts are focussed on Brighter Futures, the project to bring a radiotherapy capability to the Great Western Hospital. More information on the Community and the Local Area may be found on the Town Council website.
The Club's annual activities have now become focused on 4 activities: a Charity Shop; a Golf Day; a Remembrance Ball and a Charity Calendar. The Charity Shop depends upon the availability of empty premises in the Town and a more permanent site would be welcomed, as it is a very popular 'fundraiser' for the Club's charities raising over £2000 in 2016 for the Wiltshire Air Ambulance. If any of our readers knows of a suitable shop that we might use, please get in touch via the 'Contact Us' tab at the top of the page.
We have managed, each year, to secure the generous support of local businesses for the calendar so that the Limited Edition print run can been entirely funded by donations. This has meant that every penny raised has, and will, go to "worthy causes" and the sum raised from the 2016 calendar was divided between Help for Heroes, Brighter Futures, and the Wiltshire Air Ambulance. Local businesses also help our cause by selling the calendars on our behalf. The summer event is the Golf Day, usually held in July and from which the proceeds have recently been channeled to Brighter Futures. In the days leading up to Christmas we take "Father Christmas" in his sleigh around the streets and neighbourhoods of Royal Wootton Bassett with a band of eager helpers and some joyful seasonal music. The wonderful folks of Royal Wootton Bassett regularly donate over £1500 to Rotary charities during the 3 week period.
In addition, we hold annual Street Collections for our Worldwide "End Polio Now" campaign and to raise money to support the victims of natural disasters such as the typhoon in the Philippinnes in November 2013; the generosity of the Townsfolk is always humbling in its selflessness. We also raise funds to send a local teenager each year on Rotary's own "Leadership Award" course and hold a "Youth Challenge" for teams from local youth organisations and clubs
But our efforts are not solely geared to fund raising, and we have a regular programme of Speaker Evenings and Fellowship Evenings as well as an entry to the District Quiz, District Skittles and - recently - District Boules competitions. Our motto is 'Service Above Self' but we try to make sure that every 'service' or fundraising activity is founded on a strong fellowship between the Members and their families. We have enjoyed Dog-Racing Nights at Blunsdon Stadium, Curry Supper Evenings at the Ganges Restaurant and a Treasure Hunt. We also hold an annual Quiz Night, a Horse Racing Night and produce an entry for the Town's Carnival.
Reports of our past fun and fundraising activities appear on this page for about a month and are then filed under the major activity groups: International, Community and Youth - and Rotary's own charity - Foundation. These folders, photograph galleries and reports can be accessed through the menus at the top of the page.
An Invitation to You
The Royal Wootton Bassett Town Rotary Club (RWBTRC) welcomes visitors to its meetings on a Monday evening and is always seeking to increase the Club membership. Please visit our Meetings and Events pages to see what we do, or Contact us if you would like to send an e-mail to the Royal Wootton Bassett Town Rotary Club on any topic.
The direct access website address is www.wbtrc.org.uk and if you would like to visit the website of our 'Mother Club' - the Rotary Club of Royal Wootton Bassett and District (RWB&DRC) - which meets on a Wednesday lunchtime, please click here.
As a final reminder, there are two Rotary Clubs in Royal Wootton Bassett. This is the website of the Royal Wootton Bassett Town Rotary Club (RWBTRC) but the Events calendar sometimes includes events that are being organised by the Royal Wootton Bassett & District Rotary Club (RWB&DRC) ; you should go to their Website for more information on these activities.
Happening soon...
Meetings and events happening soon
Thursday 5th December 17.00 - 14.00 Tuesday 24th December
Santa Claus is Coming to Town
---
Timings and routes for Santa's 2019 visit to Royal Wootton Bassett are on the poster
Monday 16th December 19.30
Christmas Meal
---
Monday 23rd December 19.30
No Meeting
---
Monday 30th December 19.30
No Meeting
---
Monday 6th January 19.30
Speaker Evening - MFH - Youth Adventure Trust
---
Monday 13th January 19.00
Council if Required
---
future events Past Events calendar district events local events
---
---
---
Rotary News
Be part of a global network of volunteers, trying to make the world a better place. Please also see the 'links & news' page for information from the local district and live feeds from Rotary International and Rotary International in GB&I.
Flexibility creating new opportunities for new members
---
RotaKids supporting their local community
---
---
Meetings & Venue
Where and when:
We meet on Mondays at 1930
(
for a 1945 start on the First and Third Monday only - for Second and Fourth Mondays contact Secretary
)
The Marsh Farm Hotel, Wootton Bassett, Wilts SN4 8ER
01793 842800