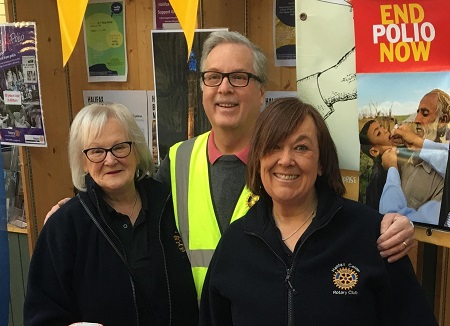 It is my great privilege to be your president for the year 2021/22.
The Rotary International theme for the year is 'Serve to Change Lives'. Our club will want to play its full part in furthering this ambition. We are, however, still recovering from the Covid pandemic.
For over 12 months we have only really been able to meet virtually, with the notable exception of the Purple for Polio event at the Piece Hall last October. Given that we are first and foremost a fellowship organisation, we need to find the right balance between meetings on Zoom and face-to-face, with opportunities to enjoy meals and a range of social activities.
As life gets back to normal, I intend to use my presidential year to build our club and grow our membership. We will explore how we can raise the club's profile and show what an impact we are making through our service projects and fundraising. I also would like to explore whether we can sponsor a satellite club and Friends of Rotary. In this way, we can involve more people who may then want to join Rotary.
I will maintain our commitment to the Rotary Foundation and ending Polio, as well as continuing to support Overgate Hospice and School in a Bag. However, I also want to work with my chosen charities to further our service in the local community and explore ways in which we can volunteer our time and expertise to support projects. My principal chosen charity is Age UK Calderdale and Kirklees, which is locally run and working with needy older people. I was professionally involved in this area of need when I was working in adult social care. I also want to build a link to a rotary club in Nepal as a way of supporting projects there. Aside from these, I will welcome suggestions from our members if there are other good causes that they identify as needing our support.
We have funds earmarked for children and young people and I hope these will go where they can make a real impact on the lives of disadvantaged youngsters. Much of my career was in children's social work and I have had a longstanding involvement in school governor work. I know what a difference good support can make to the lives of individual children and young people.
Our success as a club relies on the time and effort we can collectively put in. This will be a year when members can contribute by arranging meals and social activities and helping to organise and run the major events in the calendar, as well as the many other service and fundraising opportunities that I anticipate will arise over the next 12 months.
There are some changes in how we work together, including a new Events Committee and the ongoing Membership Committee. In addition, I will be incorporating Council meetings into our club meetings so that all members can be involved if they wish to be.
I wish all my fellow Rotarians a happy and fruitful year as we recover from the Covid pandemic and want to thank you for your continuing commitment to the Rotary mission.
Rotarian Phil Shire