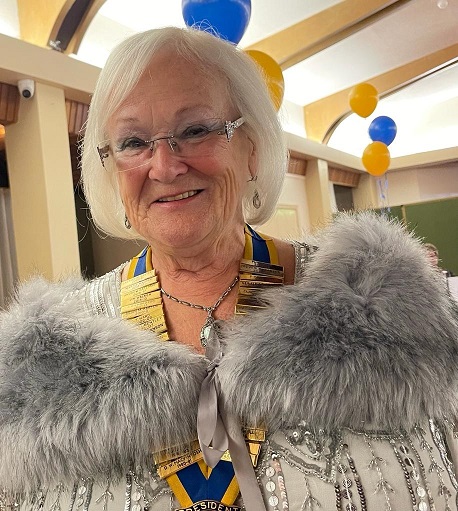 On Wednesday 29th June 2022 I became the President of Rotary Halifax Calder for the 3rd time. It is a great privilege to hold this office. The feelings of responsibility and not letting the Club and its members down is just as great this time as the first time.

The Rotary International Theme 'Imagine Rotary' chosen by Jennifer Jones from the Rotary Club of Windsor-Roseland, Ontario, Canada the incoming Rotary International President for 2022/23 says the lyrics;
"You may say I'm a dreamer
But I'm not the only one"
from the song Imagine by John Lennon were for her a call for action and we should Imagine, a world that deserves our best where we get up each day knowing that we can make a difference.
The song written in 1971 also talks of living life in peace, nothing to kill or die for, no need for greed or hunger and one day the world will live as one. Sadly that has still not been achieved some 51years later.
So, how do I Imagine Rotary Halifax Calder for this coming year 2022/23? Well not dreaming that's for sure but the help of Council and the Club Members turning aspirations into reality.
During the last year following the Corona Virus pandemic life has been getting back to normal. We have been able to meet together at our new venue The West End Golf Club on two meeting per month but still offering Zoom too and Zoom at our other weekly meetings.

It is important that we support our own Rotary Charity, Foundation and Polio. If vaccination doesn't continue Polio will come back. We have seen with Covid 19 how quickly a virus can spread and the necessity for vaccination. Foundation has the resources to make a big impact providing, Basic education and literacy, Community economic development, Disease prevention and treatment, Maternal and child health, Peace building and conflict prevention, Water, sanitation, and hygiene in addition to urgent intervention in times of great need. All the things that we as a Club prioritise.
During my year as President I would like us to support Send a Cow recently renamed Ripple Effect Uk Working in Africa promoting sustainable farming, fighting hunger and providing work reducing poverty and improving lives.

I would also like to continue with School in a Bag. It is important that we support children with a learning opportunity.
I have not named a specific organisation in respect or water in sanitation but I understand that there is a need in Ukraine for Life Straws and if the opportunity arises with a suitable resource it may be possible for us to support this.
Locally, I would like to support a Junior Football Team providing a football kit with our name promoting Rotary. I would also like to work in partnership with Halifax Soroptomists in supporting the Women's Refuge particularly the children and young people. Soroptomists are the female version of Rotary and were founded in Oakland California in 1921. It's vision is to transform the lives of Women and Girls through education, empowerment and by enabling opportunities. A vision that also fits with our Rotary vision.
Also locally continue our support for Overgate Hospice and the Yorkshire Air Ambulance.
Additionally an opportunity has arisen for us to work closely with the Ukraine Community in Halifax and support Ukraine Refugees. We have currently provided some English-Ukraine books that are being used in conjunction with an English learning class promoted by the Halifax Ukraine Community.
The Club will continue to support a Youth Programme through Interact, RYLA and James Cook. We will also look to the District programme to extend our involvement.
Additionally, we will continue with our Service programme with Overgate Hospice Mountain Bike Challenge, The Halifax Gala and hopefully looking forward our assistance at Norland Scarecrows and Calderdale College Graduation Ceremony.
We will look to do more for the Environment with litter picking and tree planting.
Fundraising is very important and I will look into ways that we can fundraise enjoyably!! The Arts Festival was a great success and will hopefully continue.
I will also be looking a District Grants to support our programme.
If a local need arises I would like us to be open to support in addition to the ones already identified.
Can I please take this opportunity to thank the new council for the year for giving their support and time and my thanks to you all as club members for the support that I know you will give to the club in the next 12 months.
This coming year after the problems with Covid 19 is an important time for the Club. We cannot be a dreamer with no action. We need to Imagine Rotary at Halifax Calder as a vibrant, engaging, welcoming place that is looking to the future to grow our club and ensure it's sustainability. New members are important to our survival.
I look forward to being your President again and will value your help and support going forward

.