These are strange times for us all, but Rotary worldwide and the Rotary Club of Halifax Calder in particular, aim to make a difference.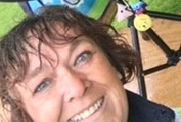 This year it will be our challenge to embrace 'Rotary Opens Opportunities'.

We are part of a network of 1.2 million members worldwide that come together to create positive lasting change in our communities.
However, nobody envisaged that the start of this Rotary year would be also encompassing the challenge of Covid 19 in our own community and across the world but this does give us the ability to create opportunities that strengthen our leadership, help put service ideas into action, improve the lives of those in need
and embrace the opportunity to help to Grow Rotary in our club.

Over the last few months we have taken the opportunity to open the door to new technology enabling us to still meet together as a Club.
In my year as President I would like to support charities that open opportunities for people both local and internationally.
It makes me sad that there are people in the world who do not have access to clean water and sanitation and in particular the risk of abuse that can occur when going to the toilet is not a personal and private part one's life. Can we make it possible to give that basic opportunity to those people through Water and Sanitation Aid.

I would like to specifically support the Purple for Polio programme to ensure that people have the opportunity to be free from this terrible disease. Corona Virus has highlighted the speed that a virus pandemic can spread across the world. It makes polio eradication even more important.

I would also like to continue our support for School in a Bag opening the door for opportunity to young people.

I would also like the club to continue its support for Yorkshire Air Ambulance and Overgate Hospice to give people the opportunity of life saving care and specialist end of life care.

I would also like to support Calderdale Talking Newspaper. I can remember this being formed but really didn't place much emphasis on it at the time but when I lost the sight in one eye due to Eye Cancer it certainly makes you think about how life would be if you are totally blind. I know that even a small amount of funds can make a big difference to this organisation and enable people to have the opportunity of listening in particular to local news enabling them in a small way to be part of the seeing community.

As a club we do get engaged in a number of acts of service and we should grasp them they are all doors to open opportunities for someone else. I look forward to being able to continue these in the future.

I look forward to being able to support club events and good causes and take the opportunities that present themselves.

It is a privilege to be the President of The Rotary Club of Halifax Calder and will value your help and support during this coming year.

Rotarian Geraldine Carter