About us
Pages last updated: Friday 20th March 2020

PLEASE NOTE
Future meetings of the Club have been CANCELLED until further notice because of the Corona Virus outbreak.
(And at least until the end of this Rotary Year (to 30/06/2020))
THE ROTARY CLUB OF LEEDS ELMETE
We meet at the Bingley Arms,
(The Oldest Inn in England!),
Church Lane, Bardsey, Leeds. LS17 9DR.
7.00 pm. for 7.30 pm., every Thursday (except two/three Thursdays around Christmas).
email: leedselmeterotary@btinternet.com
For directions and map, CLICK HERE or scroll to bottom of page.
CLUB PRESIDENT
Our President for 2019-20 is Rotarian Dr Ken Garrett. Ken recently retired from his work as a Family Doctor with a practice in Oulton, Leeds. He has also been the "Crowd Doctor" at Headingley stadium for many years. Ken has enjoyed many avenues of service to Rotary and the Club over the years, having been a member of the Club since December 1986. This will be his third term as Club President.
Past President Alastair handed over the President's regalia to Ken on 4th July 2019.

President Ken and Members will be delighted to welcome visiting Rotarians and guests to our meetings.

Please advise by phoning

0113 267 2925.Christmas Gift to Martin House Hospice, Boston Spa.

As is usual at this time of the year, the Club gave a much wanted present to Martin House Hospice, Boston Spa, in the form of a baby monitor, as shown below, and picked from their 'Wish List' of presents they would have liked Santa to deliver on the big day - so he did!




CHRISTMAS WHISKY DRAW

Three of our members (+ one friend) attended the Bingley Arms (where we meet) on Friday 13th December 2019 to hold our Annual Whisky Draw - for a Gallon Bottle of Whisky (or should that have been Whiskey, since the make was Jamesons!). The members spent a happy couple of hours and much fun in the presence of the very generous clientele of the pub, and raised over £160 for our Charity Fund.
Believe it or not, our President Ken won the Draw, but good man that he is, he insisted that the draw be held again, the prize going to a young man in the bar. Happy Chistmas lad!
CHRISTMAS PARTY

The Club's Christmas Party was held at the Bingley Arms on Thursday 12th December, with President Ken in the Chair. The party was greatly enjoyed by all. We partook of a sumptuous Christmas Dinner - thanks to the Staff of the Bingley Arms, who looked after us as well as always, - followed by the Bottle of Whisky Draw and the December '100 Club' draw, then a fiendish quiz set by Neale Lucas. Thanks to Mike Crawford for organising the dinner. Some members will be back at the Bingley Arms on Friday 13th for the Annual Whisky Draw (for a gallon bottle of Irish Whiskey this year!).
DINNER TO CELEBRATE THE 40th ANNIVERSARY OF OUR CHARTER
Thursday, 31st October 2019 was memorable, not for Brexit not happening, but for the fact that the Club met at Moortown Golf Club, Harrogate Road. Leeds 17, to celebrate the 40th year since our Charter (on 16th August 1979). As usual Moortown GC made us very welcome, and Chef Darren Senior provided us with an excellent meal. The event was organised by Presidential Nominee Martyn Phillips.
The evening was a relaxed informal 'do', with President Ken (minus his Presidential Regalia!) in charge, and was attended by a total of 32 Members, their partners and guests. We were particularly pleased to welcome our Assistant Governor (Leeds), Rotarian Craig Burton and his partner Miguel, and Rotary Peace Scholar Gair Klotx and her partner Mitch, from Michigan, U.S.A.
After the Loyal Toast, President Ken said a few words mentioning some present and past, and some sadly departed, members and what they had done for the Club. Then, (ably assisted by Exec. Sec. Bill Jones) he presented the following Long Service Awards to the following Rotarians (length of continuous service in parentheses, and in no particular order): John Bennett (30) [but John has about 50 years discontinuous service to Rotary], Jack Clark (30) in absentia, Mike Crawford (40), Ken Garrett (30), Alastair Henderson (30), Cyril Higgs (35) in absentia, John Hopkinson (35), Bill Jones (30), Martyn Phillips (25), Jim Tomlinson (35) (RI does not include Honorary Member's years in the tally, despite Jim being a Founder Member of the Club), Tony Vincent (30). Each Rotarian received a Certificate signed by Donna Wallbank, President RIBI, and a congratulatory letter signed by RI President Mark Daniel Maloney.
President Ken then introduced Gair Klotx, who told us a little about herself and how she came to be a Rotary Peace Scholar attending Bradford University Department of Peace Studies. She came over as a very intelligent, capable and personable young lady who Ken is 'hosting' for this Rotary year. We wish Gair every success, and that she, Mitch and their 6 year-old have a great time in Yorkshire over the next few months.
Assistant (District) Governor Craig Burton was then asked to say a few words, praising the Club for it's "Rotary' activity despite our advancing years. Craig, as all District Officers do, exuded great zeal for Rotary and it's worthy activities. He then presented President Ken with a letter of congratulations and a 40 year Certificate from the RI president.
After the final toast of 'Rotary and Peace' the World Over, we enjoyed chatting to each other until it was time to go home. Yet another great 'Do'.
The picture shows some of those present and Gair giving her talk.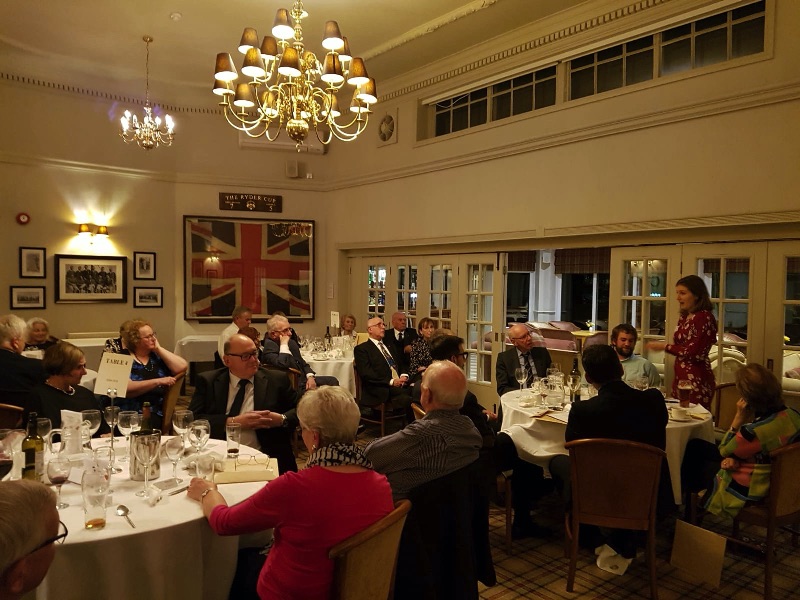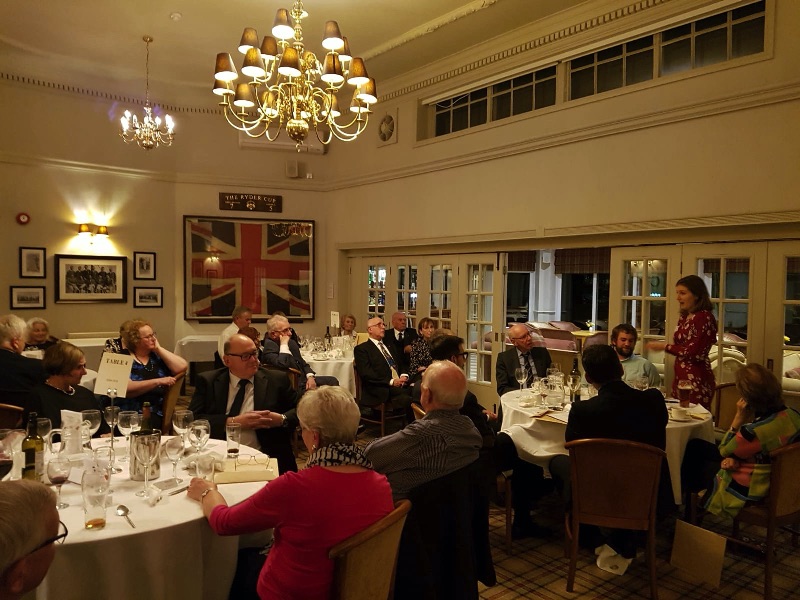 PRESENTATIONS AND AWARDS - IRELAND WOOD SCHOOL
On Tuesday 2nd July 2019, five of our members, including President Ken, attended Ireland Wood Primary School in North Leeds. They went to present awards to the four children with special needs who had been chosen by their teachers and physiotherapists for making good progress during the year. Also, this year we have been able to provide a grant of over £500 to help to buy additional equipment for the 'Sensory Room' to be used and enjoyed by the children

The school accepts several children with educational special needs into mainstream education. All the children we meet on these visits are delightful and accept the awards with great pleasure.

We have been involved with the school now for over 10 years, and presenting these Awards (now in memory of one of our members, the late Jack Transport, who was responsible for setting up this initiative).
We consistently say that "This is the best and most rewarding thing we do". We will be back next year……

SPRING 2019 - PURPLE CROCUSES FOR POLIO

It's that time of year again, and we are seeing the fruits of our labours. The Purple crocuses we have planted in and around Bardsey Village and The Primary School are beginning to bloom.

CLICK HERE
to read about our efforts last year.
LIFESTRAWS
Once again, as in many previous years, a number of our members gave a donation to Lifestraws (or other worthy Charities) in lieu of sending Christmas cards to each other in 2018. To read more about this life saving Rotary Project click HERE
AQUABOX

(

Click on the Aquabox logo to go to their website.)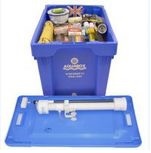 Our Club members are again looking to fill three Aquaboxes in this Rotary year (2019 -20). We have completed this number of boxes each year for a number of years now. We deliver the completed boxes to the Aquabox Depot in Derbyshire.


Below is an extract of an email received by Aquabox with a quote from one of the recipients in Somalia of the boxes we sent in 2012:

"When I was pregnant, I had worries to cloth my babe. We dont afford food most times so monies for cloths is hard to get. I thought the box was just for water and was happy when I found the towels and the clothes. I cried and hided them for after the delivery. This is the first time I ever had something new to wrap my baby in. My oldest son Ahmed will not leave the shelter without his new books and bag. He is too proud when he carries them with the other boys. Even me, I can share the cooking utensils with my neighbors. It feels like being home again. Truely these are blessings for all of us!"
Makes you feel good that the efforts of a few people in Yorkshire can have such an impact on the lives of people in need so far away!
Used Spectacles for Vision Aid Overseas.

UPDATE 8th August 2019:

In 2018-19, 13 boxes of used spectacles were sent to VAO.

So far this year we have already sent 2 boxes.

SCHOOLS' LITERACY PROGRAMME
A number of our members continue to help out at two local schools by hearing children read once a week. This initiative started in September 2013, and is proving to be a very valuable and rewarding experience for the students, the schools and the Rotarians involved.To read more about this initiative: Click Here.
Leeds Rotary Clubs Technology Tournament for Schools

The 2019 Technology Tournament for Schools was held on Tuesday 12th March 2019, at the John Charles Centre for Sport, Leeds, and our Club was represented by a member as part of the of the Judging Teams, as well as helping with the organisation of the day.
A new record number of teams took part.
The Rotary Clubs in Leeds Area join forces to put on the Tournament.
Next Year's Event is scheduled for early March 2020.
Our Webpages
Our Club is one of very many clubs in Great Britain and Ireland currently using the RIBI website template, each club being required to make an ANNUAL payment of £50. This is raising approximately £60,000 for The Rotary Foundation each year!
Happening soon...
Meetings and events happening soon
Thursday 9th April 19.25
Club Meeting CANCELLED
---
Club Meeting
Thursday 16th April 19.25
Club Meeting CANCELLED
---
Club Meeting
Thursday 23rd April 19.25
Club Meeting CANCELLED
---
Club Meeting
Thursday 30th April 19.25
Club Meeting CANCELLED
---
Club Meeting
Thursday 7th May 19.25
Club Meeting CANCELLED
---
Club Meeting
future events Past Events calendar district events local events
---
---
Rotary News
Be part of a global network of volunteers, trying to make the world a better place. Please also see the 'links & news' page for information from the local district and live feeds from Rotary International and Rotary International in GB&I.
Flexibility creating new opportunities for new members
---
RotaKids supporting their local community
---
---
Meetings & Venue
Where and when: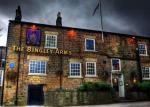 We meet on Thursdays at 19.00 pm. for 19.30 pm.
(
No meeting on two Thursdays around Christmas.
)
The Bingley Arms,
(The Oldest Inn in England),
Church Lane,
Bardsey,
Leeds.
LS17 9DR.
01937 572462