Pages last updated: Thursday 2nd February 2023

THE ROTARY CLUB OF LEEDS ELMETE
Please Note
We now meet virtually by ZOOM (Alternate Thursdays at 7.00pm).
However, from 6th June 2022, we have met occassionally in person at the Bingley Arms, Bardsey, Leeds LS17 (our old venue) for lunch at 1.00pm (on an ad hoc basis). It is good to see old friends face to face rather than on a computer screen.
Please email for details of the next meeting venue/time/day etc. if required:
email: leedselmeterotary@btinternet.com
Website address: www.leeds-elmete.rotary1040.org
Registered Charity Number 1033420


  

 
OUR CLUB
We are a very small Club of 11 Members (3 Honorary). Like many Rotary Clubs we are growing old together (our average age is about 80!) and are not in a position to do what we have done in the past. Our resolve is to continue for as long as we can, helping others where and when we can, in the true spirit of Rotary – "Service above Self".
In that respect we believe that we still "punch above our weight" – to see a summary of our Charitable Giving Activity for 2001-22, click here
CLUB PRESIDENT(S)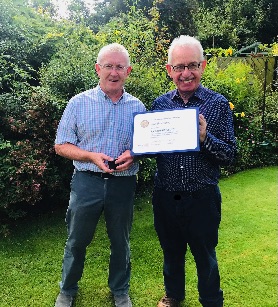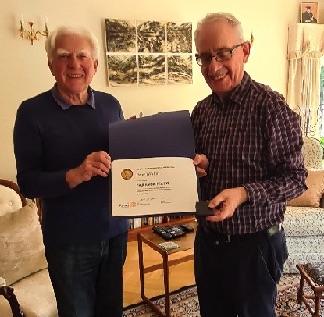 This year - for the first time - the Presidency will be shared. Rotarians Brendan Carey (pale blue shirt) and Peter Whelan (dark blue top) - seen here when they were presented with their Paul Harris Fellowships by Immediate Past-President Martyn Phillips last year. Both have been President of the club before. Brendan will do the first half of the year and Peter the second. Both are retired Doctors who had very successful Consultant careers in Leeds (in Radiology and Urological Surgery respectively). We wish them every success in this shared role.
This year's annual theme: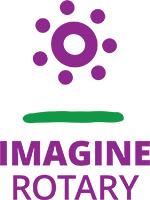 Support for needy people locally with Food donations


How it all started, June 2020:
We, sadly, live in an era in which Food Banks are needed and poverty and need in our communities is only too real, worsened by the effects of the Covid-19 and more recently with financial uncertainties. Many people now find themselves in real difficulty. Since

June 2020, we have continued to support (with monetary and food donations) the Parish Larder at St Richards Church Seacroft, Leeds, where clients of the Leeds East (Trussell Trust) Food Bank receive their food donations. We also provide gifts for children at Christmas and Easter. One of our Rotarians volunters to help at the Tuesday food distribution each week, and other Rotarians when they can etc..


St Richard's Church (see picture) in the Parish of Seacroft in Leeds
UPDATES 2022-23 (in reverse chronological order
2nd January 2023.
Text message from Lis Bowes at the Parish Larder: Wishing you all a Peaceful and Healthy New Year. 729 people fed in the 3 openings in December. Approx 125 extra bags of Christmas food given out to families. Approx 100 people enjoyed Christmas lunch at the Cafe. Approx 1030 children supported by Toy distribution with presents.
So nothing changes - we are short of Tea Bags and, UHT semi-skimmed milk! Here we go again!

20th December 2022.

Info on last week:- Fed 250 people. Toy distribution: 1030 Toys given out. Last week a lady came in, who was only going to have a Kettle to cook with over the Christmas period.

This week, I was promoted to helper on the additional items, so no idea of the numbers. However, best guess would be it was busier this week than last. They ran a short Carol service prior to the Food Bank opening.
Going to have a lie down.
Neale.

Neale we have to thank you for such Rotary "Service above Self" to this Initiative.
15th November 2022
Treasurer Neale reports: Attended St. Richards on Tuesday, quiet due probably to heavy rain. Noticeable that there were several employed people attending. Again Neale talked with Lis and asked if they needed a top-up with our financial support. She still says they are OK. President Brendan attended and brought with him the Club's donation of Christmas Chocolates for the children. Lis asked if we would consider purchasing 100 Christmas Crackers - we agreed, and President Brendan will get them next week.
6th September 2022

Rotarian Neale attended St. Richards Parish Larder, Tues 6th Sept 2022.They had suffered a flood over the weekend from a burst in the Hot Water Boiler in the crypt kitchen. They had managed to dry out carpets etc. Repair & replacement going to cost about £750.

Neale reports: "So, no water in Crypt on 6th and we had to use flasks. Very busy day with many new clients. If new clients qualify for Trussell Trust, we now have to send them over the road to LS14 Cafe to get a reference number!

I will get a breakdown of the ratio of Larder to Trussell Trust numbers when I get back from holidays. I am going to represent St. Richards on a course tomorrow (7th Sept.) run by "Money Buddies" a Leeds based debt counselling charity, who are going to take a table during our opening hours next week, to offer advice etc to the customers".

September 2022

The Parish Larder/FoodBank continues to be busy, with new faces appearing on a Tuesday when food is dispensed. The team is working hard to source sufficient wholesome food and is just about meeting demand. Efforts are being made to have a team of advisors to help the clients, for example experiencing increasing financial problems. Below is a picture of the Team at St Richards with President Brendan, Past President Martyn, and Treasurer Neale (on the right) during a recent visit to the centre.
Donation of Dictionaries 4 Life to Local Schools
We plan to deliver another consignment ofdictionaries to local schools in the coming year. We are told that they are so very useful, and we have to decide if we can increase the number donated next year.
Schools Literacy Programme
A number of our members plan to continue to help out at two local schools by hearing children read once a week when they will be allowed back into school in the autunm of 2022. We have also donated much needed Usborne illustrated dictionaries to one school. (See above).
This Reading initiative started in September 2013, and is proving to be a very valuable and rewarding experience for the students, the schools and the Rotarians involved.
AQUABOX

(

Click on the Aquabox logo to go to their website.)
Our Club members normally try to fill three Aquaboxes a year and deliver them to the Aquabox Depot in Derbyshire. However, because of the Corona Virus pandemic we were unable to complete this task in 2020 - 22.
We will be starting again soon. We have however purchased or donated money towards Aquaboxes last year to the tune of £750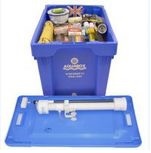 Here is an extract of an email received by Aquabox with a quote from one of the recipients in Somalia of the boxes we sent in 2012:
"When I was pregnant, I had worries to cloth(e) my babe. We don't afford food most times so monies for clothes is hard to get. I thought the box was just for water and was happy when I found the towels and the clothes. I cried and hided them for after the delivery. This is the first time I ever had something new to wrap my baby in.
My oldest son Ahmed will not leave the shelter without his new books and bag. He is too proud when he carries them with the other boys. Even me, I can share the cooking utensils with my neighbors. It feels like being home again. Truely these are blessings for all of us!"
Makes you feel good that the efforts of a few people in Yorkshire can have such an impact on the lives of people in need so far away!

Our Webpages
Our Club is one of very many clubs in Great Britain and Ireland currently using the RIBI website template, each club being required to make an ANNUAL payment of £50. This is raising over £64,000 for The Rotary Foundation each year!