Pages last updated: Sunday 5th May 2021

PLEASE NOTE
Face to Face Meetings of the Club have been CANCELLED until further notice because of the Corona Virus outbreak.We now meet virtually by ZOOM each week.
Please follow the Government's Guidelines and STAY SAFE
THE ROTARY CLUB OF LEEDS ELMETE
******
We (NORMALLY) meet at the Bingley Arms,
(The Oldest Inn in England!),
Church Lane, Bardsey, Leeds. LS17 9DR.
7.00 pm. for 7.30 pm., every Thursday (except two/three Thursdays around Christmas).
email: leedselmeterotary@btinternet.com
Website address: www.leeds-elmete.rotary1040.org
Registered Charity Number 1033420
For directions and map, CLICK HERE or scroll to bottom of page.
CLUB PRESIDENT
Our President for 2020-21 is Rotarian Anthony (Tony) Vincent, PHF. Tony is a retired Dentist who, when working, had a dental practice in Castleford, West Yorkshire. He joined the Rotary Club of Castleford in early 1989, becoming their President in 1996-97. He transferred to the Leeds Elmete Club in February 2008. Tony has enjoyed many avenues of service to Rotary and the Club over the years, including service on the District International Committee. He has been highly involved with many international projects. This will be his second term as our Club President.
We hope that Tony has a great Year, despite the difficulties currently being experienced by all of us.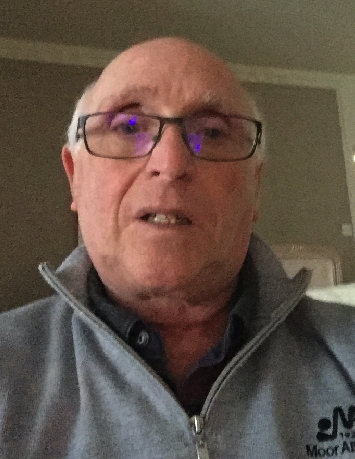 Because of Corvid-19, and the fact that we are not currently meeting in person, Past President Ken handed over the President's regalia to Tony, duly sanitised, and posted through his letterbox!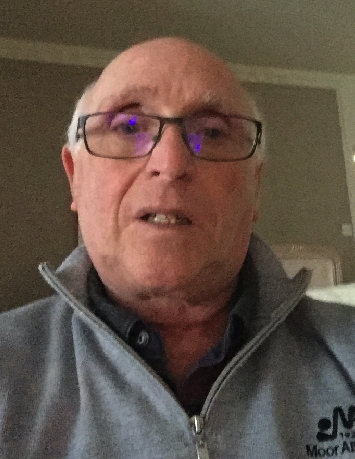 President Tony and Members will be delighted to welcome visiting Rotarians and guests to our meetings, by 'Zoom' until we restart meeting at our usual venue. Please advise by phoning 0113 2610330.
Our Purple Crocuses are blooming lovely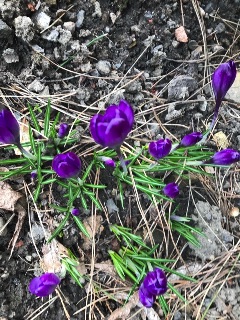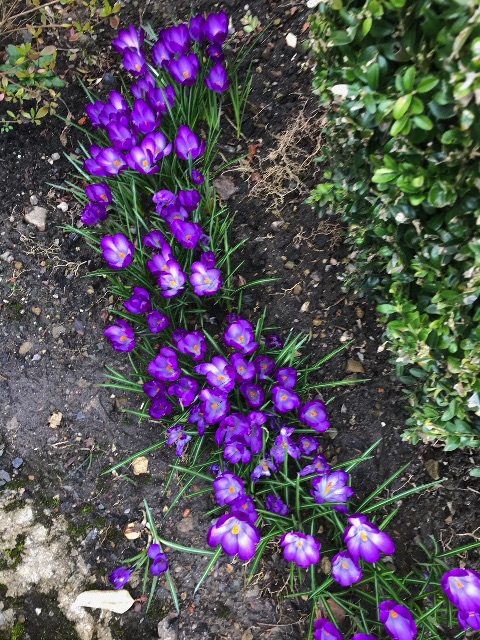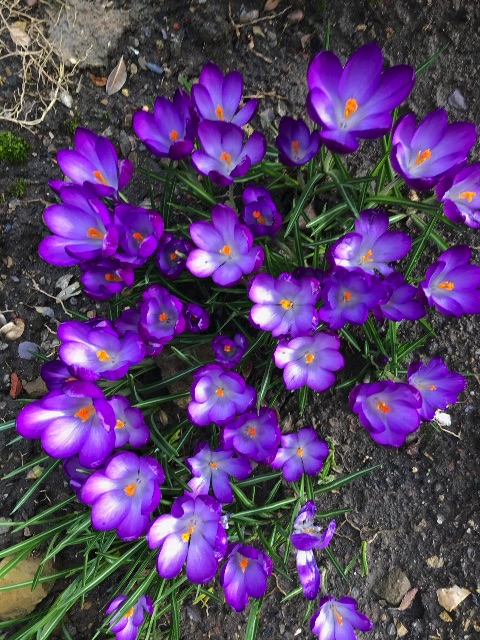 We bought a batch of purple crocusses to support the Polio Plus campaign in the autumn, and now they are giving people a touch of spring beauty.
PAUL HARRIS FELLOWSHIP AWARD
At our virtual meeting by Zoom on 25th February 2021, President Tony presented our President - Elect, Rotarian Martyn Philips, with a well deserved Paul Harris Fellowship. This award is in recognition of Martyn's contribution to Rotary over many years. The announcement was met by a round of applause and many a 'well done' by the members in attendance.
Martyn transferred to the Leeds Elmete Club in 2010 from the Leeds Cross Gates Club, (which was about to close). Martyn became a Rotarian with Cross Gates in November 1994, and was their President in 2003-04. He was our President in 2013/14, and is about to have a 'second-go' in the Chair starting in the new Rotary Year this coming July.
He is a stalwart member of the Club, and is currently responsible for our largest Charitable income stream since he runs the Club's very successful '100 Club'. A now partially retired Solicitor, he can always be relied upon for an 'expert, considered opinion', and is a thoughly nice bloke! Very well done Martyn - you deserve this award. The picture below shows a proud Martyn with his certificate, which had been delivered to his home by President Tony (who happens to be his brother-in-law!).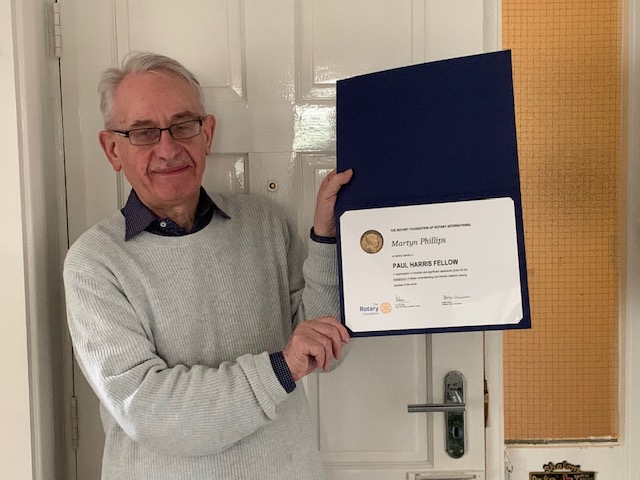 Moparru Orphanage, Andhra Pradesh, Southern India.
Recently the club donated £725 to the Moparru Orphanage, following a presentation in February 2020 from the Waller family (Past President Ken Garrett's sister Maggie, and her family – husband and two grown up children) who have volunteered at the orphanage for up to a month several times. They were able to give us a real insight into the lives of the children and of Raju Pallikonda and his wife Lavanya, who run the orphanage.
Maggie Waller writes: Moparru is a tiny, poor, rural village of 500 people. The land for the orphanage was donated by an elderly, local Hindu lady and opened in 2012 with a handful of children. 70 children are now well cared for as part of one big family. Lavanya and her grandma do most of the cooking outside on an open fire. The children eat well: mainly vegetables and rice, with chicken as a very occasional treat. The accommodation is basic, with bucket showering for the children, but there is clean water, one large room for the girls and a similar one for the boys. The children attend the village primary school and then go on to high school and to college. Education is valued highly by the children and their daily routine starts around 5.30 am with prayers and finishing homework. Many children at Moparru are orphans, others may have one parent who is sick and the family cannot look after them. Local pastors also find children living in dreadful conditions on the streets and bring them to Moparru.Through previous donations, work began to build additional accommodation to provide some more rooms and a kitchen, as well as a large space for eating and worship. The outer structure, flooring, window grilles and concrete shelving for storage are almost finished. The donation from Rotary will now allow Raju to finish the doors and windows so that the building will be weatherproof. There is more to do to put in electrics and equip the kitchen, but this donation is a huge step forward. It has been a difficult year for the orphanage. Some of the people who support children through a regular monthly sponsorship of £15 were unable to continue because of pressures of Covid 19. Sponsors are desperately needed as this is the only regular income Raju receives to provide for the children. If this is something Club members, or others, may be interested in, please contact Maggie Waller: maggieeducation@aol.com
We received a heartfelt thank you from the Waller family and Raju, and are delighted that our donation will make a positive difference to the lives of the children whose smiles say it all!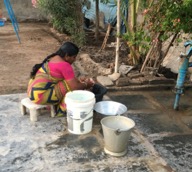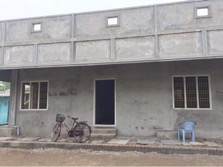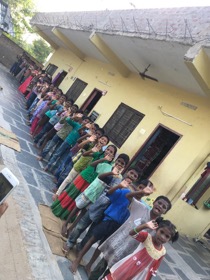 SUPPORT FOR OUR LOCAL FOODBANK 2020-2021
How it all started, June 2020:
We, sadly, live in an era in which Food Banks are needed, despite ostentatious frivolity by many. There are geograhical areas where poverty and need are only too real. The situation is likly to worsen when the economic effects of the Covid-19 Virus outbreak start, regarding job security, the end of the furlough scheme etc. Many more people may find themselves in real difficulty.
With this in mind, we agreed on 18th June, at our weekly virtual meeting on Zoom, to donate £500 immediately to one of the local food banks where we have recognised real need. So on 29th June 2020, President Ken and Treasurer Neale went to St Richard's Church (see picture) in the Parish of Seacroft in Leeds.



The following picture shows President Ken in the crypt, handing over the cheque for the £500 to the staff of the food bank. (Obligatory face mask and social distancing!)

UPDATES 2021
9th March 2021: Eggs for Easter

Treasurer Neale reports: Accompanied Past-president Ken, who has been egg shopping, to the Food Bank today.

Got there a bit early and was able to help some old folk from Garforth Church unload their collected food. They had collected free, out of date, fruit & veg from Tesco in Seacroft on Monday evening.

Picture is of Ken & Lis.
22nd February 2021: News from the Foodbank:
We continue to be very busy.
In January we fed a total of 421 people. (336 adults and 85 children)
151 takeaway meals were handed out - despite the cold and snow people still queued up for a hot meal.
13th January 2021: Further delivery from Giving World to Neale's home: The Pallet contained:- 11 Doz. Bottles of BBQ Sauce, 14 x 20 Boxes Flat Breads, 2 Boxes Mini Crackers, 50 x 1 Ltr. Bottles of juice, 2 Boxes Baby Wipes, 1 Box of 50 Face Masks, 1 Box Tea Towels, 1 Box Shopping Bags, 2 Boxes x 24 Tissues. Neale writes: I am pleased to say that my wife and I managed to deliver nearly all the mound of food, so graciously given by Giving World to the Bank. Lis collected the boxes of Doritos. On behalf of Lis I would advise you that they were thrilled to receive so much stuff in one go "It was just like Christmas". We are blessed to have found and connected a worthy charity with a worthy cause - this is Service above Self. I know you are all hoping to join in as we continue our support during the rest of President Tony's year. I have discussed with Lis some short term changes while this pandemic is at its height. She is going to provide us with a list of food stuff they regularly run short of. She is also going to provide statistics on their activities.
19th January: Lis wrote: Hi Neale, Thanks again for your recent delivery - good job we didn't leave it until Thursday - the dreaded snow arrived. Some interesting figures for you: Since the start of the Pandemic we have fed approx. 2400 people. In December alone we fed approx. 620 people and handed out approx. 130 extra Christmas food bags to families. On the Saturday before Christmas we handed out 56 x 2 course Christmas dinner takeaway meals. Starting this January I will send you figures at each month end. We would be grateful for any of the following items - UHT Semi skimmed milk, tinned meat, tinned tuna, tinned fruit, tinned rice pudding, tinned carrots, tinned peas, (no sweetcorn thanks), Tea bags. Tinned potatoes or packet instant mash. We are ok for beans and soup.
Lis.
This is the reply we received from the foodbank when we wished them a Happy New Year and to enquire if they needed more supplies:

Yes, Happy New year to you too and all your members.

We were very busy over the Christmas period. In December alone we fed approx 620 people and gave out about 130 extra

Christmas bags of food to families.

Thank you for asking - yes we have enough food for the moment and we will continue to open throughout this next lock down.

We were busy again today - fed just over 110 people. I will keep you posted of our progress.

Difficult times ahead I think especially with the schools closed now.




Thank you again for all your support.

Will be in touch again soon.

STOP PRESS
Update: 17th December 2020
We received this message when our Treasurer told the Food Bank Manager of our Good News about the District Grant, and our plans to help them into 2021, including regular trips to the local cash and carry to top up supplies:
"That's really great news, Neale. So appreciate it. We fed just under 200 people on Tuesday. We are open throughout Xmas and New year too. Yes, please contact me in the New year and we will have a chat about future plans etc.
Hope you all have a lovely Christmas.
Best Wishes from Lis and all the team at St Richard's crypt. "
Click Here

to go to the story so far of this year's supp

ort
Donation of Dictionaries 4 Life to Local Schools
Past President Ken was recently able to deliver the Dictionaries 4 Life we ordered for the local schools where some of our members hear students read. The schools are: White Laith Primary (LS14), Castleton Primary (LS13), Shakespeare Primary (LS9) and Grange Farm Primary (LS14). Here is the post on Facebook from Learning-Partnerships-Leeds thanking us for the donation and showing a picture of a few of the happy recipientsHere is the post on Facebook from Learning-Partnerships-Leeds thanking us for the donation and showing a picture of a few of the happy recipientsHere is the post on Facebook from Learning-Partnerships-Leeds thanking us for the donation and showing a picture of a few of the happy children.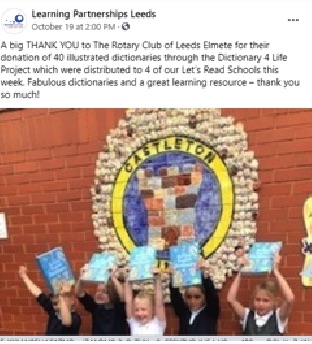 Paul Harris Fellowship awarded to Immediate Past President Ken Garrett
At our Zoom Virtual Club Meeting on Thursday 27th August 2020, President Tony had a delightful surprise in store for our Immediate Past - President, Rotarian Ken Garrett, in the form of the award of Rotary's highest honour - a Paul Harris Fellowship. Ken was shocked but delighted at this recognition of his Service to the Club and to Rotary. Below is photograph taken at Ken's home on the following day when President Tony was able to present the Certificate and the PHF lapel badge to Ken in person.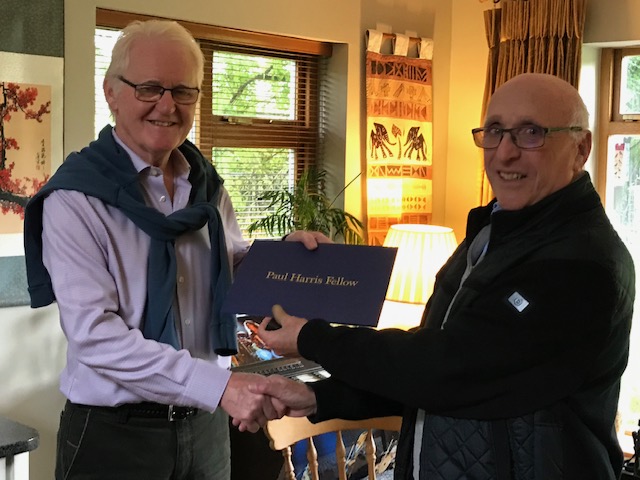 Ken, a retired General Medical Practitioner, joined Rotary in 1986, and has been our Club President 3 times (1993-94, 200-10, and 2019-20). He has been a loyal servant to Rotary over the years, being involved in all the Club's activities, but of special note, the acheivement of a global matching grant in 1997 for a children's AIDS hospice in South Africa.
(Please note the retired doctor and retired dentist in the picture sterilised their hands before, and after, the hand-shake.)
Well done Ken, you thoroughly deserve this award.
VIRTUAL CLUB MEETINGS ON 'ZOOM'
On Thursday 23rd April the Club held it's first 'Zoom" meeting with 7 of us taking part. None of us were particularly conversant with the technology, but we were able to see and hear our old friends (most of the time), and in the following weeks we have become better at it! A bit of a laugh, good fellowship and a potentially useful tool in these troubled times. Stay safe.
UPDATE Christmas 2020 - We have now had a weekly meeting every week since April, with 7 - 9 members attending most weeks. We enjoy each other's company, have occassional speakers, join in with other Clubs who meet on a Thursday, but most of all - "we do Rotary", and although our numbers are shinking as the Club grows old together, we still do good works in the community both locally and internationally.
AQUABOX

(

Click on the Aquabox logo to go to their website.)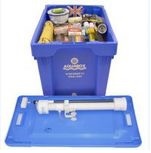 Our Club members were looking to fill three Aquaboxes in the last Rotary year (2019-20). We have normally completed this number of boxes each year for a number of years and deliver the completed boxes to the Aquabox Depot in Derbyshire. However, because of the Corona Virus pandemic we have not been able to complete this task so far in 2020, but we will once 'lockdown' eases and we can source the remaining items missing for our boxes.
STOP PRESS - July 2020- One extra!
One of our members bought an Aquabox (£150) 0n 5th July 2020 with the money he has saved because we have not been meeting at the Bingley Arms. His savings have been the cost of the meal and drinks each week for the last 15 weeks.



Below is an extract of an email received by Aquabox with a quote from one of the recipients in Somalia of the boxes we sent in 2012:

"When I was pregnant, I had worries to cloth my babe. We dont afford food most times so monies for cloths is hard to get. I thought the box was just for water and was happy when I found the towels and the clothes. I cried and hided them for after the delivery. This is the first time I ever had something new to wrap my baby in. My oldest son Ahmed will not leave the shelter without his new books and bag. He is too proud when he carries them with the other boys. Even me, I can share the cooking utensils with my neighbors. It feels like being home again. Truely these are blessings for all of us!"
Makes you feel good that the efforts of a few people in Yorkshire can have such an impact on the lives of people in need so far away!
Used Spectacles for Vision Aid Overseas.
UPDATE

In 2019-20, 9 boxes of used spectacles were sent to VAO. Regretably we are no longer supporting VAO for various reasons, most of all because of our inability to collect discarded spectacles and process them.
SCHOOLS' LITERACY PROGRAMME
A number of our members plan to continue to help out at two local schools by hearing children read once a week when they will be allowed back into school in the autunm. We have also donated much needed Usborne illustrated dictionaries to one school. (See above).

This initiative started in September 2013, and is proving to be a very valuable and rewarding experience for the students, the schools and the Rotarians involved.

To read more about this initiative: Click Here.
Leeds Rotary Clubs Technology Tournament for Schools

The 2020 Technology Tournament for Schools was held on Tuesday 10th March 2020, at the John Charles Centre for Sport, Leeds, and our Club was to be represented by a member as part of the of the Judging Teams - unfortunately illness prevented this. Our Club was also involved in helping with the planning and organisation of the day.
The Rotary Clubs in Leeds Area join forces to put on the Tournament.
Next Year's Event is scheduled for early March 2021, but may not take place because of Covid-19.
Our Webpages
Our Club is one of very many clubs in Great Britain and Ireland currently using the RIBI website template, each club being required to make an ANNUAL payment of £50. This is raising approximately £63,000 for The Rotary Foundation each year!