Pages last updated: Friday 20th May 2022

THE ROTARY CLUB OF LEEDS ELMETE
PLEASE NOTE
We now meet virtually by ZOOM (Thursdays at 7.00pm).
email: leedselmeterotary@btinternet.com
Website address: www.leeds-elmete.rotary1040.org
Registered Charity Number 1033420
CLUB MEETINGS
Because of the Covid-19 outbreak we have had to meet by 'Zoom' since April 2020 and have found that we can be just as effective as a Rotary Club when we do not meet Face-2-Face. We have also been able to have guest speakers and to 'meet' with other Rotary Clubs by Zoom. We have decided to continue meeting this way for now, perhaps with the occasional lunch out together (various venues) when it becomes possible and safe to do so.
We were sad to leave our meeting venue, The Bingley Arms, Bardsey, Leeds 17, after so many years. They really looked after us very well, for which we are profoundly grateful. We may drop in for lunch one day ......
CLUB PRESIDENT
Our President for 2021-22 is Rotarian Martyn Phillips, PHF.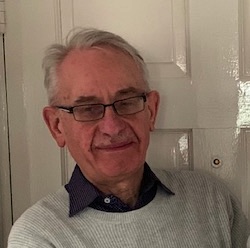 Martyn is a semi-retired Solicitor, having practiced for most of his career in 'the law' in the Cross Gates and Kippax areas of Leeds. He joined the Rotary Club of Cross Gates in 2002, becoming their President in 2002-3. He transferred to the Leeds Elmete Club in July 2010 when the Cross Gates Club was disbanded.
Martyn has given great service to Rotary and the Club over the years and always gives an excellent 'considered opinion'.
He was awarded a Paul Harris Fellowship by the Club last year.
This will be his second term as our Club President, he was 'in the Chair' in 2013-14, and we wish him every success for the coming year.
Here he is on a visit to "Rotary 1" - Rotary's HQ in Evanston, Chicargo, USA, a couple of years ago: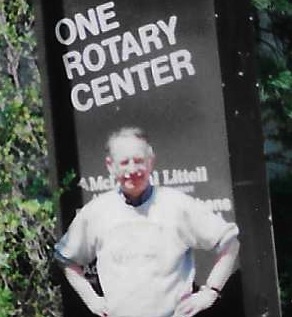 Rotarian Arek Hersh, MBE.
Portrait of a Haulocaust Survivor at Buckingham Palace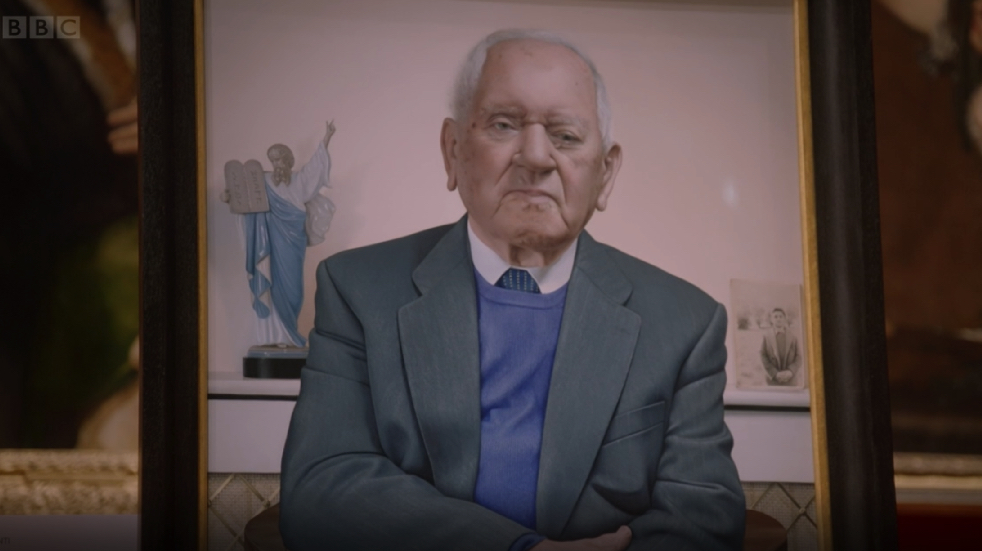 The new painting by artist Massimiliano depicts Arek in realistic style.
His right hand is resting on his covered left arm, which bears the tattooed number (B 7608) he was given in Auschwitz. The detail in the painting is phenomenal.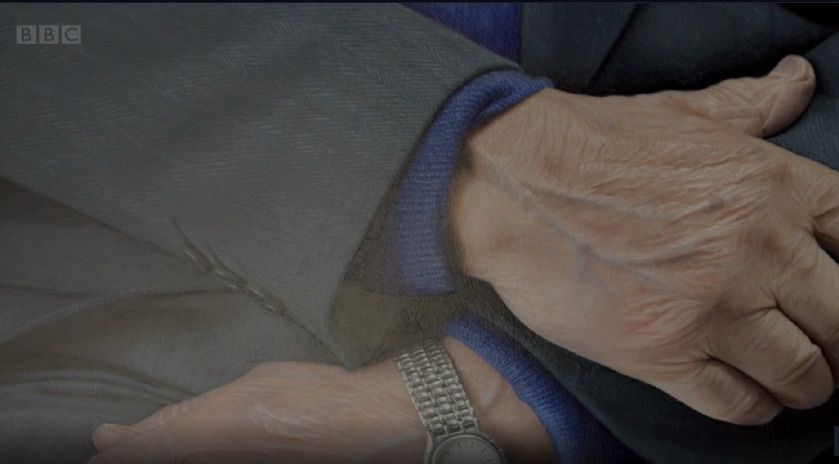 HRH Charles, Prince of Wales has commissioned seven different artists to paint seven 'Survivors of the Holocaust', Arek being among them.
Below is a picture of Arek and his family, all clearly delighted with the painting when it was displayed in the Queen's Gallery at Buckingham Palace together with the 6 other specially commissioned paintings of 'survivors' on Thursday 27th January, Holocaust Memorial Day.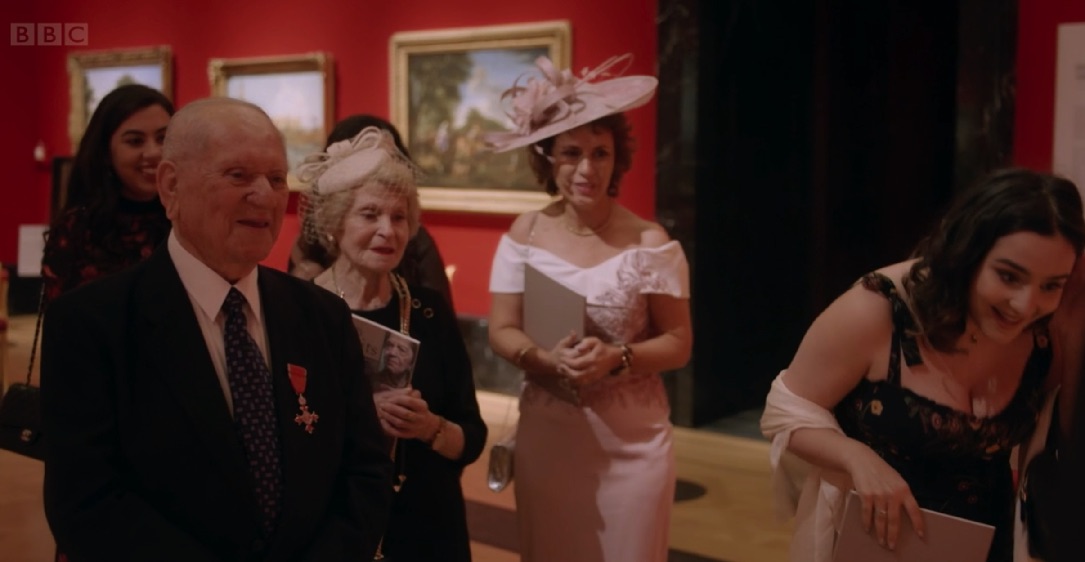 (Pictures taken as screen-shots from the BBC program "Survivors: Portraits of the Holocaust" originally screened on BBC2 at 9.00pm om Thursday 27th January 2022 - It will be available on iPlayer for the next 12 months.)
Arek and his family can be justly proud of this momentous occassion.
The Rotarians of the Leeds Elmete Club are proud to have Arek (PHF) as one of our members.
(While we bow our heads in rememberance of those millions of people who perished in the Holocaust).
You can read about Arek's incredible story in his autobiography :
Hersh, Arek (2015). A Detail of History: The harrowing true story of a boy who survived the Nazi Holocaust.
ISBN 978-1910167779 .
President takes tea with The Lord Mayor of Leeds
Here is a picture of our President Martyn with The Lord Mayor of Leeds and Lady Mayoress (Councillor Asghar Khan and Mrs Robina Kosar).
President Martyn was invited, along with the other Leeds Rotary Clubs Group Presidents, to take tea with the Lord Mayor and Lady Mayoress at the Civic Hall today (Wednesday 27th October) in recognition of the work done by the Clubs in suporting the Community in Leeds (and a very nice afternoon tea it was!).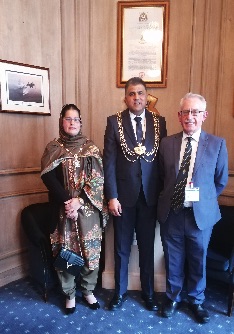 SUPPORT FOR OUR LOCAL FOODBANK
2020-2022
How it all started, June 2020:
We, sadly, live in an era in which Food Banks are needed, despite ostentatious frivolity by many. There are geographical areas where poverty and need are only too real. The situation is likely to worsen when the economic effects of the Covid-19 Virus outbreak become manifest, regarding job security, the end of the furlough scheme etc. Many more people may find themselves in real difficulty.

With this in mind, we agreed on 18th June, at our weekly virtual meeting on Zoom, to donate £500 immediately to one of the local food banks where we have recognised real need.


So on 29th June 2020, President Ken and Treasurer Neale went to St Richard's Church (see picture) in the Parish of Seacroft in Leeds, and handed over a cheque for £500
UPDATES 2021-22 (in reverse chronological order
May 2022. Some Statistics from the FoodBank Admin.:

In 2021, 4940 were given food.

To end of April 2022, 2632 people were fed - an increase of approx. 50%.

(Demand increasing for help with cost of domestic fuel.)

4th April 2022

Mon, 4 Apr 2022 at 10:37. Mr President writes:
Yesterday afternoon I was able to represent the Club at St Richard's Church for the service of giving thanks and taking action.There was about 30 people there and Lis and Sandra spoke about the Food Bank - it's beginnings and how the various communities and volunteers have responded to the increase in support that has been required. Rotary did get a mention.I spoke briefly to Lis afterwards and she sends her Best Wishes to all.The congregants were asked in The Order of Service to commit to pledge, amongst other things, to donate food time or finance.

Martyn.

29th March 2022

We continue to support the Foodbank week to week. One of Our members attends as a volunteer each Tuesday to help to distribute food etc., and members visit to donate foodstuffs and other supplies as available.

Today, Secretary Brendan and Past-President Ken visited to deliver 100 Easter Eggs so that the children will have a treat over the Easter Holidays. The Pictures show the consignment and Past President Ken wishing he was a kid again.
The Foodbank is busier than ever following the effects of the Covid-19 outbreak, the fanancial situation and employment problems. We will continue to support as and when we can.
21st December 2021
Rotarian Neale reports: The "Cafe" was flasks of hot water (DIY hot drink) & mince pies rather than toast. This was the busiest day I have witnessed so far. Lis started 15 mins. early as the queue waiting was so large.
Lis has just advised we fed 187 people with 60 referrals.This is a record.She again thanks us for our kindness and support, confirming that we have found a suitable partner organisation where our efforts really make a difference to peoples lives.

7th December 2021




Latest news from Lis:
In November we fed approx 509 people and made 72 Saturday night meals.

Numbers are low due to changing to an earlier time and inviting customers to come inside the crypt to eat instead of a takeaway. I feel sure that numbers will increase over the next few weeks when the word gets around. On the 18th December Gabe is cooking a Christmas meal for customers, complete with all the trimmings.

On Tuesday, 7th December we start to hand out extra Christmas food bags to families.
Donation of Dictionaries 4 Life to Local Schools
NEWS UPDATE 21st November 2021
Past President Ken has delivered another consignment of books for distribution to local schools in the near future. We are told that the Dictionaries are so useful that we are to decide whether we can increase the number donated next year.
********
Past President Ken was recently able to deliver the Dictionaries 4 Life we ordered for the local schools where some of our members hear students read. The schools are: White Laith Primary (LS14), Castleton Primary (LS13), Shakespeare Primary (LS9) and Grange Farm Primary (LS14). Here is the post on Facebook from Learning-Partnerships-Leeds thanking us for the donation and showing a picture of a few of the happy recipientsHere is the post on Facebook from Learning-Partnerships-Leeds thanking us for the donation and showing a picture of a few of the happy recipientsHere is the post on Facebook from Learning-Partnerships-Leeds thanking us for the donation and showing a picture of a few of the happy children.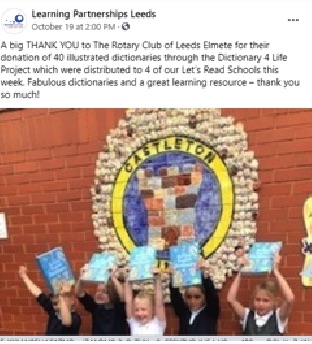 SCHOOLS' LITERACY PROGRAMME
A number of our members plan to continue to help out at two local schools by hearing children read once a week when they will be allowed back into school in the autunmof 2021. We have also donated much needed Usborne illustrated dictionaries to one school. (See above).

This initiative started in September 2013, and is proving to be a very valuable and rewarding experience for the students, the schools and the Rotarians involved.

To read more about this initiative: Click Here.



AQUABOX

(

Click on the Aquabox logo to go to their website.)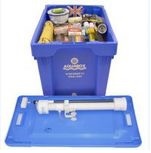 Our Club members normally fill three Aquaboxes a year and deliver them to the Aquabox Depot in Derbyshire. However, because of the Corona Virus pandemic we have not been able to complete this task in 2020 - 22. We will be starting again soon.
STOP PRESS -
October 2021 - Another one extra - The Club has purchased a completed box to be sent to Haiti following the recent earth quake and storms.
July 2020- One extra! One of our members bought an Aquabox (£150) on 5th July 2020 with the money he saved because we had not been meeting in person. His savings have been the cost of the meal and drinks each week for 15 weeks.
Below is an extract of an email received by Aquabox with a quote from one of the recipients in Somalia of the boxes we sent in 2012:

"When I was pregnant, I had worries to cloth my babe. We dont afford food most times so monies for cloths is hard to get. I thought the box was just for water and was happy when I found the towels and the clothes. I cried and hided them for after the delivery. This is the first time I ever had something new to wrap my baby in. My oldest son Ahmed will not leave the shelter without his new books and bag. He is too proud when he carries them with the other boys. Even me, I can share the cooking utensils with my neighbors. It feels like being home again. Truely these are blessings for all of us!"
Makes you feel good that the efforts of a few people in Yorkshire can have such an impact on the lives of people in need so far away!
ANOTHER PAUL HARRIS FELLOW!


(Now we have all got one!!!)
Last week saw President Martyn presenting another Paul Harris Fellowship Certificate and badge, this time to retired Bank Manager Rotarian Neale Lucas. This was an historic moment for the Club in that this is the last time that our President will be called on to perform this pleasnt duty because all our Members and Honourary Members now hold this honour, awarded by Rotary in recognition of the service an individual has given. We are only a small club, comprising 3 Honorary Members and 10 Active Members, but even so, we doubt there are many other Rotary Clubs of which all the members are PHF's.

Neale, our stalwart Treasurer, was delighted to receive this honour, given for his service to Rotary in our Club and in his former Club in Bridlington which he joined in 1995. He transfered to us in 2017. He is a prime example of a good Rotarian, not only being our Treasurer and taking an active role in all the Club's activities, but especially recently taking a leading role in our involvement with the local foodbank - see below. Neale's service had in fact been recognised by Rotary International in 2015 when he was accredited with a PHF at Rotary HQ in Evanston, Chicargo, USA. However, he was not informed of this at the time, so when this Club put his name forward for the award, he was rewarded with a lapel badge with a blue saphire attached - being one up from the ordinary lapel pin. Well done Neale, you thoughly deserve this award.



Two New Paul Harris Fellows






President Martyn had the delightful task of presenting a Paul Harris Fellowship to two of our members recently. This was in recognition of their work for The Club, Rotary in General and specifically for the Local Community.

Rotarian Dr Brendan Carey (on the left) has been our Club Secretary, more or less since he joined the Club in February 2008. Always a willing hand in Club activities, he has been heavily involved in our work with the local Food Bank of late (and a great handler of a shopping trolly). Brendan is a retired Clinical Radiologist having worked at Cookridge Hospital, then St James's, Hospital, Leeds. Like many of us, he finds retirement more hectic than going to work, particularly with grandchildren! Well done on your award Bren.

The other receipient (on the right) was Rotarian Peter Whelan. Peter joined the Club in February 1996, and was our Club's President in 2002/3 and again in 2017/18. Peter has always involved himself heavily in our Community projects, for example listening to children read at a local Primary School, as well as the Food Bank work, and co-ordinating our efforts, for example with Martin House Hospice. Peter was a Consultant Urological Surgeon at St James's Hospital, Leeds, until retirement a few years ago. Another very well deserved award of a PHF. Well done Peter.

These two gentlemen have agreed to share the Office of Club President in the next Rotary Year starting in July next. We are sure the Club will be in good hands, particularly because of their previous Rotary record.

Best wishes and Congratulations again to Brendan and Peter, you deserve these awards.
Used Spectacles for Vision Aid Overseas.
UPDATE

In 2019-20, 9 boxes of used spectacles were sent to VAO. Regretably we are no longer supporting VAO for various reasons, most of all because of our inability to collect discarded spectacles and process them.
Our Webpages
Our Club is one of very many clubs in Great Britain and Ireland currently using the RIBI website template, each club being required to make an ANNUAL payment of £50. This is raising approximately £63,000 for The Rotary Foundation each year!