IMPORTANT NOTICE
for all potential Visitors to
WAKEFIELD CHANTRY ROTARY CLUB,
We are to restart our face to face meetings as planned Tuesday July 20th 2021. At that meeting Club Presidency will be handed over from Pres: Ray Spencer to Pres Elect Robin Richmond. We look forward to Robin's Year and Wish him Good Luck and Good Fortune in his 2nd term of office.
Any further Meeting adjustments will be published here and on our Social Media sites.
Welcome to the Rotary Club of Wakefield Chantry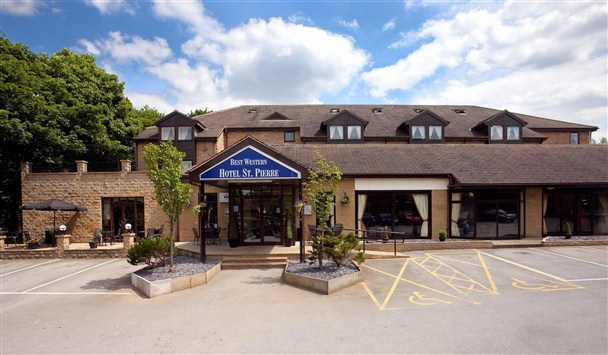 The Rotary Club of Wakefield Chantry
meet at:
Hotel St. Pierre
Barnsley Road, Newmillerdam
Wakefield WF2 6QG
Telephone: 01924 255596
Every Tuesday 6.45 for 7pm
(Except following Bank Holiday)
A message from the president
Hello I am President Ray Spencer and welcome you to the website of Wakefield Chantry Rotary Club. We have been part of the Wakefield scene since 1983. In the current environment I can initially only welcome you to the Chantry Club website but hope to later announce when our meetings will return from virtual to actual meetings. Presently our weekly Club meetings are via Zoom and if you wish to find more out about Chantry Rotary Club my email address is included in this message.

Chantry Rotary Club, has supported many worldwide Charities, one of the greatest being End Polio Now where we are helping multi-national organisations to eradicate Polio in our World.

While backing deserving overseas initiatives we also support close-to-home projects and that's where I hope to focus our support in my Presidential year. Support Dogs which help people with autism, epilepsy and other disabilities is a charity based in Sheffield to help all over Yorkshire and beyond. Other regular local causes we will continue to support include, Community Awareness Programme Wakefield with Christmas Hampers for local families in need, Wakefield Metropolitan Band, Speakability, the Stroke Association and Kingsland Special School.

I am pleased to say that Wakefield Chantry Rotary Club, have been able to keep going ahead regardless of the Pandemic while we look forward to the opportunity to engage more fully when current restrictions are lifted.

Our Club meetings are where we start and we aim to engage in an interesting program and keep the meetings light, interesting, fun and full of fellowship which sums up the Chantry Rotary Club, Wakefield take on Rotary. We are actively seeking new members to engage with our programs and help us fulfil our commitments to those less fortunate than ourselves.

Don't wait – get involved now if you want to engage with and help others in our local community. We also look forward to new members bringing their own ideas and initiatives for local projects. Chantry Rotary Club, Wakefield offers you a welcome, a network of like-minded people and a sense of belonging. Make contact through our website here

Come along and enjoy Tuesday evenings and get involved!

Ray Spencer