We have changed our venue for more space, have monthly business meetings without a meal, and have guest speakers or excursions in other weeks.
Our members come from a variety of backgrounds, including farming, banking, business, education, and health. All enjoy the fun and friendship that Rotary offers, while also helping their own communities and those farther afield. To learn more about what we do, please explore this site and click on the links on "What we do". If you wish to know more about Rotary International, click on About Rotary. INTERESTED IN JOINING ROTARY? Please use the Contact Form in the menu at the top. We will then invite you to attend a meeting as a guest, with no commitment! If you have just moved into the Dale, you will find a ready-made group of friends who will help you settle into the community.
Our President is David Spashett
If you are a Rotarian visiting Wensleydale, you will be very welcome at one of our weekly meetings- please check the "Meeting Information" section on this website, or contact us through the Contact Form in the Join Us section
This website short address is www.wensleydale.rotary1040.org .
Our registered Charity Fund number is 1046181
To comply with the new Data protection regulations, we have updated our Privacy Policy
Some of our activities and achievements in pre-Covid years
International
• Supported the Rotary International Stop Polio campaign with fundraising events.
• Donated to Action Aid, Shelter and Syrian refugees.
• Donated to Nepalese Goat project.
• Donated to a charity funding computers to remote Nepalese schools.
National
• Supported the national Kidsout Day. It's when Rotarians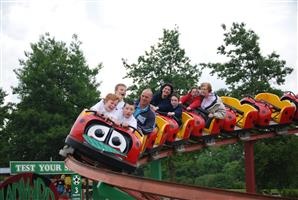 across the country take disadvantaged kids for a fun day out. Whether they live with critical health issues, in refuge, with a disability or facing a tough domestic situation, are taken on a fun day out to the zoo, a theme park or even the seaside, often for the first time in their lives. Over 500 children were taken to Lightwater Valley for the day, accompanied by Rotarians across Yorkshire.
Regional / Local community
• Organised the annual Wensleydale wander where funds raised benefit local good causes.
• Organised the annual James Herriot Country Trail Run which raises money for Rotary charities
• Annual Technology Tournament, this year hosted at Catterick Garrison. The object of the tournament is to give children aged 12 – 18 an unseen Design and Technology problem to be completed in a fixed time.
• Sponsored a student from Wensleydale School to attend RYLA (Rotary Youth Leadership Award) where for a week they participate in team building programmes to build confidence, motivation and leadership skills
• Support Children attending Kings Club during the summer holidays.
• Ran a Stroke Awareness tent at the Wensleydale Show.
• Pay and transport a carer in the region for a week's holiday in Scarborough.
• Give local schoolchildren a Dictionary for life, to aid literacy.
• School Bursary. We were able to support 19 children in the area to attend courses and residential trips.
Interschool Challenge, a small sum of money to each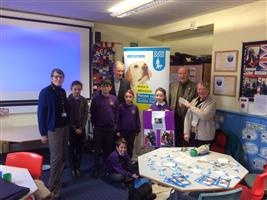 Primary School in the Dale and challenges them to increase it by whatever means for charity. This year the children have chosen Cancer Research UK
Our Facebook page ran a Twelve Myth days of Christmas campaign to bust all the myths surrounding Rotary.
We also had lots of fun with quiz nights, lawn bowls, quoits, visiting other Rotary clubs in the area, dominoes and a pancake evening.

President of Rotary International Club Citation presented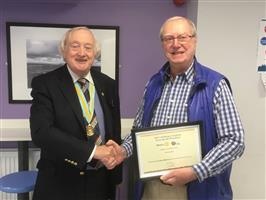 to Wensleydale Rotary. This is awarded to clubs in recognition of making an especially positive difference in our communities.
A further Citation with Silver Distinction was awarded in December 2019
Since the onset of the Covid-19 Pandemic, we have continued to meet either by Zoom or, more recently face to face, and to organise those activities that could occur safely under the right conditions.