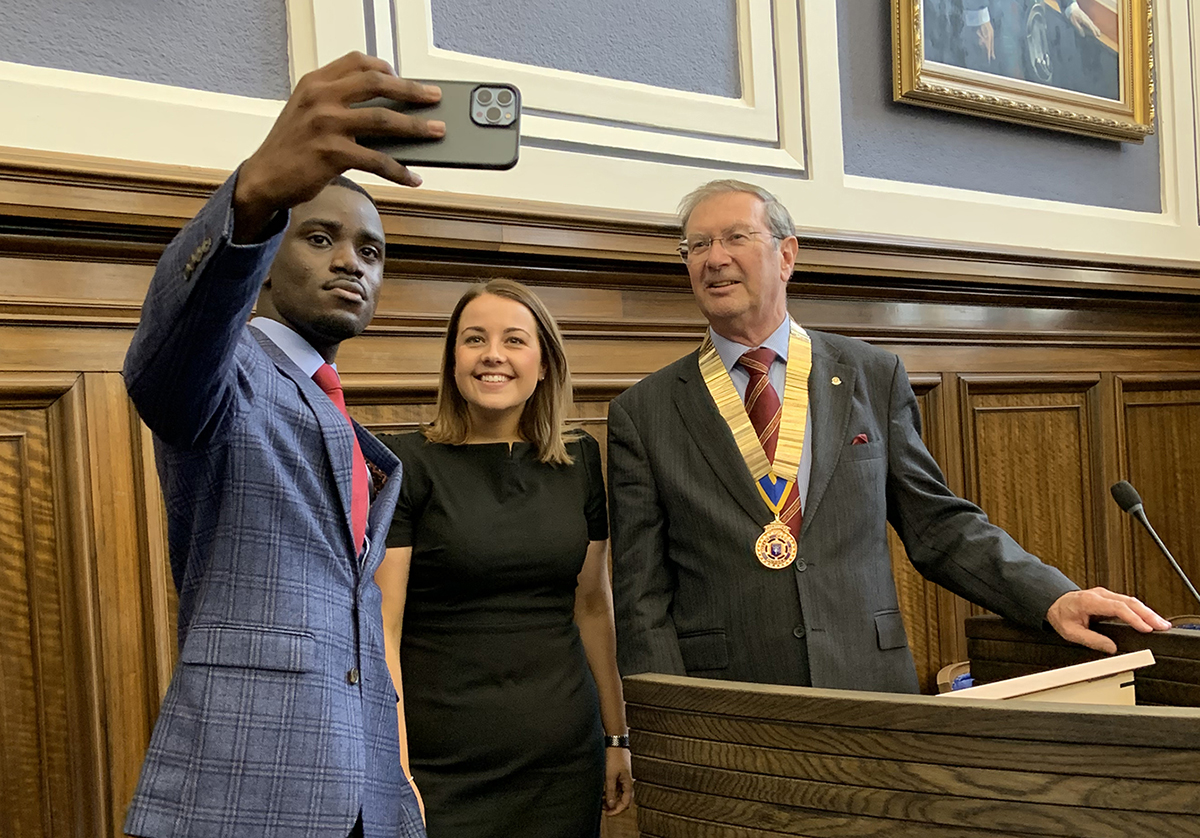 ---
Welcome to the website of the Rotary Club of Dundee. As we enter our second century we are proud to serve our local community.
Rotarians represent a complete cross-section of occupations and professions, whose motivation is a desire to serve society. They recognise that, individually their efforts may be limited, but as a member of Rotary, with combined experience, expertise and enthusiasm, the sky is the limit! The ideal for every Rotarian is reflected in the motto, 'Service Above Self.'
Rotary is one of the world's largest and most successful global membership and humanitarian service organisations, with 1.2 million members in 35,000 clubs in over 200 countries.
Through membership of a Rotary club, individuals volunteer their time by uniting together to deliver projects in communities at home and overseas. Rotary gives you the platform to turn your ideas and passion for change into action, develop your skills and build lasting relationships.
Friendship
In an increasingly complex world, Rotary maintains a simple philosophy - make friends in your own community and throughout the world.
Giving back to the community
Through Rotary, service to local and overseas communities is well organised and rewarding. If you like helping others, here is your chance to do something worthwhile and make a real difference.
Business development
Networking opportunities are endless. Rotary consists of a cross-section from every business community and its members come from all walks of life. Rotarians help each other and collectively help others.
Personal growth and development
Membership of Rotary develops leadership, public speaking, social, business, personal and vocational skills as well as improving cultural awareness.
Continued learning
Clubs organise programmes and weekly meetings to keep members informed about what is going on in the community, the country, and the world. Each meeting provides an opportunity to listen to different speakers on a variety of current topics.
---
If you're interested in becoming a member of our Rotary club, please explore our website to find out more.
If you have the time, talents, skills, energy and desire to change the lives of people for the better and are interested in doing so through becoming a member of our club, then you can find our more here and fill out the form on the Join Us page.
We'll then get in touch with you and arrange for you to come along to our meetings to find out more about becoming a member of the Rotary Club of Dundee.
You can find out more about Rotary here.
---
Do you require support for a community project that will improve the lives of people living in Dundee?
The Rotary Club of Dundee can provide grant aid for your project. Our Community Grants aim to support and help local charities, worthy causes and community groups.
Your project should meet one or more of the following objectives:
improve the lives of a group of residents
encourage volunteers
support environmental amenities and/ore projects
encourage resident-led projects
show sustainability
Click Apply Now to find out more and complete the application form.