The latest zoom video link between RC of Manchester and Iasi 2000 (Romania) giving current situation and how Rotary is helping the refugees from The Ukraine . Much financial support has been received from Rotary Clubs in the UK -especially from Rotary D1285
Here is the link:-
This zoom meeting took place on the 21st April 2022

Latest update from the RC of Iasi 20000, Romania on the Ukraine situation - 17th March 2022
https://youtu.be/ACis6Y7Gilo
In Romania, things are starting to be more and more strictly subject to government control. Green corridors have been formed, in which refugees entering Romania are closely monitored and anyone wishing to take refugees from the border is carefully checked.
One problem I pointed out to my club mates from day one was the extremely careful help we had to give - because I had received many requests to help transfer from grantite to border points leading to western Europe .
Due to transfer incidents (related to human trafficking - prostitution and pedophilia) mainly because there are already 3 million refugees, half of whom are minors, and due to incidents already monitored by the police in Germany (physical assault / sexual harassment of minors housed in refugee centers) we fully agree with extremely strict control over refugees.
As I told some of you, we are ready to intervene locally - when the number of refugees is stabilized by providing assistance. For the time being, the Romanian government has a strategy to coordinate refugee centers and to closely monitor personnel entering the country.
Any child from Ukraine who enters unaccompanied (orphaned or unaccompanied by their parents because they must remain in Ukraine) is immediately taken over by the Romanian State.
What can I say so far, from the last 2 days:
- green corridors are formed from the Republic of Moldova to Romania - the neighboring country being suffocated by the number of refugees - which will be transferred to Romania. As already announced on all channels - any refugee from Ukraine - adult or child - can find a place in special centers in our country,
- we are working on collaborations with European countries for the transfer-resettlement of refugees,
- we are working on laws / ordinances through which unaccompanied children can be transferred to other countries in order to be hosted or integrated in schools in neighboring countries.
For the time being, the Iasi 2000 Rotary Club has a stand-by strategy to see how it can mold government and other NGO interventions, given that there is a working cell - Government + NGOs.
Meanwhile, in the north of the country (150 hm away from Iasi) in Suceava, an international hub has been set up from where all donations will be sent to Ukraine.
Also, our club continues to send donations (food, in particular) to border towns in Ukraine.
We thank all of you for the donations. Hoping that the very next week we will decide on the following step regarding our help to Ucrainian refugees. For the moment we focused on those hosted in Iasi (centers for refugees or groups hosted by churches) and collecting goods and food to transfer to Ucraine.
Till today, no money from UK transfers was used.
Let you know when and where the donations will be used.
Regards,
Magda
president RC Iasi 2000
GREAT NEWS ABOUT OPERATION FLORIAN AND BRITISH FIREFIGHTERS – HELP FOR UKRAINE.
As you will recall, the Rotary Club of Manchester has a long-standing link with Operation Florian – the fire fighters' charity. See: https://operationflorian.org.uk/
You will all have seen the harrowing news from Ukraine, with the terrible, heart-breaking images of the towns and cities of that wonderful country being shelled and bombed. On many of those images you will see firefighters – and you may have noticed that some wear the familiar brown and yellow personal protective equipment (uniforms) that is worn by British fire-fighters. Yes, that is British equipment. Florian have not donated any equipment to Ukraine before. The FIRE AID partners who have delivered to Ukraine are Kent FRS, EASST and Scottish Emergency Rescue Association (SERA) all FIRE AID members. As a result of the Russian attacks, The Ukraine fire and emergency services are greatly stretched and have lost equipment and personnel.
Sadly, in the type of awful warfare being used by Russia in its unjustified invasion of Ukraine the civilian emergency services are 'legitimate' (?) targets. It happened in the Bosnian Civil War, in Kosovo and in Syria (where Russia also played a part). If the civil elements such as hospitals, and emergency service personnel, including fire-fighters can be reduced in their effectiveness, then the morale of the population can be further undermined.
There has been a very interesting development, which involves Operation Florian and others. Coordinated by FIRE AID, NFCC and the Home Office. The partnership involves founding FIRE AID members, Operation Florian, EASST, Staffordshire Emergency Services Humanitarian Aid Association (SESHAA) Now this week 18 fire engines, 3 lorries of equipment plus 2 support vehicles from all over the UK will depart on Friday for Ukraine. Nine, assembled from GMFRS and other services across the North West – will depart from Leigh Community Fire Station at 0800 on Friday morning. Five will be driven by Operation Florian volunteers and current GMFRS fire fighters– including one driven by Steve Jordan MBE, PHF. Steve has been the Operation Florian link with the Rotary Club of Manchester since the Club started to support the charity in 2010. The appliances are packed with additional PPE equipment donated from GMFRS, but also by Operation Florian from its store in Chorley. The appliances will rendezvous in Kent before proceeding to Dover. From there they will sail to Calais and then drive in a convoy – via a short stopover ion Germany – to Poland.
Watch for more news – and the story will be on the morning news on Friday.
Yet again, the fire sector – including our friends in Operation Florian - has responded to a need – in very short time.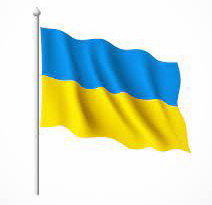 URGENT DISASTER AID UK & IRELAND APPEAL - Ukraine Refugee Appeal

As the world recoils in horror at the unfolding tragedy in Ukraine, it is becoming very obvious that there will be a humanitarian crisis of unimaginable proportions. Men women and children still in Ukraine will be in desperate straits. Those people able to flee as refugees to neighbouring countries may be slightly safer but will be just as dependent on help, as they arrive with little more than the clothes they stand in.
Disaster Aid UK and Ireland are joining Governments, Aid Agencies and NGOs in trying to establish what help could be given to these survivors who have nothing and maybe not even a country. Help will be desperately needed.
The situation is so time critical, that as we continue to work out the best form our aid should take, we are launching an appeal to raise funds, so that when we have established an appropriate response, we can act quickly and decisively to direct the aid where it is needed.
We have started investigating and are actively trying to establish contacts and partners who can outline the need. Clearly, sending aid into a war zone could be fraught and may not reach it's intended recipients. However, there may be merit in trying to help refugees and the aid may be more sustainable and transparent. Part of our philosophy always is to try and direct resources to people who have been overlooked by other efforts.
We are not a political organisation, quite the opposite in fact, and it is not our place to judge but simply to try and help the survivors of this man made, rather than our usual natural disaster.
At this stage we ask you to do what you always do and trust us to act with our usual integrity, transparency, professionalism and compassion as we come up with a plan to distribute resources that we know will be so generously provided by our donors.
We know that this is not our usual modus operandi and that it unusual to ask for donations when the details of our response are not finalised. However, on this occasion, we feel justified in acting so quickly. Please urgently consider giving to this appeal to help give the people of Ukraine a 'hand up, not a handout' in their hour of need.
Joint Manchester and Iasi Rotary Meeting 10th March 2022
Rotary International statement on Ukraine conflict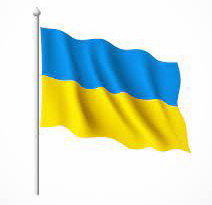 It is a tragic and sad time for the people of Ukraine and the world.
At Rotary, we are deeply concerned by the deteriorating situation in Ukraine and the escalating loss of life and humanitarian hardship there. Continued military action against Ukraine will not only devastate the region, but also risk spreading tragic consequences across Europe and the world.
As one of the world's largest humanitarian organisations, we have made peace the cornerstone of our global mission. We join the international community in calling for an immediate cease fire, withdrawal of Russian forces, and a restoration of diplomatic efforts to resolve this conflict through dialogue.
In the past decade, Rotary clubs in Ukraine, Russia and nearby countries have transcended national differences and have actively engaged in peace-building projects to promote goodwill and to marshal assistance for the victims of war and violence. Today, our thoughts are with our fellow Rotary members and others in Ukraine coping with these tragic events. Rotary International will do everything in its power to bring aid, support and peace to the region.
Rotary International
25-Feb-2022
Welcome to the website of the Rotary Club of Manchester
Since the formation of our club in 1911, we have been helping worthy causes and others who are less fortunate ;
Guided by the Rotary Maxim of "Service above Self "

The club actively supports the Rotary End Polio Now campaign and the Disaster Aid UK campaigns. We also support the Christie Hospital , Francis House Children's Hospice , The Stroke Association , Narrowgate Homeless Shelter & Pettypool Outdoor Activity Centre -amongst others.
We welcome new members interested in having fun while "Giving Something Back " to the community. Fresh ideas and enthusiasm are the lifeblood of any organisation.
Arms of the City of Manchester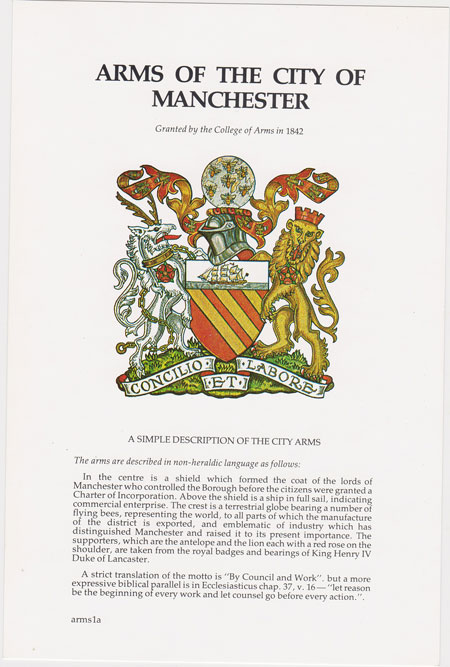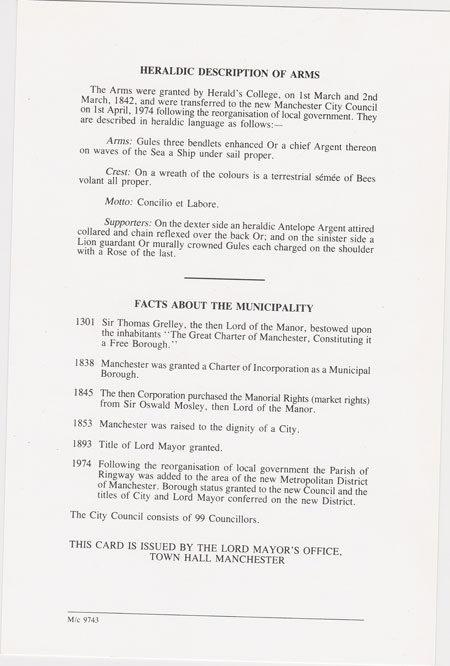 FOUNDATION MATTERS!
FOUNDATION MATTERS because it is the only officially recognised Rotary charity and each Rotarian is expected to contribute at least $100per annum (many of course, probably through ignorance of this obligation, fail to do so!).
A TALE TO TELL.
At Manchester Club we have been the recipient of a GLOBAL GRANT worth $37250 in support of our WOWATER! project which after 6 years of fundraising has successfully concluded by the installation of water treatment facilities in Fieve, Ghana. We had 4 representatives present at the opening of the facility. Very many thanks are due to Rtn. A'dell Harper , who initiated the project; P.P. Robin Graham who has led the planning, fundraising, and conducted all the painstaking paperwork; Dale McAuley whose video records the opening of the facility in Ghana; and Rotoracter Aileen Schlissler who travelled for the opening.
Thus, a very successful end to a well supported and executed project. A story worth telling! Which will happen at :
ROTARY DISTRICT FOUNDATION DINNER, STATHAM LODGE, LYMM – THURSDAY 28 NOVEMBER.
Bring family, friends, and potential members to hear our incredible story. Names to Bill Laidlaw .
MONY A MICKLE MAKS A MUCKLE. (Old Scots saying which translates as "Look after the pennies and the pounds will look after themselves") .
A'dell Harper when running her nursery school had the brilliant idea of teaching her pupils the value of water by have them "buy" a drink of water at a penny a glass. The idea grew into the project that became known as WOWATER!
Stealing this theme, Bill laidlaw has started putting each 20p received in change into a jar. This formed the basis of a "guess the value of the contents" challenge when DG Patrick visited the club on 22 August. To Bill's surprise the jar, and the raffle, raised almost £100.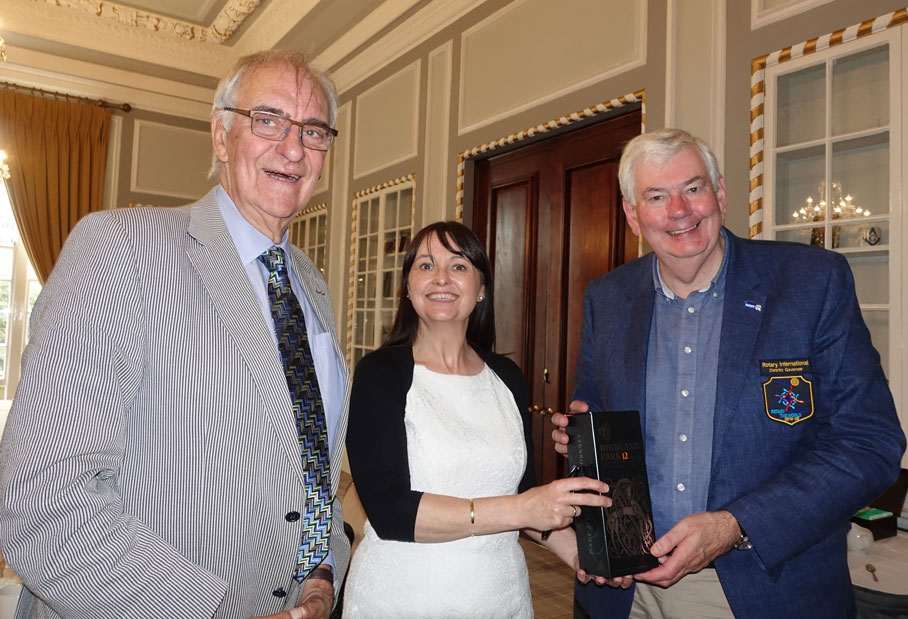 Foundation has benefited by this £100 and the proof of the old adage " mony a mickle maks a muckle" remains true today!
Bill is encouraged to continue saving his pennies. However he recognises that we are becoming more and more a cashless society so he is encouraging fellow Rotarians who have abandoned cash to simple write a cheque in favour of Rotary Foundation
PS. By co-incidence the winner of the raffle was the DG who is pictured here carrying off a bottle of Bill's best Scotch!
Rotary Club of Manchester
Know Your Blood Pressure Event 14th April 2018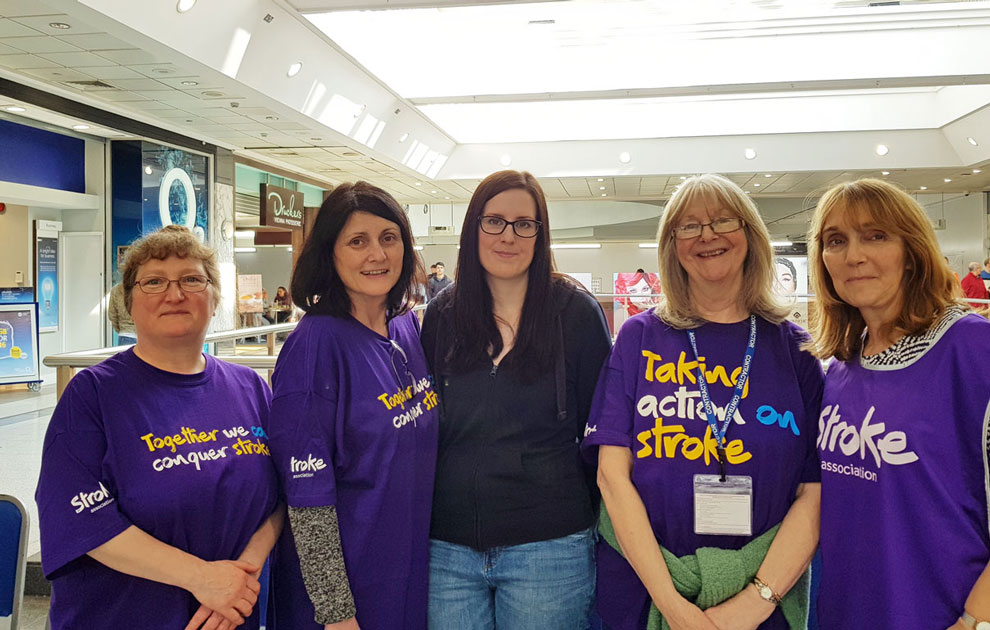 Another successful event, this year we took 509 blood pressures!
Again, one of the most important aspects contributing to the success of the event, is the fact that the Arndale Centre allocate us a prime site, many thanks to Sonya Nolan for arranging that for us, this allows us to maximize the site, by having more tables and chairs, and therefore the number of health professionals to take blood pressures, we had excellent medical students; Rui Jun Lim and Qing Tan, student nurse; Leigh Hutchinson, who also volunteered last year, lecture staff from Manchester University School of Nursing and Midwifery; Ann Caress, Judy Ormrod and Aileen McLoughlin, also nurse Maggie Withington (Sarah's mum) Julie Chapman, Sue Cattermole (who is a stroke survivor) Dr. Jo Downton, Leanne from the Stroke Association brought Dan, Rowen, Kay, Chantelle and Neda and also Nic who, although not qualified to take BPs volunteered to engage with the passing public to offer the BP test.
Of the 509 (259 female and 250 male) people we tested, 387 were no further action required, 122 registered abnormal readings, of those 107 were advised to see their GP for a routine follow up within one month, and 15 were of sufficient concern to be given guidance to visit their GP for an urgent follow up within one week, thankfully, this year we had no hospital admission advised, the age ranges were; 18-29 x 113, 30-44 x 124, 45-59 x 142, 60-85 x 115 and over 85 x 15
After the event, all the drinks, cereal bars etc that were unused, were donated to the homeless shelter Narrowgate in Salford.
Without the help, enthusiasm and support of all the volunteers, including Rotarians and friends of Rotary; Peter Hartley, Roy Chapman, Bill Laidlaw, Sarah Withington, Susan Craig, Alia Arif, Derek Evans, Ernie Metcalfe, Sebastian Moldovan, Robin Graham, Dale Anne McAulay, Elizabeth Farrow, Pat from Trailblazers, and Manuela Costanzo, Manchester University Volunteer Programme students; Adam McGreavey, Victor Lin Hu, Linshu Xu, Yuxiao Zhang, Jayant Goel and Jiangli Liu, this event and important contribution to public health and awareness of stroke, could not take place, and be the success it is, our thanks to Danny at Manchester University Estates, who lend us the furniture, Simon and Pete from BCL Movers were stars, the support of the staff at the Arndale Centre, particularly Sonya, a BIG THANK YOU TO ALL!!
Each year, a theme seems to emerge, and this year, at the end of the event when we were discussing this, Judy was saying how many people were talking to her about their feelings of loneliness, and feeling very alone, this is incredibly sad, then Ann and Aileen commented that they too heard this when they were taking BPs, not only from older people, but younger people too, this impacted so significantly that Judy did this research on the subject, thank you Judy.
Loneliness is a complex concept, and a variety of definitions exist. It may be regarded as social loneliness or isolation, whereby contact with friends and social networks are limited, or as emotional isolation, or a feeling of not being in time, or in connection with other human beings (Holmes et al., 2000). This definition links with earlier work by Bowlby and Weiss (1973) who considered loneliness from a social and psychological perspective, and suggested it to consists of two dimensions, emphasizing the core experience rather than the intensity of the relationships. The experience of loneliness among the very old (Kirkevold et al., 2012) has been regarded in positive terms, for example a feeling of being free, as well as the more negative connotation of being abandoned, and feelings of fear and sadness. Alternatively, Killeen (1998) considered the concept of loneliness as a continuum, with the most positive attributes being feelings of connectedness, and the most negative being alienation and powerlessness as displayed by social and self-isolation. Predisposing factors include partnership status, ethnicity, gender, disability, physical and mental health issues, access to technology, the internet and social media, being a carer and having a limited income which restricts opportunities (NICE, 2016). In January 2018 the UK Prime Minister Teresa May appointed a 'minister for loneliness' Tracey Crouch. This followed the report on loneliness undertaken by the late MP Jo Cox in 2017. In 2018 the Office of National Statistics regarded the UK as the loneliness capital of Europe, following their survey of over 10 000 adults. They suggested one in every 20 people often, or always were lonely and emphasized that 10% of 16 -24 year olds fell into this category, making them the largest proportion of participants. Reasons for this may include a reliance on social media rather than face to face communication, as well as those factors already mentioned.
However, despite the plethora of definitions there is reticence on the part of many people to acknowledge that they are lonely, possibly due to the degree of stigma attached to it but also that it is an expected part of growing old.
Resources
Campaign to end loneliness (www.campaigntoendloneliness.org )
Jo Cox loneliness campaign (www.jococloneliness.org )
The Loneliness Experiment – Radio 4 online survey (www.lonelinessexperiment.orf )
All accessed 30th April 2018.
Barbara Rosenthal 30th April 2018