Join Rotary and make a world of difference to your own community, to the lives of those less fortunate around the world, to your fellow club members - like-minded men and women of all ages - and, just as important, to yourself! The projects Rotarians get involved in are incredibly fulfilling, worthwhile and rewarding - and there's plenty of fun.
------------------
President Tony Webb following his Induction as Nantwich Rotary President for 2021-2022 at Harvey's Tea Marquee
on Wednesday June 29th 2021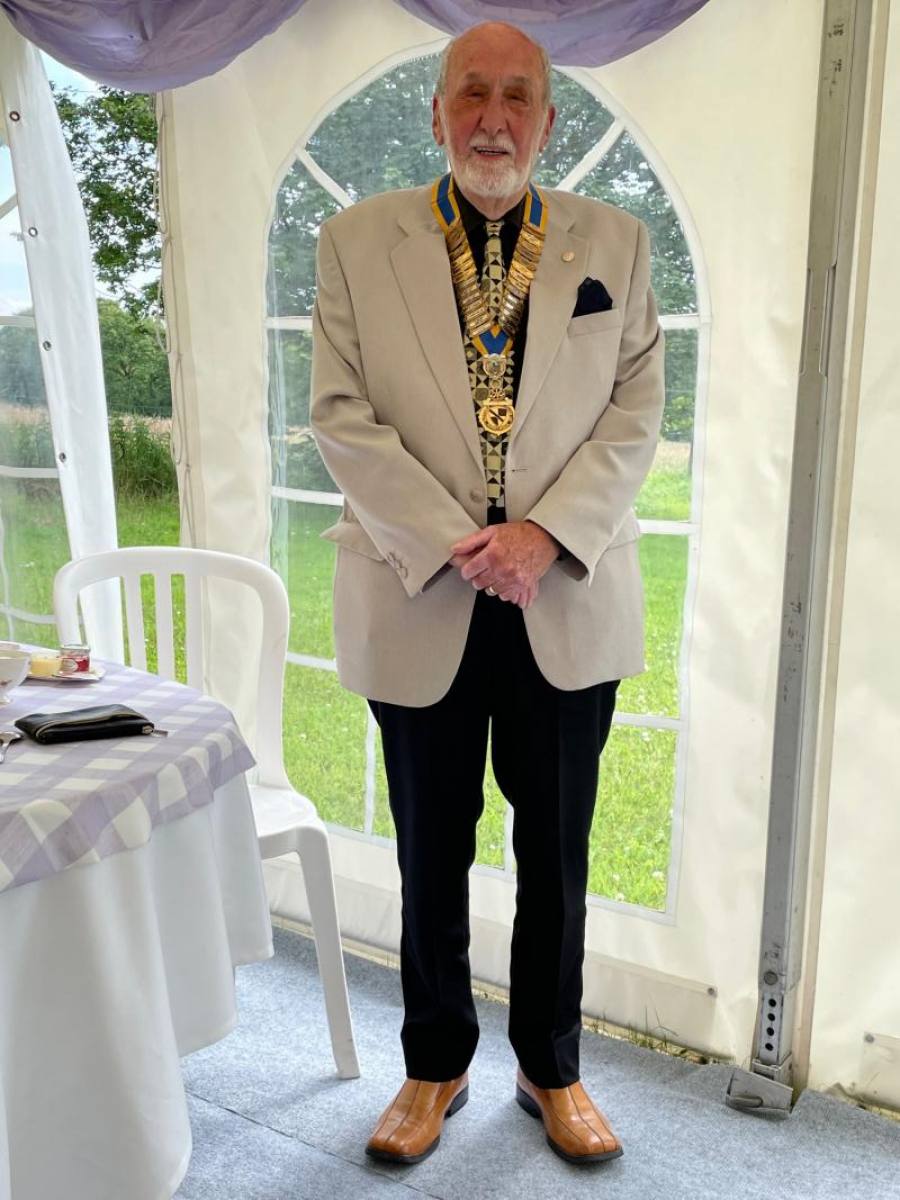 Nantwich Rotary Laptop Initiative

As lockdown

came suddenly for schools, many children had no laptops or way of receiving lessons. Also, many teaching assistants were unable to support the teachers as they did not have laptops either. This has been a particular challenge as many children need special 1 to 1 teaching, and it is a requirement that each online lesson has a teacher and a teaching assistant in attendance.

In response to this urgent need, the Rotary Club of Nantwich contacted The Laptop Shop in Nantwich and explained the challenge and the proposed solution. Peter Critton, the owner, was tremendously supportive and helpful. After a few phone calls and some local advertising, used and unwanted laptops started to arrive at the shop, which Peter and his team generously agreed to clean and set up at cost. Generous financial donations were also made which covered Peter's costs and enabled the purchase of additional laptops.

Tony Hoy, the Rotary Club of Nantwich Acting President, offered to collect the laptops from people who had offered theirs to the cause. Rotarian John Crowe who set up the appeal said: "The response has been fantastic, and in a short time we have had over 70 laptops for Peter at the laptop shop to sort through, wipe clean and set up ready for school use. Within two weeks we donated and delivered 25 laptops to the Nantwich Primary Academy and hope to deliver more to other schools too."

Mrs Julia McGhie, SENCO and teacher at Nantwich Primary Academy said: "This has been a fantastic and rapid response from The Nantwich Rotary Club. It has made such a difference for our children and we have arranged our lessons so they don't clash, which means that more than more one child in each family can use the laptops in one day. When the lockdown is over and the children return to school, the laptops will be returned to the school and used for 1 to 1 teaching and computer studies."

Tony Hoy said: "This has been a tremendous success and another occasion when the Nantwich Rotary Club has stepped forward to help our community."

----------------------------
The Rotary Club of Nantwich was not able to help Santa meet and greet everyone as his sleigh tours the streets of Nantwich last year. However, we did help him on his travels around the area, where we were able to stop. So, despite the restrictions, the kids were able to see him from the safety of their house and garden!
As you know, this is usually our major fund-raising activity of the year, and all donations are given to local charities and other good causes. In the past we have given to Nantwich Foodbank, The Wingate Centre, St Luke's Hospice, Hope House and Donna Louise Children's Hospices, Cheshire Young Carers, Nantwich Museum and the Guy Harvey Youth Club to name but a few.
If you want to support local charities by donating to the Rotary Club of Nantwich, then please go to our JustGiving page to do so or you can text NANTROTARY to 70085 to donate £2. Thank you in advance and all donations, no matter how small, will be put to very good use.
Members and Guests on a visit to The Wingate Centre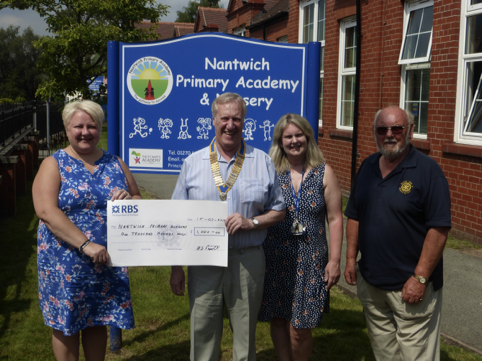 Nantwich Primary Academy Pupils Enjoy Wingate Centre
----------------------------
Lend with Care
Nantwich Rotary Club Rotary Club Changing Lives with Loans
Nantwich, November 19, 2020: Nantwich Rotary Club is celebrating a landmark charitable achievement as one of hundreds of

Rotary clubs from across the country to contribute over £1 million to Lendwithcare, a microfinance charity which enables people
in the UK to make small loans to entrepreneurs from poor communities around the world.
Since October 2011, Rotary clubs across the UK have been raising funds to make small loans to entrepreneurs in developing

countries, enabling them to start or expand their small businesses and work their way out of poverty, feed their families and send

their children to school.
More than £1 million has now been lent by Rotary to farmers, tailors, market stallholders and food producers to name just a few

of the types of businesses Rotary have helped in 11 countries across Africa, Asia and South America.
Nantwich Rotary Club

have raised and lent a total of £61,583, contributing towards the national £1 million landmark, with the

club loaning to 10,743 entrepreneurs in 11 countries. This has helped helped 34,184 family members and created 2,582 jobs.
Nantwich Rotary Club raised their share of the funds through metal detecting days, car boot sales and a variety of music

evenings.

International Chair, John Crowe said "Nantwich Rotary Club are proud to be a part of this fantastic initiative. Lendwithcare is a

great way to help people out of poverty. You see exactly who the money is going to, and what they will use it for."
"The entrepreneur uses the funds to help them to earn a living, often employing family members and neighbours as well, helping

to lift their communities out of poverty. They pay the loans back, which can be re-lent to person after person."
Rotary is one of the world's largest and most successful global membership and humanitarian service organisations, with 1.2

million members in over 200 countries volunteering their time and their talents to tackle challenges at home and abroad to

promote peace, fight disease, provide clean water, support education, save mothers and children and grow local economies.
John Crowe continued:

"Nantwich Rotary Club has a proud history of fundraising for charitable causes through community

events, and Lendwithcare is a fantastic cause very popular with our members."
"Local people have given generously and it's testament to their generosity that we've managed to reach an incredible £1 million.

And that money will keep being re-lent and re-lent, translating into many millions of pounds worth of loans over the coming

years."
Head of Lendwithcare, Tracey Horner, added: "Through Edithmae, Rotary have helped change the lives of more than

5,000

entrepreneurs around the world so far. We're grateful to every Rotary member who lends their time and energy to raise

funds to lend to people trying to earn a living in some of the most challenging environments in the world. It really is life-changing

for the people we work with, and we want to extend our huge thanks to Rotary Great Britain and Ireland, and everyone at

Nantwich Rotary Club."
Anyone can make a loan through Lendwithcare, or buy a Lendwithcare voucher as a Christmas gift. Loans start from £15 and

will typically be paid back over 6-12 months. Follow Nantwich Rotary Club's footsteps and visit

www.lendwithcare.org

to make a

loan and change a life.
---------------------------------------
About Us
The Rotary Club of Nantwich was chartered on 1934 and currently has 22 members, and 3
honorary members.
It is one of four clubs in the old Borough of Crewe and Nantwich. The others are RC Crewe (1932), RC Crewe and Nantwich Weaver (1985) and Wych-Malbank Nantwich Club (2018) .
The club is one of 79 in Rotary International District 1180, a district that covers the whole of North Wales, Merseyside and parts of Cheshire, Shropshire and Lancashire and embraces a variety of communities ranging from the pastoral peacefulness and tranquillity of rural areas to the hustle and bustle and vibrancy of the City of Liverpool. Indeed there are a total of four cities within the District, the others being Chester, Bangor, and the newly-designated St Asaph - each of which has at least one Rotary club presence. In addition there is also The Royal Town of Caernarfon.
The 'Nantwich' club is a 'lunch time' Club meeting on a Tuesday and with the 'Crewe and Nantwich Weaver Club' ,which meets on a Wednesday evening, Wych-Malbank meet as a Breakfast Club 3 weeks each month and as a Evening Club for the other week. These Clubs cover the southern extremity of the District.
Visiting Rotarians are most welcome as are ladies and gentlemen wishing to know more about the Rotary organisation or become members.
What We Do
* Meet for lunch every week and enjoy the Fellowship
* Arrange fund raising events .
* Collect about £10,000 each year for charities & good causes
* Encourage International understanding, by twinning & sponsoring exchanges
* Support Local Schools by running annual 'mock interviews'
* Invite speakers to attend our meetings to help spread understanding of their interests & projects
* Organise trips out to theatres, concerts, restaurants, foreign countries
* Recognise vocational service and support of the community
---