About us
The Rotary Club in Kinross is a group of people who provide service to the community, raise money for local and international charities and, at the same time, have a really, really good time! Welcome to our website!
There are loads of opportunities for meeting new friends at our weekly meetings and by becoming involved in all of our activities. Guided by Rotary's motto, "Service Above Self", members are well known for their friendly and engaging manner and take active roles in the club as well as its many and varied local and international activities.
You are very welcome to browse the pages of this site and certainly would be most welcome on a Monday night at the Kirklands Hotel, High St., Kinross. We meet at 6.15 for 6.30 pm, but there is no meeting on the third Monday of the month, because we then have a breakfast meeting on the third Tuesday of the month, meeting at the Kirklands Hotel, 7.15 for 7.30 am.
Latest News
GREAT NEWS FOR LOCAL CLUB MEMBER
The club is thrilled that one of our members, Jo Middlemiss, has been chosen to receive an RIBI (Rotary International Britain and Ireland) UK COMMUNITY CHAMPION AWARD for 2018-19. There are only eight such awards made for the entire UK so it's a very significant achievement and one she greatly deserves!!!
The award recognises Rotarians who have provided outstanding humanitarian service over a period of several years. In Jo's case this is for her tireless energy driving support for and participation in the Ethiopia Medical Project which she and her cousin set up. She's out there as this is written in fact, but will definitely be back in time to make the trip to Nottingham to receive her award.
We're very proud of her and are delighted to have been able to support her, as have other rotary clubs nearby. She's an outstanding example of what rotarians try to do - make a difference for communities both locally and internationally!
Please read about her charity online where you'll get an appreciation for the important work it does - https://www.ethiopiamedicalproject.com/
We'd also like to thank local Rotarian Alistair Smith for all the work he undertook in putting forward Jo's case for this prestigious award.
YOUTH ACTIVITIES
Rotary Youth Leadership Award (RYLA)
Each year the club works with Kinross High School to select one female and one male pupil to attend a female or male camp in Nethybridge in July. The camp's purpose is to develop their skills in team working, positive leadership, communication, problem solving and decision making. The lucky candidates always have a great time and frequently surprise themselves with the things they find they are capable of doing!
This year we'd like to thank Mr Conor Dolan and Miss Olivia Morgan from the high school for helping us to choose Hannah Eadie of Kinross and Robert Miller from Milnathort to attend the camps. This is quite an expensive item for the club so we are always delighted to hear the positive feedback from the youngsters when they return.
Interact
The KHS Interact club was busy at the Senior's Christmas party held on December 11th. As well as helping with the serving they contributed some very enjoyable singing.
Next, they'll be running a Seniors Tea Party on 1st March, 2-4pm. KYTHE band will be playing, furthering the Rotary/ KYTHE link that has been developing.
Following that they'll be helping the rotary club run its local primary school quiz in March (see below). Then on 22nd March they will be putting on a disco for the P7's at Kinross Primary. It's a busy group!
If you know someone who'd like to join it next year, look out for the recruitment session on 7th March at KHS, which will include current Interact members talking about their experience with the group.
Young Musician Competition.
Kinross is delighted to be hosting the District-level finals of the Young Musician competition at the High School on March 2nd for the Instrumental section and then on the 9th for Vocalists. Please come along and enjoy the talent on display – everyone is welcome! Sessions will start at 10am and go on until the early afternoon.
Primary School Quiz
This is coming soon! The date for your diary is 21st March 4-5pm, and it will be in the main auditorium of the Campus. Please come along and test yourselves – see if you can beat the schools!
FUNDRAISING
Santa's sleigh distribution
As a result of the generosity of the people of Kinross and District we were delighted to be able to be able to distribute cheques to all the following local groups, at a small ceremony in the Kirklands Hotel. These were the local community groups who went out with the collecting tins, on our various rounds. As well as having fun on the night, their organisations get to materially benefit which is really great. Some of the collection also goes to our rotary club funds to support other good causes.
Recipients were Kinross Primary Parents Council; Loch Leven Diamonds; Kinross Vaulters; Swansacre; First Responders; Kinross Cricket Club; Kinross Colts; Kinross Otters.
Thank you very much. Santa will see you next Christmas!
RECENT SPEAKERS
1) CHAS
We were all deeply moved by a heart-warming talk from Lyndsay Stobie about the great work done by Children's Hospices across Scotland (CHAS).
To be told that your child has only a few days, weeks or years to live is an inconceivable shock. It is the news no parent wants to hear, yet this is happening in Scotland on an almost daily basis. Nearly 200 children die in Scotland every year from a life shortening condition and today, CHAS can only reach one in three of the families across Scotland that needs its support. They are determined to reach them all and quite simply, that means that CHAS needs to raise more money.
They have around 300 staff employed in various roles throughout Scotland, which along with infrastructure like the hospices, costs over £15.2 million pounds each year to run. The government provides £6.7 million a year, which leaves a big hole to fill via fund raising, to which Kinross and District Rotary Club are very proud to have been helping since 1994.
The Rachel House hospice in Kinross is a home from home for families. It has a range of facilities including a jacuzzi room, large accessible garden and lots of areas for relaxing and fun. It also offers areas for reflection, bereavement support and care. A very special place for people in need. We were given an example of the superb work CHAS did with a story about a girl call Zoe who has cerebral palsy. She is blind and suffers from seizures. She also has the cheekiest sense of humour. 'She takes the greatest pleasure in saying no when you expect her to say yes,' explains her mum, Heather.
When Zoe was born the doctors told Heather and her husband Gerry to be sure to enjoy every day they had with her. And with the support of CHAS, that's exactly what they did.
'We try to make memories and enrich Zoe's life as we are aware she has a life shortening condition', says Heather. It's such a comfort knowing that when the end does come, CHAS will be there. And if they are anything like they have been through Zoe's life, I just know they'll be amazing.'
The CHAS organisation does indeed do an amazing job, and we are so lucky they have a facility like Rachel house in Kinross.
CHAS are always looking for Volunteers to help out in various roles and encourages anyone who has spare time to get in touch!
2) KINROSS VAULTING GROUP
Liz Mackay introduced us to the astonishing world of the Kinross Vaulting Group. Think 'gymnastics' and then throw in 'on a cantering horse'. Then add – 'with one OR MORE people'. Yes, it's quite a feat – I encourage you to have a look at 'horse vaulting' on YouTube so you can appreciate it fully.
Why would anyone want to do such a thing, I hear you ask? Because it keeps you fit, develops agility and balance, improves your musical appreciation and rhythm, and you get to develop a deep appreciation of the joys of working with that noble animal – the horse. This all requires a big commitment of time and effort of course. Just to train the horse in its role can take two years. For the young people to come to the sport, it's a bigger commitment than that and it demands a lot of parental support. But few sports can offer such a range of skills development such as confidence, creativity, coordination and strength. And no, you don't need to be able to ride a horse to do it.
Kinross Vaulting Group is a local success story. It has been operating since 2009 and as the sport has become more popular, KVG has grown such that it now has the largest number of horses in the UK! It has a covered facility at Carnbo so you can participate all year round. But possibly best of all - one of their horses has been on Britain's Got Talent in front of Simon Cowell!!! Surely that's a horse you like to meet ☺.
3) BURNS NIGHT 'EVENT'
To celebrate Burns night the club had an 'event' – not a full Burns Supper but a haggis dinner with a fine talk about the immortal memory. We were pleased to welcome back John Gilfillan who once again gave us a super talk. There's no need to tell you the detail of the talk as we're all familiar with the life of Burns. But what John does is weave together those factual details, such as the ways in which Burns could effortlessly cross class boundaries, with eloquent insights into how that was reflected in his published works, and the effects on his personal life. In this way John stitched together a view of the great man's life, works and above all his character in a way that had the club spellbound.
Upcoming speakers:
We look forward to welcoming the following in the next few weeks:
18/2/19 Breakfast meeting – Iain Cormack talks `bout 'The Mill' in Kinross.

25/2/19 David Lawrie tells about his Young Farmers trip to Rwanda.

4/3/19 Club Business Meeting.

11/3/19 Creativity in Primary School – Liz Whatmore.
To come and met us please contact Brian Timms, the Club Secretary, at: secretary.kdrc@gmail.com to find out more; and check out our Facebook page https://www.facebook.com/kinrossrotaryclub/
Some recent photos from our archives:-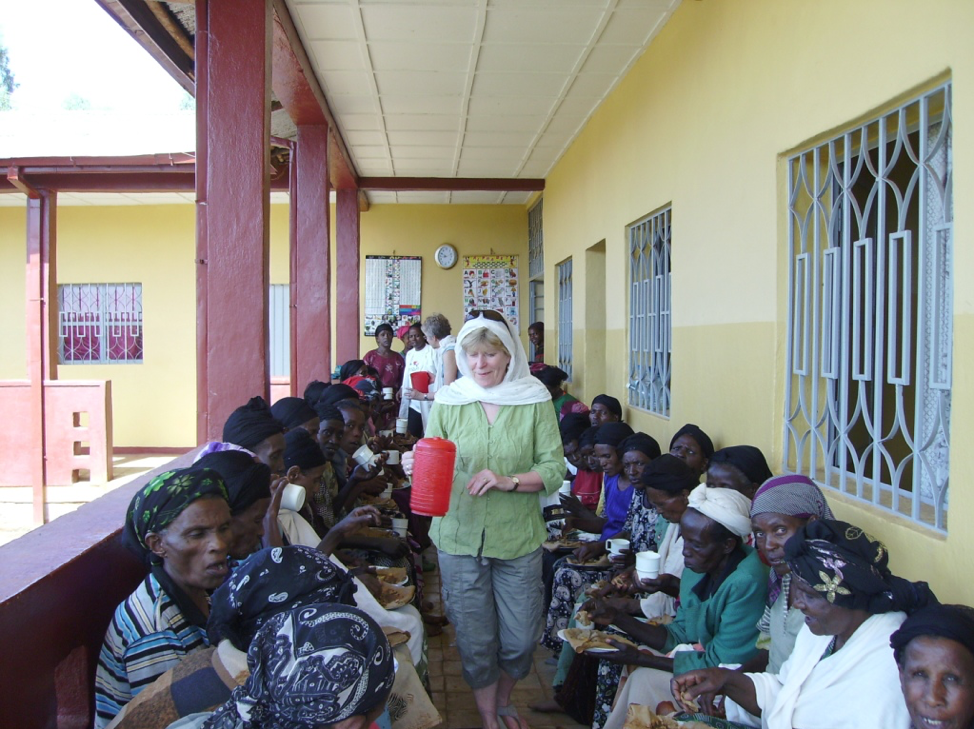 Jo serves tea at Ethiopa Medical Project
---
Rotary News
Be part of a global network of volunteers, trying to make the world a better place. Please also see the 'links & news' page for information from the local district and live feeds from Rotary International and Rotary International in GB&I.
Flexibility creating new opportunities for new members
---
RotaKids supporting their local community
---
---
Meetings & Venue
Where and when:
We meet on Mondays at 18.15 for 18.30
(
Every 3rd Monday of month NO meeting - replaced with Breakfast meeting on 3rd Tuesday at 07.15 for 07.30
)
The Kirklands Hotel
20 High Street
Kinross. KY13 8AN
01577 863313