President's Message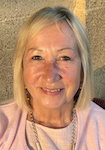 Thank you for visiting the Rotary Club of St Ives website!
We are a friendly and active Club with, currently, 34 Members, who enjoy raising money for good causes at home and abroad. We are a group of volunteers who organize events and competitions in and around St Ives and the local villages that embrace the young and the Young at Heart. If you would like to find out more about us, why not come along and join us at our weekly meeting, where we enjoy a meal, develop ideas and have some fun.
Sally Heffer-Martin
President
Please use the contact form for further information or send us an email.
To help us raise money for local charities and good causes please
visit How You Can Help page.