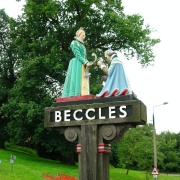 Welcome to Beccles, a market town on the River Waveney and the southern gateway to the Broads. Beccles was a major fishing port until the estuary silted up but the river in many ways is still the centre of this market town. Beccles has many interesting places to visit and good venues to eat and drink. Founded sometime in the 900s its history surrounds the visitor. From the many gates - 'gate' being the Viking word for street - to the idiosyncratic church tower built separately from the church there is something of interest round every corner.

Club members meet on Thursdays for a meal (optional) and often enjoy a talk on a subject of general interest by a Rotarian member or invited guest. The current Rotarians of the Rotary Club of Beccles benefit from friendly good humour and this feature helps the meetings and other fellowship events to be enjoyed by all. Events include the successful "Young Musician" Competition which is held each February enabling young vocalists and instrumentalists to perform in front of a public audience. Funds for the club's charitable trust are raised by organizing various events each year such as the 'Beccles Cycle for Life' in May - please see website becclescycleforlife.org for details and an application form and the 'Hospital Fete' on the last Saturday in June.
On each fifth Thursday, an event is organised when partners are invited to attend and may be skittles, bowls, crazy whist or some other "action packed and fun evening".
Sunday 15th May 2022 saw our 20th Beccles Cycle for Life take place, based at the Sir John Leman High School in Beccles. Over 140 riders took part on a day with ideal weather for riding. A presentation of half the amount raised will be made to The East Anglian Air Ambulance shortly. The event was cancelled in 2020 and an abridged event held in September 2021 when £3500 was raised. The next event is planned for 14th May 2023.
On 12th November 2021 we held our annual Community Dinner at The Club in Beccles when we had presentations on the hard work that was undertaken by local groups to support people during the pandemic. This years event is being held on Frday 11th November 2022 at The Fox and Hounds when the emphasis is on sporing youth in the community.
On 16th February 2020 we held our annual Young Musicians Competition at Beccles Public Hall from 5pm to 9pm. There were 3 vocalists who took part along with 14 performances from instrumentalists comprising the piano, clarinet, trumpet, tenor saxophone, and violin. This event is designed to give young people the chance to perform in front of a live audience. Regrettably this has been unable to be held in 2021 or 2022 but is planned for 26th February 2023.

Following the move to meet on-line via Zoom during the Covid-19 pandemic, we reverted to our meetings at The Bear & Bells on Thursdays. Unfortunately in February 2022 the pub closed for a second time and we are now meeting at The Fox & Hounds social club in Ravensmere, Beccles.
We were able to hold the first Hospital Fete for 3 years on 25th June 2022.
Membership continues to be a priority but this cannot be progressed until our meal provision is sorted which should be before the end of 2022.