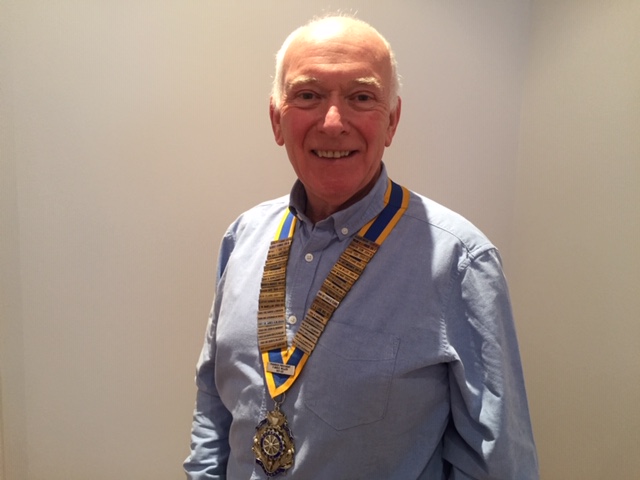 President Joe Cairns and our members welcome you to the website of the Rotary Club of Perth.
Founded in 1917 we are a lunchtime club who meet at McDiarmid Park every Thursday (map and details below). We also hold a breakfast meeting on the third Tuesday of the month at the Premier Inn, Mill Street, Perth at 7.30am. Visiting Rotarians are assured of a very warm welcome at either of these meetings.
Serving our community and financially supporting local charities has underpinned the Rotary Club of Perth since its incorporation more than 100 years ago.
In recent years, we have been able to assist many local charities through the Club's amazing fund-raising efforts and I am pleased that we have continued to assist local charities in these Covid days.
The Rotary Club of Perth also supports national and international charities. Nationally, in recent years, we have assisted Scotland's Charity Air Ambulance, My Name'5 Doddie Foundation, CHAS and others. Internationally, we support Rotary's Charity – the Rotary Foundation, Rotary End Polio Now campaign, the Free to Live Trust and give regular contributions to Shelterbox.
Community projects are a big part of what we do. We provide stalls for charities at our Annual Fayre at the end of August as well as supporting young people with projects such as Bake Off, a Writing Competition and holding mock interviews for school leavers. More recently, we have been financially and physically supporting a local Give and Take boxes project.
Our main fundraiser, the Silent Auction is a well established and popular event as are our other fund raising activities with an annual golf competition and an annual Fayre held in Perth.
Fun and fellowship for our members are just as important, and we have a programme of events throughout the year, including sporting, theatre, dining and overseas visits.
If you are interested in becoming a member of the Rotary Club of Perth, we would be delighted to hear from you, please use the Membership Enquiry box at the bottom of this website.
Joe Cairns
President 1st January 2021 – 30th June 2022
We meet at 13.00 on every Thursday. At these meetings, we usually have a speaker. Details of the speakers are on our website.

On the third Tuesday of the month, we have a breakfast meeting which is a chat format on topics of the day.

Guests are welcome to join our meetings, but if you can, please let us know in advance by emailing President@perthrotary.org.uk