Our principal home is Beaconsfield Golf Club (see Map below for details).Currently members are invited to join the President on Zoom at 5p.m. on the 2nd,3rd and 4th Mondays.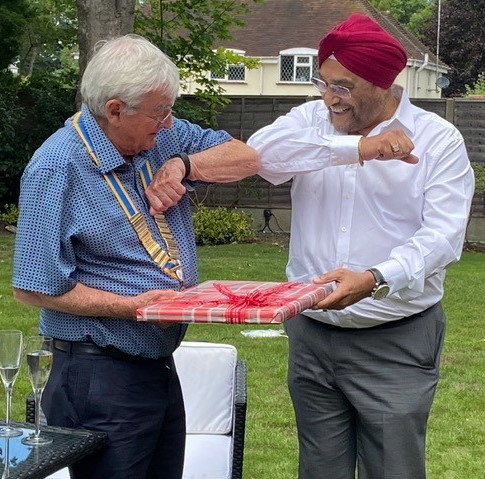 Our incoming President for the year 2020/21, Manjit Shihn, who has been member of our club since 2014 but brings many years of experience with him. He is seen above with the retiring President Alan Fenwick following the handover which this year took place at his home, as a result of the virus restrictions. . He has proved a creative and active member of our Rotary Club and it is certain to be a more proactive club as soon as circumstances permit. He has shown during his short time in the club to dedicated to the members well being at the same time as helping others less fortunate. Certainly at this time there are likely to be more persons seeking our support.
Rotary is a worldwide organisation with 1.2 million members, in 34,000 clubs in over 200 countries. Our motto" Service above Self" reflects our aim to make a real and positive difference to the lives of people in need. We help (for example)
Locally donating to local charities, organising social events for the elderly, giving practise interviews to school leavers, running Stroke Awareness events, sponsoring young people on adventure courses. Nationally by supporting chosen charities, giving to flood relief and other disasters. Internationally by sending shelterboxes to disaster areas,supporting Rotary,s Polio immunisation programme, collecting spectacles for Vision Aid,pioneering schemes like the supply of vital salt to remote villages in Nepal, donating to micro-credit projects in Africa. Often these projects are twinned with a Rotary Club in the local area, to ensure that the aid is delivered directly. Each local club like ours, though part of an international service organisation, is autonomous with it's own President and managing committee.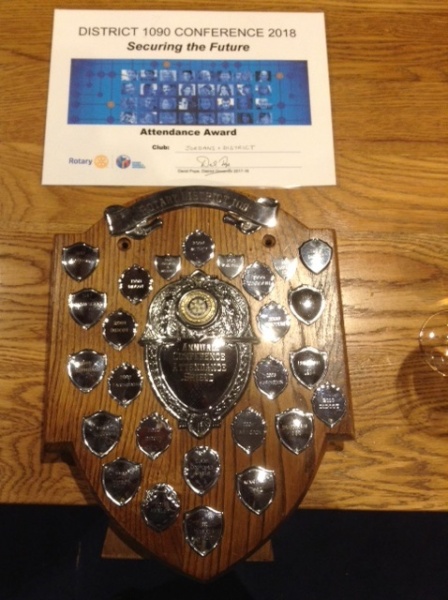 Currently we join our members at Zoom Meetings due to virus concerns but in normal times we meet on the 2nd and 4th Monday evenings at 7.30pm and on the 3rd at 5.30pm in venue shown in the weekly programme guide Our meetings are relaxed. friendly and informal. On most weeks we have a speaker on a topic of general interest, but an important part of every meeting is socialising with fellow members. We also normally have social visits to theatres etc., and regular events to which partners are invited. We are non-sectarian, non-political and non-ceremonial. In 2011 we were awarded a certificate as the best small Rotary Club in the South of England.
Jordans and District Rotary Club welcomes applications for membership from all who support our aims. If you are interested and would like to visit us and/or learn more, please contact our Secretary Naomi Arnold on naomi.arnold33@gmail.com or by telephone 01753 663305