Outlets for tickets for Russell Jones are:
Aviemore - Aviemore Bikes (Mikes Bikes) & Bothy Bikes
Kingussie - Paper shop & Wee Bike Hub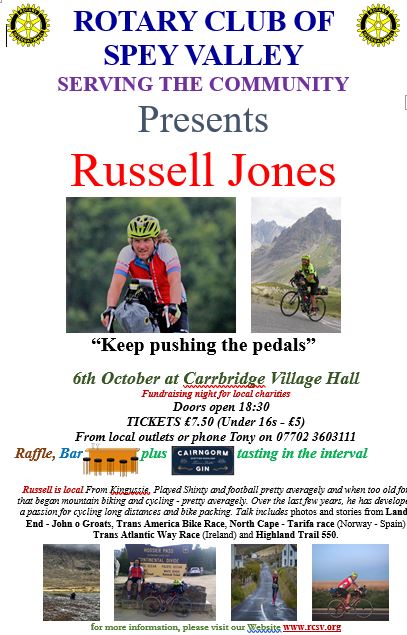 -----------------------------------------------------
Following our very sucessful whisky tastings via Zoom, over the early months of 2021, we handed over a cheque to Marie Curie for £2,500 on Tuesday 10th August.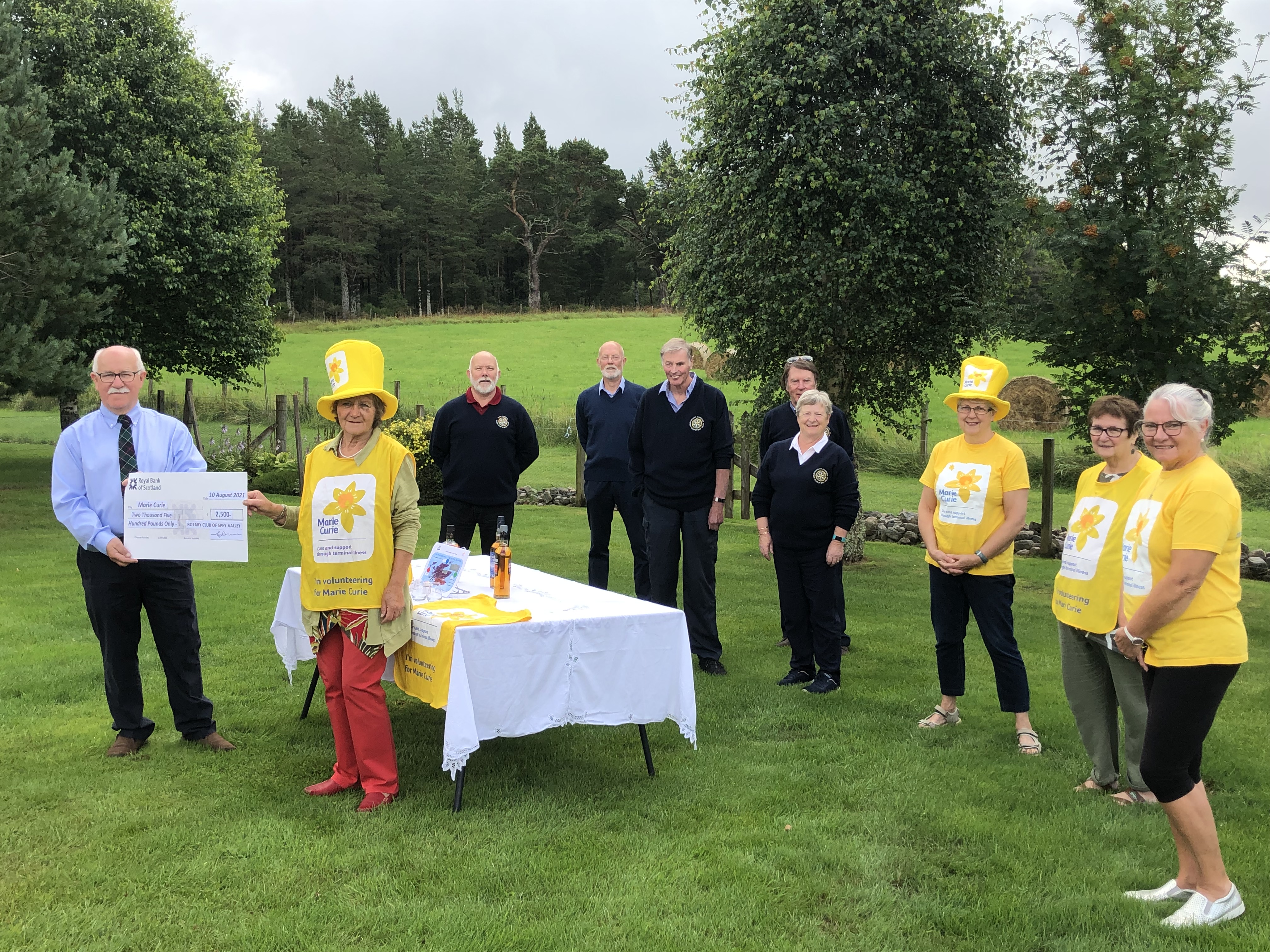 Our whisky expert, Martyn Reilly, hands over the cheque - we hope to do more talks this Winter.


-----------------------------------------------------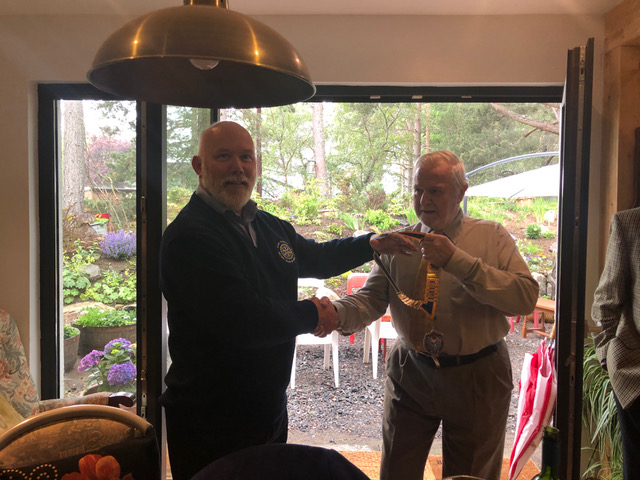 Mark Duncan hands over his chain of office to incoming President, Ronnie Dunn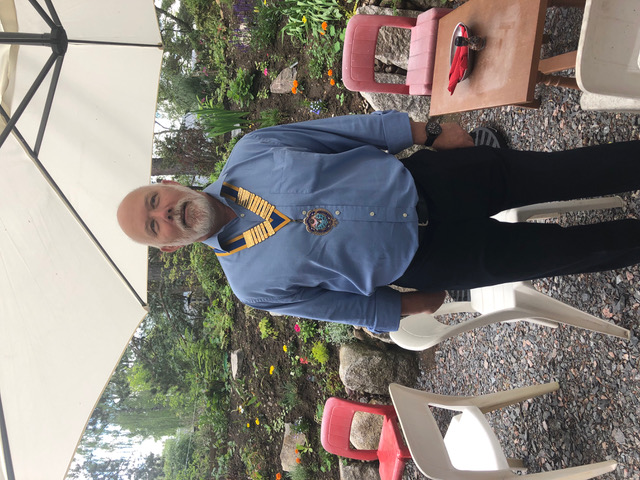 Outgoing President, Mark Duncan was able to wear his chain of office for the first and last time prior to the Presidential handover to incoming President, Ronnie Dunn
-----------------------------------------------------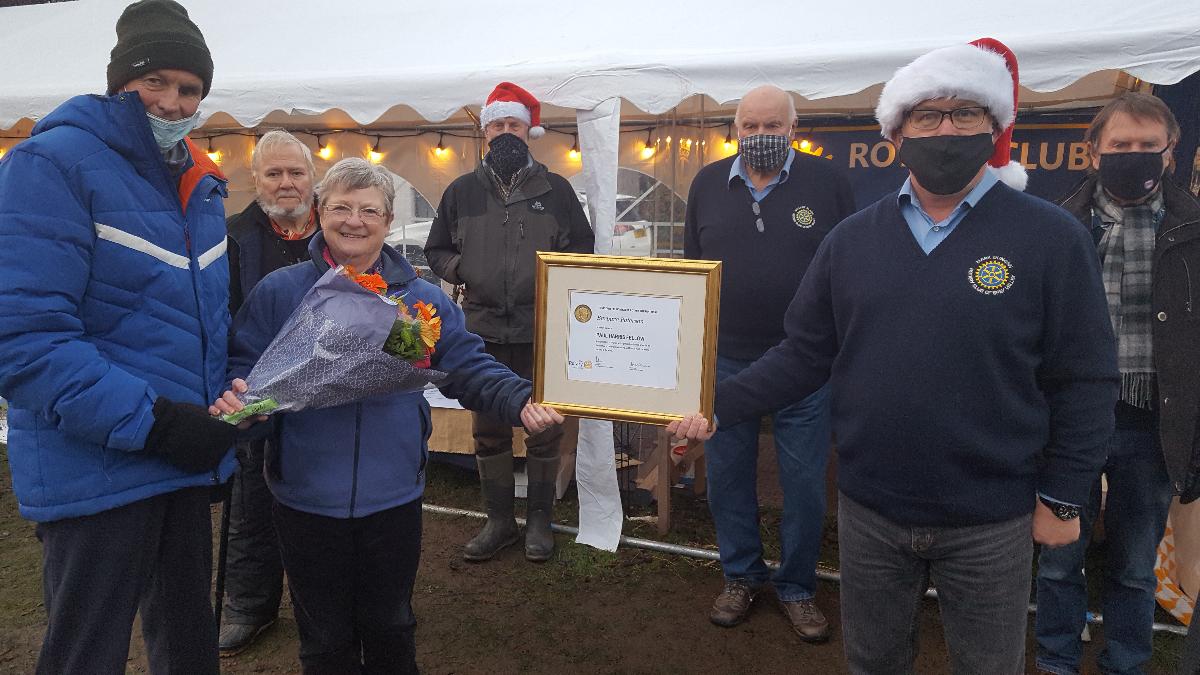 We are delighted to present our long serving Club Secretary, Barbara Paterson with a Paul Harris Fellowship award in recognition of her excellent work and support to this club

PLEASE NOTE THAT WE WILL BE RETURNING TO THE CAIRNGORM HOTEL, AVIEMORE on WEDNESDAY 15th September 2021.
We are delighted to welcome you to our club website.
As from 15th September 2021 we will be restarting our meetings, every Wednesday at 6 for 6:30PM, at the Cairngorm Hotel, Grampian Road, Aviemore though, as we cover a large area, we hope to hold some meetings at other locations. Please watch our sites for information and, if planning to visit, please contact our secretary to check where we are meeting.

As one of the 86 Clubs in Rotary District 1010 - North Scotland, we are actively involved in local, regional and international projects. We offer organisations physical and financial assistance - whichever is most needed and deemed appropriate. On many occasions we will offer both if we can.
Our members are committed to our local area and help and support many groups and organisations in our own community and also some Internationally.

If you would like to help us help the community but do not wish to commit to becoming a full member at present, please contact us we are seeking Associate Members and Friends of Rotary for additional assistance at events when they "take off" again. An Associate Membership is for a maximum of a year and associates can come to meetings as they please but, more importantly, help out at fundraising events and give resources to support other causes in the local Community. Friends of Rotary can come along and help us out at events. We also hope that they will be able to attend Club Social events when they recommence.