About us




---


Welcome to 'New' Member Norman Hessler - 11th March 2020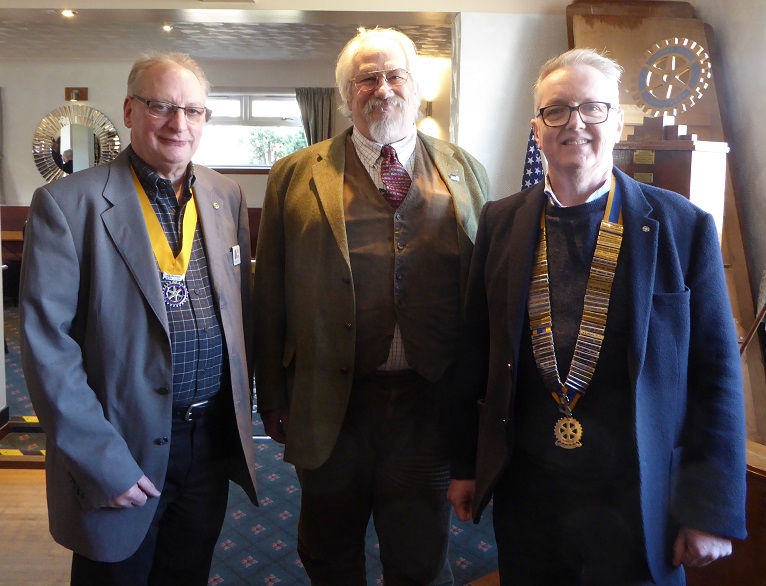 At last Wednesday's lunchtime meeting of Stonehaven Rotary Club, President Angus Mackintosh inducted Norman Hessler to membership of Stonehaven Rotary Club. The photo shows new member Norman Hessler with President Anus Mackintosh and President Elect Jim Bicker.
Welcome to a 'New' Honorary Member - March 2020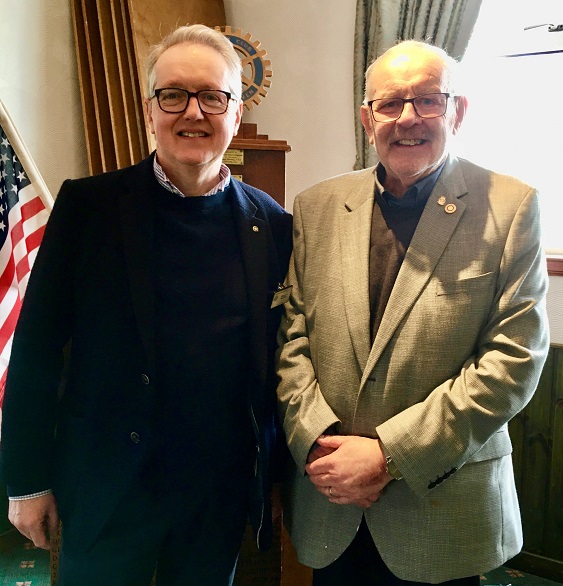 Jim Henderson, a past President of Stonehaven Rotary Club and a Paul Harris Fellow for his outstanding commitment to Rotary was recently made an Honorary Member of Stonehaven Rotary Club as he is not able to continue as an active member of the club for health reasons. President Angus welcomed him to his first meeting since being awarded Honorary Membership at the Club meeting on Wednesday the 4th March 2020.


Young Musician - District Competition - 25th January & 1st February '20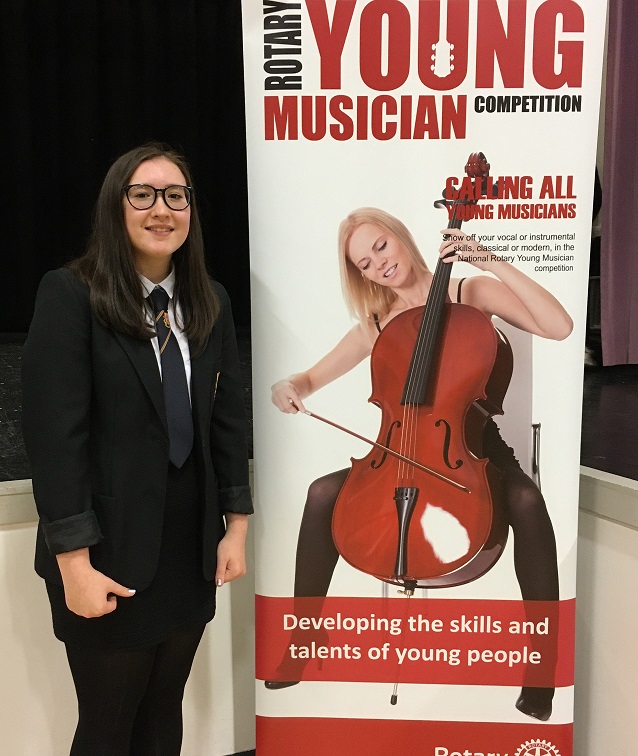 This is Jessica Chen

- Vocalist

at the District Competition held on Saturday the 1st February 2020 in Kinross. Well done Jessica.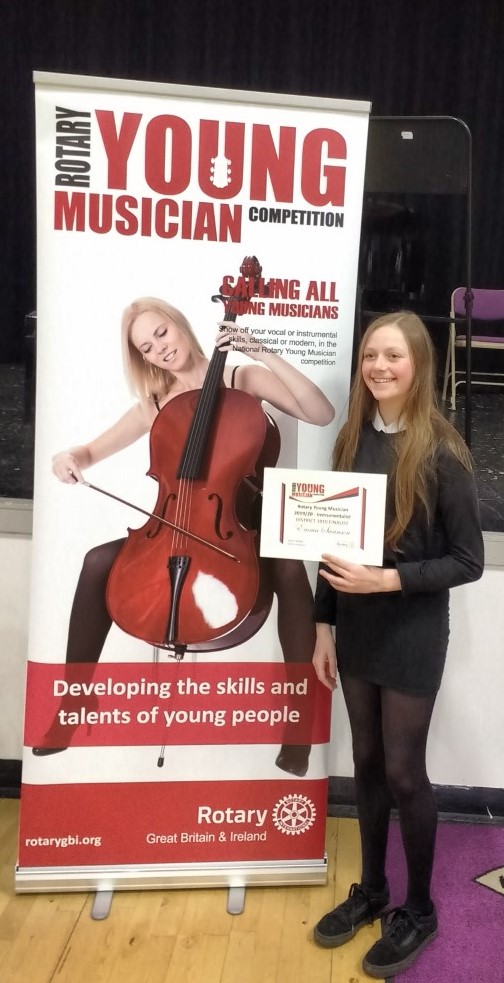 This is

Emma Swanson - Instrumentalist

with her Certificate at the District Competition held on Saturday the 25th January 2020 in Kinross. Well done Emma.




Young Chef - District Competition - 25th January 2020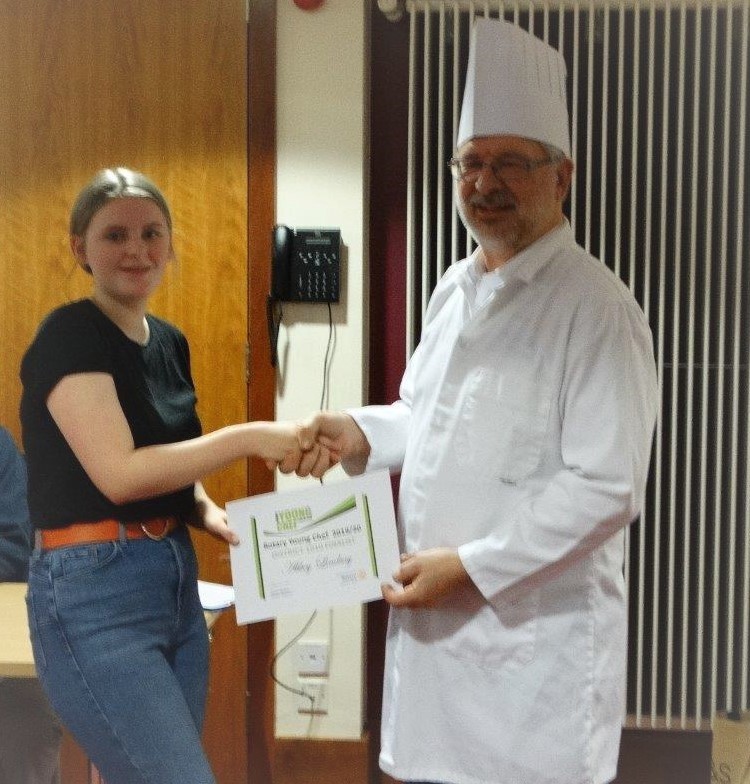 This is Abbey Lindsay receiving her Certificate from the District Governor - Alistair McNair at the District Competition held on Saturday the 25th January 2020 in Dundee. There were 16 in the Competition. the Judges said every single one of them were 'nearly winners' with the winner Bryden (Kirkcaldy) only ½ point ahead of the runner-up. They mentioned the quality of the food, excellent menus, presentations, costings and how they all cleared up at each step of the way. Judges were also impressed with how they worked together and helped each other as a team.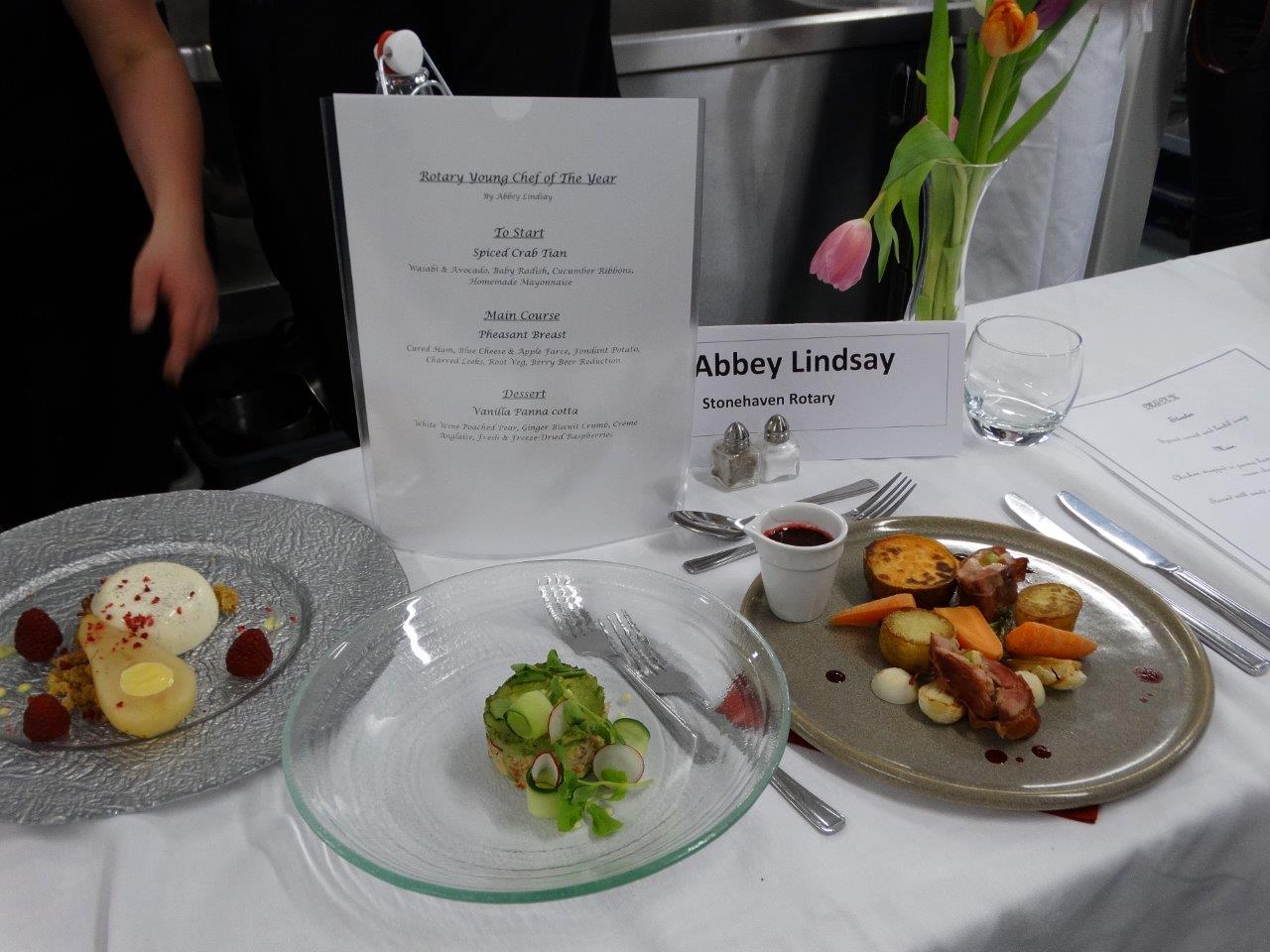 Well done Abbey.

STONEHAVEN ROTARY CLUB - YOUTH COMPETITIONS
Every year, Rotary in Great Britain and Ireland (RIBI) organises UK wide competitions for young people. These are run in stages with individual Rotary Clubs organising a local competition from which the winners progress to the next stage at District level. Beyond District there is an Area final then a UK final. As you will appreciate, the level of expertise required of participants increases at each stage of the competition.
Stonehaven Rotary Club takes part in a number of these competitions, among them Young Chef and Young Musician.
In the past 2 weeks, the winners of the Stonehaven rounds of Young Chef, Young Musician-Instrumental and Young Musician-Vocalist have taken part in the District Round.
Abbey Lindsay had to prepare a three-course meal for 2 in the Young Chef competition held at Dundee and Angus College on Saturday 25th January. She produced three very appetising dishes in the College training kitchen facility but unfortunately was not selected to proceed to the Area Final.
On the same date, Emma Swanson took part in the Instrumental section of District Young Musician competition held at Loch Leven Community College campus in Kinross. She had to play 2 pieces of contrasting style on her tenor sax, which she did very well. She received very positive individual feedback from the judges but she was not the person selected to progress to the next level.
Last Saturday, Jessica Chen took part in the Vocalist section of the District Young Musician, which was held once again in Kinross. Like Emma she had to sing 2 songs of contrasting style and performed these very well. However, like Emma, she was not the one selected to progress to the Area stage of the competition. Both Emma and Jessica coped very impressively with performing solo on a stage in front of an audience (as well as the three judges!)
All three girls received certificates to mark their achievement in reaching the District level of the competition. Stonehaven Rotary Club is delighted to have sponsored the three girls in these 2 competitions and thank them for all the hard work they put in to prepare for these.
PAUL HARRIS FELLOWSHIP AWARDS - 18th December 2019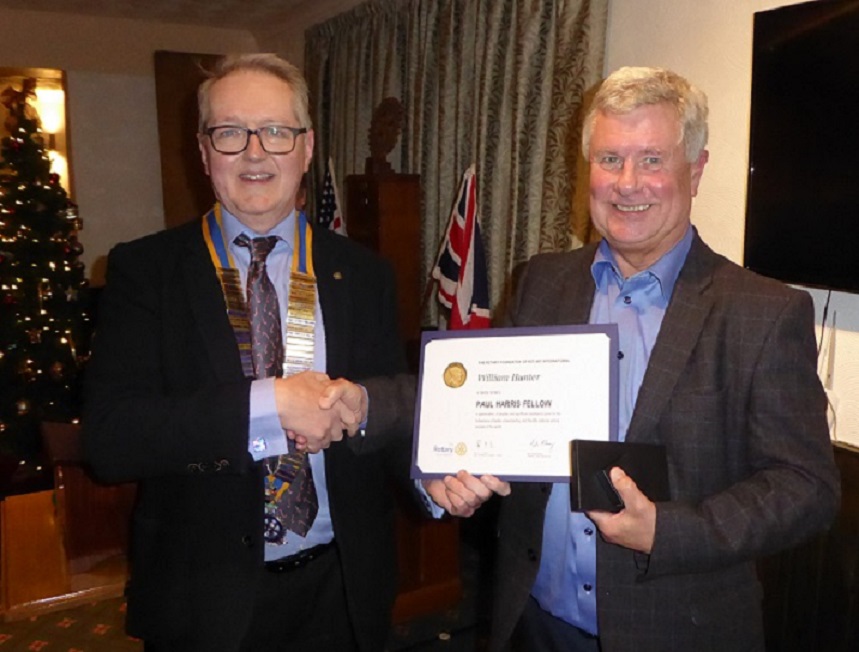 Billy Hunter receiving his Award from President Angus Mackintosh.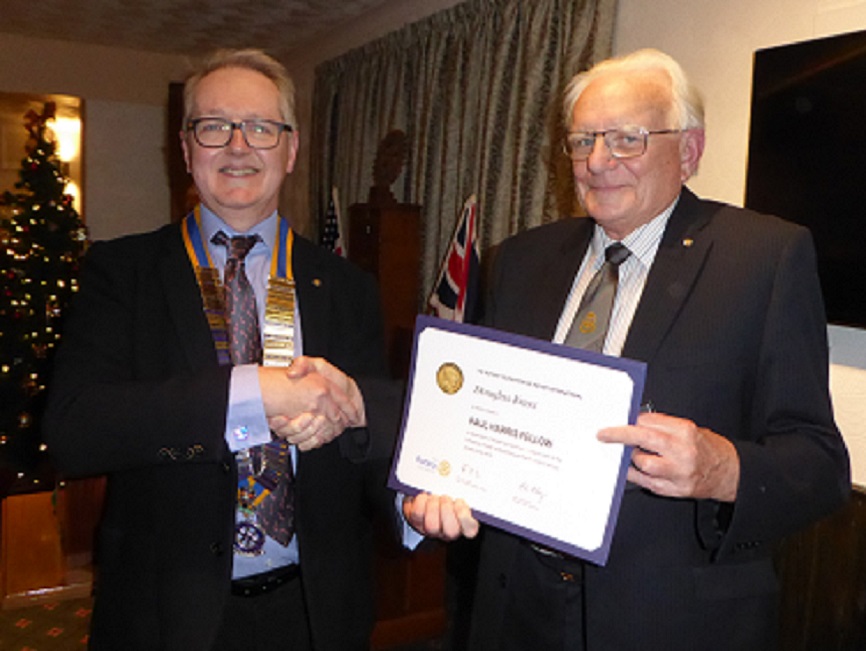 Douglas Knox receiving his Award from President Angus Mackintosh.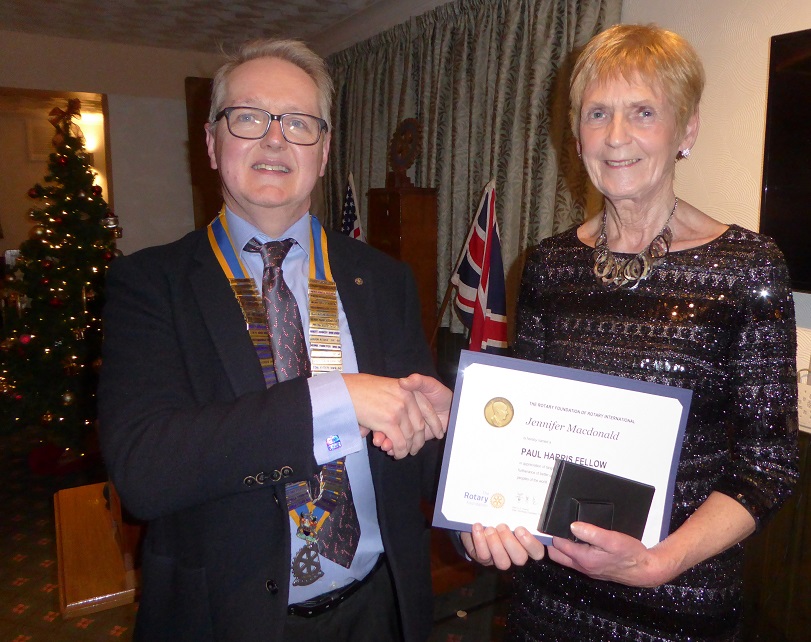 Jennifer Macdonald receiving her Award from President Angus Mackintosh.

ANERCCLOTS - Car Winner - 24th December 2019
Stonehaven Double
The Raffle for the Car has been won with almost the first ticket sold by the Rotary Club of Stonehaven at the Feein' Market.
The Winner was a Lady from Stonehaven.
Due to an Administrative 'Problem', and in what will probably be his last 'Major' involvement with the Car Raffle, Douglas Knox was delighted to be given the task of informing the Lady, from whom he received a huge hug.
Well done to all concerned.
Welcome to a 'New' Member - December 2019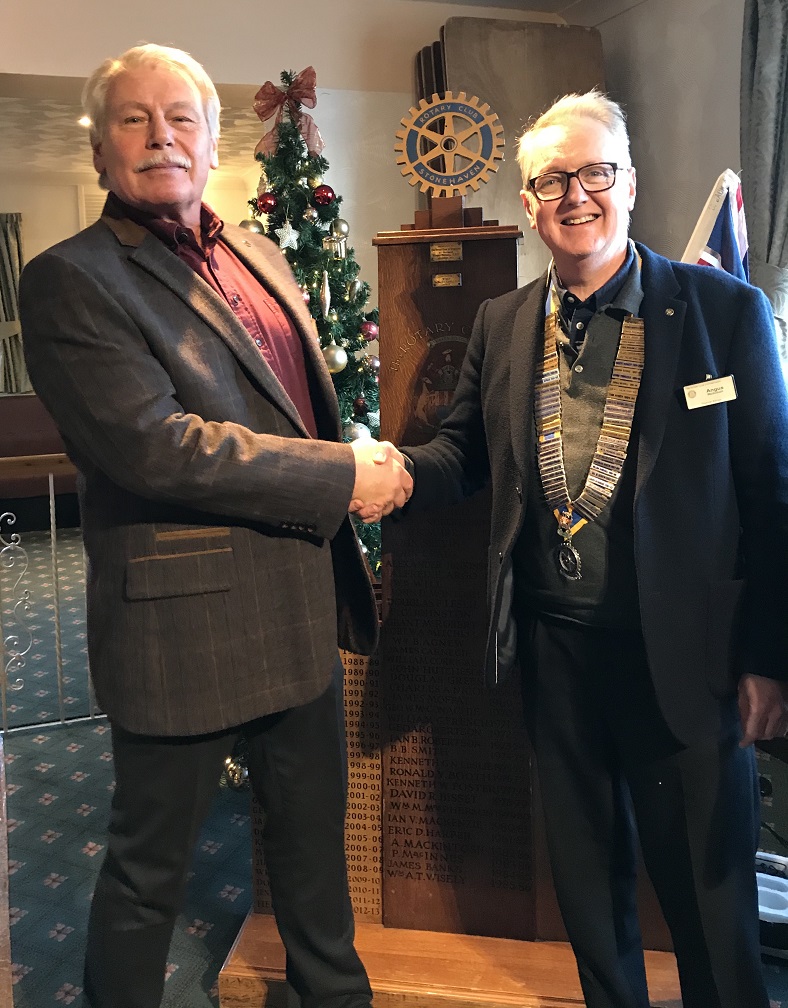 President Angus Mackintosh inducted a new member to Stonehaven Rotary Club at last week's regular lunchtime meeting, Wednesday the 11th December. Bert Nijboer and has been attending meetings over the last few Weeks.

Past Presidents Dinner - 8th November 2019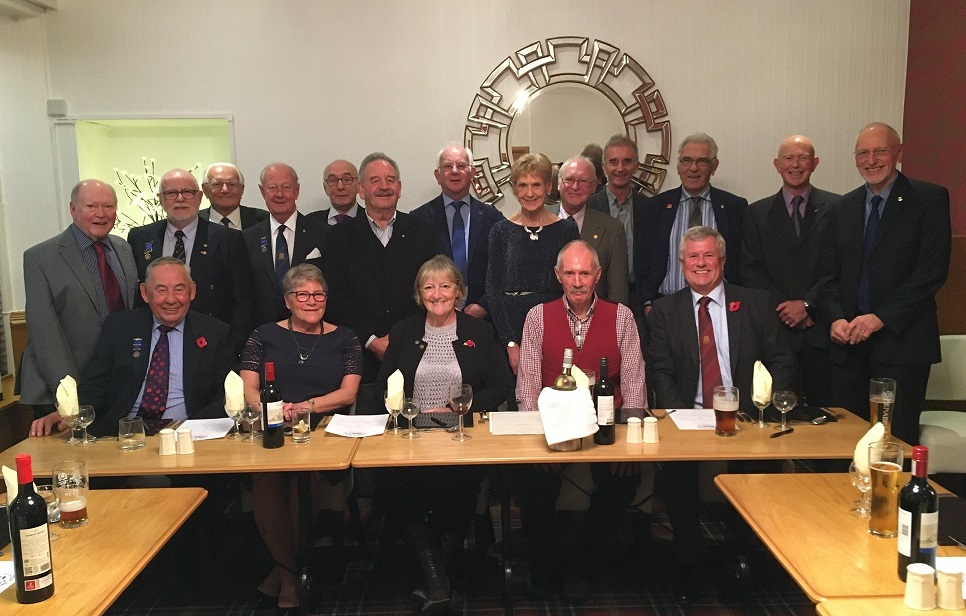 ---
Young Chef Competition - 2019
On Wednesday Evening, the 6th November, 2019 the 'Local' heat of the annual Rotary Young Chef competition took place in Mackie Academy. This Year, there were 9 - Participants. The Winner Abbey Lindsay (pictured on the left) will represent the Club in the District final which is on 25th January 2020 in the Dundee and Angus College, Dundee. We wish her well

.




'New' Member - October 2019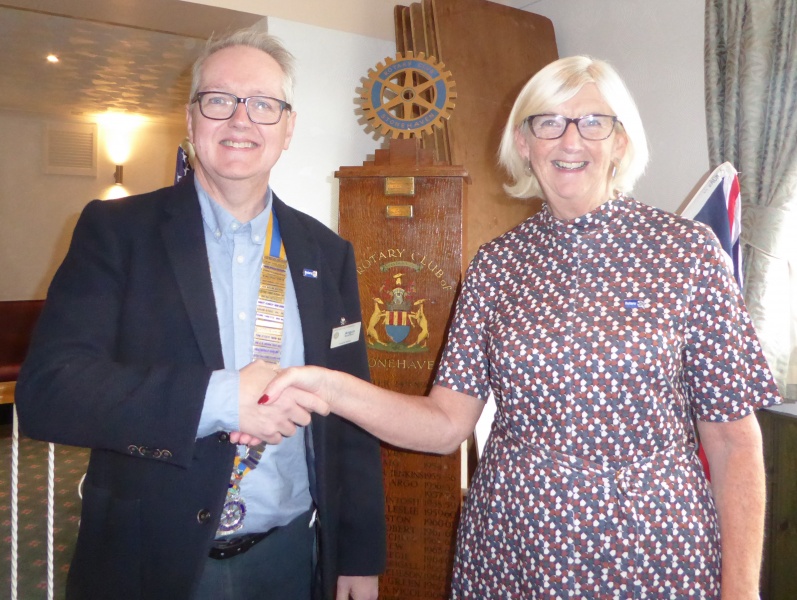 · President Angus Mackintosh inducted a new member to Stonehaven Rotary Club at last week's regular lunchtime meeting, Wednesday the 23rd October. She is Carole Stuart and has been attending meetings and taking part in club activities in recent months.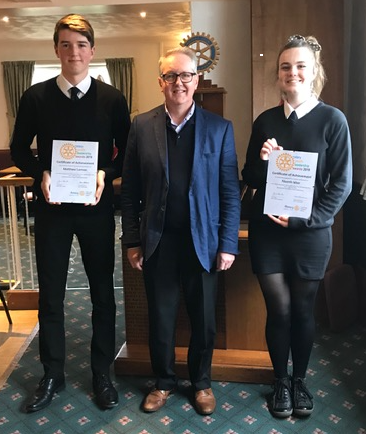 Club Members heard excellent Presentations by Matthew Lomax
and Niamh Weir on their RYLA Camp experiences at the Club Meeting on Wednesday the 25th September. They were then each presented with their 'Certificate of Participation' by President Angus Mackintosh.
OFFICIAL OPENING - RENAL UNIT AT KCH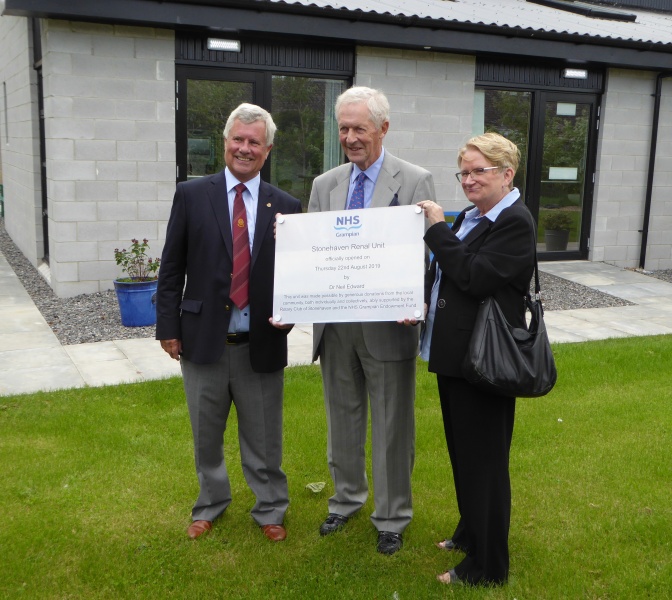 Billy Hunter with Dr Neil Edward & Dr Ann Humphrey.

Dialysis Pioneer Opens Stonehaven Renal Unit at Celebration Tea Party.
Dr Neil Edward, one of the pioneers of renal dialysis at Aberdeen Royal Infirmary, formally opened a satellite unit in Stonehaven on Thursday 22nd August. The Stonehaven Renal Unit, largely funded by the local community, offers dialysis for up to six patients, mornings and afternoons, three days a week. The unit means patients across Kincardine and the Mearns do not have to travel into Aberdeen for the treatment, which is typically required three times a week and can last 3-4 hours each time.
Dr Edward said: "Through my career I saw the steady development of dialysis but despite major improvements in the procedure and the associated technology is still a daunting type of treatment. Being able to undergo dialysis as close to home as possible is always best for the patient. I am honoured to be asked to formally open this unit and celebrate the achievements of the many community fundraisers."
In 2010, the NHS Grampian Renal Unit was left a legacy of £250,000 for dialysis machines. After discussion, it was felt that this was best identified as a capital fund towards a satellite renal unit in South Aberdeenshire as this was the one area within Aberdeenshire not served by a satellite unit. The unit covers a large area – from as far south as St Cyrus, over to Luthermuir and up to Fettercairn, Banchory and across to Portlethen.
A huge fundraising effort by people and businesses in and around Stonehaven raised in excess of £1million in five years to get the project underway. Dr Ann Humphrey, associate specialist in Aberdeen Royal Infirmary's dialysis unit and lead fundraiser for the campaign said: "The outstanding fundraising effort saw a groundswell of goodwill from our local community, and indeed all over the Grampian region, to make this unit a reality. I do not think there is a group in the local area who has not been involved in contributing to this campaign."
Pivotal to the fundraising was the Rotary Club of Stonehaven. Past President of Billy Hunter said the club had been proud to play a leading role in the fund-raising process and added: "This was not solely a Rotary project. Businesses, schools, community groups and individuals all played their part. The scale of the support from the local community was really quite humbling. To see the unit up and running and making a difference to patients is fantastic."
Representatives of the various donors and community fundraisers were invited to a celebration tea party at Kincardine Community Hospital, along with members of staff and the project team who delivered the facility.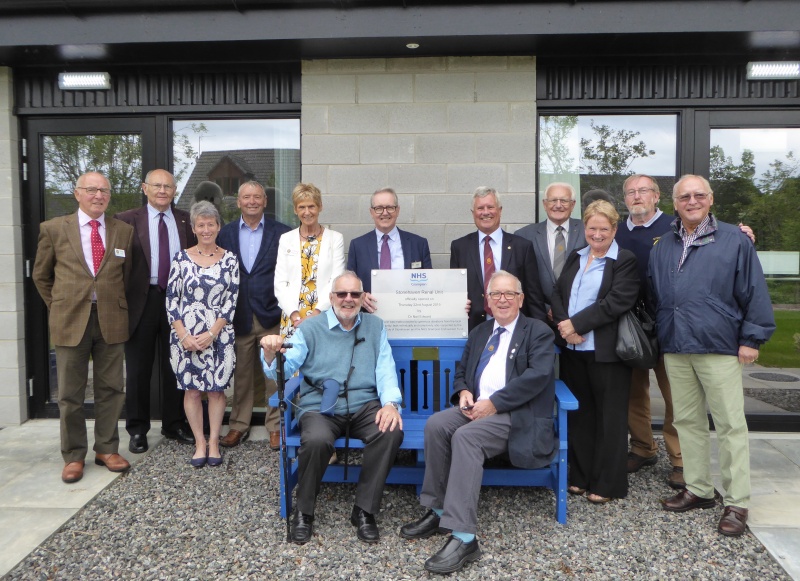 Dr Ann Humphrey with Stonehaven Club Rotarians

MURALS AT KCH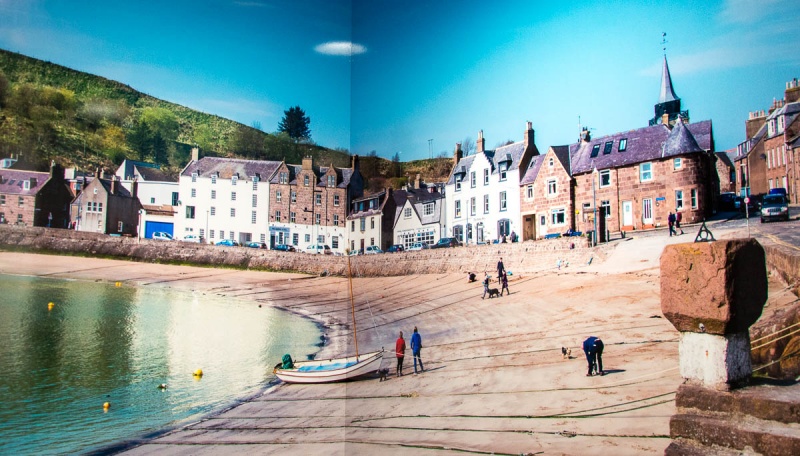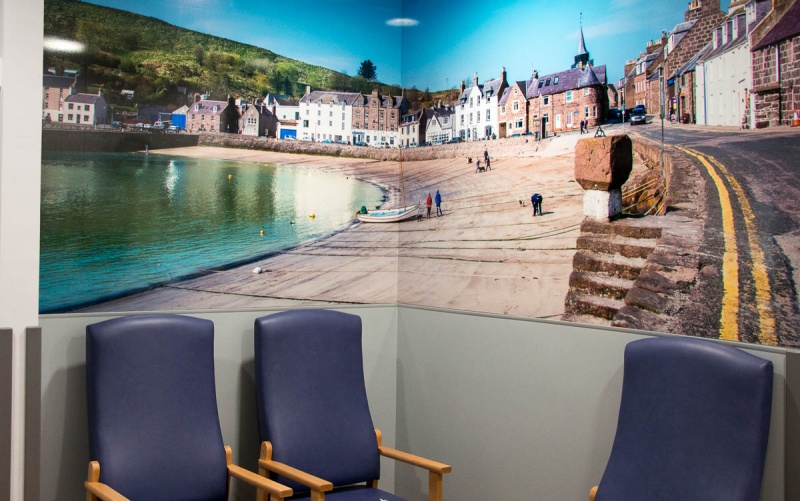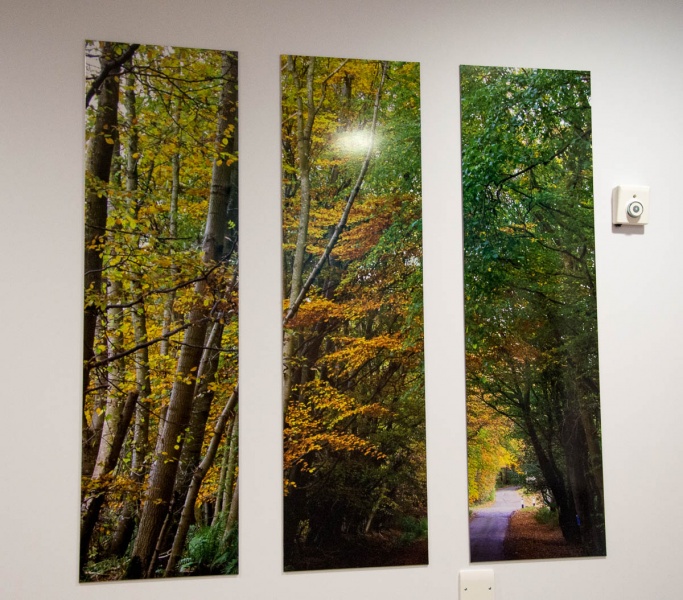 The waiting area at the new Renal Unit at Kincardine Community Hospital has a whole new look. The Vinyl Cut created wall sized prints from Photographs taken by Club Rotarian - Jim Henderson and these were installed in early May. Much cheerier now for the patients.
SUNDAY MORNING DUTY
On a chilly Sunday morning, the waterboys from the Stonehaven Club turned out to irrigate the runners in the Half Marathon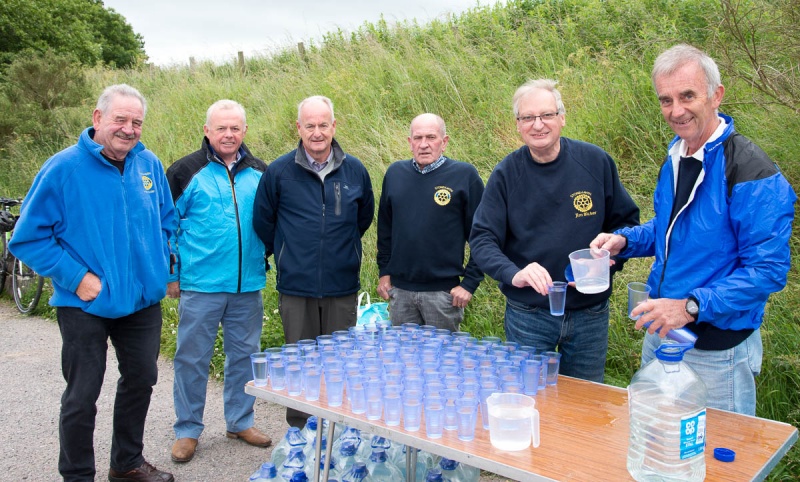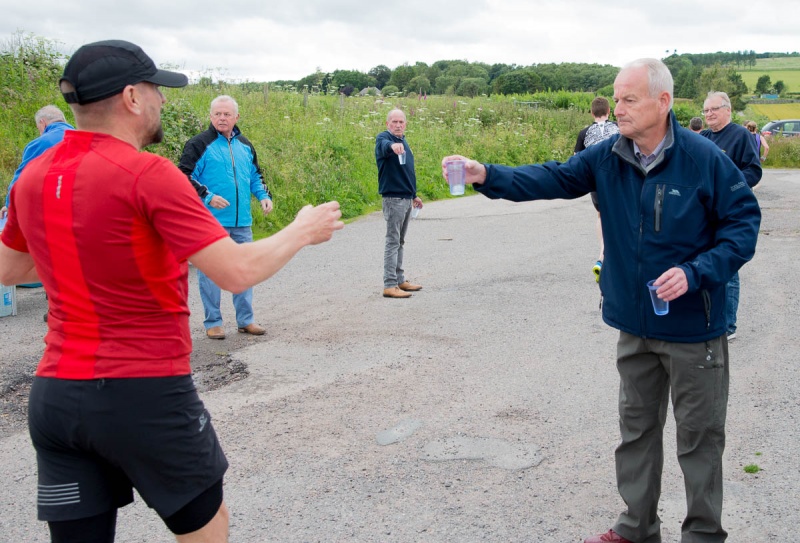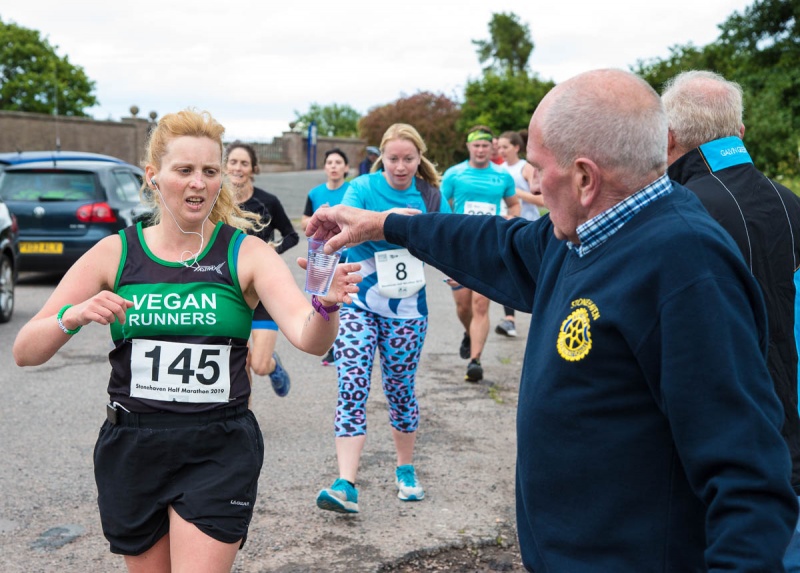 Then home for a warm cuppa or maybe something stronger!

---
---
The following Slide was for a successful Event in July 2019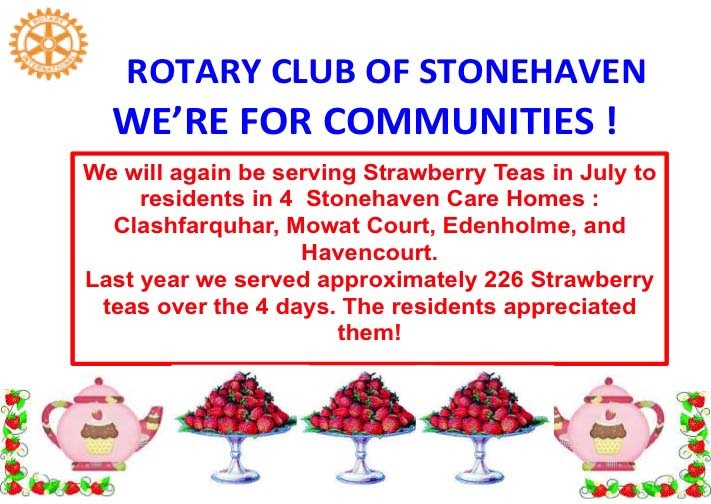 ---
WE HELPED WITH KIDSOUT AGAIN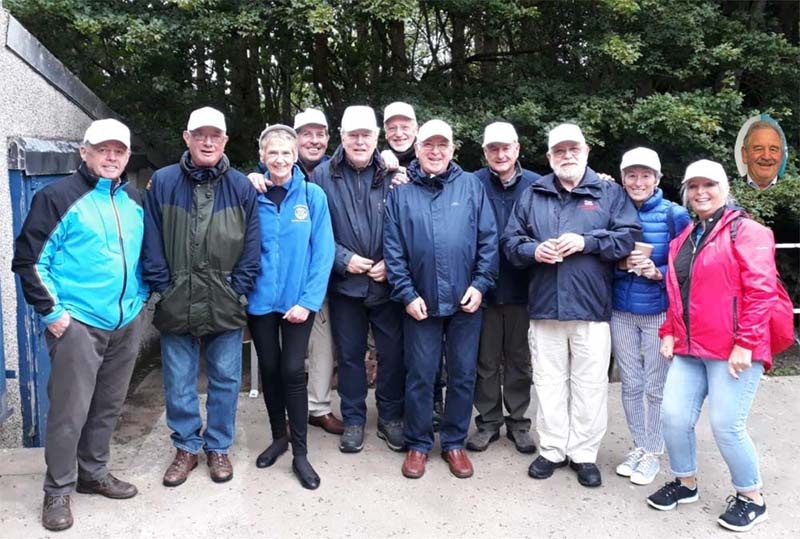 Last Wednesday,12th June, the Rotary KidsOut Aberdeen National Day Out Event took place at Scotland's Rural College (SRUC) Craibstone. The event is organised by local Rotary Clubs and is a fun day out for around 500 children with additional support needs from Aberdeen and Aberdeenshire special schools and units. Almost 1,000 people were in attendance on the day - Rotarians, children, school staff, and other helpers who included pupils from Westhill Academy.
Seventeen Rotary Clubs across City and Shire, including Stonehaven Rotary club , organised a range of activities to entertain the children . The event gave the children the opportunity to ride on a horse (with appropriate support), walk on a rope bridge and jump on bouncy castles as well as get their faces painted and enjoy a pony-and-trap ride or train ride around a small circuit. They also enjoyed climbing inside the cabin of a fire engine, police car and van. The boys and girls watched a display of magic and a puppet show and there was also an opportunity to stroke small animals and speak to owls. After a sandwich lunch, followed by a Mackie's ice cream, in the campus dining hall they were able to dance to disco music before boarding their buses and taxis for their trip back to school.
The one thing that could not be organised was the weather , but despite the cool and damp (wet!) conditions, the children all enjoyed their day which made it all worthwhile for the organisers.
A number of members of Stonehaven Rotary Club were among those who volunteered to help … and were persuaded to pose for a photograph before they went off to help at their assigned activities!

---
Primary Schools Quiz - Winners 2019
The Catterline Team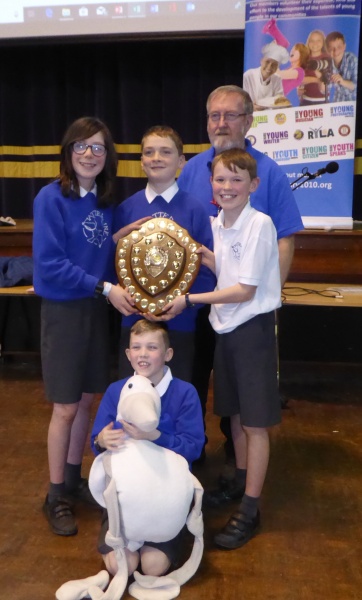 The Team Members were –
• Campbell Gauld
• James Boggon
• Connor Mackay
• Alec McMurtrie
They will represent Stonehaven Rotary Club in the Area 4 Final to be held in Mackie Academy, Main Hall on Saturday the 20th April 2019 at 2.00pm. We wish them well.

---
---
---
---
LATEST CLUB NEWS

---
---
Rotary News
Be part of a global network of volunteers, trying to make the world a better place. Please also see the 'links & news' page for information from the local district and live feeds from Rotary International and Rotary International in GB&I.
Flexibility creating new opportunities for new members
---
RotaKids supporting their local community
---
---
Meetings & Venue
Where and when:
We meet on Wednesdays at 12.45 for 13.00
Station Hotel,
Arduthie Road,
Stonehaven AB39 2NE
01569 762277