About us




---
---
LATEST CLUB NEWS




---

Planting to Raise Awareness of the Rotary Fight for a Polio Free World - Thursday 19th November 2020.







Two million Ruby Giant Purple crocus corms were available this year in batches of 4000 bulbs and these have all been bought by Rotary Clubs throughout the UK – including Stonehaven Rotary Club. Usually we involve the local schools in the crocus project but that was not possible this year because of COVID. So, it was up to us to get them planted!

We wanted them to make a splash of colour in the town adding to the colour of all the planting that the Stonehaven Horizon Project does. We all appreciate the work of this group to improve our town and we asked for their support to get them in. One place we wanted people to see them is at the Welcome stone at Stonehaven Station. The grounds of Kincardine Community Hospital was the other place to give the patients and dialysis unit users something to brighten their day.

On Thursday 19 November, Rotary club members and Horizon volunteers met up to plant the crocuses. We are all looking forward to seeing them in the spring-something to look forward to next year. Thank you Horizon for your support!

---

Another Defibrillator for Stonehaven - November 2020
Stonehaven Rotary Club
agreed to finance the purchase and installation of a further defibrillator

at the Jim Glennie Pitches in Mineralwell Park. This was a community venture
with Stonehaven Community Council donating the defibrillator and Stonehaven R
otary Club paying for the box and the installation.

There were l
ogistical challenges to getting the installation completed due to lockdown and t
he subsequent gradual return to work. However, the defibrillator box was e
ventually installed and recently, the defibrillator itself was placed in the
box so that it is now ready for use.
The Photo shows Stonehaven Rotary Club Treasurer - Brian Cordiner and Moira Dickson, representing
Keiran's legacy
, the charity from which the defibrillator was purchased, placing the defibrillator in the box. You can find out more by visiting the Charity's
website
http://www.keiranslegacy.co.uk.
We sincerely hope that no one will have to use the box but we are pleased that Stonehaven Rotary Club has been able to install this valuable piece of equipment in case it is needed.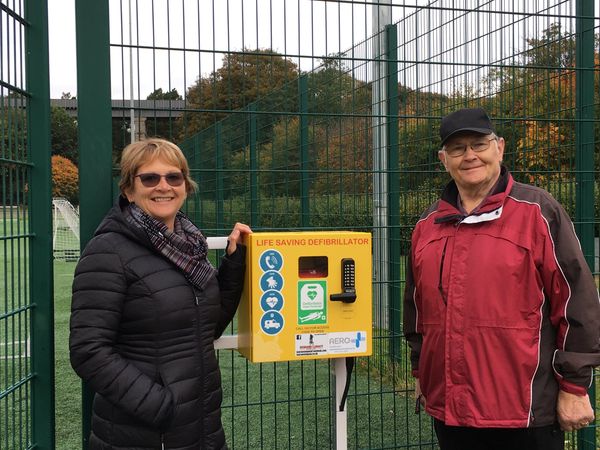 ---
Support for Charlie House - November 2020
On Saturday morning the 7th November, Rotarians - Helen, Debbie and Jennifer, set up a stall at the monthly Farmers Market in Stonehaven to sell tickets for the annual Aberdeen & North East Rotary Clubs Charity Lottery Society - Prize Draw with the charity selected to benefit from this year's raffle being
Charlie House
. The raffle is due to be drawn on the 24th December. It was a beautiful morning ....... sunshine and blue skies (for the third day in a row!)
We would like to thank all the visitors to the market who bought tickets in support of this worthwhile cause.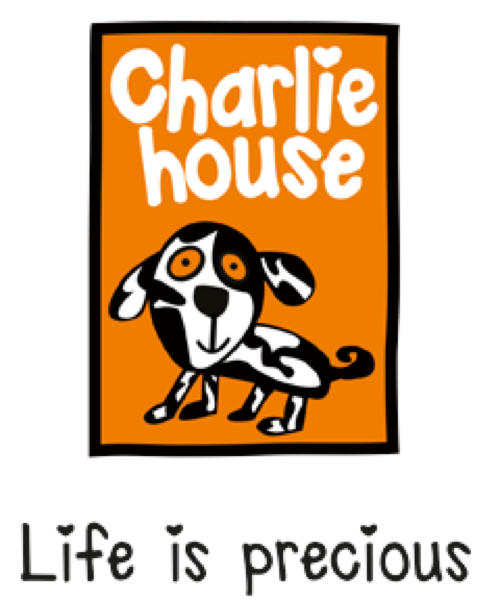 Charlie House - Raffle - 2020



Horizon Project - July 2020



On Wednesday the 29th July, we heard from John Cruickshank, Convener of the Horizon Group, talking about the work that Horizon has been doing this year (despite lockdown) to keep our town looking good.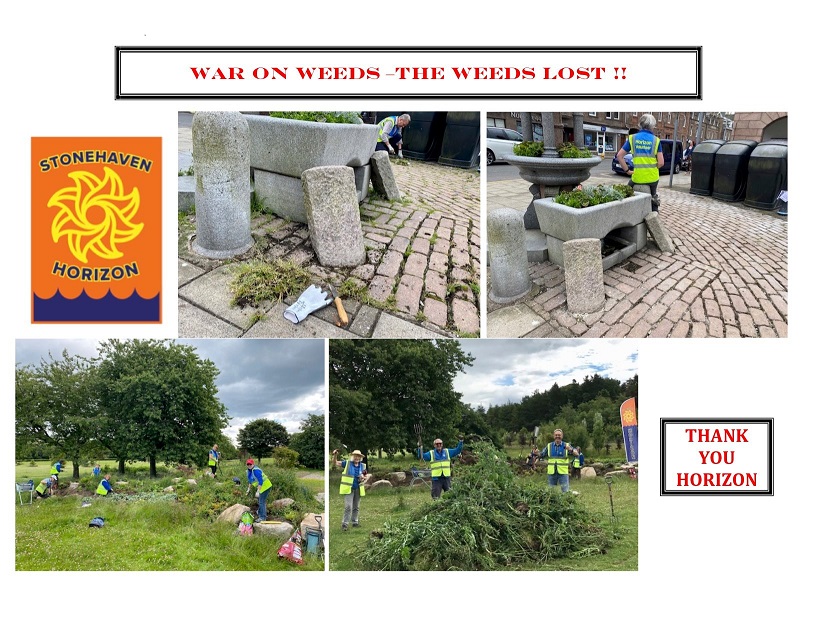 Strawberry Teas - July 2020
This year, because of Covid 19, we couldn't
go into the Care Homes to serve the Residents with Strawberry Teas but our Community Team, along with fellow Club Rotarians - and the Care Homes - were keen to continue with this tradition and where there's a will, there's a way!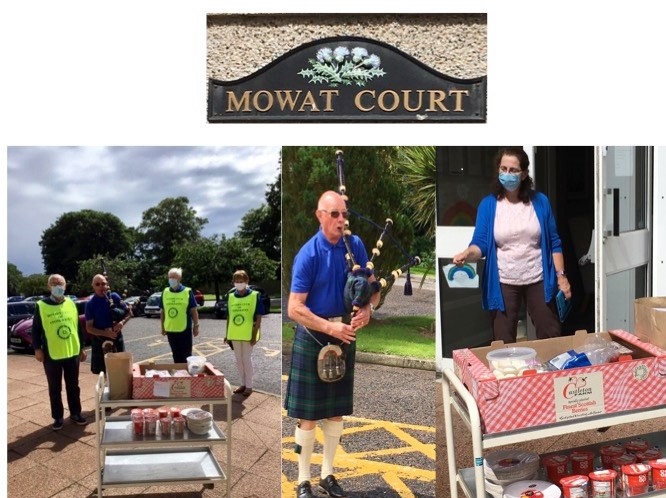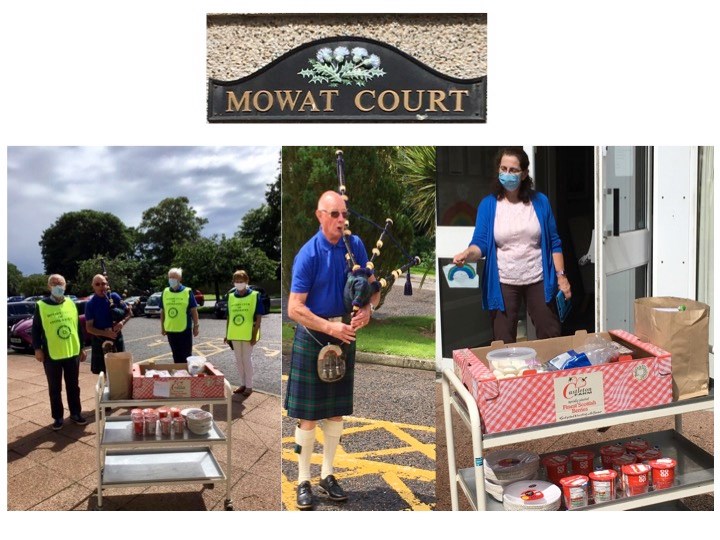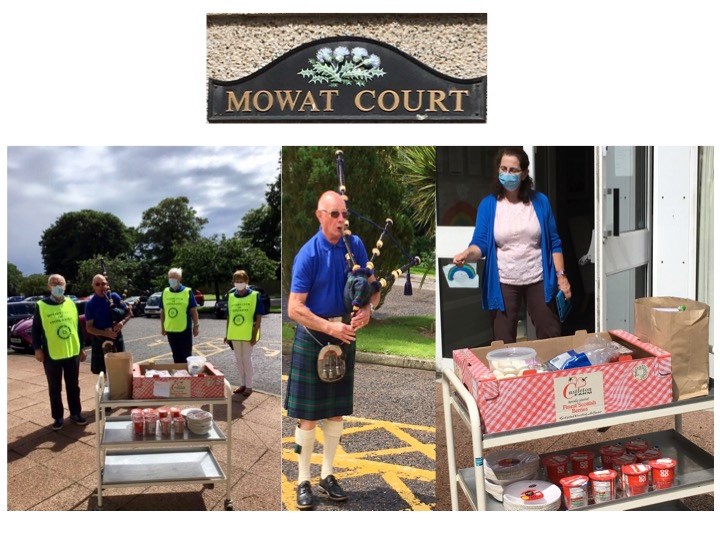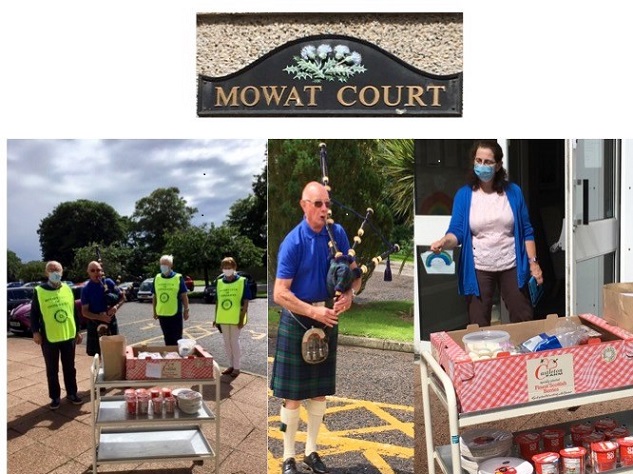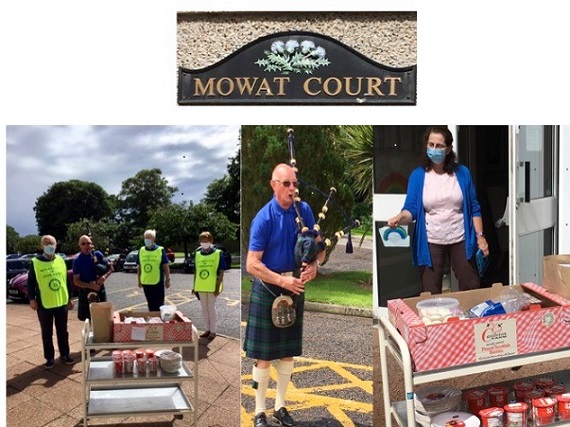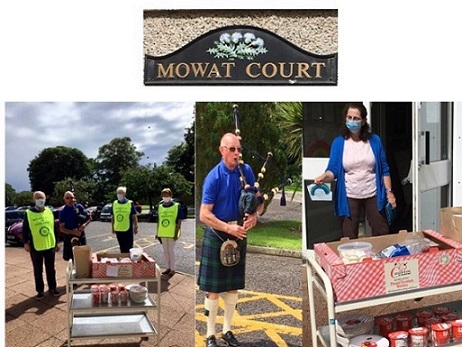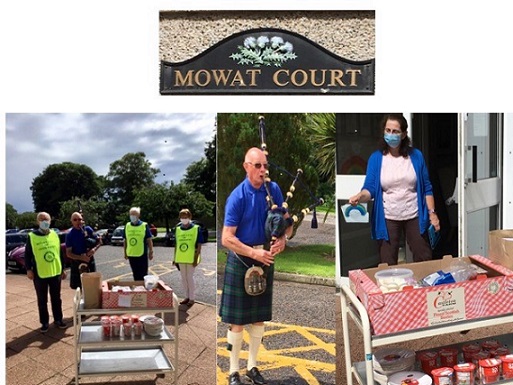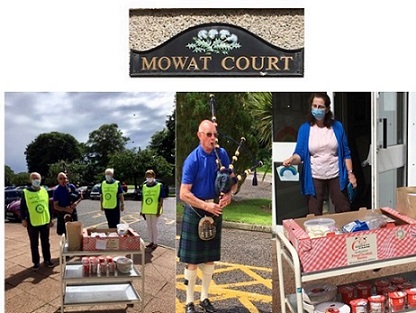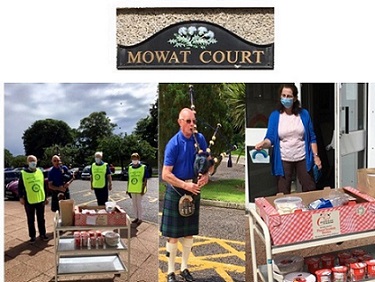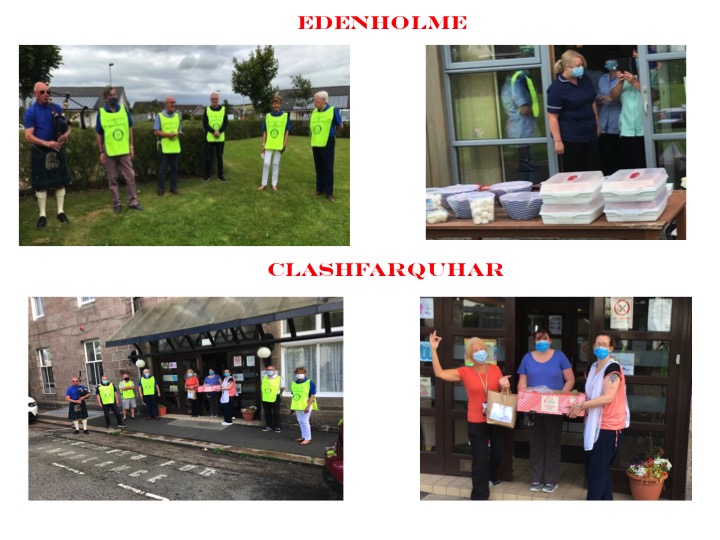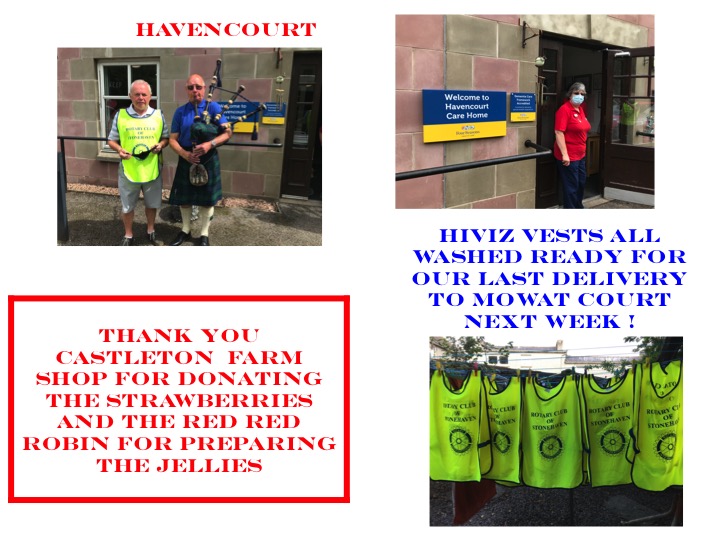 Welcome to 'New' Member Norman Hessler - 11th March 2020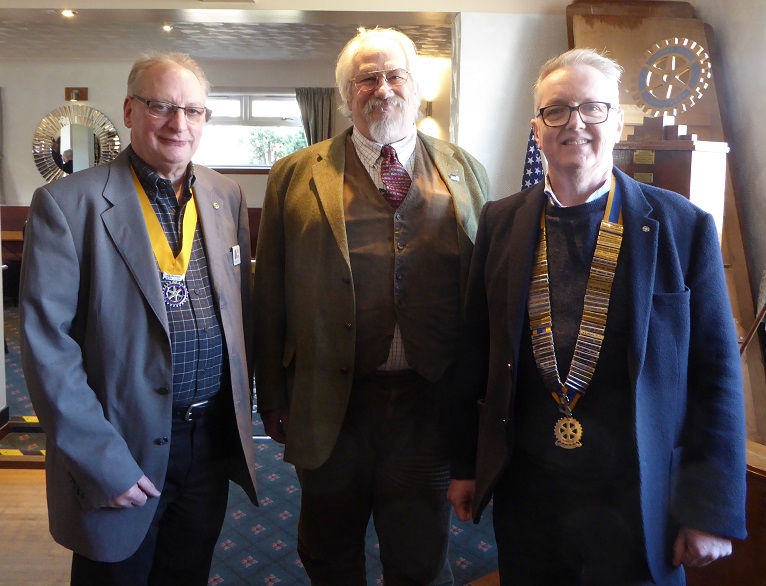 At last Wednesday's lunchtime meeting of Stonehaven Rotary Club, President Angus Mackintosh inducted Norman Hessler to membership of Stonehaven Rotary Club. The photo shows new member Norman Hessler with President Angus Mackintosh and President Elect Jim Bicker.
Welcome to a 'New' Honorary Member - March 2020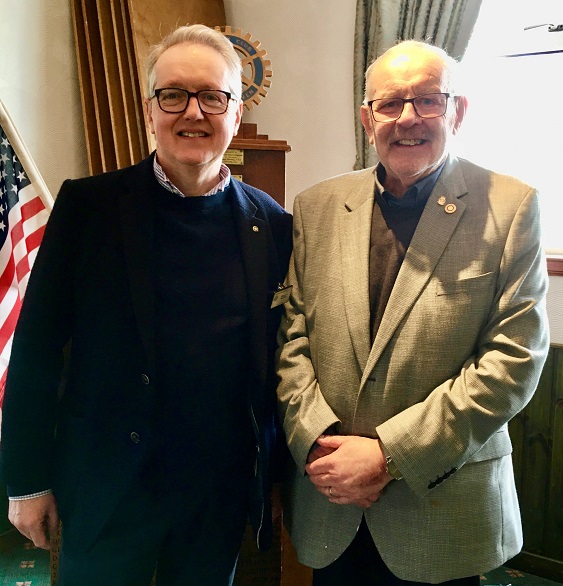 Jim Henderson, a past President of Stonehaven Rotary Club and a Paul Harris Fellow for his outstanding commitment to Rotary was recently made an Honorary Member of Stonehaven Rotary Club as he is not able to continue as an active member of the club for health reasons. President Angus welcomed him to his first meeting since being awarded Honorary Membership at the Club meeting on Wednesday the 4th March 2020.


Young Musician - District Competition - 25th January & 1st February '20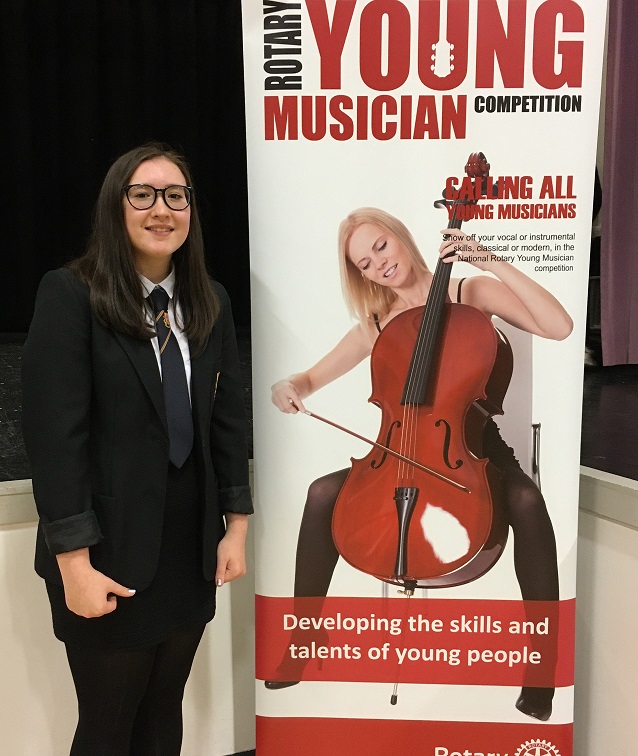 This is Jessica Chen

- Vocalist

at the District Competition held on Saturday the 1st February 2020 in Kinross. Well done Jessica.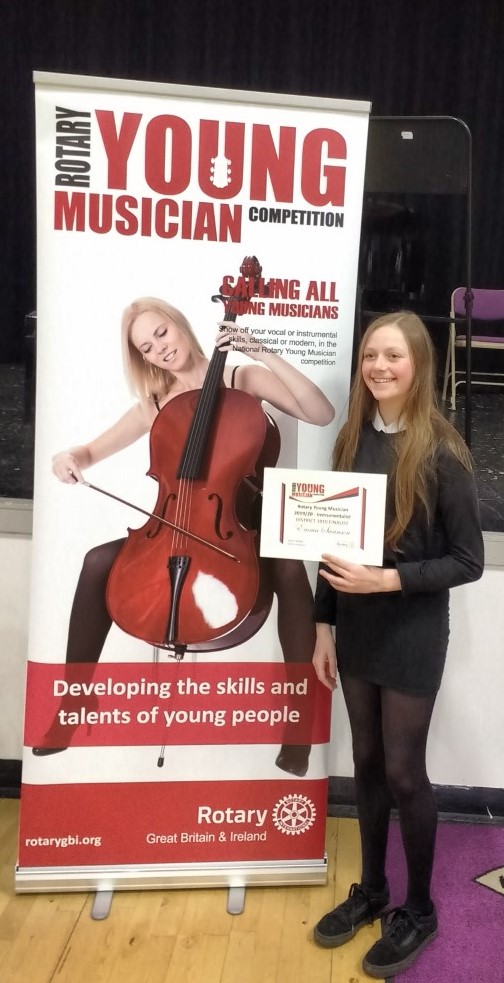 This is

Emma Swanson - Instrumentalist

with her Certificate at the District Competition held on Saturday the 25th January 2020 in Kinross. Well done Emma.




Young Chef - District Competition - 25th January 2020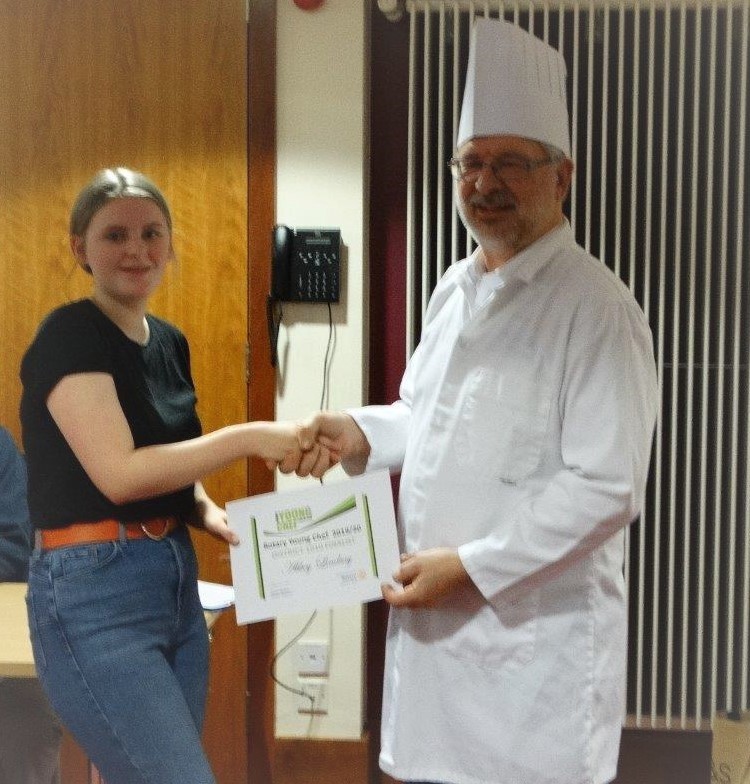 This is Abbey Lindsay receiving her Certificate from the District Governor - Alistair McNair at the District Competition held on Saturday the 25th January 2020 in Dundee. There were 16 in the Competition. the Judges said every single one of them were 'nearly winners' with the winner Bryden (Kirkcaldy) only ½ point ahead of the runner-up. They mentioned the quality of the food, excellent menus, presentations, costings and how they all cleared up at each step of the way. Judges were also impressed with how they worked together and helped each other as a team.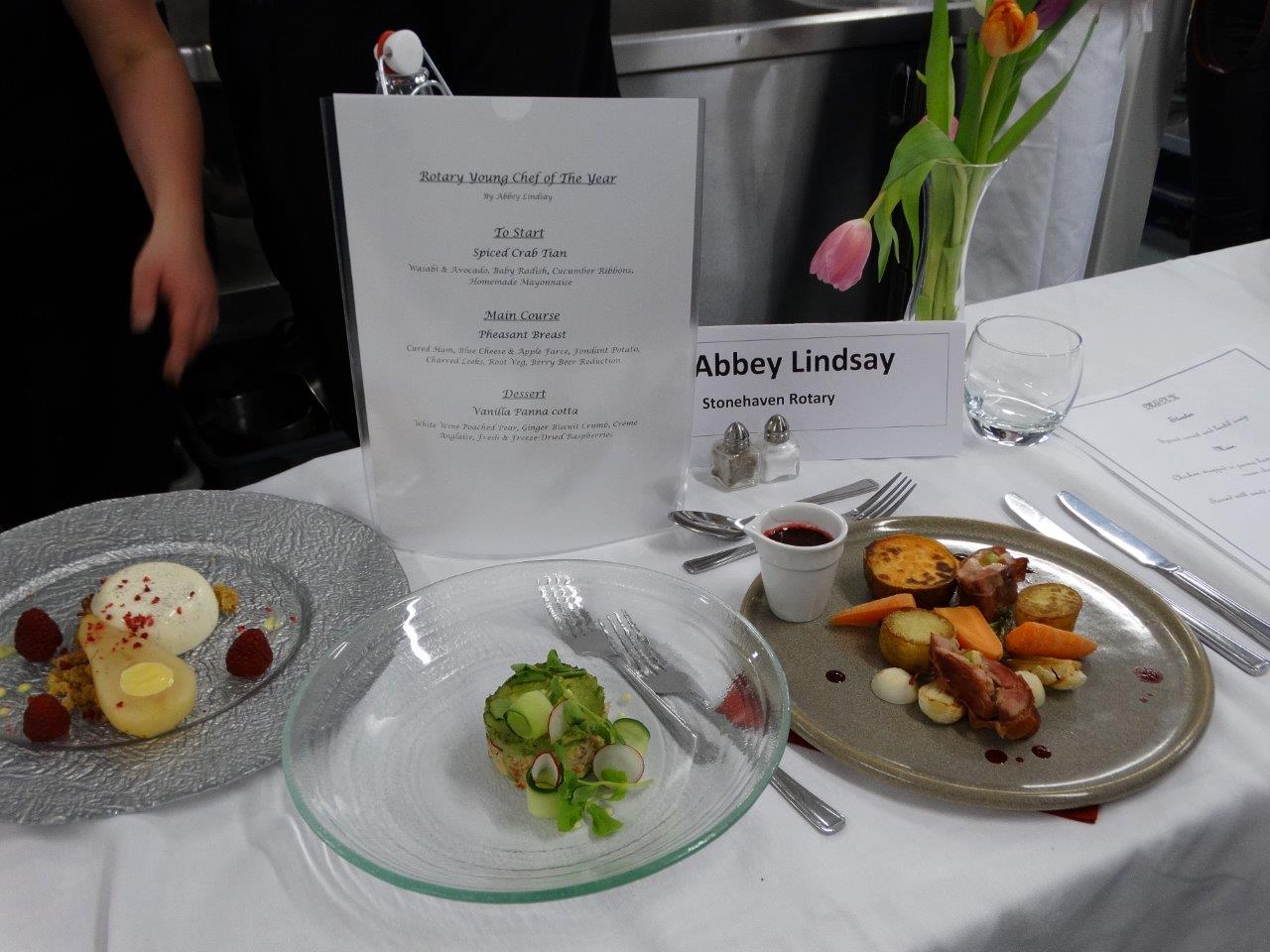 Well done Abbey.

STONEHAVEN ROTARY CLUB - YOUTH COMPETITIONS
Every year, Rotary in Great Britain and Ireland (RIBI) organises UK wide competitions for young people. These are run in stages with individual Rotary Clubs organising a local competition from which the winners progress to the next stage at District level. Beyond District there is an Area final then a UK final. As you will appreciate, the level of expertise required of participants increases at each stage of the competition.
Stonehaven Rotary Club takes part in a number of these competitions, among them Young Chef and Young Musician.
In the past 2 weeks, the winners of the Stonehaven rounds of Young Chef, Young Musician-Instrumental and Young Musician-Vocalist have taken part in the District Round.
Abbey Lindsay had to prepare a three-course meal for 2 in the Young Chef competition held at Dundee and Angus College on Saturday 25th January. She produced three very appetising dishes in the College training kitchen facility but unfortunately was not selected to proceed to the Area Final.
On the same date, Emma Swanson took part in the Instrumental section of District Young Musician competition held at Loch Leven Community College campus in Kinross. She had to play 2 pieces of contrasting style on her tenor sax, which she did very well. She received very positive individual feedback from the judges but she was not the person selected to progress to the next level.
Last Saturday, Jessica Chen took part in the Vocalist section of the District Young Musician, which was held once again in Kinross. Like Emma she had to sing 2 songs of contrasting style and performed these very well. However, like Emma, she was not the one selected to progress to the Area stage of the competition. Both Emma and Jessica coped very impressively with performing solo on a stage in front of an audience (as well as the three judges!)
All three girls received certificates to mark their achievement in reaching the District level of the competition. Stonehaven Rotary Club is delighted to have sponsored the three girls in these 2 competitions and thank them for all the hard work they put in to prepare for these.
PAUL HARRIS FELLOWSHIP AWARDS - 18th December 2019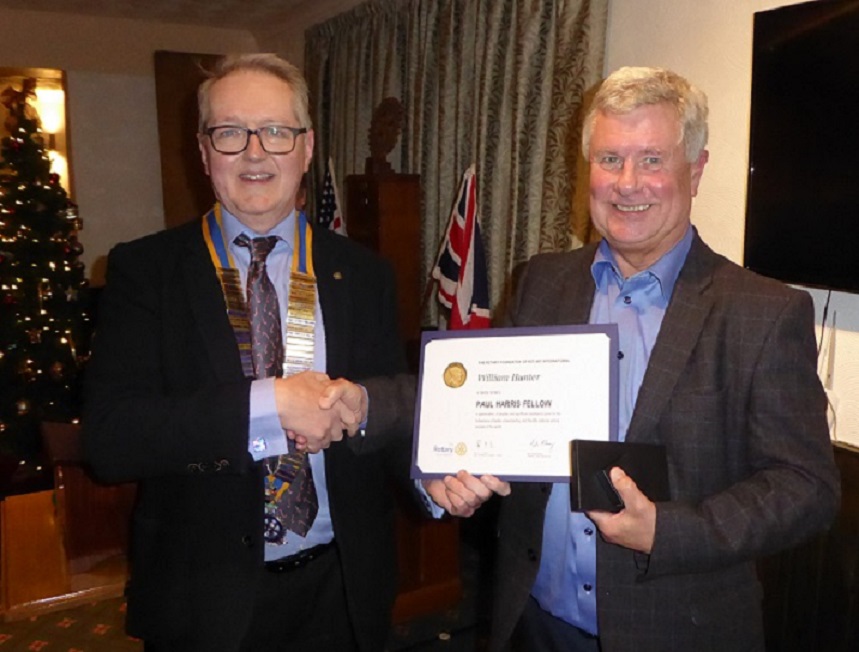 Billy Hunter receiving his Award from President Angus Mackintosh.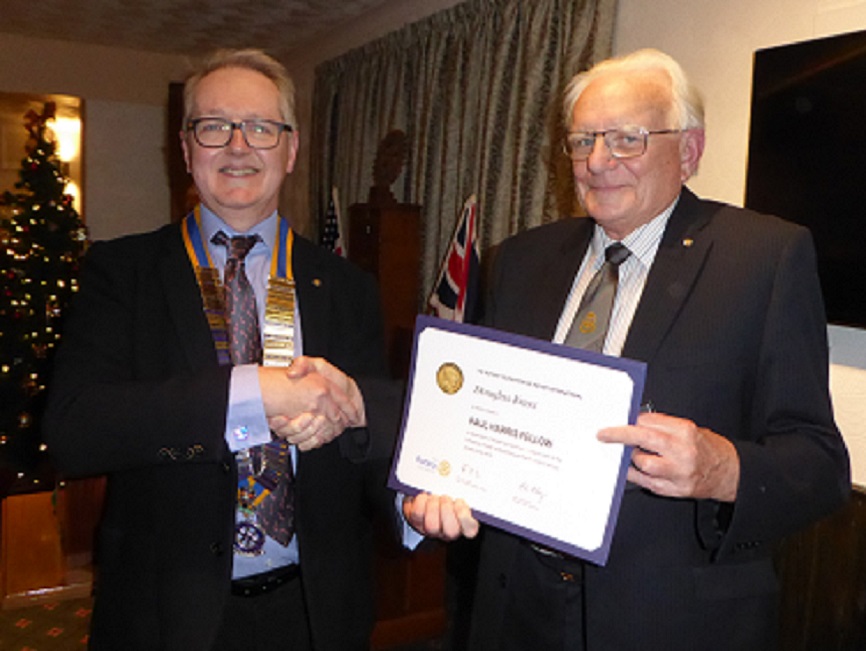 Douglas Knox receiving his Award from President Angus Mackintosh.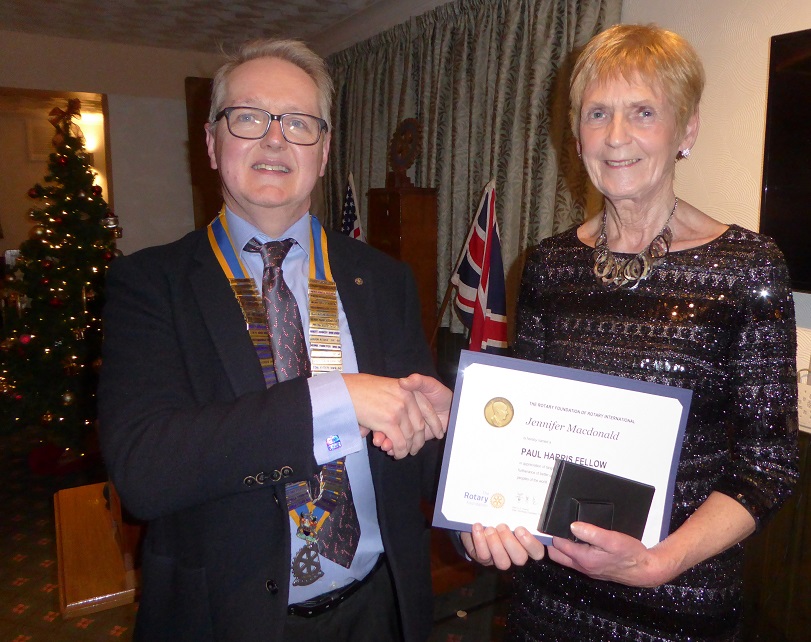 Jennifer Macdonald receiving her Award from President Angus Mackintosh.

ANERCCLOTS - Car Winner - 24th December 2019
Stonehaven Double
The Raffle for the Car has been won with almost the first ticket sold by the Rotary Club of Stonehaven at the Feein' Market.
The Winner was a Lady from Stonehaven.
Due to an Administrative 'Problem', and in what will probably be his last 'Major' involvement with the Car Raffle, Douglas Knox was delighted to be given the task of informing the Lady, from whom he received a huge hug.
Well done to all concerned.
Welcome to a 'New' Member - December 2019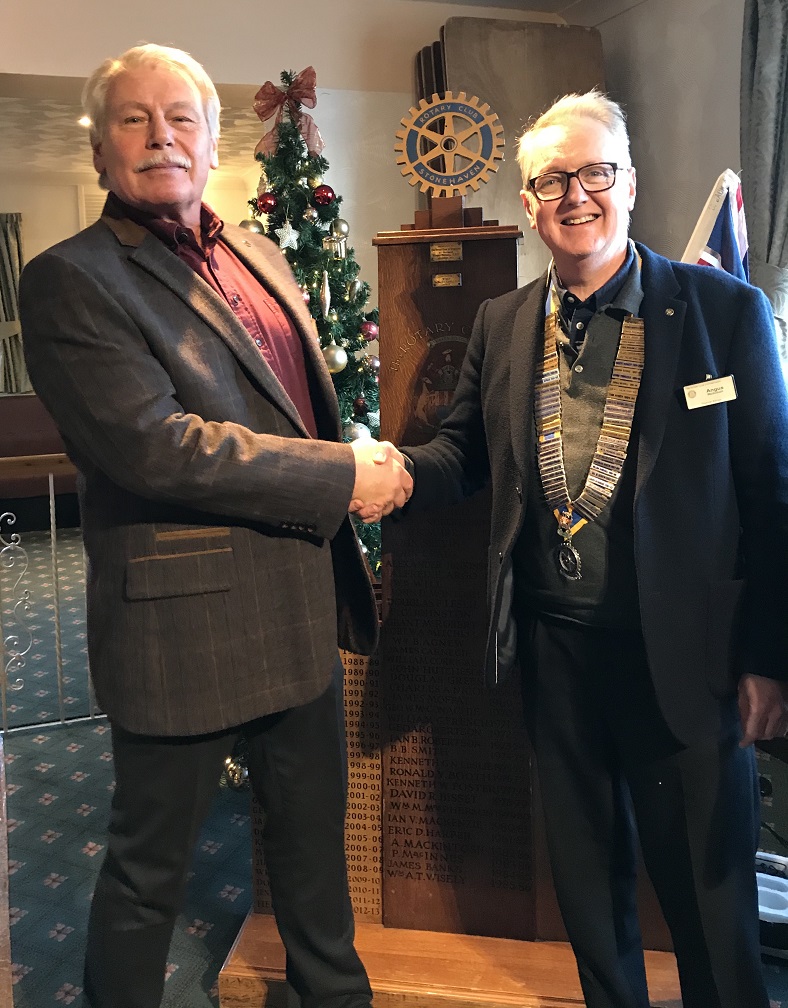 President Angus Mackintosh inducted a new member to Stonehaven Rotary Club at last week's regular lunchtime meeting, Wednesday the 11th December. Bert Nijboer and has been attending meetings over the last few Weeks.

Past Presidents Dinner - 8th November 2019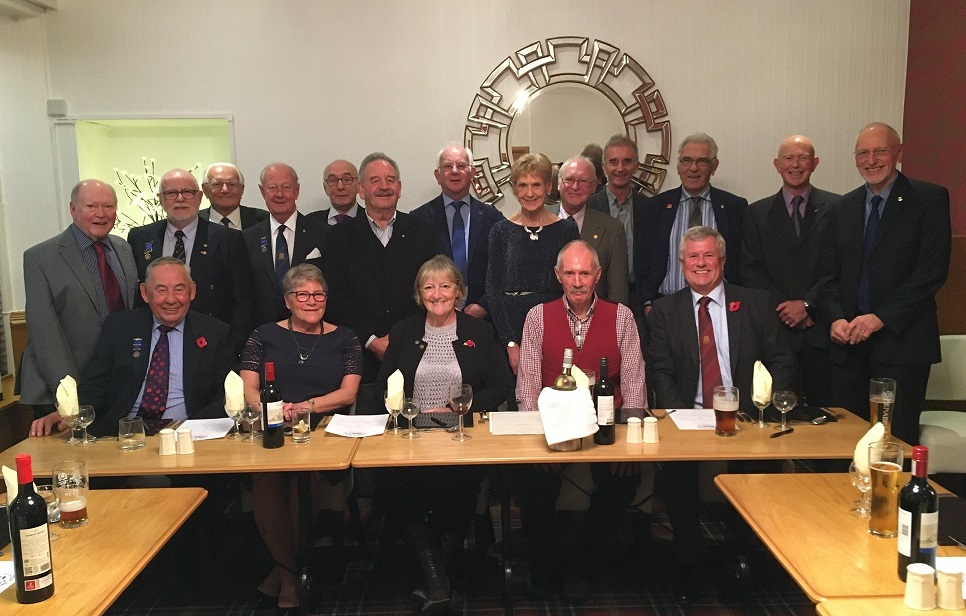 ---
OFFICIAL OPENING - RENAL UNIT AT KCH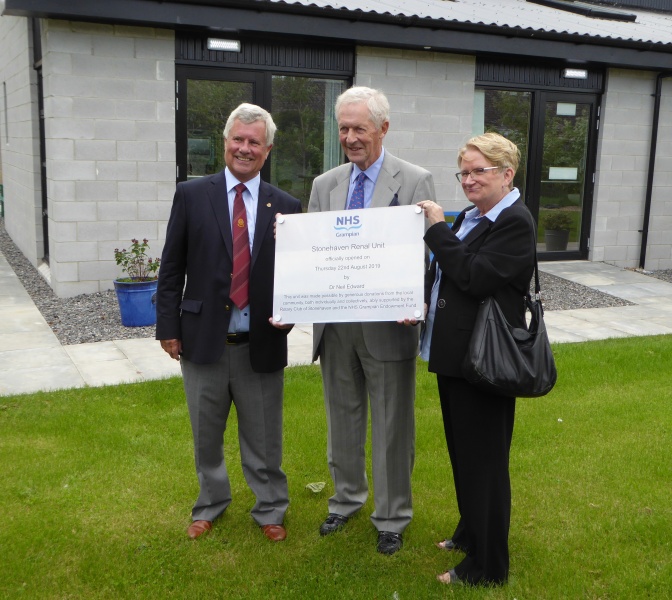 Billy Hunter with Dr Neil Edward & Dr Ann Humphrey.

Dialysis Pioneer Opens Stonehaven Renal Unit at Celebration Tea Party.
Dr Neil Edward, one of the pioneers of renal dialysis at Aberdeen Royal Infirmary, formally opened a satellite unit in Stonehaven on Thursday 22nd August. The Stonehaven Renal Unit, largely funded by the local community, offers dialysis for up to six patients, mornings and afternoons, three days a week. The unit means patients across Kincardine and the Mearns do not have to travel into Aberdeen for the treatment, which is typically required three times a week and can last 3-4 hours each time.
Dr Edward said: "Through my career I saw the steady development of dialysis but despite major improvements in the procedure and the associated technology is still a daunting type of treatment. Being able to undergo dialysis as close to home as possible is always best for the patient. I am honoured to be asked to formally open this unit and celebrate the achievements of the many community fundraisers."
In 2010, the NHS Grampian Renal Unit was left a legacy of £250,000 for dialysis machines. After discussion, it was felt that this was best identified as a capital fund towards a satellite renal unit in South Aberdeenshire as this was the one area within Aberdeenshire not served by a satellite unit. The unit covers a large area – from as far south as St Cyrus, over to Luthermuir and up to Fettercairn, Banchory and across to Portlethen.
A huge fundraising effort by people and businesses in and around Stonehaven raised in excess of £1million in five years to get the project underway. Dr Ann Humphrey, associate specialist in Aberdeen Royal Infirmary's dialysis unit and lead fundraiser for the campaign said: "The outstanding fundraising effort saw a groundswell of goodwill from our local community, and indeed all over the Grampian region, to make this unit a reality. I do not think there is a group in the local area who has not been involved in contributing to this campaign."
Pivotal to the fundraising was the Rotary Club of Stonehaven. Past President of Billy Hunter said the club had been proud to play a leading role in the fund-raising process and added: "This was not solely a Rotary project. Businesses, schools, community groups and individuals all played their part. The scale of the support from the local community was really quite humbling. To see the unit up and running and making a difference to patients is fantastic."
Representatives of the various donors and community fundraisers were invited to a celebration tea party at Kincardine Community Hospital, along with members of staff and the project team who delivered the facility.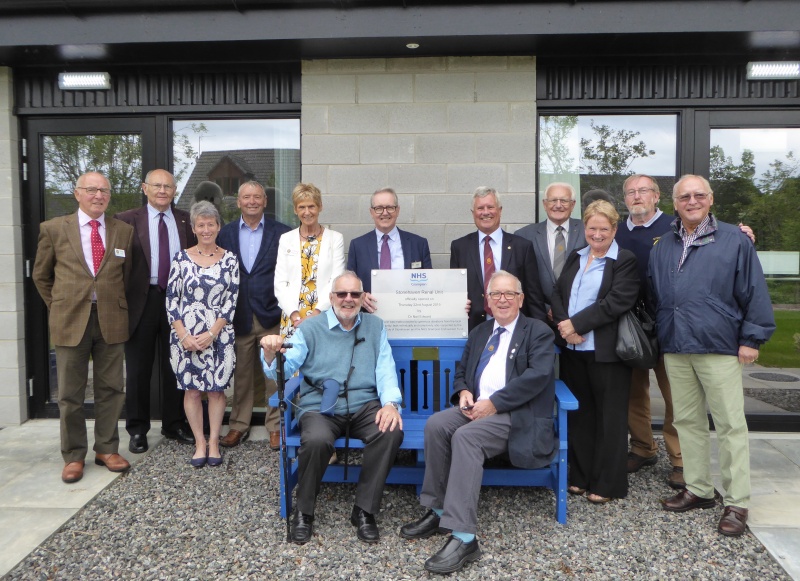 Dr Ann Humphrey with Stonehaven Club Rotarians

MURALS AT KCH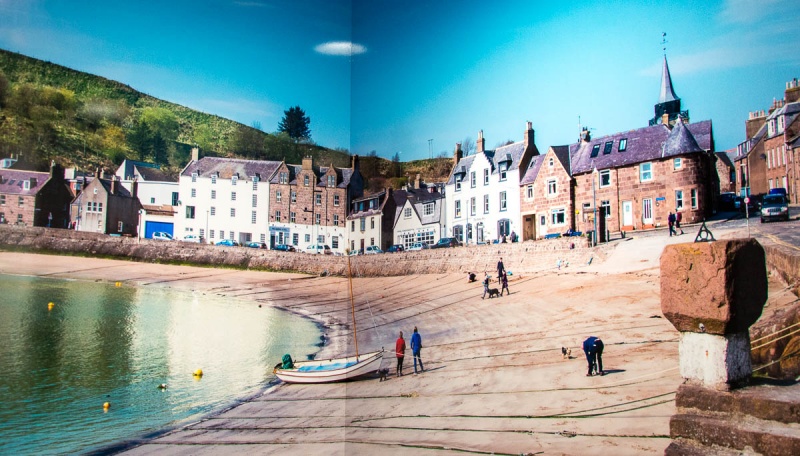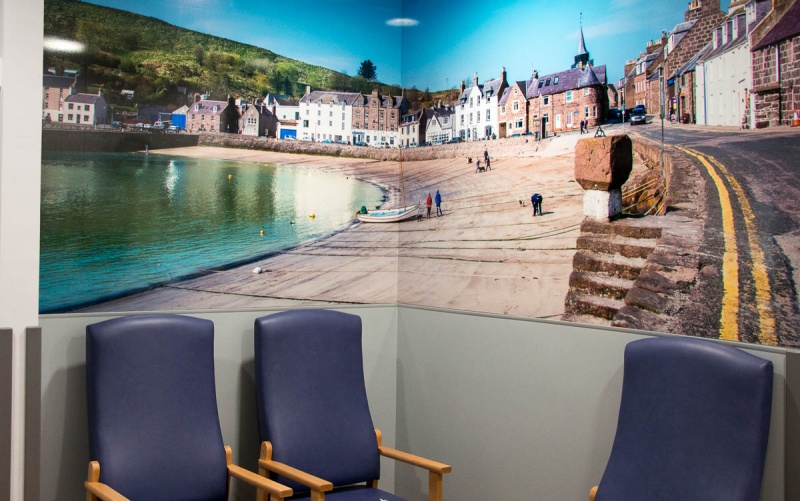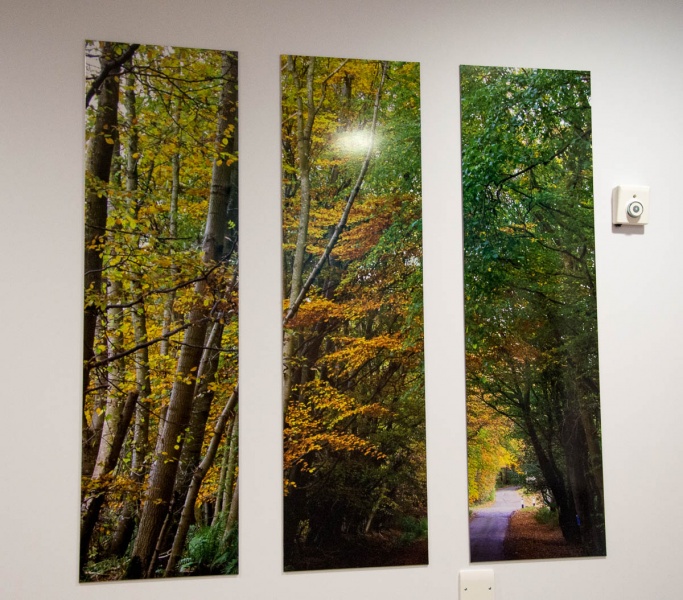 The waiting area at the new Renal Unit at Kincardine Community Hospital has a whole new look. The Vinyl Cut created wall sized prints from Photographs taken by Club Rotarian - Jim Henderson and these were installed in early May. Much cheerier now for the patients.


---
'Other' CLUB NEWS
---
---
Rotary News
Be part of a global network of volunteers, trying to make the world a better place. Please also see the 'links & news' page for information from the local district and live feeds from Rotary International and Rotary International in GB&I.
Rotary serving communities through supporting foodbanks
---
Diversity is part of Rotary's core values
---
---
Meetings & Venue
Where and when:
We meet on Wednesdays at 12.45 for 13.00
Station Hotel
Arduthie Road
Stonehaven
AB39 2NE
01569 762277