ROTARY CLUB OF GILLINGHAM (DORSET)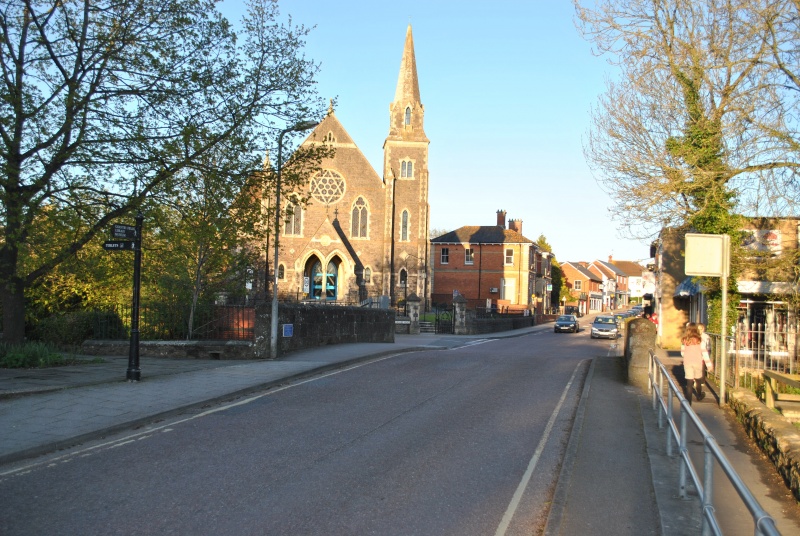 Gillingham High Street
Gillingham Rotary
We are a small, friendly, club comprising men and women from Gillingham and the surrounding area. We are a part of Rotary International, which is the world's largest service organisation for business, professional and community minded people.
Gillingham Rotary currently has 18 members who meet on a Wednesday evening at the The Kings Arms, East Stour, most months we have a speaker and invite guests. We raise money to help people and the local communities, by holding events such as the Duck Race, Burns Night, St. Georges Night and other events and we also do street collections to raise funds especially at Christmas.
It's not all about raising money though, we also participate in various sports against other Rotary Clubs, and social events are organised on a regular basis.
We have many requests for help and each one is considered before committing time and resources. Locally we have supported the Salisbury Hospital Stars Appeal, A local Student who worked in Africa teaching, Birthing chambers in Nepal, Shoeboxes at Christmas, and Tools for self-Reliance. Locally we helped raise funds for a lady who needed a special wheelchair to undertake her work, we also helped a local lady with MS who needed help to buy a specially adapted car to enable her to transport her electric mobility scooter.

We support local Schools as and when required and during COVID 19 lockdown we donated funds to all the local schools to help with the cost of home learning packs.
Rotary organise Youth Competitions. Youth Speaks, Young Musician of the year, Young Photographer of the year, Young Chef of the year and The Technology Tournament (which was won at National Level by four boys from Gillingham School Recently, with a design for a device that stops mosquitos from breading in water).
Anyone who helps with or at an event organised by Rotary will be covered by our insurance.
All administration costs are covered by the Rotarians
Purple for Polio
In October 2017 each of the five primary schools were given 1000 corms, Gillingham School had 5000. Gillingham Station had1000 and members were offered corms for their own use. The Town Council planted surplus corms in the gardens on LeNeubourg Way. Bringing the Polio Plus Campaign to the attention of the people of Gillingham.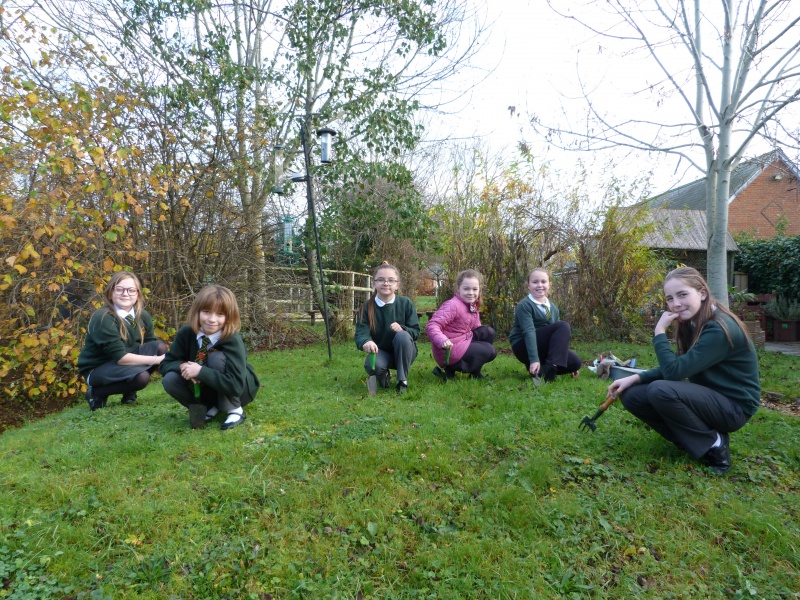 Primary School Pupils planting Crocus Corms
Rotary were the front runners in the eradication of Polio. This started in 1984 when Polio Plus was launched and at that time there were thousands of new cases per year so far this year there have been only 22 cases reported in two countries.
Start of Rotary
Rotary was started in 1905 by a Paul Harris and two of his attorney friends in Chicago. The movement slowly grew and they began helping local people. Today there are 1.2 million members in 120 Countries all linked back to Rotary International in the USA. All Rotary Clubs are organised independently.
Our members are local men and women with a commitment to helping others who are less fortunate.
Shelter Box and Water Aid are just two activities started by Rotary.
If you are local to Gillingham area and wish to help there are various ways in which this can be achieved. Please see the contact information on this site.
Gillingham Rotary are looking for men and women of all ages and backgrounds to join us either as volunteers, members or both. You can use your time, talents, skills and energy to improve the lives of people in our local communities and around the world.
You can enjoy business networking, personal development, meeting new friends, having a great deal of fun and experiencing the fulfilment that comes from achieving something worthwhile.
If you wish to know more about Rotary please use the contact details below.
For further details please contact the Secretary at gill.rotarysecretary@aol.com
or phone 01747 863498