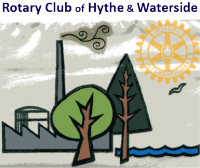 Rotary is 1.2 million neighbours, friends, and community leaders who come together to create positive, lasting change in our communities and around the world.
Hythe & Waterside Rotary was chartered in 1969 and is a club of men and women drawn from widely varying sections of the local population. There are no fixed boundaries between Rotary Clubs but our efforts are mainly centred on Hythe, Dibden, Marchwood, Fawley, Beaulieu and Exbury; the Waterside.
Rotary International was founded in 1905, in Chicago, by Paul Harris, a lawyer, and five associates. It has grown to be an organisation of over 1.2 million people in 34,000 Clubs scattered across practically every country in the world.
Rotary's main objective is service; in the community, in the workplace, and around the globe. Rotarians worldwide share a dedication to the ideal of Service Above Self. In the Clubs you'll find members volunteering in communities at home and abroad to support education and job training, provide clean water, combat hunger, improve health and sanitation, eradicate polio and explore strategies to promote peace, in the widest sense of the word. Rotary clubs are open to people of all cultures and ethnicities and are not affiliated with any political or religious organizations.
If you are interested in finding out more about Rotary on the Waterside, please contact:
President Jim at president@hwrotary.org

or Secretary Manny at secretary@hwrotary.org
Tel: 023 8181 8187