Welcome to the Rotary Club of Braids in Edinburgh. Braids is a large and active Rotary Club on the south of Edinburgh and a Charity which delivers the aims and objectives of Rotary International - the biggest humanitarian organisation in the world -with over 1.2 million members sharing a common philosophy of "Service above Self".
Rotary Club of Braids, Edinburgh has a well-earned reputation as a friendly and progressive Club where the emphasis is on fellowship and enjoyment in all we do.
Our Club has a very enjoyable and varied programme of entertainment and activities, including
Golf,
Curling,
Bridge,
Dinners,
Visits to local attractions.
At our lunchtime meetings members (and guests) enjoy a comprehensive and engaging programme of speakers and projects
But it's not just about enjoying ourselves, we also have a serious side that is just as important.
Supporting Communities
We engage the local community over the South of Edinburgh in presenting challenges to help with the development of young people and raise funds to help those less advantaged than ourselves both at home and abroad.
We provide vital funding for numerous local charities and to support overseas projects.
Local projects
Have included the provision of a defibrillator to local Community Sports Centres,
Supporting patients and carers of the Headway Group (Edinburgh) by funding and arranging trips and excursions.
We are also very active in Youth Services, supporting a number of personal development activities through local schools.
We have provided Amazon Tablets to a local charity - the Eric Liddell Centre - for use by the clients of their Day Care Service for older people with dementia.
International Projects
Regularly include the funding of Shelter Boxes and Aqua Boxes to victims in disaster areas,
Special projects such as refurbishing a Nansio District Hospital in Ukerewe, Tanzania and the potential to support a rainwater harvesting project also for that hospital.
We have also provided funding for local people of this area of Ukerewe to build desks for the children of the local school, which previously did not exist.
These are just some of the things we get involved with, so why not visit us soon and see how you could get involved. You will be made most welcome.
John Murray
President
| | |
| --- | --- |
| | Visiting Rotarians and guests are always welcome. Interested in joining us or becoming a member of the Rotary Club of Braids? Then Click here. |

=================================================================
Rotary is re-using for charity
Rotary Club of Braids is delighted to launch a charity collection with a difference. We're collecting things you might throw away – but we can reuse, recycle or sell them with 100% proceeds going to charity.
Look out for our bright red swing bins in various locations in south Edinburgh. Many businesses and other organisations have agreed to help. You can find our special bins at Eric Liddell Centre and Trinity Factors in Morningside, Edinburgh News at 127 Comiston Road, Home Hub at 14 Buckstone Terrace and Liberton Kirk, Paper Rack at 145 Liberton Brae and Liberton Post Office at 4a Liberton Gardens.
We will welcome donations of these specific items – all of which are reused in the poorest countries, or sold to travellers, collectors, currency dealers and on eBay etc.
Harry Potter books in any condition (sold via our partners - The Elephant House)
Foreign and old British currency – notes, coins and obsolete currency of every sort
Spectacles are reused – especially in India and Africa
Sunglasses go to Tanzania where there's a high concentration of albinism
Spectacle cases – well known branded cases sell well on eBay
Mobile phones of any age, condition and quality. Sold for important precious metals.
Rotary has over a million volunteers! Our aim is to make a difference in our communities and around the world.
Find us on Google, Facebook and LinkedIn. Search for Rotary Braids. We welcome your help with this project, please contact us to get involved.
Social event at Saughton Gardens - 7th of September 2021
Latest social event for Rotary Braids was a trip to Saughton Gardens, followed by lunch at their cafe. Lovely to get together again. While dry, it was not the warmest of days. At lunch some people had an overhead heater...............others did not!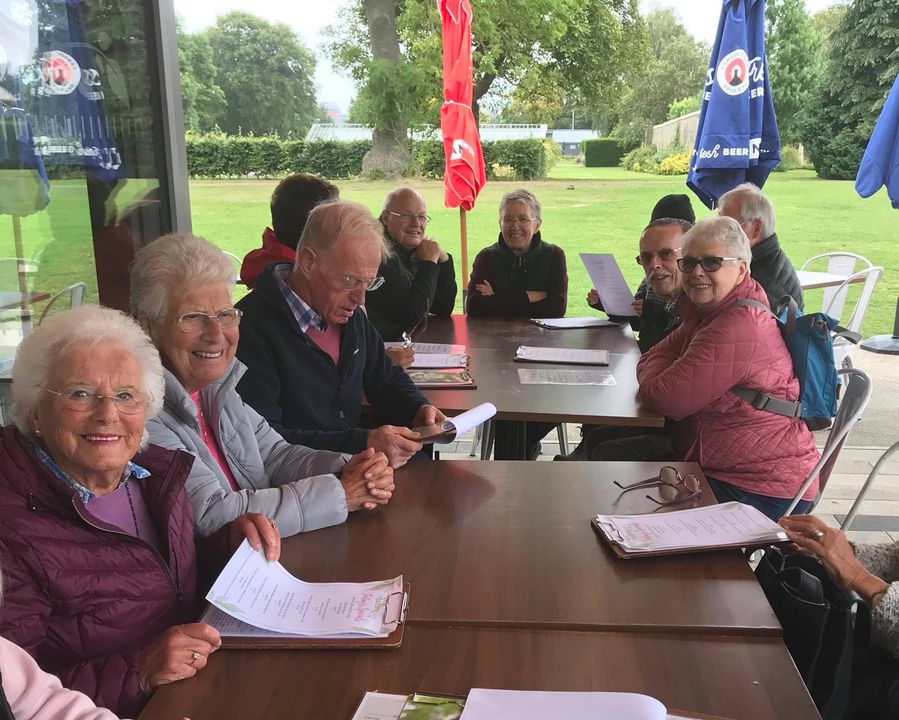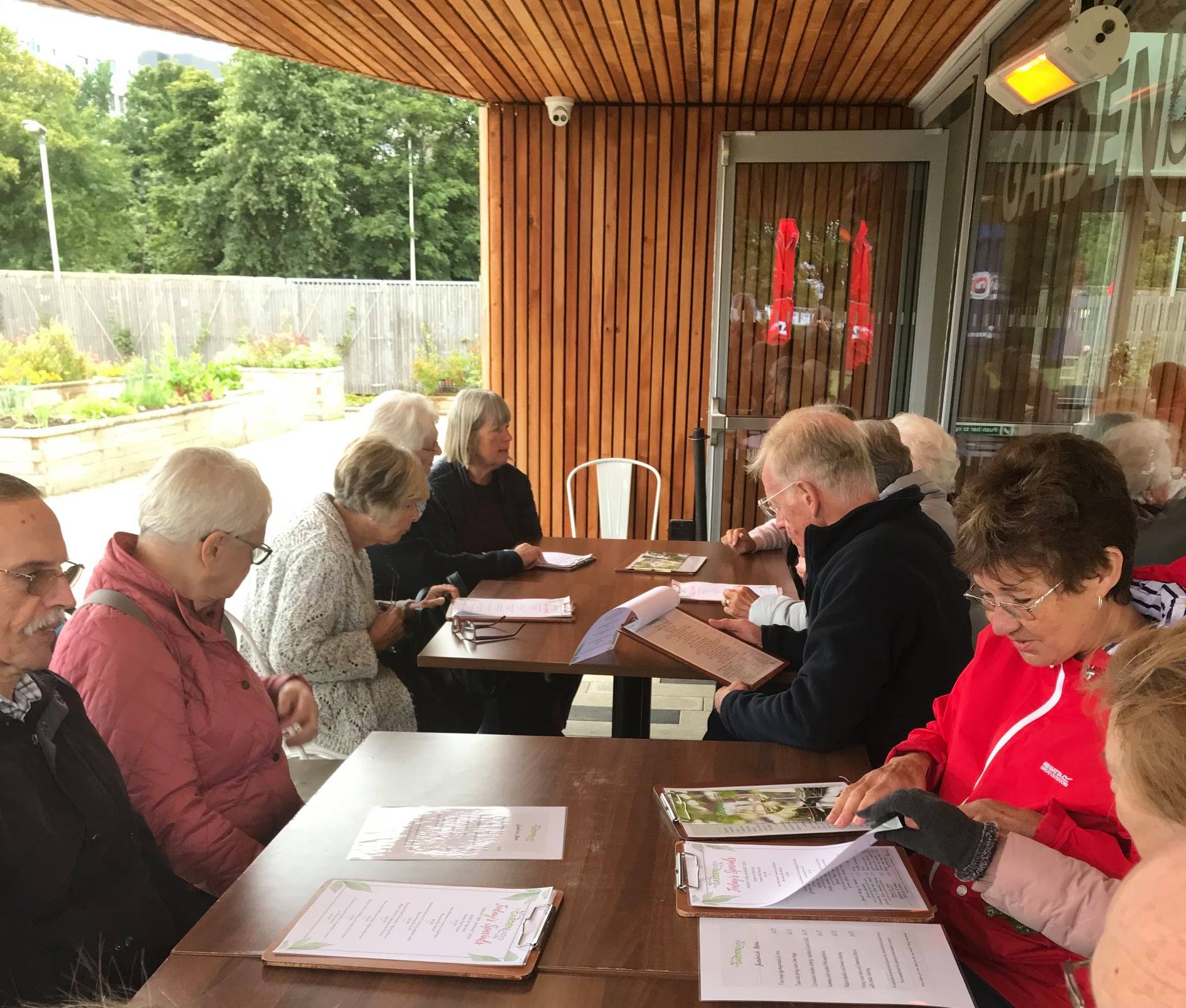 Face-to-Face instead of Zoom! - 19th of August 2021
Members of Braids met for a short walk from Warriston/Trinity to Newhaven and met more members for lunch at the Old Chain Pier. It was lovely to meet people face to face rather than over zoom especially on a lovely sunny day. More chances to meet up in person are being organised!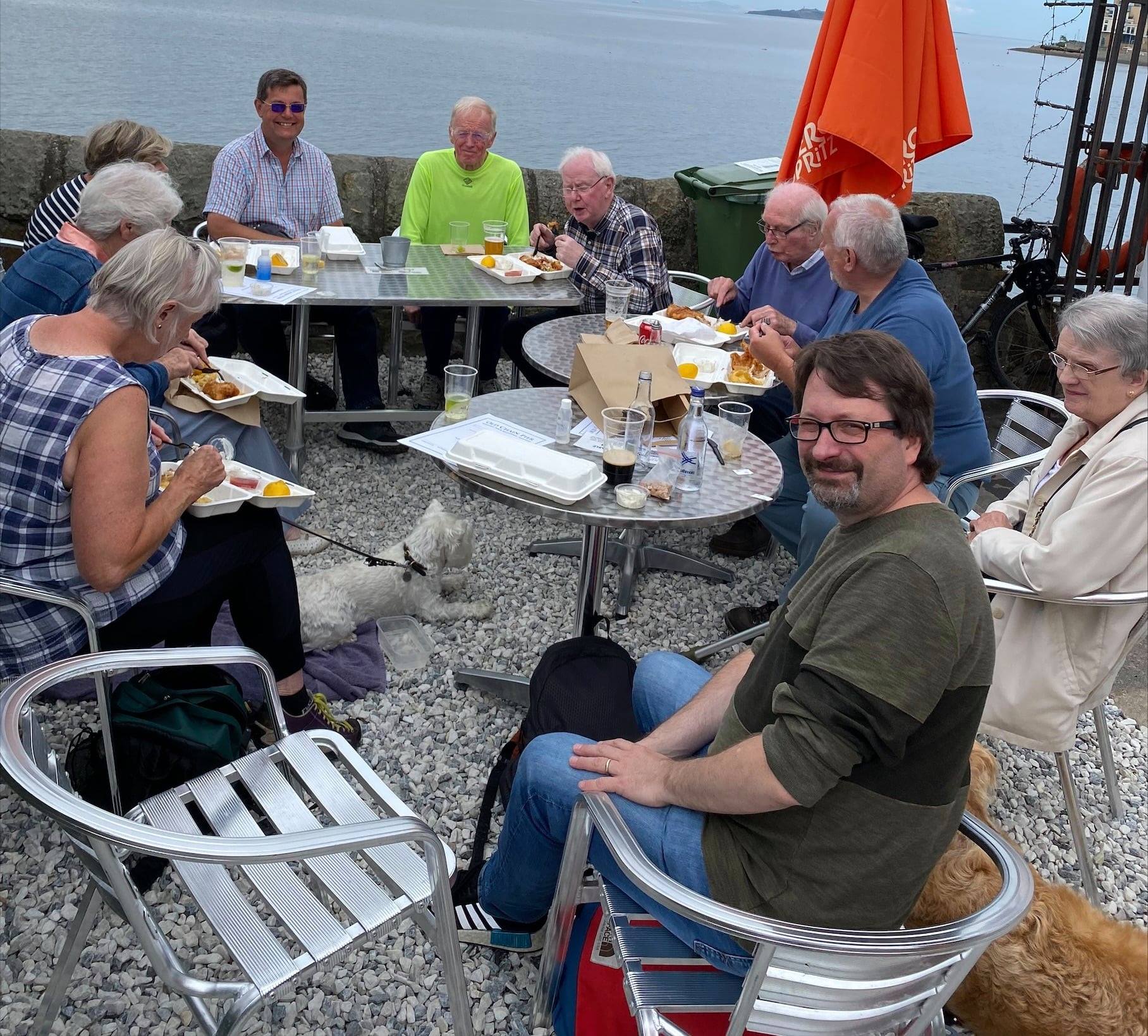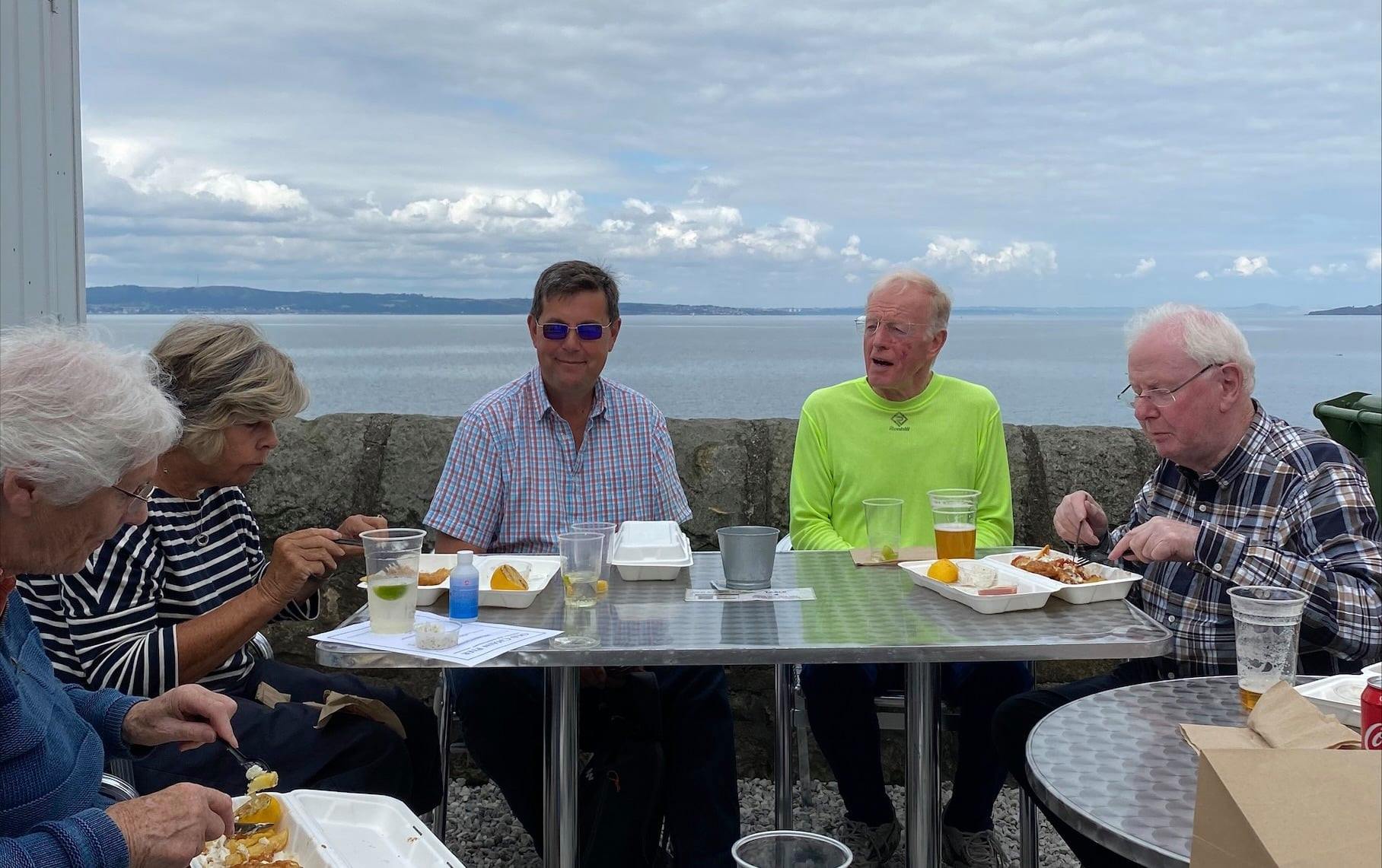 Three club par three challeneg - 18th of August 2021
On 18 August Rotary Club of Braids held our 3 club par 3 challenge at Swanston Golf. The weather was amazing like last year and we raised nearly £1,250 for charity. Many thanks to Swanston Golf, J & E Shepherd, Surveyors, Allingham & Co, Solicitors, Trinity Factors and Charwood for their support, to all the members of Rotary International in Great Britain & Ireland who took part and helped on the day and to the friends, family and public for taking part.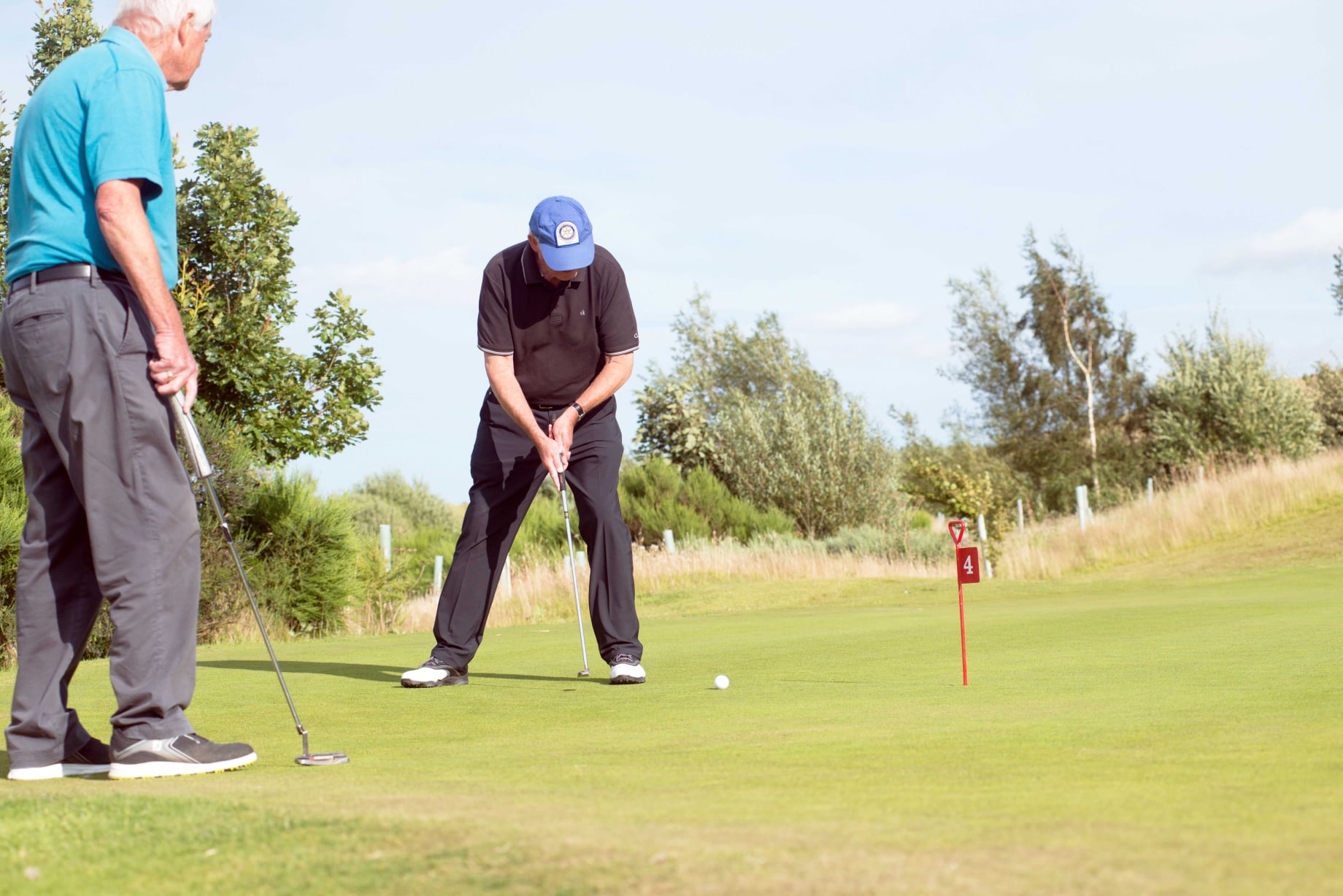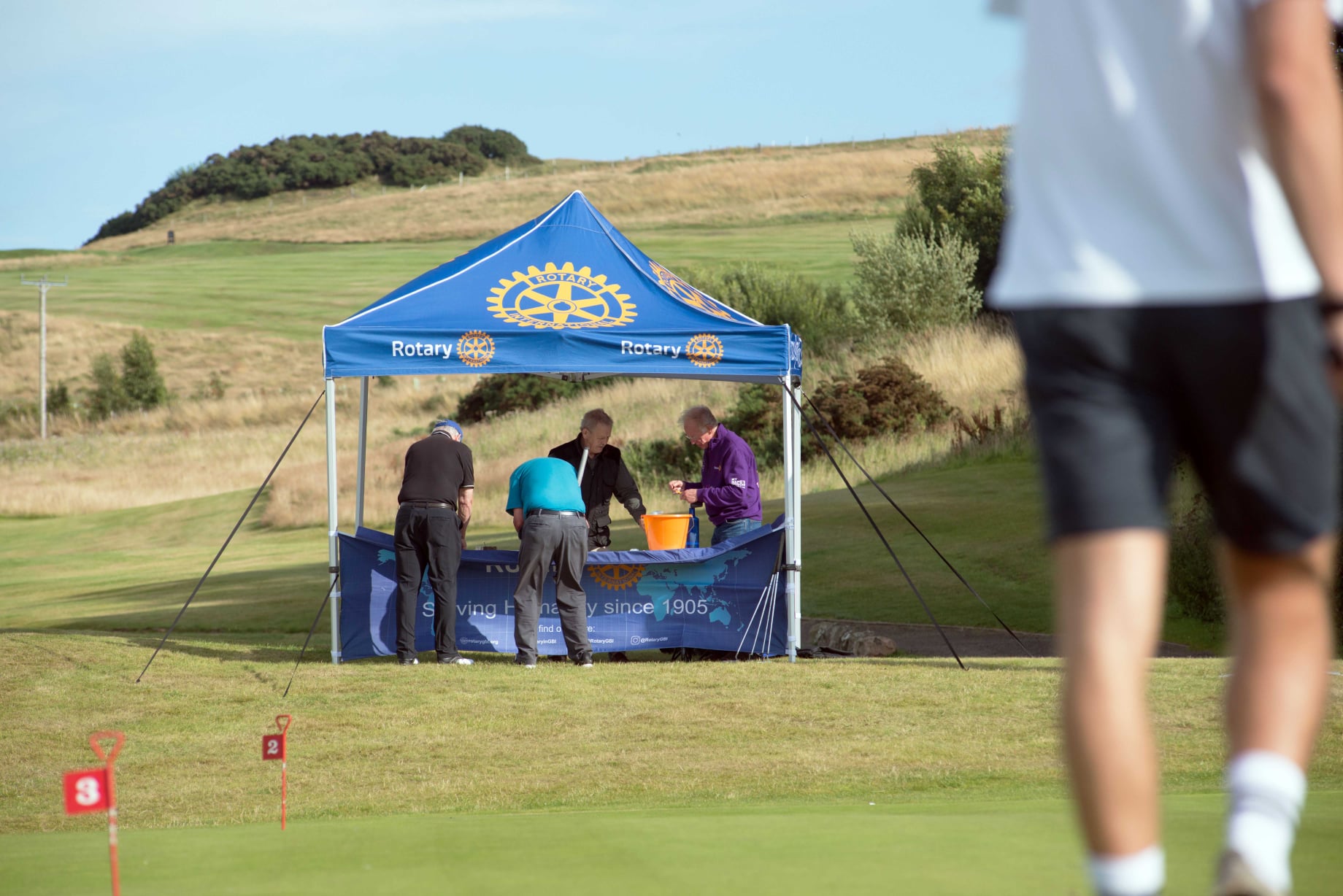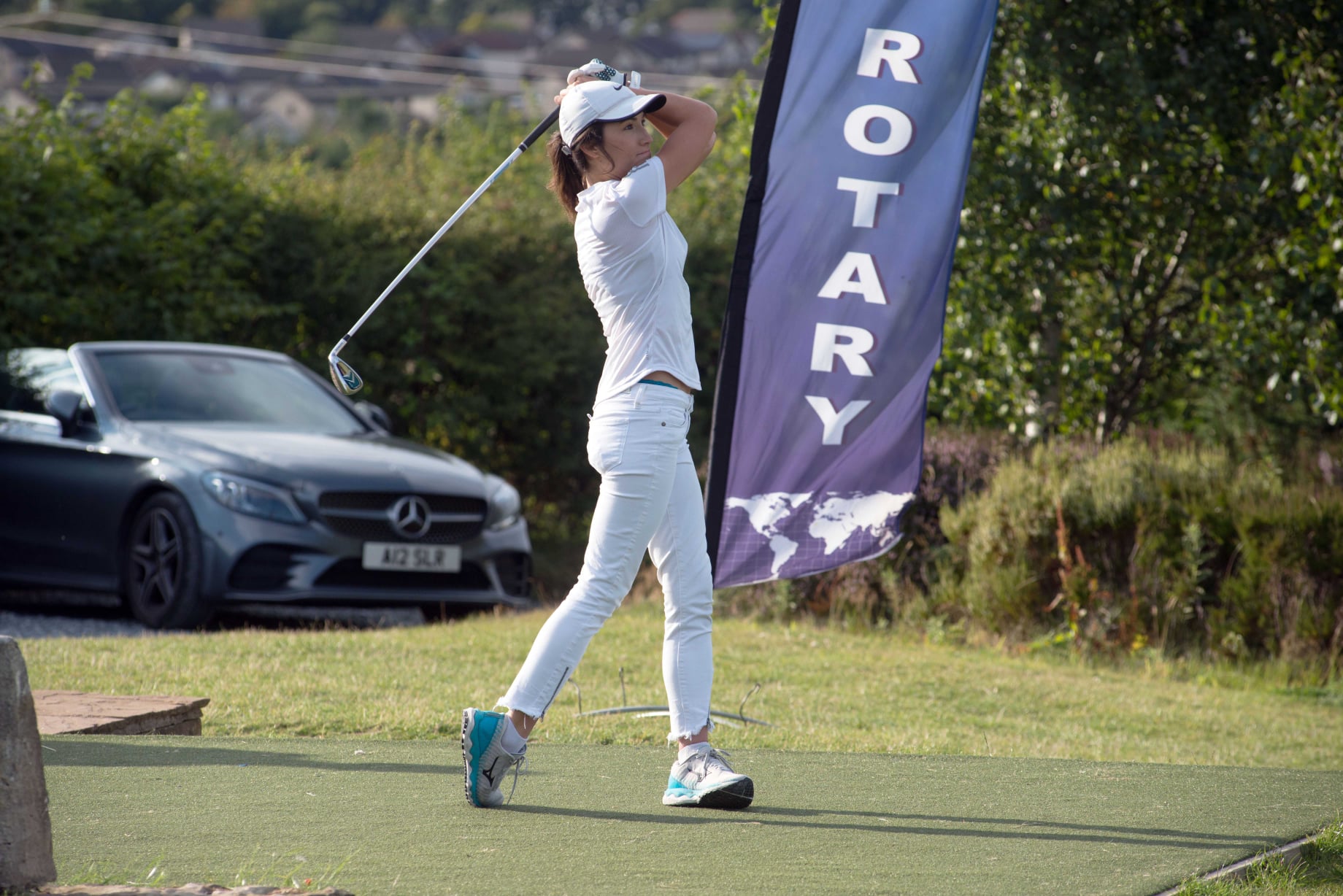 Update on school desk project in Tanzania - 18th of August 2021
Ffs Tanzania posted on their facebook page: "School Desks Project helps to solve the challenge of school children to seat down in the classroom for learning. Our school children need a comfortable environmental for learning, in order to understand and perform better. Let's join together to support our schools within UKEREWE SOCIETY even one desk for three school children, you can send direct the schools or through us. Our friends supports through us hundreds of desks, the manufacturing on progress!"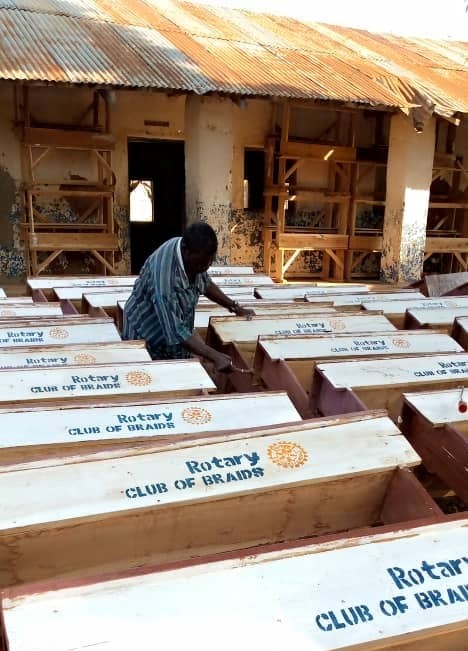 Rotary Club of Braids Newbury Rotary Club Rotary Helsingborg-Sofiero Vi Agroforestry We Effect East Africa Wizara ya Elimu, Sayansi na Teknolojia. UKEREWE COMMUNITY Ukerewe Development Youth Initiatives (U.D.Y.I) Ukerewe-Mwanza Family Ukerewe Island.
Burdiehouse Burn Valley Park litter pick and painting - 13th of June 2021
Very glad to be able to be out helping in the community again, some members of Braids Rotary attended Burdiehouse Burn Valley Park to assist with the litter pick.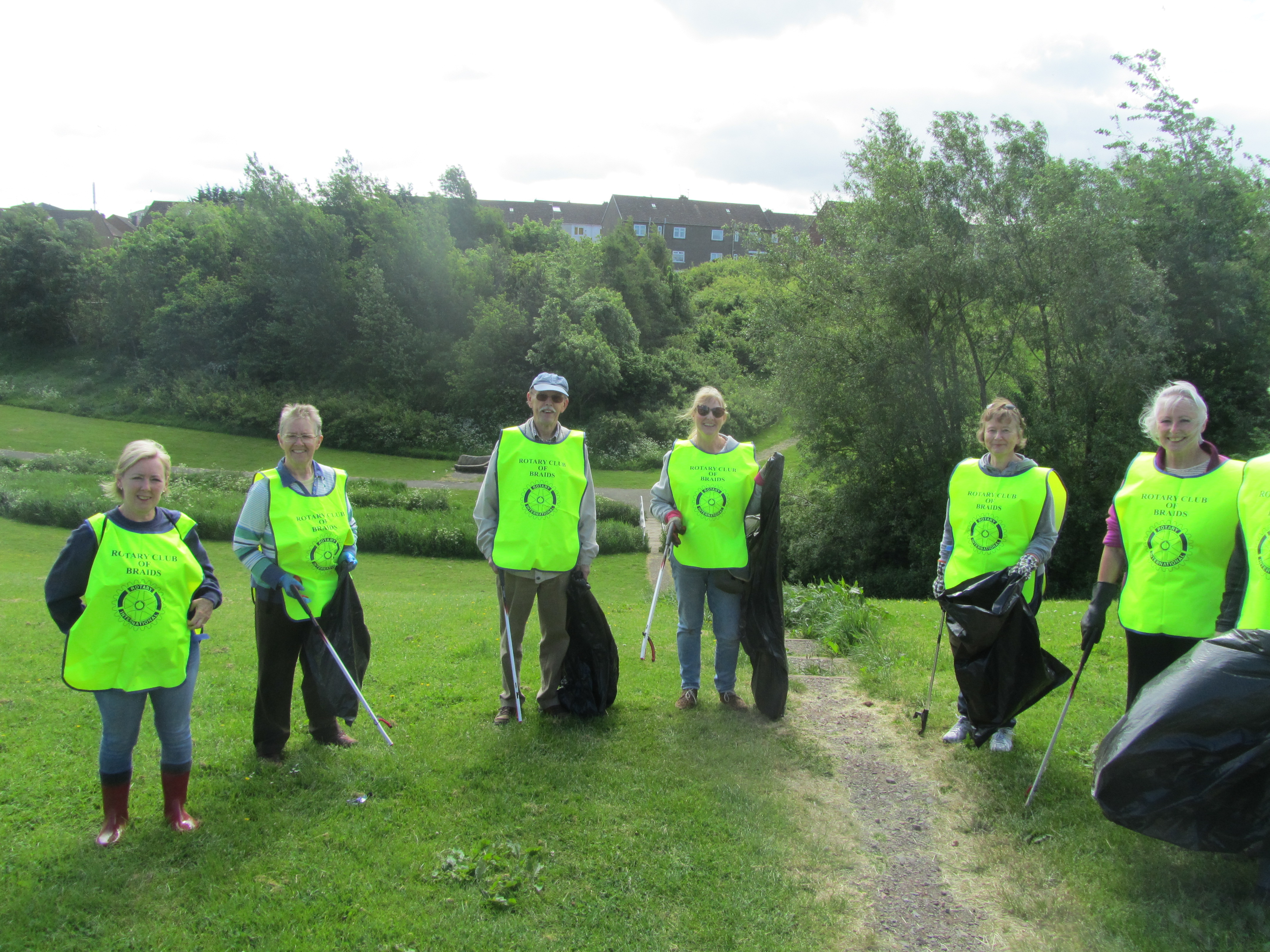 I am sure many were surprised by the scale of the park running from Straiton to Gilmerton Road but every one worked diligently to fill their rubbish bag with a variety of litter and also had the opportunity to enjoy the company and fellowship of friends in the sunshine.
In addition to the litter pick a few members also assisted the Friends of Burdiehouse Burn Valley Park to paint a mural that has been designed for their bothy in Gilmerton Dykes Street. The brightly coloured mural depicts the plant and animal life around the park and adds a splash of colour to the area. President Stewart and ADG Duncan showed off their skills with a paintbrush!
Rosemary MacLeod
Santa's Grotto - 17th of December 2020
For many years along with Braids Rotary I have been visiting your street with my sleigh and meeting many of you in the week before Christmas. Like everyone else I am unable to do that this year because of the pandemic, so I have come up with a different way in which you can let me know what you would like me to bring you for Christmas! Just ask an adult to register your interest in coming to visit me in my Grotto.
Please ask an adult to click here to register your interest via social media!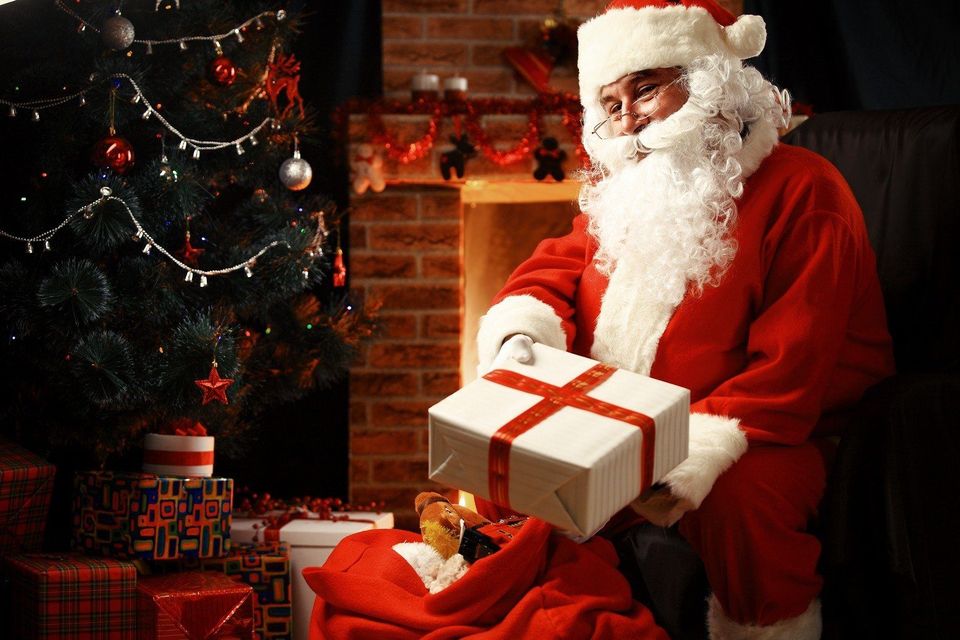 6,000 breakfasts a week for children in Tanzania
The Rotary Club of Braids is trying to raise funds to provide 6,000 BREAKFASTS A WEEK FOR CHILDREN IN TANZANIA. We will, therefore, be participating in a crowdfunding appeal run by GlobalGiving. The appeal will run from the 9th to the 27th of September 2019.
This project follows on from a very successful pilot project - so we know that it works. The project involves training teachers and pupils to grow crops in the (currently uncultivated) land around 4 schools on the island of Ukerewe in Tanzania. Once the crops are harvested, they are used to provide breakfasts to the pupils. Any surplus crops will be sold to provide funds for the schools to purchase equipment. We plan to implement this in 4 schools - with teachers from the pilot schools providing the training.
The nutritional benefits to the children are obvious, as are the educational benefits - through increased attendance and better levels of concentration.
If you would like to support this project, make your donation at
https://www.globalgiving.org/projects/food-production-in-school-grounds-in-tanzania/
We hope that you will be able to support this project and that you will make others aware of it. Thank you.
You can help support the Rotary Club of Braids when you shop online from over 3,000 retailers.
Use easyfundraising to shop with over 3,300 retailers including Amazon, Argos, John Lewis, ASOS, Booking.com, eBay, Boden, and M&S.
Every time you shop, you'll raise a free donation for Rotary Club of Braids, it's that easy!
Find out more: https://www.easyfundraising.org.uk/causes/rcofbraids/ or click on the banner below.
Your help will be greatly appreciated.

,
===================================================================
Young Golfer 2018
Once again Braids Rotary Club hosted their Young Golfer competition for 2018 courtesy of Mortonhall Glof Club.
The winners were as follows:
1st Scratch: Danny Hendry, age 17; 73 Gross.
2nd Scratch: Malachy Hayward, age 16; 74 Gross.
1st Handicap: Alastair Kerr, age 17; 62 Net (78 - 16).
2nd Handicap: Sean Gallacher, age 13; 67 Net (84 - 17).
Some of the participants were: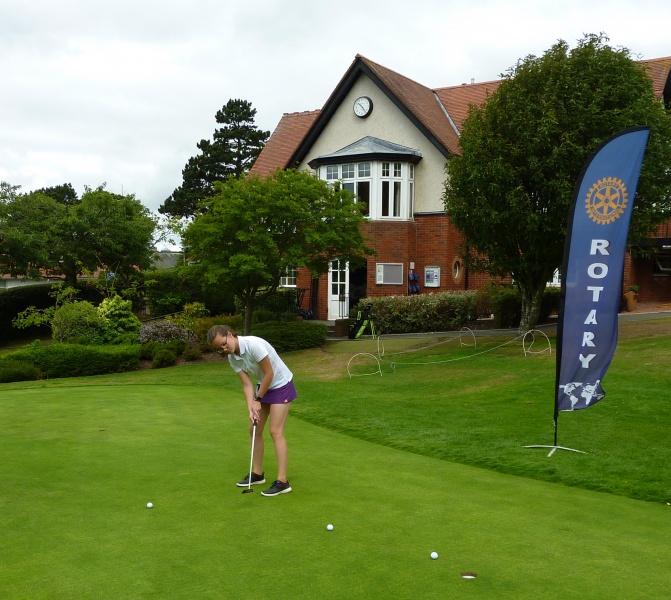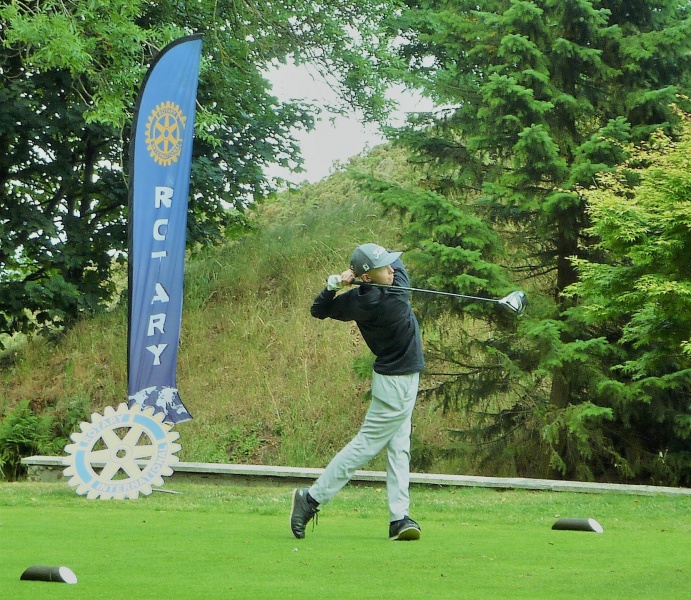 Alicja Gorka, RCB Young Golfer. Connor Currie, RCB Young Golfer
Lucy Morrison, RCB Young Golfer
Jack Kinghorn, RCB Young Golfer.
And not forgetting our thanks to the organiser, Bill Cuthbert: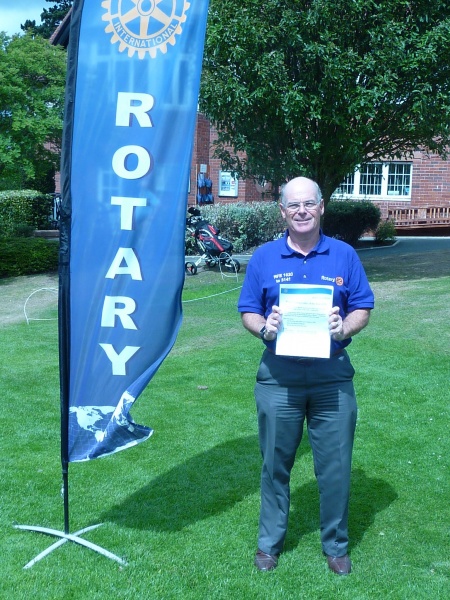 Know Your Blood Pressure Day 2018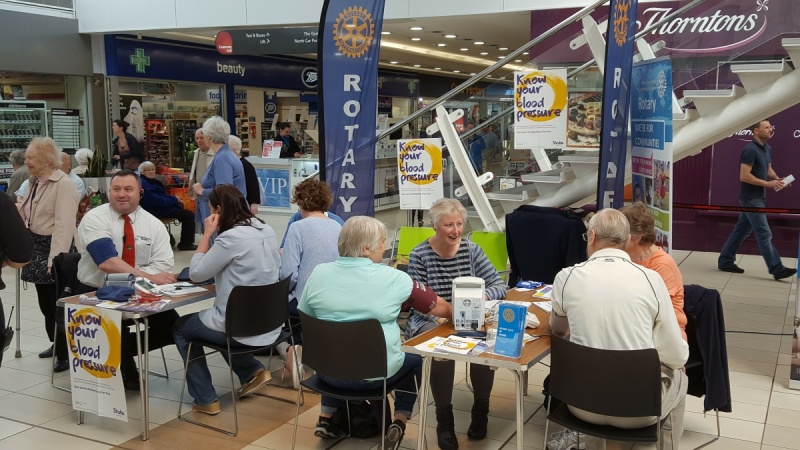 Members of Braids Rotary Club Edinburgh with volunteers from the Sick Children's Hospital held a Know Your Blood Pressure Day at Cameron Toll Shopping Centre on 21 April 2018. This has become an annual event in support of the Stroke Foundation organised under the wing of our Community & Vocation Committee.
These days have proved very worthwhile, with a number of people being directed to their GP's for further checks. High blood pressure is one of the silent killers that can sneak up on us unnoticed until it is too late. These events help members of the public be proactive in caring for their health.
Braids Rotary Club Put The FUN in Fundraising
Saturday 12 August 2017 saw some members of Rotary Club of Braids in Edinburgh enjoying an afternoon of camaraderie, prosecco and strawberry & cream scones with partners and friends at a garden party hosted by Stewart Sandilands (Fundraising Convenor) and his wife Gillian.
The objective was to help raise funds to support Braids Rotary community projects and our thanks go not only to Stewart and Gillian but their friends who worked hard creating and collecting items to sell on the day and setting up the event.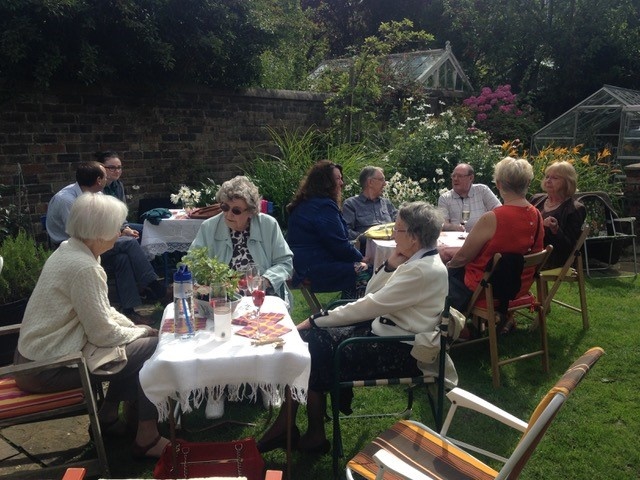 As you can see above, the guests had a very enjoyable afternoon and Stewart even arranged for the sun to shine for us! More pictures of the event and its offerings can be seen at the Fundraising page here
Thanks to the hard work of Stewart, Gillian and their friends and the generosity of the guests, the sum of £725 in the all too short two hours we were there.
District Governor's Visit
Yesterday, 9 August 2017, our Club was pleased to be able to host District Governor Lindsay at its weekly meeting.
Completely without notes, he gave members a very stimulating and motivational presentation where he recognised all the notable things Rotary International and our own Club achieve and frequently without recognition.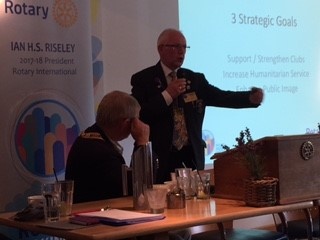 He went on to brief members on the new RI President's Theme "Making A Difference" and the manner in which all clubs will consolidate information on our goals and objectives for each year and the way we record our progress and success against those goals.
Because Rotary Clubs very often work quietly in the background, the general public is unaware of the tremendously important role we play in responding to world disasters and combatting illness, e.g. as in our aim for many many years to eradicate polio.
He finished his presentation by handing over a pennant commemorating the new Rotary International President's Theme "Rotary Making a Difference".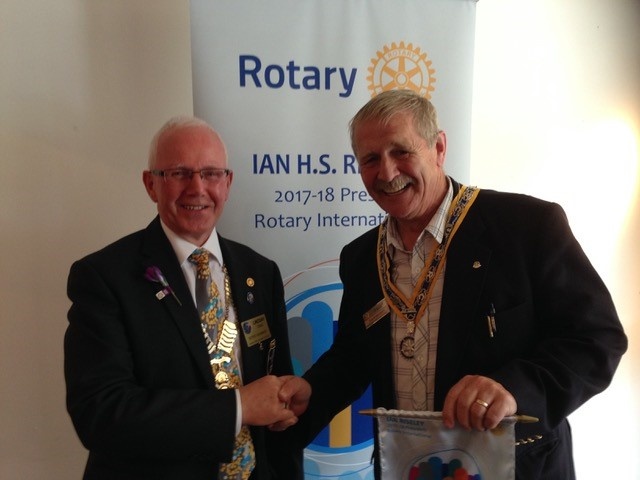 The Rotary Club of Braids continues its work in the community, sometimes without members of the public being aware of. Last year members planted a large number of daffodil bulbs in the grassy area by Tesco's Colinton Store and this spring, we were rewarded when they burst into bloom.
Below is a picture of a few of them 'braving' the Scottish spring.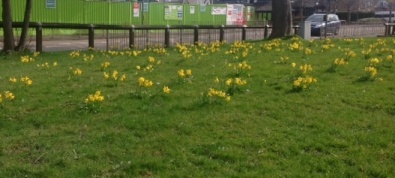 This Wednesday 15 March 2017, the Rotary Club of Braids was honoured to host the Rt. Hon. Donald Wilson, Lord Lieutenant and Lord Provost of the City of Edinburgh.
He gave members an interesting insight into his roles and duties in this dual role, together with some examples of the highlights during this time. He also got the opportunity to meet four of the five Schoolchildren awarded Georgia Scholarships by Rotary Clubs. A photo opportunity was granted and shown below with the consent of all concerned.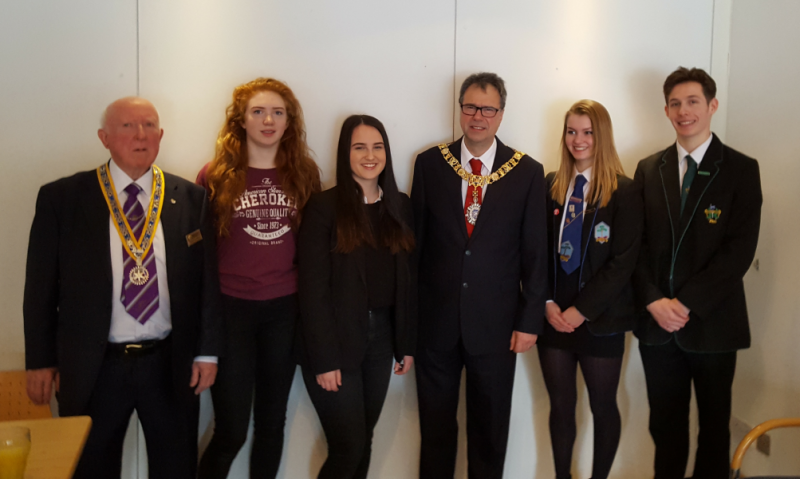 From Left to right Kenneth Skinner (President), Lily Bownes,Ciara Simms, Rt Hon Donald Wilson, Erin MacInnes and Henry Spier.
Thanks to the generosity of Wilkin & Son Ltd who are donating their Tiptree Jam to Rotary, it hopes to raise £1 Million from the sale of its jam and through other fundraising initiatives, like tea parties,
This sum will then be converted to £3 Million by the Bill & Melinda Gates Foundation in the final push of its objective to End Polio.
Here you can see packs being prepared for distribution to all Rotary Clubs.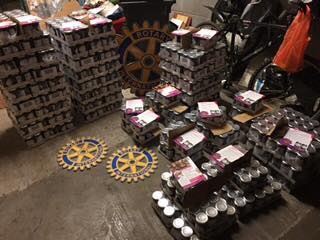 This is a truly worthwhile cause and all help in meeting this goal will be gratefully accepted.
The week ending 30 September 2016, we welcomed our RYLA students with James & Katrina Gibbons from Motherwell & Wishaw RC. James reminded us that for the 26 years that RYLA has challenged young people, Braids Rotary Club has sponsored students every year.
This year's group were Louise, Hannah, Robbie, Kelly and Joseph, seen here with our Youth Convenor Rory Mackenzie. Robbie is holding the impressive John Mair Trophy awarded to the best participant, as voted by their fellows. The group had an amazing time and gained a tremendous amount from their week away.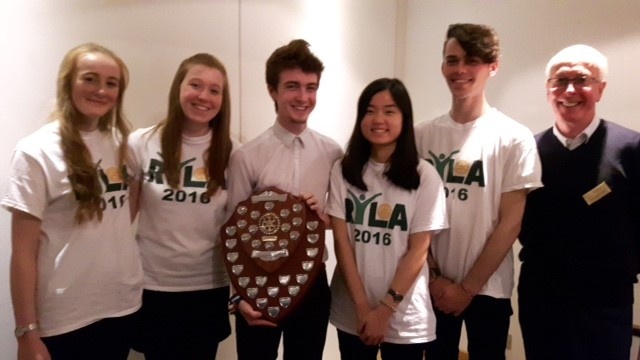 Below is that group with their well earned certificates.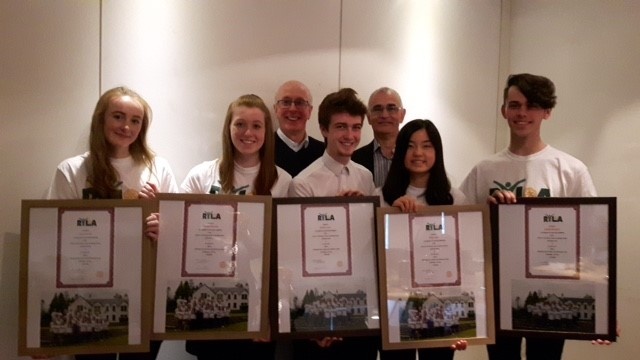 Braids Club's Young Golfer of the Year 2016
Once again the Rotary Club of Braids, Edinburgh, hosted this annual competition for young golfers. Follow this link to see some of the competitors and learn the results.
Outgoing President Caroline Kehoe's Handover Speech
'The following is the text of outgoing President Caroline's handover speech to this year's President Kenneth Skinner and her thanks to members for their support through her year of office.'
"During my year in office, I have appreciated the huge amount of support received from Members, Conveners and Past Presidents. In particular Philip Peacock, and his deputies John Stevenson and Jim Strathie who have shared their pearls of wisdom with me. Philip welcomed me to the world of rotary emails. I had not realized how many emails I would receive but have been reassured to know that Philip received almost twice as many. I want to thank Philip for all that he has done as an outstanding secretary, by my side, keeping me on the right track and giving calm advice over the past year. Philip has health issues so I wish him well in the months ahead.
Conveners/ members you have all been very quick to respond to my requests/questions/ or maybe it was my demanding manner – anyway, your responses have been much appreciated. Jim Bryce with his amazing ability to produce his magic with figures. John Stevenson, for his thought-provoking reflections, Henry Philip for his unstinting toil in the production of the Braid sheet. David Duff keeping your mind and body fit with the activities he organizes. Ken Logan, battling the elements getting banners erected outside also his acrobatics in getting the Rotary Wheel placed above my head. Mike Rogers with his ability to capture some of our activities on the web and facebook page. The list is endless but to each and every one of you my heartfelt thanks for your support and friendship
The year has passed very quickly, I have enjoyed being your President, lots of happy occasions celebrated to look back on but now it is time to hand the reigns over to Kenneth. Kenneth, I wish you a happy, successful year as President of this fantastic club that I am proud to be a member of.
Thank you."
Caroline
Georgia Scholar Host Rob Ponder and Scholar Lisa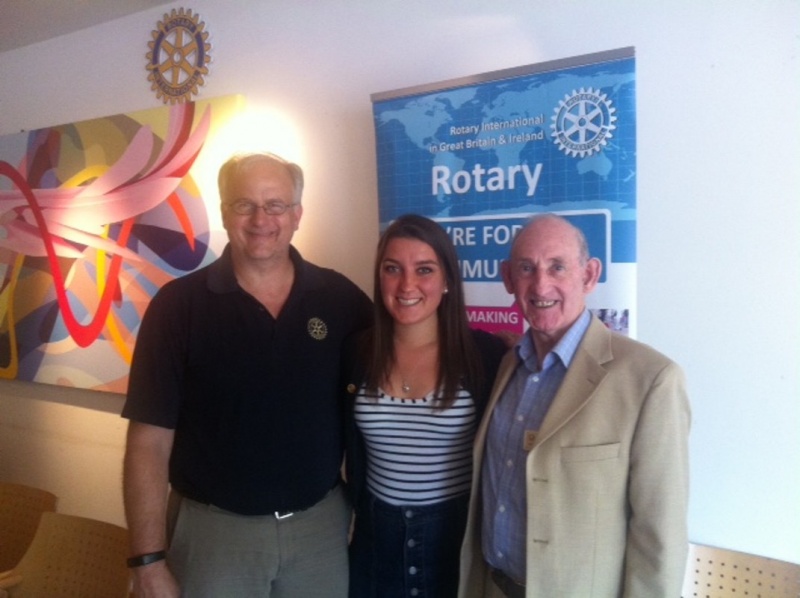 Lisa Wilson, one of the Club's Georgia Scholars returned and visited the club with her host of the past 9 months Rob Ponder of the Rotary Club of South Gwinnett County in District 6910 North Georgia, US. (Pictured above with our very own John Stevenson on the right). Rob had proved an excellent host, being himself a past Assistant Governer and well versed in the ways of Rotary.
He gave our members an interesting and informative impromptu presentation on the origins of the Georgia Scholarship Programme, born to give access to University education to those overseas who could not afford it. The three Clubs in Georgia share the cost of supporting the scholars, fees, accommodation and extramural activities. Their view is that this scholarship is as much about cultural exchange as education.
Lisa had proved to be a very popular applicant with all three clubs making her their preferred scholar and having to draw lots. I think that Rob was more than happy that his club was successful. However, he did point out that far from being a holiday for Lisa, she was kept very busy with studies, visits and other cultural activities.
We hope that Lisa will attend another meeting to tell members about her experiences and the benefits she received from the Georgia Scholarship.
Meanwhile, Rotary Club of Braids, South Edinburgh wishes to thank Rob and his family for hosting Lisa and the Rotary Clubs of Georgia for providing such wonderful opportunities to youngsters around the world.
Caroline Kehoe
President
Firrhill Commemoration Evening
Each year, Rotary Club of Braids, Edinburgh has presented a cup to Firrhill School pupils who have shown initiative and dedication in Citizenship and for involvement in a variety of community projects.
This year, two pupils have been working together throughout the year. Caroline McNish and John Reid were jointly awarded the Braid Rotary Cup for their role in making meaningful connections with two other schools that form the 'Firrhill Village' - Oxgangs and Braidburn.
John Stevenson was pleased to make to the presentation of the cup to Caroline on behalf of Braids Rotary Club. John Reid was unable to be present to hel Caroline receive the cup. Caroline receiving the cup on behalf of herself and John from our very own John Stevenson.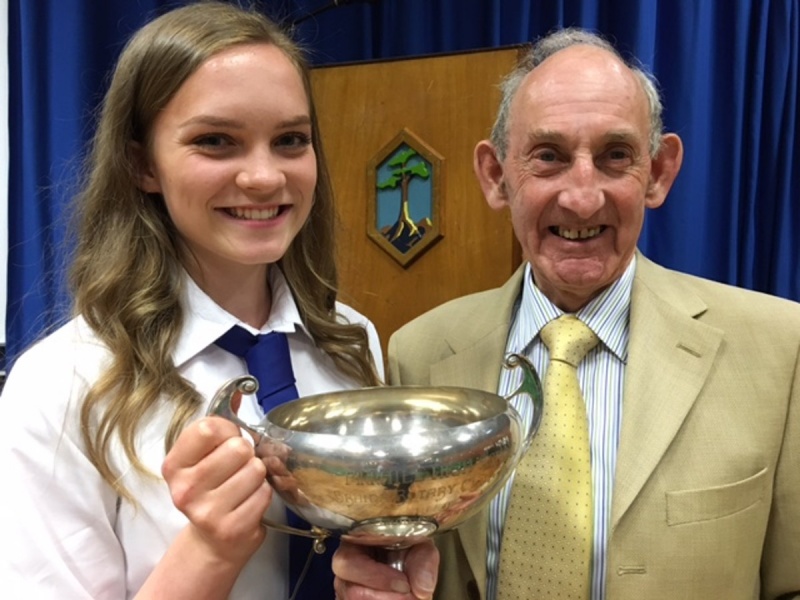 Caroline receiving the Braids Rotary Cu from John Stevenson.
Tea With Caroline
President Caroline hosted an afternoon tea for lady members and wives of current and past members of the Club. Co-hosted at the home of Rosy Carmichael the guests had a good time by all accounts and the weather was very kind to them, as you can see from the pictures below.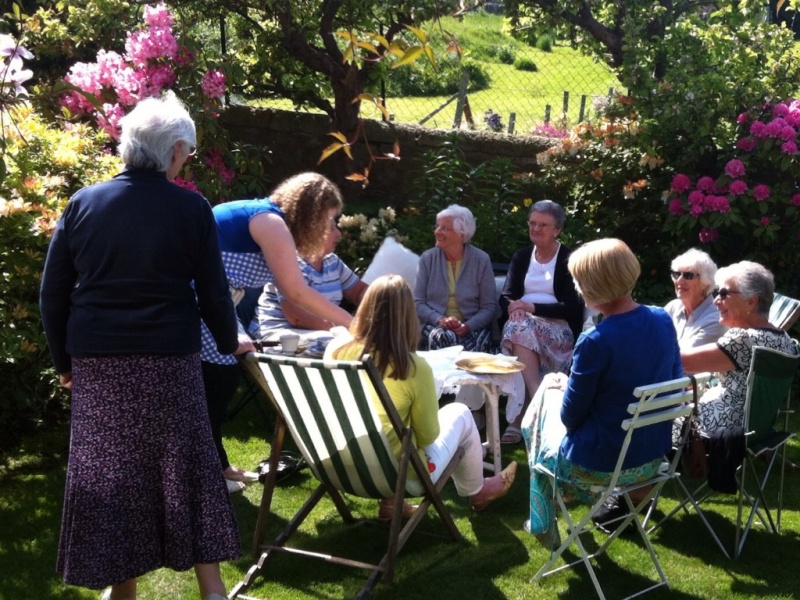 Thanks to Caroline and Rosy
A Thank You From Ukerewe
Alasdair Seale accepted the following Certificate of Appreciation from Ukerewe District Council and The Rotary Club of Nansio-Ukerewe Island on behalf of the Rotary Club of Braids for its projects in support of their local community.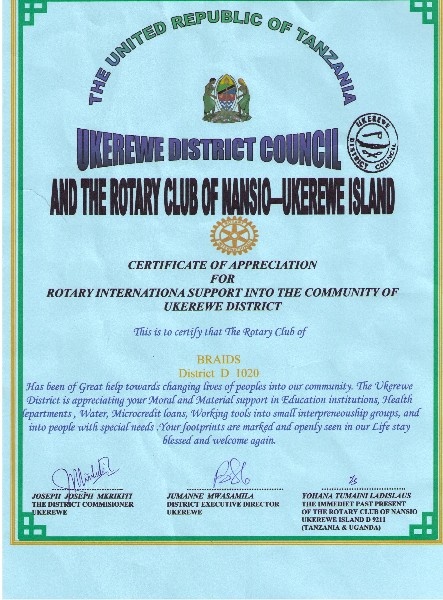 David Duff, a Founding Member Celebrates His 90th Birthday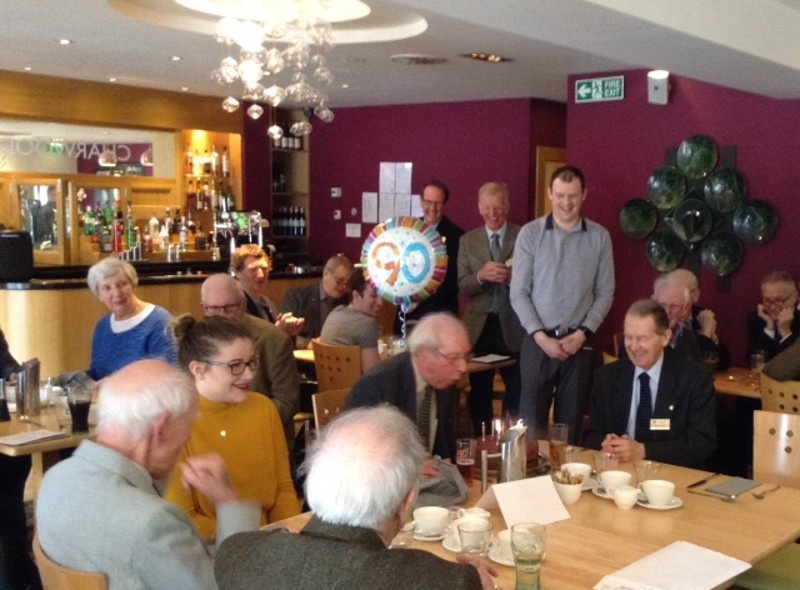 David Duff, who was one of the founding members of the Rotary Club of Braids celebrated his 90th Birthday at Wednesday's Club Meeting. To mark his long and valuable service to the club he was unanimously voted and awarded Honorary Membership of the Club.
Pictured with him at the table are three of the remaining founder members, John Cameron, Henry Philip and Mike Munro.
As you can see, despite being 90 he still had more than enough 'puff' to blow out all the candles on his cake.
st wishes to you David.
Young Musician of The Year Update
Congratulations go to Naomi Anderson who has won through to the next heat of this competition, which will be held in the
North Inch Community Campus,
Gowans Terrace,
Perth PH1 5BF
Between 13:00 and 17:00 on Saturday 16 April 2016.
If you are thinking of going, I'm sure that Naomi and her parents will appreciate the additional support.
Our best wishes for her future success go with her.
Young Musician of the Year 2016 Final

Great News. Naomi Anderson, one of the entrants supported by RC of Braids has won through to the District Final of the Young Musician of the Year competition.
The District Final will be held at 2:00 pm on Sunday 6th March 2016 at James Watt Centre Heriot Watt University, Edinburgh.

All support at this event will be greatly appreciated, so do please come along.
======================================================================
Fundraising Success
Our thanks to M&S at Kinnaird Park, their staff and their very generous customers who helped us raise over £3,000 for the nominated charities of both M&S and ourselves yesterday. Thanks also to all those Rotarians who turned up to help pack bags at the check-outs or man the 'tin-collecting' at the entrance.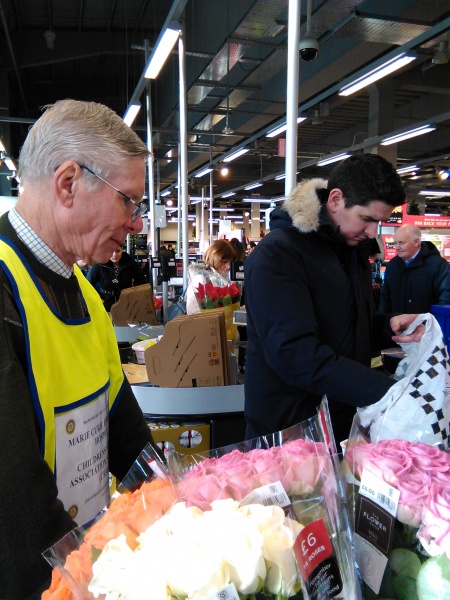 Ian here is carefully packing a shopper's bags for him.
Fun in the Community
Children of Buckstone Say Thank you to Santa
It just goes to show how our community responds to events because Santa was given little gifts and thank you notes from grateful and excited children as he toured the Buckstone area last night. Santa wants to thank the children and their parents for turning out to see him on such a cold night and for their generosity in donating to the local charities we support.
Below is an example of the children's thankyous.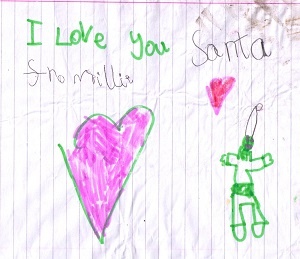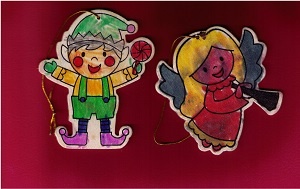 Santa Drops into the Charwood
On Monday evening 7 December, Santa dropped into the Charwood Restaurant & Bar to rest his reindeer before visiting local residents. Some children (and mums) managed to get to meet him before he set off and Santa handed out sweeties to those lucky enough to catch him.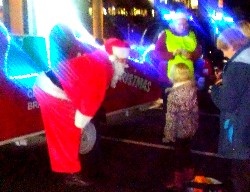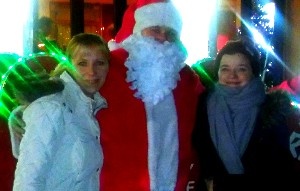 ===================================================================
Fun & Fundraising
While members work hard to raise funds and support local communities, we also know how to have fun doing it. Yesterday (9 November), members met at David Henderson's Henderson Wines to enjoy a port and cheese tasting and so raising more funds for this ticketed event.
Below you can see that they definitely enjoyed the experience and assured us that two glasses (one in each hand) was definitely for the purpose of tasting and comparison!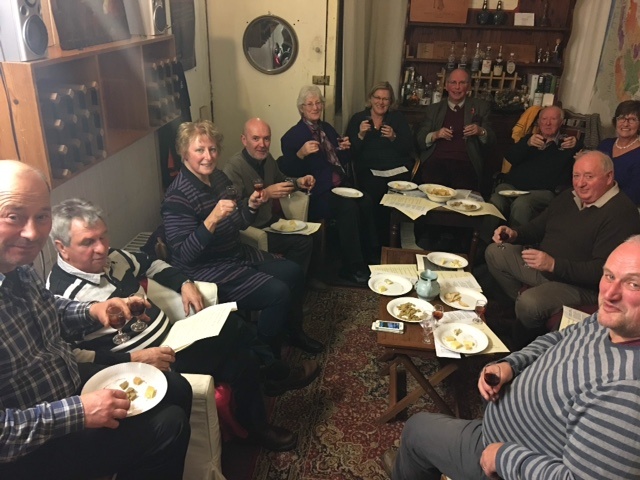 ===================================================================
Worldwide Fellowship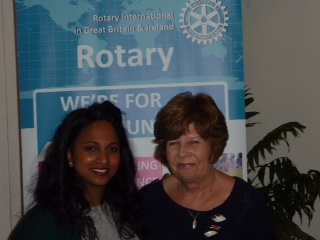 4th November 2015
President Caroline Kehoe was pleased to welcome visiting Ambassadorial Scholar Amali Aluthgamage from Melbourne, Australia. Amali joined our club's lunchtime meeting on 4th November.
---------------------------------------------------------------------------
Club President Enjoys the Entente Cordiale
Recently our President visited France on holiday and was warmly welcomed into a gathering of our French friends. That there was good food, good wine and good entertainment on hand was a happy coincidence!!
As you would expect from members of Rotary, they looked after her and made sure she had a good time and there were plenty of members around to do that. There were four clubs involved, Gordes, APT-Cavaillon, Cavaillon and L'Isle-sur-la-Sourge.
Below left is Caroline with Martine Sanchez, President of Cavaillon Rotary Club and on the right, with Claude Ferrier, past DG of District 1760.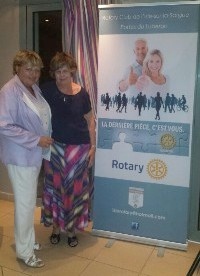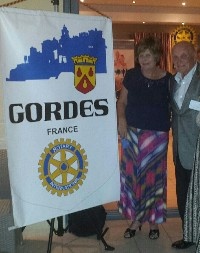 ===================================================================
Braids Rotary Club Members Get a 'Mine' of Information.
Fourteen Braids Rotary Club members enjoyed an informative and fun visit to the Newtongrange museum on 08 September 2015.
We were given a private tour of the site by Jim Cornwall. Jim proved to be an extremely knowledgeable and amusing (think of the Les Dawson school of comedy) guide. He explained the long history of the colliery and many aspects of mining (the 1,500ft shaft and cage lift, work at the coal face, processing the coal, the impressively huge Victorian winding system and the life of miners).
I think we all discovered things we did not previously know about mining. One member of our group did suggest the being a miner was a "cushy" job (he was joking, I think) but no one seemed prepared to consider mining as a new career opportunity!
Thanks to Jim Campbell for organising an excellent outing.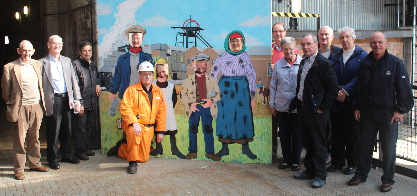 ---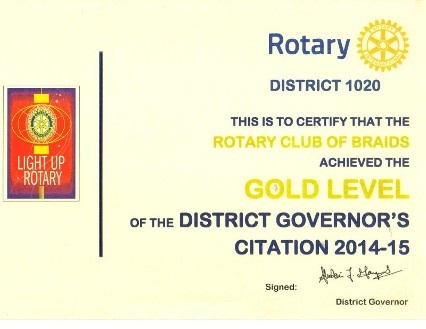 The theme for all Rotary Clubs was a challenge to Light Up Rotary issued by Gary C.K. Huang RI President-elect. He said:
Quoting Confucious: "It is better to light a single candle than to sit and curse the darkness."
This one line sums up everything we think in Rotary. There are so many problems in the world, so many people who need help. And many people say, "There's nothing I can do." They sit there. Do nothing. Everything stays dark. But this is not the Rotary way.
The Rotary way is the Confucius way. The Rotary way is to light a candle. I light one. You light one. More than 1.2 million people all light one. Together, we light up the world. And this is what I want you to do. I want you all to Light Up Rotary.
Kenneth Logan as President of the Rotary Club of Braids was pleased to accept the District Governor's Citation for reaching Gold Standard under this banner.
The Rotary Club of Braids is a vibrant and active club. Why not join us and be a part of this?
---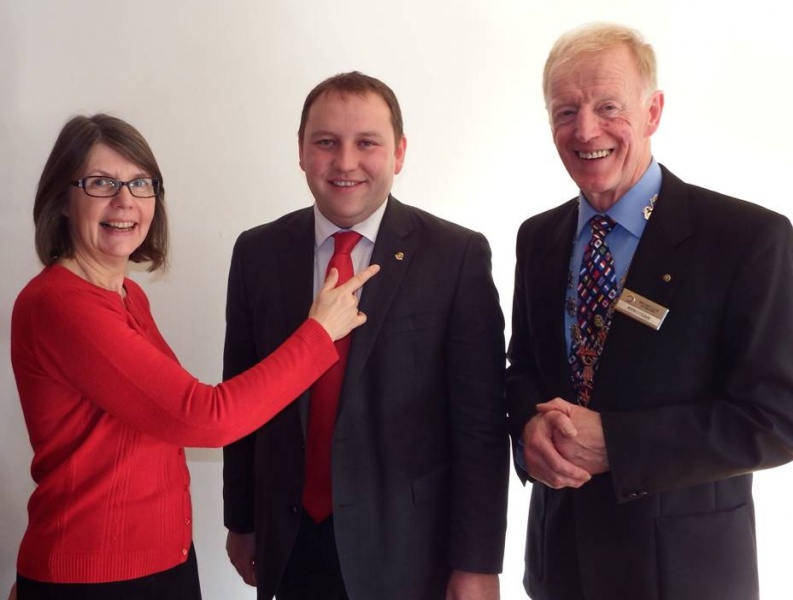 Newest member of Braids Rotary Club Karen Tarn meets new honorary member Edinburgh South MP Ian Murray at the Club's luncheon where Ian was honoured for his services to charities throughout the UK in being instrumental in the introduction of the Gift Aid Small Donations Scheme which, according to the Treasury, could benefit charities nationally by £100m during the next financial year. The Club prompted Mr Murray to ask a question in the House of Commons which had led to the introduction of the new scheme. For that reason, Immediate Past President Kenneth Logan (right) was delighted to install him as an honorary member.
The Rotary Club of Braids meets each Wednesday at Myreside Pavilion, 79 Myreside Road. Edinburgh EH10 5DB. We gather from 12.00 with the meeting starting around 12.40pm and finishing sharply at 2.00pm.
Our Charities
Edinburgh Rotary Club of Braids supports many charities, both local and worldwide.
Our principal charity is the Marie Curie Hospice

The Rotary Club of Braids Charitable Trust is regulated by the Office of the Scottish Charity Regulator