Welcome to the Rotary Club of Braids in Edinburgh. Braids is a large and active Rotary Club on the south of Edinburgh and a Charity which delivers the aims and objectives of Rotary International - the biggest humanitarian organisation in the world -with over 1.2 million members sharing a common philosophy of "Service above Self".
Rotary Club of Braids, Edinburgh has a well-earned reputation as a friendly and progressive Club where the emphasis is on fellowship and enjoyment in all we do.
Our Club has a very enjoyable and varied programme of entertainment and activities, including
Golf,
Curling,
Bridge,
Dinners,
Visits to local attractions.
At our lunchtime meetings members (and guests) enjoy a comprehensive and engaging programme of speakers and projects
But it's not just about enjoying ourselves, we also have a serious side that is just as important.
Supporting Communities
We engage the local community over the South of Edinburgh in presenting challenges to help with the development of young people and raise funds to help those less advantaged than ourselves both at home and abroad.
We provide vital funding for numerous local charities and to support overseas projects.
Local projects
Have included the provision of a defibrillator to local Community Sports Centres,
Supporting patients and carers of the Headway Group (Edinburgh) by funding and arranging trips and excursions.
We are also very active in Youth Services, supporting a number of personal development activities through local schools.
We have provided Amazon Tablets to a local charity - the Eric Liddell Centre - for use by the clients of their Day Care Service for older people with dementia.
International Projects
Regularly include the funding of Shelter Boxes and Aqua Boxes to victims in disaster areas,
Special projects such as refurbishing a Nansio District Hospital in Ukerewe, Tanzania and the potential to support a rainwater harvesting project also for that hospital.
We have also provided funding for local people of this area of Ukerewe to build desks for the children of the local school, which previously did not exist.
These are just some of the things we get involved with, so why not visit us soon and see how you could get involved. You will be made most welcome.
John Murray
President
| | |
| --- | --- |
| | Visiting Rotarians and guests are always welcome. Interested in joining us or becoming a member of the Rotary Club of Braids? Then Click here. |
Find us on Facebook!

======================================================
Rotary is re-using for charity
Rotary Club of Braids is delighted to launch a charity collection with a difference. We're collecting things you might throw away – but we can reuse, recycle or sell them with 100% proceeds going to charity.
Look out for our bright red swing bins in various locations in south Edinburgh. Many businesses and other organisations have agreed to help. You can find our special bins at Eric Liddell Centre and Trinity Factors in Morningside, Edinburgh News at 127 Comiston Road, Home Hub at 14 Buckstone Terrace and Liberton Kirk, Paper Rack at 145 Liberton Brae and Liberton Post Office at 4a Liberton Gardens.
We will welcome donations of these specific items – all of which are reused in the poorest countries, or sold to travellers, collectors, currency dealers and on eBay etc.
Harry Potter books in any condition (sold via our partners - The Elephant House)
Foreign and old British currency – notes, coins and obsolete currency of every sort
Spectacles are reused – especially in India and Africa
Sunglasses go to Tanzania where there's a high concentration of albinism
Spectacle cases – well known branded cases sell well on eBay
Mobile phones of any age, condition and quality. Sold for important precious metals.
End of Curling Season
Another Curling Season at Murrayfiled Rink completed successfully, with lots of fun for all who participated. We just have one Bonspiel in Perth next week. Roll on next season. (photo to follow)
Youth Services Team
Our Youth Services Team have been busy working with local schools over the last few months encouraging pupils to enter the competitions available. This included Young Writer, Young Photographer and Young Technologist.
Here are some of the Young Writer Competition winners (photos to follow)
The Braids Rotary Young Golfer Compeition will be held in July, so please watch this space!
The Rotary Braids Competition will be held on 26th July at Mortonhall Golf Club. Please contact Pam Dixon at pamdixon56@hotmail.com for details,
Social event at Saughton Gardens
Latest social event for Rotary Braids was a trip to Saughton Gardens, followed by lunch at their cafe. Lovely to get together again. While dry, it was not the warmest of days. At lunch some people had an overhead heater...............others did not!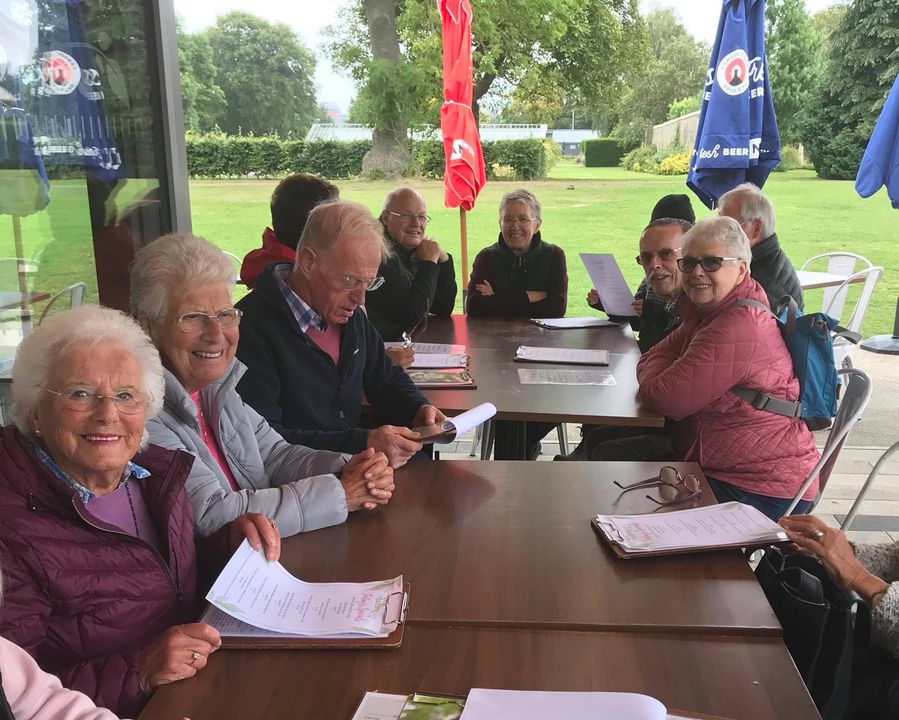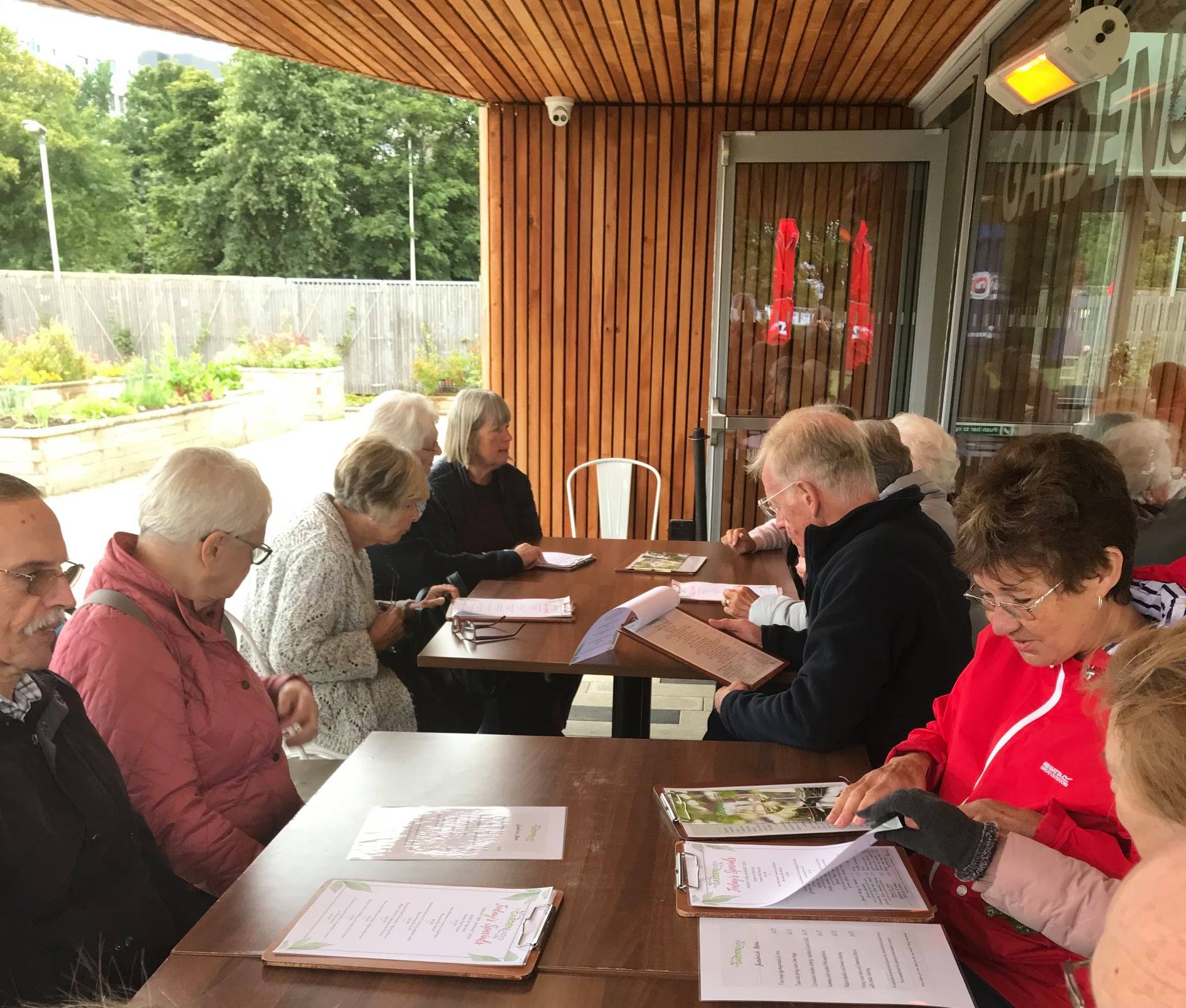 Face-to-Face instead of Zoom! - 19th of August 2021
Members of Braids met for a short walk from Warriston/Trinity to Newhaven and met more members for lunch at the Old Chain Pier. It was lovely to meet people face to face rather than over zoom especially on a lovely sunny day. More chances to meet up in person are being organised!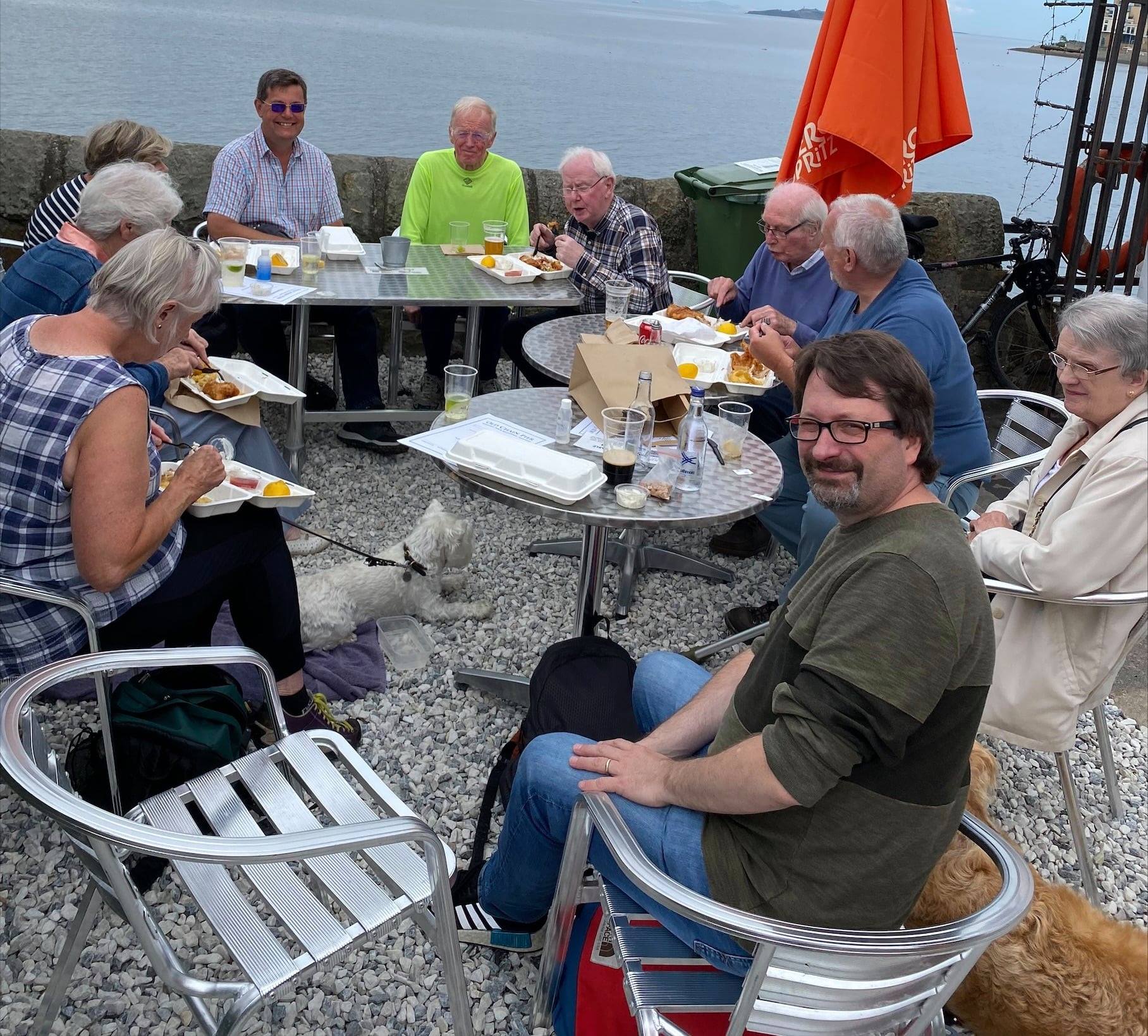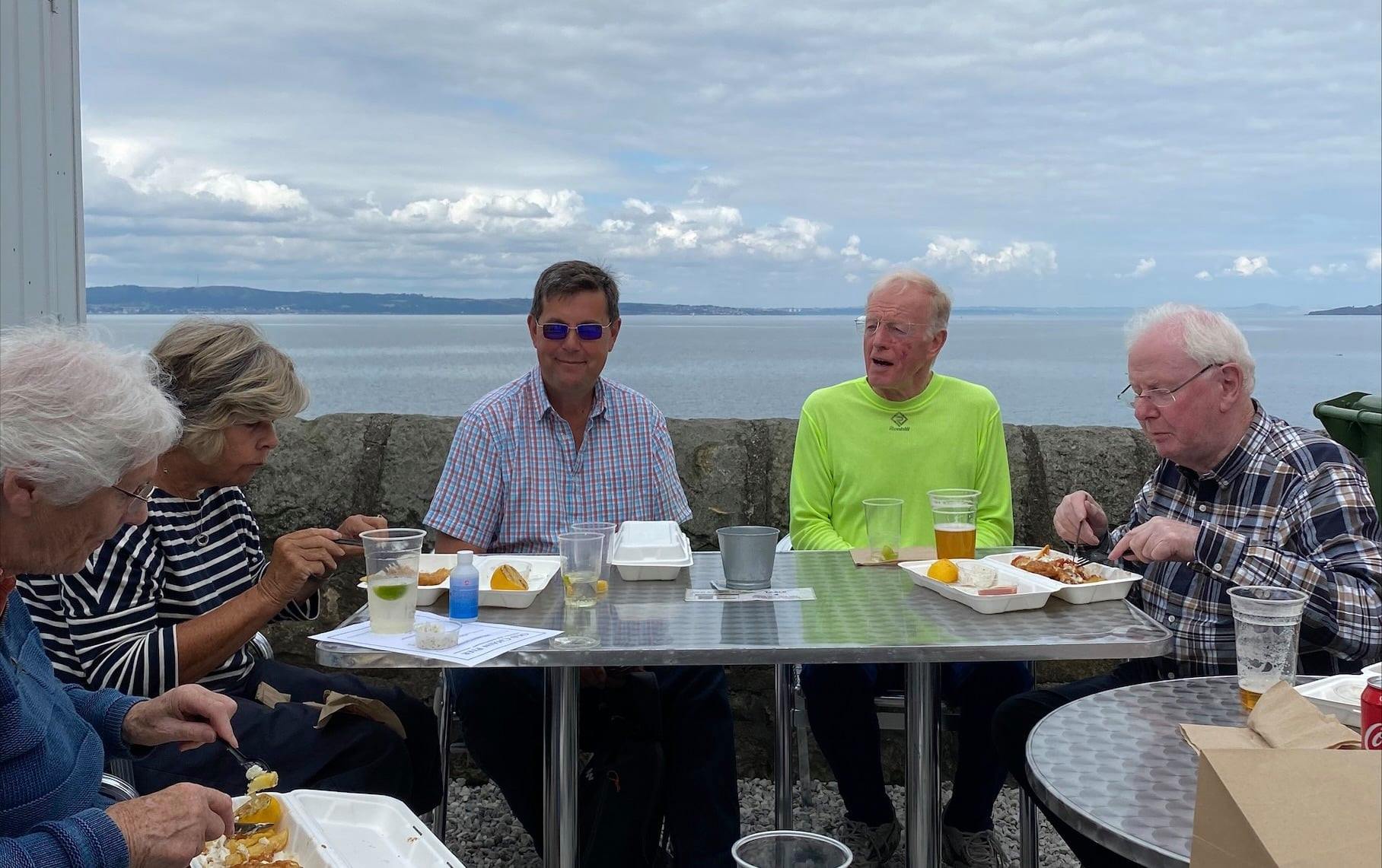 Three club par three challeneg - 18th of August 2021
On 18 August Rotary Club of Braids held our 3 club par 3 challenge at Swanston Golf. The weather was amazing like last year and we raised nearly £1,250 for charity. Many thanks to Swanston Golf, J & E Shepherd, Surveyors, Allingham & Co, Solicitors, Trinity Factors and Charwood for their support, to all the members of Rotary International in Great Britain & Ireland who took part and helped on the day and to the friends, family and public for taking part.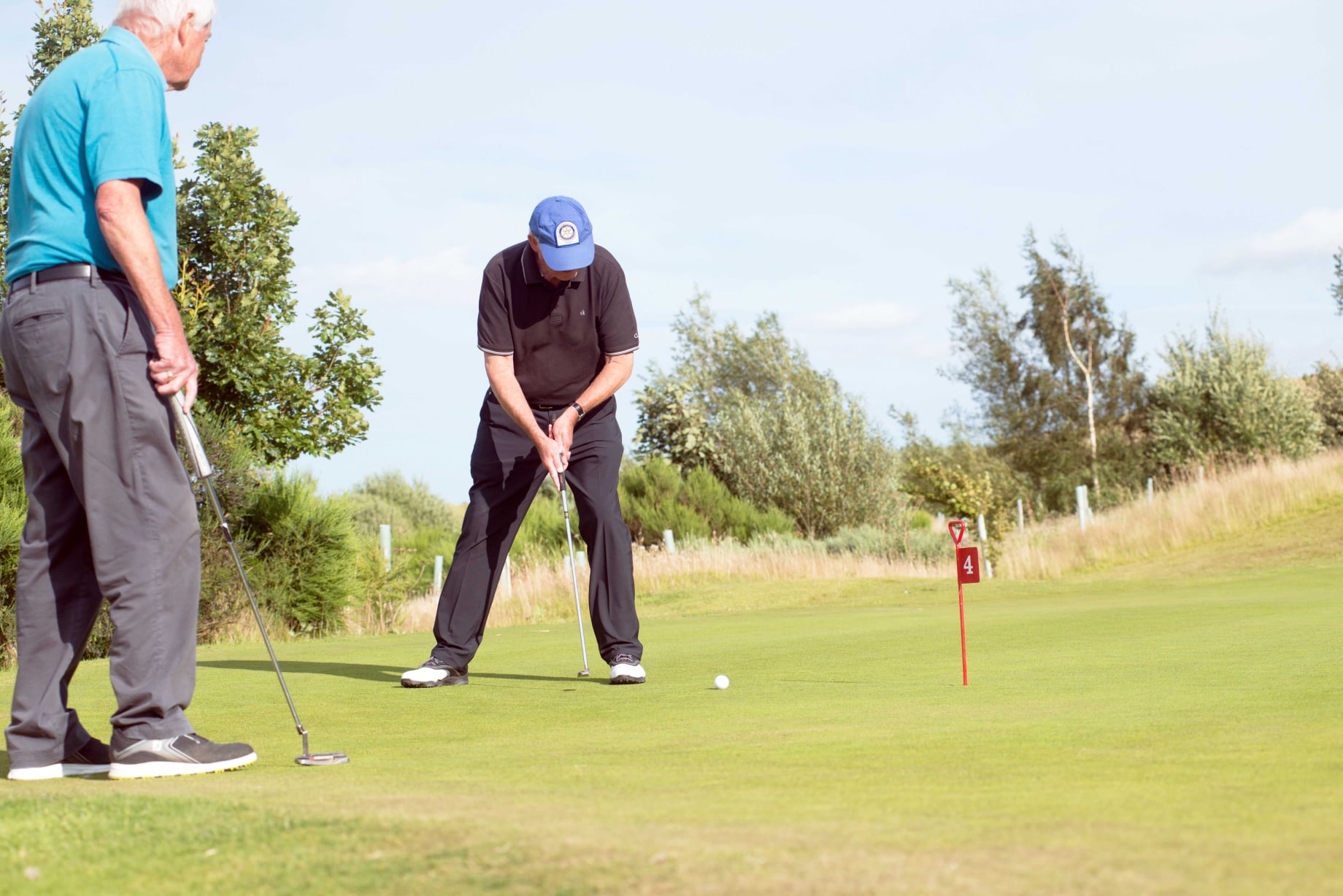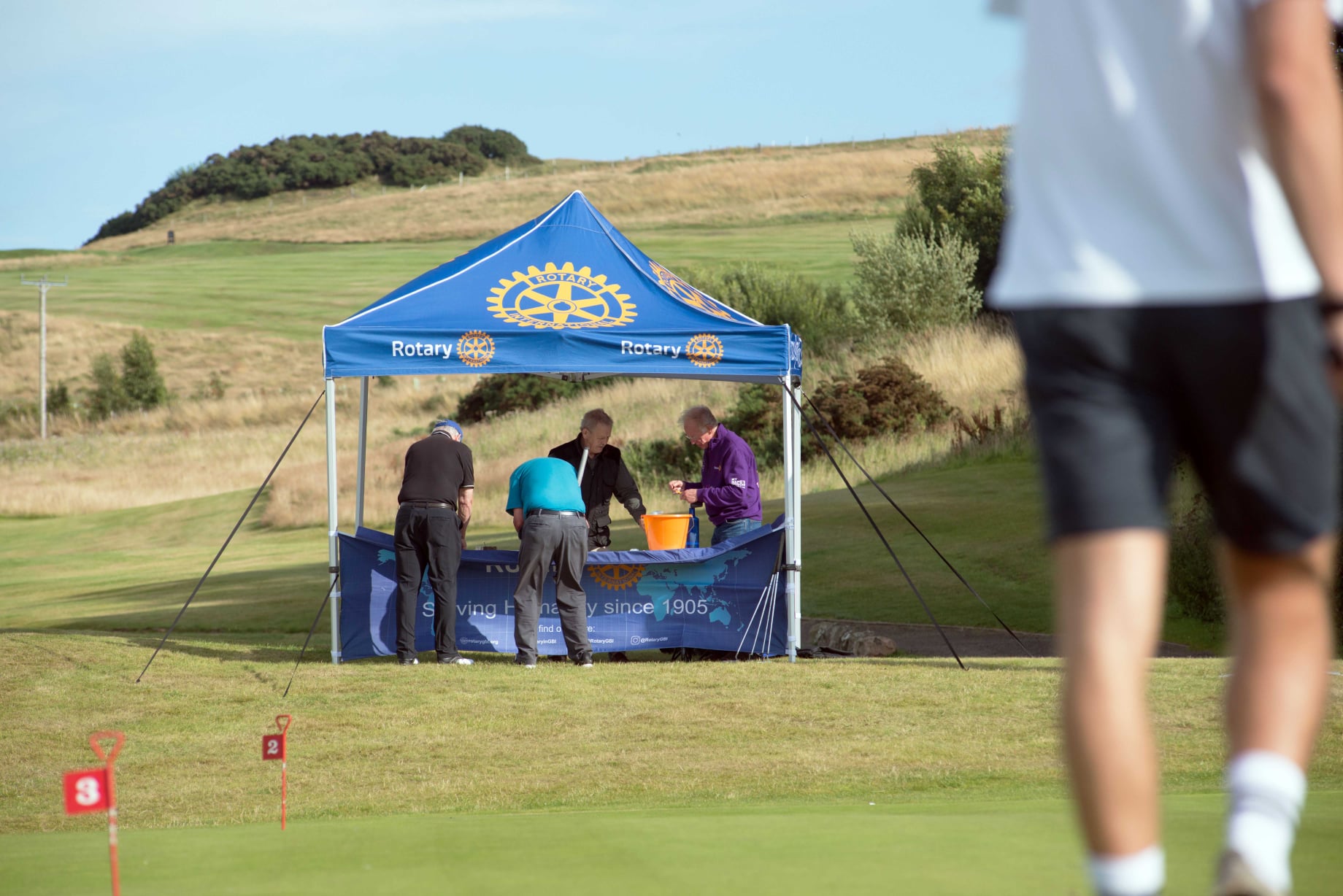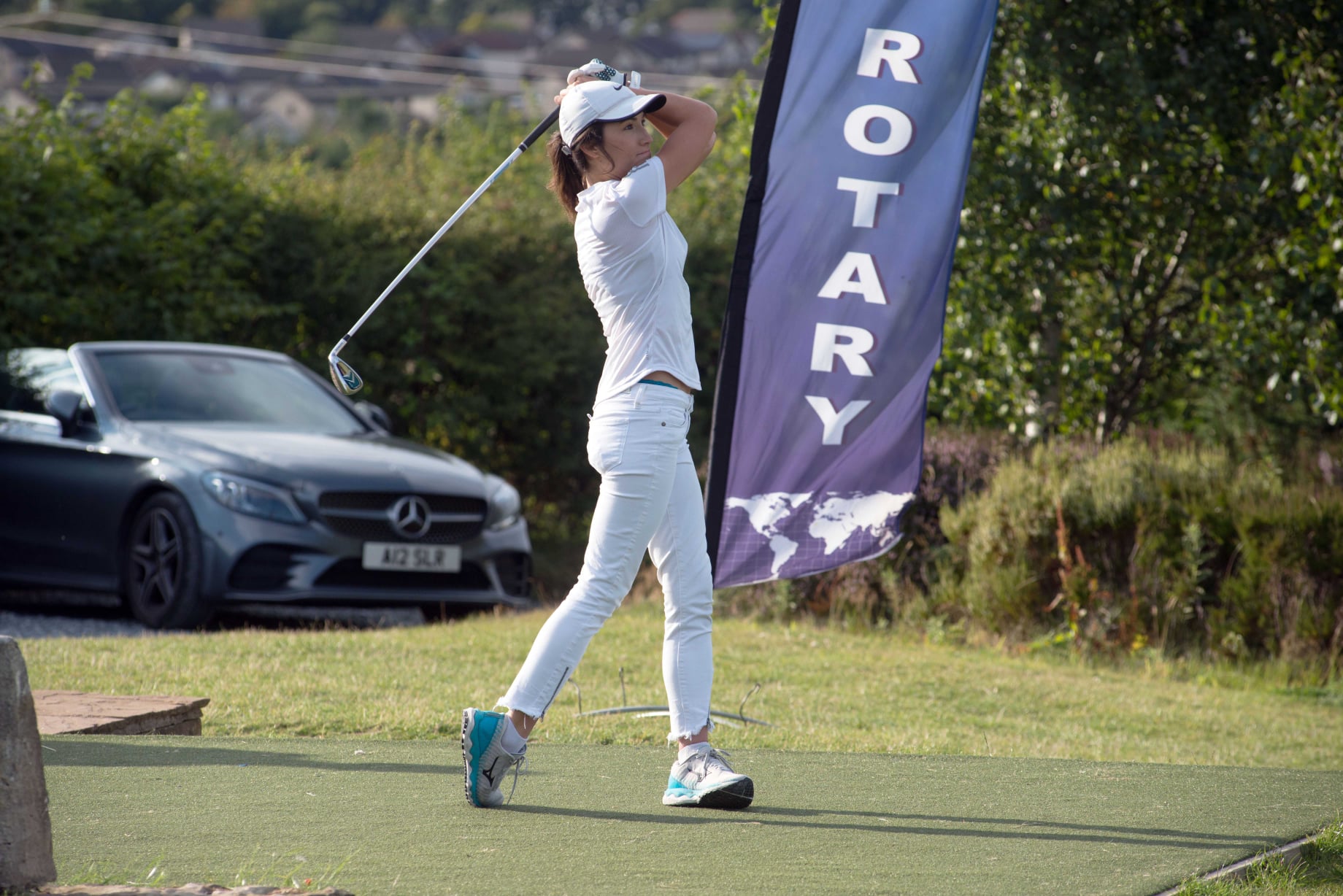 Update on school desk project in Tanzania - 18th of August 2021
Ffs Tanzania posted on their facebook page: "School Desks Project helps to solve the challenge of school children to seat down in the classroom for learning. Our school children need a comfortable environmental for learning, in order to understand and perform better. Let's join together to support our schools within UKEREWE SOCIETY even one desk for three school children, you can send direct the schools or through us. Our friends supports through us hundreds of desks, the manufacturing on progress!"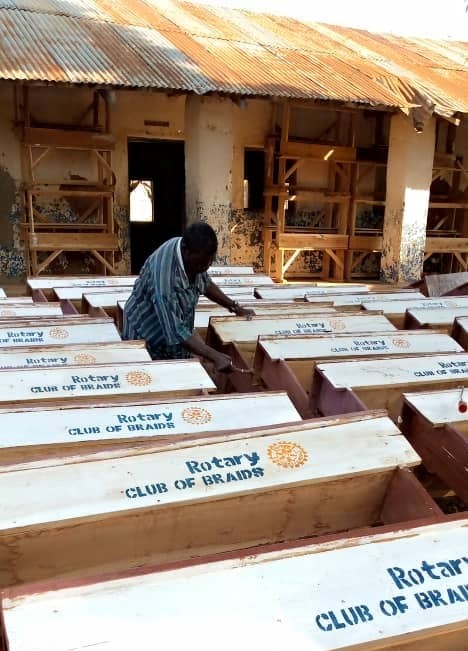 Rotary Club of Braids Newbury Rotary Club Rotary Helsingborg-Sofiero Vi Agroforestry We Effect East Africa Wizara ya Elimu, Sayansi na Teknolojia. UKEREWE COMMUNITY Ukerewe Development Youth Initiatives (U.D.Y.I) Ukerewe-Mwanza Family Ukerewe Island.
Burdiehouse Burn Valley Park litter pick and painting - 13th of June 2021
Very glad to be able to be out helping in the community again, some members of Braids Rotary attended Burdiehouse Burn Valley Park to assist with the litter pick.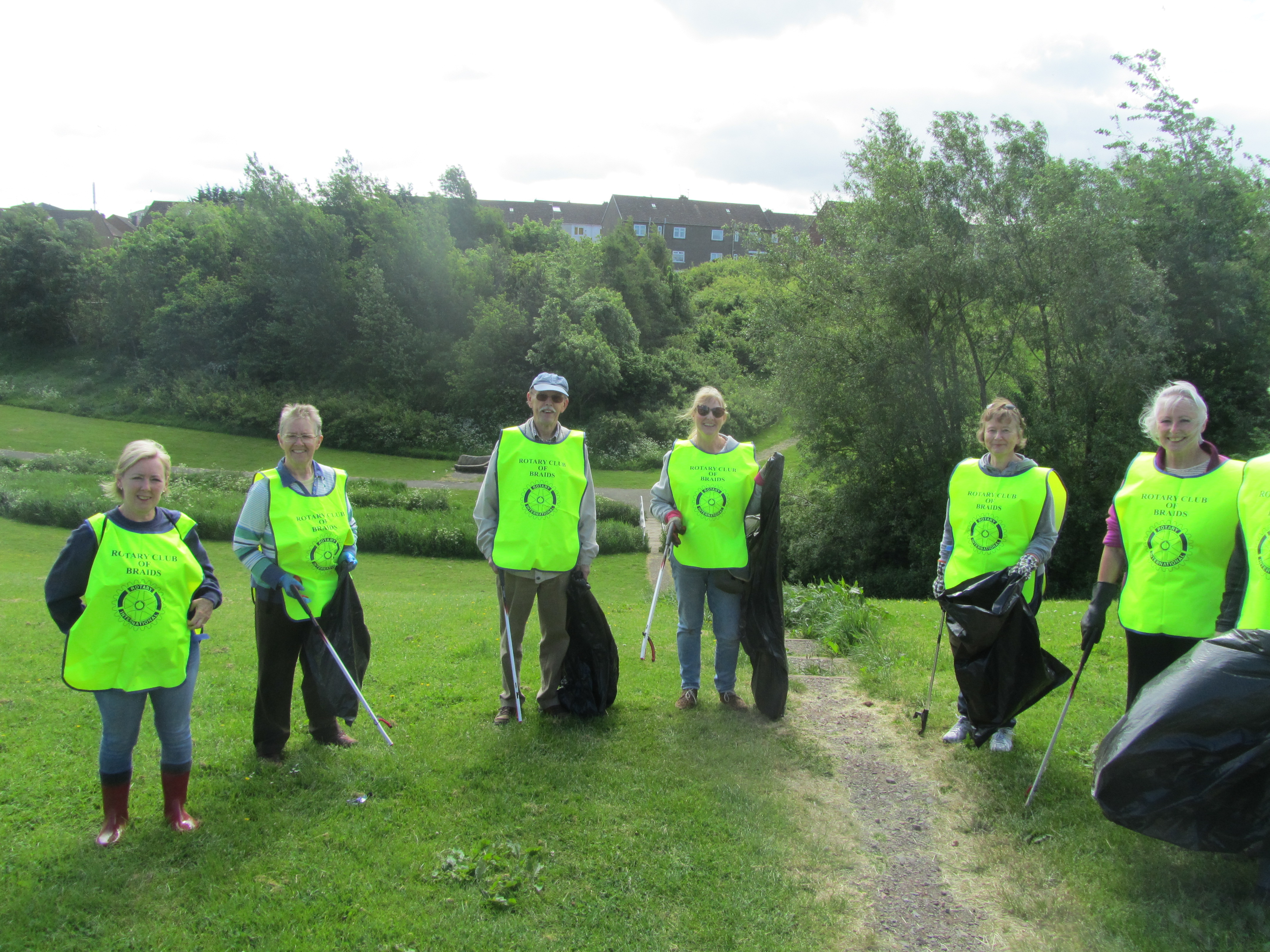 I am sure many were surprised by the scale of the park running from Straiton to Gilmerton Road but every one worked diligently to fill their rubbish bag with a variety of litter and also had the opportunity to enjoy the company and fellowship of friends in the sunshine.
In addition to the litter pick a few members also assisted the Friends of Burdiehouse Burn Valley Park to paint a mural that has been designed for their bothy in Gilmerton Dykes Street. The brightly coloured mural depicts the plant and animal life around the park and adds a splash of colour to the area. President Stewart and ADG Duncan showed off their skills with a paintbrush!
Rosemary MacLeod
Santa's Grotto - 17th of December 2020
For many years along with Braids Rotary I have been visiting your street with my sleigh and meeting many of you in the week before Christmas. Like everyone else I am unable to do that this year because of the pandemic, so I have come up with a different way in which you can let me know what you would like me to bring you for Christmas! Just ask an adult to register your interest in coming to visit me in my Grotto.
Please ask an adult to click here to register your interest via social media!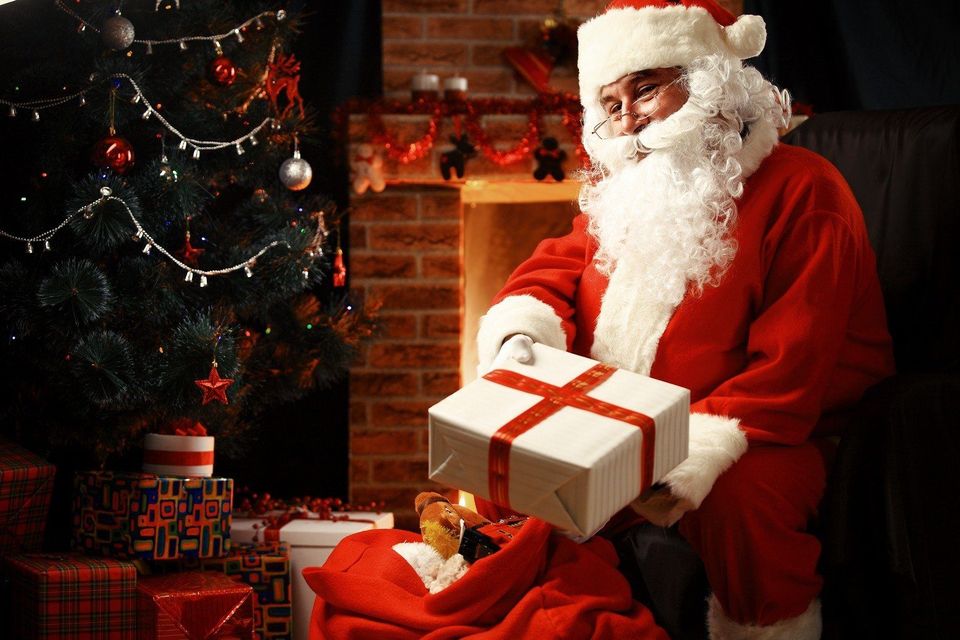 6,000 breakfasts a week for children in Tanzania
The Rotary Club of Braids is trying to raise funds to provide 6,000 BREAKFASTS A WEEK FOR CHILDREN IN TANZANIA. We will, therefore, be participating in a crowdfunding appeal run by GlobalGiving. The appeal will run from the 9th to the 27th of September 2019.
This project follows on from a very successful pilot project - so we know that it works. The project involves training teachers and pupils to grow crops in the (currently uncultivated) land around 4 schools on the island of Ukerewe in Tanzania. Once the crops are harvested, they are used to provide breakfasts to the pupils. Any surplus crops will be sold to provide funds for the schools to purchase equipment. We plan to implement this in 4 schools - with teachers from the pilot schools providing the training.
The nutritional benefits to the children are obvious, as are the educational benefits - through increased attendance and better levels of concentration.
If you would like to support this project, make your donation at
https://www.globalgiving.org/projects/food-production-in-school-grounds-in-tanzania/
We hope that you will be able to support this project and that you will make others aware of it. Thank you.
You can help support the Rotary Club of Braids when you shop online from over 3,000 retailers.
Use easyfundraising to shop with over 3,300 retailers including Amazon, Argos, John Lewis, ASOS, Booking.com, eBay, Boden, and M&S.
Every time you shop, you'll raise a free donation for Rotary Club of Braids, it's that easy!
Find out more: https://www.easyfundraising.org.uk/causes/rcofbraids/ or click on the banner below.
Your help will be greatly appreciated.
,
===================================================================
Young Golfer 2018
Once again Braids Rotary Club hosted their Young Golfer competition for 2018 courtesy of Mortonhall Glof Club.
The winners were as follows:
1st Scratch: Danny Hendry, age 17; 73 Gross.
2nd Scratch: Malachy Hayward, age 16; 74 Gross.
1st Handicap: Alastair Kerr, age 17; 62 Net (78 - 16).
2nd Handicap: Sean Gallacher, age 13; 67 Net (84 - 17).
Some of the participants were: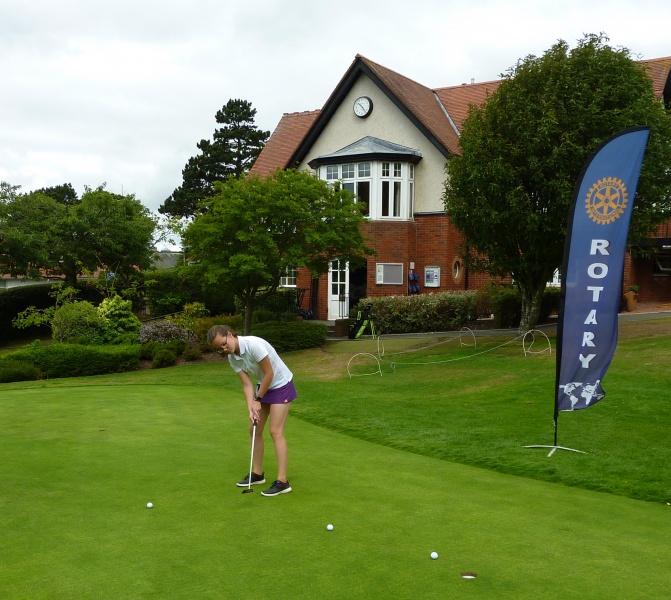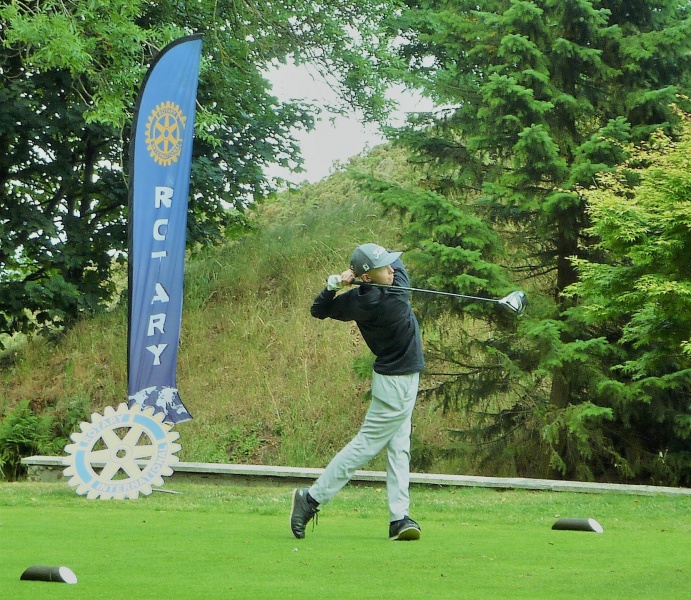 Alicja Gorka, RCB Young Golfer. Connor Currie, RCB Young Golfer
Lucy Morrison, RCB Young Golfer
Jack Kinghorn, RCB Young Golfer.
And not forgetting our thanks to the organiser, Bill Cuthbert: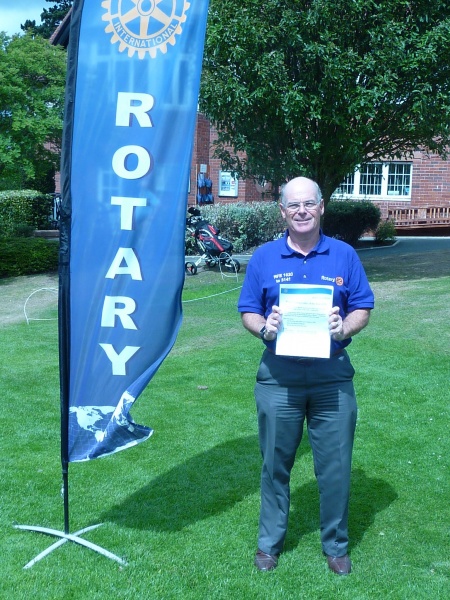 Know Your Blood Pressure Day 2018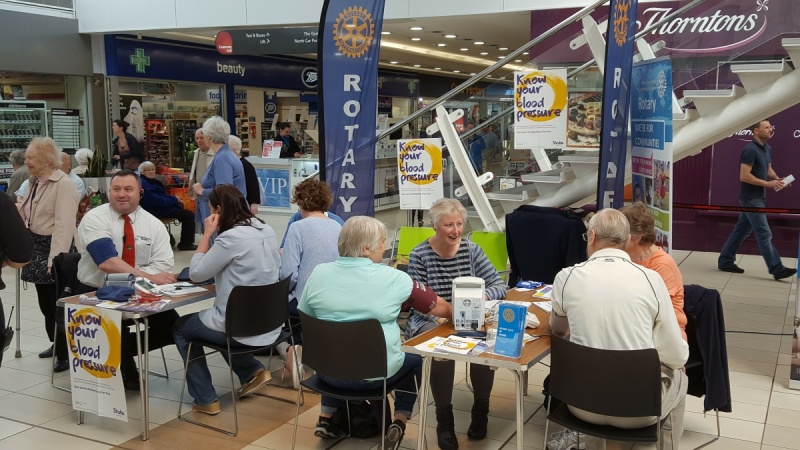 Members of Braids Rotary Club Edinburgh with volunteers from the Sick Children's Hospital held a Know Your Blood Pressure Day at Cameron Toll Shopping Centre on 21 April 2018. This has become an annual event in support of the Stroke Foundation organised under the wing of our Community & Vocation Committee.
These days have proved very worthwhile, with a number of people being directed to their GP's for further checks. High blood pressure is one of the silent killers that can sneak up on us unnoticed until it is too late. These events help members of the public be proactive in caring for their health.