Abracadabra - we are having a magic show

On Friday 7th May, the Rotary CLub of Ashford will be hosting a socially-distanced on-line magic show to raise funds for our President's Charity, the Princess Alice Hospice.

Please buy tickets to participate in this event and enjoy it from the comfort of your own home.
The show, as if by magic, will take place online from 6.45pm for a 7.00pm start and will be hosted by Steve Price who is a member of the Magic Circle.

Tickets are only £10 each and you can pay using the following PayPal link https://bit.ly/2PFbVqy

We look forward to seeing you on the night and will be grateful for all your support and donations.
Check out magician Steve Price's website here https://stevepriceillusions.co.uk/
Update - January 2021
Well, Christmas was over a month ago but it's never too late to say a massive "thank you" to the residents of Ashford and Stanwell - we are truly grateful to everyone that donated to our christmas collections with Santa's float. Your generosity was absolutely outstanding and helped us us to raise over £10,000. Thank you.


And, if you want to see a fun time-lapse video of the Christmas Tree going up, here it is... click here

October Update
It's been some time since the last update but on 1st July 2020 a new President of the Rotary Club of Ashford was inducted – Ray Allen.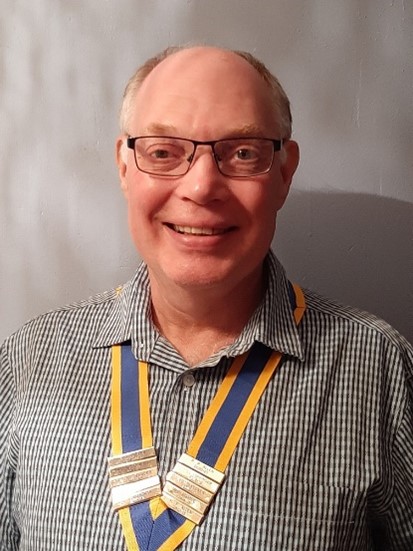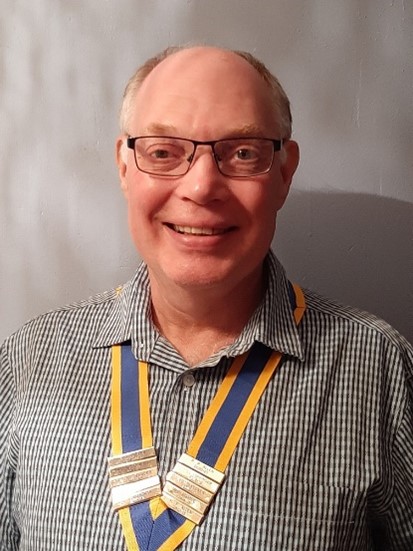 Ray, who has been President of the Club before, opened his year by saying a big thank you to Past President Kevin Butler for his leadership throughout 2019/2020.
Ray's charity this year is Princess Alice Hospice, and he hopes to raise a good amount to support their continuing work. Plans for this year are still difficult to confirm fully whilst we slowly come out of lock down.
Sadly, we had to cancel this year's Classic Car Show, but we will go ahead with another one in 2021. Christmas collections may also be different, but we hope that we will still be able complete our planned routes and static collection - planning is ongoing to ensure we protect the public and ourselves during any collection activities.
We are continuing with our regular ZOOM meetings and it seems they will need to continue for a while longer until it is safe for us to meet together, but it is the best decision to ensure the safety and wellbeing of the members.
Our Dictionary project is continuing as planned; we now have 8 schools to distribute dictionaries to which is a total of 506 pupils, so we have had to use a small number of our surplus stock dictionaries. We will arrange delivery of the dictionaries to the schools and we will give a presentation to each school to read out at their distribution assembly.
Over the weekend of 17th/18th October we will be planting a total of 1,000 Crocus bulbs in support of Purple4Polio – Rotary's initiative to plant millions of purple crocuses every year to raise awareness for efforts to end polio. Three sites have been selected, Scott Freeman Gardens, The Green at Stanwell town centre, and Woodlands Parade.
In September we were fortunate to have Bobbie Alsworth from Woking and Sam Beare Hospices join one of our Monday Zoom meetings. Bobbie gave us a very good update on the Charity's progress and fundraising following our donation to them from Kevin Butler's presidential fundraising year.
Club News - Responding to the community

The Rotary Club of Ashford Middlesex responded to the community following an enquiry by Ashford & St. Peter's Hospital asking if we could we supply a laptop for a diabetic family.
Nurses caring for and monitoring diabetic patients need them to be able to download their glucose meter readings and insulin pumps so the nurses can safely monitor their condition and advise on dose changes.
A family with three young boys with diabetes who hit hard times needed a laptop to be able to do this and The Rotary Club of Ashford Middlesex provided a laptop with one year's support for the family.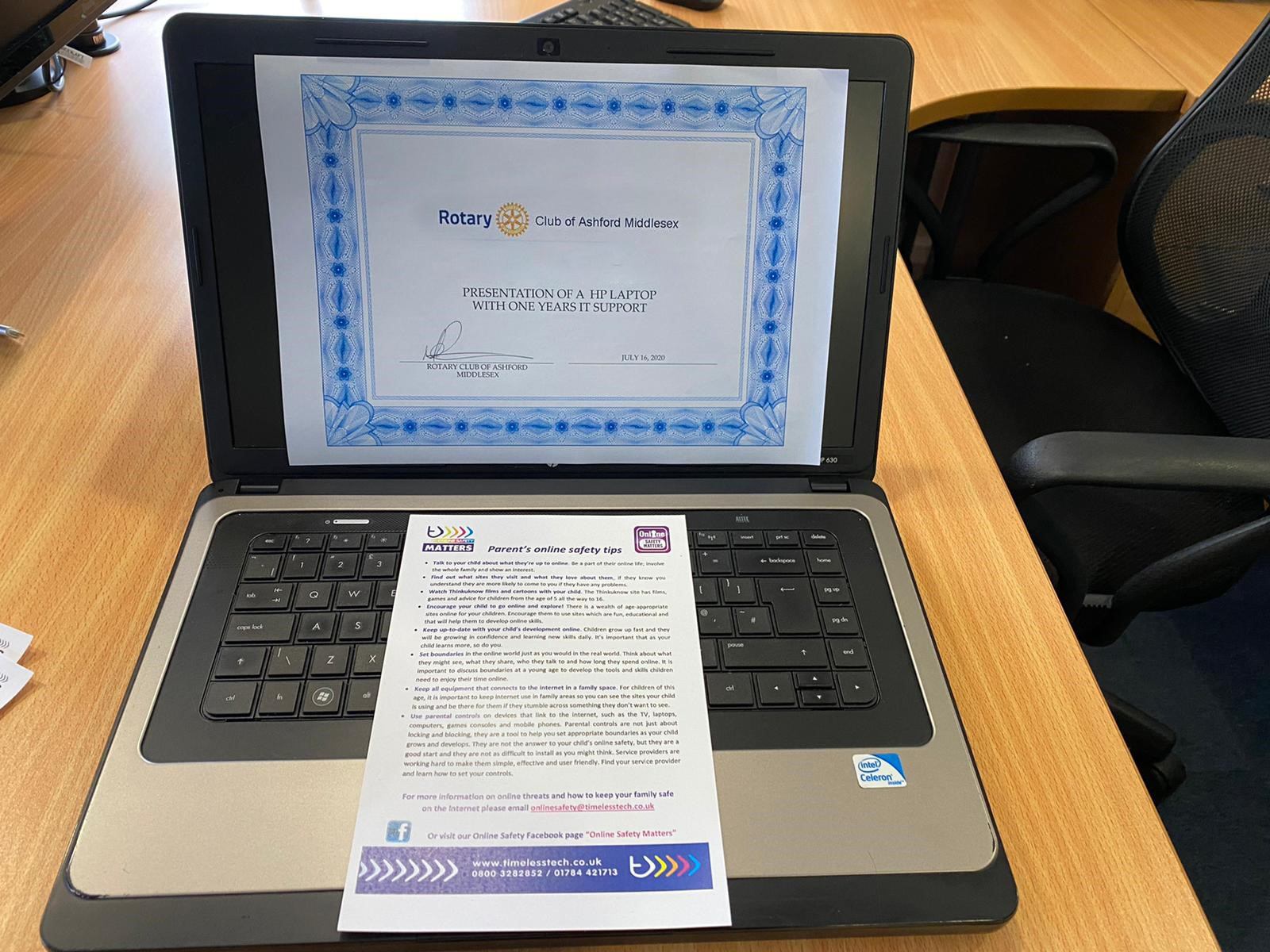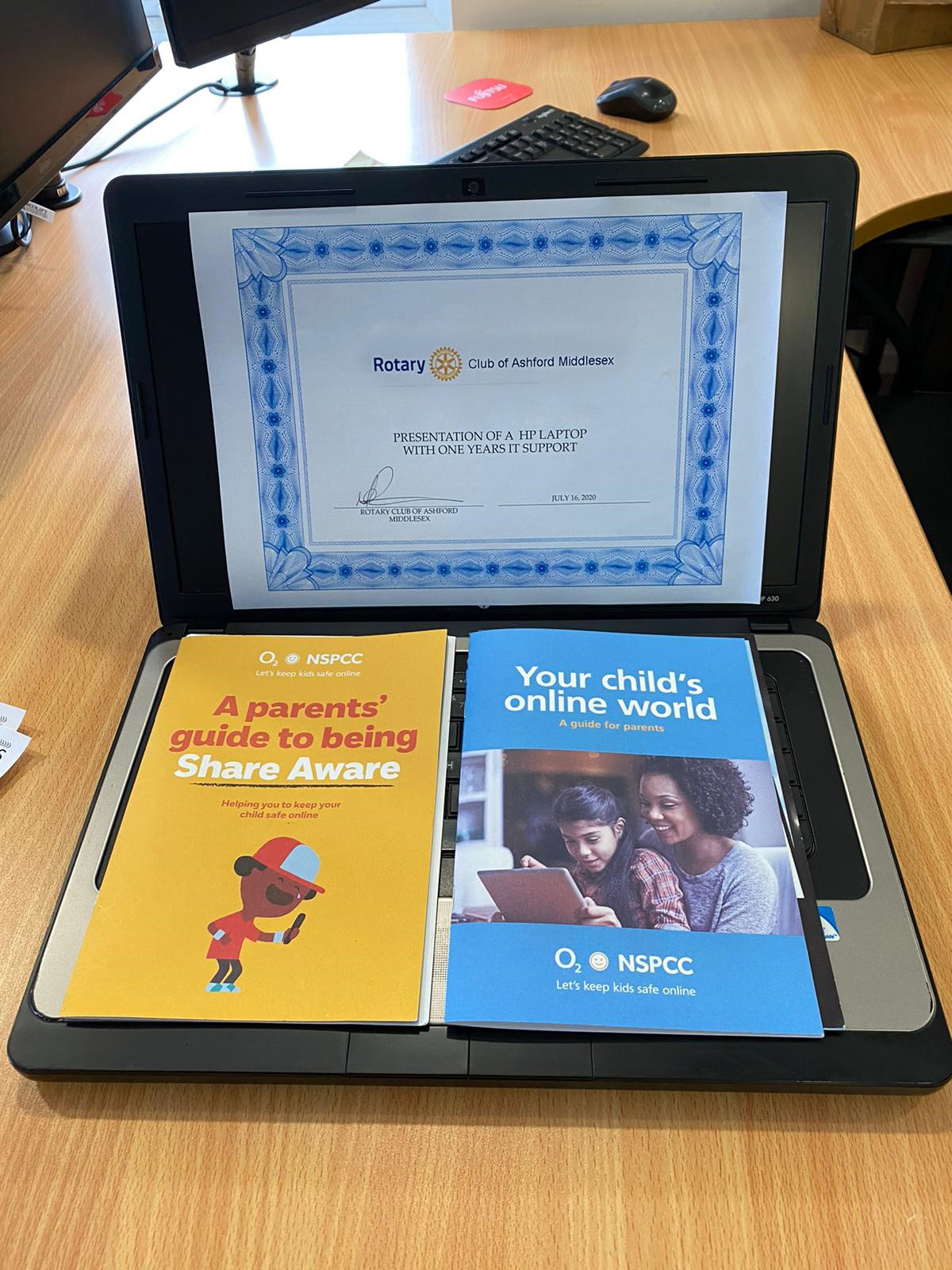 Charity Cheque Presentation
We recently presented a cheque for £3,500 to White Lodge.
White Lodge is the charity that was chosen by last year's club President, Peter Grainger. The money was raised by the club through a series of fund-raising events over Peter's presidential year and will go towards making improvements at the centre. Photos on Facebook.
Charity Cheque Presentation
On Monday 20th May, we were delighted to welcome Dr Giosue Gulli from the Ashford St Peter's Hyper-Acute Stroke Unit. He gave us a very informative presentation on the excellent work that they do and what they hope to achieve in future. After his talk, Immediate Past President Anthea Lacey presented Dr Gulli with a cheque for £3,000, this being the amount raised during Anthea's Presidential year.