Victoria Truesdale, President 2021-22


Welcome to the Rotary Club of Kilsyth
We meet weekly on a Thursday evening, enjoying a meal and fellowship. Meetings can include interesting speakers, entertainment or business. We work with the local community, assisting youth, elderly and other community groups. We raise and distribute funds to charities and projects both at home and abroad.
Rotary is the world's leading service club organisation working on a local, regional and international level. Kilsyth rotarians dedicate themselves to the Rotary motto and philosophy "service above self"
Forthcoming Events
Family Games Night - Saturday October 2
Race Night - Friday November 12
Christmas Fun Evening - Thursday December 9
Santa's Grotto - Saturday December 11
Carol Service - Monday December 13 at Burngreen
Santa's Sleigh - December 11 -14
Cheese / Wine (prospective members) - Saturday February 5, 2022
Car Treasure Hunt - Sunday April 24. 2022
Our usual meetings have been cancelled until further notice. However we continue to meet weekly through zoom and have managed to support a limited number of projects, fundraising and social events. We're still active.
Environment Group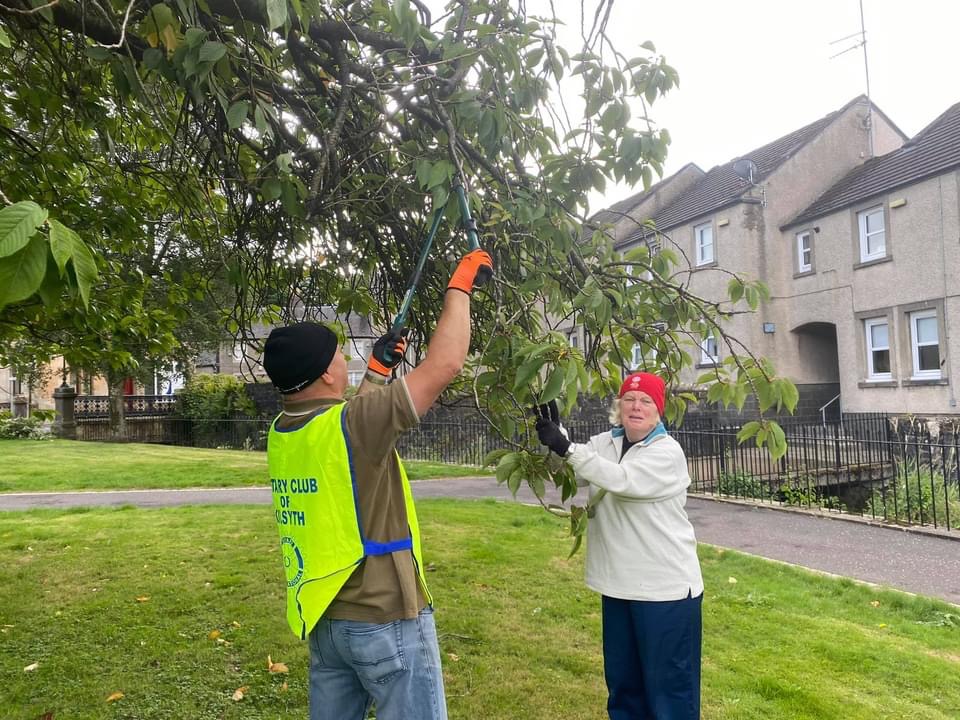 We're still actively involved with Kilsyth Environmental Group. Latest project is tidying up area near war memorial in Burngreen.
Murder Mystery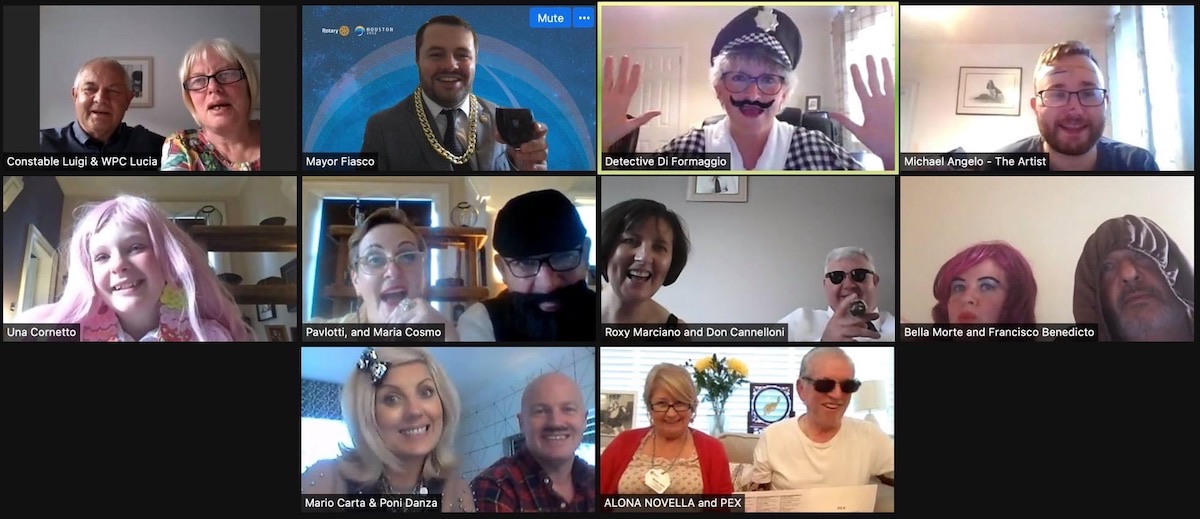 We held another successful murder mystery evening.
Clean-Up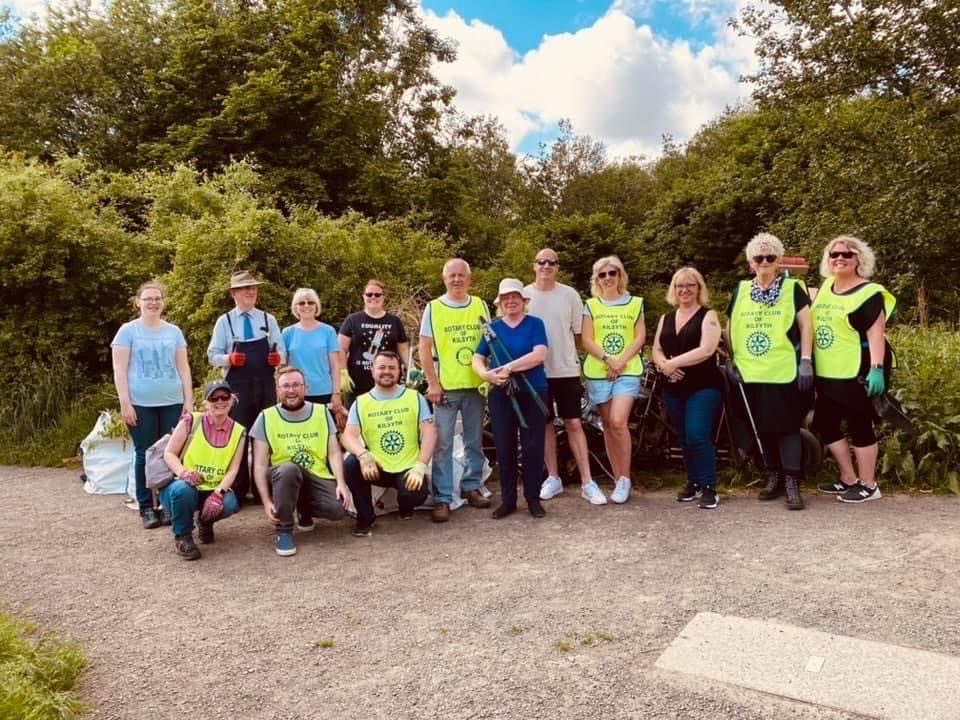 Members joined with a local Environment group to clean up a popular walking route.
Mary's Meals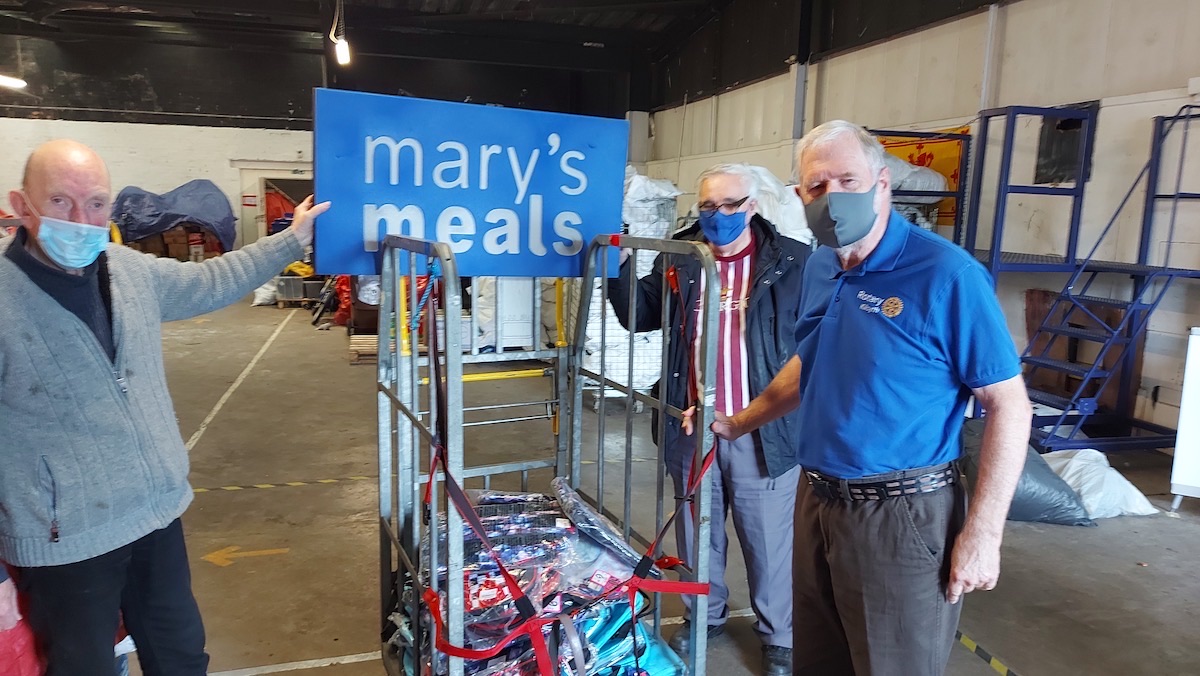 We sent a consignment of satchels for Mary's Meals schools abroad.
Strathcarron Hospice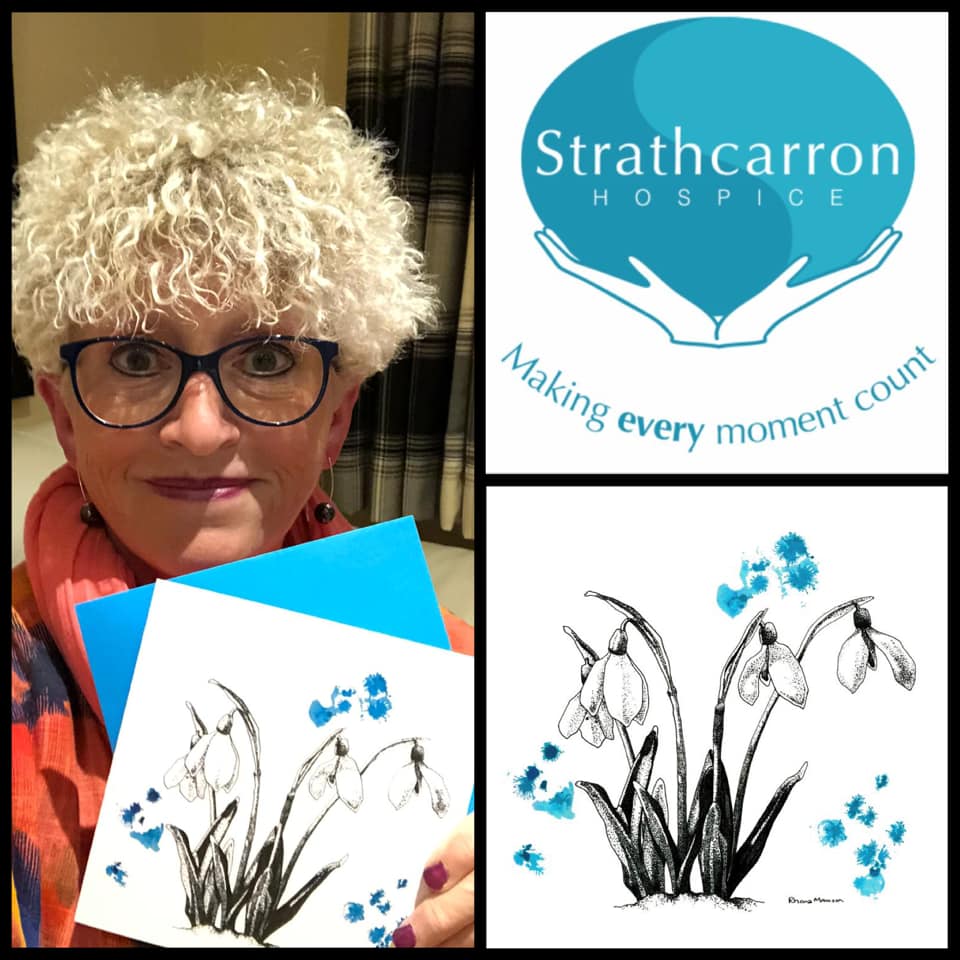 Rhona produced these lovely cards which Strathcarron sells
End Polio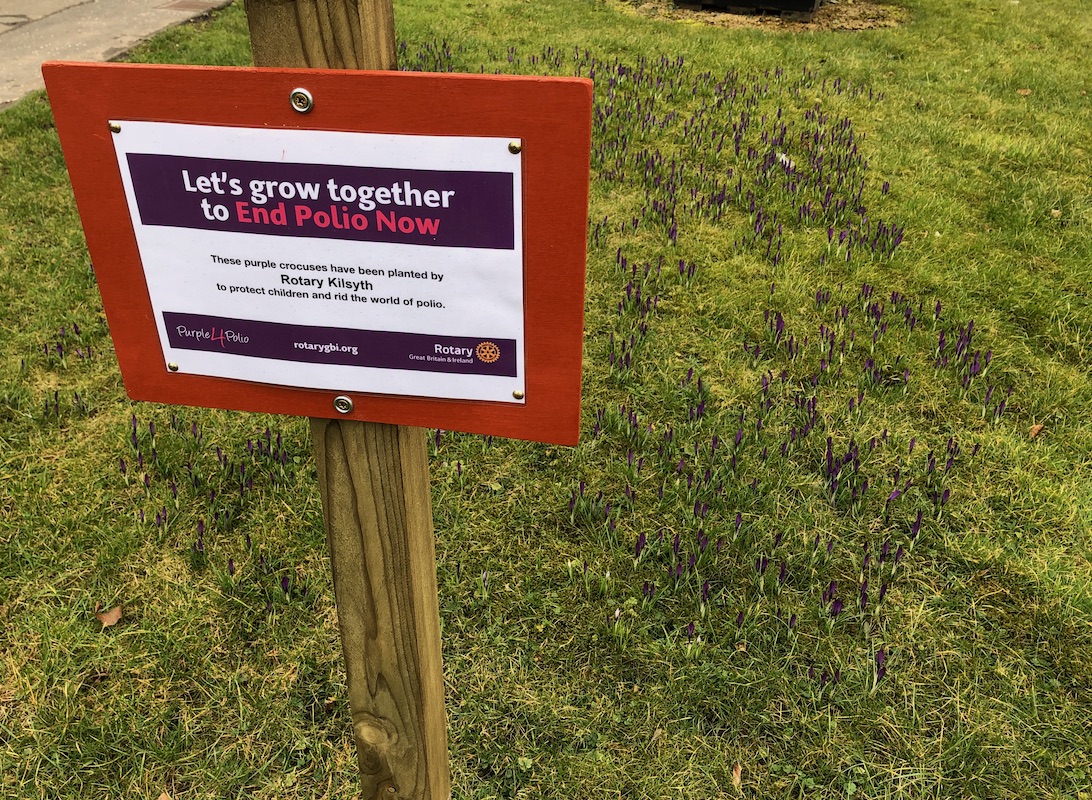 The crocuses are about to bloom. We've been planting them in the town for several years to highlight Rotary's End Polio Now campaign. We've recently donated £1000, thanks largely due to the sale of Message of Hope cards created by one of our members.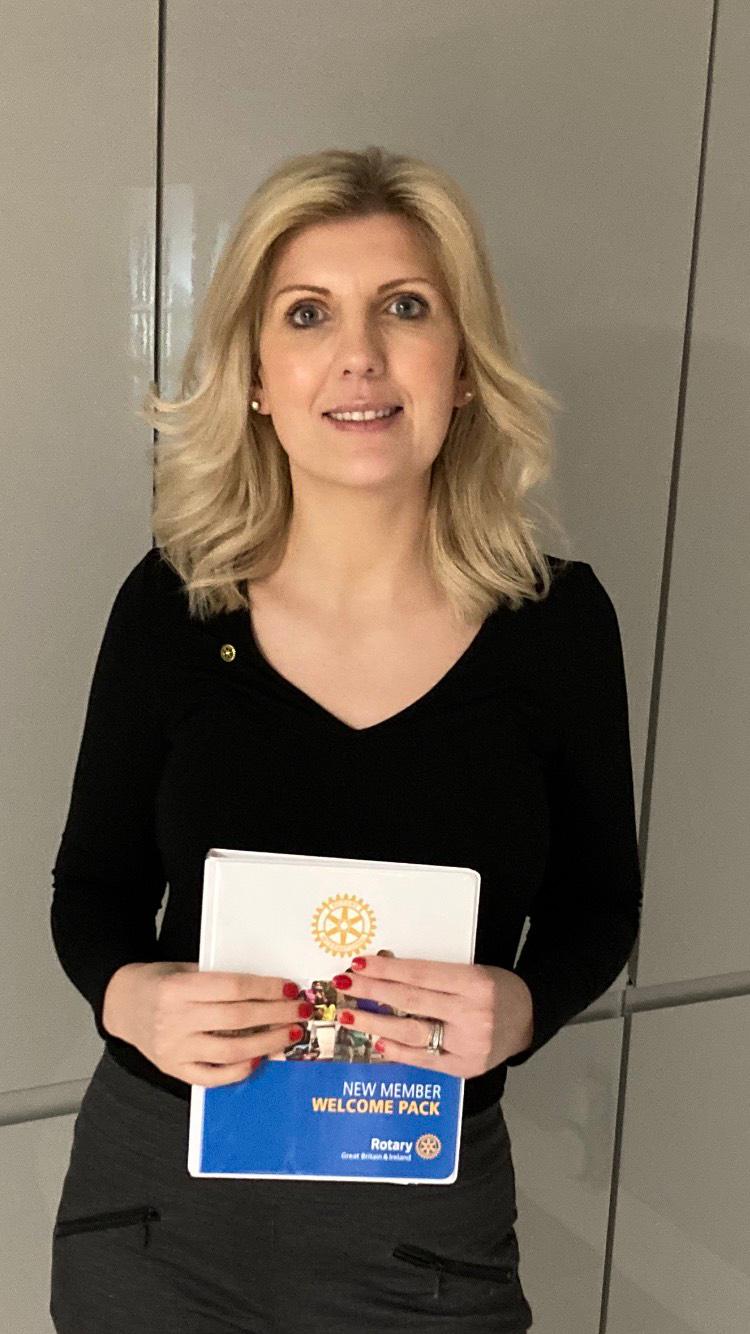 Inspite of lockdown, we've managed to bring in a second new member. Welcome to Donna Kearney
---
On Call Africa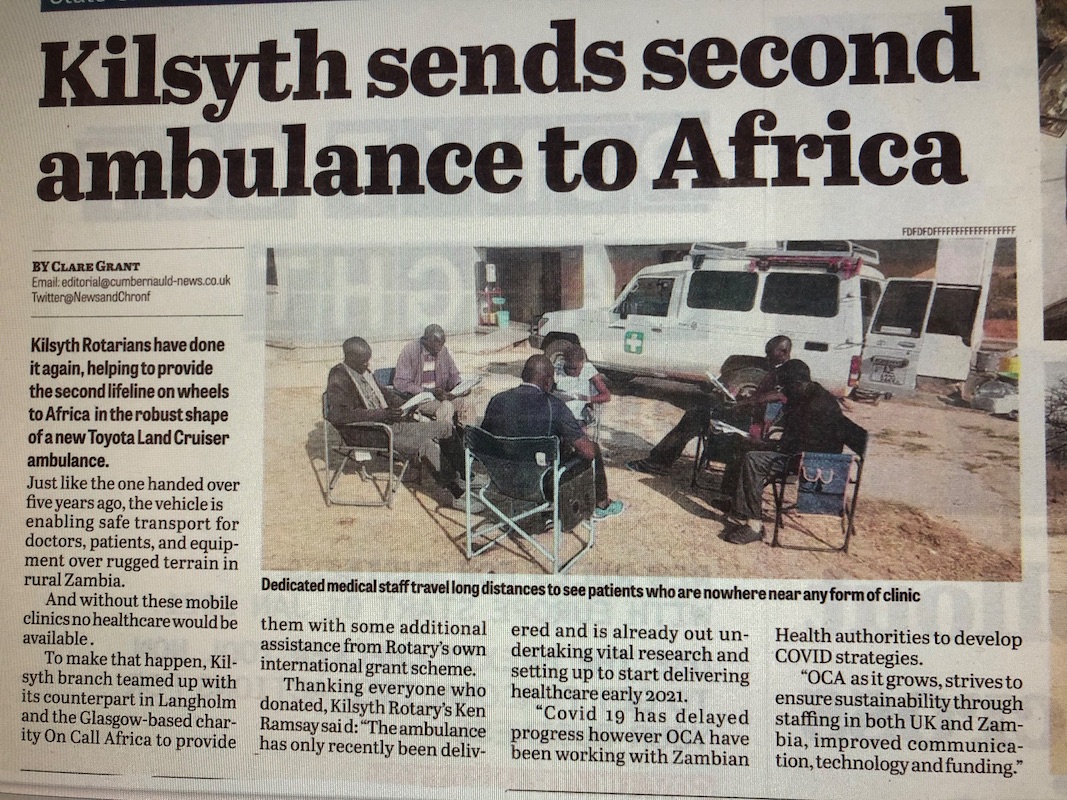 Having been the lead club in raising finance for an ambulance in Zambia, we contributed to raising money for a second. An article from the local press gives some detail.
Paul Harris Fellow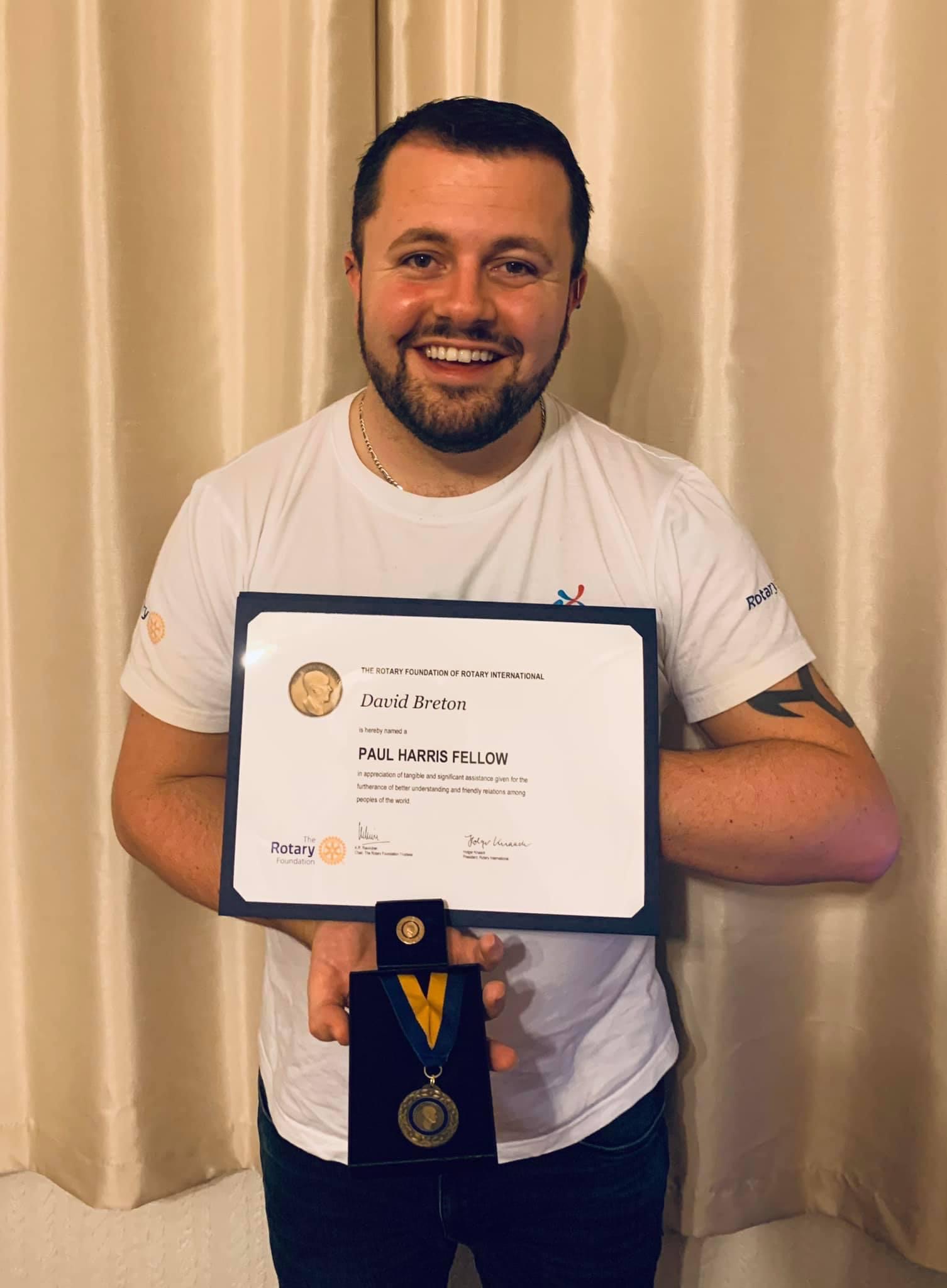 Congratulations to new Paul Harris fellow David Breton
Paul Harris Fellow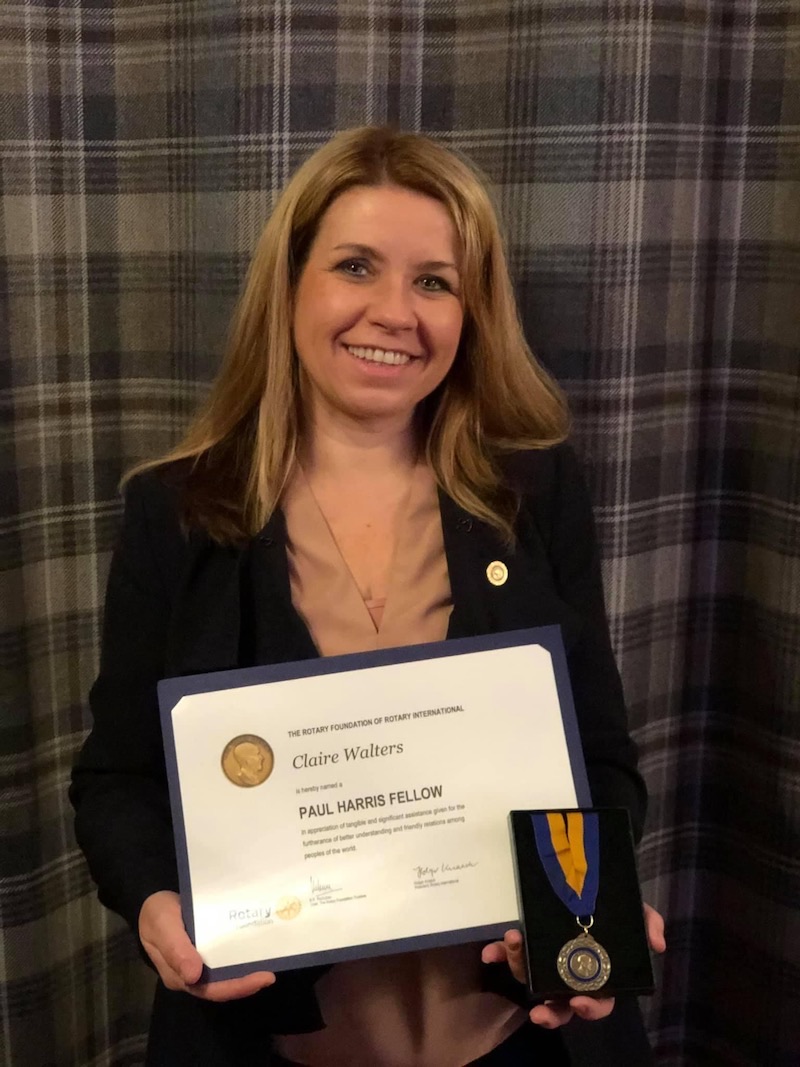 Well done to new Paul Harris Fellow Claire Walters
New Member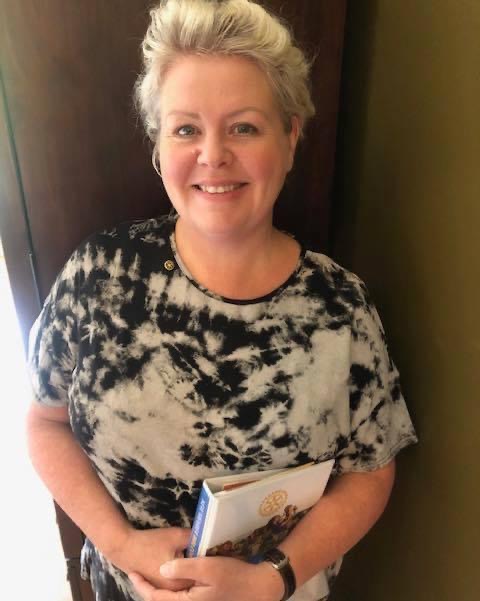 We have a new member. A big welcome to Janice Campbell.
End Polio Now Presentation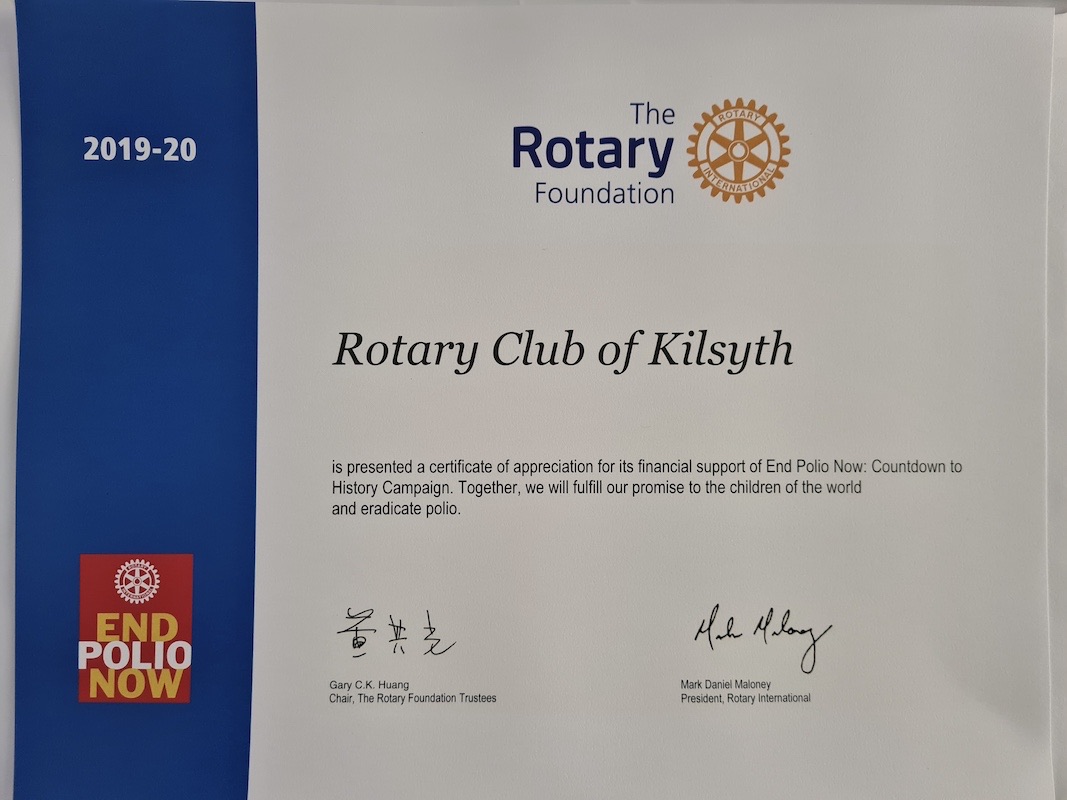 We're proud to receive a certificate for our commitment to Rotary's campaign to wipe out polio.
Afternoon Bingo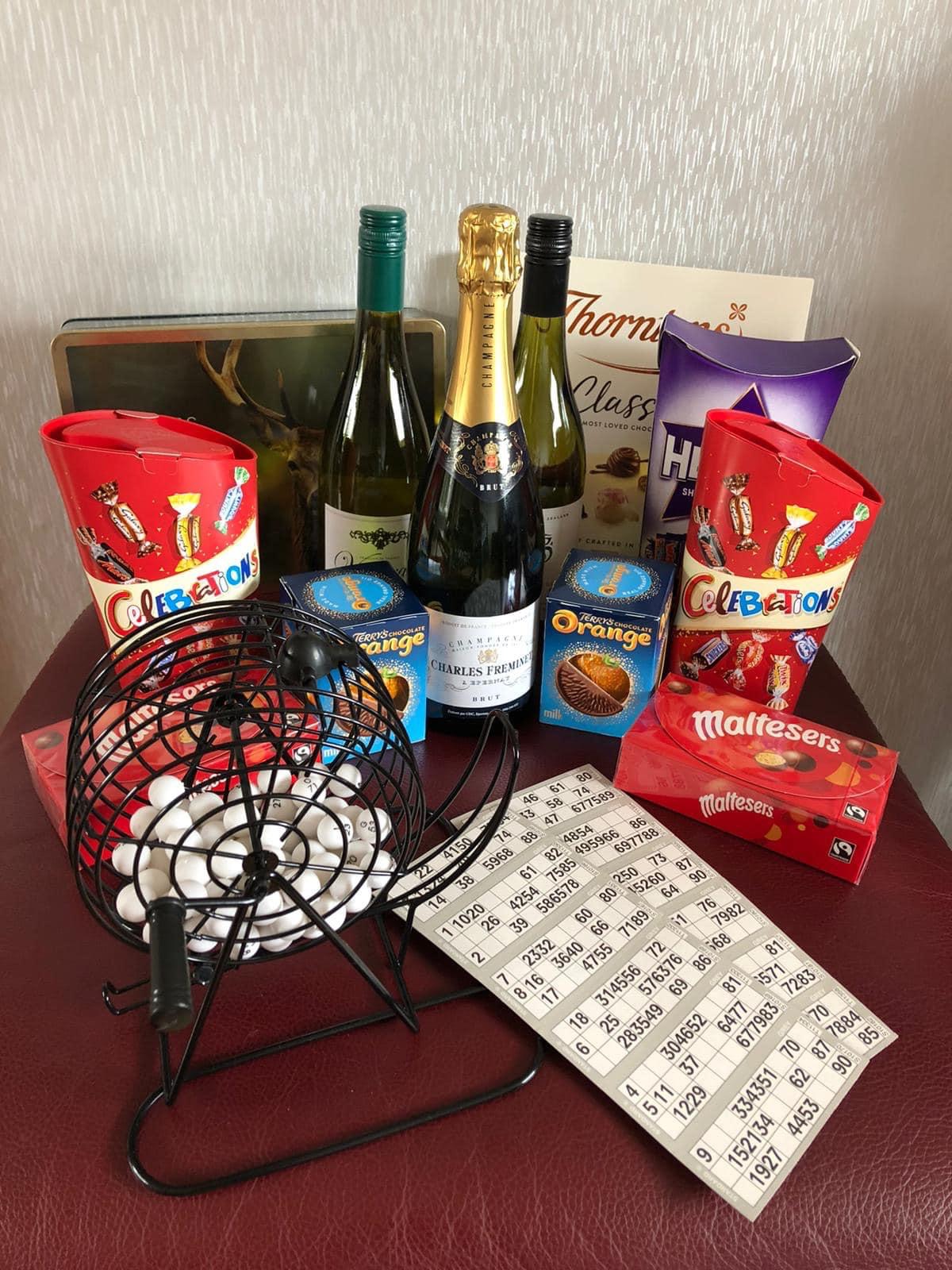 We enjoyed an afternoon bingo session with prizes and home baking.
End Polio Now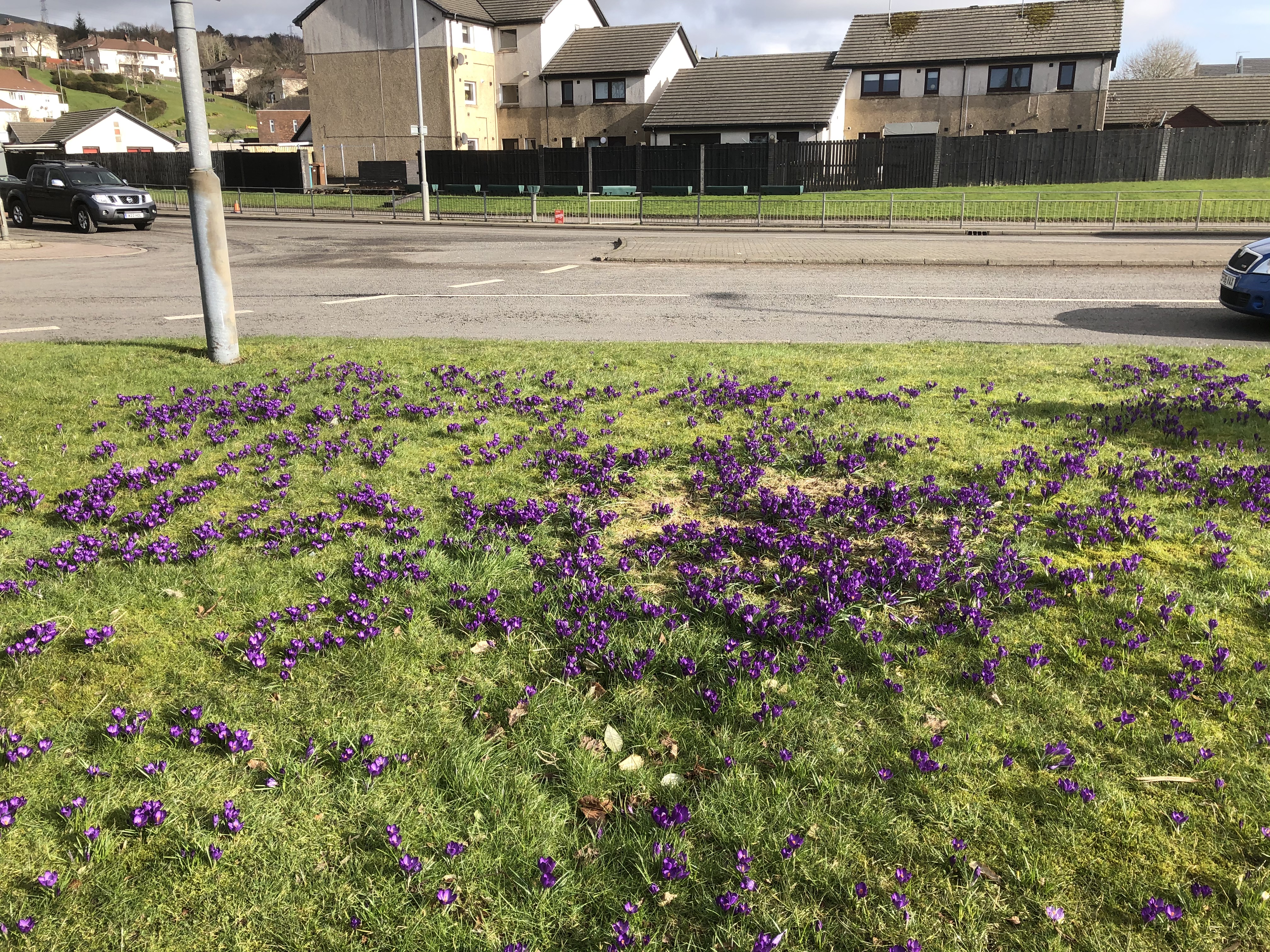 For a number of years, we have been planting purple crocuses in the town as a symbol of Rotary's commitment to help end polio worldwide.
New Member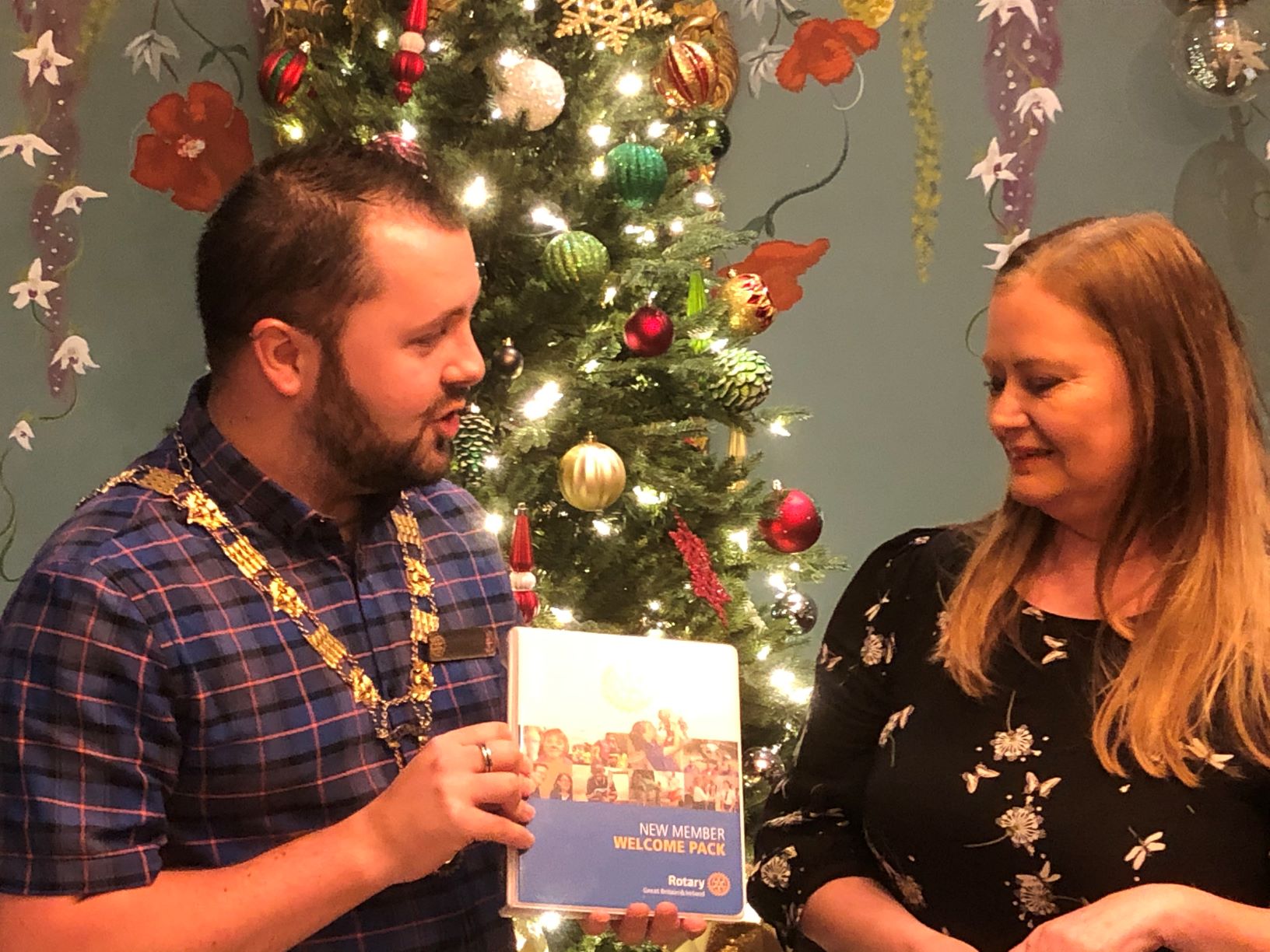 President David inducts new member Moreen Cherry and presents her with a Rotary Welcome pack.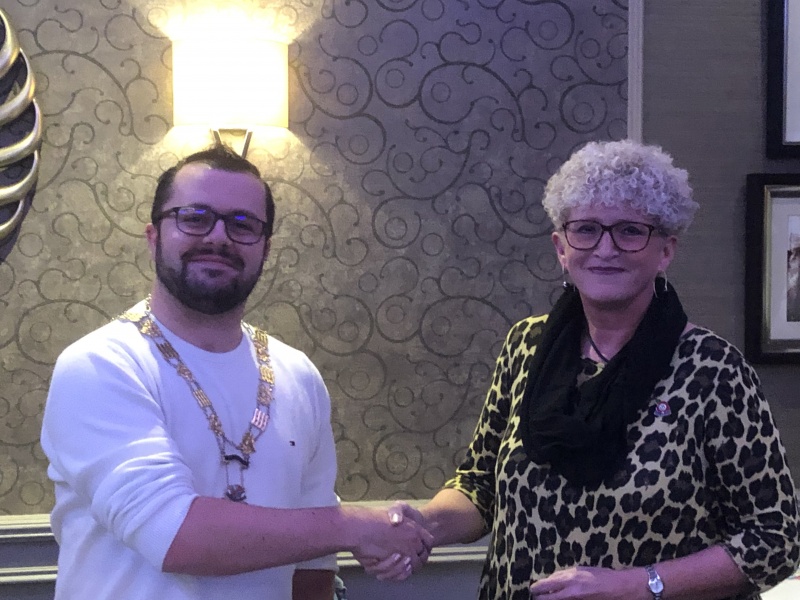 We have a new member. Welcome Rhona Morrison.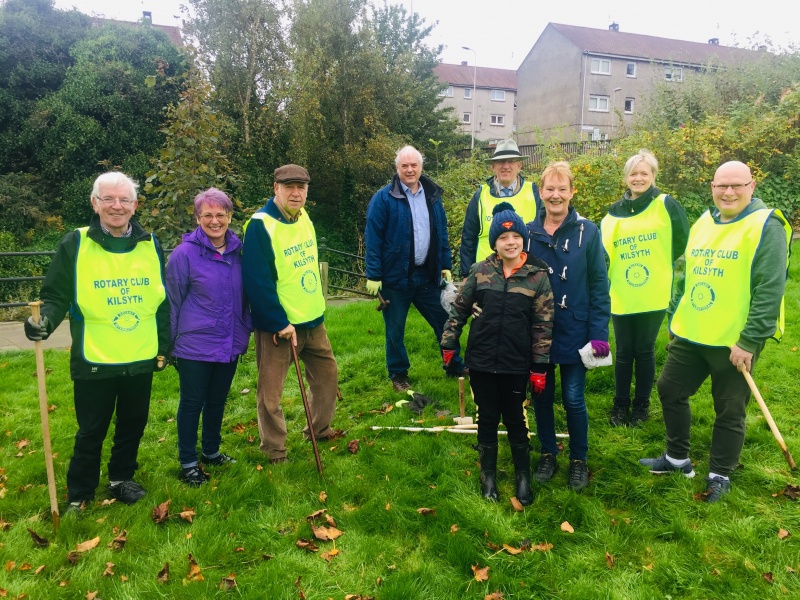 Some members, family and friends planted crocus corms along Westburnside as part of Rotary's ongoing campaign to end Polio across the world.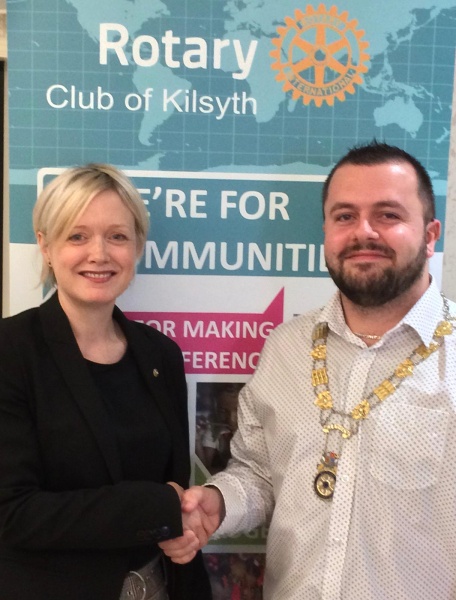 Warm welcome to our latest member Tracey Chalmers who is an MR Product Specialist at Siemens Healthcare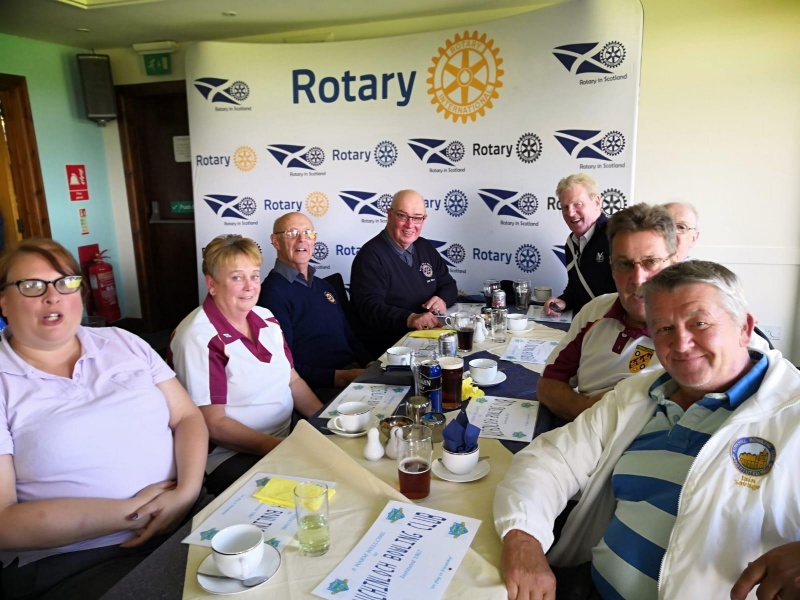 Member Alex Mearns attended Rotary Club of Kirkintilloch Bowls Tournament which raised £2500 for End Polio Now. Great Effort!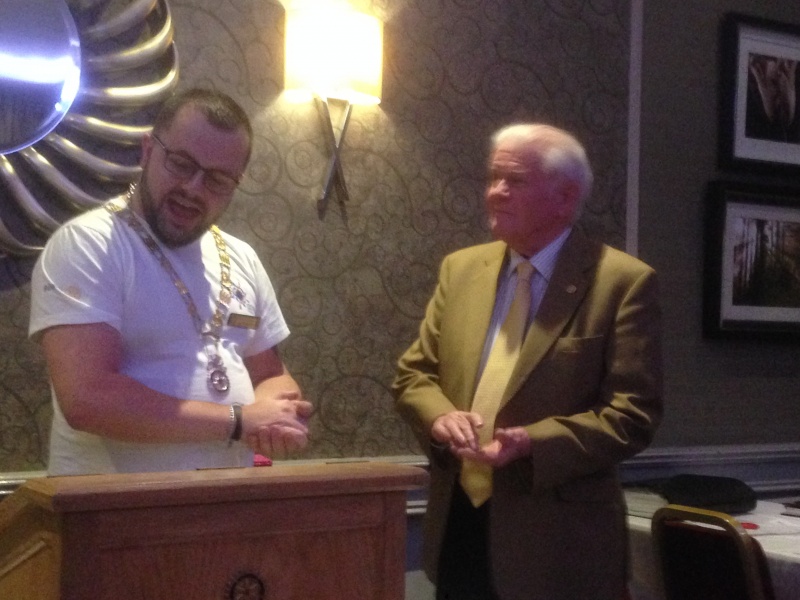 Bill Thomson became an honorary member. For many years Bill was club treasurer as well as Past President and was instrumental in organising west zone Technology Competition.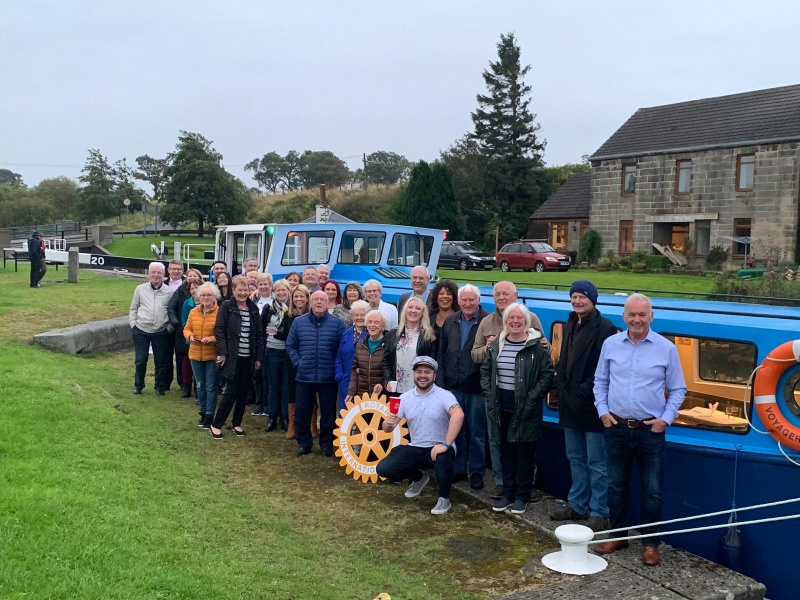 Members, family and friends again enjoyed a wonderful evening sailing on the canal.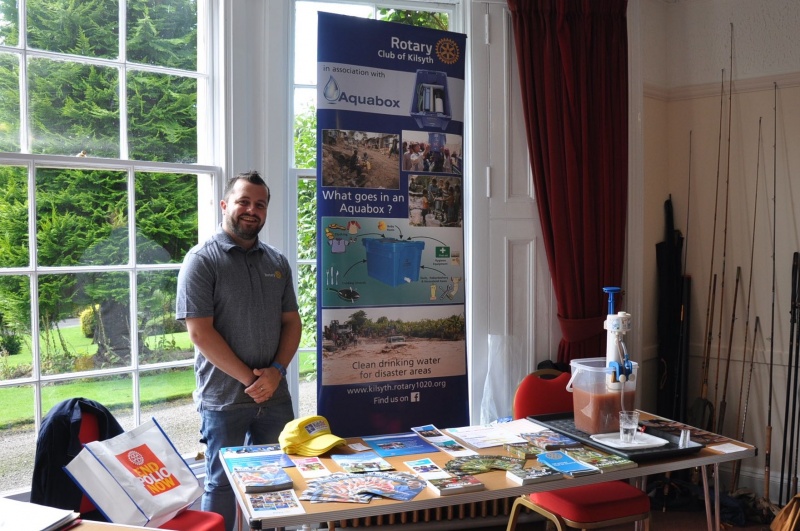 We helped out at the Festival of Sport held at Colzium Estate. We assisted with parking and President David showed off Aquabox equipment.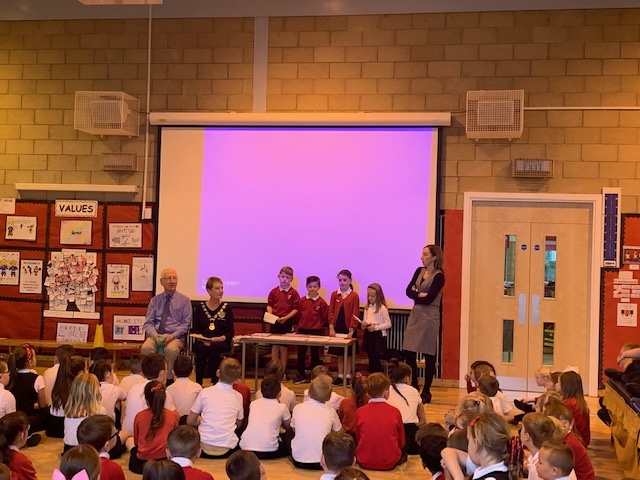 Balmalloch Primary 2 class raised money to go towards an Aquabox community pump for providing clean water. Pupils were delighted that this could help so many people in need of clean water.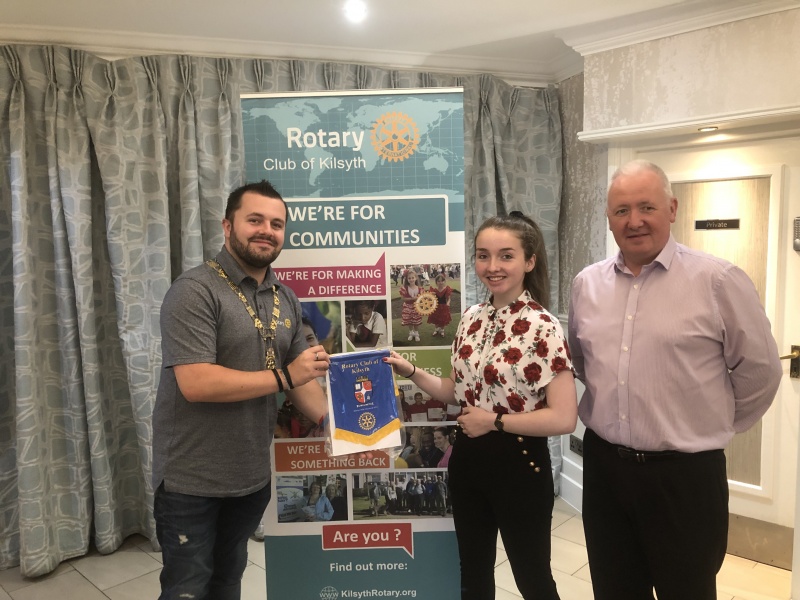 President David hands over some club pennants to our Georgia Scholarship student Jennifer Wright who flies off to Atlanta later this month for a year's study. With them is dad John. We look forward to hearing how she is getting on.
Rotary Aquabox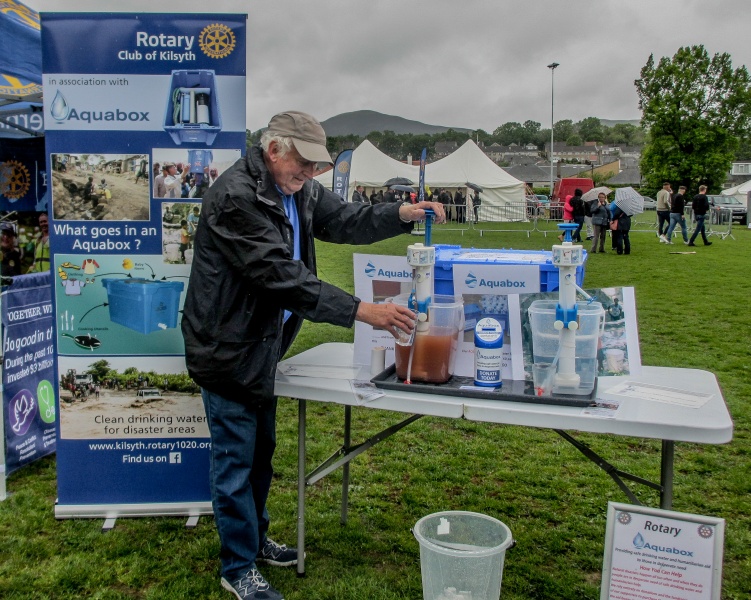 John Brown has done a power of work this year demonstrating the benefits of Rotary's Aquabox all over the district and beyond. Here he is at Penicuik Gala.
Senior Citizens Concert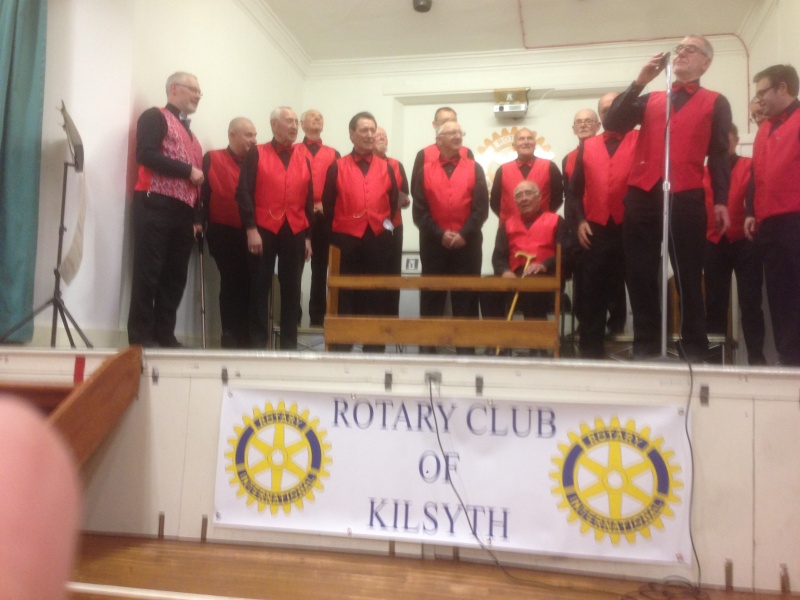 Sweet Harmony entertained senior citizens at our annual concert. Tea and cakes were enjoyed at the interval.
Aquabox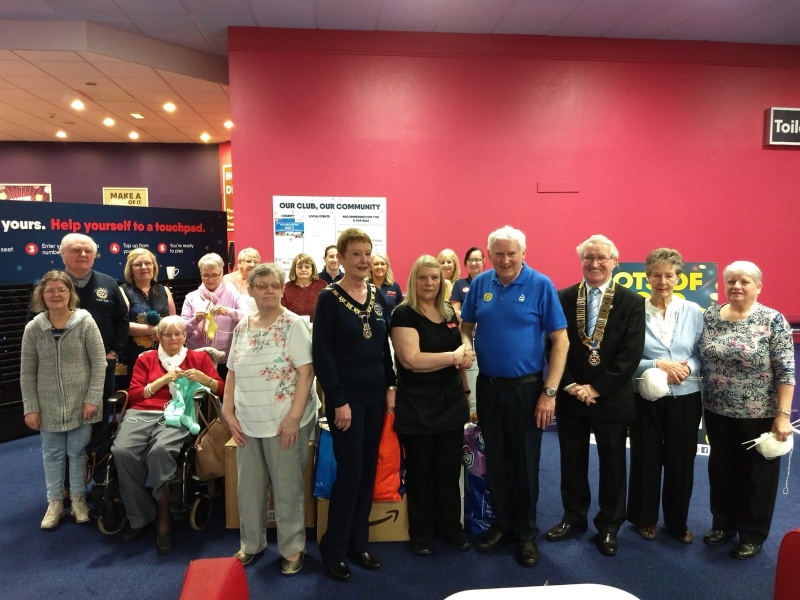 Club 55 at Buzz Bingo in Cumbernauld handed over knitted items to Kilsyth and Cumbernauld Rotary Clubs for Aquabox. Over 60 boxes of knitted baby jackets, blankets, teddies and toiletries were presented. Well done and many thanks.
Community Service Award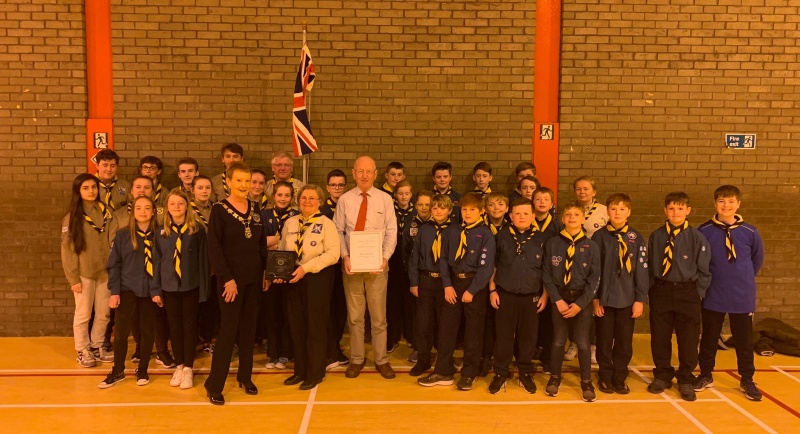 Marion Rankin was presented with a Community Service Award in recognition for her long service and dedication to the Scout movement.
Literacy Box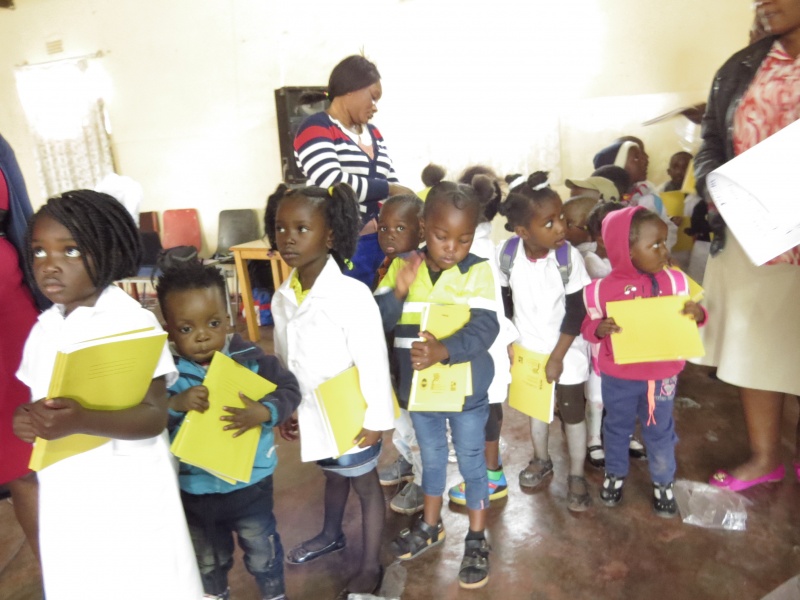 Thanks to 2nd Kilsyth Girls Brigade who raised money to fund a Literacy in a Box (a Rotary Charity) in Zambia.
Polio Eradication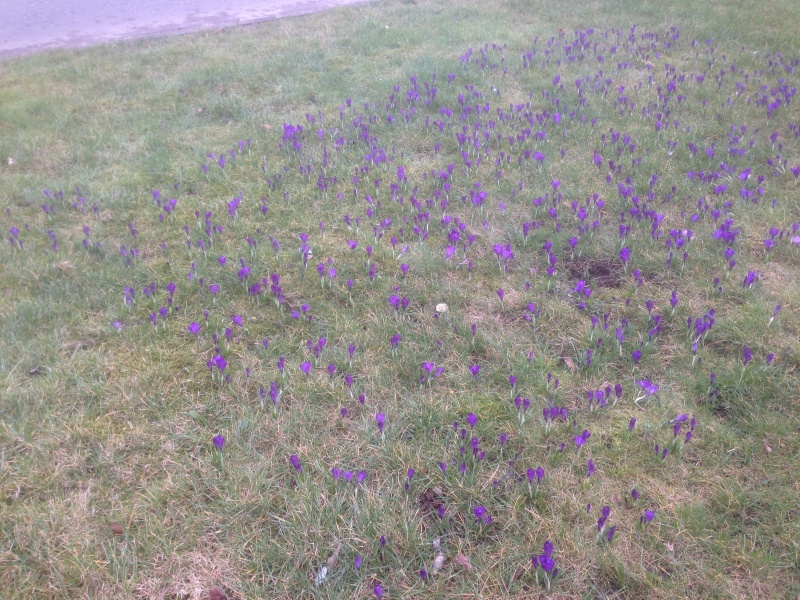 Our annual show of crocuses is approaching. We have planted crocuses in the town for a number of years as port of Rotary's commitment to eradicating the scourge of polio. Nearly there!!!
Valentine's Tree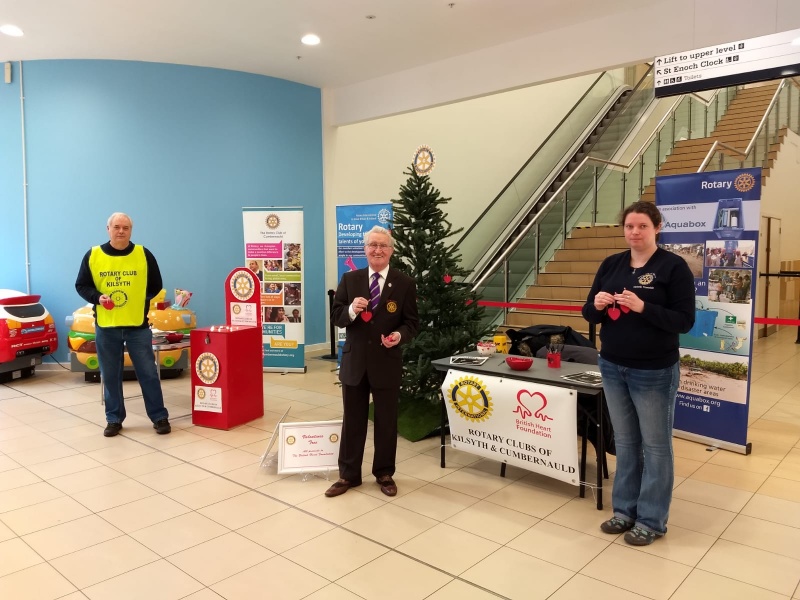 In collaboration with Cumbernauld club, we raised money for British Heart Foundation with our Valentine's tree in the Antonine Centre.
Challenge Enterprise and RYLA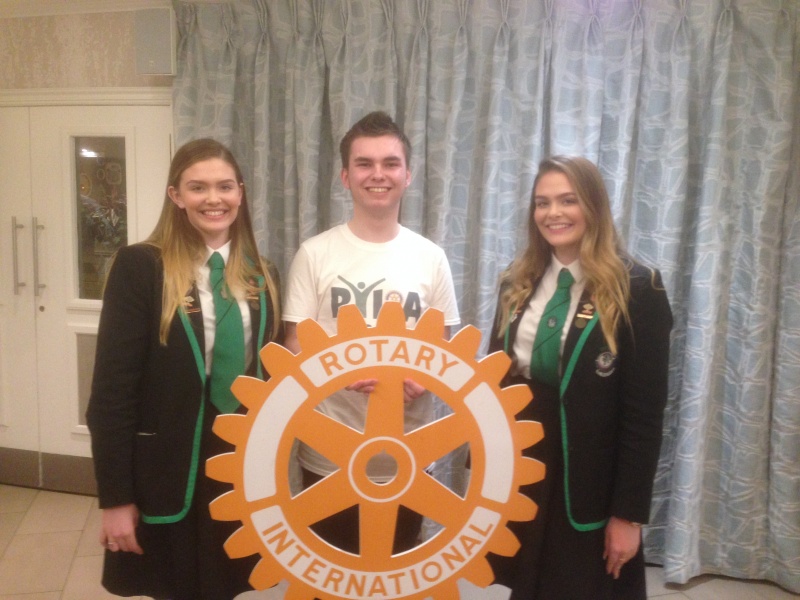 Sophie and Emily Murphy spoke to us about their experience on Challenge Enterprise which we sponsored. William Houston gave an account of his week on RYLA sponsored by Cumbernauld club.
Buzz Bingo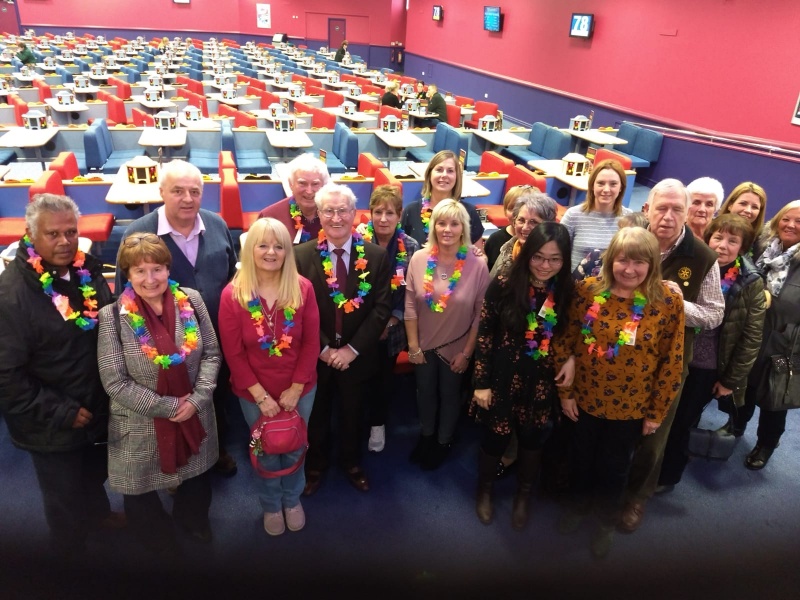 Rotarians and friends from Kilsyth and Cumbernauld clubs were guests of Buzz Bingo in Cumbernauld who supported Aquabox charity.
Hole Sponsorship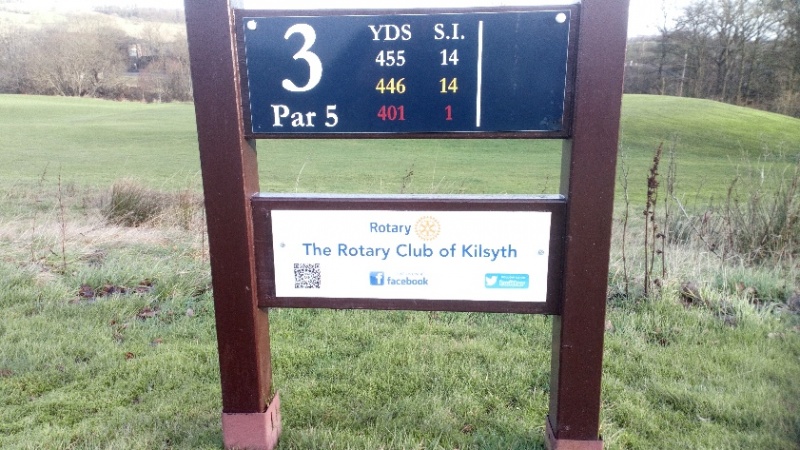 We're sponsoring a hole at Kilsyth Golf Club
Cottage Hospital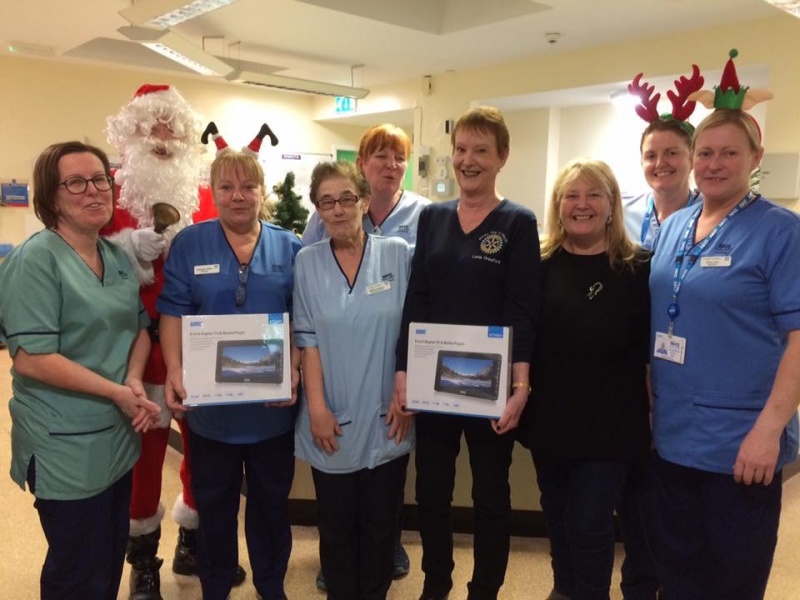 We donated two portable televisions for patients at the local Cottage Hospital
Connections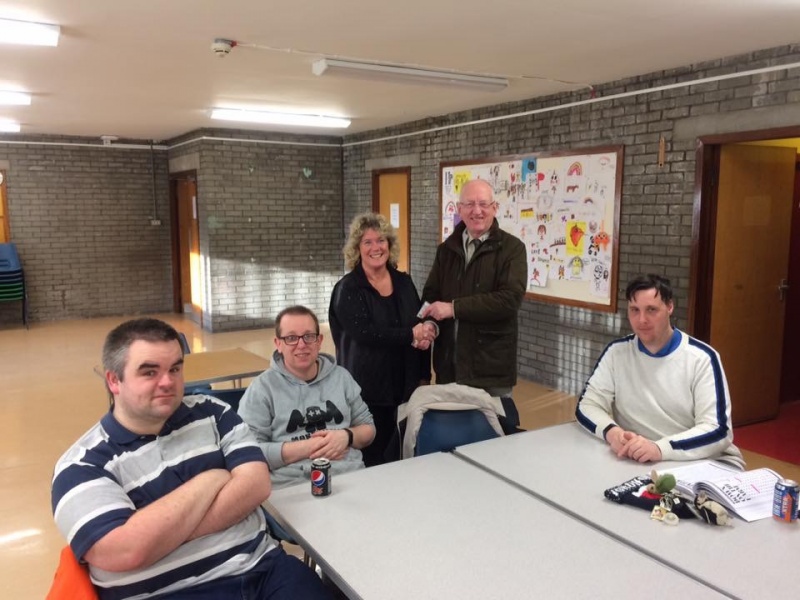 We supported local group Connections based at the Garrell Vale.
Young Philanthropist Competition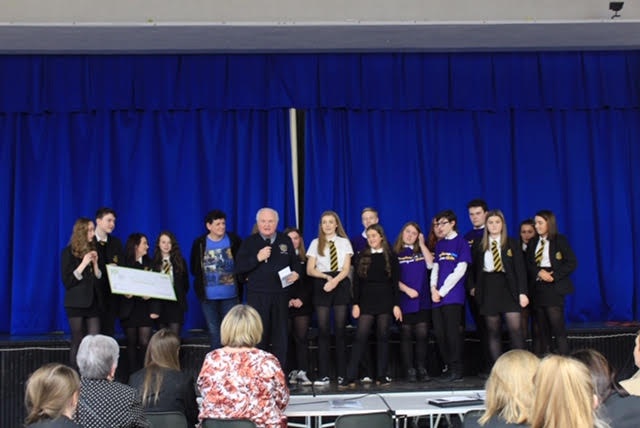 Member Frank Clark helped with the judging at this annual Charity focussed competition at Kilsyth Academy.
Tree Planting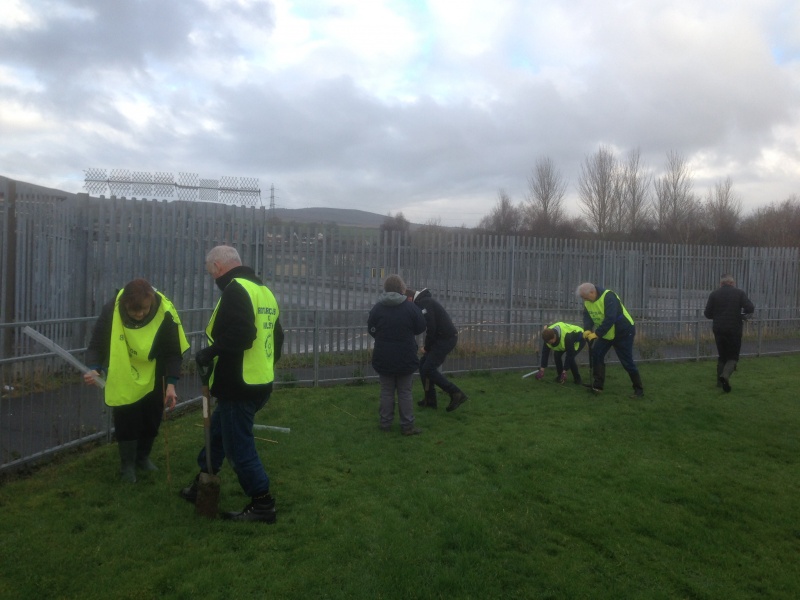 We've been planting trees in the local community with the help of local scouts' group. Planted over 100 this year. More next year.
Rotary International Convention 2018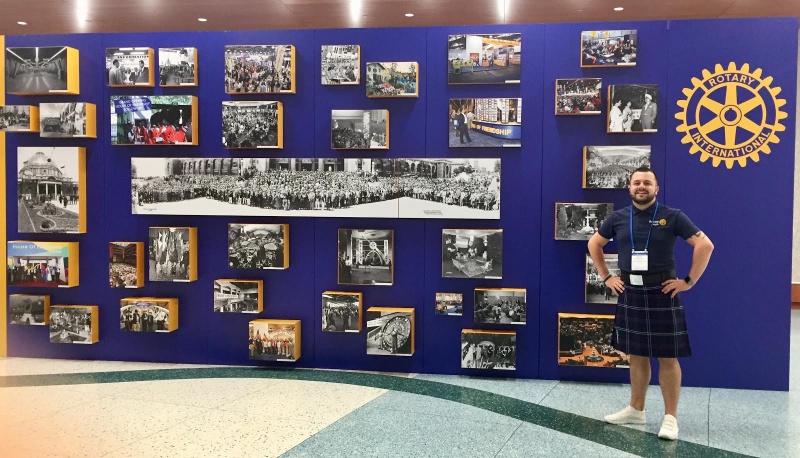 President Elect David Breton attended this year's RI Convention in Toronto in June. He gave an interesting presentation to the club about his experience.