Victoria Truesdale, President 2021-22


Welcome to the Rotary Club of Kilsyth
We meet weekly on a Thursday evening, enjoying a meal and fellowship. Meetings can include interesting speakers, entertainment or business. We work with the local community, assisting youth, elderly and other community groups. We raise and distribute funds to charities and projects both at home and abroad.
Rotary is the world's leading service club organisation working on a local, regional and international level. Kilsyth rotarians dedicate themselves to the Rotary motto and philosophy "service above self"
Forthcoming Events
Murder / Mystery Night - Saturday August 28
Walk for CHAS - Saturday Sept 18
Family Games Night - Saturday October 2
Race Night - Friday November 12
Christmas Fun Evening - Thursday December 9
Cheese / Wine (prospective members) - Saturday February 5, 2022
Car Treasure Hunt - Sunday April 24. 2022
Our usual meetings have been cancelled until further notice. However we continue to meet weekly through zoom and have managed to support a limited number of projects, fundraising and social events. We're still active.
Gin Tasting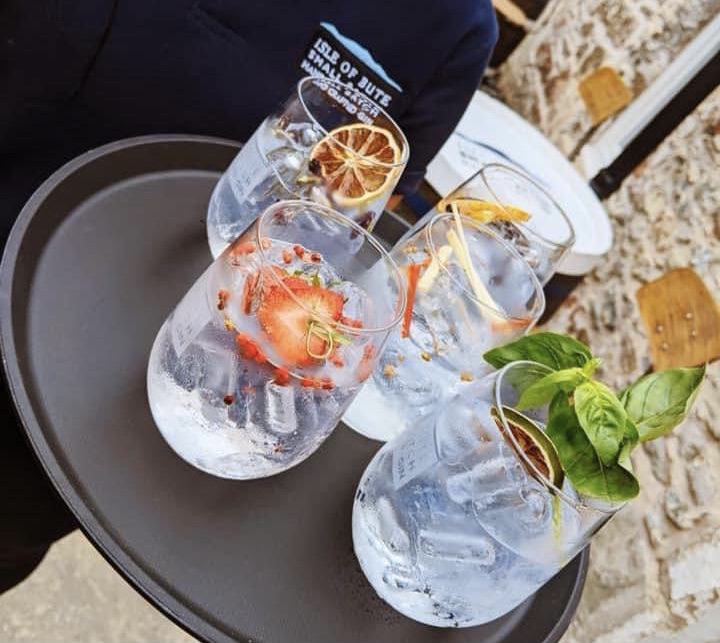 Members, family and friends enjoyed a gin tasting experience. Thanks to the Isle of Bute Distillery who did a great job.
End Polio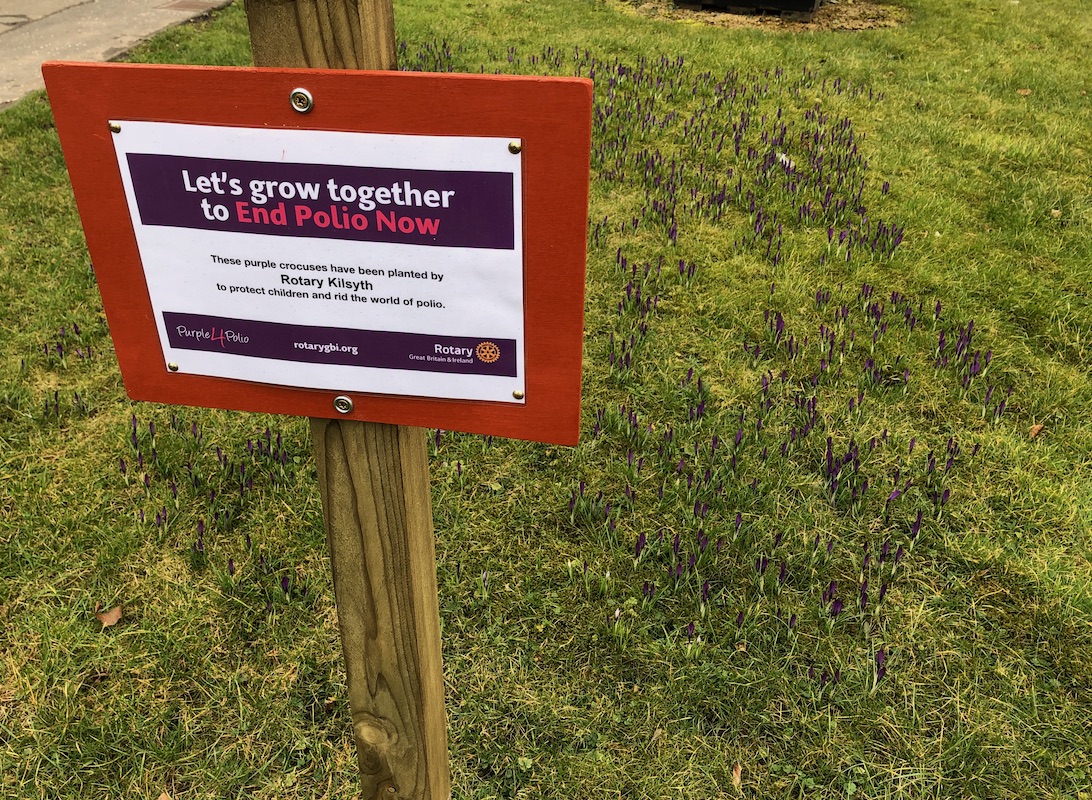 The crocuses are about to bloom. We've been planting them in the town for several years to highlight Rotary's End Polio Now campaign. We've recently donated £1000, thanks largely due to the sale of Message of Hope cards created by one of our members.
Murder Mystery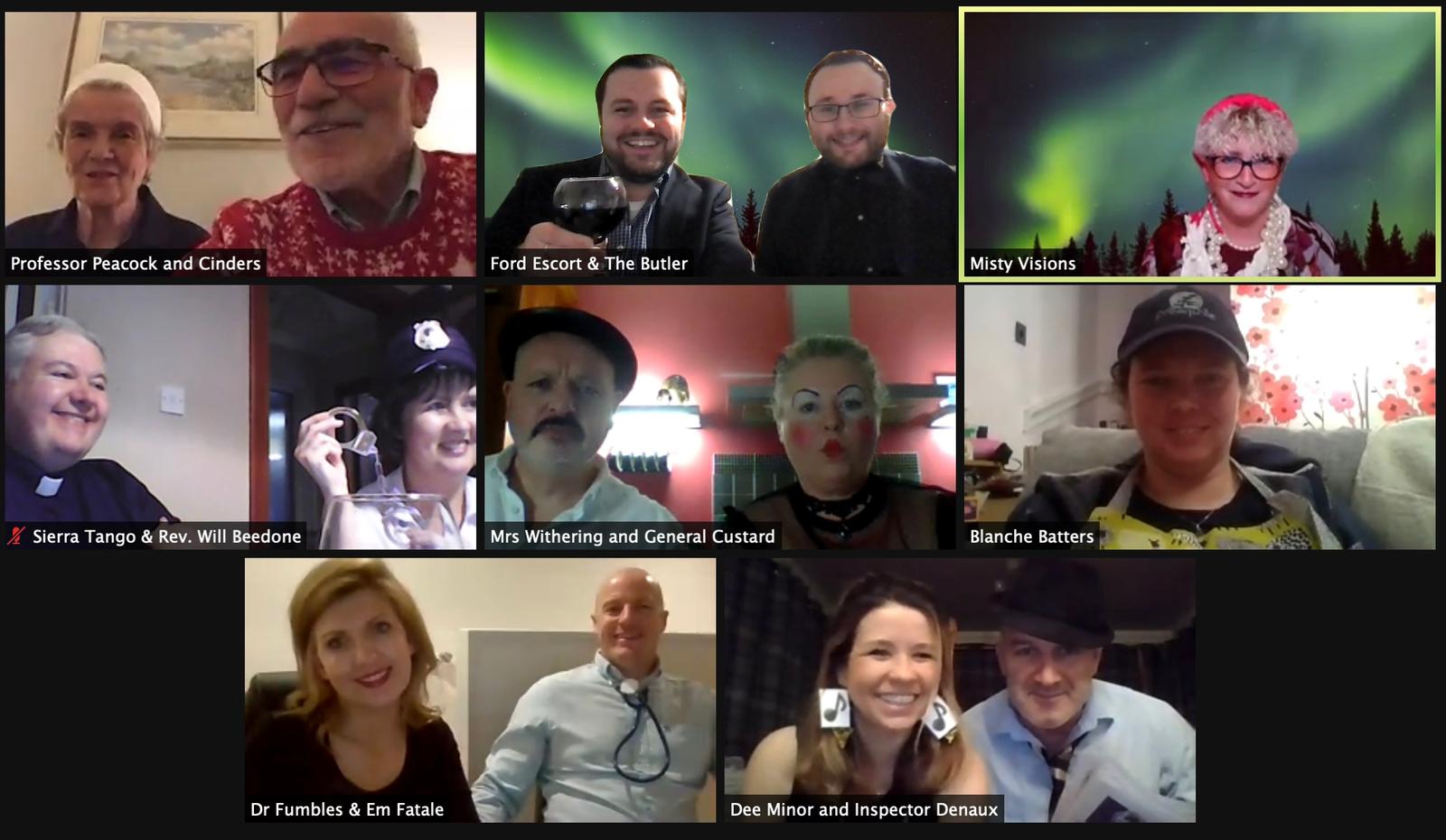 Some of our members tried out a Zoom Murder Mystery. Great fun.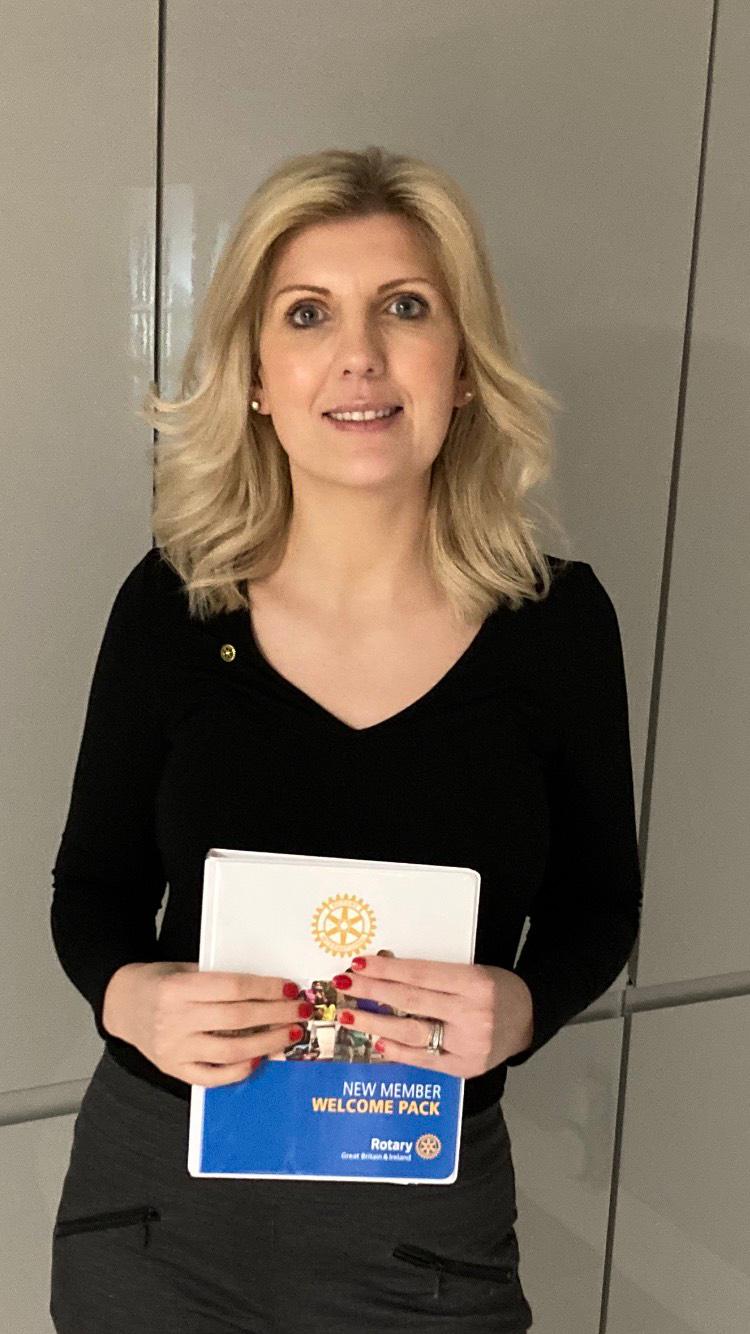 Inspite of lockdown, we've managed to bring in a second new member. Welcome to Donna Kearney
A Christmas Lullaby
Our annual Carol Concert was virtual this year. You can find it on YouTube. It's excellent. Click here.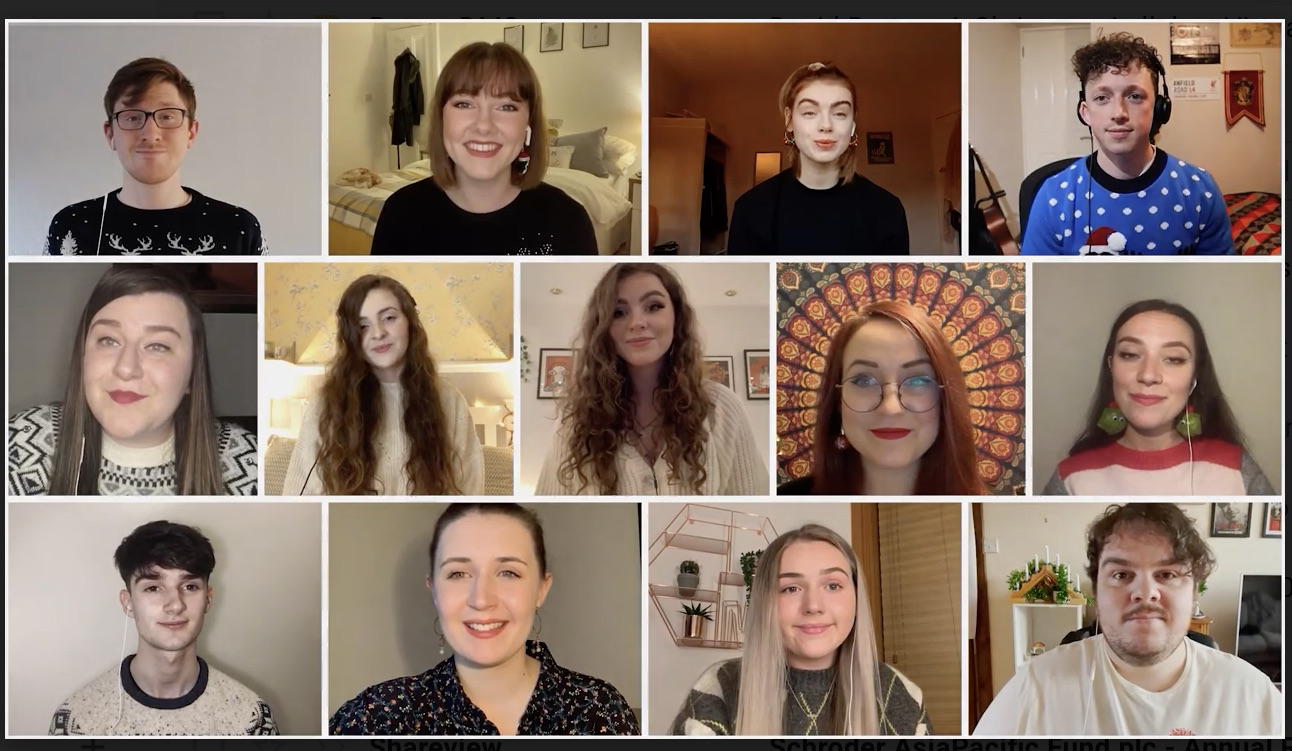 These young musicians are to be commended for their commitment and enthusiasm for music. Special thanks to Fraser for organisation. We made a donation to Fairshare on their behalf.
---
On Call Africa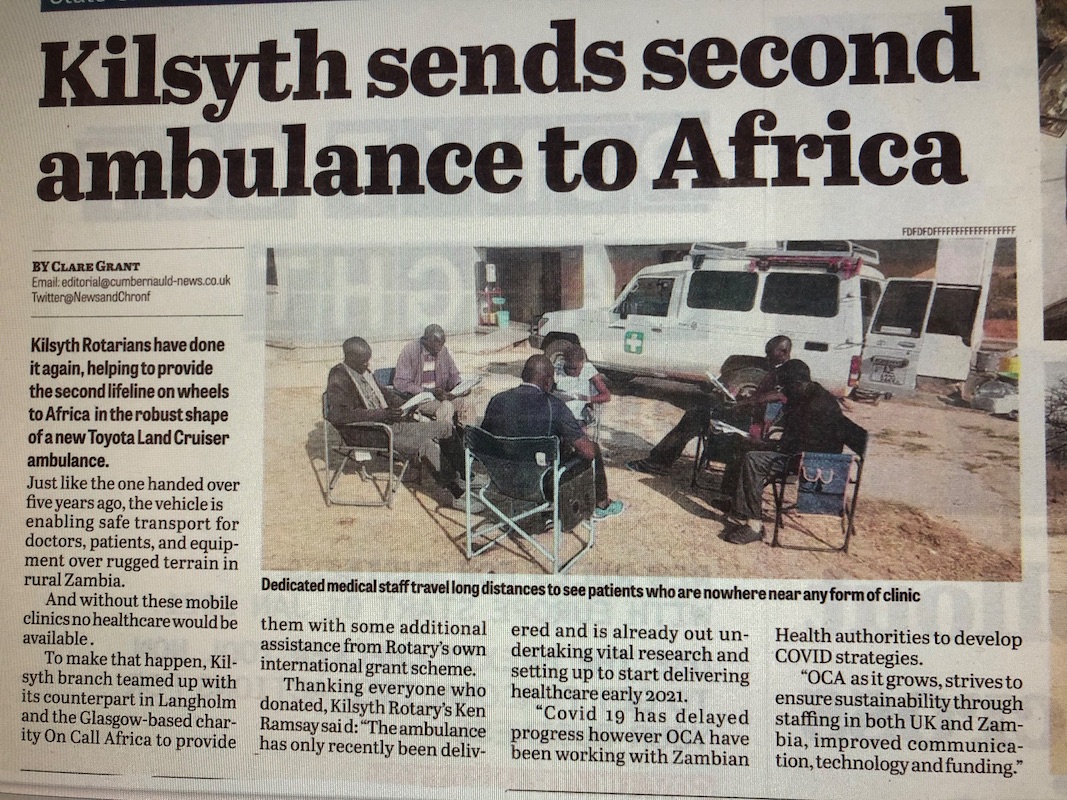 Having been the lead club in raising finance for an ambulance in Zambia, we contributed to raising money for a second. An article from the local press gives some detail.
Christmas Night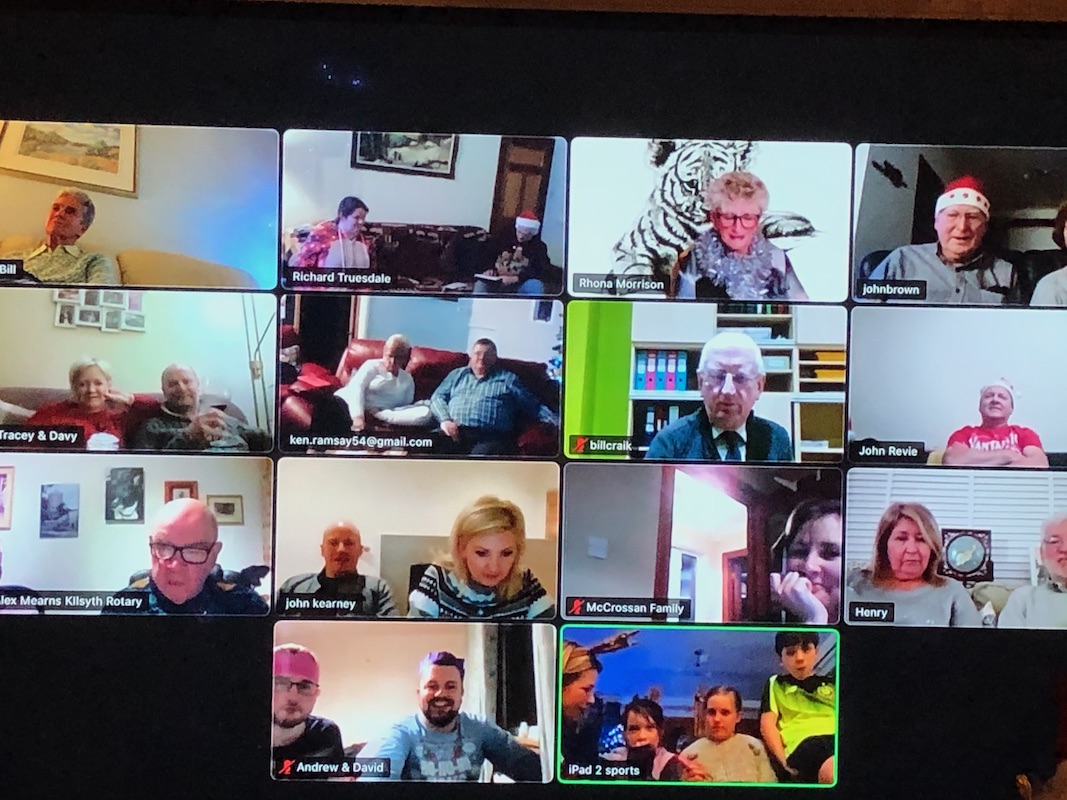 Our first virtual Christmas night. We managed a few games and a bit of fun.
Penny Catterick - Speaker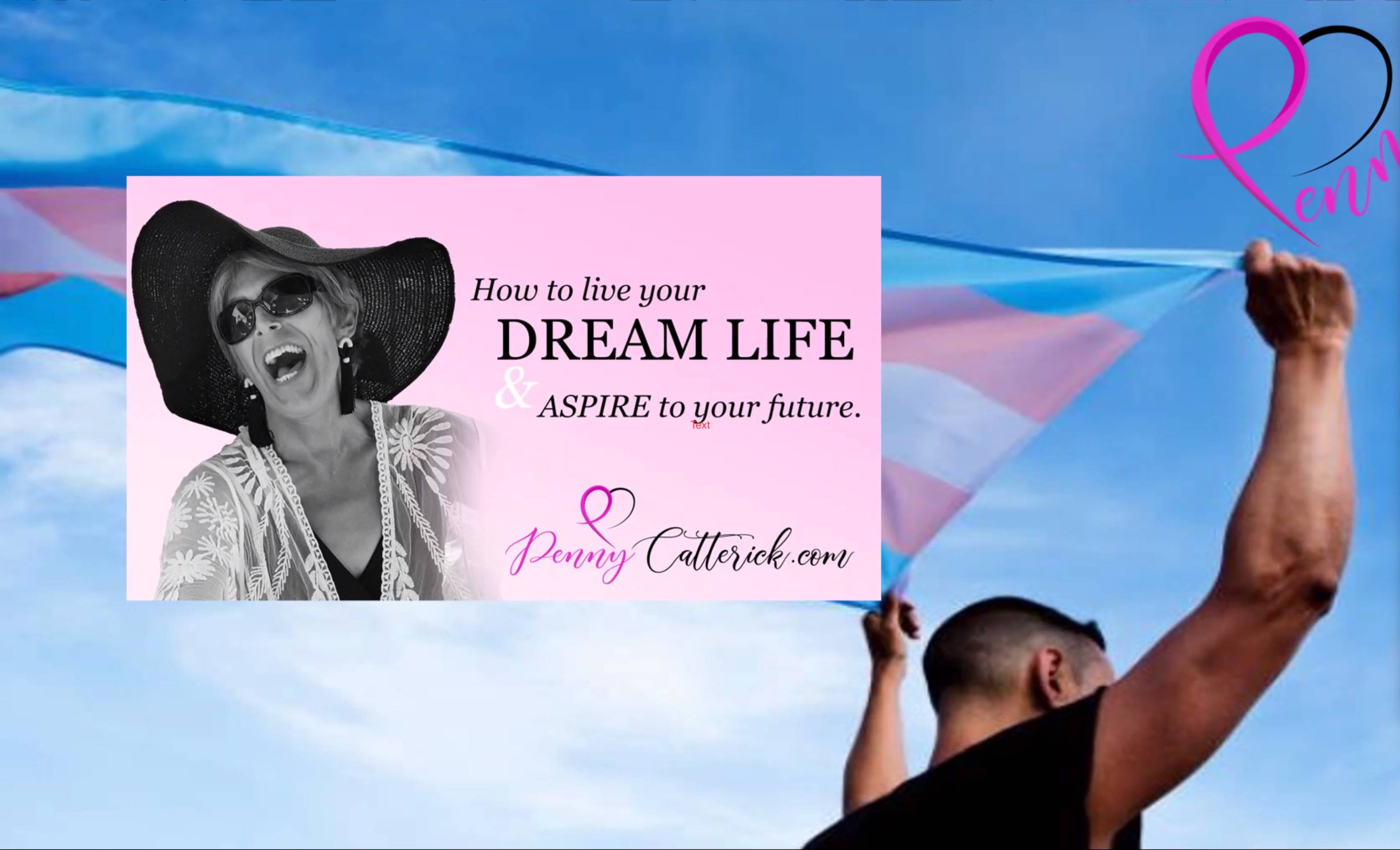 We're still active. One of the upsides of meeting virtually is the quality of speakers we enjoy. Penny spoke from Canada. She's an entrepreneur and people coach and spoke of her struggles in transitioning. Really powerful presentation.
Rotary Remembers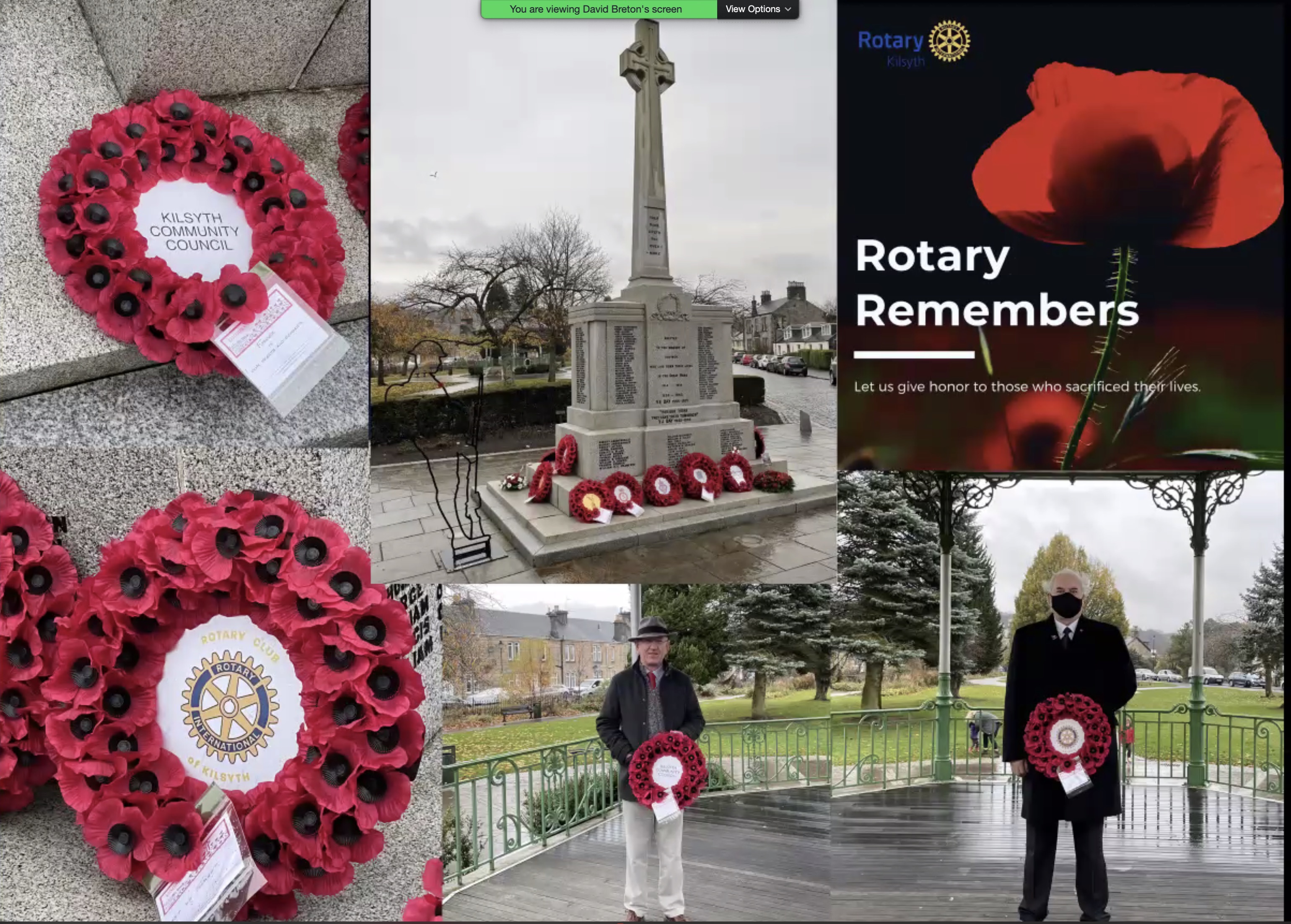 We paid our respects with the laying of a wreath at Burngreen.
Paul Harris Fellow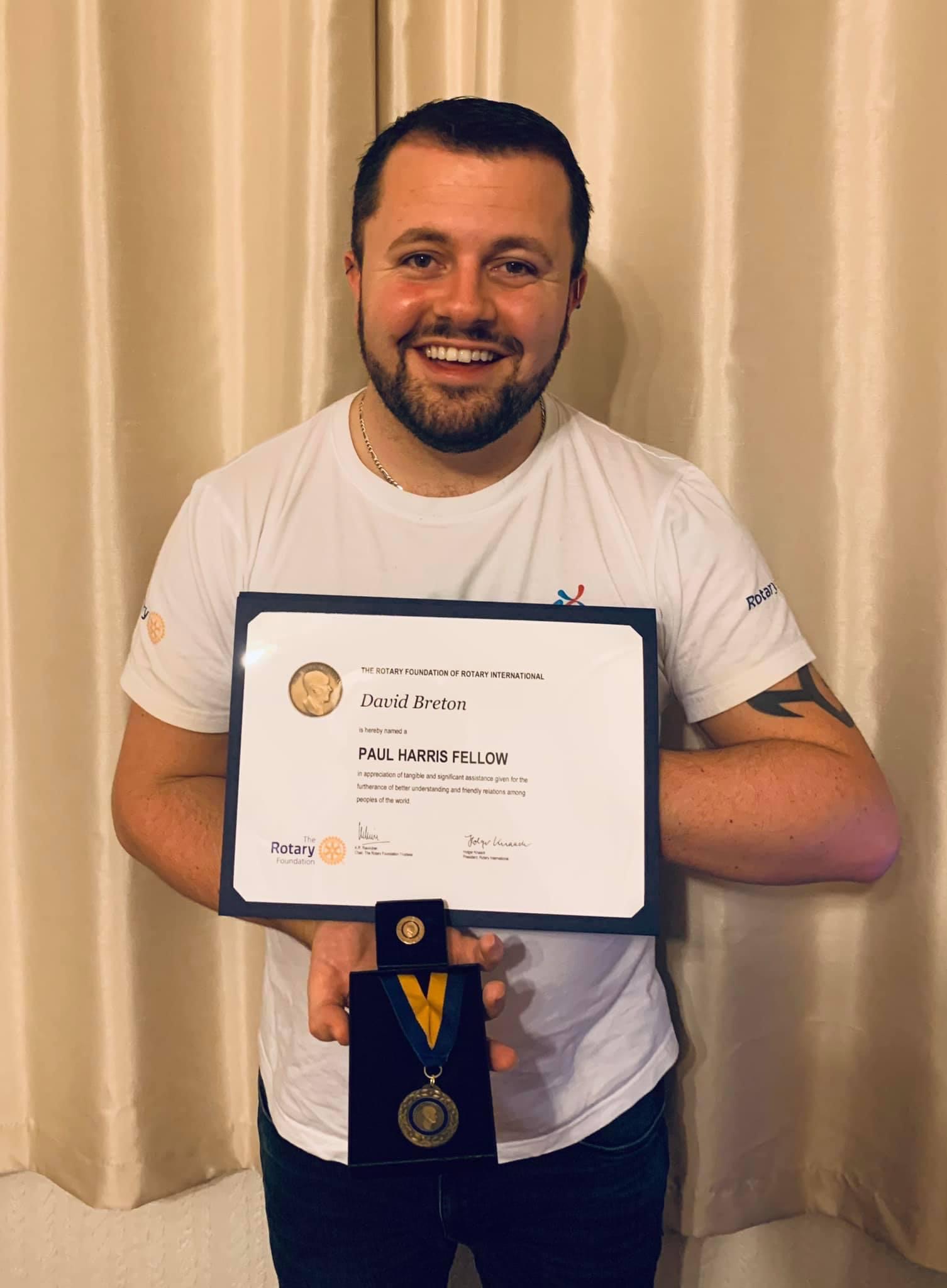 Congratulations to new Paul Harris fellow David Breton
Paul Harris Fellow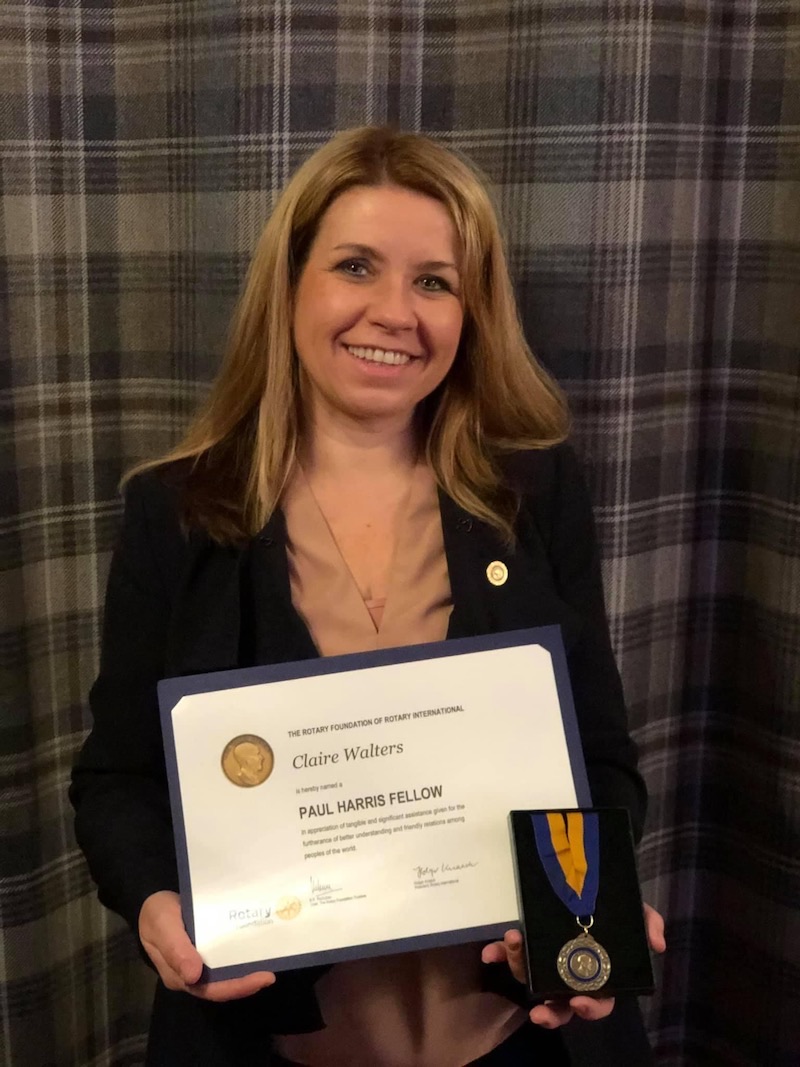 Well done to new Paul Harris Fellow Claire Walters
End Polio

October 24 - World Polio Day and Kilsyth Academy lit in purple to show our commitment to Rotary's campaign to end polio. We have made great progress over the years. We're nearly there.
Weird Fish Lady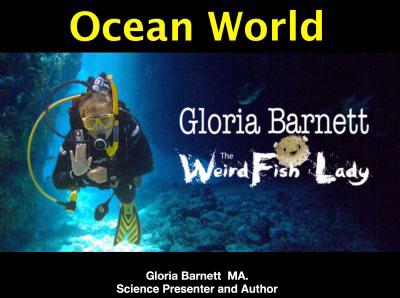 We've had some excellent international speakers at our zoom meetings. the Weird Fish Lady was so interesting.
Race Night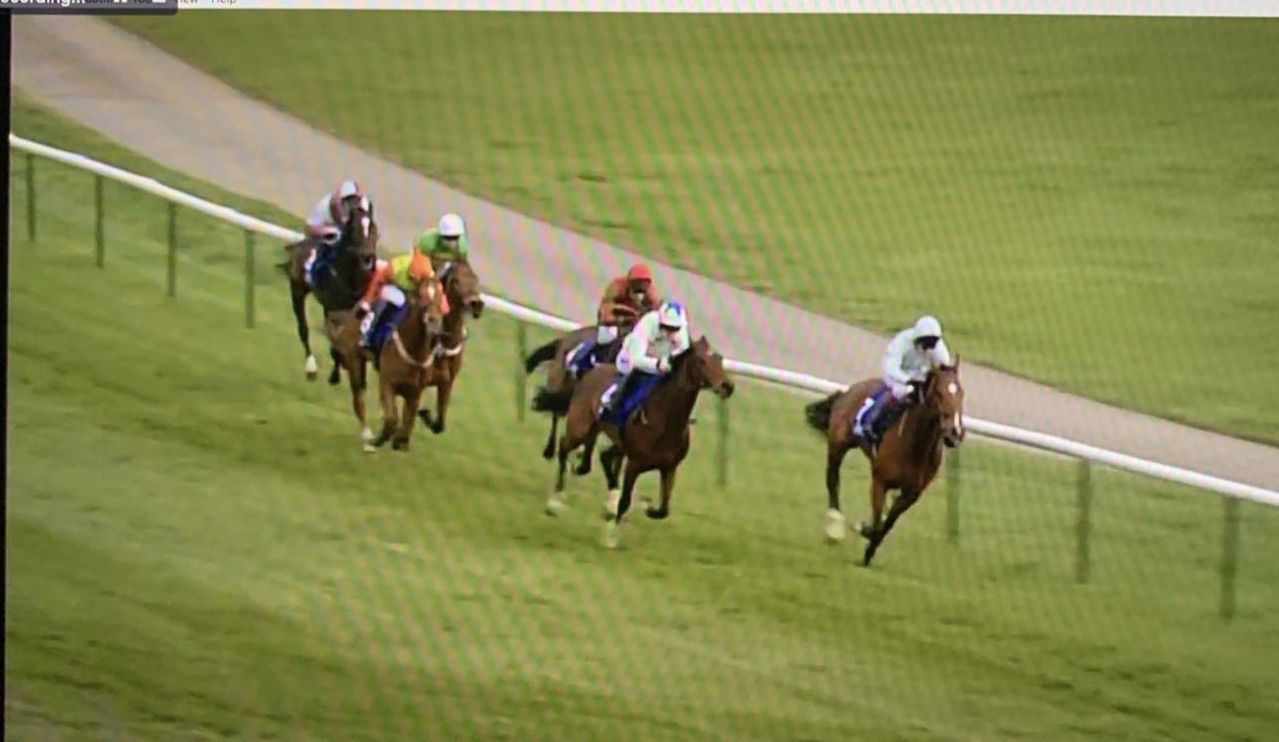 We held a Race Night via zoom. Everyone seemed to enjoy it and we raised over £1300
New Member
We have a new member. A big welcome to Janice Campbell.
End Polio Now Presentation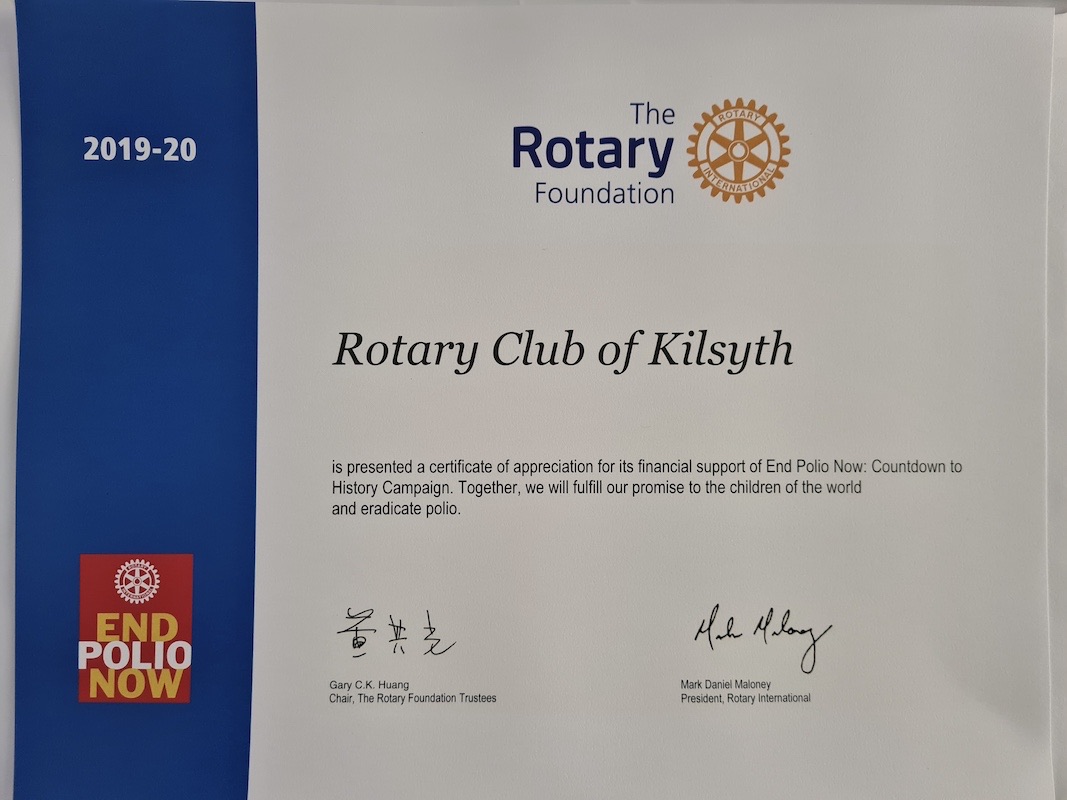 We're proud to receive a certificate for our commitment to Rotary's campaign to wipe out polio.
Car Treasure Hunt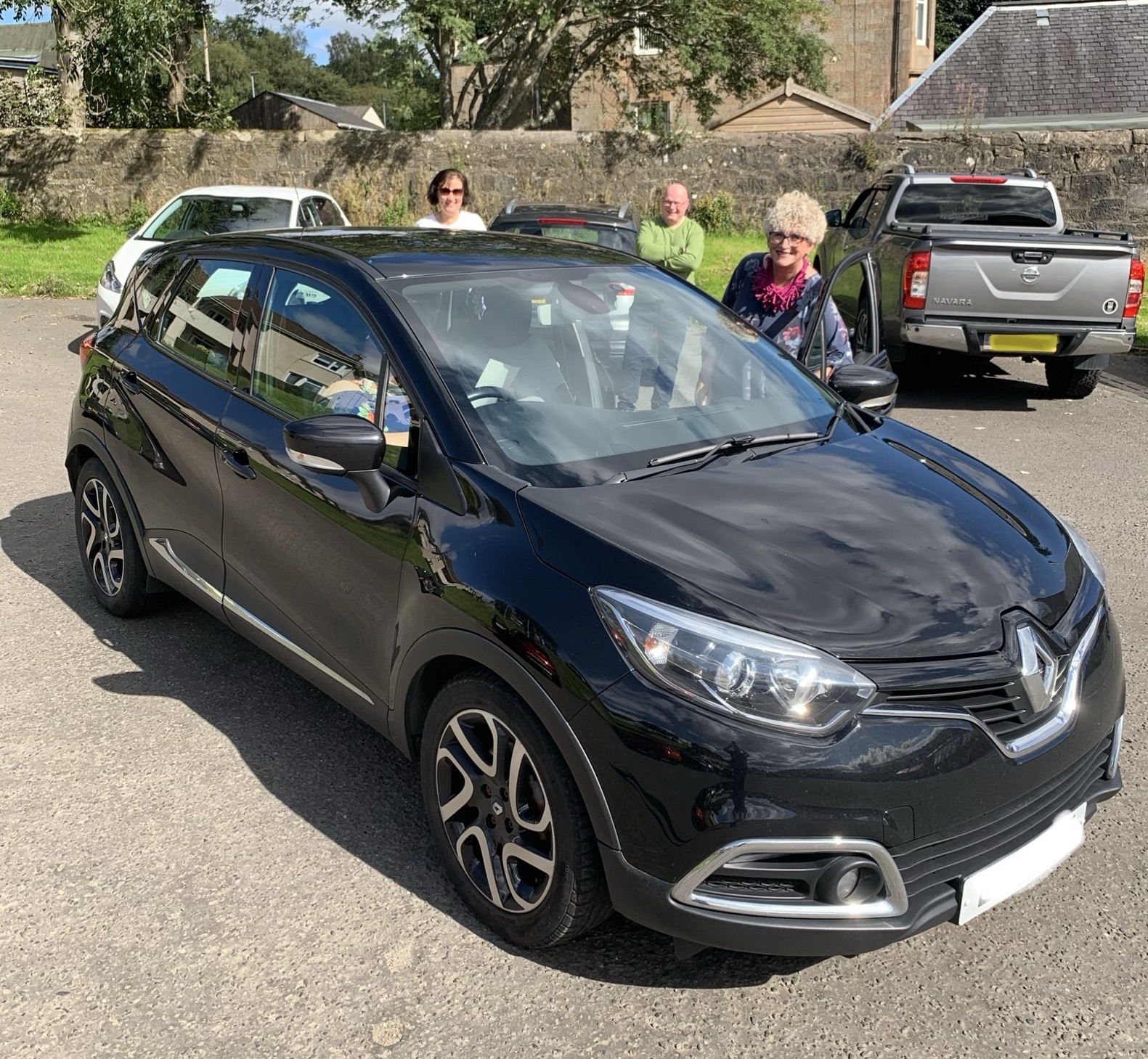 Members enjoyed a socially distanced car treasure hunt and met up via zoom later on to share experiences. Over £200 was raised.
Presentation to Honorary Member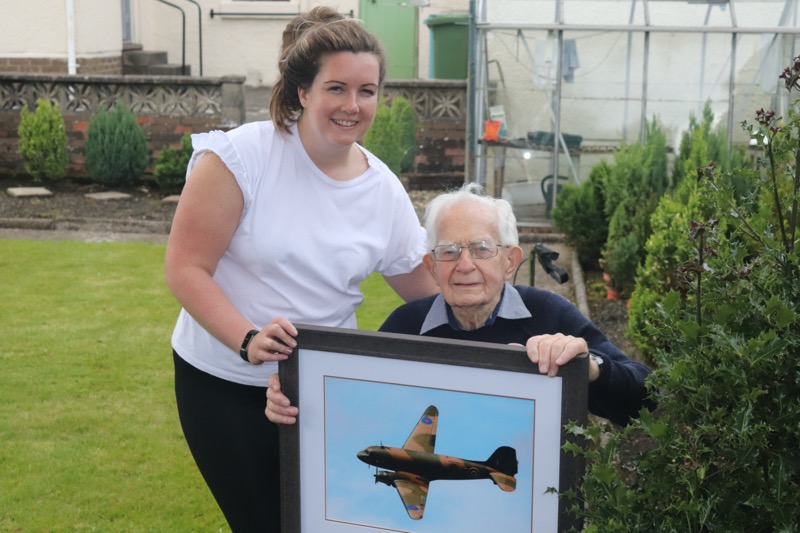 Honorary member Bill Gracie celebrated his 100th birthday during lockdown. We were about to make a socially distanced presentation.
Afternoon Bingo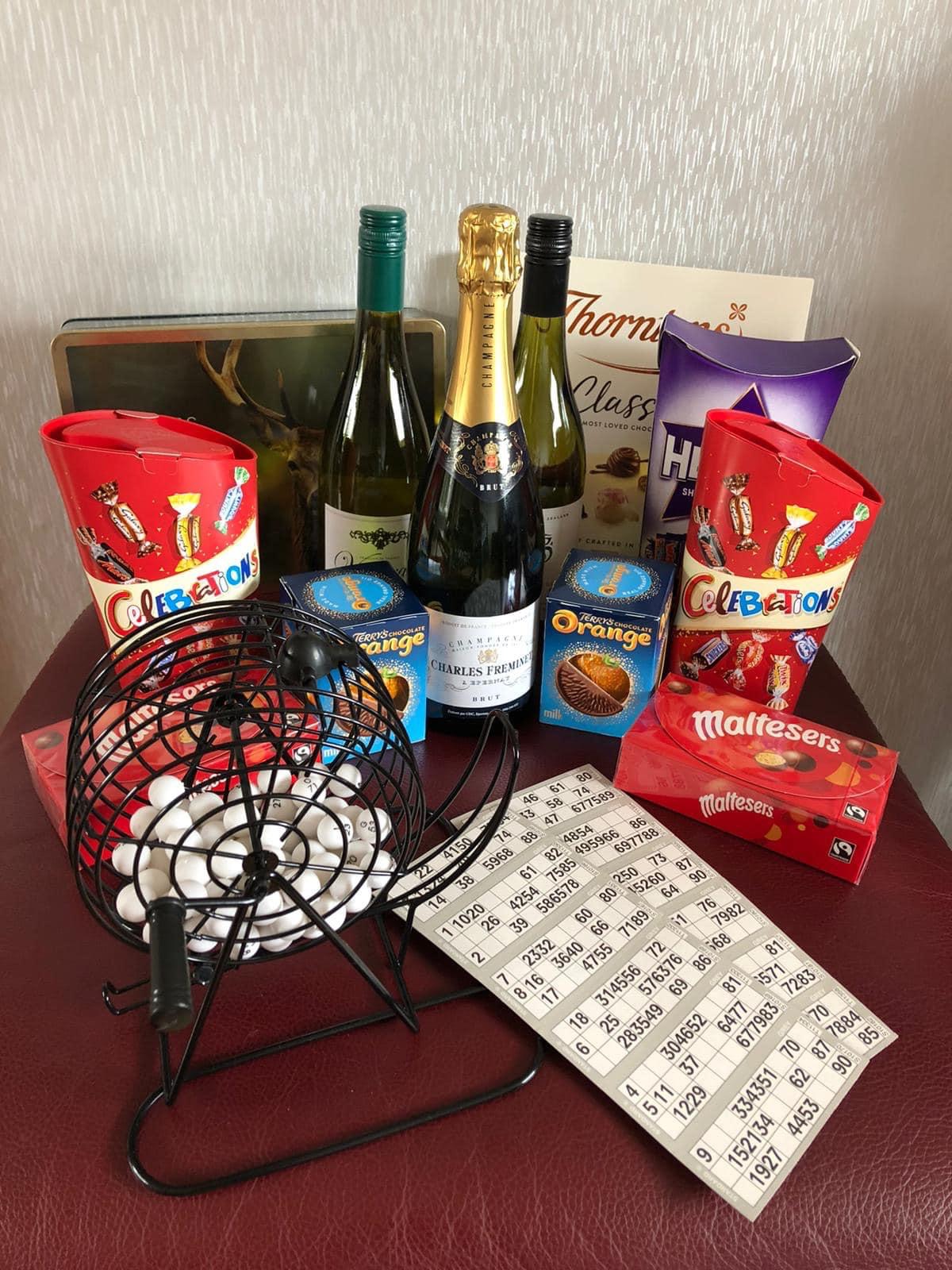 We enjoyed an afternoon bingo session with prizes and home baking.
Technology Competition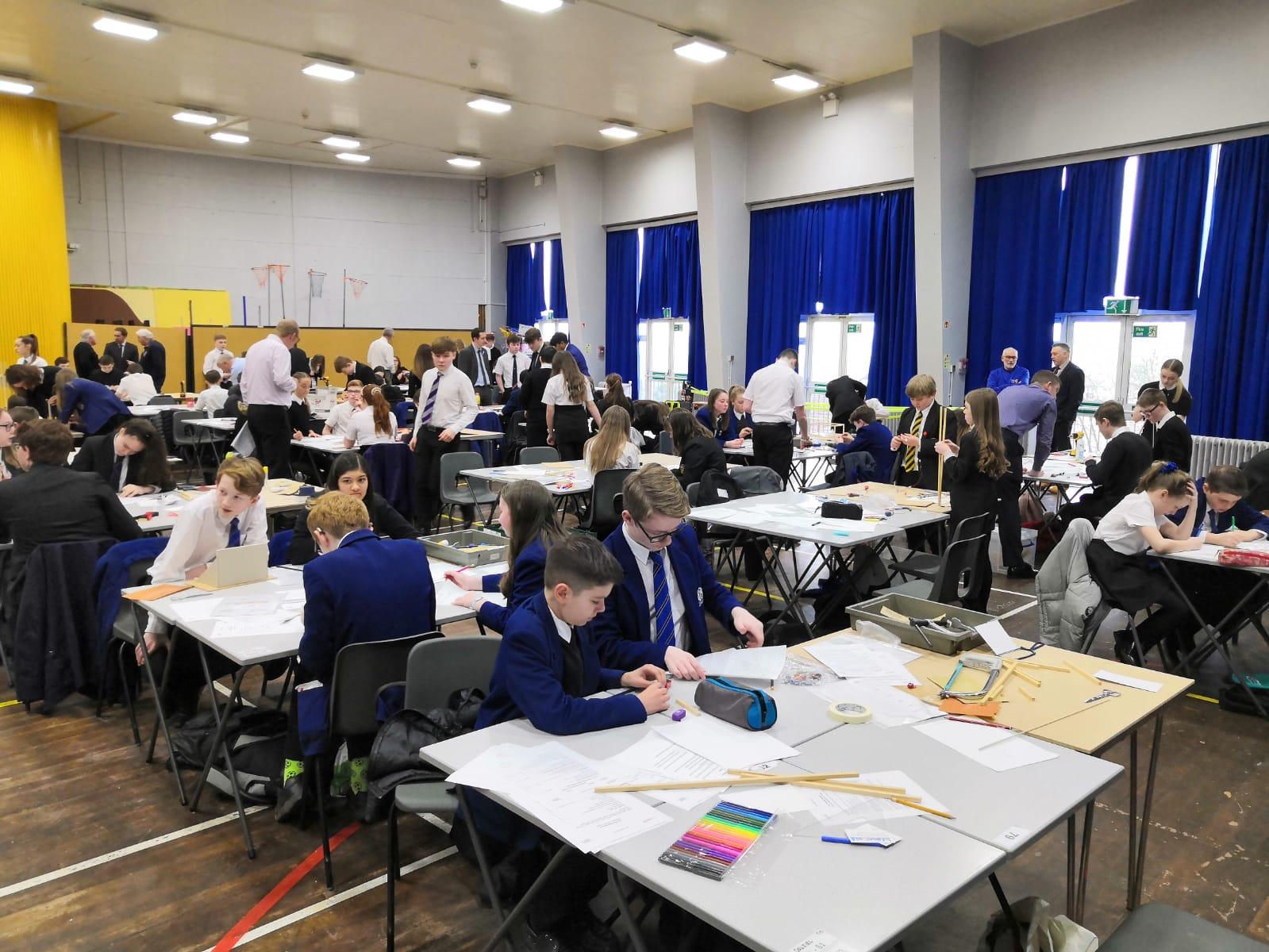 A hive of activity with teams working through the task of constructing a beacon lighthouse. Kilsyth Academy won the senior event, Dalziel the intermediate and Chryston the foundation.
End Polio Now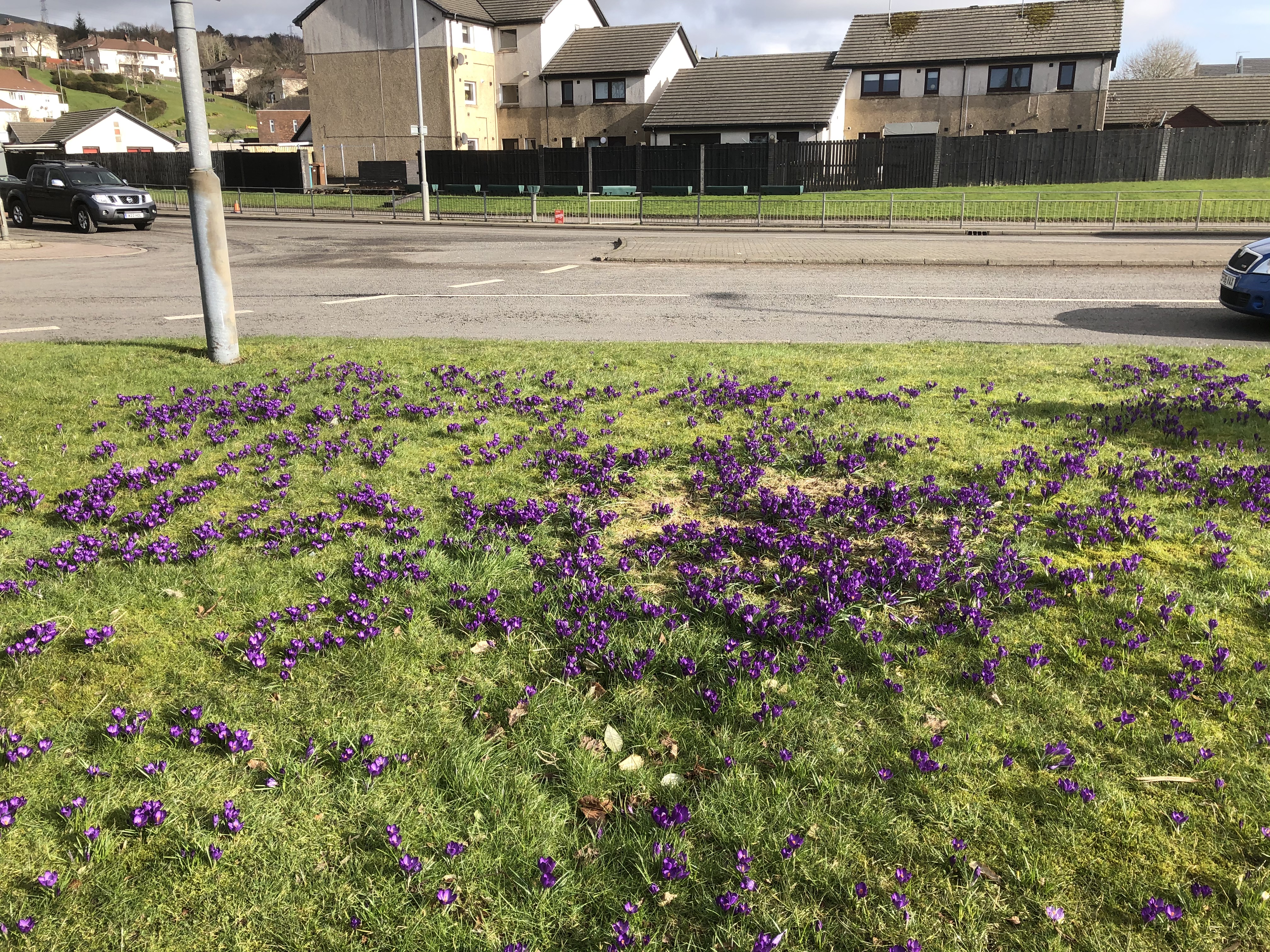 For a number of years, we have been planting purple crocuses in the town as a symbol of Rotary's commitment to help end polio worldwide.
End Polio Now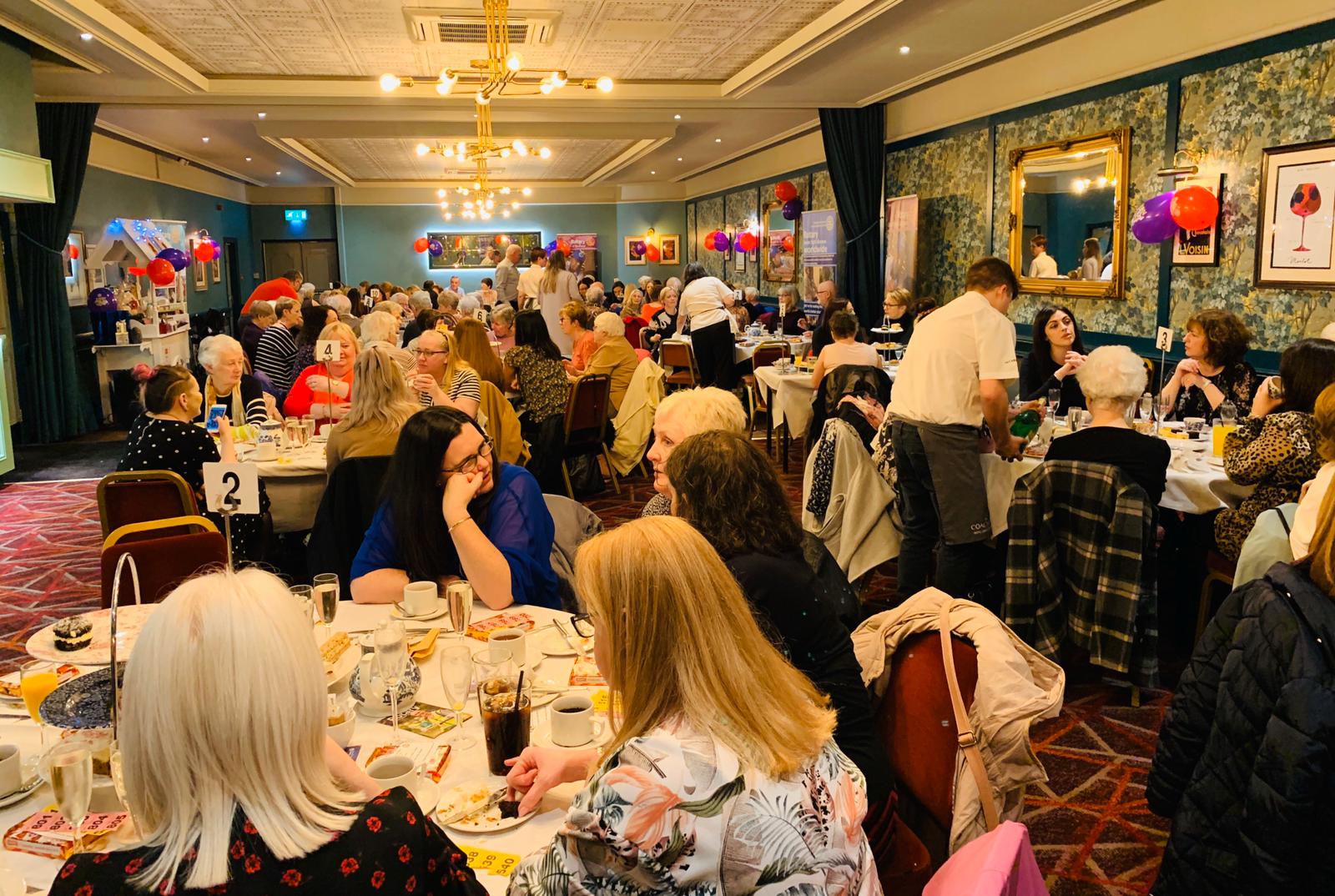 A very successful and enjoyable afternoon with Prosecco and cakes at the Coachman raised over £2k for Rotary's End Polio Now campaign.
Public Speaking Competition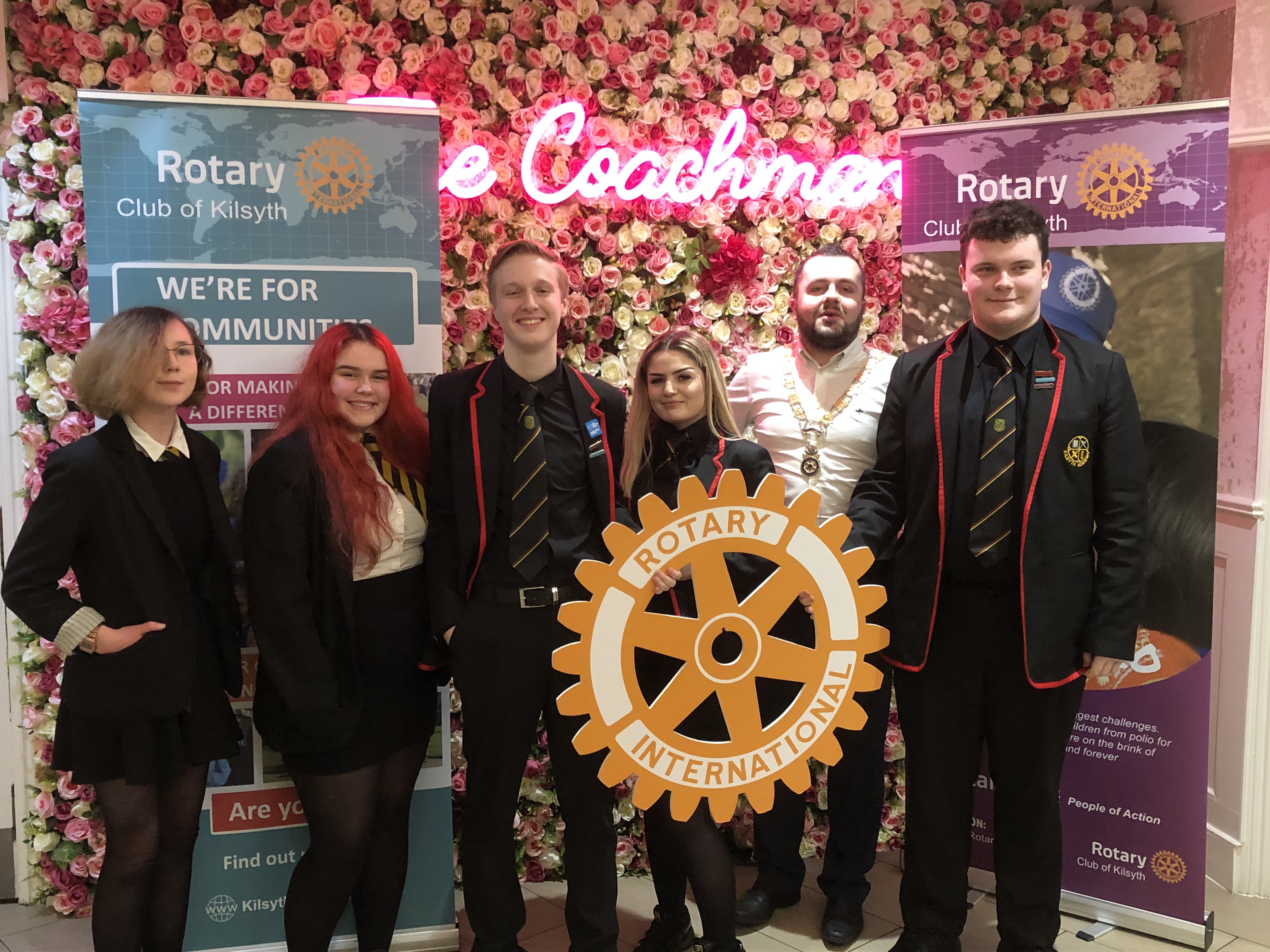 The winners of the Public Speaking Competition spoke with eloquence and passion. Well done pupils of Kilsyth Academy.
Rotary Primary School Quiz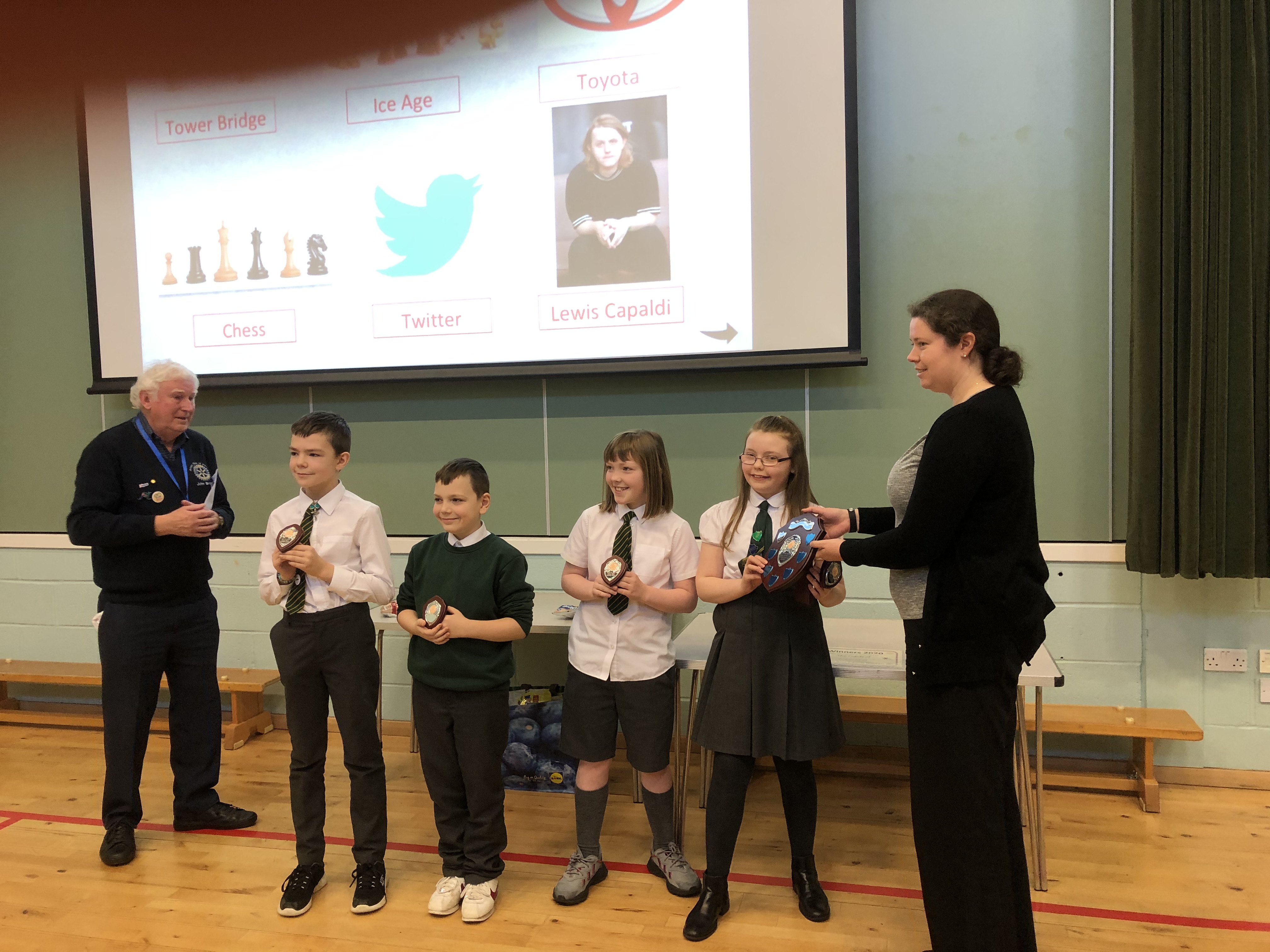 We had 12 teams that took part in our local competition. Congratulations to St Patrick's Primary and their winning team.
Taste of Burns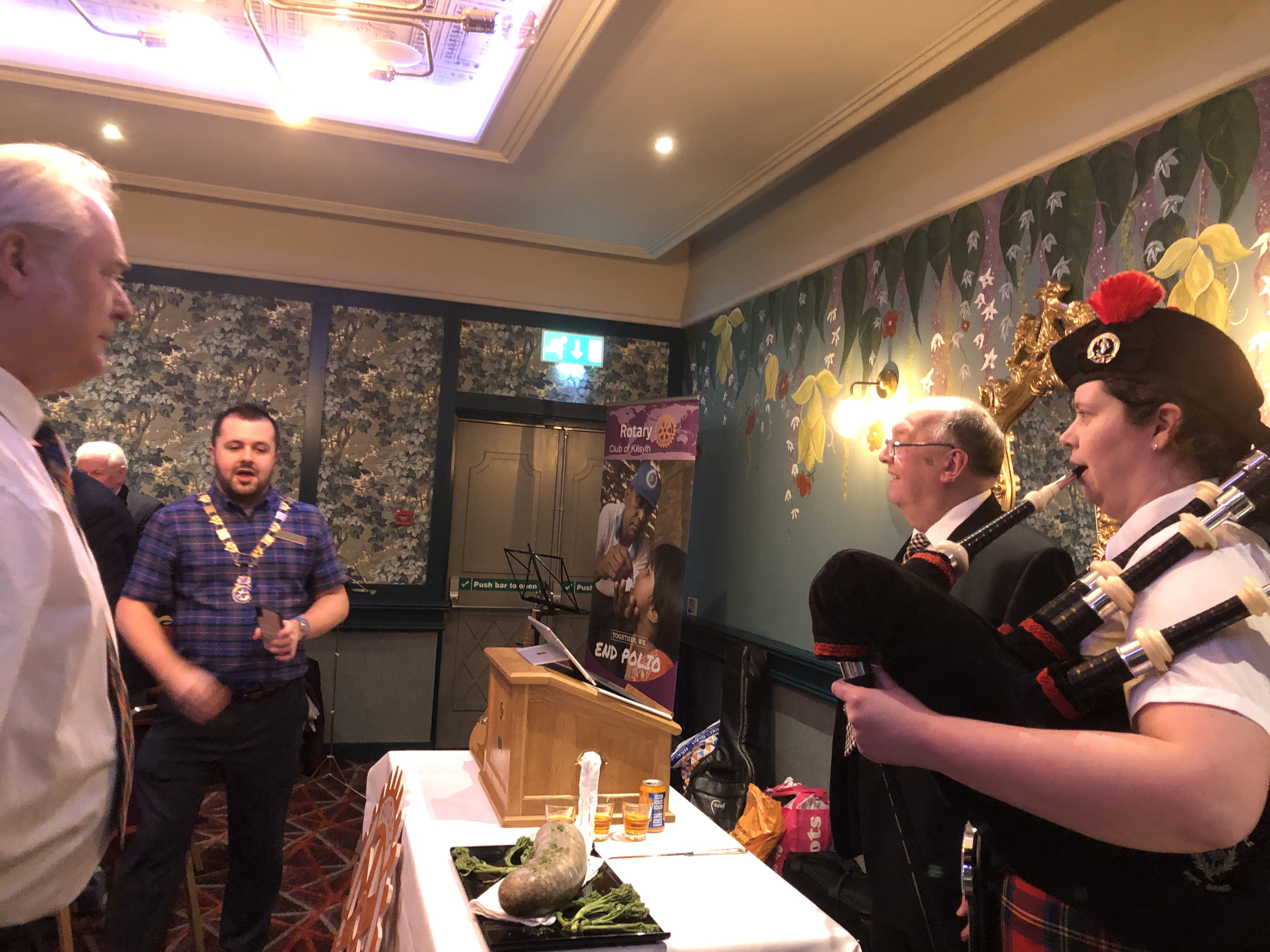 We enjoyed a Taste of Burns with guest John Graham addressing the haggis. President David, Richard Truesdale and piper Victoria look on.
On Call Africa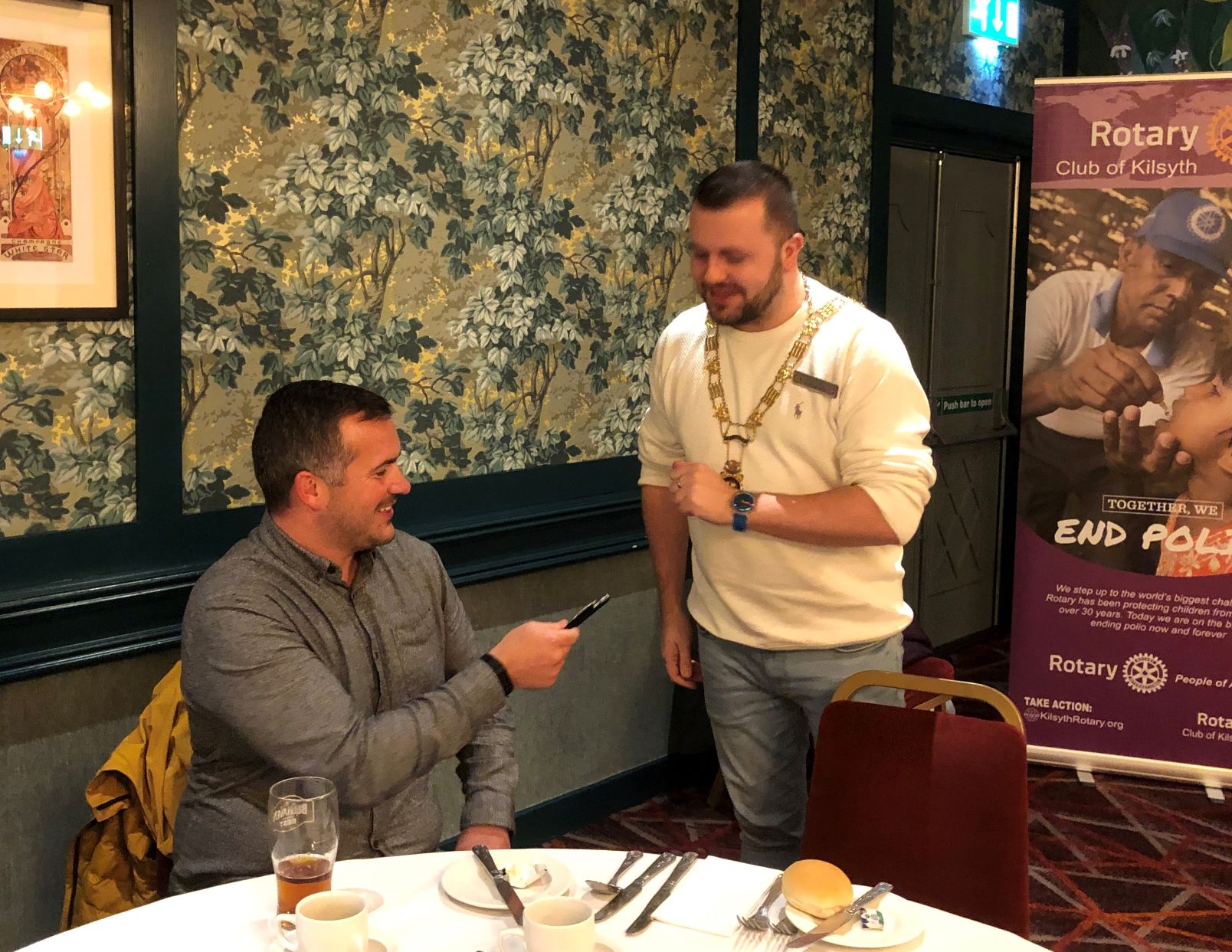 Ben Margetts gave us a comprehensive update on the work of On Call Africa in Zambia. It was heartening to hear that the ambulance we helped raise funds for is still doing sterling work.
New Member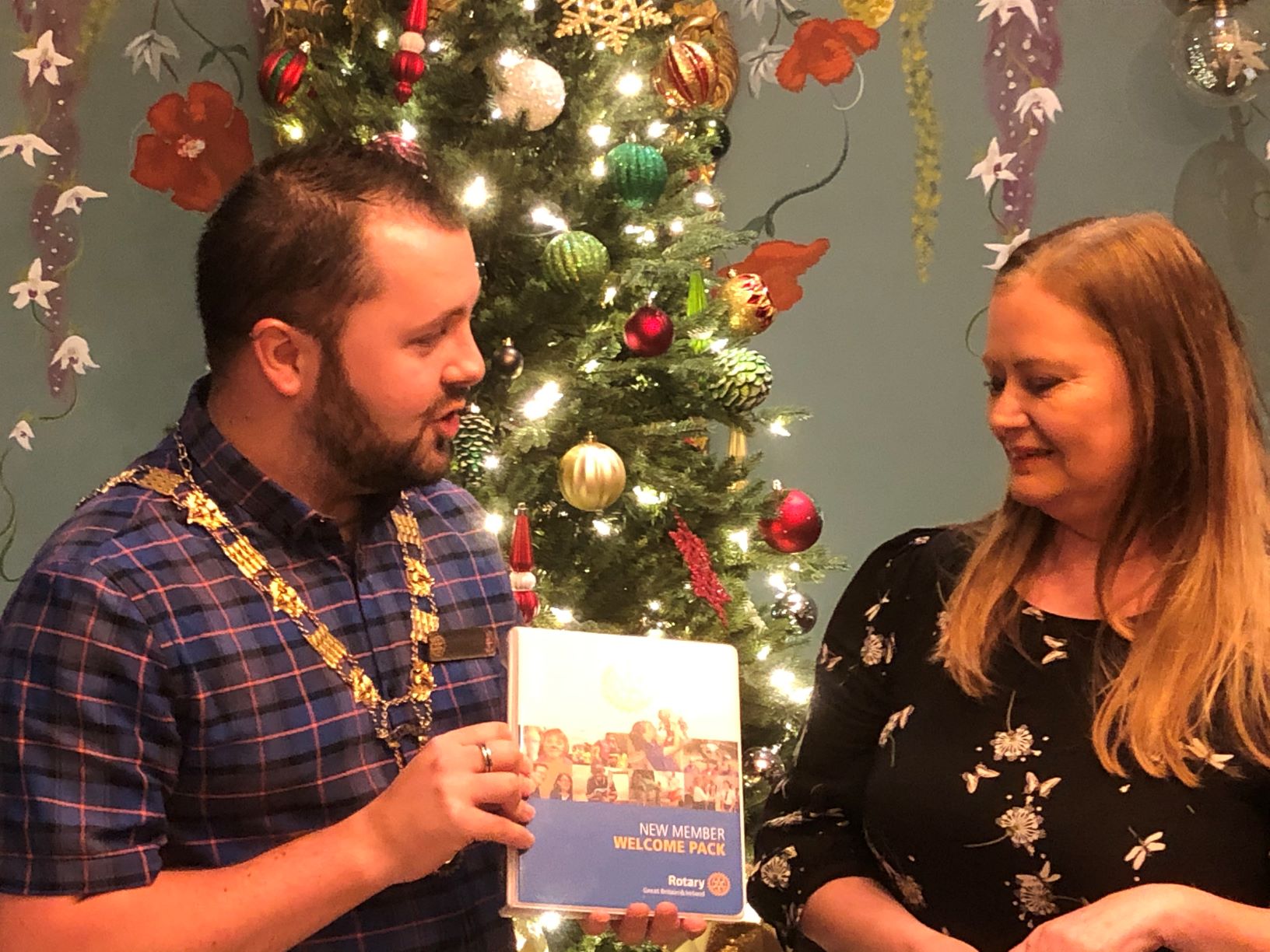 President David inducts new member Moreen Cherry and presents her with a Rotary Welcome pack.
Carol Service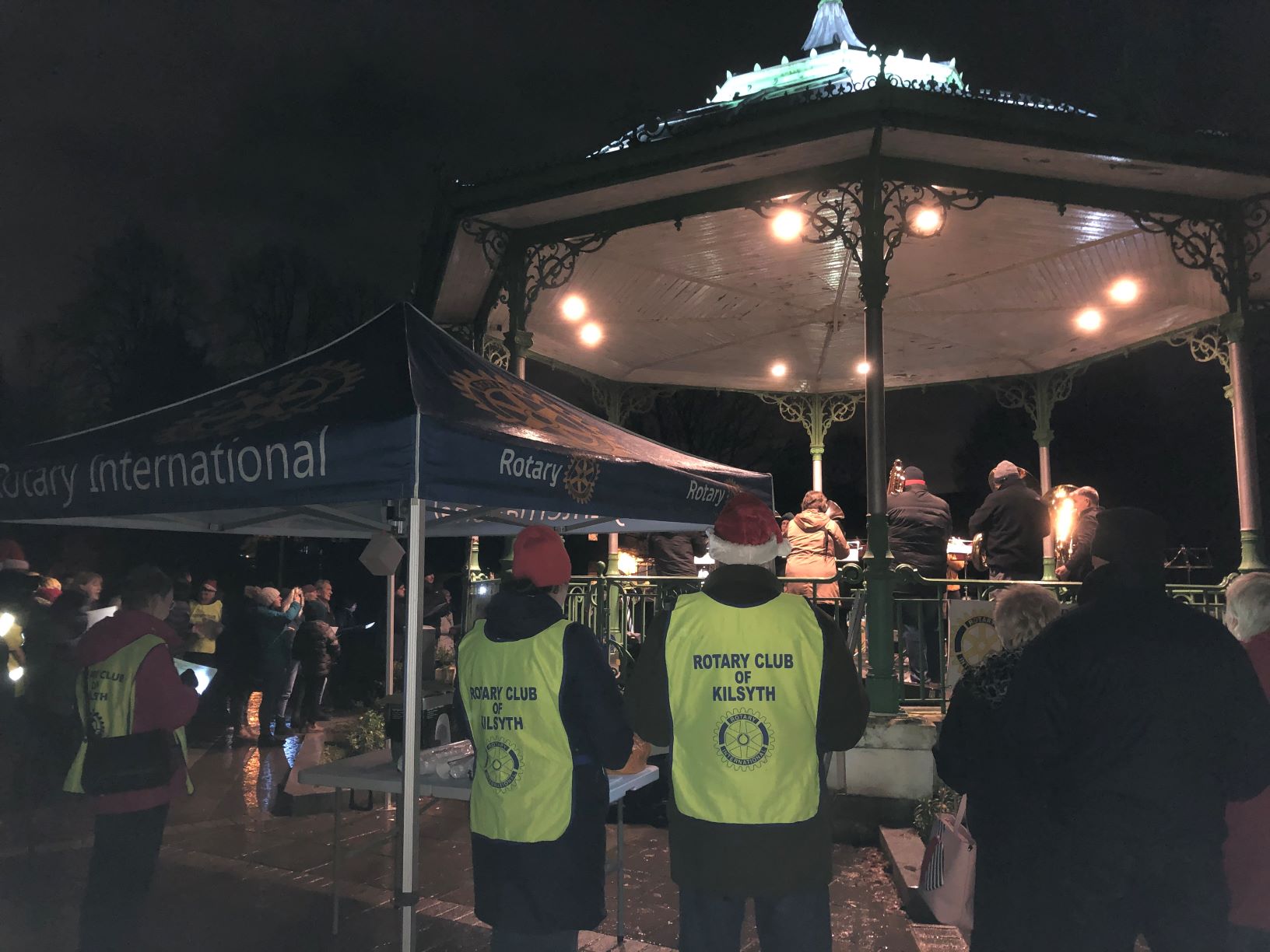 We had a very good turnout for our annual carol service in Burngreen. As ever, our thanks go to Croy Silver band and Alex Graham Caterers for their support.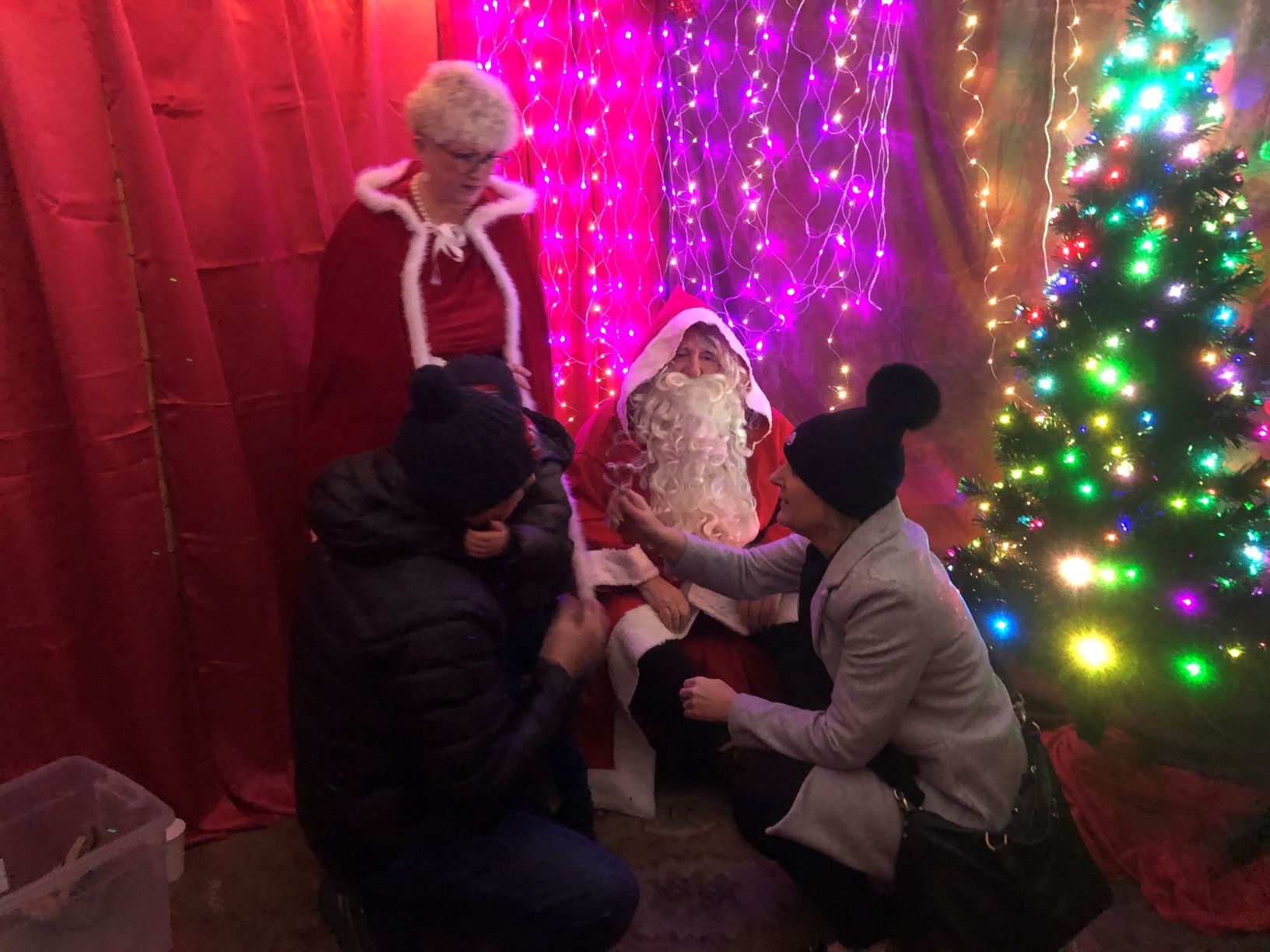 Santa came to our Grotto at Auchinstarry Marina. Despite the poor weather, a good number of children were able to meet Santa on the day.

Another successful Charity Dinner raised over £4k which will help with our charitable, community, youth and vocational projects. Thanks to all who supported and contributed to the success of the event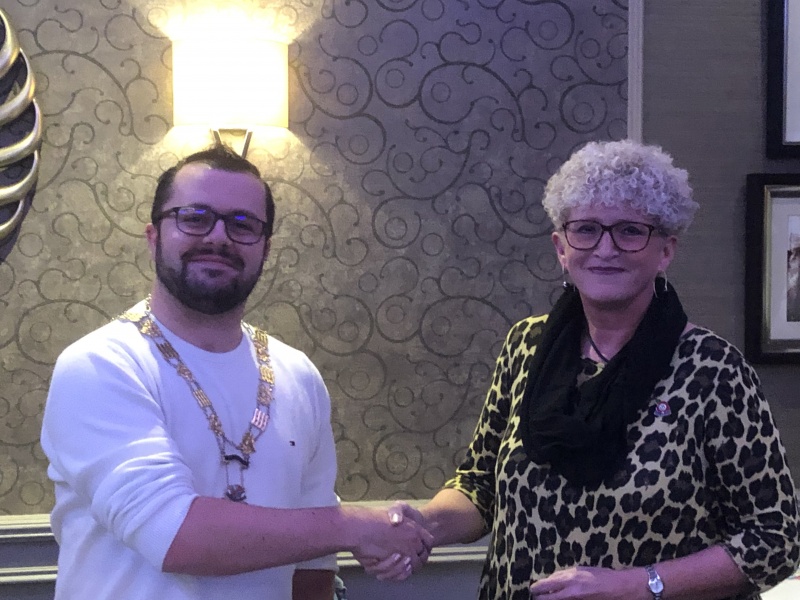 We have a new member. Welcome Rhona Morrison.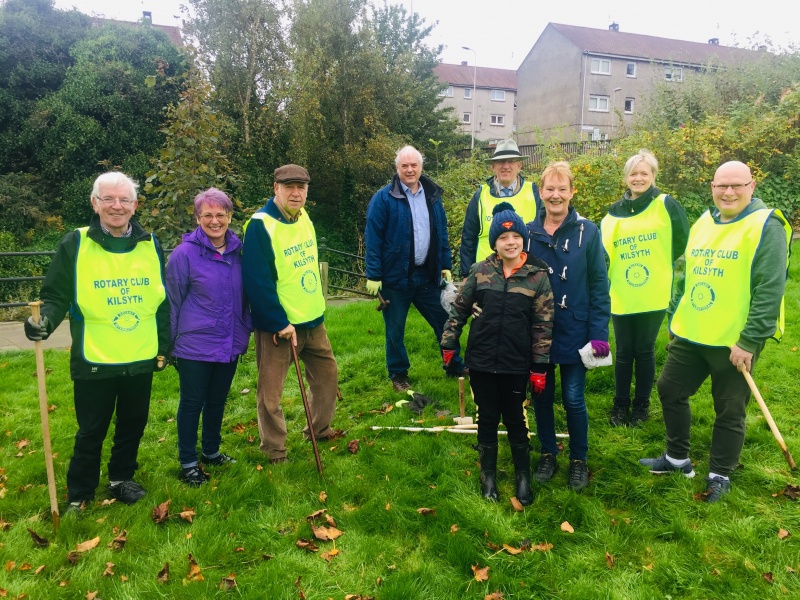 Some members, family and friends planted crocus corms along Westburnside as part of Rotary's ongoing campaign to end Polio across the world.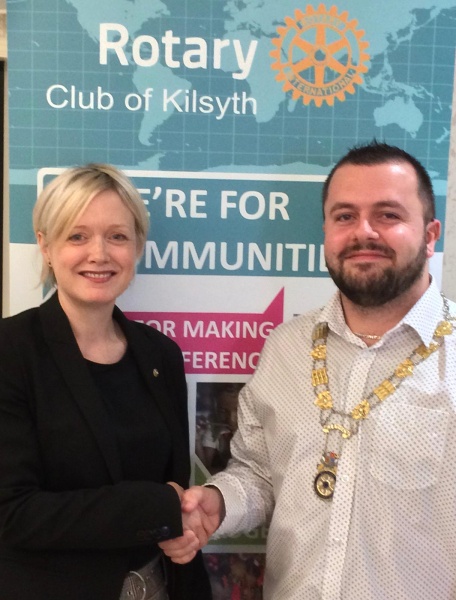 Warm welcome to our latest member Tracey Chalmers who is an MR Product Specialist at Siemens Healthcare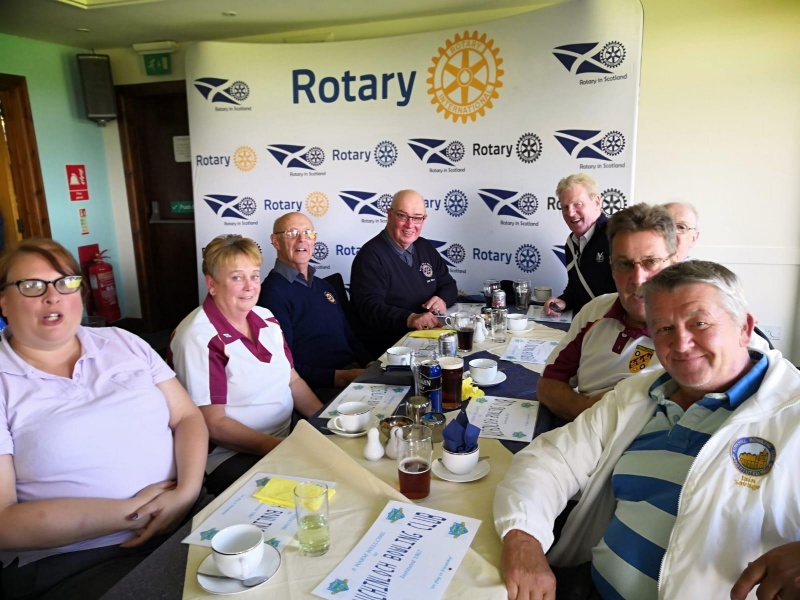 Member Alex Mearns attended Rotary Club of Kirkintilloch Bowls Tournament which raised £2500 for End Polio Now. Great Effort!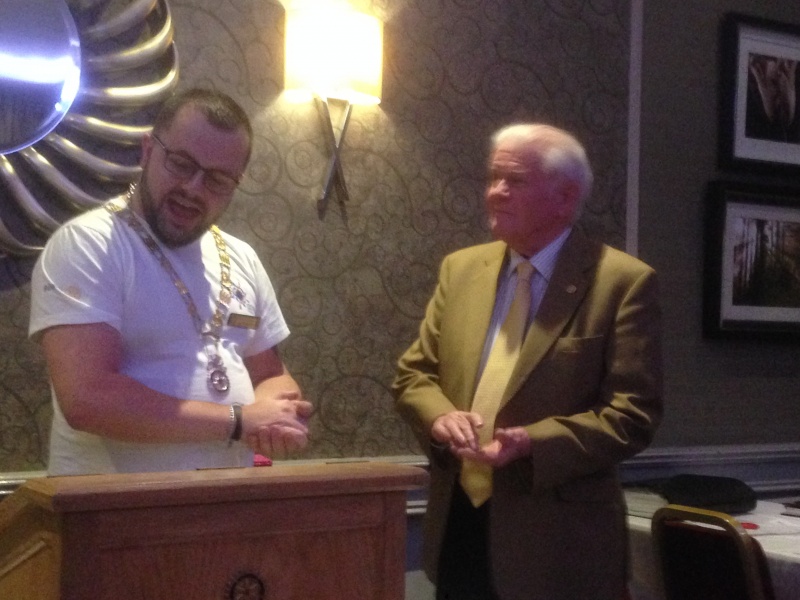 Bill Thomson became an honorary member. For many years Bill was club treasurer as well as Past President and was instrumental in organising west zone Technology Competition.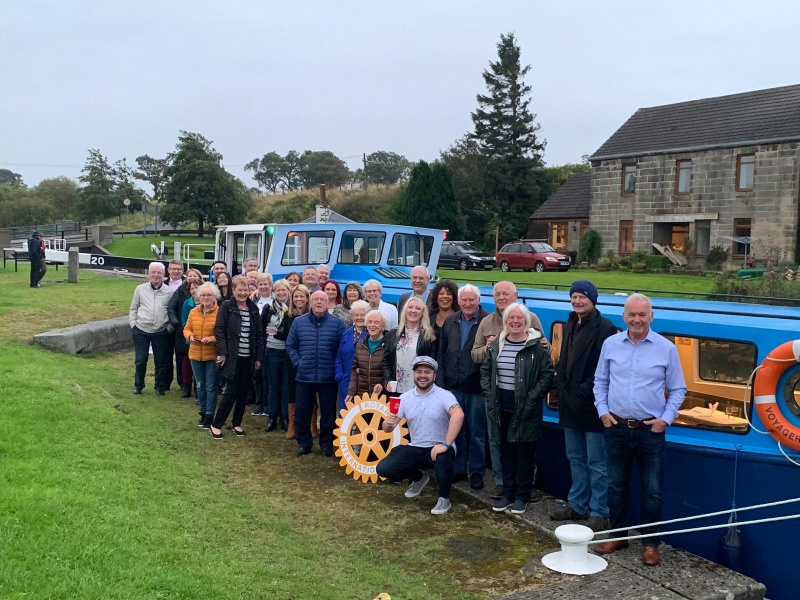 Members, family and friends again enjoyed a wonderful evening sailing on the canal.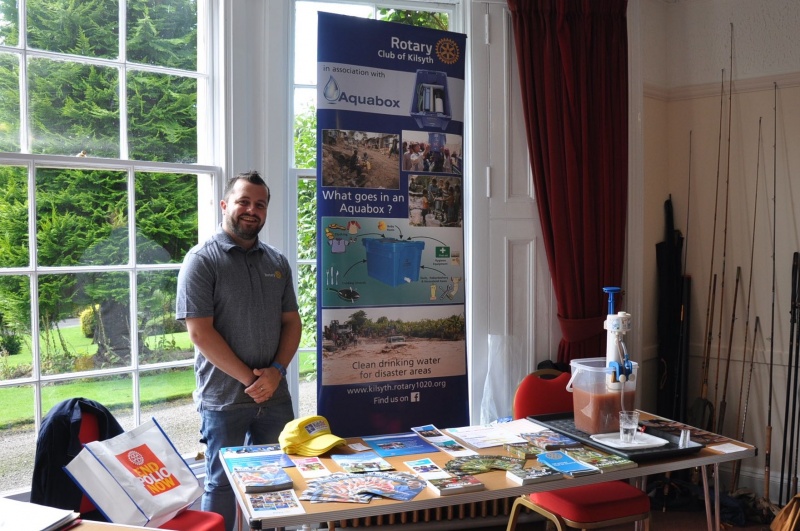 We helped out at the Festival of Sport held at Colzium Estate. We assisted with parking and President David showed off Aquabox equipment.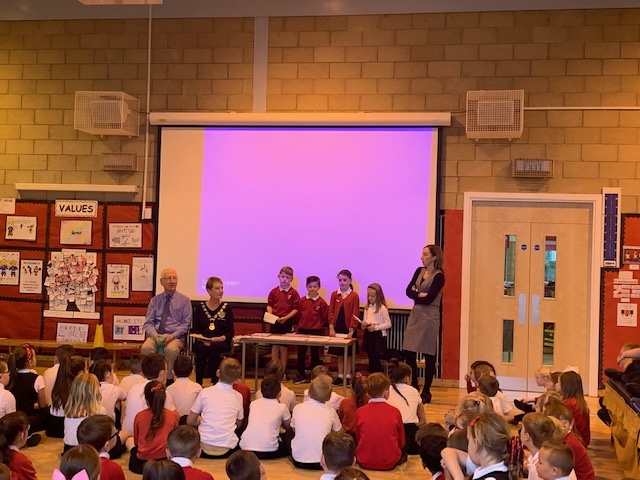 Balmalloch Primary 2 class raised money to go towards an Aquabox community pump for providing clean water. Pupils were delighted that this could help so many people in need of clean water.
Brain Tumour Research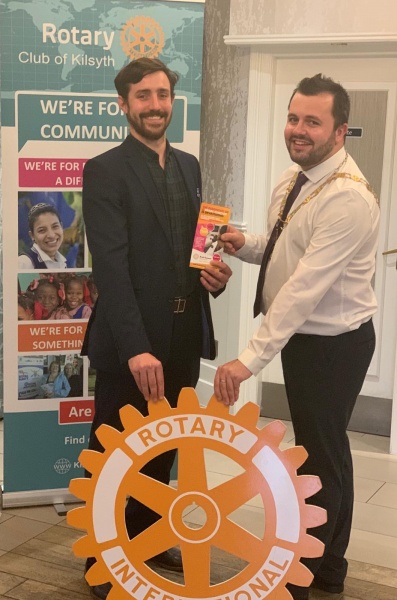 Joe Woollcot spoke about the important work done by this charity.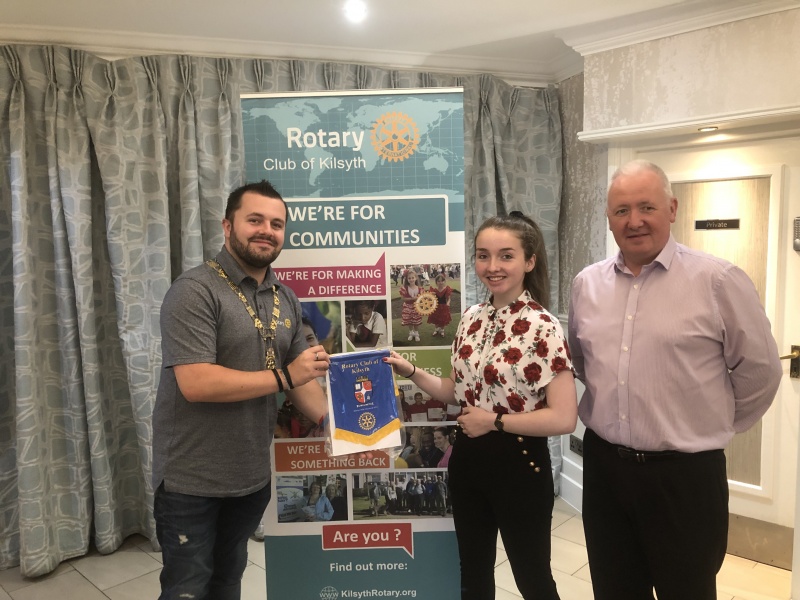 President David hands over some club pennants to our Georgia Scholarship student Jennifer Wright who flies off to Atlanta later this month for a year's study. With them is dad John. We look forward to hearing how she is getting on.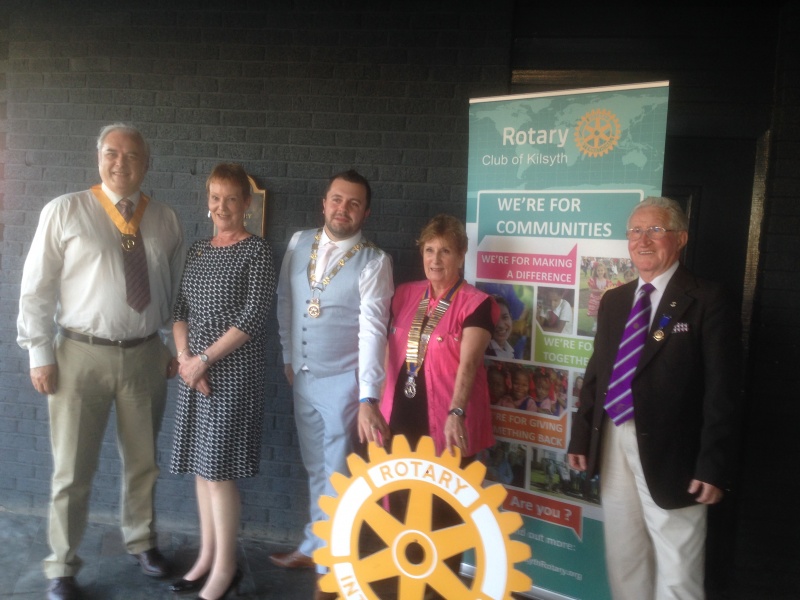 New President David with Past President Lorna and Vice President Richard. To the right, our friends from Cumbernaul club, President Karen and Bobby.
Kidsout 2019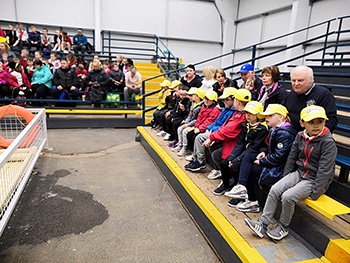 A group of pupils from Glencryan School had a great time at the Safari Park as aprt of Rotary's Kidsout.
Kilsyth Civic Week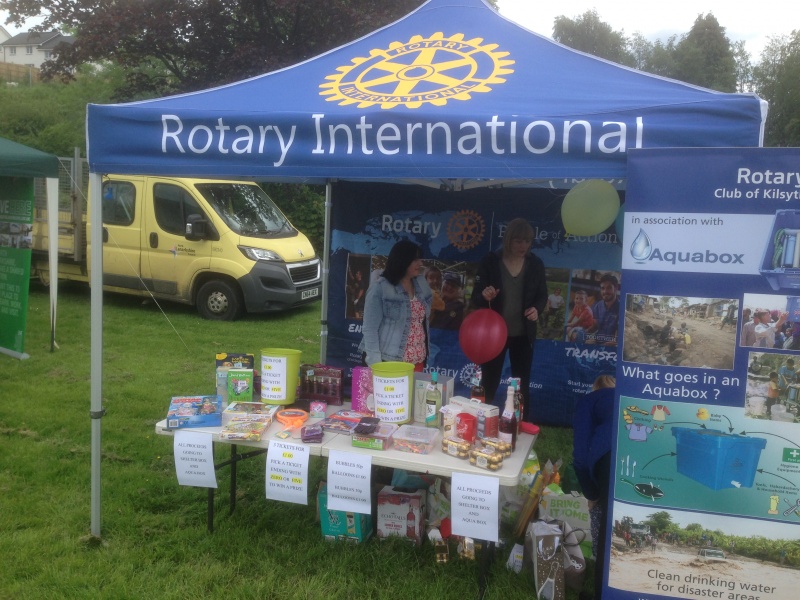 The Aquabox was on display and we had our usual plant stall and ran a tearoom in the Hall. We also had Dignity's barrel organ which entertained the crowds.
Charity Golf Tournament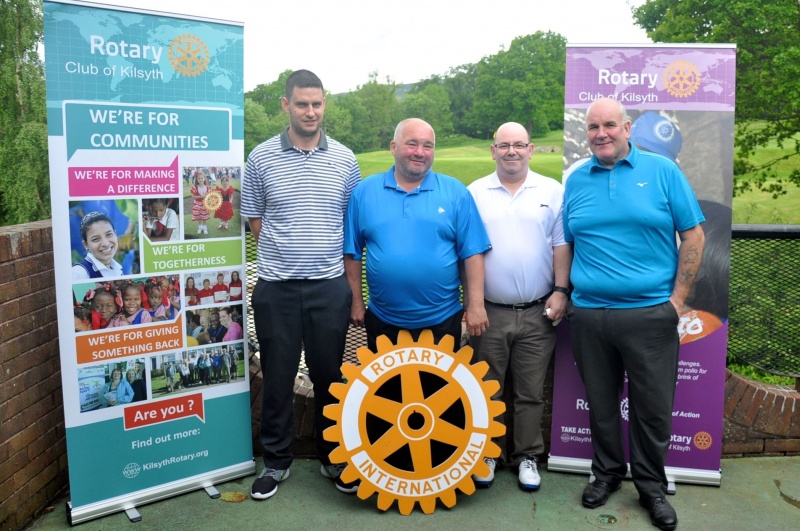 We held our annual charity golf tournament once again and raised over £100 for charities. Above is the winning team. Thanks to all who took part and sponors.
RI Conference Hamburg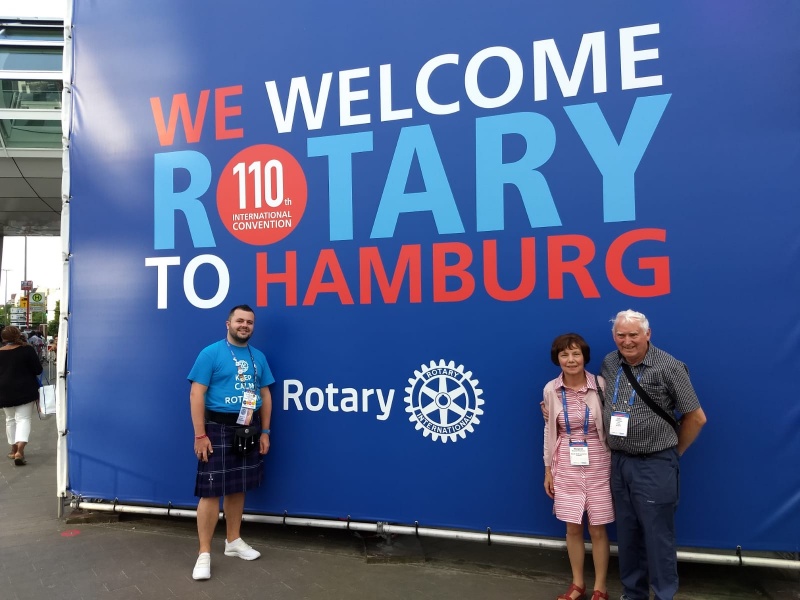 Members David Breton and John Brown with his wife Margaret who attended this year's international convention in Hamburg.
Rotary Aquabox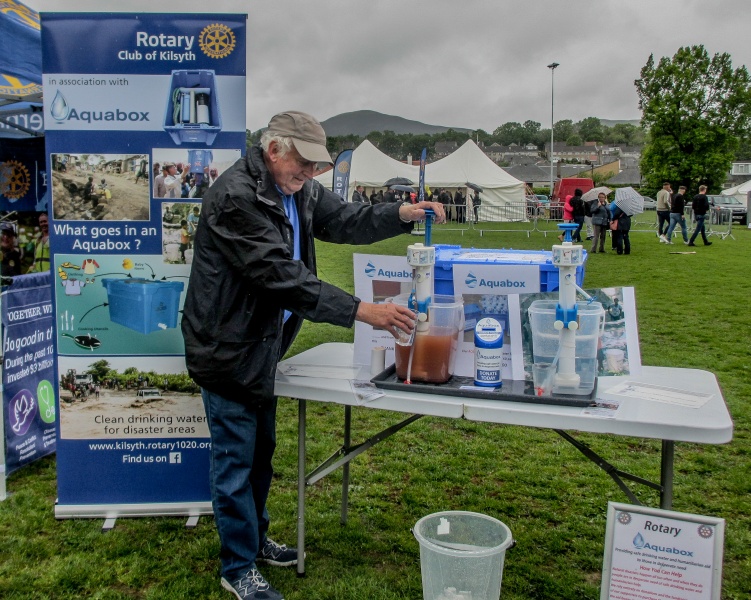 John Brown has done a power of work this year demonstrating the benefits of Rotary's Aquabox all over the district and beyond. Here he is at Penicuik Gala.
Senior Citizens Concert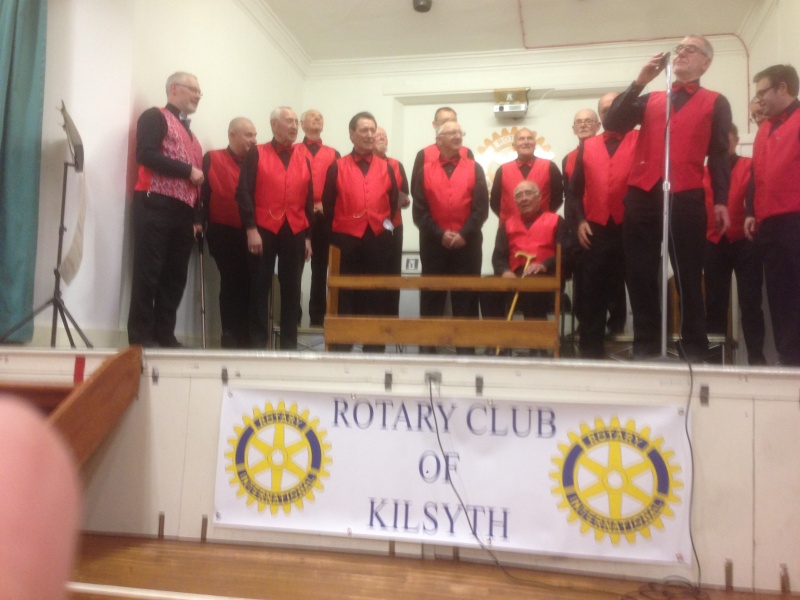 Sweet Harmony entertained senior citizens at our annual concert. Tea and cakes were enjoyed at the interval.
Garrell Burn Clean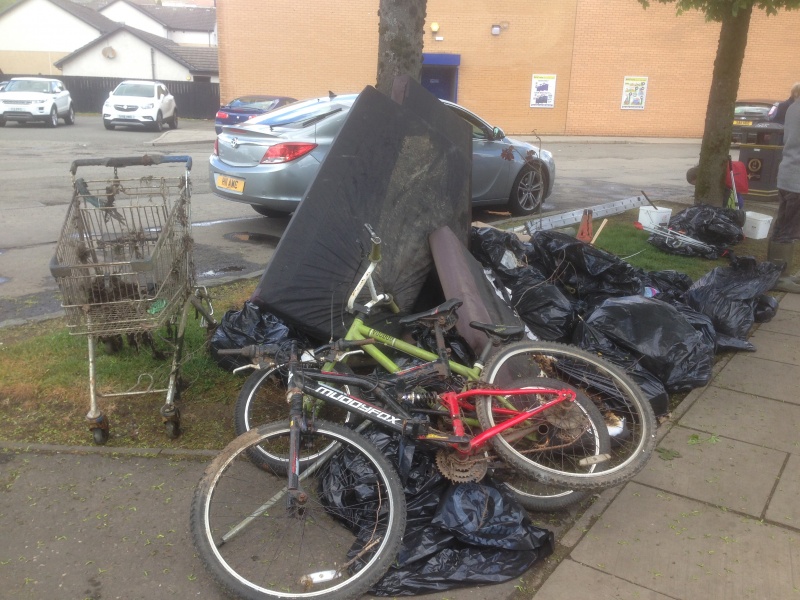 An assortment of rubbish from our Spring Clean of the Garrell Burn area in the town centre.
Aquabox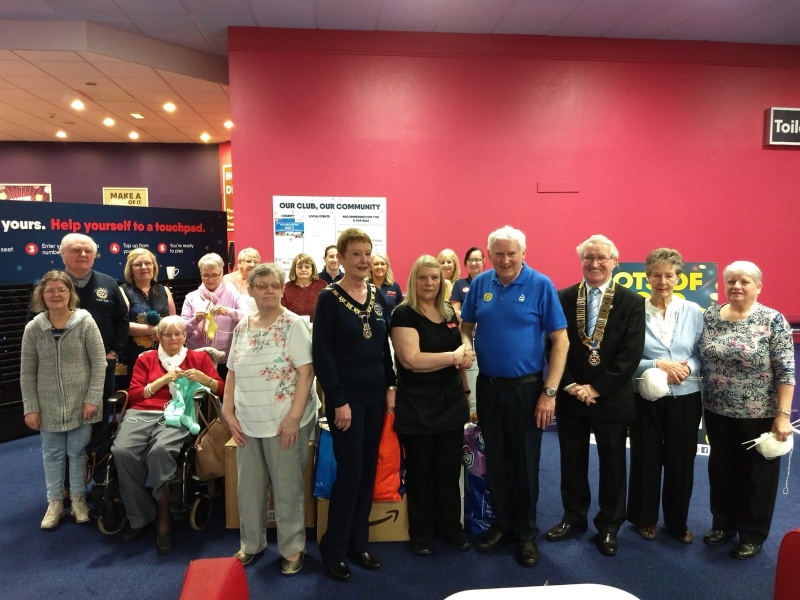 Club 55 at Buzz Bingo in Cumbernauld handed over knitted items to Kilsyth and Cumbernauld Rotary Clubs for Aquabox. Over 60 boxes of knitted baby jackets, blankets, teddies and toiletries were presented. Well done and many thanks.
Community Service Award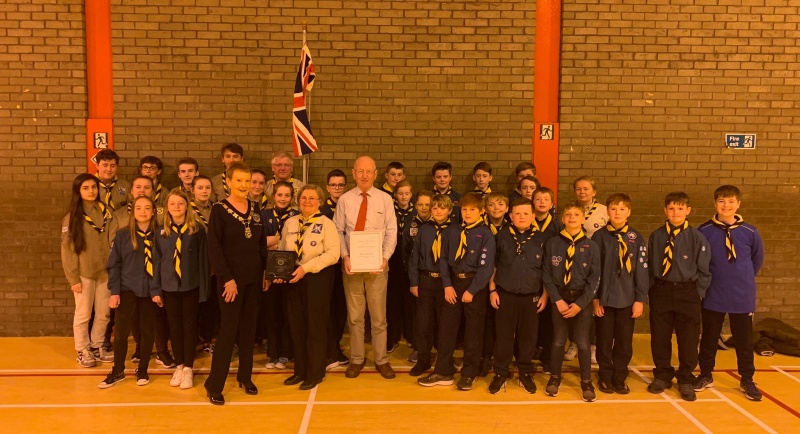 Marion Rankin was presented with a Community Service Award in recognition for her long service and dedication to the Scout movement.
Cocktail Social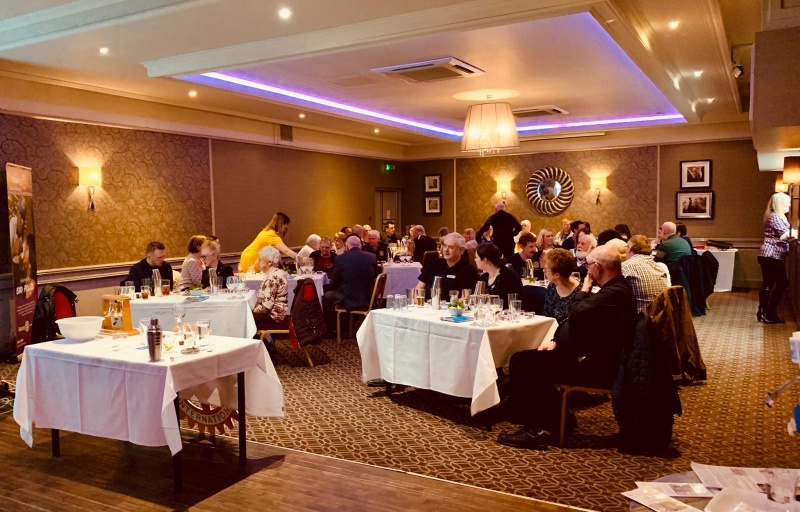 We held a special event for members, guests and potential members where we learned about the art of cocktail making and, of course, sampling.
Literacy Box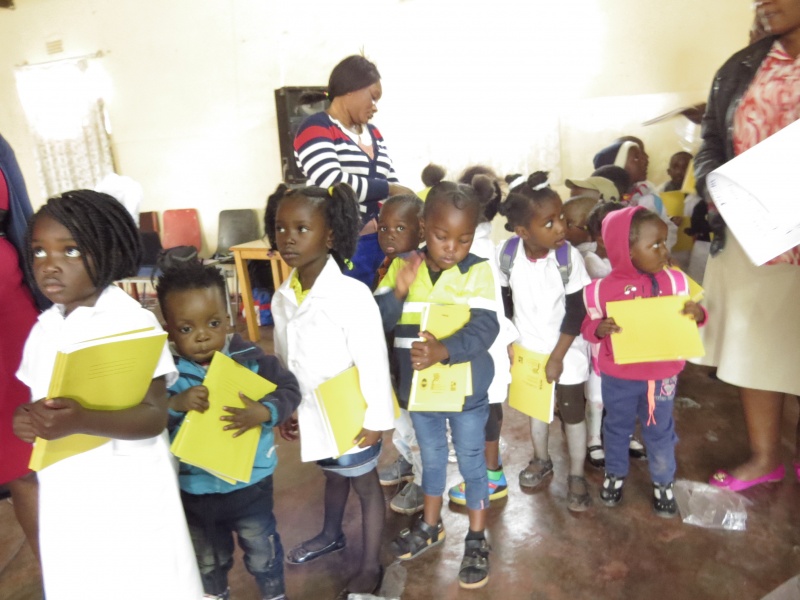 Thanks to 2nd Kilsyth Girls Brigade who raised money to fund a Literacy in a Box (a Rotary Charity) in Zambia.
District Technology Competition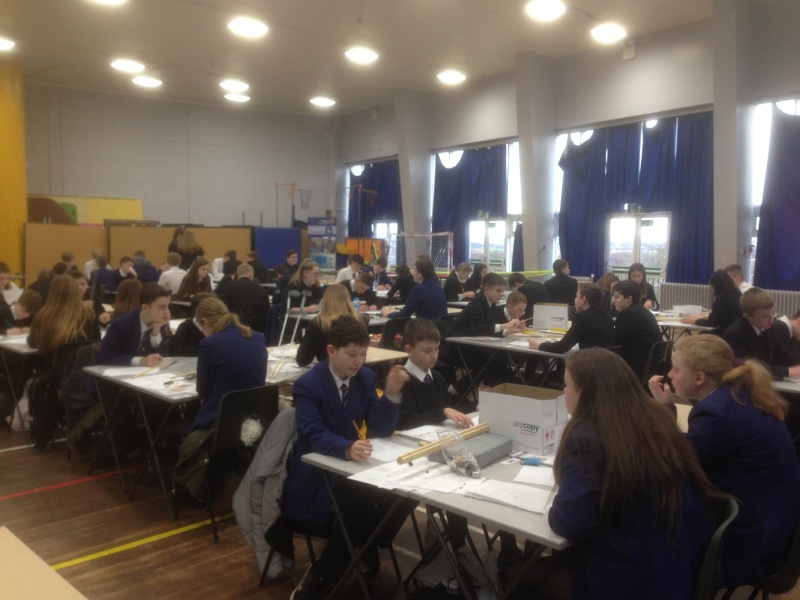 Once again we hosted the district Technology competition. 27 teams from schools across Lanarkshire took part. Winning teams came from Dalziel HS, Greenfaulds HS and Kilsyth Academy.
Polio Eradication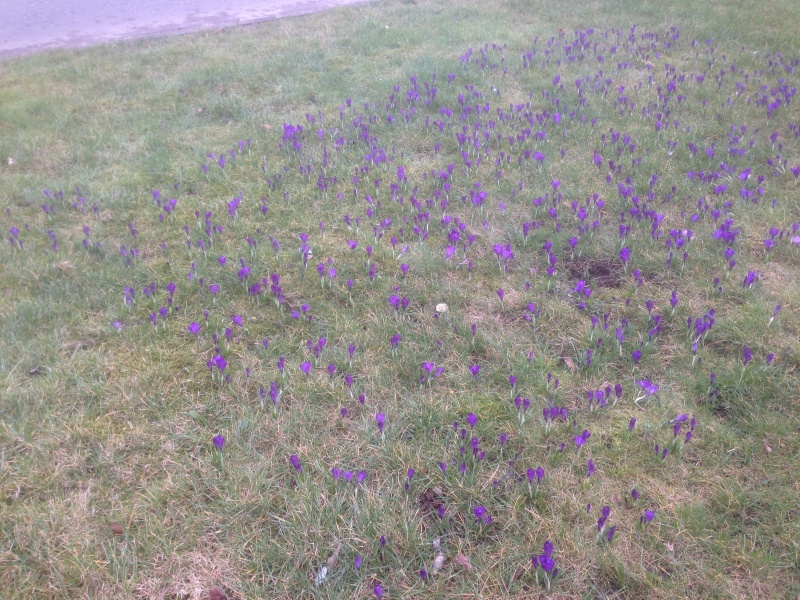 Our annual show of crocuses is approaching. We have planted crocuses in the town for a number of years as port of Rotary's commitment to eradicating the scourge of polio. Nearly there!!!
Valentine's Tree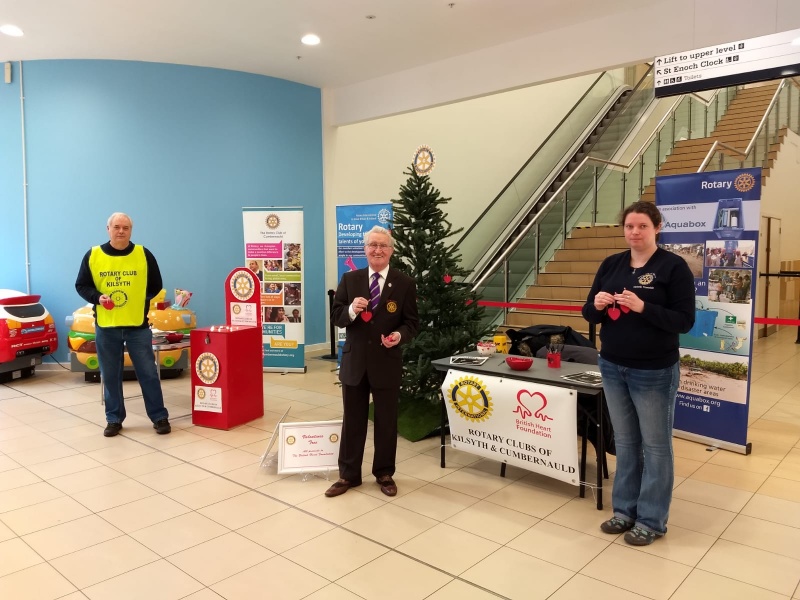 In collaboration with Cumbernauld club, we raised money for British Heart Foundation with our Valentine's tree in the Antonine Centre.
Challenge Enterprise and RYLA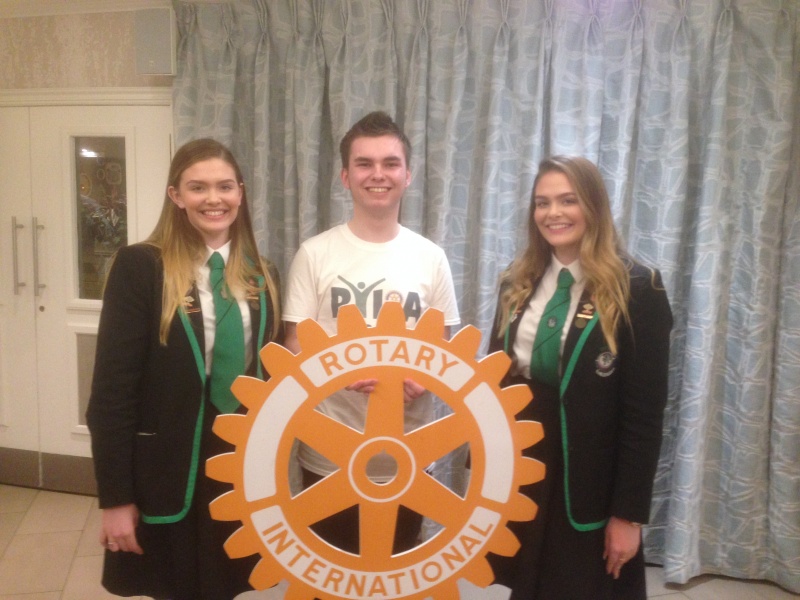 Sophie and Emily Murphy spoke to us about their experience on Challenge Enterprise which we sponsored. William Houston gave an account of his week on RYLA sponsored by Cumbernauld club.
Buzz Bingo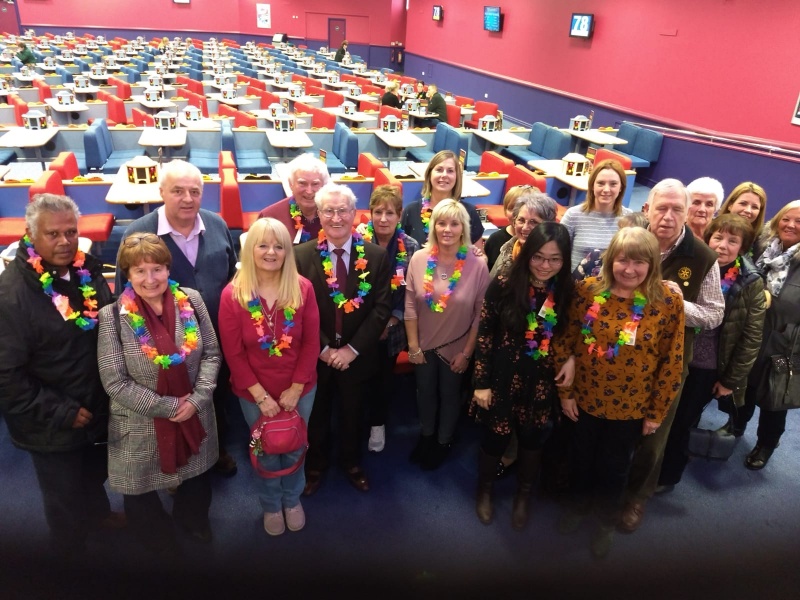 Rotarians and friends from Kilsyth and Cumbernauld clubs were guests of Buzz Bingo in Cumbernauld who supported Aquabox charity.
Hole Sponsorship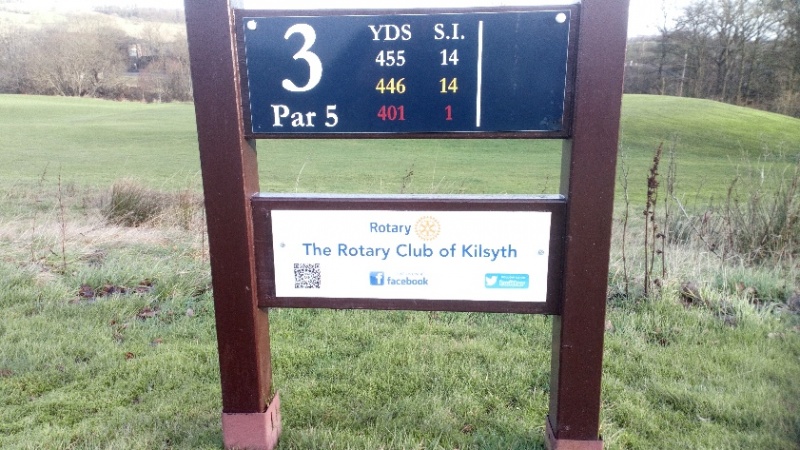 We're sponsoring a hole at Kilsyth Golf Club
Glasgow Kelvin College India 2018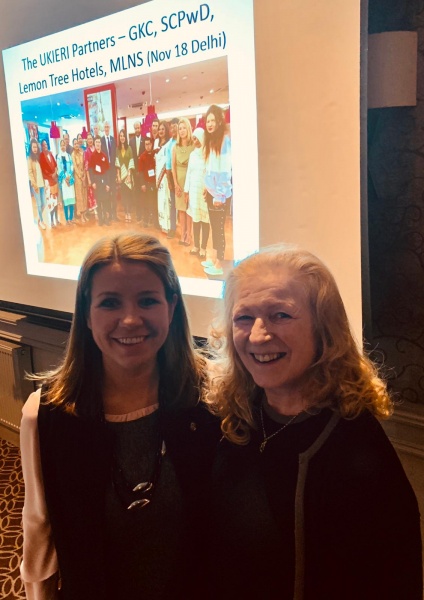 Member Claire Walters with Fiona Taylor, Foundation Apprenticeship Coordinator, GKC. Claire gave an inspiring talk about her visit to India and the college's partnership with UKEIRI and projects that empower disadvantaged groups.
Carol Service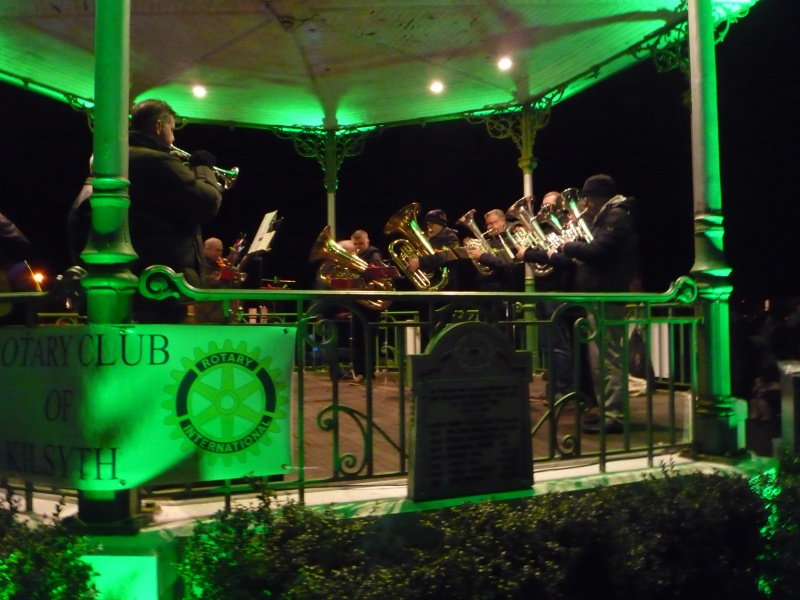 A great turnout once again for our annual carol service. Thanks to everyone who attended and gave support.
Santa's Grotto
Santa's Grotto was a huge success at the Port Gallery at Auchinstarry.
Cottage Hospital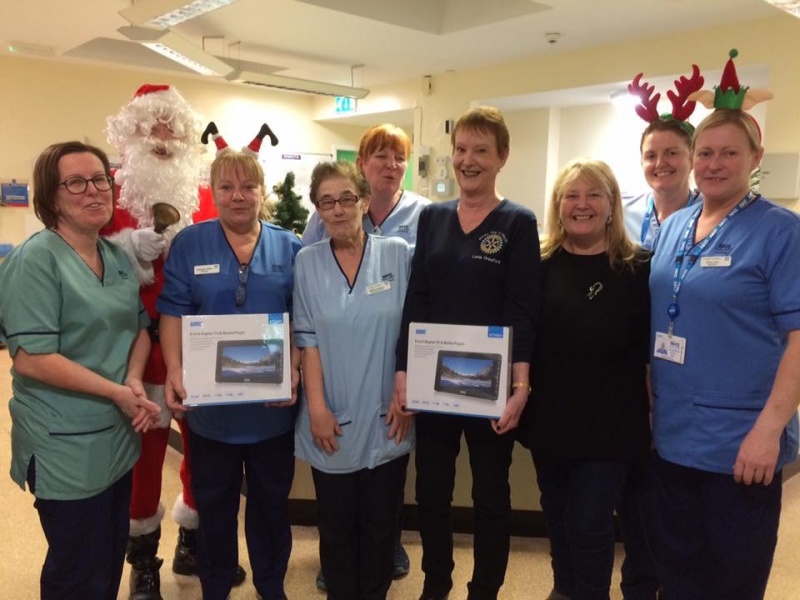 We donated two portable televisions for patients at the local Cottage Hospital.
Festive Meal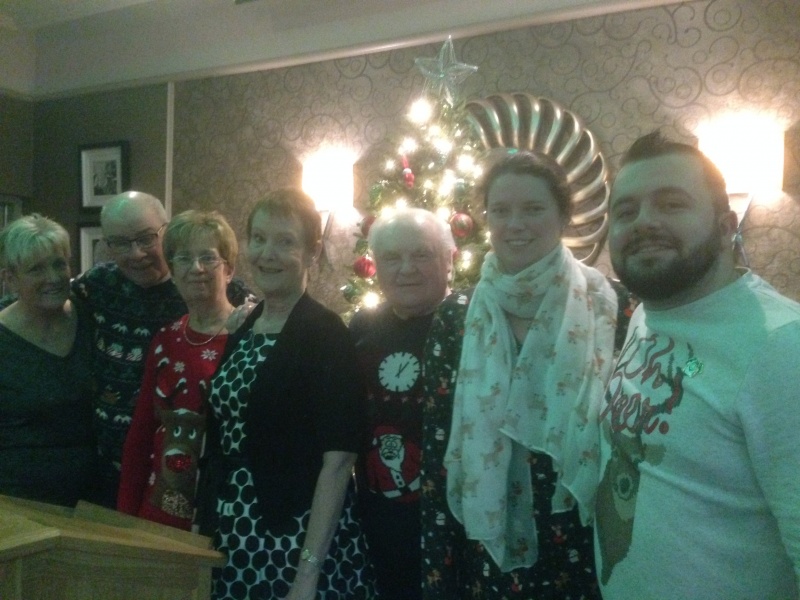 Some members sported their Christmas jumpers at our Festive meal event. Lovely Christmas meal at the Coachman once again.
Connections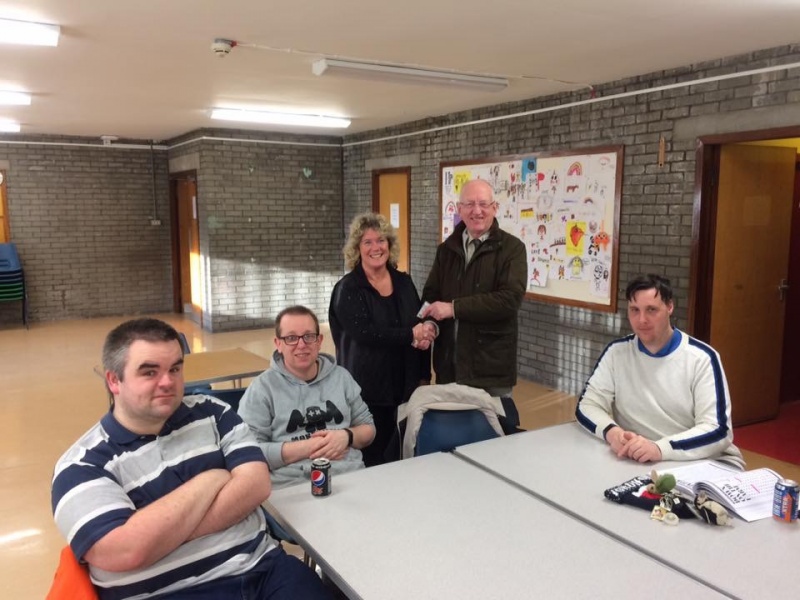 We supported local group Connections based at the Garrell Vale.
Young Philanthropist Competition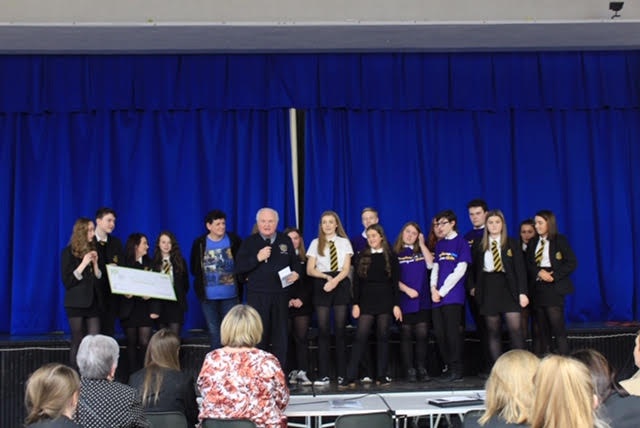 Member Frank Clark helped with the judging at this annual Charity focussed competition at Kilsyth Academy.
Charity Dinner 2018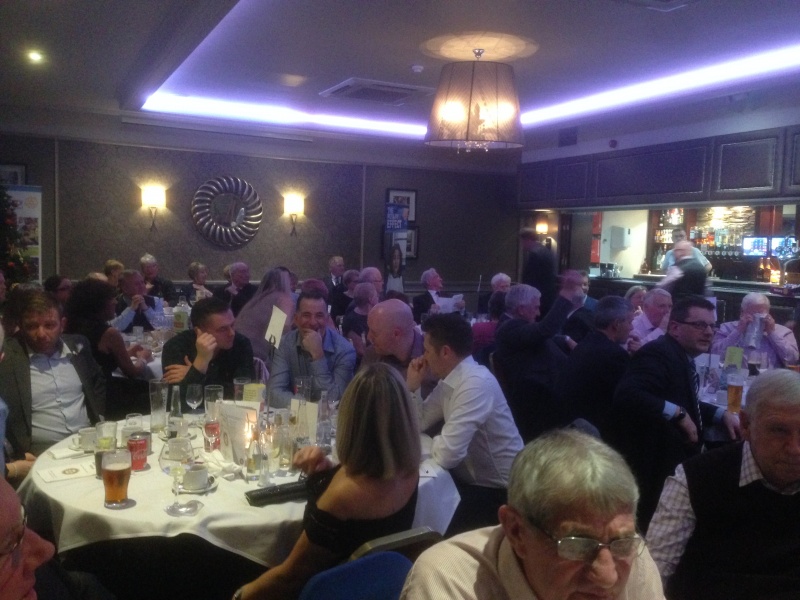 Our annual Charity Dinner was a great success and enjoyed by all who attended. Over £4000 was raised. Thanks to all who supported the event.
Tree Planting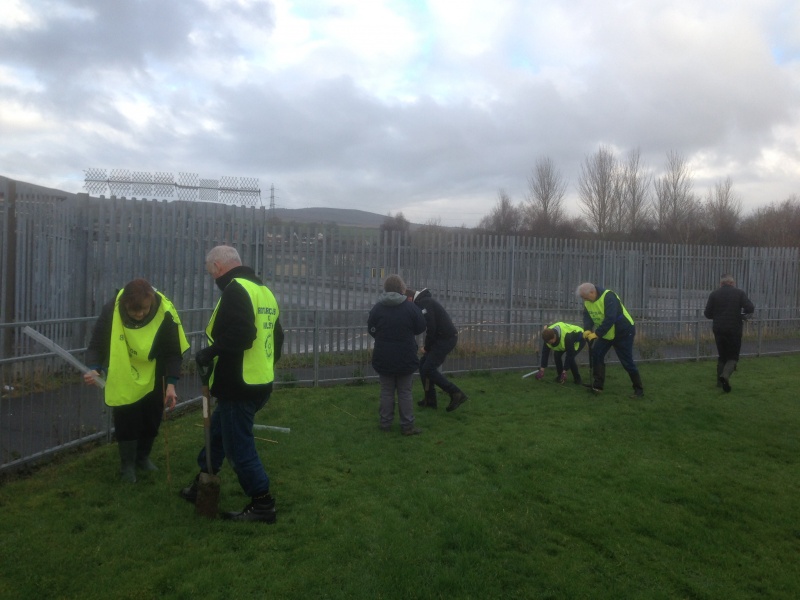 We've been planting trees in the local community with the help of local scouts' group. Planted over 100 this year. More next year.
Rotary International Convention 2018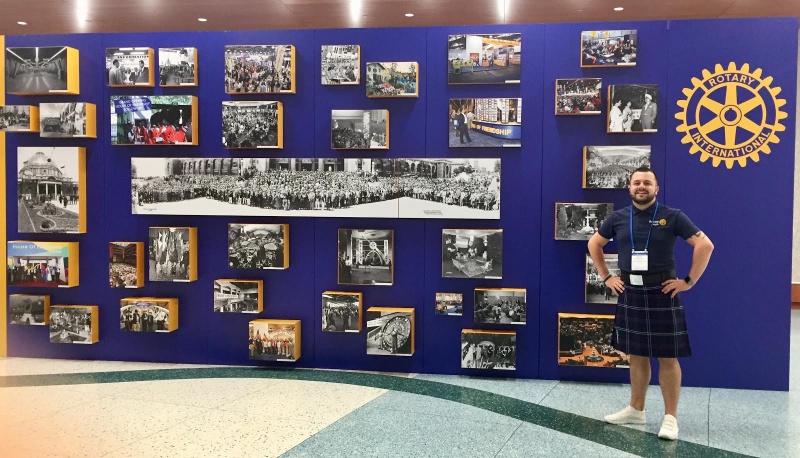 President Elect David Breton attended this year's RI Convention in Toronto in June. He gave an interesting presentation to the club about his experience.
District Primary School Quiz
Kilsyth Primary School quiz team and parents at the final at Carluke Lifestyles Centre looking pleased with and proud of their achievement.
Kilsyth Community Football Club
Past President Dave Stewart with the young footballers of Kilsyth Community Club which received a donation from us.
Handover Night 2018


President John passed the chain to incoming President Lorna. Before that, he presented Dave Stewart with a Paul Harris Fellowship Award. We were then entertained by Willow Moon with a selection of easy-listening folk, traditional, country and American music.
Kids Out 2018
Ready for the off. A group of pupils from Glencryan School with teachers, helpers and Rotarians had a great time at the Safari Park. A memorable day for all concerned.
Charity Golf Competition
Congratulations to the team representing Saskys who won this year's competition. The event raised over £2000 for charities. Our thanks go to Kilsyth Golf Club, sponsors and all who participated in and supported this great event.
District Primary School Quiz
President John with the Kilsyth Primary Quiz team which won the west zone semi-final. They competed admirably in the District final on June 2.
Commonwealth Games Gold Coast
Club member Victoria Truesdale gave an excellent account of her trip to the Gold Coast Games and her experience as technical official and judge in the hockey tournaments.
Boys Brigade Malawi Visit
Christine Johnstone with Craig and Cameron gave an interesting talk on the work done to renovate a village school in Malawi in 2016. A return visit is planned in June this year to upgrade another 2 school classrooms. President-Elect Lorna presented a cheque to help with the work.
Boys Brigade Malawi Visit
President John dons his Rotary apron and with Margaret helps raise funds for the June trip to Malawi by local BB group.
Senior Citizens' Concert
Our annual Senior Citizens Concert was held in the Anderson Church. A big audience appreciated the wonderful entertainment provided by Campsie Accordion band.
World Scouts Jamboree 2019
We gave a cheque to 2 locals scouts who are fundraising to take part in the World Jamboree in West Virginia in 2019. They gave a delightful and informative presentation. Well done!
Primary Schools Quiz
Congratulations to Kilsyth Primary Schools, winners of our heat of the District Primary Schools Quiz. Thanks to all pupils and schools that took part.
End Polio Now
For a number of years we've planted crocuses to highlight Rotary's on-going campaign to end polio worldwide. Having survived the winter, they're about to bloom.
Public Speaking Competition
The Public Speaking Competition took place recently at Kilsyth Academy. President John and President-Elect Lorna posed with the winners.
Young Technologist Competition
The club once again hosted the west area District Young Technology Competition at Kilsyth Academy.
Group Study Exchange
Members of the group study exchange to Ohio gave an interesting talk about their experiences.
Carol Singing
Our annual carol singing event took place once again. Thanks to all who turned out to support it and, of course, Croy Silver Band, Andy Muldoon and Alex Graham for catering.
Christmas Meal
We had a very enjoyable Christmas meal (thanks once again to the Coachman Hotel). Afterwards we formally welcomed new Honorary member Charles Coulthard and enjoyed a wonderful slide presentation of photos set to music by Andy Pearson.
Provost Speaks to Club
North Lanarkshire Provost Jean Jones spoke to us about her work as Provost and Councillor
End Polio Now Crocus Planting
Rotarians and helpers, including members of the 3rd Kilsyth Rainbow Guides were out in force to plant more crocus bulbs to mark Rotary's continuing commitment to end polio across the world. We're nearly there. Look out for a splash of purple in the new year.
Chernobyl Children's Lifeline
Gail Macdonald gave an interesting talk on the on-going support given to youngsters from Ukraine whose lives have been affected by events at Chernobyl some 30 years ago. Julia Lewsley hosted Olga Kostiuchenko who acted as organiser / translator for a party of around 12 youngsters from Ukraine who were hosted by families in the area.
Coachman Hotel
Another lovely presentation from the kitchen staff. This starter is wrapped chicken stuffed with Italian herbs & vegetables served on a veg puree.
Cottage Hospital Garden Project
Margaret Brown and Shirley Black from the Cottage Hospital thanked us for our donation which paid for lighting and hanging baskets in the garden restoration. Much appreciated by patients, staff and visitors.
District Governor's Visit
DG Lindsay Craig visited us and spoke on a number of Rotary matters.
New Member
We have a new member. Welcome to Dot Clelland.
Coachman Hotel
We're grateful to the Coachman Hotel for the quality of our weekly meals. This starter is a work of art.
Charity Golf


We recently held our annual golf competition at Kilsyth Golf Club. 48 competitors took part and the standard was excellent. This year's changed format proved to be successful. Congratulations to the winners Cross Butchers. We expect to have raised over £2000. Thanks to all who supported it.
Rotary Bake-off Competition
Stephen Giles with some of the competitors in this year's bake-off competition. Winners were Ewan Abercrombie and Rory MacKenzie. Thanks go to judges John Fleming and Agnes Wilson.
Young Philanthropist Initiative
The winning team from this year's competition at Kilsyth Academy gave an interesting presentation to the club about their chosen charity, Full Circle Foundation. A Glasgow-based charity, it provides music therapy to people with cerbral palsy. Their efforts were rewarded with a cheque for £3k for the charity with a further £200 from Kilsyth club.
The Sweet Project
We heard about and gave a donation to the Sweet Project and Teen Challenge. Monies raised help to provide a bus which visits local communities and offers support to people with drug addiction issues and encourages rehabilitation.
Senior Citizens' Concert
Croy Silver Band provided the much enjoyed entertainment at the annual Senior Citizens' Concert. Tea, coffee and cakes were served to the appreciative audience.
Young Technologist Competition
Kilsyth club once again hosted the West Area Young Technologist Competition with schools coming from far and wide. Here some youngsters put their design to the test.
Public Speaking Competition


Winners and runners-up in the Public Speaking Competititon at Kilsyth Academy were invited to the club. Members were delighted to hear their speeches.
Help for Gambian Village
Following a recent talk to the club about the work of Dresses for Gambia Charity by Rhiann Middleton, the club collected a variety if items which soon will be on its way to Gambia.
British Transplant Games
Heather McVey spoke enthusiastically about the Transplant Games to be held in North Lanarkshire in July. We then took part in a Slosh before presenting a cheque for the Games.
Christmas Night
Club members, family and friends enjoyed a memorable Christmas night. Excellent meal provided by the Coachman was followed by entertainment by Mike Munro ( Neil Diamond tribute). Great fun.
Carol Service
Another good turnout for the annual carol service. Thanks to Croy band and to Alex Graham who provided soup and rolls.
Santa's Visit
Santa's helpers were out in force to help Santa in the Main Street who handed out sweets to young children. Thanks to Cakelatier for their assistance and support.
Purple4Polio
Some members helped to plant crocus corms near the town centre. Purple crocus is the symbol for Rotary's worldwide Purple4Polio campaign.
Challenge Enterprise


Students from Kilsyth Academy and St Maurice's HS spoke to the club about their successful weekend at Challenge Enterprise. District organisers thanked Kilsyth club for their support.
District Conference


Some members and partners attended the District Conference in Harrogate. A great time was enjoyed by all.
New Members
President Dave welcomes new members Heather and John.
Erskine
Karen MacBeath receives a cheque from SVP John Brown as a donation to Erskine. Karen gave a detailed and interesting talk on the important work of this charity which supports ex-service personnel and their families.
Paul Harris Fellowship Presentation
Stephen Giles receives a Paul Harris Fellowship Award from President Dave Stewart.

District Governor's Citation
Past President Claire gratefully accepts a certificate from Past DG Andy - a silver award DG Citation for club achievements during 2015-16.
Handover Night
We ended the year and started the new one on a high with an excellent night at the Coachman. Past President Claire handed over to President Dave and Bill Craik became our latest member to receive a Paul Harris Fellowship. Great entertainment from Mike Munro (Neil Diamond tribute) and lots of dancing on the floor.
Public Speaking Competition

The winners of the annual Public Speaking Competition at Kilsyth Academy held recently.
Kids Out
A group of 17 youngsters from Glencryan School, staff and Rotarian supporters had a great time at the Safari Park.
Bake-Off Competition
Kilsyth Academy pupils who took part in a Bake-Off Competition which we supported.
Trade Aid
Last year we had a presentation from John Asher of Trade Aid, a Rotary club charity which provides boxes of tools for trained people in a number of third world countries. Our donation of £425 paid for a carpenter's box of tools for Chifinda Maluwa who can now work as a tradesman in his local area in Somaliland, a breakaway semi-desert territory on the coast of the Gulf of Aden.
Visit by Dr Tertius Venuter and Miranda Tollenar

Dr Venter is a South African plastic and reconstructuve surgeon who has dedicated his life in recent years to provide free surgeries for Mercy Ships. He gave a most interesting talk at the club about his work with Mercy Ships. He was undertaking a fundraising cycling tour in the UK, having last year cycled across the USA. Miranda accompanied Tertius on the UK cycle tour and was tour organiser.
Orthoptist's Charity Work
The club enjoyed a most interesting talk from orthoptist Janice Waterson about the charity work of Sight Aid International which works to provide and develop eye screening facilities in the poorest areas of Kenya and Malawi.
Jubilee for Rotarians
President Claire, AnneMarie and MargaretRose went to Rome to attend the Jubilee for Rotarians in St Peter's Square on April 30. Who should they meet but RI President Ravi Ravindran himself.
Senior Citizens' Concert

Club members who helped out at the annual senior citizens concert. Tea and cakes were served and entertainment by Celtic Distraction made it an enjoyable event.
Spring Clean at Craigmarloch Stables
A number of Rotarians assisted volunteers with the Scottish Waterways Trust to tidy up vegetation at the Craigmarloch Stables.
End Polio Now
Pupils at St Patrick's Primary are pleased with the show of crocuses which they helped to plant to commemorate World Polio Day. Kilsyth club has donated £400 this year to Rotary's End Polio Now campaign.
Young Philanthropist Winners


Young Philanthropist Inititiative winners from Kilsyth Academy visited the club. Club member Pat Docherty helped to judge the event and the Rotary club made donations to a number of charities that pupils had researched and supported.
Visit to Polmont Club
A group from the club and friends visited Polmont club and enjoyed an interesting presentation about the Kelpies.
Going to the Dogs
A number of Rotarians, partners and friends had a great time at Shawfield Stadium. Another enjoyable social event.
Mock Interviews
Some of the Rotarians, friends and staff at Kilsyth Academy who were involved in giving over 100 pupils in S4 the experience of being interviewed for as job. Interviewers were very impressed with the quality of the responses.
Burns Night
Another successful Burns Night. How often does the District Governor get to meet a club President's grandmother?
Challenge Enterprise
Pupils from St Maurice's HS and Kilsyth Acad gave an interesting talk at a Partners' Evening meeting about their weekend at Challenge Enterprise which Kilsyth club supported.
Santa's Helpers


Santa visited Cakelatier in the Main Street and handed out sweets to local children. He had lots of helpers to assist him on the day.
Christmas Night
Rotarians, partners, friends and guests enjoyed their Christmas Night in the Coachaman Hotel. Local MP Stuart Macdonald was guest speaker and Richard and Henry provided the entertainment.
Christmas Carol Service
Kilsyth Club organised once again a successful annual carol service in Burngreen. Thanks are due to Croy Band for their help and Alex Graham for catering.
New Banner
Thanks to Coachman for allowing us to display our new banner
Charity Dinner
Our main fundraiser was held in the Coachman Hotel in late October. We enjoyed a meal, Irish Bingo, raffle and afterdinner speakers before an auction of a host of items. Sheriff Lindsay Wood gave a very witty speech and Frank Robb entertained with humerous observations and song. We are grateful to our sponsors, local businesses and organisations for their support. This year we raised over £4000.
District Conference
Some members and partners attended the district conference in Dundee.
End Polio Now - Crocus Planting
Club members preparing to plant crocuses at St Patrick's Primary School. The club has been supporting crocus planting activities through working with local schools for several years and made regular donations to End Polio Now, Rotary's international campaign that has helped to almost eradicate polio.
End Polio Now
Club members are keen to show their support for Rotary's campaign to end polio - just a little bit more is needed.
Strathcarron 10k
Club members helped to marshall at the annual Strathcarron 10k. The race raises thousands of pounds for the hospice.
Tough Mudder
Members helped marshal at the Tough Mudder event that raised money for Strathcarron Hospice.
Canal Cruise
Rotarians and friends get ready for an evening cruise on the Forth Clyde Canal.
On Call Africa
Our biggest club project involved raising thousands of pounds and with help from other clubs, securing grants to allow OCA to purchase a Toyota Landcruiser to help with their medical work in Zambia. For more information, click here
Paul Harris Fellow
One of President Claire's first tasks was to present Rotarian Lorna Crawford with a Paul Harris Fellowship for dedication to the club and ideals of Rotary.
Kilsyth Civic Week
We ran a plant stall at Kilsyth Civic Week Gala Day and...
for the first time ran a popular and successful tea room
Four Ball Golf Charity Competition
For the first time, we organised this year a charity four ball golf competition. It was held at Kilsyth Golf Club which offered a great test of golfing skills and some terrific views throughout the course. Monies raised will be devoted to End Polio Now and Rotary Foundation. The date was Friday June 5, 2015. Over 20 teams took part. It raised over £3000. Planning is taking place for the follow-up event scheduled for next June.
Senior Citizens' Concer
Senior Ciitzens enjoyed tea/coffee and home-baked biscuits and cakes at the annual concert. Excellent entertainment was provided by Celtic Distractions.
Young Technologist Competition
This Rotary competition is gaining popularity with schools throughout the District . Headteachers are keen for their schools to take part as it embraces aspects of the curriculum for excellence in schools. The Rotary Club of Kilsyth has, for a number of years, organised the local competition for the west Zone of district 1020. There was a record number of schools and teams this year.
Annual Burns Night
Our annual Burns' Night was held in the Coachman Hotel, on a Friday evening in late January. it was hugely enjoyed by Rotarians, partners and friends.