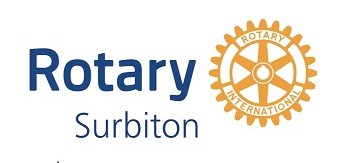 Welcome
Surbiton Rotary is a small club of enthusiastic volunteers that raises funds and provides volunteer support to community projects and charities primarily in Surbiton, Chessington and Tolworth. We have no religious or political affiliations and welcome all regardless of race, ethnicity or gender.
Surbiton Rotary was founded in 1936 and has been part of the local community ever since. We work closely with the other Kingston Borough Rotary clubs in Kingston and New Malden and are part of Rotary International which is a worldwide organization of over 1.2 million people, 34,000 Rotary Clubs in 200 countries, founded in 1905.
We are well-connected locally to charities and community projects which enables us to arrange events and volunteer sessions and we believe strongly in the power of volunteering to make a real difference in our community.
We meet for dinner and discussion in the evening on the 1st and 3rd Tuesday of every month at King George Field Indoor Bowls Centre.
Charities and Community Projects
Our main aim is to provide financial and volunteering support to local charities and community projects in the Surbiton, Chessington and Tolworth area. We also maintain a small contingency budget to support international projects through Rotary International; typically these are disaster relief appeals. Our areas of focus are vulnerable and disadvantaged young people, the elderly, the homeless, refugees and the environment.
In addition to the funds we raise through collections, appeals and events, we are fortunate to have received a legacy from Derek Caporn, one of our former members. We use this money locally in two ways; as a hardship fund for needy families and to award bursaries that provide development and growth opportunities for young people.
Interested? How you can help
If you are interested in the work we do, we always welcome help. You can help us in the following ways:
Volunteer for one of our initiatives – you don't need to be a member

Make a donation to the club or for a specific project

Join us as an individual or corporate member
If you would like more information, please drop us an email at surbitonrotary@gmail.com or have a look at our Instagram Page @surbitonrotary
Registered Charity Number 220674