Our Rotary club is a group of friends who meet each week to enjoy each other's company,usually over a meal, to listen to interesting speakers and to plan and carry out humanitarian projects in our local community and internationally. We also join together in social and fundraising events throughout the year.
We are part of the wordwide Rotary movement, which has 1.4 million members, meeting in 46,000 clubs like ours in most coutries of the world. This means we can work together and take action to create lasting change across the globe as well as in our communities and in ourselves.
We meet most Tuesday evenings at the Winning Post, Twickenham TW2 6LS and visitors are always welcome but we do need to know numbers in advance so please make contact and give us several days' notice if you would like to come along.
Thank you! Once again the generosity of our local neighbours in Twickenham, Whitton and St Margarets has overwhelmed us. During our tours of the streets during December, with Father Christmas greeting delighted children, we raised over £9,000, which we will now be able to spend on helping individuals and communities with amenities and projects that would otherwise not have been possible.
We support local, national and international charities

Here are three of the charities in our borough of Richmond upon Thames that we are actively supporting:

Vineyard Community, which supports vulnerable people in Richmond in many ways, from hosting their morning drop-in centre, serving the community in their afternoon café, running the Richmond Food Bank as well as running two charity shops. This year we are continuing our support by doing shopping for essential items the charity tells us they need. Each month club members will go shopping on a rota basis, spending £100 each time and delivering it to the community centre.

SPEAR Richmond, a local charity supporting people experiencing homelessness, helping them to find a place to call home and providing a range of services to improve their health, wellbeing and skills so that they can begin to look more positively towards an independent future.

RUILS independent living is a charity based in Richmond that is run by and for disabled people, supporting them so that they are able to live independently, be part of their community and to live life to the full, removing any barriers to living an independent life. They also collaborate with other organisations to campaign for change on a national level. RUILS is the mayor's selected charity for 2022/2023 and our club will also be supporting it

Help for communities in other counries

Rotary Ukraine Crisis Appeal. Because of the generosity of donors, we as a club have been able to donate £1,000 to the Red Cross and contribute £1,000 to the Rotary District Fund, to support their efforts in Ukraine. This fund has bought and installed seven housing modules in the village of Mosfchun, north-west of Kyiv. It is now purchasing two mine-detecting drones to help speed up mine clearance in agricultural areas. During November club members have donated warm winter clothing to be sent by Rotary to families in Ukraine whose homes have been destroyed. Rotary clubs in Great Britain and Ireland (including ours) have now raised over £412,000, helping to provide urgent need to dispaced families and idividuals. Globally, Rotary members and donors have raised $15 million via their worldwide appeal for Ukraine.

Rotary Young Chef competition 2022 The local round of the competition was hosted this year by Waldegrave School on 17 October. The covid pandemic had prevented the competition from being held during the last three years so it was very good for us to be able to sponsor it again this year. For more details see 'What we do'.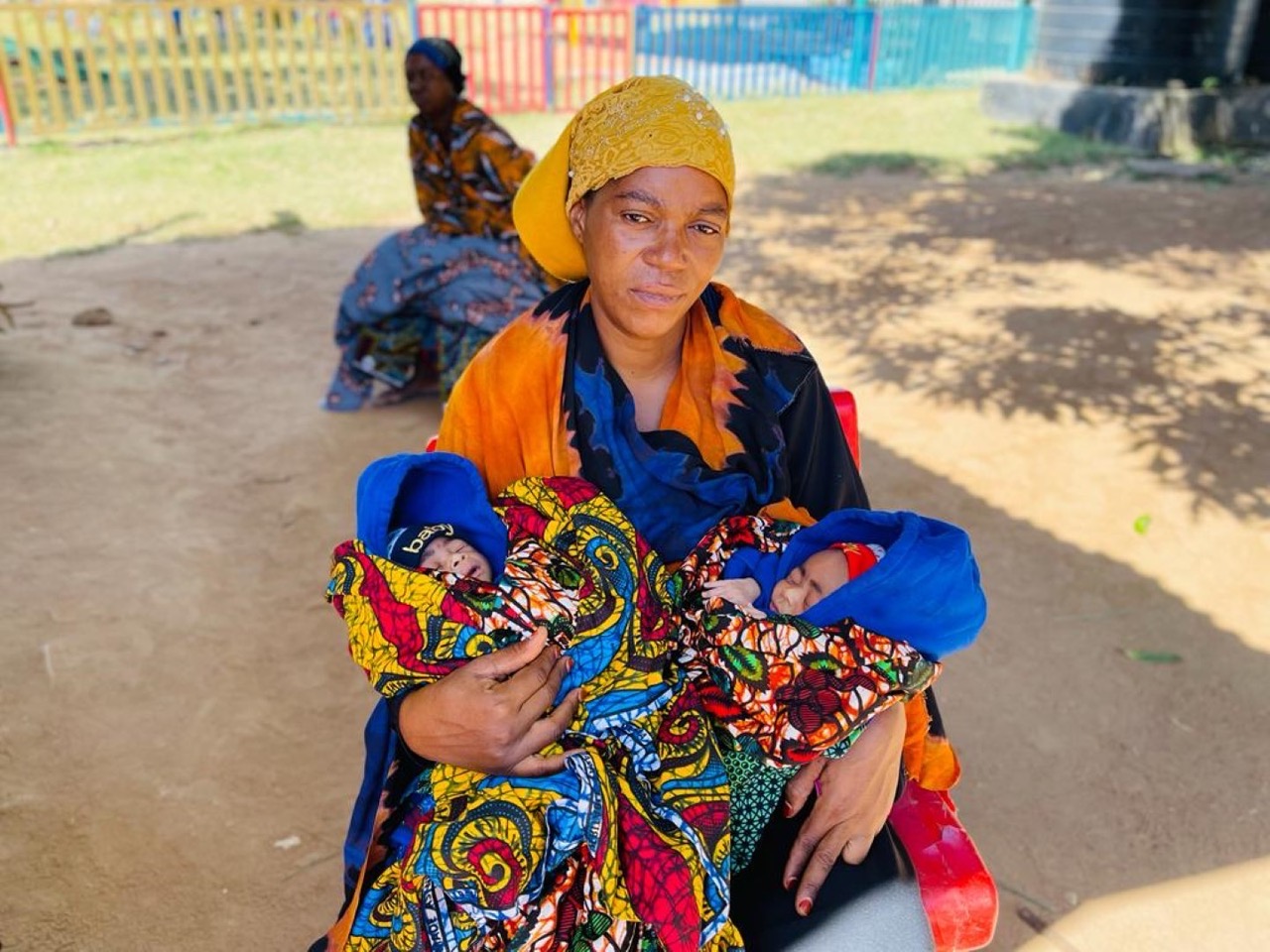 This is Halima, a grandmother in Mwanza, Tanzania, with her two grandchildren twins. Our club is sponsoring her during her journey to greater independence via the five step Marisha Matters programme run by the charity Forever Angels. For more details see 'What we do – Overseas communities'.
Please help us to help others
Amazon Smile and Give As You Live--register with Amazon Smile -select the Rotary Club of Twickenham upon Thames.
Give and You LIve-Click Here:
Help the Rotary Twickenham upon Thames Trust Fund. Click here