Here are three of the charities in our borough of Richmond upon Thames that we are actively supporting:
Crosslight Debt Counselling works to lift people out of poverty and help them build a better future. With locations throughout London and the South. They work with some of the most marginalised and vulnerable people in society through programmes providing comprehensive debt & benefit advice through money education and budgeting coaching, followed by supporting clients by mentoring. We are funding two group classes on debt management and budgeting
React – Rapid Effective Assistance for Children with potentially Terminal illness, is a dynamic charity working to improve the quality of life for children with life-limiting illnesses living in financially disadvantaged households. They believe that every child should have comfort, dignity, and the opportunity to participate in life as fully as possible. We are providing three seizure monitors and four sensory toys.
Park Lane Stables Is an an award-winning RDA (Riding for the Disabled Association) centre in Teddington with a wide programme of activities, including assisted riding, horse care, carriage driving, equine therapy and hippotherapy. We are providing furniture for their counselling room
For more information on these, click on "what We Do" and the "Community projects"

Help for communities in other countries
Rotary Ukraine Crisis Appeal. Because of the generosity of donors, we as a club have been able to donate £1,000 to the Red Cross and contribute £1,000 to the Rotary District Fund, to support their efforts in Ukraine. This fund has bought and installed seven housing modules in the village of Moschun, north-west of Kyiv. It is now purchasing two mine-detecting drones to help speed up mine clearance in agricultural areas. During November club members have donated warm winter clothing to be sent by Rotary to families in Ukraine whose homes have been destroyed.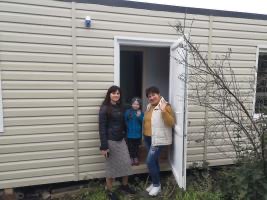 Rotary clubs in Great Britain and Ireland (including ours) have now raised over £412,000, helping to provide urgent need to displaced families and individuals.
Please help us to help others
PLEASE USE OUR DONATE PAGE
Help the Rotary Twickenham upon Thames Trust Fund. Click here