About us
WELCOME TO THE ROTARY CLUB OF BRIDGEND

WHAT WE DO
By combining skills and resources, members of the Rotary Club of Bridgend make a real contribution to the lives of others. As Rotary is present in 200 countries,we are unique in being able to reach people in need all over the world, from running life changing projects in developing countries, making an immediate response to disaster hit regions and supporting local community projects.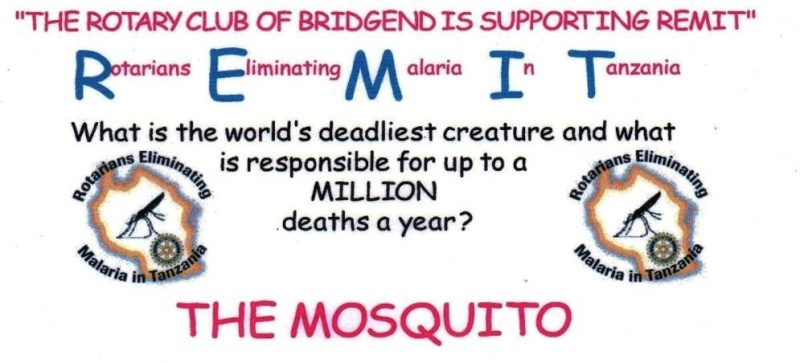 Rotary Lunchtime Meeting Monday 15th October 2018
The Rotary Club of Bridgend's luncheon meeting on Monday 15th October was held at the Court Colman Manor Hotel, eating in the Versailles Ballroom, an appropriate venue for the princial guests to entertain; bass baritone Matthew Brook who was joined by concert pianist Chris Williams. After a splendid lunch of one of the hotel's famous curry dishes it was "over to Matthew and Chris".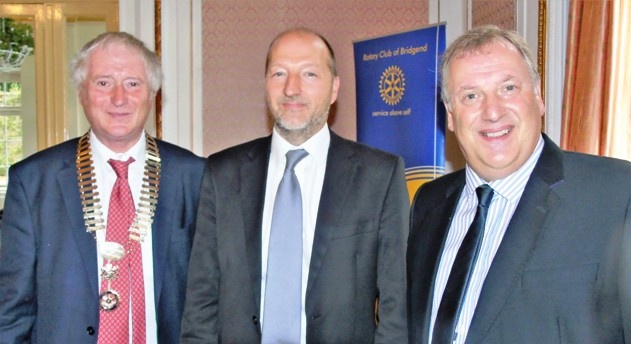 President Hopkin Chris Matthew

Matthew, an outstanding singer, has recently performed at Carnegie Hall, New York, in Australia (Melbourne) and New Zealand (in Dunedin), travelled singing at many of the finest concert halls in Europe in front of the Monteverdi Choir and recently returned to Wales from Stuttgart. Chris regularly performs with the BBC Wales Orchestra. Not only was the singing of the very highest quality but the way in which Matthew sang (his gestures and expressions - each different for the pieces he had chosen) proved highly entertaining. The session concluded with a standing ovation before Rtn Nick Lewis proposed a vote of thanks. The Club members will be closely watching Matthew's progress in a very busy 2018/19 season for him; he is due to appear shortly in Norway, then including performances in Boston USA and at the New York City Met, in Switzerland, in Quebec/Montreal, in Spain and also in Carnegie Hall, New York.

Hopkin
Rotary Donation to Bridgend Cricket Club

On Saturday 6th October the Rotary Club of Bridgend President Hopkin Joseph made a £250 donation to Matthew Evans the organiser of the Youth Team.This donation will go towards the cost of new equipment and kit for the Youth Team next season.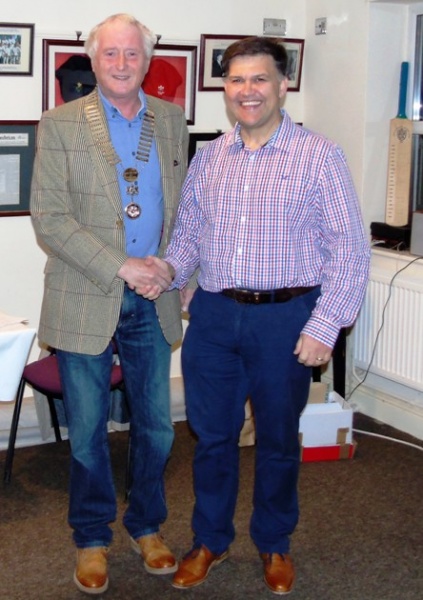 Rotary Dinner Meeting 1st October 2018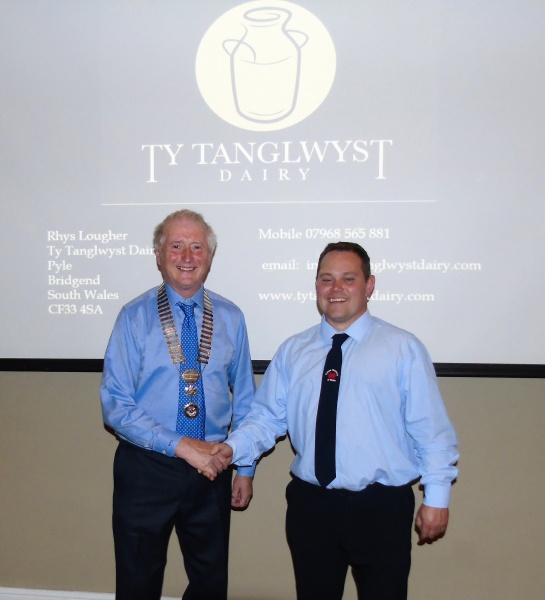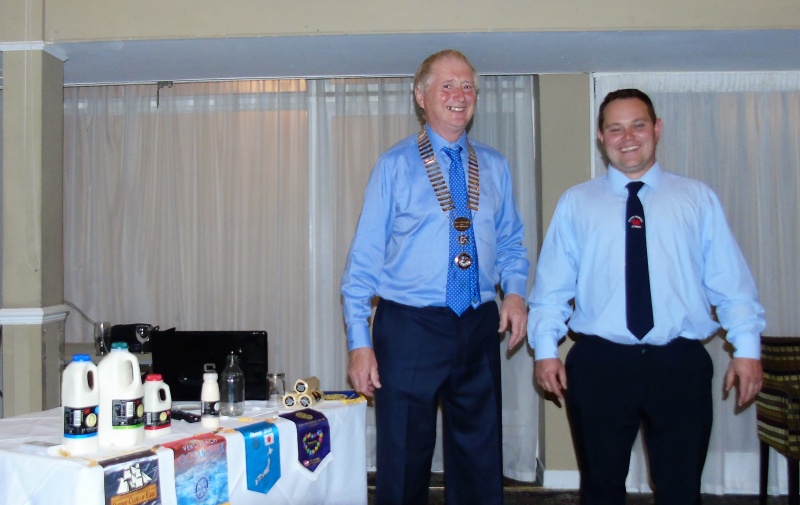 Rhys Lougher of Ty Tanglwyst Farm, Pyle, spoke at the Rotary Club of Bridgend's Dinner Meeting on 1st October about his family's farm and how he established Ty Tanglwyst Dairy. After school Rhys went to Aberystwyth, where he, for four years, studied Agriculture, returning to the family farm at Pyle, which (in order to support the family for the future, and with little prospect of sufficient additional land being available) needed to diversify. His parents had begun with converting some of the old stone farm buildings to holiday cottages (well located as the farm is close to the M4 Junction 37. There was a well established dairy herd, so Rhys first looked at making farm cheese or farm ice cream, but decided against both moving instead (with a very substantial capital investment) to treating on the farm the milk produced, bottling it and selling it. From the outset the emphasis was on quality production combined with as close to an organic system as economics permitted all operating with a rural landscape, which encouraged wild life diversity. This included co-operation with local bird protection societies who have introduced many nesting boxes around the farm to protect wild life. The dairy herd grazes for most of the year on pasture fields near the farmstead. Later expansion included home production of butter, cream and more recently honey, the honey hives introduced to assist pollination of grass and clover crops. A film and slide show presentation illustrated the way the enterprise has grown, with the many prizes won for the quality of the milk, butter and cream produced. The dairy supplies many households in the area with milk deliveries, as well as supplying local retail outlets, hotels/restaurants, manufacturers (ice cream and quality cakes in particular) and local schools, all of whom are seeking quality products produced locally in an environmentally positive way with huge attention to animal welfare.
WJH
ROTARY RAMBLE WEDNESDAY 26TH SEPTEMBER 2018
The ramble was attended by seven Rotarians, three guests and the ever-faithful hounds Georgie and Ben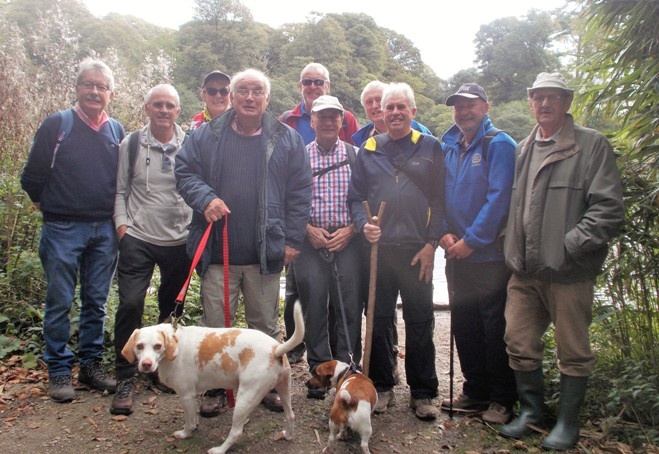 Following the road from Margam Park a steady climb North West took us up to Crugwylit Fawr Farm. At this point joining a local nature trail we continued West.


At the top the first siting of Swansea Bay appeared. With the lack of further trail signs we decided a track going down would be the best option. Joining us in the next field were two ponies that had heard the dog whistle. It was now that our expedition was led totally off track. With the knowledge of where we needed to be, climbing over a fence seemed the easiest choice. We then found ourselves following a stream downhill through boggy conditions and only one other route out , up a steep bank and over/under another fence. Somehow we had come out where we needed to be.
Joining Wales Coastal Path, heading back East, we were able to view Margam Park, Swansea Bay, North Devon and the Bristol Channel. The route then took us past a couple of WWII pill boxes and disused radar station.

A further pleasant walk down through the woods brought us back on to the original road.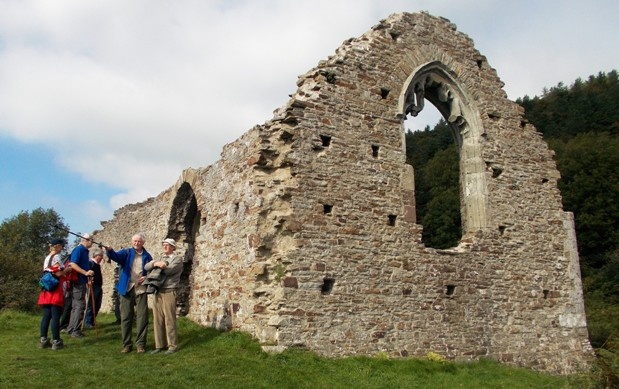 We now took the opportunity to visit Hen Eglwys ruin (Cryke Chapel) which stands above Margam Village. From the chapel re-tracing our steps a short walk took us back to the car park.

A very good meal and beverage was then enjoyed at the Angel Public House in Maudlam. A fine end to an enjoyable ramble.
Robin Bratton
THE ROTARY CLUB OF BRIDGEND AUTUMN LUNCHEON 2018
As part of the efforts by Rotary Clubs in South Wales to raise funds for the Tenovus "Closer to Home" Appeal - for a new mobile chemo unit - the Rotary Club of Bridgend, supported by the Rotary Clubs of Porthcawl and Cardiff Breakfast, held an autumn luncheon on Sunday 23rd September in a marquee in a field in Laleston. After four days of very strong winds and heavy rain the event was very nearly cancelled early on Sunday morning (after yet another torrential downpour at 3 am), but the organisers held their nerve and the weather changed around 11 a.m. From thereon during the afternoon, with one exception, it was dry and sunny with no wind.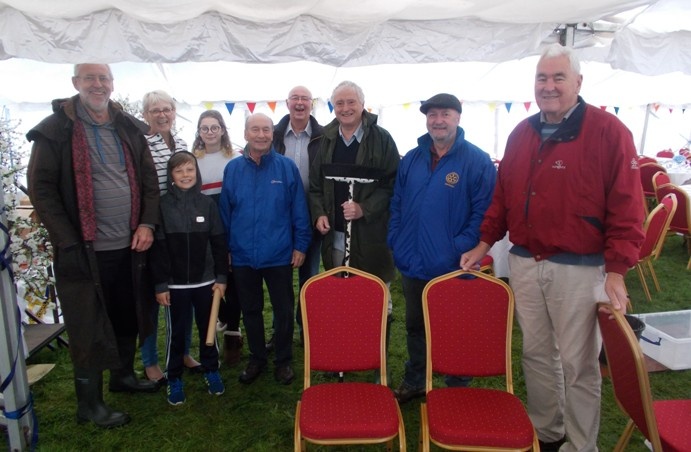 Thanks to the volunteers who assisted with the preparation of the event.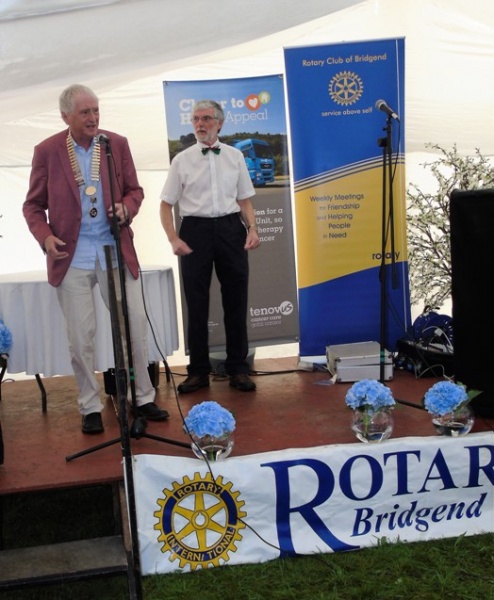 Bridgend Rotary Club President Hopkin Joseph greeted the 220 attendees from 12.30 p.m. onwards, who were treated to Lowri Phillips, (a Bridgend based accomplished harpist), playing a selection of Welsh harp music.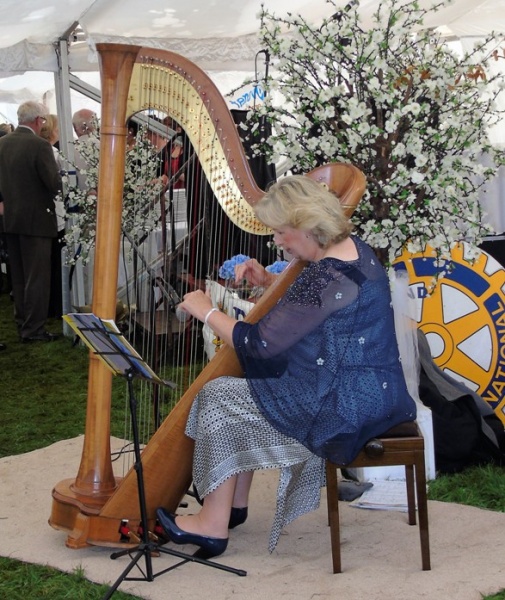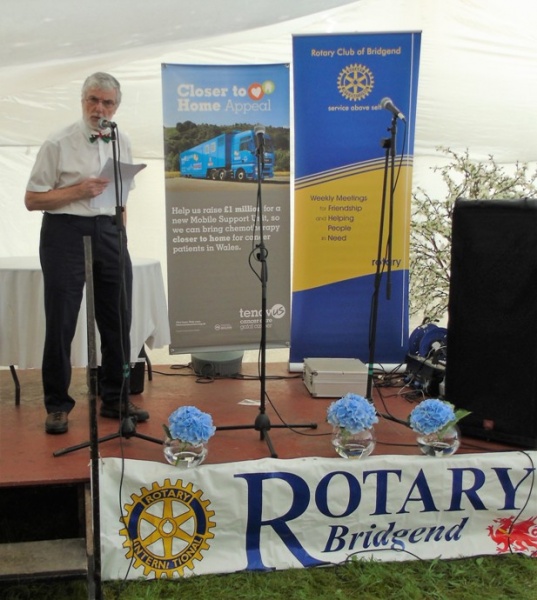 At 1.00 p.m. Dr. William Williams - Chairman of Bridgend Rotary Club Community Committee, and the event organiser - speaking in his first language of Welsh - welcomed everyone present in particular the principal guests (The High Sheriff of Mid Glamorgan John Wall and Mrs. Wall, the Mayor of Bridgend County Borough John McCarthy and Mrs. McCarthy - both John and Judy are members of the Rotary Club of Bridgend, and Brian and Liz Lakin - Brian is Chairman of "Closer to Home" Appeal and also High Sheriff of South Glamorgan.)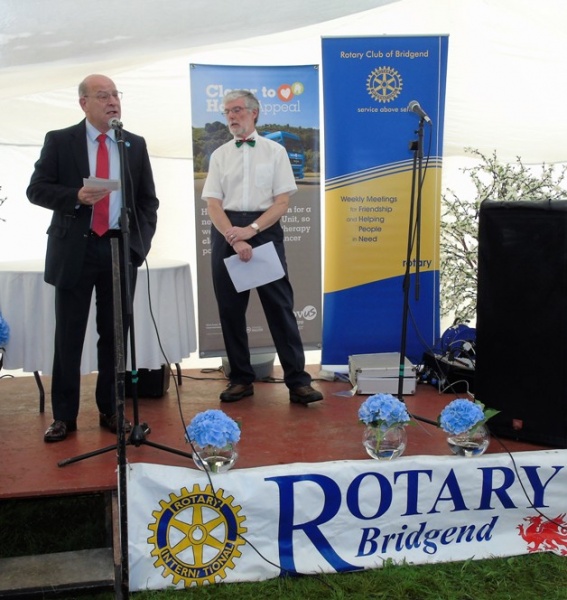 Brian then spoke explaining the aims of the Appeal, confirming that it has to date been very successful, and the new mobile unit will be launched in October 2018. He told everyone that it was a World leader in size and technology - "Wales leads the World". After a quick session of "Heads and Tales", led by Andy Phillips, (who had given a bottle of champagne as a prize) everyone sat down to eat.

During the main course Lowri played again whilst everyone "tucked in" to a super buffet meal provided by Cath Jones of "A Taste of Class" and her team of helpers.
After coffee the entertainment was provided by Athena.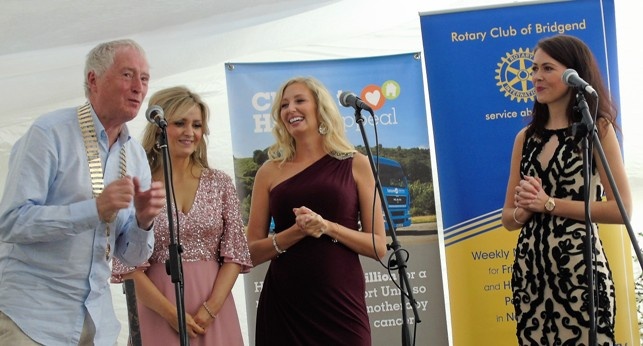 Gwawr Edwards, Sioned Terry and Elin Williams came together one evening in concert and formed Athena and during the last twelve months have appeared on TV, performed at numerous events across the U.K. and overseas, and been broadcast on radio. They delighted the luncheon attendees with a selection of melodies in Welsh, Italian and English, including a very moving rendition of "Calon Lan" to the tune of "The Rose".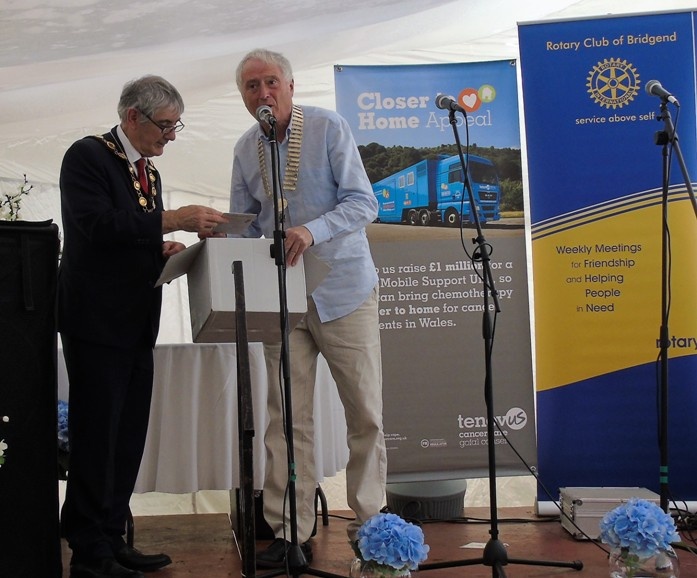 During the interval the Mayor drew the raffle with prizes of a meal for two at the Black Rabbit, kindly donated by Charlotte and Jon, J.J.Williams, an Autobiography kindly donated by J.J.Williams of Painting Services, a 150 cl Bottle of AIX Rose from Provence - kindly donated by Linda Jones, and a £15 store voucher donated by Sainsburys. Thereafter Richard Morgan auctioned a hamper basket of Welsh produce (including Ty Tanglwyst Dairies Award Winning Butter, Cream and Cheese) kindly donated by Liz Lougher of Ty Tanglwyst Farm, a cake made specially for the event kindly donated by Robyn Davies of Robyn's Bakery, Laleston and a chocolate creation donated by Pauline Totterdale of "Only Chocolate Aloud".
Athena then performed again for the second part of their concert, with the three sopranos finishing with a selection of Shirley Bassey songs.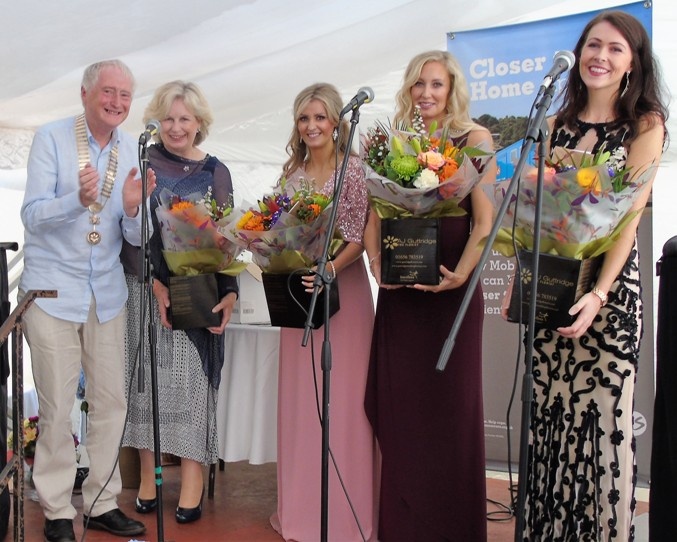 Under marquees, with flowers and floral arrangements kindly donated by Tina and Julian of Gutteridge's, Porthcawl, a very enjoyabled afternoon was had by all.
The only mishap of the afternoon was during one five minute spell of really strong wind the Rotary gazebo, which had served as an entrance of the marquee, blew out of the field, over the hedge and into next door house's garden.
The event raised just over £ 7000. Thanks due to everyone involved in particular the event organiser, Dr. William Williams, but with perhaps most thanks for a break/complete change of weather during the afternoon, after four days of rain, storms and winds.

WHJ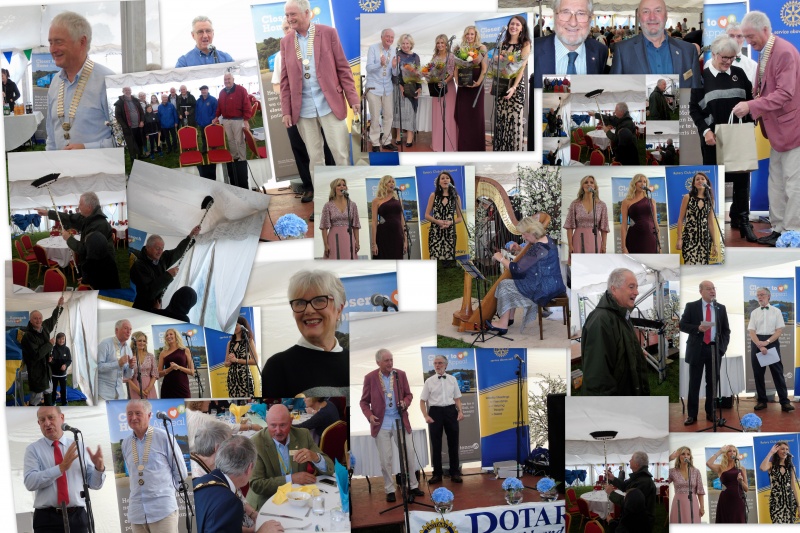 None of this would have been possible without the total commitment of our President Hopkin Joseph and all the enormous effort that he personally dedicated to the event.
WRW
Luncheon Meeting Monday 17th Sept 2018
Guest Speaker Mair ap Gruffydd "10 years of Mair's Walk"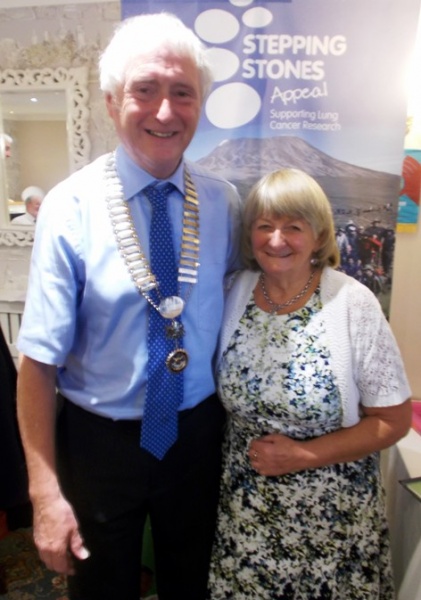 Mair ap Gruffydd spoke to the lunch meeting on Monday 17th September about the ten years of "Mair's Walk". She explained how after being successfully treated in 2006 for cancer she wanted to contribute towards Cancer Research to help others. With a few friends she arranged an informal fund-raising walk in 2007 from the Recreation Centre in Bridgend, through Newbridge Fields to Merthyr Mawr and across the Stepping Stones to finish at the Pelican Inn. They were all astonished when over 500 turned up. An active and supportive committee was formed, under the chairmanship of Derek King and a further nine annual walks were organised ending up at a marquee in a field alongside Ogmore Castle. Each year the walks were led by celebrities (Max Boyce on two occasions) with great support from many others such as the Bridgend Male Voice Choir, other sponsors and a large number of helpers. Mair recounted several of the happy and amusing incidents. The last walk attracted nearly 2,000 walkers and over the years well over £200,000 has been raised for Cancer Research.
CAR

Dinner Meeting 3rd September 2018
Rotary Club of Bridgend welcmes Madeleine Moon MP
Bridgend MP Madeleine Moon was the guest speaker at the Rotary Club of Bridgend's monthly dinner meeting on Monday 3rd September.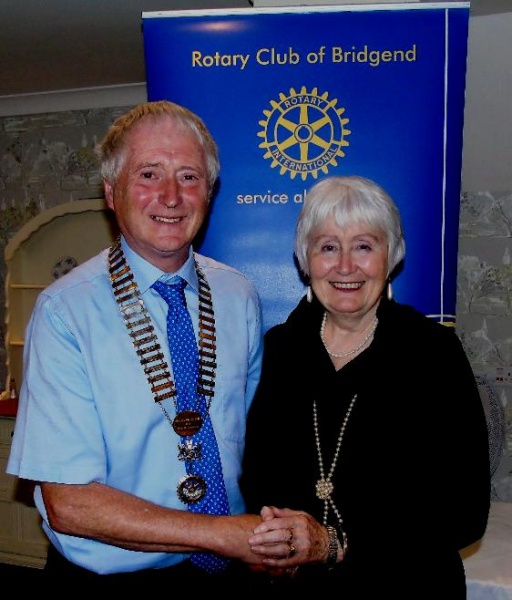 Mrs Moon addressed the Club about the work of the Parliamentary Defence Select Committee (of which Mrs. Moon is the Vice-Chair). She outlined how the cross party select committees are set up, their scope and roles and objectives and how they differ from other Parliamentary cross party interest groups (several of which are also chaired by Mrs. Moon). She explained that the role of the Defence Select Committee is to examine the expenditure, administration and policy of the Ministry of Defence and report back to Parliament.
A very wide ranging talk followed, during which Mrs. Moon gave an analysis of challenges facing the security of the U.K. by potential (both Government and non-Government) hostile forces and gave several specific examples of issues the Committee had uncovered and which would never have become public knowledge (and even now have little publicity) without the Committee's scrutiny. She highlighted areas in which U.K. is potentially vulnerable to hostile activities and how some other countries are taking precautions (just in case).

The question and answer session that followed highlighted further some of the areas of concern. The whole evening gave a flavour of some of the time and effort put in by Parliamentarians over and above their "routine" work for their constituents.
CAR
From the Archives of Fishing for the Disabled 2002-2003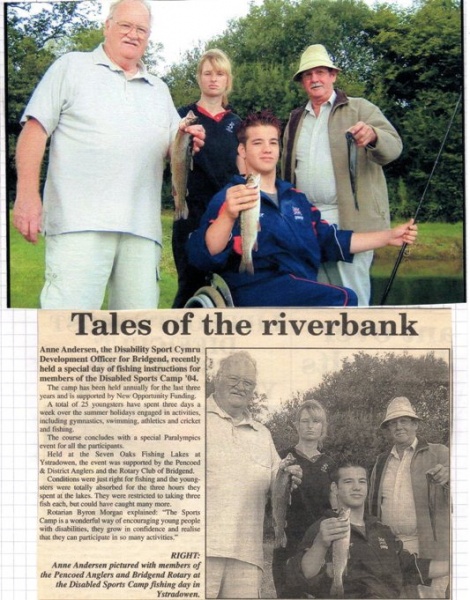 Rtn William Williams and his wife Catherine visitThe Rotary Club of Columbia Town Centre Maryland USA on 29th August 2018.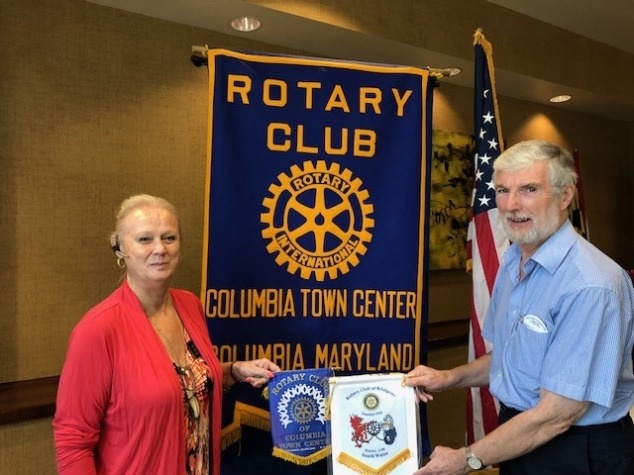 Together with Catherine I attended a make-up meeting at the Rotary Club of Columbia Town Centre, Maryland, U.S.A. on 29th August.

The meeting was headed by Vice-President John Slater as President Janis Cookson was going to be a late arrival. Vice President John had already reviewed the Rotary Club of Bridgend's website and provided very good feedback on its content.
I was asked to provide a short talk and that included information on Wales and the fund-raising activities and charity support provided by the Rotary Club of Bridgend.

The speaker for the day was from Rotary Club of Ellicott City, Maryland, and he described a combined water bore-hole project plus medical centre in Jacksonville, Haiti, which included support from Rotary Club of Columbia Town and Rotary Club of Aberdeen Md. Another member of Ellicott City club was also present.

We were warmly welcomed by all members of the Club and our thanks have been expressed in direct e-mails to Maryland and further feedback received.
WRW
Lunchtime Meeting 21st August, Guest Speaker Judith Morgan.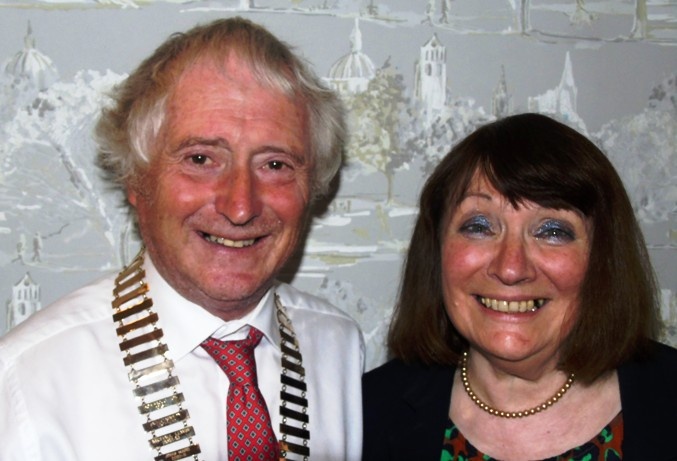 Judith Morgan of Cefn Ydfa gave a ten minute talk about the Maid of Cefn Ydfa ( Ann Thomas,born in 1704 ), including mentioning people who had lived at Cefn Ydfa or nearby ( and their links in the USA, especially Richard Price of Tynton Farm-Ann's cousin). Judith told us that Ann had fallen in love with a poor poet and thatcher (Will Hopkyn) but had been betrothed by her wealthy parents to marry equally wealthy Anthony Maddocks of Cwm Risca. Will moved away from the area. After two years of unhappy marriage Ann fell ill,Will returned to see Ann die in his arms, Will composed Bugellio'r Gwynith Gwyn, a poem of the love of Ann, Judith read out parts of the verses.
Hopkin
Latest Photo's from Tanzania 21st August 2018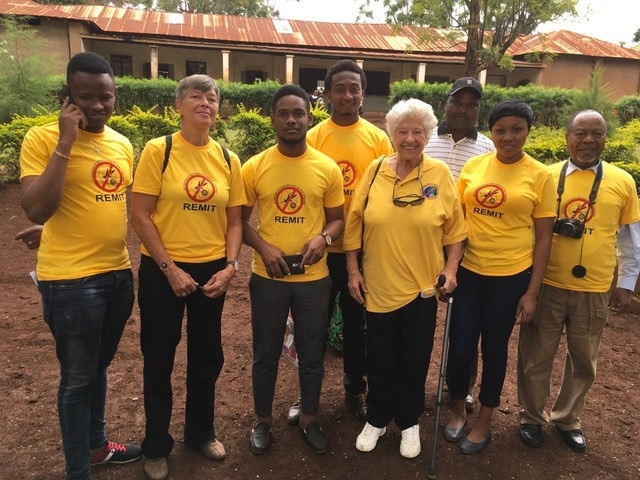 The REMIT team led by our Rotary Contact and major helper
Faye Cran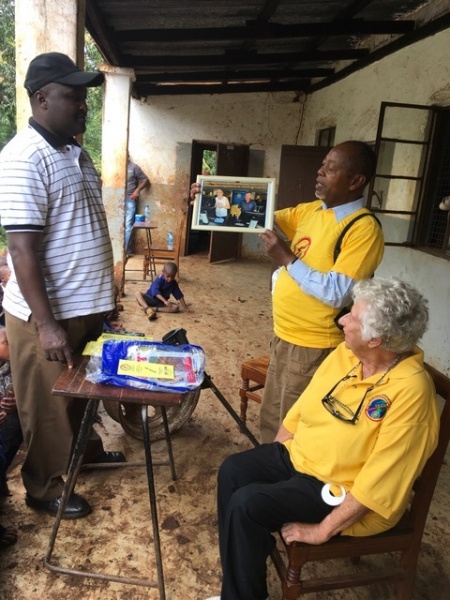 Mandana School Tanzania."Enlarge and note the framed photo.
Wayne and William at the Recreation Centre Bridgend".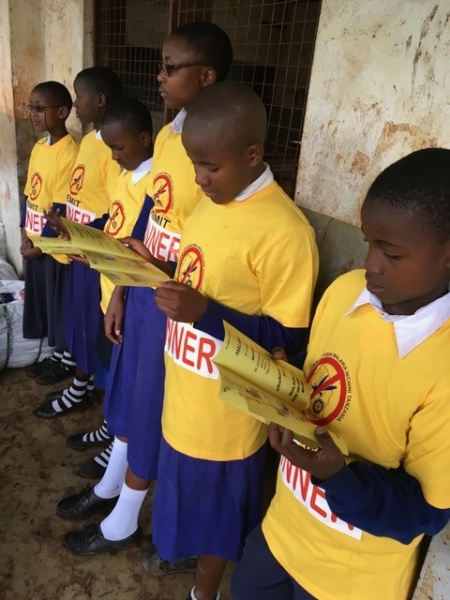 Mandala School

Monday 13th August 2018.

Guest Speaker Gaina Morgan "Growing up in Sker House"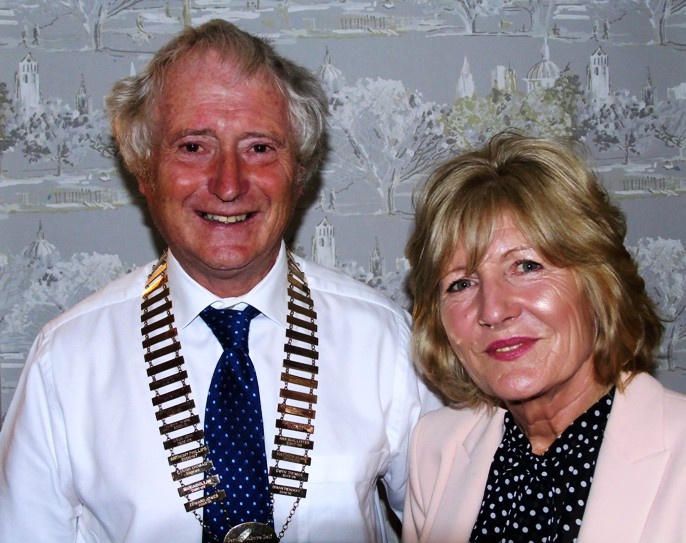 Gaina Morgan, journalist and broadcaster on radio and television spoke in a ten minute talk about growing up in Sker House in the 1940's and 50's,what it was like for her, her family and parents living in such an historic building.

Dinner Meeting 6th August 2018
President Hopkin Joseph welcomed many friends, guests and fellow Rotarians with partners to this special evening of presentations, fellowship and our guest speaker Rotarian Doug John, Mayor of Pencoed.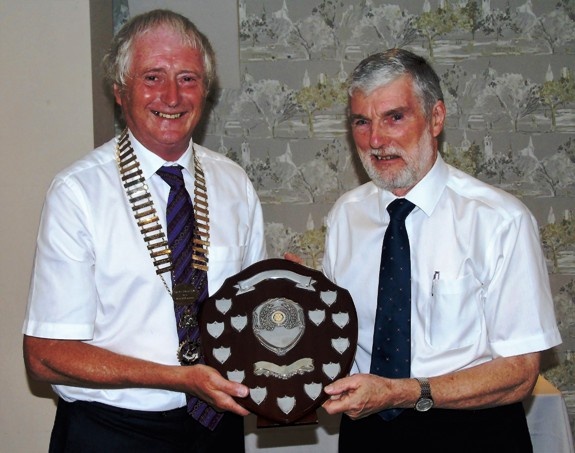 President Hopkin Joseph presented Rotarian Dr. William Williams with the "Rotarian of the Year Shield" for his outstanding support and fundraising effort for R.E.M.I.T ( Rotary Eliminating Malaria In Tanzania ).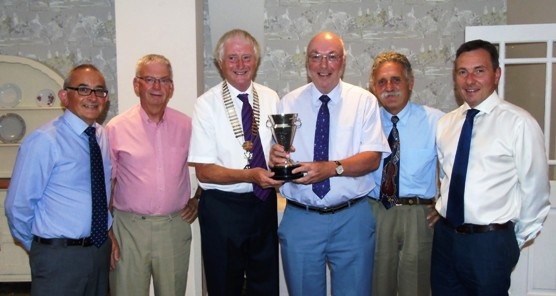 The " Harvey Palmer Cup" was presented to " Tinnitus " a group of medical musicians led by Dr Logan. For many years they have entertained at many venues in order to raise funds for an abundance of varied charities throughout South Wales and beyond.They also received a cheque to donate to a charity of their choice.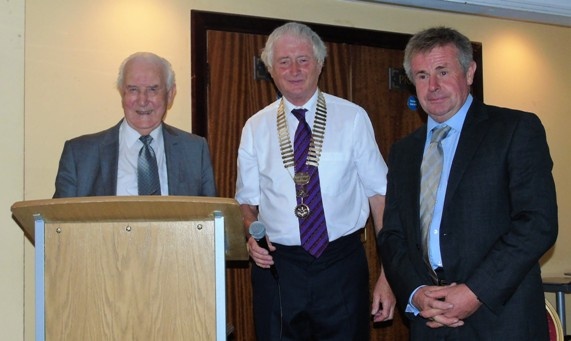 Our guest speaker, Rtn Doug John, Mayor of Pencoed is a member of our Rotary Club. He is also Clerk to the Board of Conservators of Common Land. His close friend, Jonathan Jones, is Chairman of the Commoners Association. Doug presented a full and detailed explanation of the Commoners acitivies and duties. Jonathan gave us plenty of food for thought and created a great interest from the attentive audience.
It was highlighted by both speakers to visit Mynydd-y-Gaer in order to get excellent views of the Rhondda Valley and Blackmill. I am assured that you can drive from the Rockwool Factory at Wern Tarw to the top of Mynydd-y-Gaer. No excuses now for non-ramblers!! Thank you Doug and Jonathan for contributing to a very enjoyable evening.
Rotary Club of Bridgend Annual Garden Party August 2018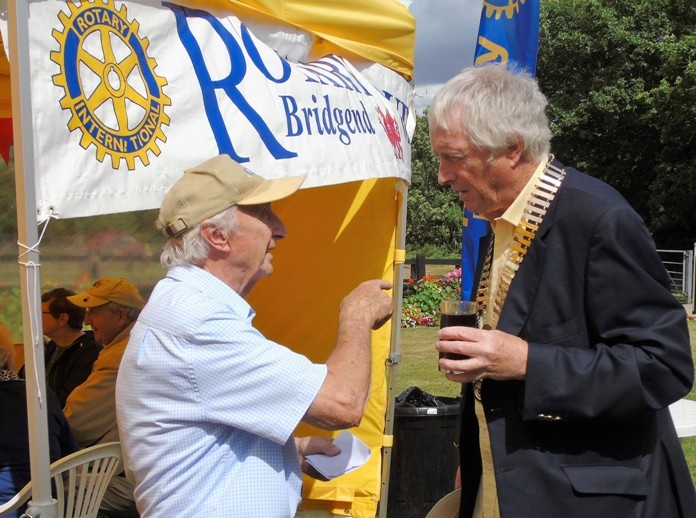 President Hopkin Joseph expressing his thanks to Rotarian Gwyn Thomas on behalf of the Rotary Club Members for all the years he has generously invited us to hold our garden party at his home"Well House Farm".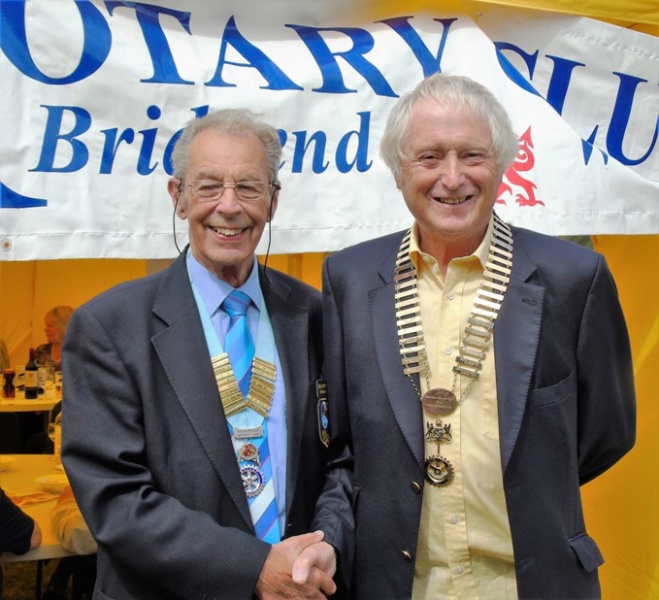 President Hopkin Joseph welcomes District Governor Clive Edwards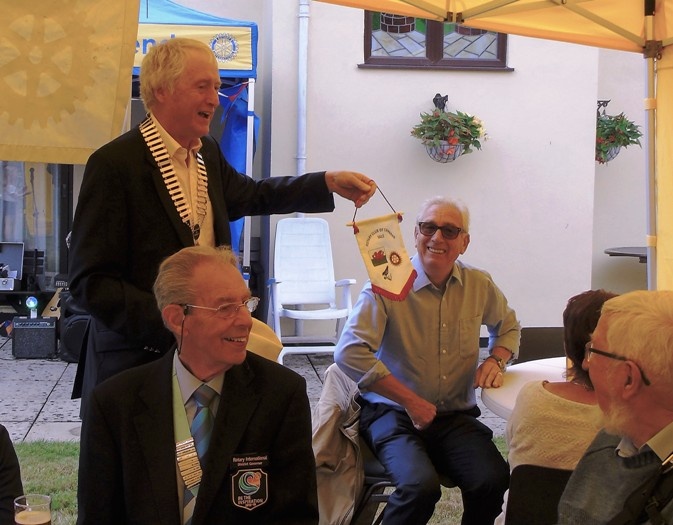 Welcome to members of the Rotary Club of Cwmbran, which included cycling friends of Rotarian Gwyn Thomas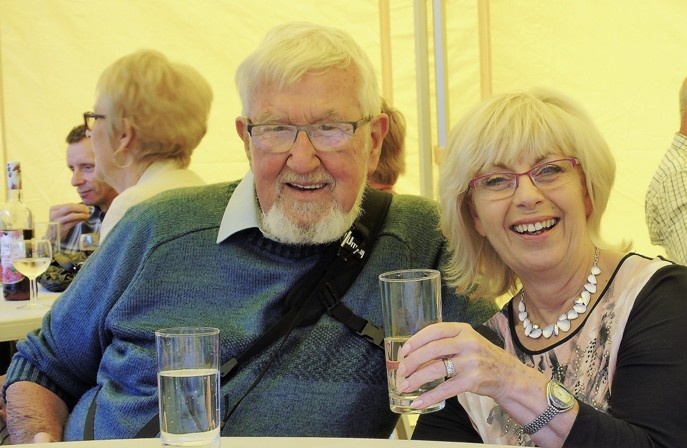 Welcome to last years District Governor Maggie Hughes and her husband.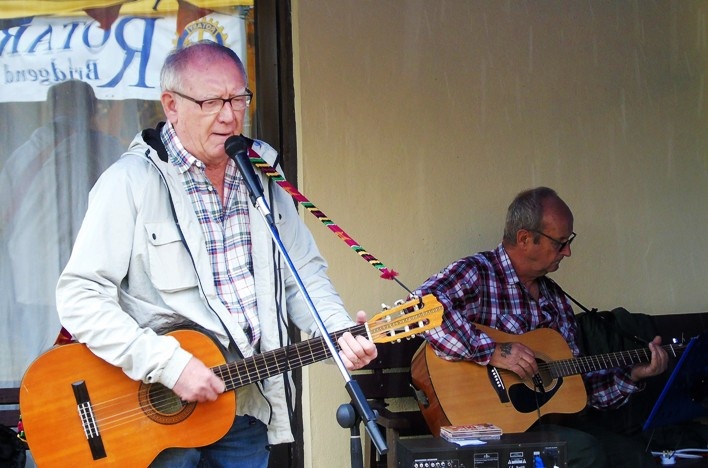 Rotarian John Ward and close friend of Gwyn ,Graham Brown providing the musical entertainment.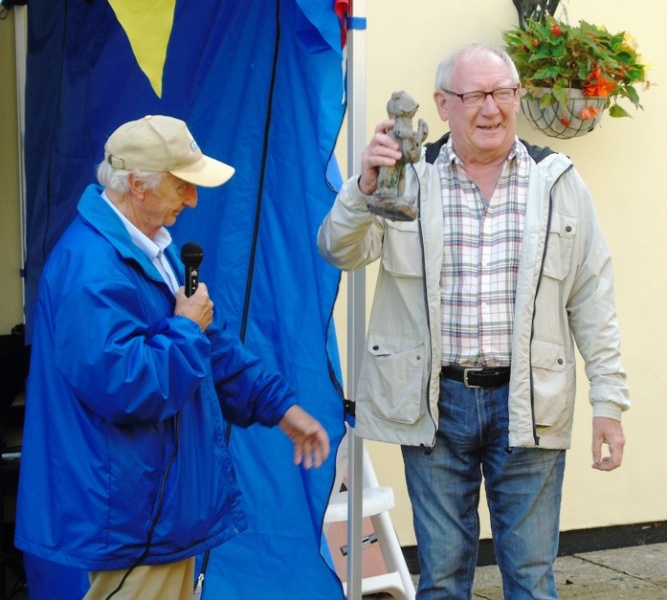 Rotarian Gwyn presents a gift to Rotarian John Ward for his contribution to the Garden Party entertainment.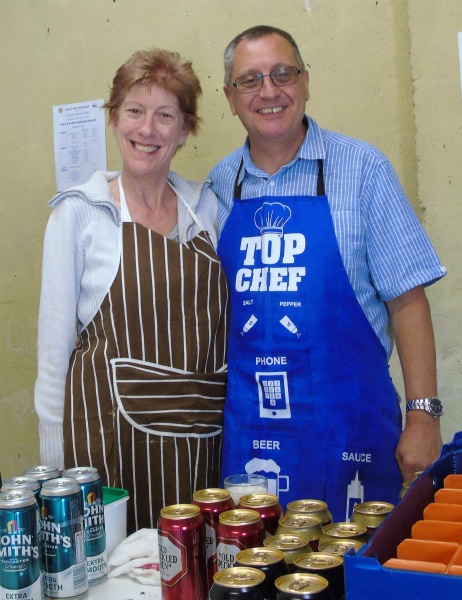 Rotarian Paul Cheadle and his wife Carolyn who served us well with liquid refreshment

Staff from the local Pencoed caterers "The Sandwich Company"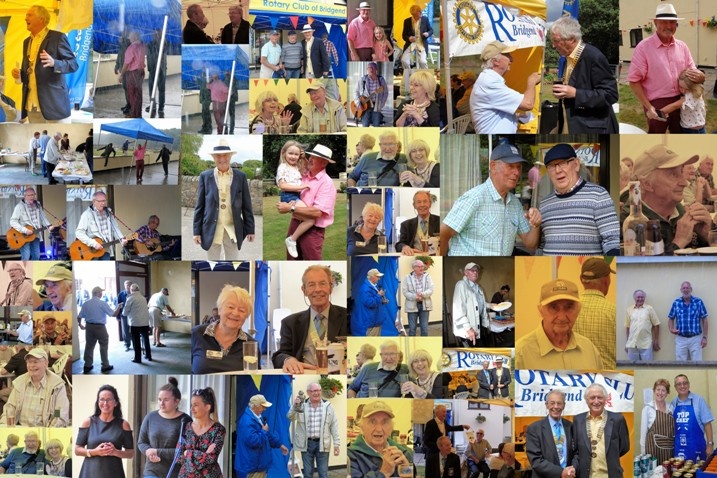 Garden Party attenders August 2018

"KIDS OUT" Charity collection 20th July 2018
The Rotary Clubs of Bridgend, Maesteg and Porthcawl held their annual KIDS OUT collection at the Bridgend Tesco Store at Brewery Lane.It proved to be a highly succesful event and betwwen 08-30am and 7-15pm the magnificent sum of £409-82p was collected.

Thanks go to the Tesco store and all the generous customers who donated to this worthy cause.
Neil
Rotarian William Williams and Catherines visit to New York.

On 27th June Catherine and I visited to R.C. Metro Club of New York City. The venue was the Playwrite Tavern located about a block away from Times Square.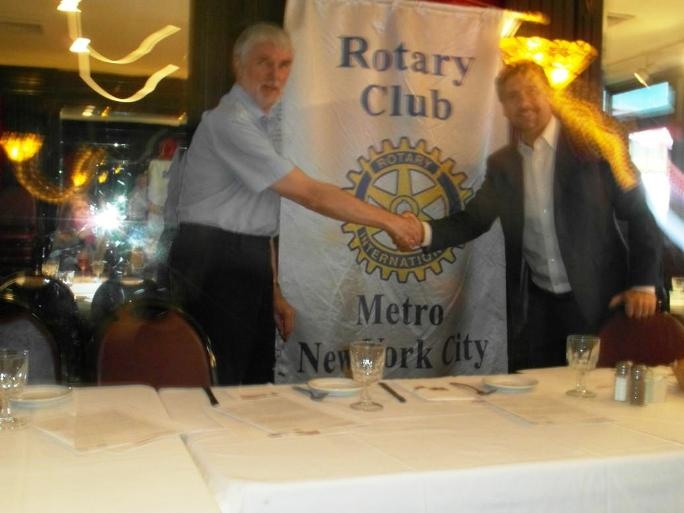 We were warmly welcomed by President Nicholas Arino. The Club has 46 members but a number were away at the International Conference in Toronto including P.P. and A.D.G. Mary Shackleton, who had been the main contact prior to our visit. The format of the meeting was that everyone was seated for a meal whilst the proceedings were underway. Everyone introduced themselves and it was obvious that a number of prospective younger members were attending that evening.
The speaker for the evening was John R.D. Celock (President of Celock Media Group) and the title of his talk was "Community Engagement and Thought Leadership for Business Growth".

The Club had set a year's target of twenty visits to other Clubs, and the final list provided more than reflected that number, including visits to International destinations.
Further on in our travels, we attended a Service Club Meeting, plus another Rotary Meeting with a number of International representatives present - some of whom were returning from the Toronto gathering.
WRW
Robins Rotary Ramble Wed 25th July 2018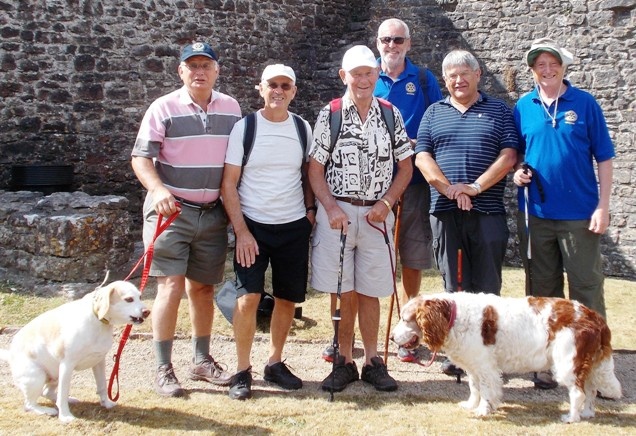 With four Rotarians, two guests and two dogs in attendance, the July Rotary ramble commenced at Ewenny Priory with a tour around the 11th Century Church. Hopkin was first to find the monk hidden in the roof arches.

Walking on the perimeter of the Priory grounds, we made our way to Corntown and a trail through fields of rye. The first field dwarfing the team, except one. Guess who? The second field dwarfed even the tallest.
Reaching Tair Croes Down, splendid views were enjoyed over Bridgend and surrounding hills from Stormy Down in the West across the Bwlch and East to Llantrisant. A clear channel also allowed excellent view of the Devon hillside.
A steady walk down through already cut corn fields took us to the Babtismal Pond back in Corntown, where Ben (a dog I may add) cleared the wall and entered the Pond with Alan Reeks clinging on expecting a dunking. On returning to the Priory we took a short drive to the Golden Mile Inn, where a good pint of ale and hearty meal were enjoyed.
Robin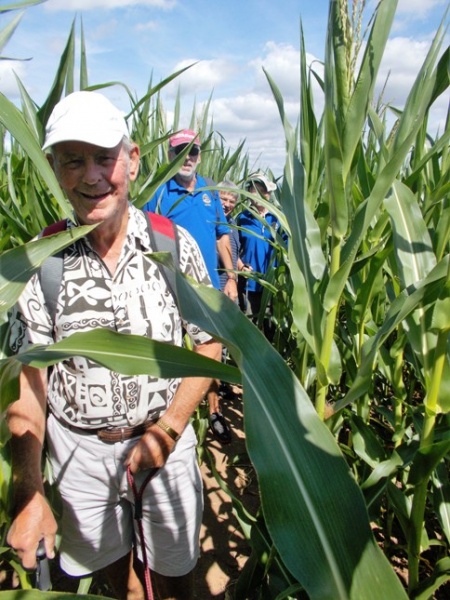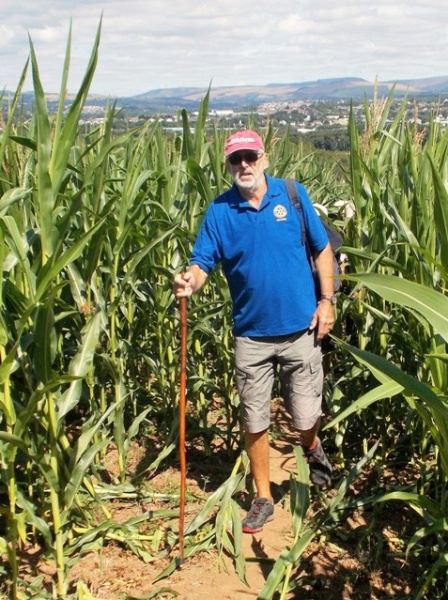 Rotary Club of Bridgend President Hopkin Joseph is also President of the
Bridgend County Show for 2018-19.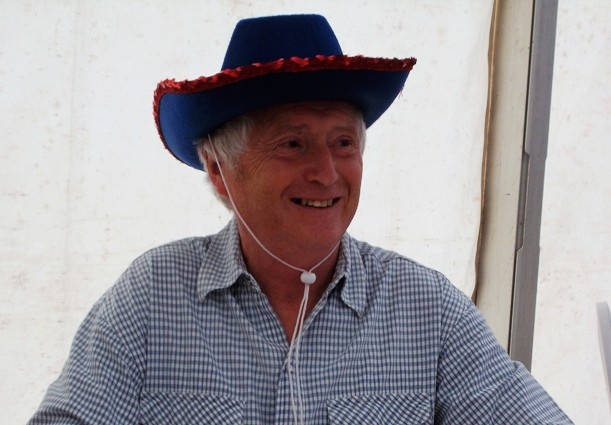 President Hopkin and some of his Rotary colleagues attended the Bridgend County Showground to support a Country and Western Evening.This was a charity event to support the Albert Edward Home in Porthcawl.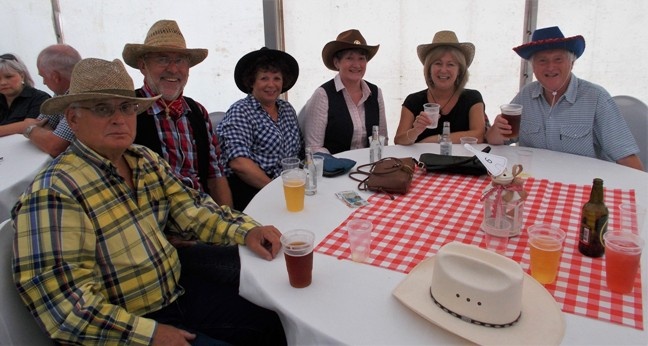 Rotary District 1150 Triple Bowls Competition 3rd July 2018

It was the reward for winning the much coveted W.H.Brain Trophy in 2017, that the Rotary Club of Bridgend had the pleasure in arranging the hosting the 95th District Bowls Competition held at Rock Park Bowling Club, Llandrindod Wells.
Presented in 1923, by Rotary Past President W.H.Brain, the South Wales Rotary Bowling Trophy has been the reward for the Rotary Triple Bowls Competition held annually, even in war years, for 95 years.
Designed to promote the development of acquaintance and fellowship amongst the Rotary Clubs in South Wales there is much competition and rivalry amongst the competing teams and the trophy is one all Rotary bowlers seek to lift. At least once.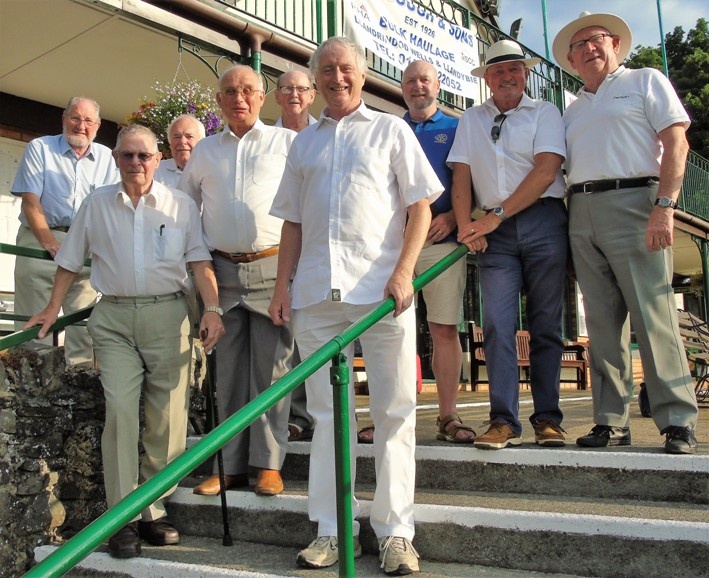 Nine worthy knights from Bridgend (Hopkin Joseph, Wayne Morgan, Bob Broughton, Mike Lewis, Brian Roberts, Edgar Burt, Neil Solman, John Ward and Alan Reeks) set off early in the blistering heat on the morning of the 3rd July for some jousting on the bowling rinks of Powys.
Conditions conspired against our worthy knights. Not only did they have to endure the unusual weather conditions but hadn't they been celebrating the installation of a new President the night before? And a hearty three course lunch including Welsh Black Roast Beef and hefty slices of fruit pie and lashings of custard for just £13.50 in the Metropole Hotel perhaps was not the ideal menu for such trained athletes but did help in creating much fellowship amongst all the competitors.
Nevertheless our worthy Knights competed ferociously and our "B" Team came a creditable six in a field of twenty two teams. At least one objective was achieved and Bridgend will not have to arrange the competition next year. No doubt a reflection on the superb adjudication which as hosts the Bridgend Club provided.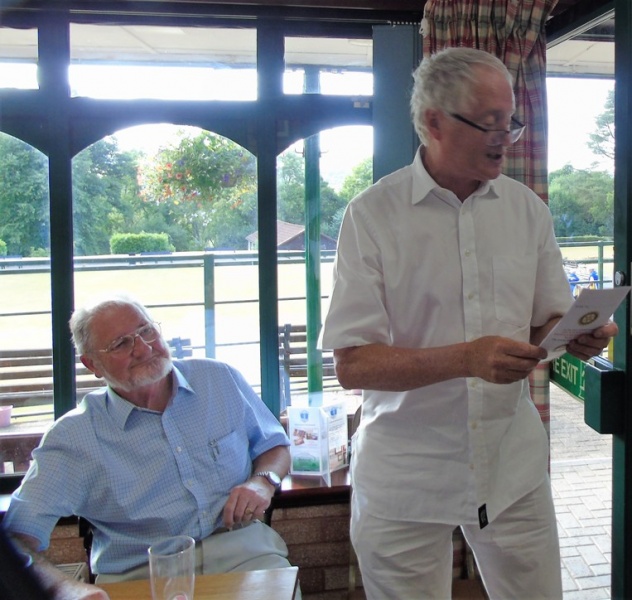 Adjudicators Rtn Bob Broughton and President Hopkin Joseph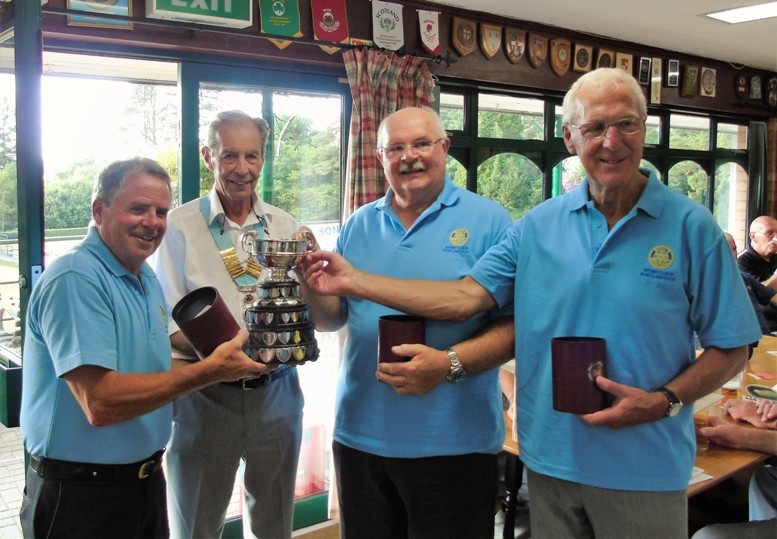 Winners Pontlanfraith B

Runners Up Brecon B
Bridgend
District Governor Clive Edwards and Assistant Governor Wayne Morgan

District Governor Clive Edwards presented the Trophy and souvenirs of the occasion to both the winning team, Pontlanfraith "B" and the runners up Brecon "B" and to ensure another photo opportunity Assistant Governor Wayne Morgan of the Bridgend Club presented a souvenir to commemorate District Governor Clive Edwards first official function.
Alan Reeks

Rotary Club of Bridgend Handover from President Wayne Morgan 2017/18 to

President Elect Hopkin Joseph for 2018/19.

At the handover dinner held at the Heronston Hotel on Monday 2nd July, the guest speaker was Professor Laura McAllister, Professor of Politics and the Governance of Wales at Cardiff University, who spoke on what she said were her favourite subjects - politics and sport.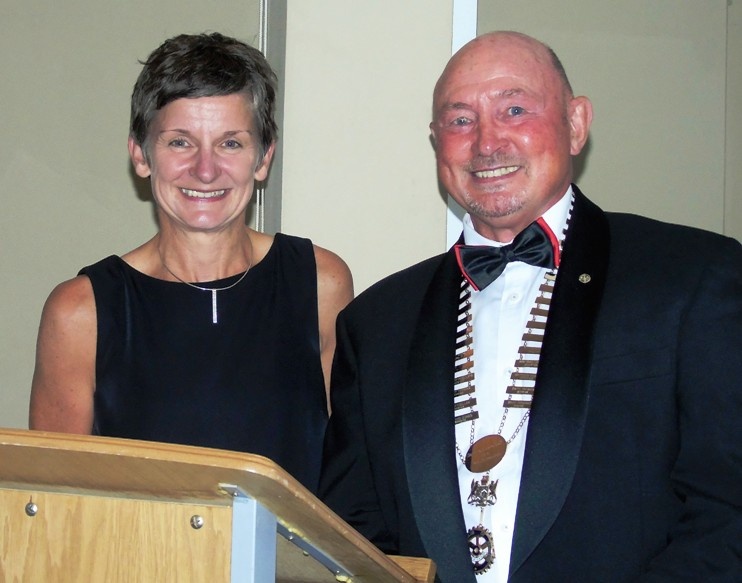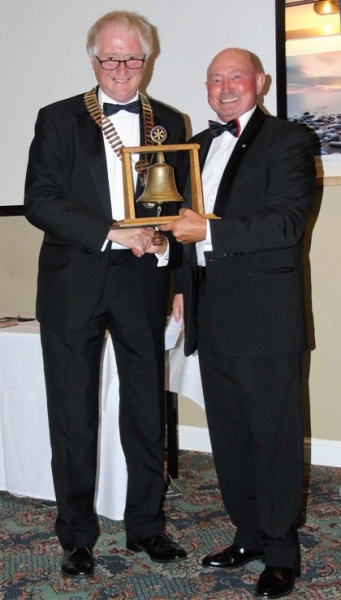 Outgoing President Wayne Morgan spoke about his year in office and supported his speech with a screen display of a series of photographs of activities during the year. He then announced that the winner of the award for Bridgend Rotarian of the Year was Dr. William Williams. The winner of the Harvey Palmer Cup (plus a cheque to be donated to a chosen charity) was Tinnitus - recognising their contribution over many years to charitable causes in Bridgend and further afield.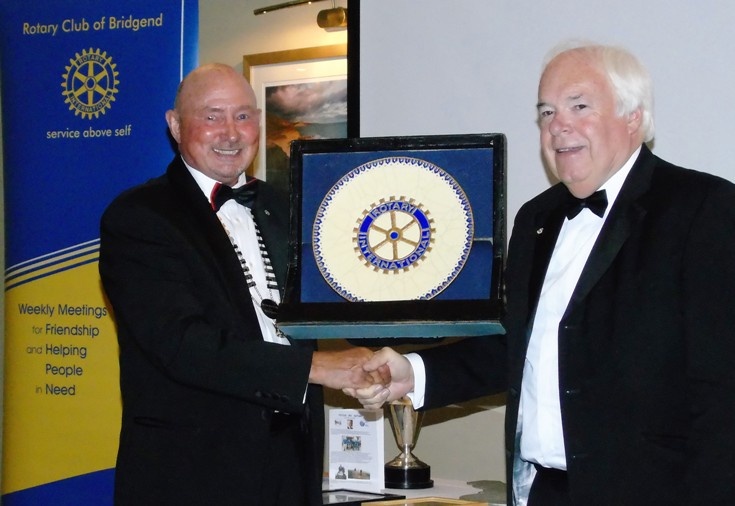 Hopkin Joseph was inducted as President for Year 2018-19, he thanked Club Members for the honour they had afforded him, congratulated Wayne on a very successful year in office, spoke of the programme arranged by Club Officer for the forthcoming year, and thanked by name many of those who had contributed in any way. Hopkin concluded by expressing the hope that the year to come would be for Club Members one of enjoyment, fellowship and service, but particularly enjoyment.
Hopkin

Robin's Rotary Ramble ( Porthcawl ) Wednesday 27th June 2018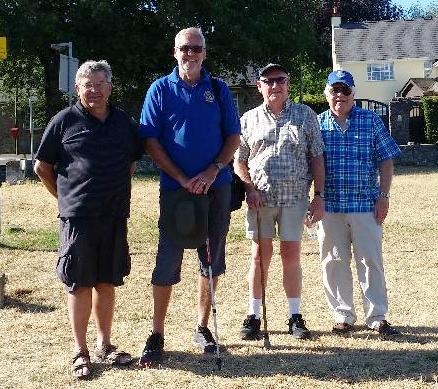 Three Rotarians, John Ward, Brian Roberts, Robin Bratton and guest Robert Reeks, set off from St.John's Church, Newton, for an evening stroll. With temperatures in the upper 20 degrees, the four intrepid ramblers set off towards Newton Beach, passing Sanford's Tidal Well on the way. The beach stretched into the distance as far as Ogmore by Sea (originally known in the 19th Century as the hamlet of Sutton, the surrounding quarries well known for their hard stone, supplied building materials for both the Vatican and the Houses of Parliament.)
Passing Trecco Bay on a section of the Welsh Coastal Path, Sandy Bay spread out ahead, the incoming tide was low enough to cross on the soft warm sand.

Reaching the Eastern Promenade a short walk took us to Porthcawl Harbour, after a short stop to view the Marina the temptation of Arthur Beale's chips took control and we headed to Griffin Park for a freshly cooked fish supper. With only one objective left to complete the evening, we retraced our steps and headed for the Jolly Sailor Inn for a well needed refreshing pint of local ale.
Anyone with associates, friends or family wishing to be on pre-ramble circulation please let me have their e-mail address and I will copy them in future events.
Other than August and December (both ramble free), the last Wednesday of the month is set aside for future rambles. All are welcome.
Robin

Dragon Ride Ystrad Fellta Feed Station 10th June 2018.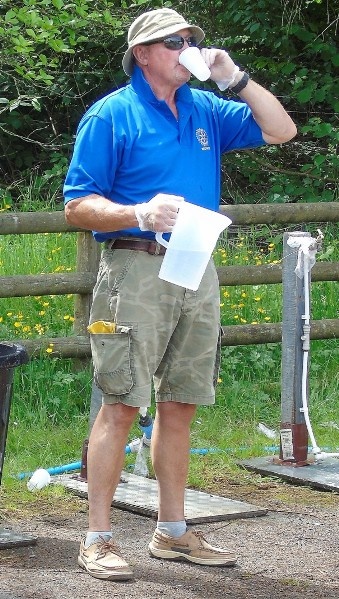 Wiggle Ride Feed Station No 3 at Crai Eco Lodges LD3 8YP 10th June 2018.
Also celebration of Davids Birthday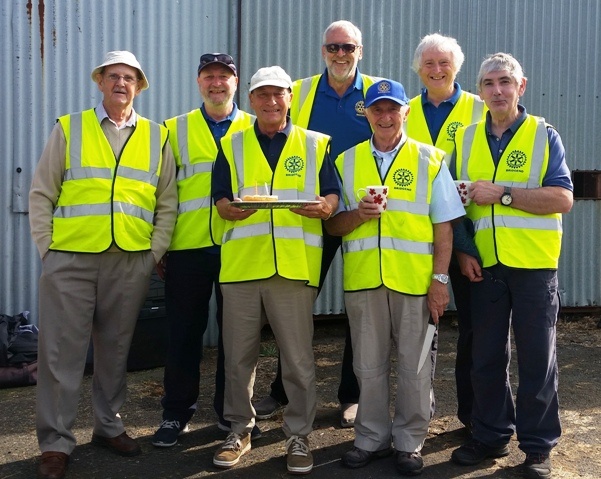 Left to Right, Edgar Burt, Mike Lewis, David Hubbard, Robin Bratton, Gwyn Thomas, Hopkin Joseph, John McCarthy. Also Gerry Bassett and Brian Roberts( Still busy working )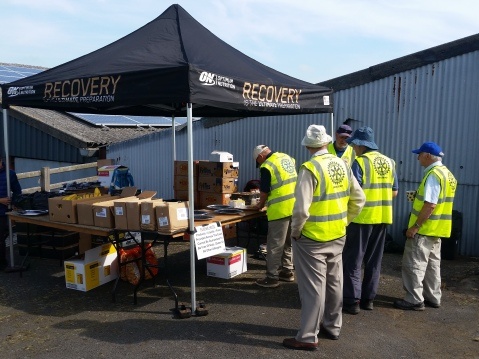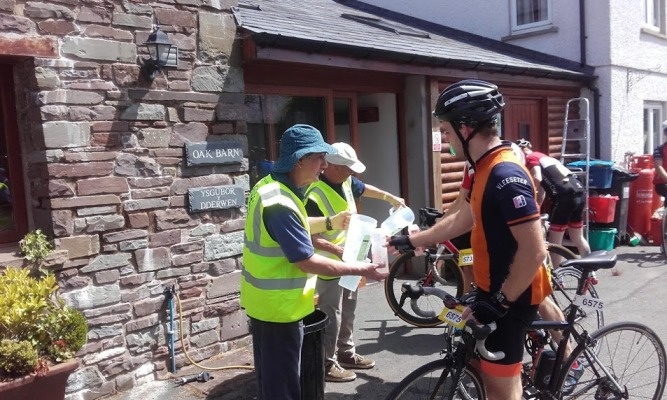 Rotary Kids Out Day June 2018
The Rotary Clubs of Bridgend, Porthcawl and Maesteg celebrated "Kids Out Day" on 13th June 2018 by taking some 140 9-11 years old to the Gower Heritage Centre at Parkmill, Swansea.
We provided three large coaches and picked them up from schools at Pencoed, North Cornelly and Maesteg. Each school part was split into two groups, colour coded and escorted throughout the trip by G.H.Centre staff and teachers.
The days programme included bread making, watching the blacksmith at work, the 22-seat mini cinema and tours of the various mills, static farm machinery and petting animals.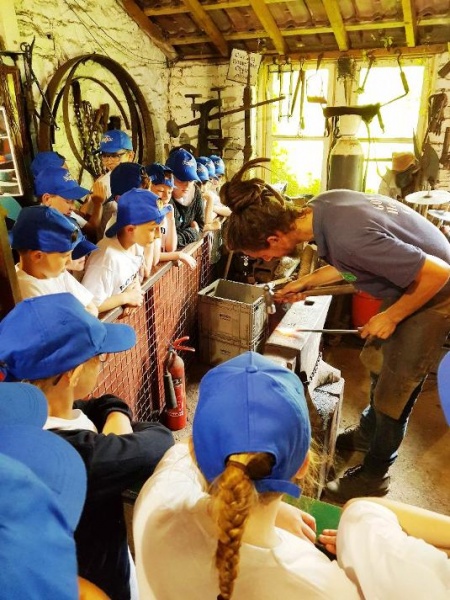 The conclusion was the duck race with prizes for the four winning duck owners. Each "Kid" wore a Rotary Kids Out tee shirt and cap, and were also given a Rotary pen.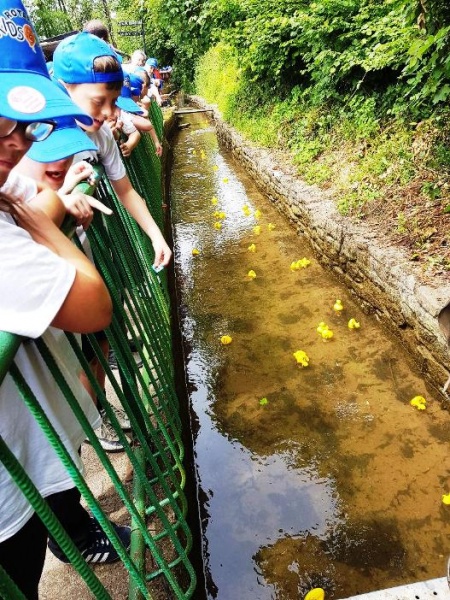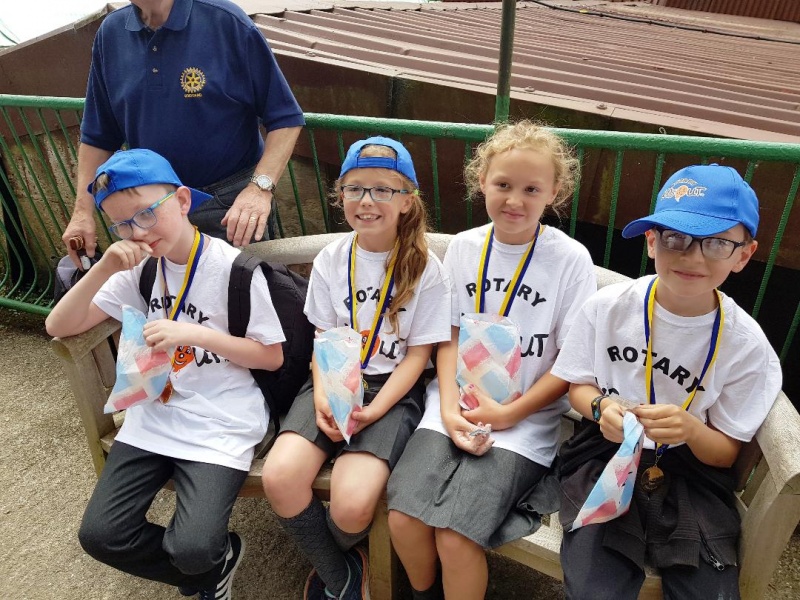 The party included some twenty teachers and ten Rotarians. Special thanks to the G.H.C. staff, who were as excellent as ever, and also to Express Travel for their courteous and safe journey.
Neil Solman

Rotarian Byron Morgan JP Remembered 13th June 2018

Bridgend and District Fishing for the Disabled and the Rotary Club of Bridgend remembered a Past President of the Rotary Club on 13th June in the form of the fishing competition for the disabled which was held at the Seven Oaks Fishery, Ystradowen.
Rotarian Byron Morgan JP was a founder member of the fishing club which is now in its 22nd year.
Organised by Rotarian Edgar Burt, a long time friend of Byron, teams from Heronsbridge School, Ysgol Bryn Castell and Pencoed Special Unit were invited to compete for the memorial trophy.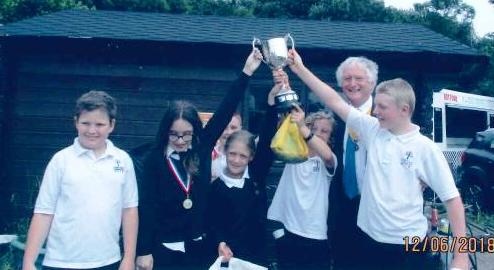 With a winning catch of the heaviest fish Pencoed Special Unit was presented with the Byron Morgan Memorial Club by the current President Elect of the Rotary Club of Bridgend, Hopkin Joseph, who also presented medals to pupils of each school who caught the largest single catch of their school.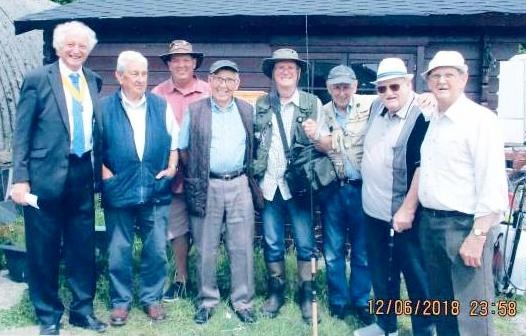 Rtn Byron Morgan had a larger than life personality. He was know as Morgan the Blind because of his association (headmaster) with the Bridgend School for the Blind or "Morgan Ponty" and his ashes are spread under the posts at the Clubhouse end of Pontypridd Rugby Ground.
Edgar Burt
Breakfast Meeting President Major Wayne Morgan MBE welcomes our Guest Speaker Sian Chudleigh Community Officer for Nat West Bank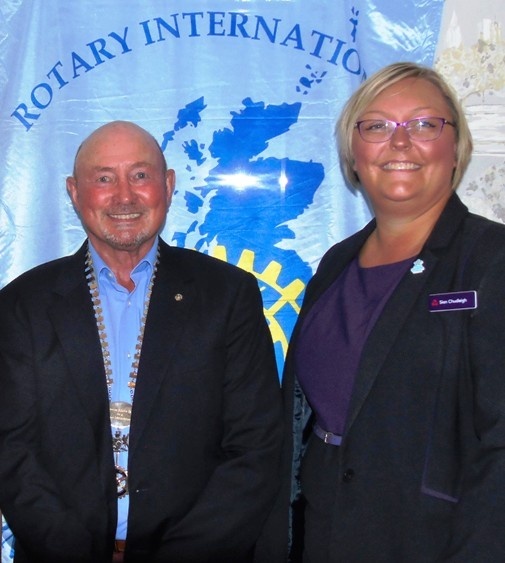 At breakfast on 11th June we received a presentation from Sian Chudleigh on bank fraud awareness.

Sian is a community banker with Nat West Bank, covering Bridgend, Maesteg, Pencoed, Talbot Green and Cowbridge.
She helps to provide banking advice in the community - especially where branches have closed, by visiting clubs, societies and schools to help with advice, answer questions and directing customers to the best way to access banking services (but she does not cash cheques or hand out cash!).
Sian gave a fascinating talk on spotting and avoiding bank fraud over the phone or by text message, her message was that fraudsters are getting cleverer - they often research their victims in advance and will often pose as bank staff over the phone - and are seeking to gain access to your passwords and codes.
The key thing to remember is that real bank staff will not ask for pin numbers or codes over the phone - if in any doubt hang up and phone your bank directly yourself.
It was a sobering lesson to hear how many people have been defrauded so be vigilant and do not give out your information over the phone no matter how plausible the story.
Perhaps at a later date she will return with a talk on line fraud.
Brian Roberts

Breakfast Meeting, President Major Wayne Morgan MBE welcomes our Guest Speaker Allison Rowlands "REMIT Botawa Co-ordinator" 11th June 2018.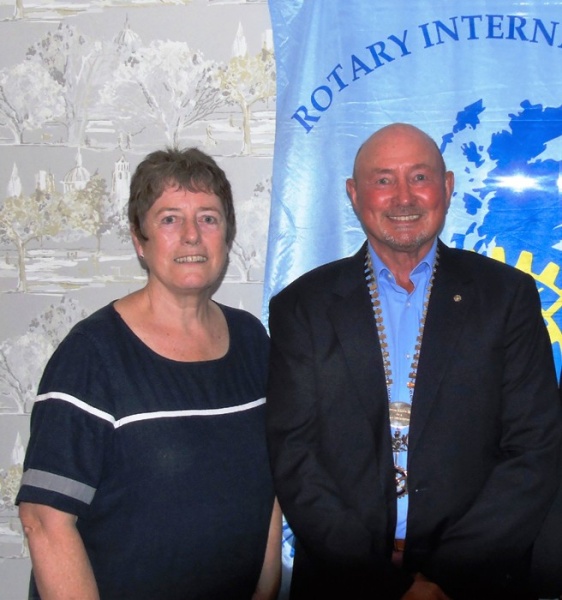 On Monday 11th June Allison Rowlands (accompanied by Richard Howe of Heronsbridge School, Bridgend),the BOTAWA coordinator, provided a detailed summary of her involvement in the REMIT programme via the Rotary Club of Bridgend.
Alison had just returned from Moshi, Tanzania, where she was visiting the three schools which are part of the BOTAWA (Botswana/Tanzania/Wales - Closeness of Classrooms) Project which has been ongoing for a few years now.
Alison accompanied a local REMIT volunteer to collect the malaria nets from the manufacturing company and this involved a six hour round trip journey. On the following day she described how the nets were distributed at the Muumgano Residential School in Moshi and how the pupils were provided with a education about malaria and the use of the nets. In parallel nets were installed in the dormitory where bunk beds were in use. She also described the joy of the pupils in seeing the resulting nets over their beds. In addition, she had made a detailed movie of the whole BOTAWA involvement and this included the first hand expressions of thanks from the pupils involved. A number of photos were also displayed.

She also thanked the Rotary Club of Bridgend for its help in getting a problem with the water supply at the Moshi School, which was resolved with a link between Rotarians providing the means to solve the problem.

This was an inspiring talk by Allison and enhanced by the sounds of the pupils played to us at the meeting.
Rotary making a difference - in more ways than one in this case!
WRW
............................................................................................................................................................................

Rotary Club of Bridgend President Major Wayne Morgan MBE visits the Rotary Club of Porthcawl Club Assembly Meeting. June 2018.

President Major Wayne Morgan MBE was invited to attend the Rotary Club of Porthcawl Assembly Meeting in his capacity as Incoming Assistant Governor for Area 7.

Wayne commented that he could not have been made more welcome in his new role as A.G. President Sandra and Incoming President Elect Denzil made it a very warm and enjoyable evening.
An impressive programme of activity and fund-raising was read out by the various Chairs and Officers of Committees. The Club is clearly thriving with new members being inducted and fully engaged in the Club programme.
Congratulations to the Rotary Club of Porthcawl in arranging a hugely successful Club Assembly.
Wayne
President Wayne Morgan MBE presents cheque to Hayley who is the PARC Families Intervention Team Manager.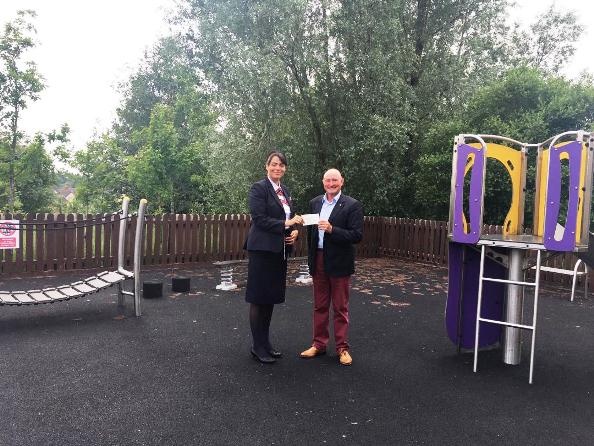 This is the reply message from Hayley
The money donated to us by the Rotary Club of Bridgend will be spent on resources for the Duke of Edinburgh Programme. We are at the training phase for the expedition stage and we need to buy equipment for that area of training. Items will include four maps of the local area, , four compass, headlights and much much more. The young people on the current programme have not been given this opportunity in their local community and are delighted to be doing this whilst having quality time with their Dads. Something which is crucial for them during their teenage years.
It really is a worthwhile project and the only one of its kind in the world! We are so blessed to have the Rotary Club of Bridgend support us on this important project.

Thank you so much.
Hayley.
Hayley has just been nominated for the Butler Trust Award.
Rotary Club of Bridgend President Major Wayne Morgan MBE visits Sandville Court Self Help Centre Porthcawl June 2018
The Sandville Court Self Help Centre was established in February 1983 and is open to all people suffering difficulties. They offer help in a relaxed and happy atmosphere.Their motto is listening, looking, learning, loving and laughter which will enable you to live a longer and healthier life.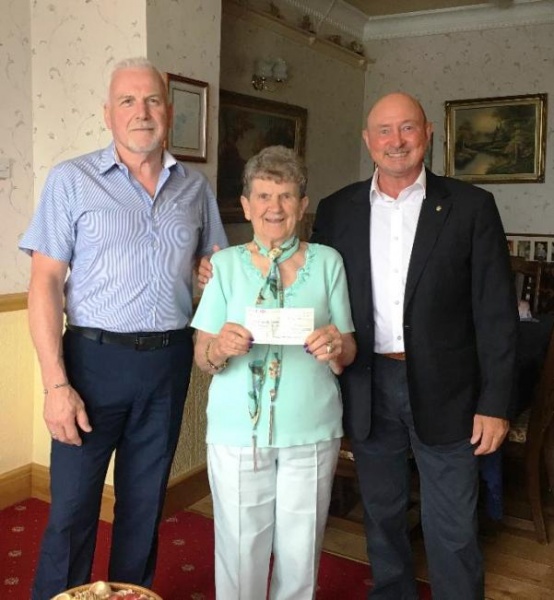 President Wayne presenting a cheque to Gwyneth Poacher and Gary Banks of the Sandville Court Self Help Centre

Sandville offers a people centered service with social and psycological care for patients and families.The staff under the guidance and direction of both Gwyneth and Gary provide patients with complimentary therapies including reflexology, self hypnosis, reiki, acupuncture,hydrotherapy,education,seminars,workshops and transport to and from hospitals.

A truly inspiring place with some truly wonderful people.
Wayne
Rotary Evening Meeting 4th June 2018

Guest Speaker Dr Rhian Morgan "DNA and Forensic Science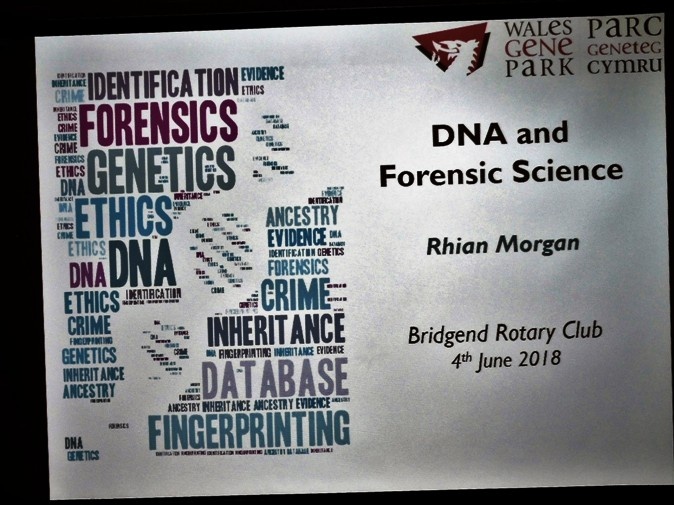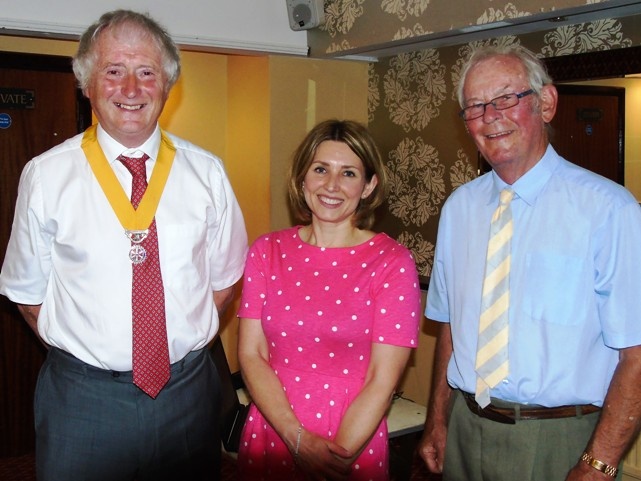 President Elect Hopkin Joseph,Dr Rhian Morgan, Rtn Allan Jones.
Rhian works for the Institute of Medical Genetics at Cardiff University.
Dr Rhian Morgan spoke to the Rotary Club of Bridgend after a Dinner Meeting at the Heronston Hotel on Monday 4th June.
Rhian a D.Phil in Molecular Genetics has worked in the academic,industrial and clinical research fields but is now specialising in genetics education.Her talk was on how DNA fingerprinting was first discovered,and it's applications.
DNA figerprinting(fingerprint being the different chemical/biological make up of DNA) was a concept first discovered by a British scientist just over 40 years ago.It is based on(with one or two minor exceptions-eg identical twins) the fact that in humans almost every individual has a different DNA, "almost"there is one in a billion chance of an identical match.Rhian explained what DNA is and how the discovery had come about.The first applications were used in criminal cases to help in identifying suspects by taking a sample of their DNA and a sample left near the crime scene (we all leave DNA traces everywhere) it never on it's own is conclusive proof but with other facts helps to substantiate a case.Equally, it can (if the DNA does not match)help to substantiate innocence.Several case examples were given. Animals too have DNA , and Rhian gave several examples of how DNA has been used in criminal investigations,cat hair on a jacket will have a DNA fingerprint which might lead to someone who has been in contact with that cat becoming under suspicion. DNA can also identify parents( a child will have the DNA of both father and mother)as DNA is in the bones,it helped to confirm that it was King Richard lll buried under what has become a car park in Leicester.
Rtn Dr Graham Hapgood gave a vote of thanks to what had been a most interesting talk delivered in an enthusiastic and entertaining manner.
Hopkin
THE POWER OF ROTARY MAKING A DIFFERENCE
Given that Rotary International has been supporting the Polio Effort for many,many years,and that the number of people affected has now dropped to a very low level, the International Committee of the Rotary Club of Bridgend decided that they would support the elimination of Malaria - given the hundreds of thousands of lives lost every year because of this disease. in fact, the mosquito is the deadliest creature on earth!
Again, we are now in the good company of the Bill and Melinda Gates Foundation, as they have put malaria on top of their priority list.

These photographs kindly supplied by lead BOTAWA (Botswana/Tanzania/Wales - Closeness of Classroom Project) visitor Allison Rowlands (ex-Heronsbridge School, Bridgend) illustrate the work in progress at Muungano School, Moshi, Tanzania.
This action is as a direct result of the work of the International Committee of the Rotary Club of Bridgend and its fundraising efforts via a 10k run with a "just giving" website set up for support/sponsorship on a world wide basis plus the support of club members, friends, family and an evening of music by a group of volunteers.
The close association with Heronsbridge School, their efforts and that of the support of Penybont F.C., has meant that enough funds have become available together with a District Grant to pursue a significant project to supply malaria/anti-mosquito nets for three schools in the Moshi district via REMIT (Rotarians Eliminating Malaria in Tanzania).
This has become possible with the kind help of a REMIT Rotarian in the Moshi Club in Tanzania, and her local knowledge has been invaluable.
A major spin-off from this close association has been the supply of water to the residential Muungano School. Plumbing had been supplied to the school by other means but the water had never flowed. After the REMIT Rotarian became involved, she organised a community review of the situation, and the problem was solved - water now flows into the school.
WRW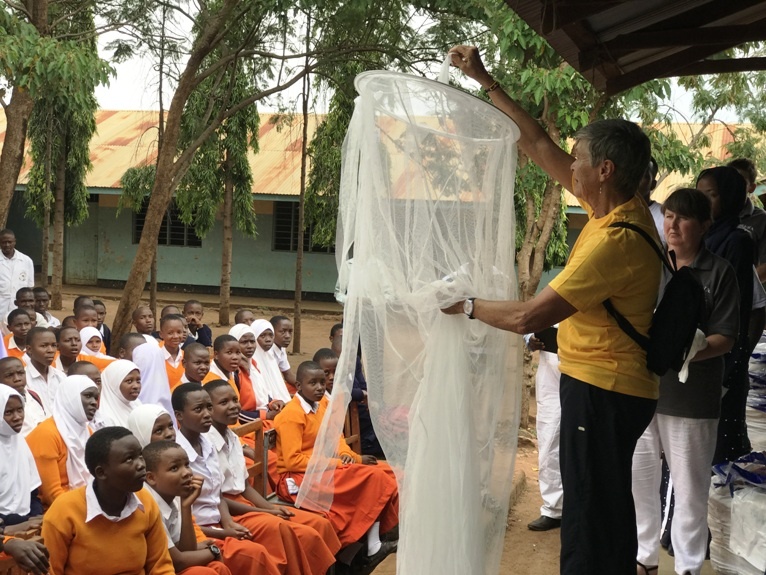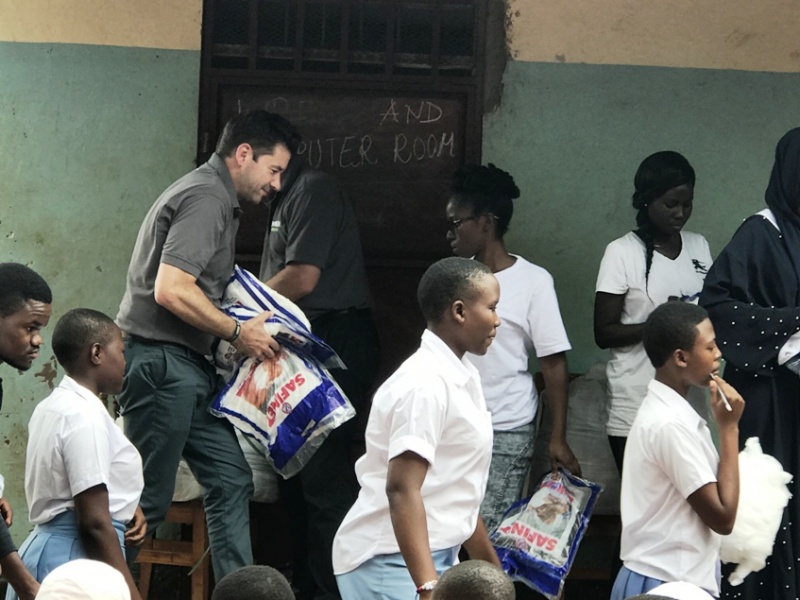 Headmaster of Heronsbridge School Bridgend JEREMY EVANS assisting with the distribution of nets.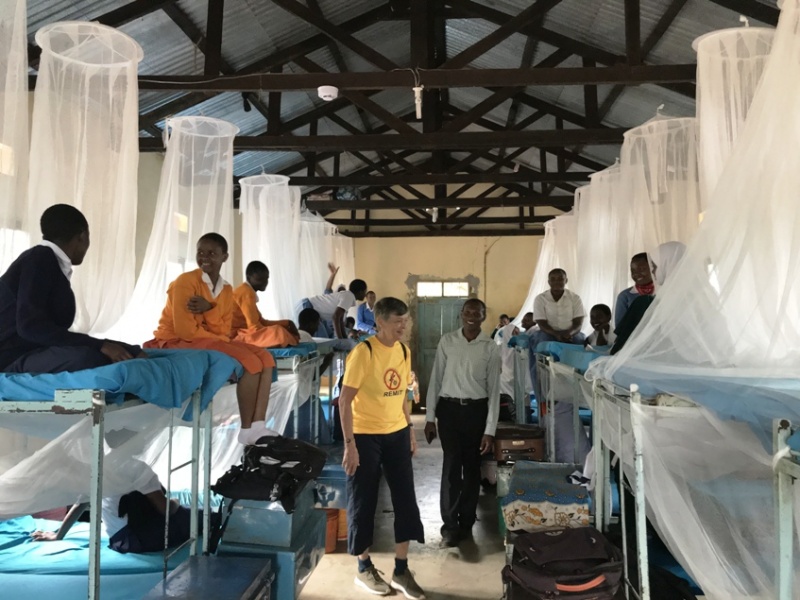 Gabi, in the yellow shirt,is the Past President of the Rotary Club of Moshi Tanzania.
International Committee Musical Evening By "TINNITUS"
On Friday 25th May at the Heronston Hotel the International Committee organised an evening with the TINNITUS group to raise funds for the Clubs Charity Account.

The President welcomed everyone and a few words were said about our current Rotary Malaria project.Over 50 people attended and a raffle was held to enhance the funds.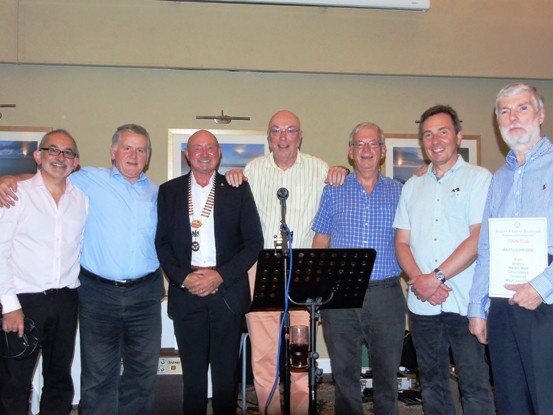 Dr Logan with his TINNITUS group of musicians with President Wayne Morgan and Rtn William Williams
TINNITUS, a group of medical consultants entertained us royally and everyone enjoyed good fellowship and excellent music, combined with a singalong session.
Our sincere thanks to TINNITUS for their talent and time.

A total of £770 was raised.
William
President Wayne Morgan MBE presents a cheque to Mel James in support of Bridgend Primary Schools Cross Country League.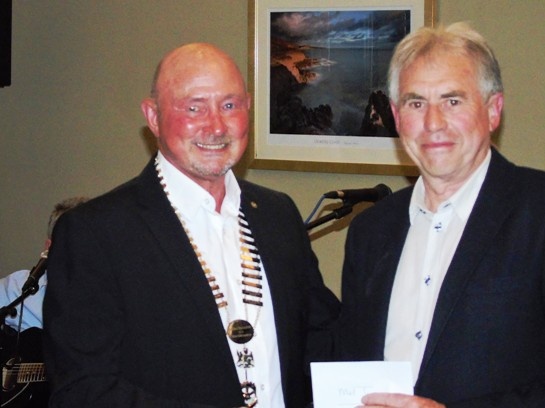 wrw

Robin's Rotary Ramble to Pen y Fan May 2018
On a misty, blowy Wednesday Morning nine hardend ramblers!!! assembled at base camp (car park at Pont ar Daf ). Four Rotarians, Wayne Morgan,Hopkin Joseph,David Hubbard and myself,along with guests Marilyn,Thomas Ruffell (Waynes grandson) Jazz Timms, Ryan O'Roche and Peter Forman.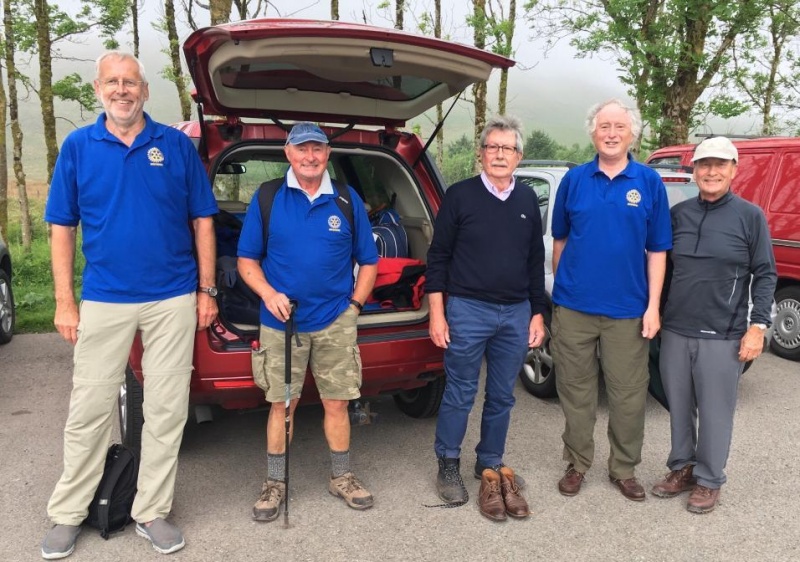 The expedition commenced on time at 08.30am, the three youngest guests set the pace and soon disappeared into the mist ahead. With a blustery wind in our faces the remainder steadfastly climbed the well-established path. After traversing Bwlch Duwyant, (aptly translated "windy pass", we reached the base of Corn Du, the second highest peak in the Brecon Beacons. At this point the youngsters were spotted in the distance on the wrong track, heading to Corn Du peak. The hare and snail came to mind for a split second as they partly retraced their steps, but still they managed to stay ahead of the remaining group.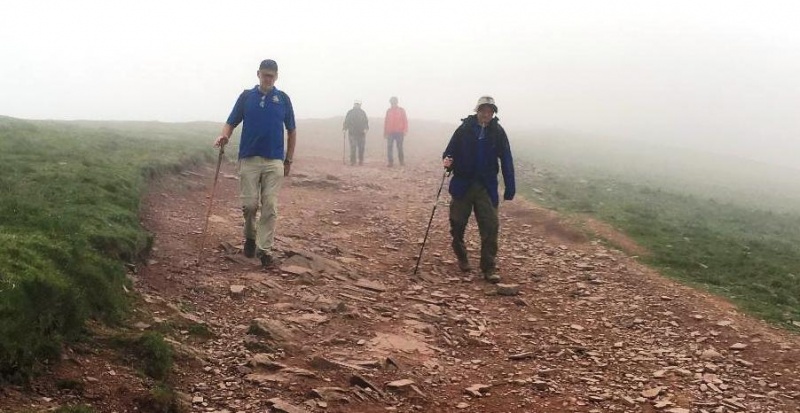 A final push to the summit brought us all back together to enjoy a sandwich on the Pen-y-Fan peak. With outstanding views that we had been told about now missing, the white mist surrounded us.
A respectable one hour twenty minutes was achieved on the climb followed by a one hour five minutes descent. Reassembling in the car park the team headed to Nant Ddu Lodge for a well earned hot coffee.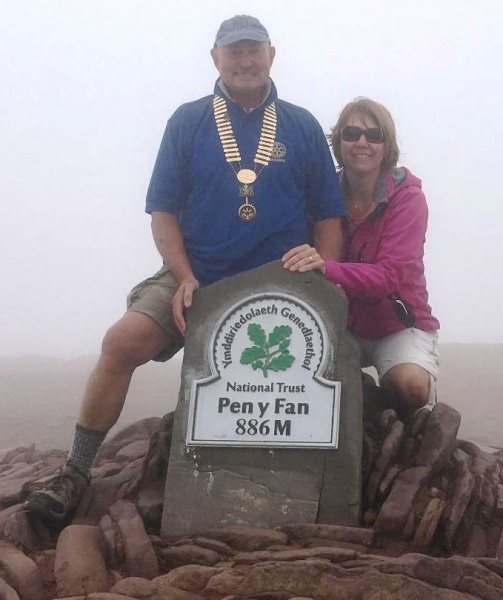 Robin

Rotary Club of Bridgend President Wayne Morgan MBE presenting a cheque to Candice, Manager at the WALLICH Homeless Support Office in Bridgend on 23rd May 2018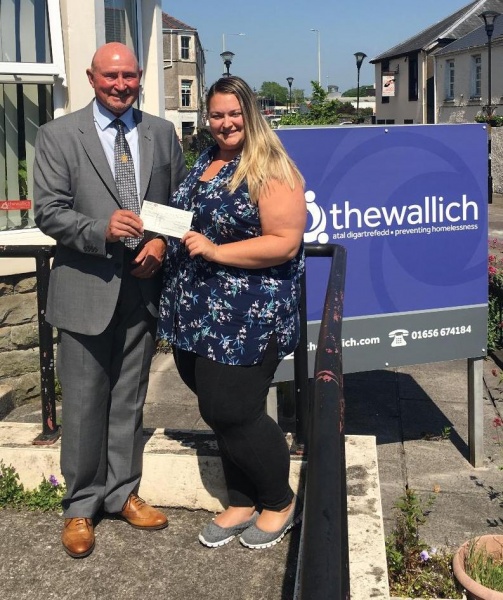 The Wallich is the leading Welsh Homelessness Charity and they are as diverse and resilient as the people they support. With more than seventy innovative projects, they deliver essential services across nineteen Welsh local authorities.
The Wallich's mission:
Get people off the streets through their Rough Sleepers Intervention Teams
Keep people off the streets through their accommodation and tenancy support services
Create opportunities through their education and employment programmes
In Bridgend they have a number of projects to support people at every stage of homelessness, including outreach for people sleeping rough, accommodation for young people, and families and support for people with specific issues, including those leaving prison and those with substance misuse issues.
Homelessness can affect anyone but the Wallich's inclusive approach supports clients to use their skills and share the talents to reintegrate into communities and break the cycle of homelessness.
Wayne Morgan
Presentation of cheque by Rotary Club of Bridgend President Wayne Morgan MBE to Elaine and Tracy at the SPLICE child and family project 23rd May 2018.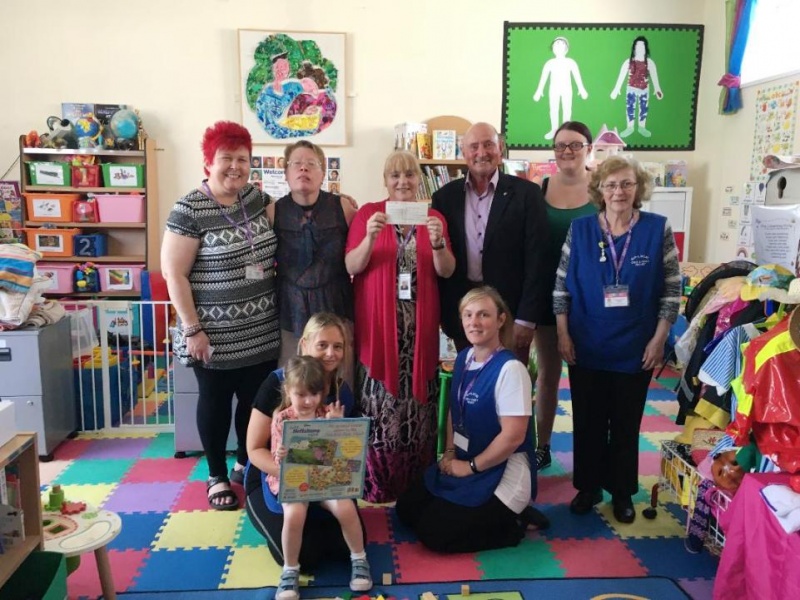 Rotarian John McCarthy now Mayor John McCarthy accepting the Chain of Office from Cllr Pam Davies at the inauguration of the Mayor of Bridgend County Borough Council 23rd May 2018.

Congratulations John and Judy from all your fellow Rotarians.
Rotary Lunchtime Meeting Monday 21st May 2018.
Wayne Morgan MBE is welcomed by Guardsman Mickael Placan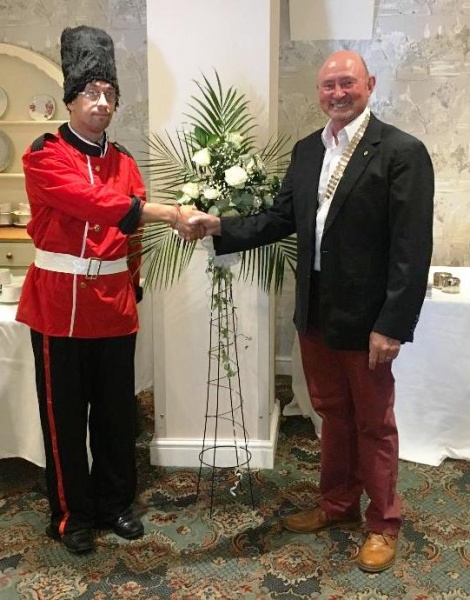 On Saturday 19th May 2018 the Heronston Hotel celebrated the Royal wedding of Harry and Meghan. The relatively new restaurant manager enhanced the event with his floral displays and also dressed for the occasion as a Guardsman. On Monday 21st May at the Rotary Club of Bridgend's lunchtime meeting, President Major Wayne Morgan MBE was greeted by the Restaurant Manager/Guardsman Mickael Placant with a firm handshake. President Wayne accepted the welcome but reminded Mickael he will expect a salute and not a handshake next time. This could have been the first and last handshake between Guardsman Placant and Major Morgan.

Bridgend Primary Schools Cross Country League
The final meeting and presentations for the Bridgend Primary Schools Cross Country League were held at Bryntirion Comprehensive School on Saturday 19th May. During the winter season pupils from the majority of the Bridgend Primary Schools took part, with an average of 350 children competing at each fixture. The school receiving the overall Shield, by obtainin the lowest scoring overall points, was Ysgol Gymraieg Bro Ogwr, scoring just one less point than West Park Primary.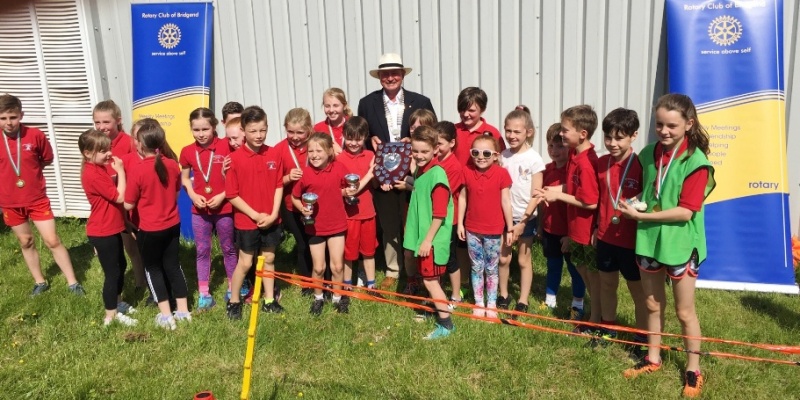 The cups for the winning schools within each age group, plus the individual trophies, were kindly provided by the Rotary Club of Bridgend and presented by the Club President Major Wayne Morgan MBE, who commended all the children who had taken part and congratulated all the age group winners. He also thanked Mel James, together with Mr.Neil Clode, Head of Llangewydd Primary, for their fantastic job in organising the league throughout the winter months.
Mel James conveyed his thanks to all the teachers,parents and grand-parents for their support throughout the year and also the Rotary Club of Bridgend for their continued sponsorship. He said that once again he took pleasure and pride in helping to promote running for schoolchildren within the Bridgend are.
Mel James
Rotary Junior Quiz May 2018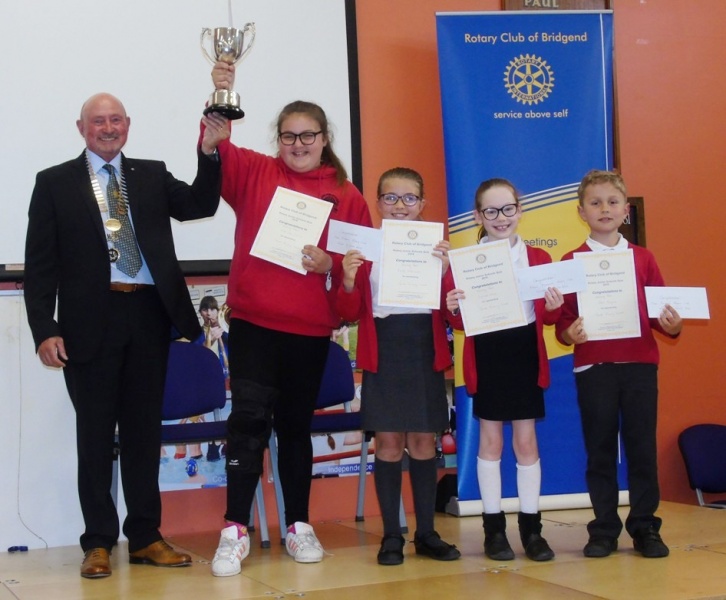 On Tuesday 16th May 2018, the annual Rotary Junior Quiz took place at Litchard Primary School. It was another exciting evening supported by staff, pupils, family and friends. Seven local primary schools took part including Litchard, Ffaldau, Brackla, Tondu, Pencoed, Tremains and Trelales.
Each team comprised a pupil from Years 3, 4, 5 and 6. In all 28 pupils took to the stage to compete for the much coveted Winner's Cup. The quality of the pupils general knowledge was of a very high standard and the enthusiasm they brought to the competition was appreciated by the audience on the evening. Every pupil who participated in the competition was awarded with a certificate.

After a close fought competition, the winning team was announced to be Tondu Primary School. Congratulations to the team, Oliver Maughan Year 3, Cariad Evans Year 4, Emily Williams Year 5 and Lillie-Eve Cronin Year 6. The President of Bridgend Rotary Club Wayne Morgan presented the Junior Quiz Cup to the jubilant Tondu Primary School Team.

The Rotary Club of Bridgend would like to thank the Headteacher Mr.Phillips and the Governors of Litchard Primary School for their generous hospitality in hosting the competition.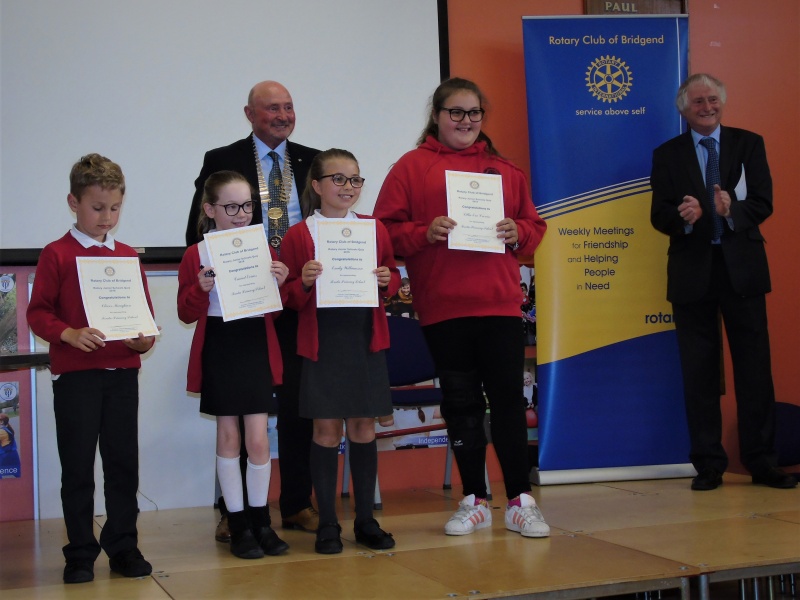 Gillian Hale

Rotary Youth Speaks Regional Final 2018
Bryntirion Comprehensive School team participated in the Rotary Youth Speaks Regional Final Competition. They were the youngest team in the competition and their theme was "Smash the Glass". They proved themselves well up to the challenge and drew rapturous applause from the large crowd attending the event. Nicole Rowlands did exceptionally well by taking the award for the Best Vote of Thanks in the Intermediate Competition.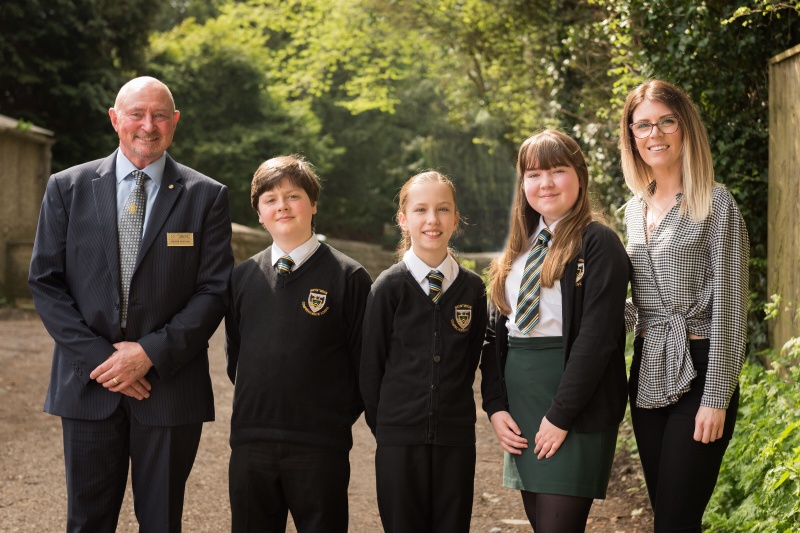 The team consisted of Chairperson Benjamin Fisher, Speaker Caitlin Richards and Vote of Thanks Nicole Rowlands.

Wayne
Guest Speaker Mr Ron Jones BEM 16th April 2018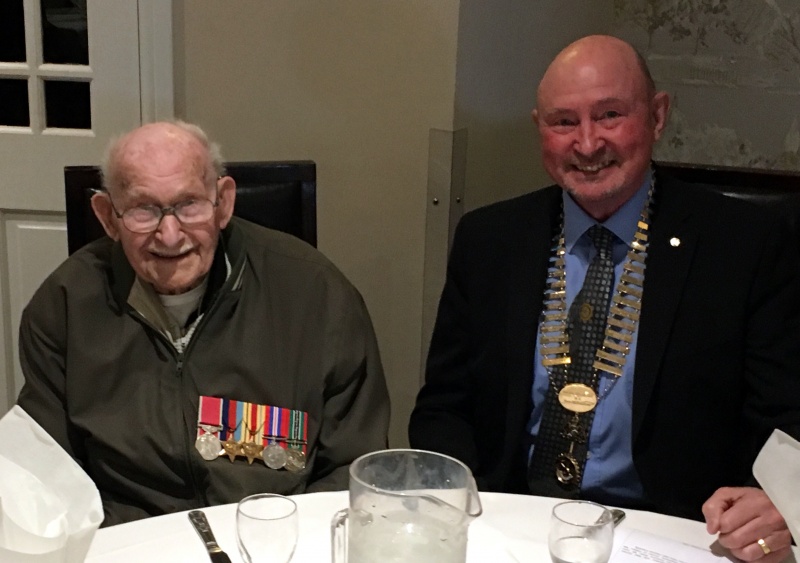 On leaving school Ron went into the engineering industry
Ron told us how he had been called up in 1940, about his initial training and (partly by mistake) how he joined a Regiment heading to the front line. At some stage he was in North Africa in 1942 with weeks of taking part in forcing the Italian army to retreat from Egypt to Libya,but then headed a platoon outside Bengazi which ran into one of the wave of German troops to arrive in North Africa. He and his men were captured, taken to Italy then Rome but then after several months began his real hardship. Leaving Rome by train, confined to a cattle truck and after days the prisoners arrived in Poland, at a Stalag camp alongside Auschwitz (and it soon became clear who was in Auschwitz and what was happening to the Jews). We listened to graphic descriptions of the treatment of the women and the unfit men, straight into the gas ovens, and of the forced harsh labour of the male Jews (who when they could not work any longer went the same way). The British POWs were worked in the same harsh conditions, but were better fed and treated (albeit that is a relative term). Prisoners were shot at whim, Jewish and British, and generally ill treated/battered by male and female Gestapo and warders. Tales too though of kindness amongst prisoners (Ron proudly wares a ring made for him by a Jewish prisoner who after a few weeks ended up in the ovens). Within the British POWs Stalag Ron told of activities the prisoners got up to to break the monotomy; he showed photographs of him in a Wales XI shirt as goal keeper playing against England, then Scotland and also a "Three Feathers Welsh Badge" he had been able to sew out of sock fibres and a copy of a Show Production Brochure with his name in it. None of this though minimised the harsh treatment of the POWs, but worse was to come!
The imminent arrival in January 1945 of Russian troops, which the POWs expected to liberate them, was a false hope. The Germans made the British POWs march for weeks and weeks across Europe (what became known as The Death March). Starting out from the Stalag in deep snow in January and over rough terrain sleeping mostly in barns but sometimes outside with almost no food, mainly surviving on whatever they could forage (rotten potatoes and live chickens) those who had not died on the way or were not shot as they fell ended up in a barn in Germany (Ron as most others infested with lice, blister covered and infected and down to skin and bone, only half his pre-war weight, to be at last liberated by U.S. troops.
Not an easy journey home as we were all so weak, some died of overeating/drinking (only consuming small quantities but not being used to alcohol or proper meals for three to four years). Before they got to near the French coast to be flown back to the U.K. in Dakotas, but with one plane sadly crashing homeward bound all were killed after getting throught three to four years as a prisoner of war. Ron got back to Newport to a hero's welcome from his family but it took him years to get over his treatment. He paid tribute to his late wife.
He attended the War Trials as a witness, and saw some of the prison warders on trial.
Ron went back into the Steel Industry to work until he retired. It was only when he was eighty that he began to tell fully what had happened to him.
When he spoke after lunch (at an age of 101) with clear voice and no notes, there was almost complete silence in the room broken only by laughter at quips of Rons. It was a very moving talk. Ron wore his campaign medals with his BEM ribbon awarded a few years ago for his services to the British Legion. Seldom can such medals have been so deserved.
Hopkin
Mel James kindly drove to Newport to collect Ron to bring him to the lunch meeting at the Heronston Hotel (Attended by 21 Rotarians and guests ) on Monday 16th April 2018, and drove him back to Newport.
Thank You Mel
Robin's Rotary Cornelly Ramble April 2018
Attended by four Rotarians, Hopkin Joseph, Alan Reeks, David Hubbard and myself, three guests Robert Reeks, Alan Case and Peter Forman, and again two well behaved hounds, Georgie and Ben.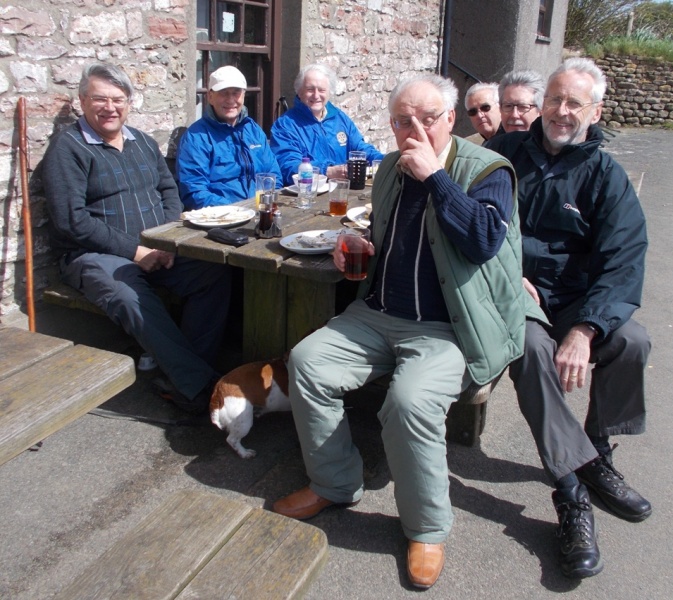 Starting from outside Mawdlan Church at 10.45 am and a service starting at 11 am, the vicar thought he was in for a good turnout!! He was I think disappointed when he saw us head off south-east from Mawdlan to towards old South Cornelly. Once we were away from the noisy path running alongside the M4, we traversed lush green fields for approximately 1 mile, finally passing two small dis-used 18th century lime quarries.
This put us on to the road linking North and South Cornelly, a short distance of footpath and a farmyard got us back on to green fields. Fine views of Stormy Down in one direction, the Rest Home at Rest Bay in another and South the Sandville Self Help Centre (the old Penymynydd Country Club, where Hopkin had his stag night he thinks!!) On reaching Kenfig Down where Pyle and Kenfig Golf Club is based we crossed the road. Here there is an ancient refurbished natural well which once supplied Sker cottages. With the golf links on our right, we travelled past Waun y Mer, an area around Sker cottages, once owned by Neath Abbey. We then crossed the golf course to Kenfig Pool and headed back to Mawdlan Church passing several old farms and a thatched cottage, not easily seen by passing cars.
An attempt to pass the Prince of Wales pub failed, so we all enjoyed good ale and food on the outdoor seating.

Robin
Robins Ramble March 2018g
The March 2018 Rotary Ramble commenced at 10.45 a.m. from the centre of St.Brides Major, opposite the Fox and Hounds.
Attended by 4 Rotarians, 2 Guests and 2 Hounds, Alan Reeks, David Hubbard and myself, accompanied by Robert Reeks and Peter Foreman. Weather was reasonable and dry, lucky that it had rained throughout the night and only ceased an hour before we started.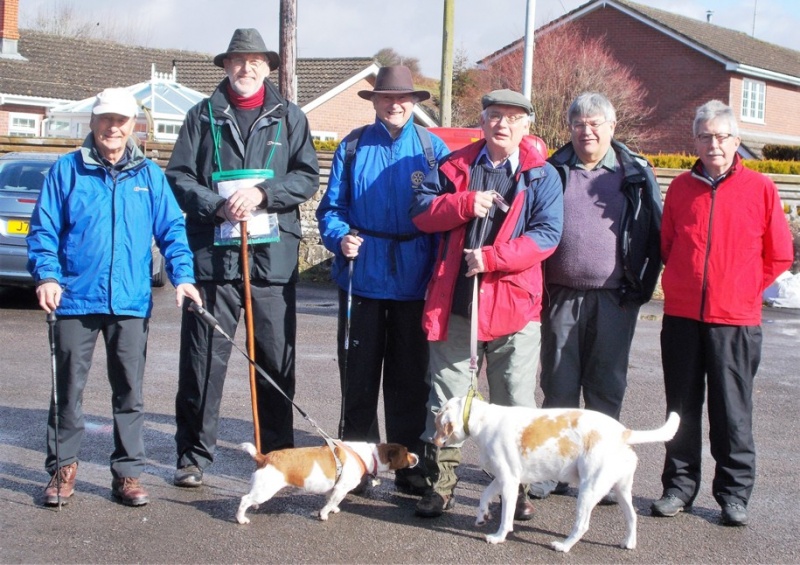 The walk travelled up the road past St.Bridget's Church (commonly known as St.Brides Church but as Peter pointed out, Brides is actually short for Bridget's) and heading to Beacon Down crossing the common following a section of the Bridgend Circular Walk.

Passing the presently disused Pant Quarry and over Ogmore Down (showing the signs of heavy overnight rain) good views were visible acrossing Bridgend and further distant countryside despite the grey clouds. Coming off the Downs we travelled downward on a tarmac track to Ogmore village. At the bottom we proceeded behind the Pelican Public House (had to keep everybody moving at this point as temptation of an interim pint was mentioned), on to a horse track that followed the Ogmore by Sea coast road.

A little along Pant y Cwteri valley beckoned, with its gentle climb passing the stone built well that once fed Heol y Mynydd community. At the somewhat muddly top, Heol y Mynydd appeared. We then rejoined the Beacon Down, this time on the South side and started the return trek to St.Bride's Major. Whilst crossing the couple of fields of sheep and lambs a few light showers tried to dampen our spirits but failed to do so.
Back in the car park, whilst removing muddy boots, the heavens opened and torrential rain ensued but lucky for us we were ready to move on.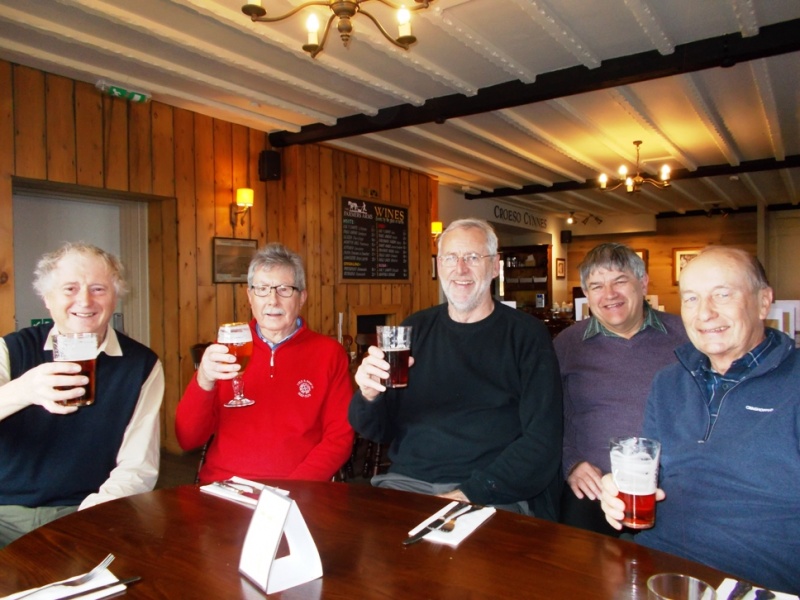 A welcome beverage, meal and jovial chatter were enjoyed at the Farmers Arms whilst looking out on the pouring rain.
Robin
President Wayne preparing for next year as Assistant Governor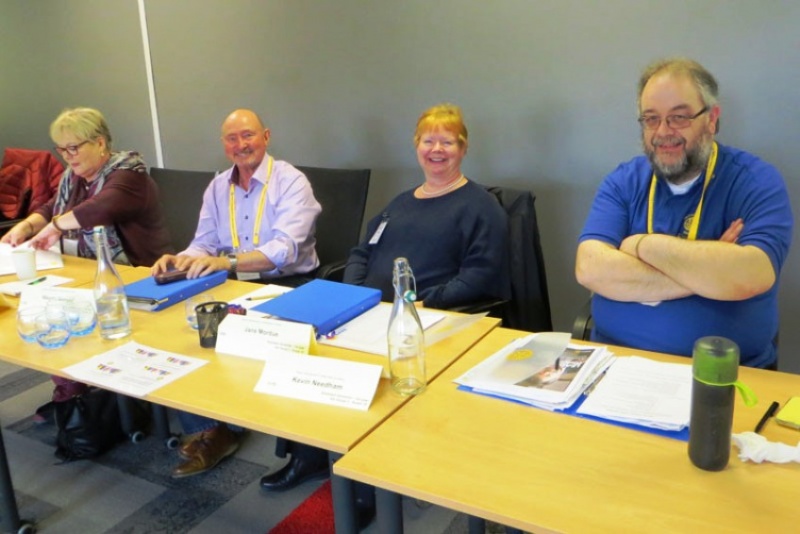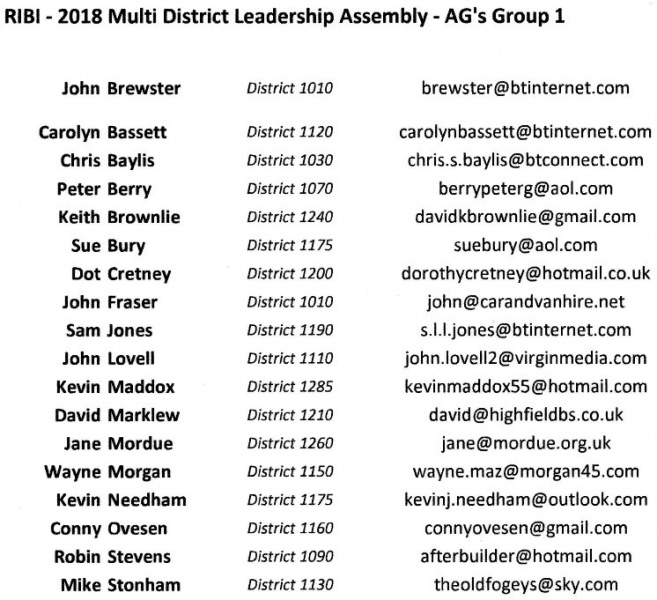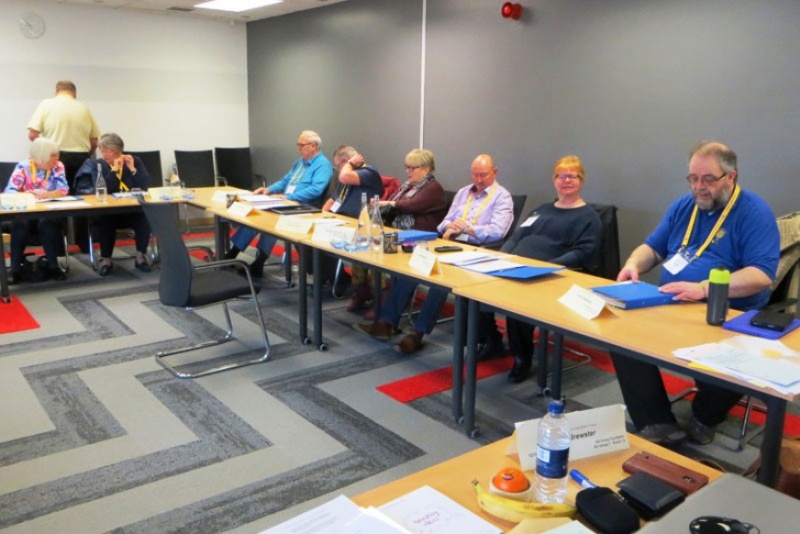 President Wayne wondering if it is time to go home.

Rotarian Neil Solman's visit to Tasmania Feb/March 2018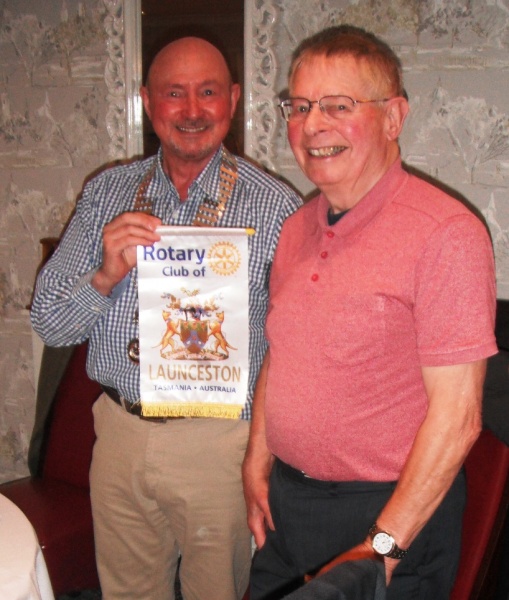 During his recent visit to Tasmania for a holiday and also to visit his son Neil had a need to be admitted to hospital as a patient. After making a full recovery he was made a very welcome visitor to the Rotary Club of Launceston.On his return to his own Rotary Club he presented the club's banner to President Wayne Morgan M.B.E.

Induction of Paul Cheadle Monday 26th March 2018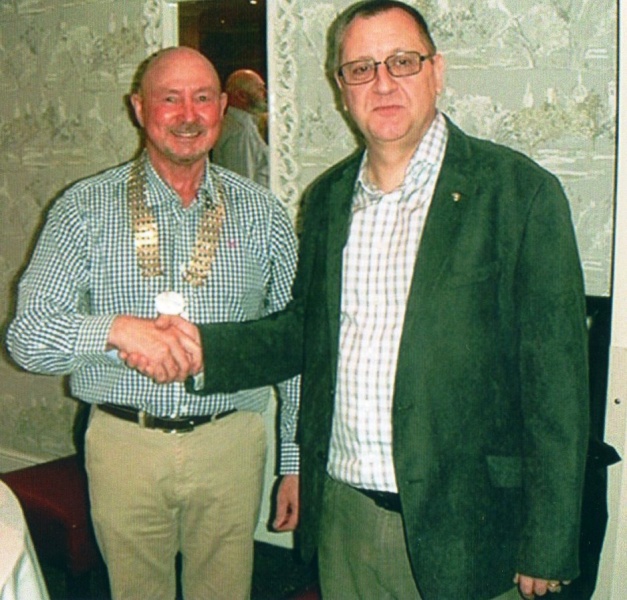 At our breakfast meeting President Wayne Morgan not only welcomed Paul Cheadle back into the Rotary Club but also inducted him as a returning member.He has been allocated to the Club Service Committee and also hopes to continue his involvement with the club website.

ROTARY JUNIOR YOUTH SPEAKS COMPETITION 2018
The Rotary Competiton took place on Wednesday 14th March at Croesty Primary School. Nine local Primary Schools participated in the event. They included Coychurch, Maes-yr-Haul, Brackla, Tremains, Ffaldau, Tondu, Croesty, Litchard and Pencoed. Once again it was an exciting evening with the standard of the speakers being engaging and entertaining for the audience.
The topics chosen by the pupils ranged from "Gender Equality", "The Influence of You Tube on Society", "Why Is Life So Unfair?" and "Cyber Bullying" to "Roald Dahl", "Why Has Disney Included Spirit Animals In The Film Coco?" and "Stars and Moonbeams". There was also "Snow-Go or No Go?" and "Should We Allow The Building of Wind Turbines in Pontycymmer?". The diverse nature of the topics made for a very interesting and entertaining evening. The competitors included Lola Blanche, Jess Burns, Imogen Bishop, Lillie-Eve Cronin, Kian Jones, Athena Nanda, Millie Wade, Jack Beddow and Ioan Lewis-Sullivan.
The standard of the speakers on the night was of such a high standard that the adjudicators were given an extremely difficult task. However the winner was declared to be Kian Jones representing Coychurch Primary School who gave extremely interesting opinions on "Why Is Life So Unfair?".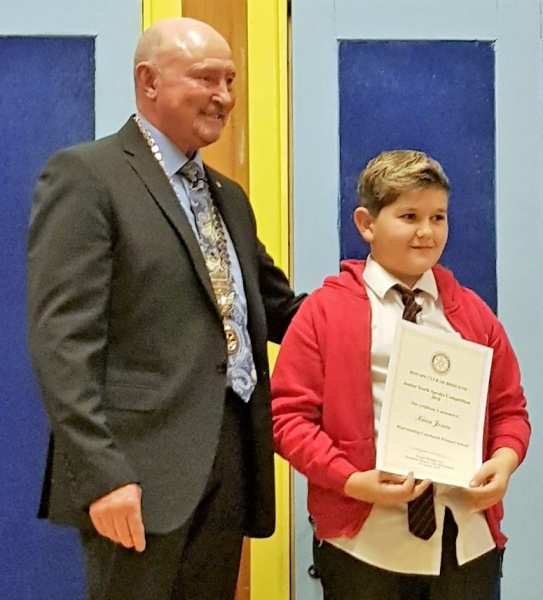 The President of the Rotary Club of Bridgend, Wayne Morgan, presented Kian with the Rotary Junior Youth Speaks Shield and a money prize. Congratulations to Kian.
The Rotary Club of Bridgend would like to thank all of those young people who took part. They had all prepared thoroughly and researched their ideas in advance to present them in an interesting way to their audience. Thanks also to Croesty Primary School for hosting the competition and to teachers, family and friends, who turned up to support the speakers and to make it yet another memorable Junior Youth Speaks Competition.
Gill Hale

ROTARY INTERNATIONAL EVENING 5TH MARCH 2018
The International Evening Dinner of the Rotary Club of Bridgend was held on 5th March at the Heronston Hotel.
After the President welcomed everyone, including the visitors representing the BOTAWA Project, dinner was served.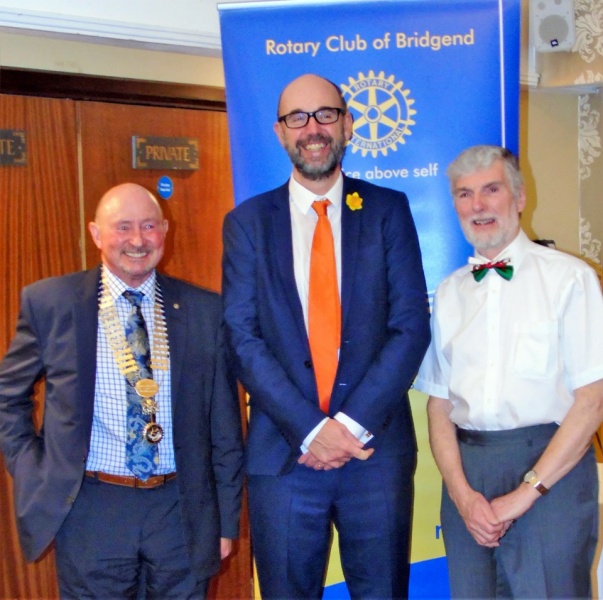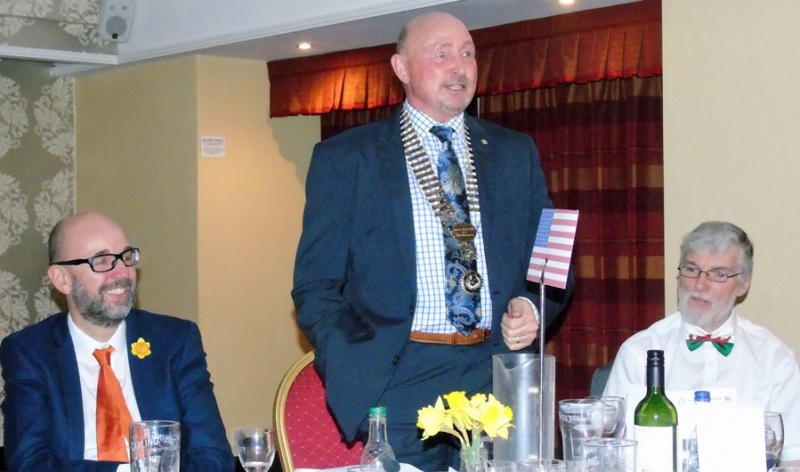 The guest speaker for the evening was Jon Townley from the Wales for Africa Programme in the office of the First Minister and Cabinet Office of the Welsh Government. Jon provided us with a comprehensive and informative overview of the work of his Department. In showing a video of the connections of the various elements of how Wales supports Africa, the whole topic was brought very much alive and an excellent example of International Relations in action.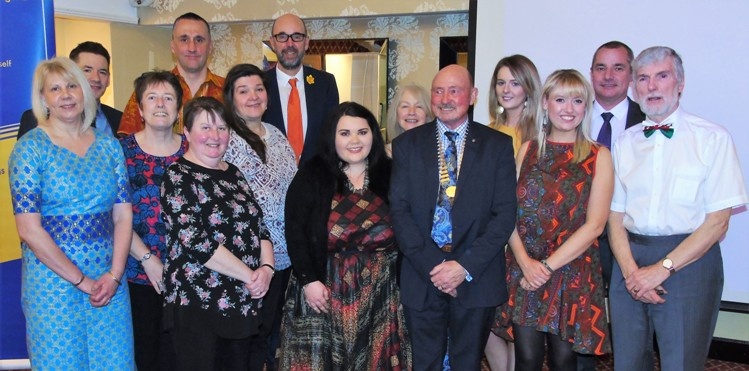 President Wayne Morgan M.B.E. with the guest speaker and Heronsbridge School Staff.

The general theme of the International Committee has been to support the Rotary Project to help eliminate Malaria in Tanzania and that was reflected in the various notice boards that had been prepared for information purposes. In addition, the dinner tables were labelled with the flags of the various countries from which sponsorship for the Malaria Project had been received and were also adorned with daffodils as a recognition of the fact that the evening is always held as close as possible to our Patron Saint's Day.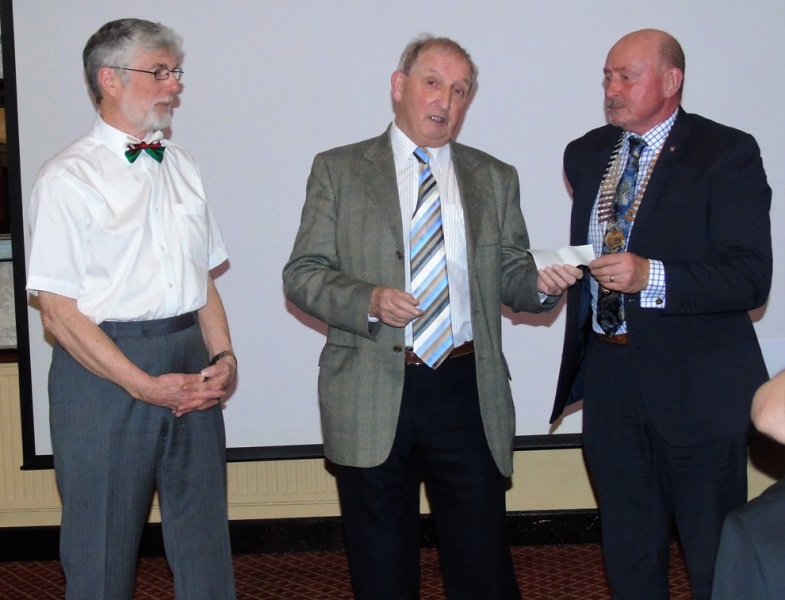 A presentation of a cheque for the Malaria Project was made by Rtn Dr Graham Hapgood on behalf of the Interact Club of Pencoed School.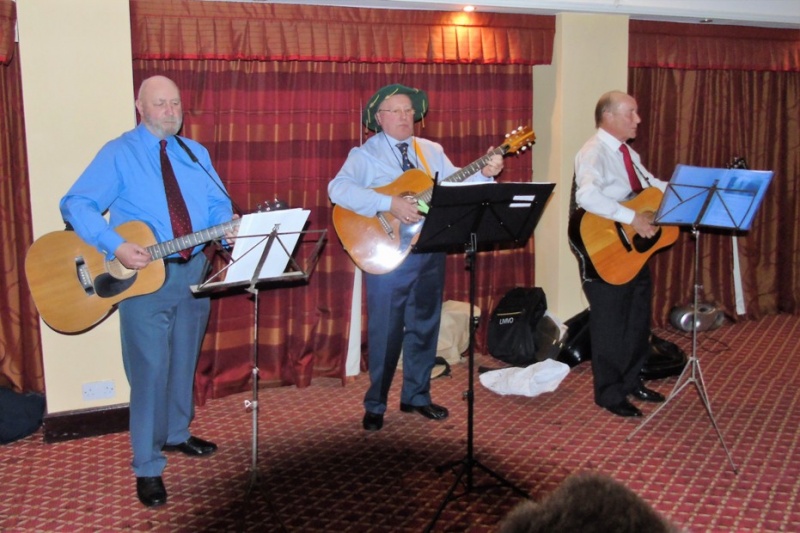 Rotarians Mike Lewis, Tom Green and David Hubbard

The evening was rounded off with a singing trio, with the audience joining in for the songs that again were from the "support" countries, and post a vote of thanks, we ended with our National Anthem.
William Williams
10K Run for Rotarians Eliminating Malaria in Tanzania (R.E.M.I.T.)
Friday 2nd March 2018
Rotarian Dr. William Williams PHF has to-day successfully completed his 10K run at the Halo Leisure Centre, Bridgend. William has been preparing for this event by regular training and encouraging sponsorship for several months. His enthusiasm to support REMIT (Rotary Eleminating Malaria in Tanzania), and encouraging Rotary members and others to sponsor and support the cause, has been highly successful.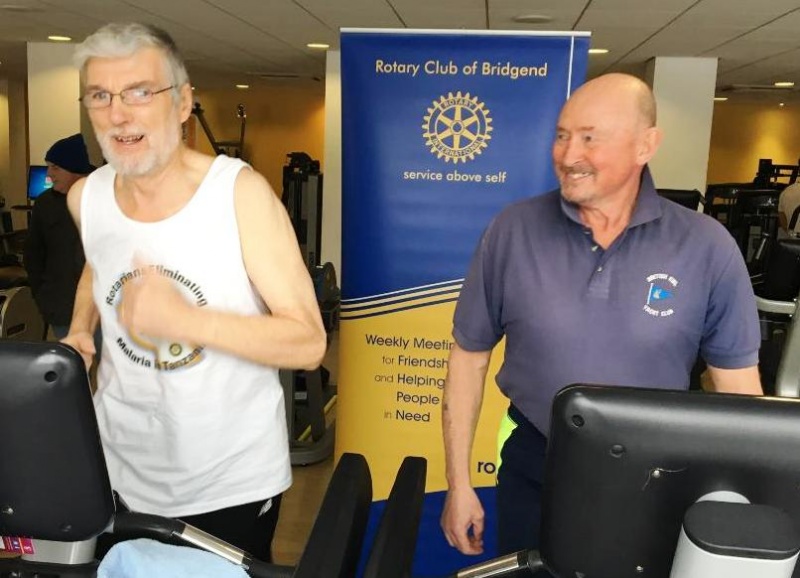 William thanks everyone who supported him on the day and in particular President Major Wayne Morgan MBE, who made the 10K journey with him on the next treadmill.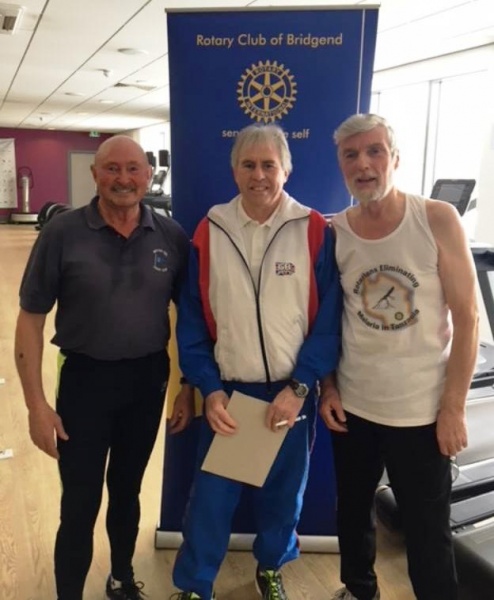 Thanks also go to his support team of Catherine, Maz, Mel James, Vic Crosby, Phil Davies, Hopkin Joseph and President Wayne.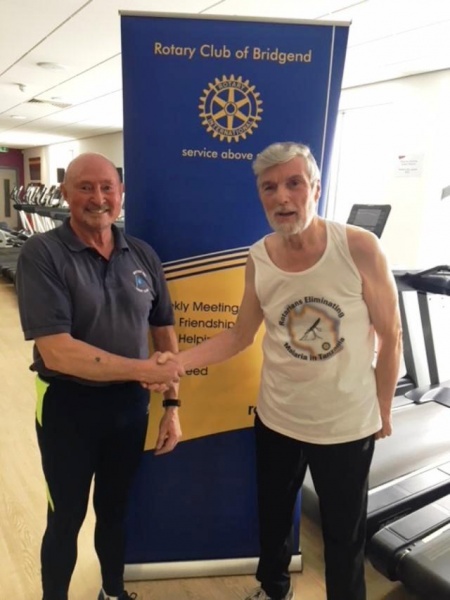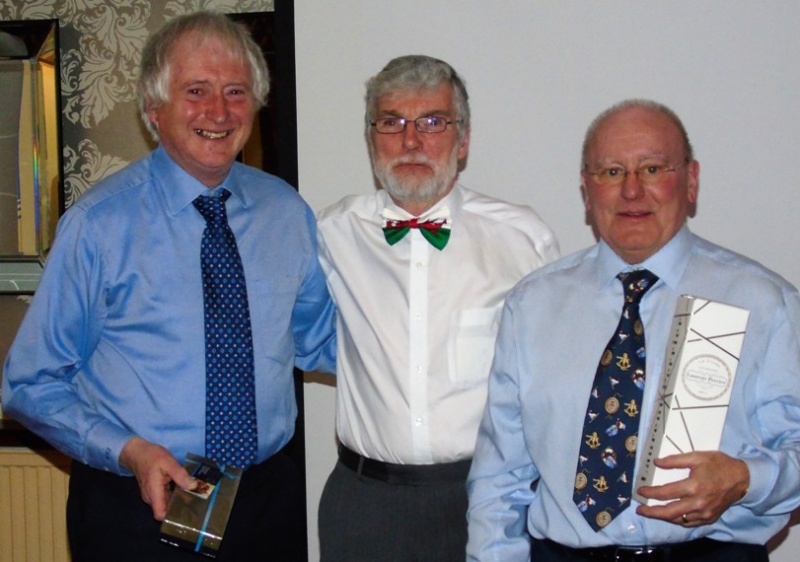 Rtn Hopkin Joseph, Rtn William Williams, Rtn Tom Green.Tom was declared the winner for the best estimated time of Williams 10k run. Hopkin also received an award for.............................?

WELL DONE WILLIAM AND CATHERINE - LLONGYFARCHIADAU
Robin's Rotary Ramble February 2018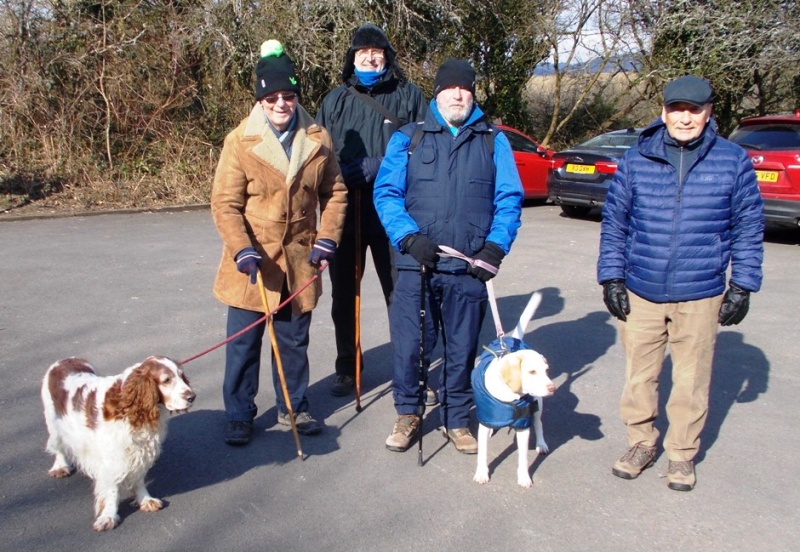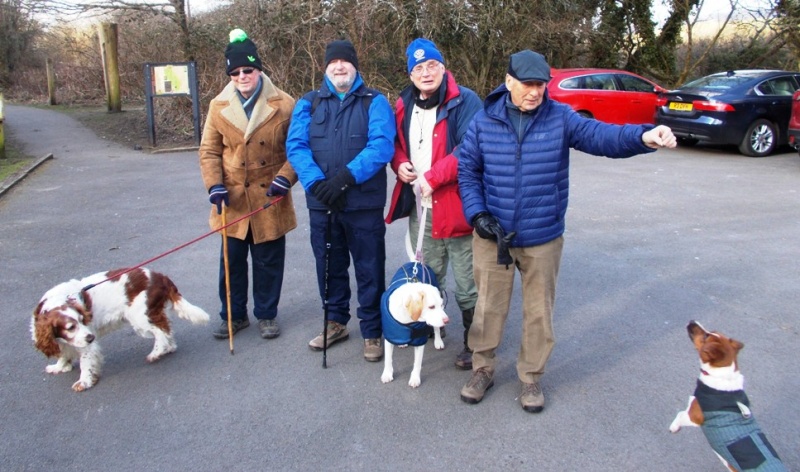 The ramble commenced from Cefn Cribwr's Bedford Park. David now knows where the park is located. Five attendees and three well behaved dogs. Allan Jones,Alan Reeks,Mike Lewis,David Hubbard and myself set off in cold,bright conditions. We proceeded west to Cefn Junction Signal Box which was built in 1898 when the Maesteg to Porthcawl coal line was extended to take in a new Port Talbot line.The Porthcawl line was closed in 1974 with the junction box falling into disrepair.Thanks to several heritage societies it has now been restored and now opens a couple of days a week during the summer period. Walking a short distance we picked up the old rail track line now covered with tarmac.Heading for the nature reserve and reaching a thickly iced Nant-y-Gedd pond, two of the hounds decided successfully to walk on water. Turning back at the wooden bridge we headed back on the same trail back, noting on the way stone built structures used to transfer coal/iron between various modes of transport. With a slight change in the route we returned to the warm cars.

Following a short drive back to the Mackworth Arms Laleston we were joined by Bob Broughton and Hopkin Joseph for a much needed meal and a pint.

The next ramble is likely to be on the last Wednesday of March.Details to follow.

Rambling Robin.
Bridgend College Students at Seasons Restaurant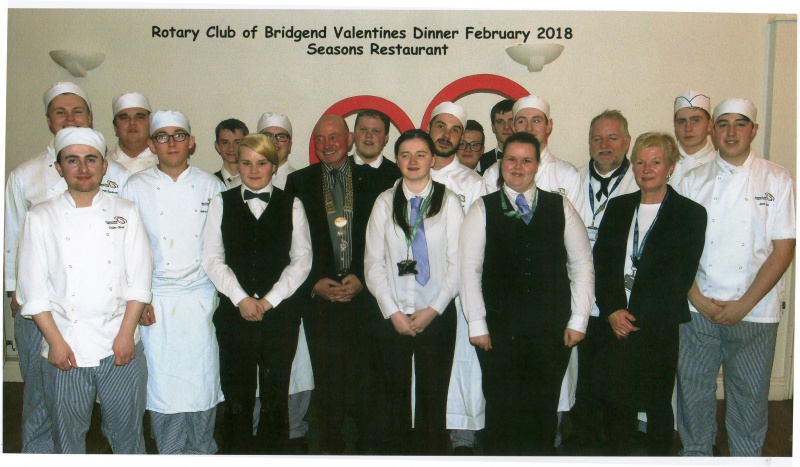 The students cooking and serving the food are from Level 2 food, beverage and professional cookery diploma and in the kitchen was also Level 1 and 2 accelerated learners.
Once again the Rotary Club of Bridgend members and partners celebrated Valentines Day by dining at the Seasons Restaurant Some 30 years ago we started to support the catering and waiting staff by annually attending an evening dinner function. This practice has continued every year since. At this year's Valentine's Dinner the cooking and waiting staff under the leadership of Chef Neil Young and Restaurant Manager Kim Jenkins provided yet again an outstanding evening with a very varied menu and excellent service. We will continue to support the training of these future chefs and waiters.
Roy H

Ode to President Major Wayne Morgan
A.K.A. Viscount Wayne Morgan at Tredegar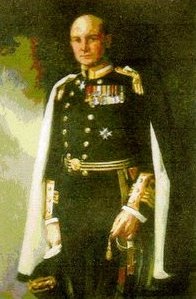 K

( Can be sung to the tune of "Davey, Davey Crockett, King of the Wild Frontier")

Born on slag tip near Pontypridd

He joined the army when he had to leave
Promoted to Major because he was so eager
To become the Viscount of Tredegar
(Chorus) Wayne, Wayne Morgan, a President of Rotary
He moved to Bridgend, or was he sent?
To become our Rotary President
He's won many medals, as we can see
And the Queen has awarded him an MBE
(Chorus) Wayne, Wayne Morgan, an A.D.G.of Rotary
Composed by John Ward
Rotarian Neil Solman recovering in Australian Hospital 16th FEB 2018PUBLIC Web Pages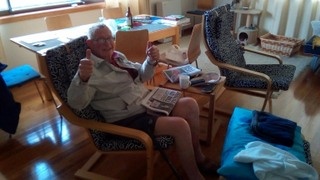 Neil making a good recovery, he hopes to be back home in the next two weeks. Best wishes from all your friends and colleagues in Rotary.

Roy H
Interact Club of Pencoed visit Heronsbridge School
On the 4th February 2018 President Ciarra McCallon and members of the Interact Club of Pencoed visited Heronsbridge School to present the Head Teacher Jeremy Evans with a cheque for £400.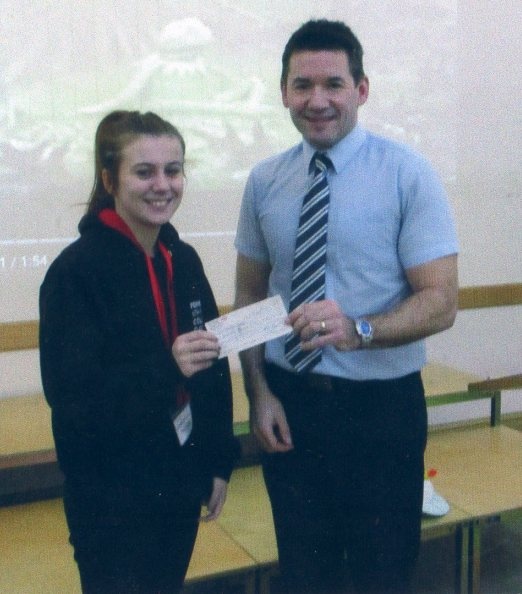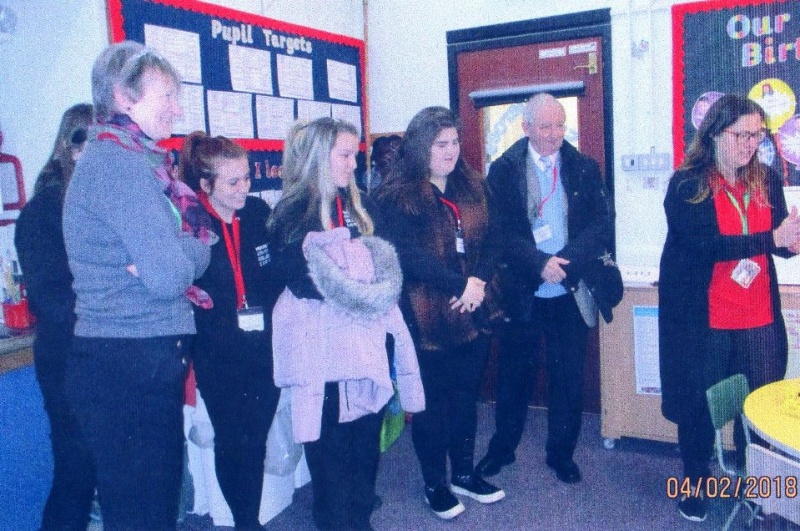 The Rotary Club of Bridgend was represented by Edgar Burt and Graham Hapgood.All the visitors then had a tour of the school followed by light refreshments.
Edgar Burt
YOUTH SPEAKS AREA 7 FINAL
Bridgend Rotary Club sponsored two teams in the Area 7 Final of the Youth Speaks Competition held at Cwmtawe Community School on the 24th January 2018.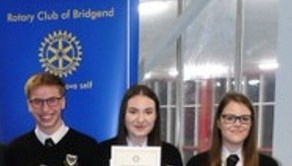 The Senior team from Bryntirion Comprehensive School included Lewis Williams, Caitlyn Jones and Rhia Gould. Their topic was "The Seventh Kingdom" which explored the influence of technology in our lives of to-day and the future. They offered the audience many interesting perspectives on the developing technological world in which we live!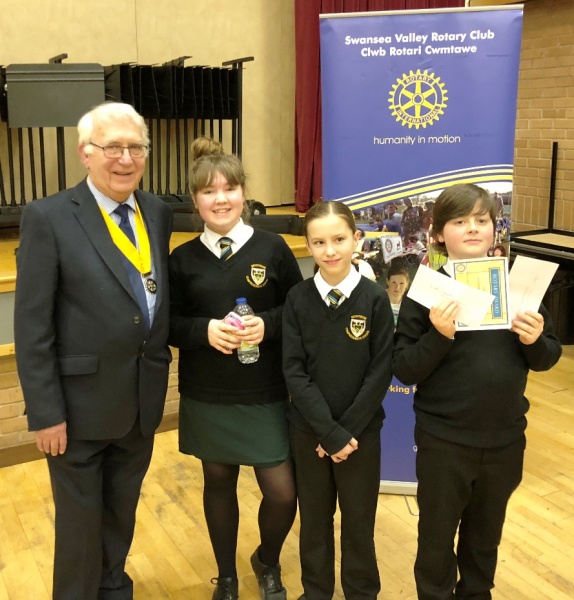 The Intermediate team also from Bryntirion Comprehensive School presented the idea of "Smash the Glass" and the progression of females in society to-day. Their team was the successful winner in this category so they will go on to the next round of the competition in King Henry VIII School, Abergavenny on 4th March. Congratulations to the Chairperson Ben Fisher, the Speaker Caitlin Richards and the Presenter of the Vote of Thanks Nicole Rowlands. Each competitor received a prize and a certificate. Ben Fisher was also named as Best Chairperson in his category, Caitlin Richards was also declared Best Speaker and Nicole Rowlands gave the Best Vote of Thanks.
Congratulations to those pupils from Bryntirion Comprehensive School who took part in the competition and best wishes to the Intermediate Team, who are now to compete in the next level of the competition.
Gill Hale

The Rotary Club of Bridgend Supports the Duke of Edinburgh Leadership Programme in Parc Prison

The Duke of Edinburgh (D of E) Leadership Programme was piloted in Parc in 2013 by its Families Intervention Unit. Parc has successfully run two Programmes and is just about to start a third. The D of E Leadership Programme has never been run in any prison in the U.K., or in the World, and is unique as it involves both the prisoner and his child/children. The fathers gain leadership qualification whilst mentoring the young people through the different sections of the Duke of Edinburgh Bronze Award. Over the seven month programme, prisoners learn and develop different skills, whilst having the opportunity to bond with their families. The end result it that the children are mentored by their fathers right up to the practice expedition stage. One the final expedition is completed the children attend Parc to give their fathers a presentation of both expeditions. At the last programme, Parc was privileged by the presence of Prince Edward, who presented the Certificates at the Awards Ceremony.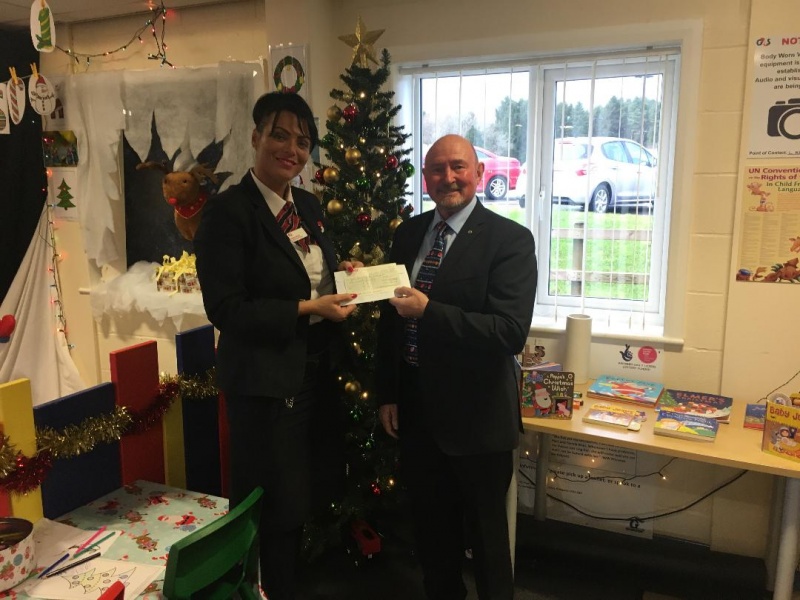 Haley Morris Families Intervention Officer receives a cheque from Major Wayne Morgan M.B.E President of the Rotary Club of Bridgend.

This programme is supported by the Rotary Club of Bridgend, which sees immense value in the development and rehabilitation of prisoners and the positive impact it has on the children of prisoners. The Rotary Club of Bridgend hopes to continue to support the Families Intervention Unit at Parc in the coming year.
Alan Reeks
The Rotary Club of Bridgend in Festive Mood
Singing Santa's 15th December 2017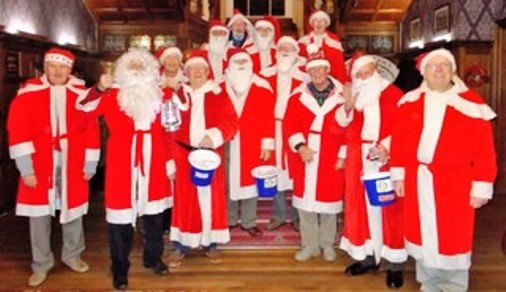 The Rotary Club of Bridgend wishes the people of Bridgend and District a very Happy Christmas and New Year and thanks all who have given very generously to the Club's various Christmas Charity Collections and those organisations who have hosted their fund raising activities.

Since it was chartered in 1925 the Rotary Club of Bridgend has used the celebration of Christmas to raise funds to assist those who are less fortunate or in need in the Bridgend area and all the monies the Club collects at Christmas time are used to support local causes and charities.
Busking,for charity especially at Christmas time, is a well established concept. The Bridgend Singing Santa's were established in 1992 by the Rotary Club of Bridgend-Ogmore and it's friends in the Bridgend Male Choir. Since 1992 the Bridgend Singing Santa's have performed their own blend of Christmas songs and carols annually in numerous establishments across the Borough. The Santas gift of their time and support they receive from from the people in the Borough actively reflects the true meaning of the festive season when gifts were offered to a baby born in a stable some 2000 years ago.

Alan Reeks
Rotarian Dr William Williams visit to California 6th December 2017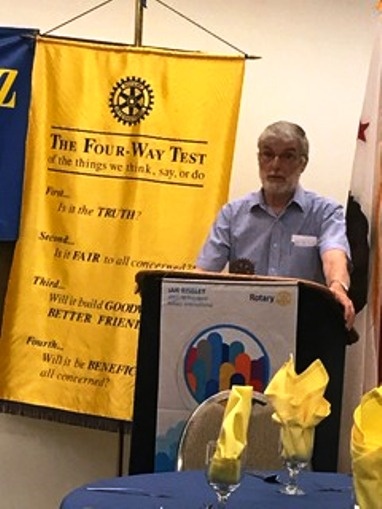 On 6th December Catherine and I were privileged to visit a lunch time meeting at the Rotary Club of Carson-Gardena-Dominquez held at the Millender-McDonald Community Centre, in Carson,LA, California. We were given a very warm welcome by the Members and one other visiting Rotarian.
This is a very active club involved in projects such as:- L.A. River Clean Up, Operation Gobble providing 200 full turkey dinners to underserved families locally, supporting R.Y.L.A candidates and giving four scholarships (each worth $2,500) to four local high school students during 2017 - amongst other work.
Secretary Katherine Nutting provided us with a detailed presentation on the ongoing work of the club and I gave a short talk on Wales and Rotary with some detail on R.E.M.I.T. Christopher Childers, President Elect, ran the meeting in the President's absence and we exchanged bannerettes as a record of the visit. We also record our sincere thanks to all involved and especially to Katherine for the all the help prior to the visit in making it all possible.

W.R.W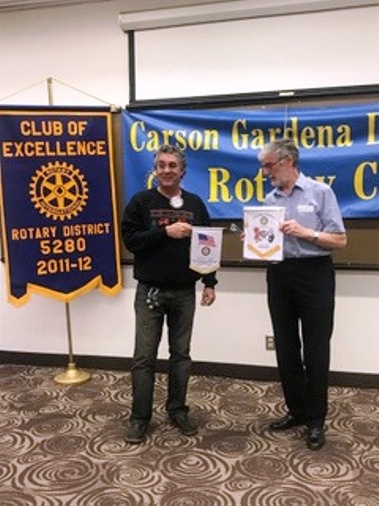 Rotary Club of Bridgend support to Children of Prisoners at Parc Prison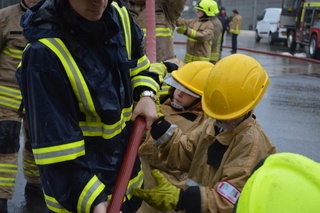 FAMILY FIREFIGHTER FOR A DAY
South Wales Fire and Rescue have been facilitating Family Firefighter for a day programmes in conjunction with the family departement since 2015. The programme is available to prisoners and their children from the Family Unit and the Ex- Serviceman's Unit. The programme helps the fathers and their children with team building and problem solving skills, whilst also educating them around home safety and what to do in the event of a fire in the home.This year, we have been supported by the Rotary Club of Bridgend. This support will go a long way to providing Christmas presents for the children who will be having a Christmas Party later this month.
President Wayne Morgan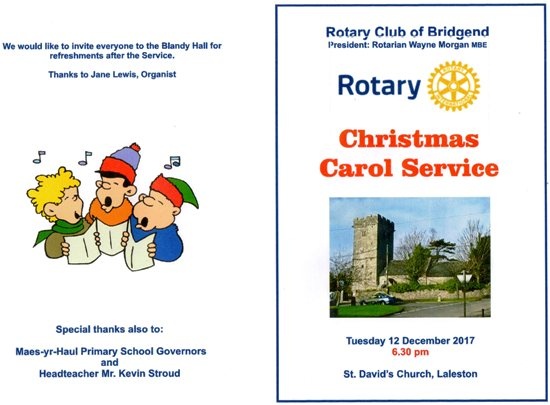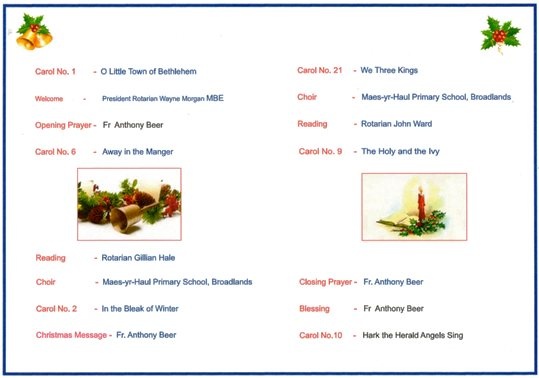 Rotary's Annual Christmas Carol Service
The Annual Rotary Christmas Carol Service was held at St. David's Church on Tuesday 12th December. It was very well attended by Rotary members and their families plus attendance of the school choir of Maes yr Haul, with the school headteacher and two teachers supported by many parents, all resulted in the church being full to near overflowing. President Wayne Morgan welcomed everyone. The readers were Rotarians Gillian Hale and John Ward, with the readings having been chosen by Rotarian Mike Lewis, whose wife Jane played the church organ. The service was conducted by Fr. Anthony and one of the church wardens, Rotarian Hugh Thomas's wife Gaynor, oversaw the seating arrangements, etc. During one of the better carol services of recent years, with the choir having performed really well during their first recital, something happened which at least made this year's service memorable. The Church lighting failed during the choir's second recital and as a result the service had to be shortened with just the second reading, a carol and bidding prayers, nevertheless a very successful service.

Afterwards some light refreshments for members, parents and children in the Blandy Hall was very welcome.
Hopkin Joseph

Robin's Rotary Ramble December 2017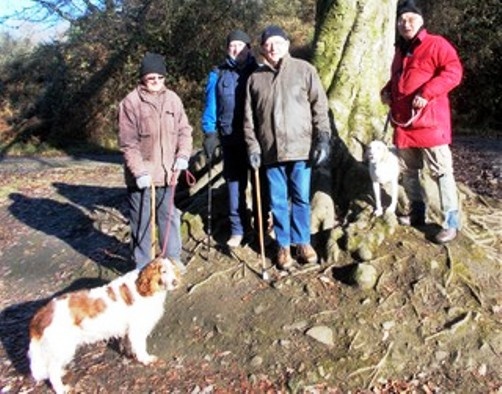 Despite the A48 road works at Pyle, the Rotary Ramble commenced on time from Margam Village. Five attendees and two well behaved dogs,John ( No Stiles ) Ward, Allan Jones, Alan Reeks, Mike Lewis and myself Robin Bratton set off in what can only be called excellent sunny conditions.
With a babbling brook on our left, we had a meandering climb and then descent to Margam House / Castle entering the rear of the building for a view of the refurbished entrance hall and staircase. From there we proceeded down the steps to the Orangery and old Abbey ruins. A further stroll back up the front of the house gave us excellent views of the Red Deer herd basking in the sun. The other herd of Pere David Deer managed to elude us As it was just coming to an end of the rutting season it was noted by John that the Stag was resting well satisfied amongst his herd. It was at this point the pre arranged aerobatic display was enjoyed in the clear blue sky above. Picking up on the original trail we returned to the cars.
Following a short drive to the Angel Public House at Maudlam, we enjoyed a much needed hearty meal and a pint.
Robin Bratton
INDUCTION OF TWO NEW MEMBERS TOM GREEN AND MEL JAMES
27th November 2017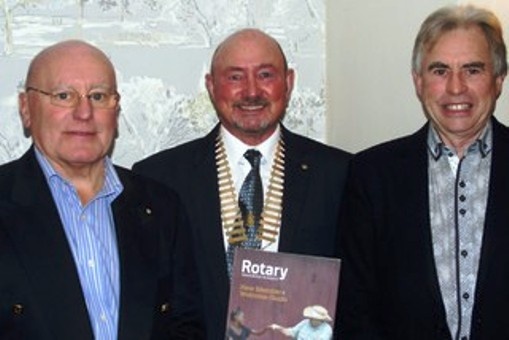 Dear Tom and Mel

May I offer my personal congratulations on becoming members of the Rotary Club of Bridgend. I am confident that you will both fit in very well and enjoy the fellowship that the club offers. There is a lot to get involved with and even though you have been appointed to the Intrnational Committee under the Chairmanship of Dr William Williams for this year, you are free to help out in other areas of interest to you and where there may be gaps or a need for additional support.
However, we all understand that we live busy lives and as such, would not want you to feel pressurised in any way, just do what you are able, when you are able, to commit to events without detriment to yourselves or your families.

President Wayne Morgan MBE

ROTARY YOUTH SPEAKS COMPETITION
Organised by Rtn Gillian Hale, the Rotary Club of Bridgend held its annual Youth Speaks Competition on Wednesday 15th November.It was an exciting evening with six teams prepared to offer their views on a variety of subjects. There were three Senior Teams and three Intermediate Teams from Bryntirion and Coleg Cymunedol y Dderwen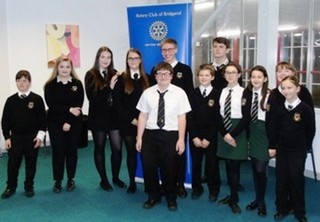 The Speakers chose subjects such as "Can celebrities be deemed as good role models in society?",Ignorance is Bliss","The Seventh Kingdom"and should the use of Battery Farms be banned?" All the competitors had researched their topics thoroughly and presented their arguements with conviction. This all made for an extremely interesting evening for the audience and great difficulty for the adjudicators in selecting the winning teams.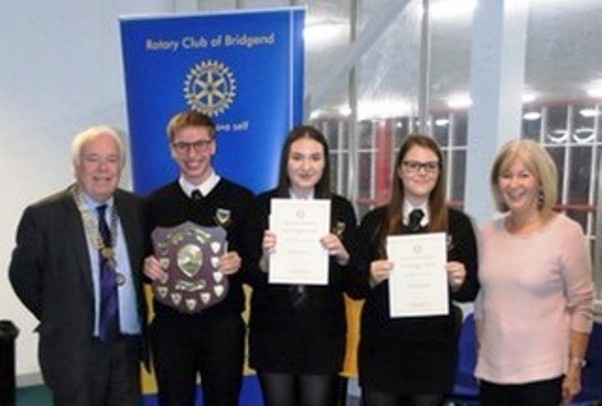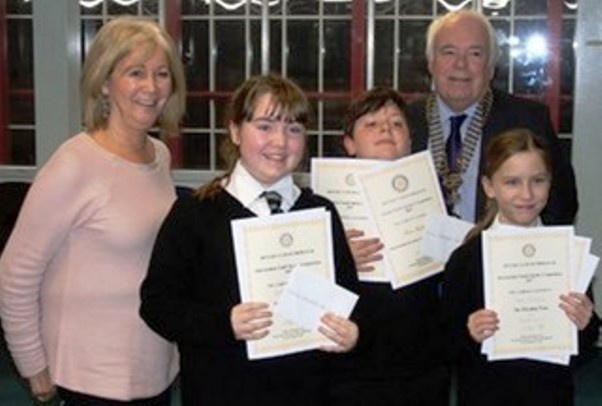 Eventually the winning Intermediate Team was announced as Bryntirion Comprehensive's team, who presented the topic "Smash the Glass". The Chairperson was Ben Fisher, the Speaker was Caitlin Richards and the Vote of Thanks was made by Nicole Rowlands. The winning senior team was also from Bynrition and they spoke on their chosen topic of "The Seventh Kingdom". The Chairperson was Lewis Williams, the Speaker was Caitlin Jones and the Vote of Thanks was given by Rhea Gould.

The awards were presented by the Club President Nominee Rtn. Brian Roberts. The winning Senior Team was presented with the Rotary Shield and all winning competitors were given a gift voucher and every competitor was given a certificate to commemorate their participation in the competition.
The Rotary Club of Bridgend would like to congratulate all students who took part in the competition, all of the teachers who helped prepare the pupils and all family and friends who came along to support the event. Many thanks also are expressed to the Headteacher and Governors of Bryntirion Comprehensive for hosting this year's evening.
Rtn Gill Hale
A TOOT FOR A CAR BOOT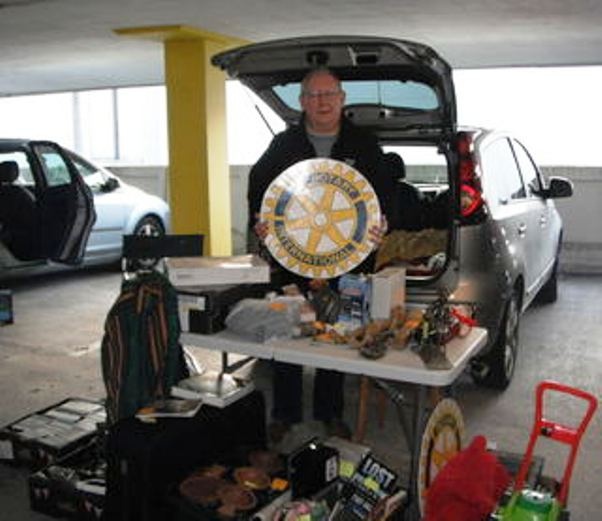 The road was a ribbon of moonlight, cutting through the dark

When a Rotarian came driving, driving, driving

When a Rotarian came driving, into the Brackla Car Park
A hundred other cars were there, parked in the freezing dawn

As out of the depths of a Nissan boot, Rotarians Roy and John

Took extraordinary things, the like of which in Bridgend had never been seen.

Such as Japanese dolls, tartan rugs and a puppet from Camberwick

Green.
Boxes of books and c.d.'s were displayed with two filled with d.v.d.'s to the fore
But boxes so heavy can only be lifted by a man built like a giant of yore

John and Roy were about to give up, Roy had already put his hat on
When out of the crowd came a wonderful sight - Rotarian Ron Bratton.
Three heroes! On that freezing Sunday, they stood and suffered with Rotary zeal

When a lady from Brecon took one look at Roy and offered a pretty good deal

"Madam" said Roy "It's a wonderful deal: but if I accept I'm in peril

The Rotary would take all the pounds but I would be pounded by Beryl
When the clock struck noon, we packed up the car just as the sale was ending
We hadn't done as well as we'd hoped and John said "There's no pretending,

The total sum that we took to-day doesn't give my spirit a lift.
What we need now is a benefactor who will give us a nice cash gift."

Two days went by and on Tuesday morn a wonderful Thai Lady named Nanta

Turned out to be the nearest thing that Bridgend has got to Santa.

There is a Thai Buddhist tradition that to celebrate her birthday

Nanta was looking for a cause to support - she had to give some money away.
So the Car Boot Pot had a nice cash boost and Nanta was a happy lady.
And if there are those who doubt this tale and suspect the conclusion is shady

Let them go down to the Heronston and open to Rotary cupboard door.

Where they will find boxes filled with books and c.d.'s and d.v.d.'s to the fore.
John Ward
Foundation Dinner 6th November 2017

In the absence of any Ambassadorial Scholars or Group Study Exchange Schemes, we decided to have a Dinner to celebrate Rotary Foundation's achievement in (almost) eradicating Polio. Indeed it is anticipated that the last recorded case of Polio may well be in this Rotary year.

In addition we planned to good social evening for our numerous prospective members and friends of Rotary, and hopefully that is what we achieved with fifty six attending.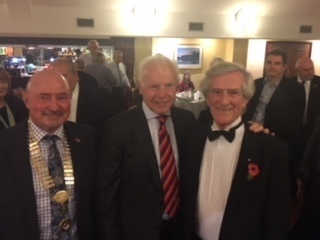 JJ Williams MBE.

Pres Wayne Mogan MBE Hon Member Win Griffiths OBE

Through the good offices of Rotarian Hopkin, we were able to obtain the services of Welsh Rugby Legend, J.J.Williams, as a speaker for the evening and what a success that was. J.J. was not only a very lively and entertaining speaker but he was also a very convivial guest, speaking to many members and guests, most of whom seemed to be long-standing friends. He told entertaining stories about his rugby career and also spoke about his early athletics career (narrowly missing out on a Commonwealth Games Bronze Medal). In addition we learned about his charity work as Chairman of N.S.P.C.C. Bridgend, where he regularly holds events which raise £10,000 for the cause.
Several members helped with the evening. Phil Davies provided an excellent large screen compilation of J.J.'s tries. Roy worked with his customary magic with menu cards, tables places and plans, Sue and Gillian cajoled £202 on the Foundation Raffle. Many thanks to all who supported, especially those who invited guests. The key to a successful evening is getting a good speaker with at least seven tables to fill the room.
D.V.H. 8.11.17
Induction of Mr. Vic Crosby 6th November 2017
During our recent Foundation Dinner Vic Crosby was inducted as a new member of the Rotary Club of Bridgend. President Wayne Morgan invited his guest, District 1150 Assistant Governor Alison Sutherland, to present Vic with his Rotary Pin and information literature. Vic's daughter Tina O'Roche and his son-in-law Carl witnessed the occasion. Vic will now be a member of the Community Services Committee.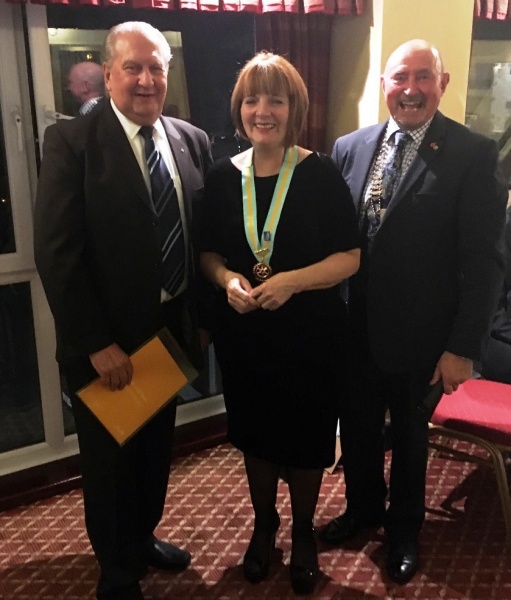 Welcome to the Rotary Club of Bridgend Vic.
R.H.
South Wales Special Schools Football Challenge Shield
19th October 2017
Pupils from all over South Wales have been helping to inject some life into a waning special school's football league. Many schools struggle to meet the demands of regular football but the Festival is a competitive boost and welcomed by the many who took part.
The"South Wales Special Schools Soccer 11 a side Challenge Festival" is an annual event,which for the past eighteen years,since it's inception,has been organised by Rtn Edgar Burt of the Rotary Club of Bridgend and Heronsbridge School and sponsored by Past Rtn Derek Gaynor of the Gaynor Group.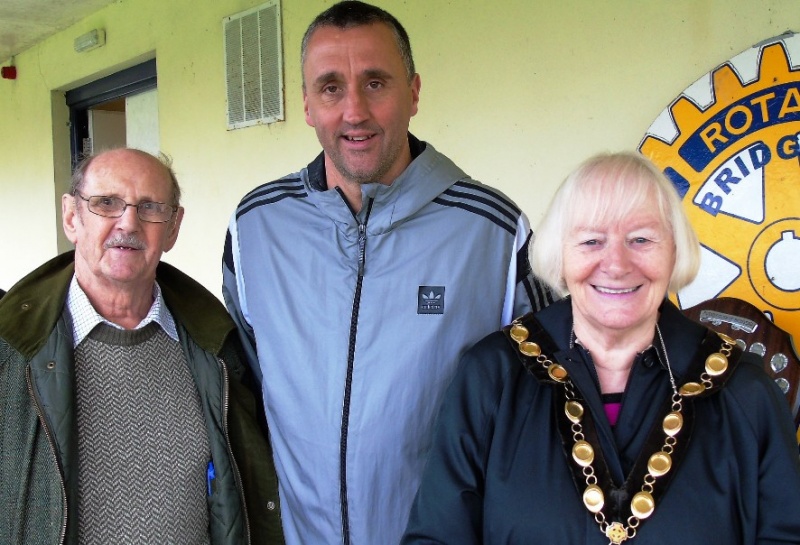 Rtn Edgar Burt Richard Howe Mayor Pam Davies

Over 100 players and reserves from 8 special schools from across South Wales took part in the Festival (Heronsbridge, Woodlands, Ysgol Bryn Castell (YBC), Headlands, Penybryn, Hendrefelin, Greenfield and Maes Gwyn. The eight schools were divided into two pools with YBC and Woodlands School winning the pools and going on to the final.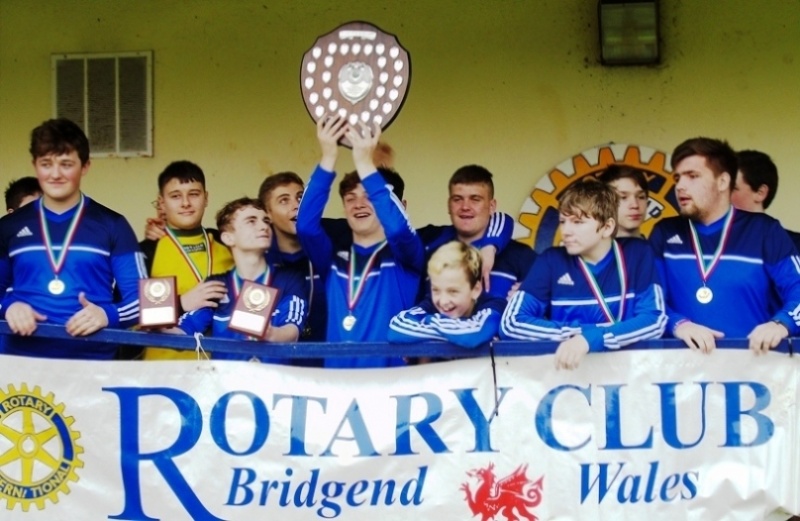 Ysgol Bryn Castell won the final to lift the trophy with Woodlands as runner up.
The award for the most improved team of the Festival went to Woodlands School from Cardiff and the Player of the Tournament Shield was presented to Cain Dickenson of Ysgol Bryn Castell. The winners of the Tony Phillips "Fairplay" Memorial Shield were Greenfields School from Merthyr Tydfil.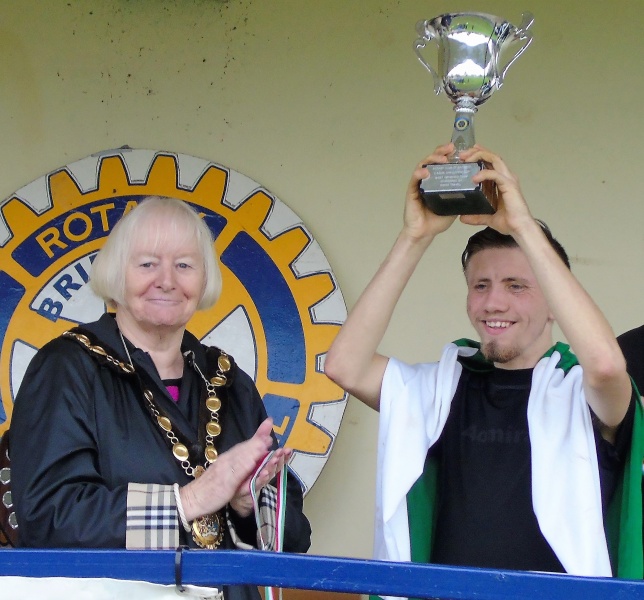 Runners Up and Most improved Team Woodlands School Cardiff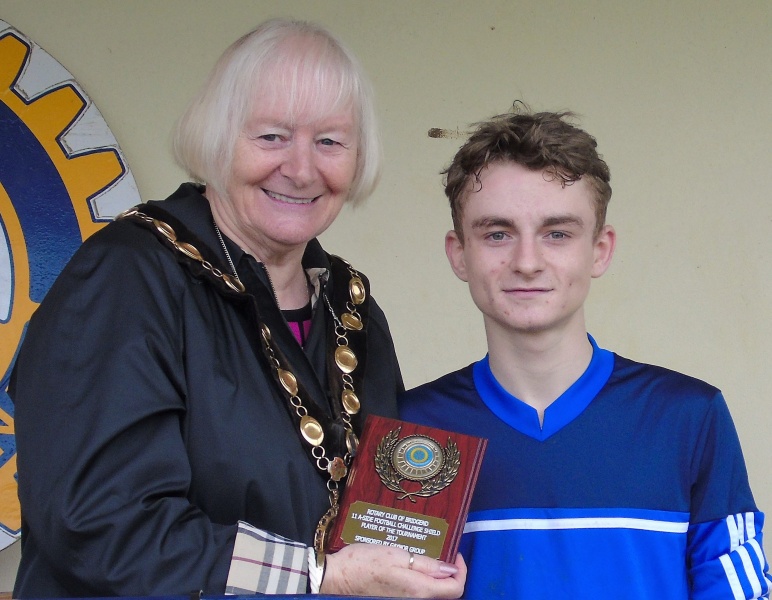 Player of the Tournament Cain Dickinson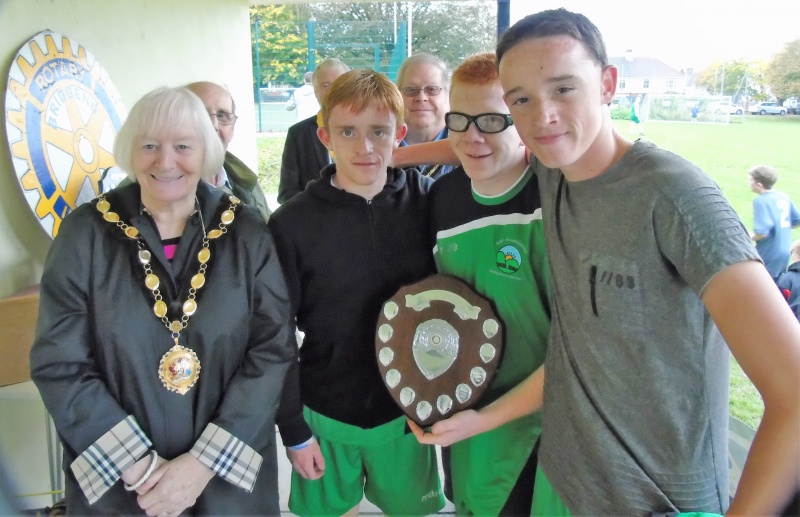 Tony Phillips Fair Play Award Greenfields Merthyr Tydfil

The day was also one to remember a very special Rotarian and Past President of the Rotary Club of Bridgend, Tony Phillips, who passed away some ten years ago. Tony had helped Heronsbridge School immensely over many years and was very active in his support. In his memory the Shield is awarded to the team which most exemplifies the spirit in which the "glorious game" should be played.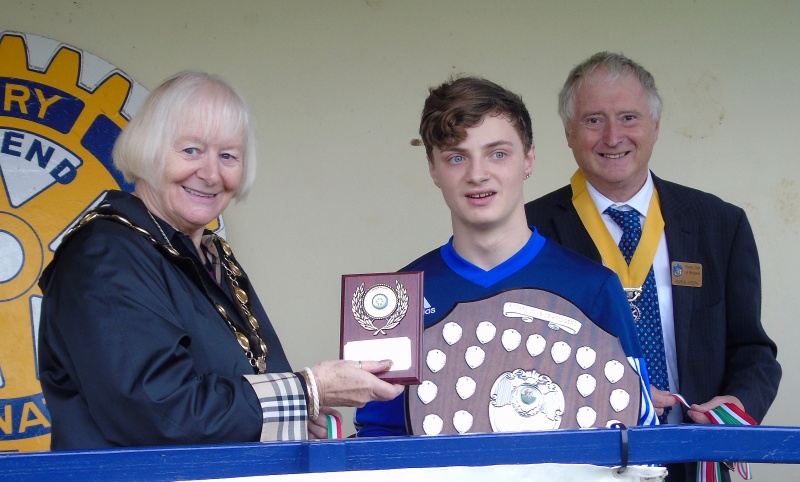 Winners Shield and Player of the Tournament

The Mayor of Bridgend County Borough Councillor Pam Davies, accompanied by her consort, Tudor Davies, was on hand to present the winners shields and the medal to every player, assisted by Rtn Gillian Hale, Chair of the Rotary Club of Bridgend Youth Services Committee and Rtn's Edgar Burt, Hopkin Joseph and Alan Reeks.
The Rotary Club of Bridgend is very grateful to all who supported the Festival, especially Derek Gaynor of the Gaynor Group for sponsoring the event, to all the school staff, who brought, supported, coached their teams, acted as match referees and ran the lines, to the Head and Richard Howe and the rest of the staff of Heronsbridge School, who hosted the event, and the Mayor for attending.
Alan Reeks
BRIDGEND YOUNG CARERS

Bridgend Young Carers are a project run under Action For Children, which seeks to give Young Carers a brief respite from their caring duties. Many children between the ages of eight and sixteen carry the responsibility of caring for a parent and sometimes younger siblings,helping them to get dressed and fed,doing the shopping and in many cases taking on an adult role.The Young Carers Project,which has a client base of 49 at present,provides them an opportunity for them to be children,taking part in various activities,and sometimes just the chance to run around. The project caters for groups of 15 children every three weeks for a period of six months. The project is managed by Gemma Jury,Victoria Bailey and Llianne Day, who provides activities and opportunities for the young people for two evenings. Although there is funding for their time for this year,each year they face an anxious wait to see whether there will be funding for next year.The Rotary Club of Bridgend has made several donations in past years, and this year's donation will fund the Young Carers Christmas Party.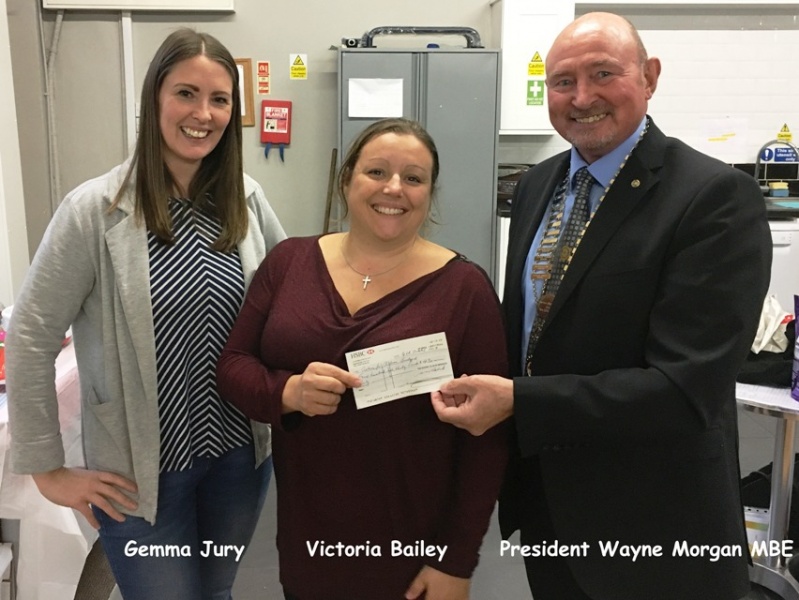 President Wayne Morgan visited the project recently and presented them with a cheque. He was impressed and moved by the work going on with the project, and was pleased that the Rotary Club of Bridgend were able once again to sponsor the Christmas celebrations.
Rtn Rev M Lewis.

Guest Speaker Rtn. Brian Stoyel, Chairman and Founder of REMIT
We were pleased to welcome as our speaker for the October meeting Brian Stoyel, R.I. Director 2017/19, Past President of R.I.B.I. and Past District Governor of two differing Rotary Districts. Brian had just returned from a meeting at R.I. Headquarters in Evanston, Chicago and earlier in the day he was at another medical research meeting in London - so a special effort had been made to be at the Rotary Club of Bridgend.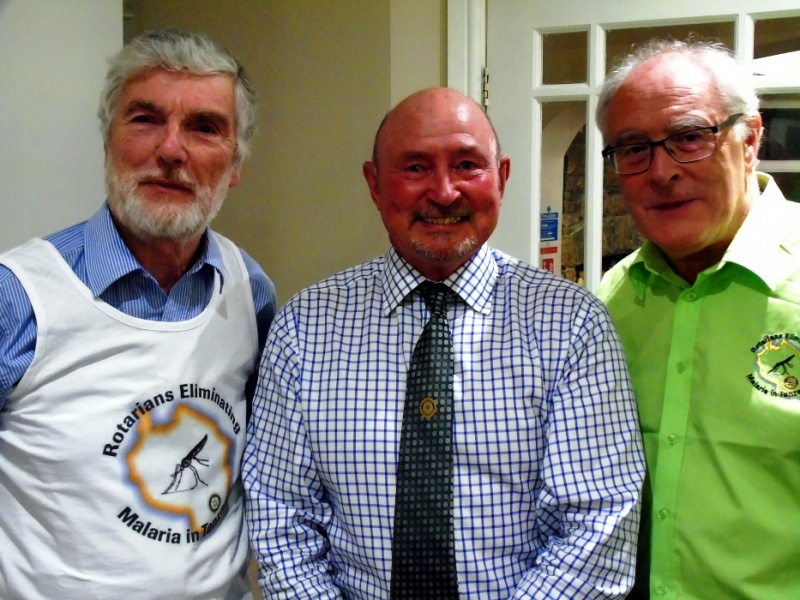 Dr William Williams Pres Wayne Morgan Rtn Brian Stoyel

In the opening remarks a member noted that 212 Million people had been affected by malaria last year and that the mosquito was the deadliest creature on earth. In that vein, it was appropriate that the International Committee, in conjunction with the Bill and Melida Gates Foundation, had put malaria as its charity of choice for the coming year. Hence, it was a great pleasure that a welcome was given to Brian as the Founder and Chairman of REMIT - Rotarians Eliminating Malaria in Tanzania.
The talk provided detailed background of REMIT and a enthusiastic description of the ongoing and planned work of the charity. A number of leaflets and an example of the mosquito nets were available for all to review, read and learn more of REMIT.
Brian's passion and drive in the REMIT work was conveyed to us all, thus resulting in an excellent Rotary evening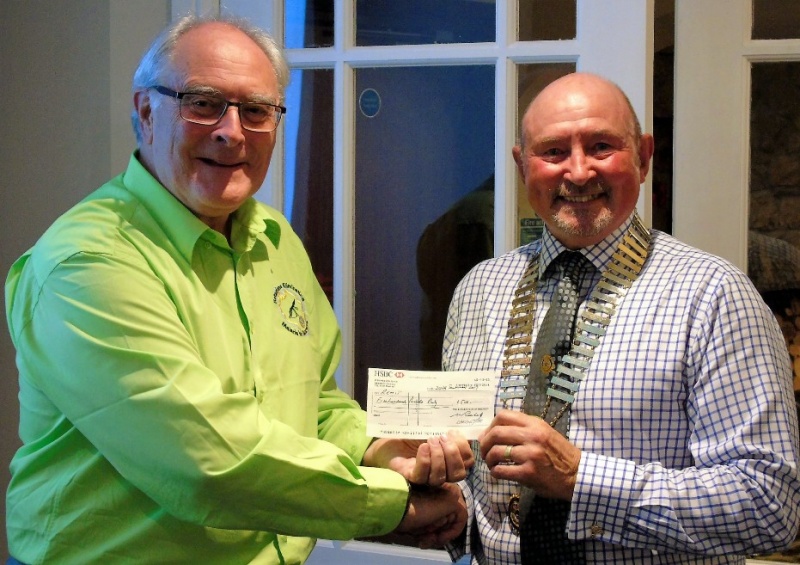 The President gave a vote of thanks and presented Brian with a cheque for £500 for REMIT.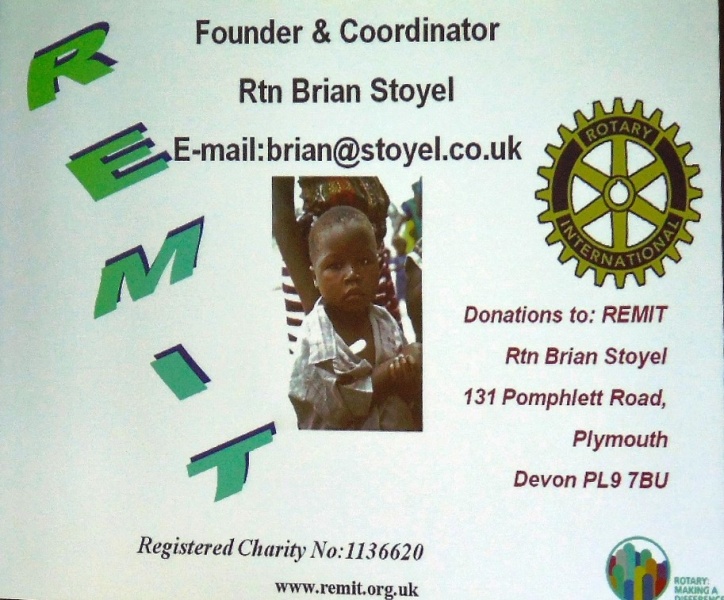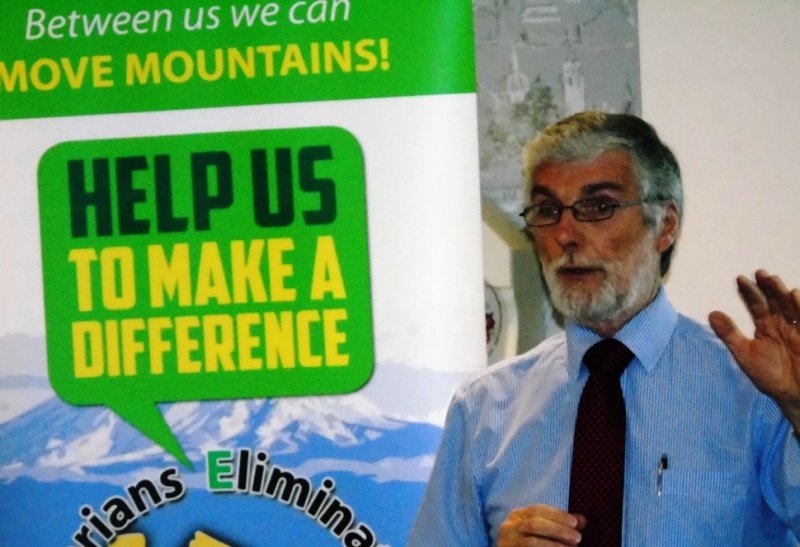 Rtn Dr William Williams PHF

Further events are planned to raise more funds for this worthy cause.
WRW
DISTRICT GOVERNOR VISITS BRIDGEND
The breakfast meeting on Monday 25th September 2017 was honoured by the presence of District 1150 Governor, Rtn. Maggie Hughes PHF.
Governor Maggie Hughes described 2017/18 as a momentous year for us all as we celebrate the Centenary of Rotary in Wales and encouraged the Club to badge up all its events with the new R.I. Theme Logo and the District Centenary Logo to promote the Centenary


In her address she reminded the Club of her themes for the year.
Our Legacy Projects - Service to the Community - To Create Awareness of and Promote Dementia Friendly Communities, and the free interactive Dementia Friendly Sessions. The U.K. Government has challenged every community to become Dementia Friendly by 2020.

Ecology - to complete R.I. President Ian Riseley's challenge, that every Club plants a tree for each of its members between the 1st July and Earth Day on 22nd April 2018.
Fundraising - to support the Tenovus "Closer to Home" Appeal to help fund a third mobile treatment unit.

Polio Challenge - for us all to commit to the Gates Polio Challenge, that when Rotarians raise $50 Million each year for the next three years, Bill Gates has pledged to extend his commitment to match two for one. Sharing $50 Million between the 34,000 Clubs in Rotary World brings us to a more manageable $1,470.59 per Club per year, which at the current exchange rate is an average of £1,116.20 per Club per year.
To continue to support our own charity - The Rotary Foundation, which was founded on 18th July 1907, when Arch Klumph made the first donation to Foundation of $26.50.
Membership - to complete R.I.B.I. Dennis Spiller's challenge to us, which is the formation of ten new clubs/satellite groups in our District, with at least one in each of our eight areas.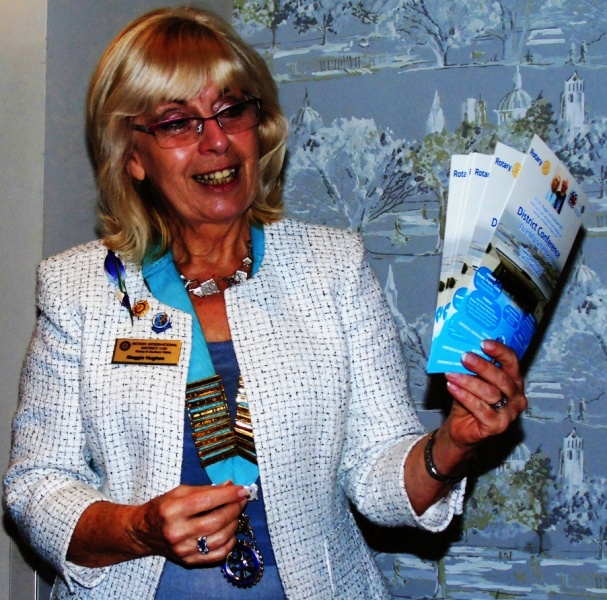 She concluded our main priority - to have fun - and encourage the Club to work to work with the Assistant Governor to plan an early party/picnic in the park and to consider seriously atending the District Conference.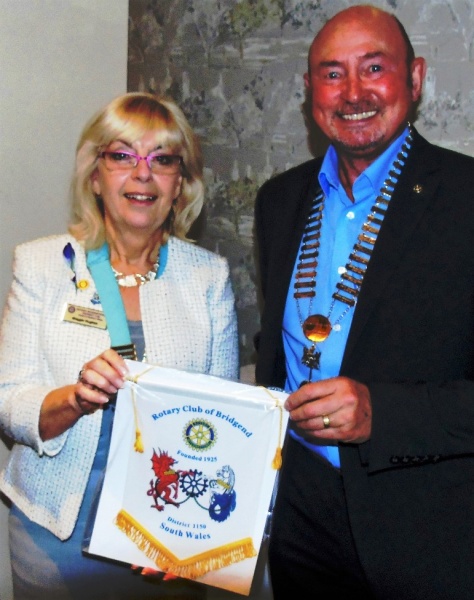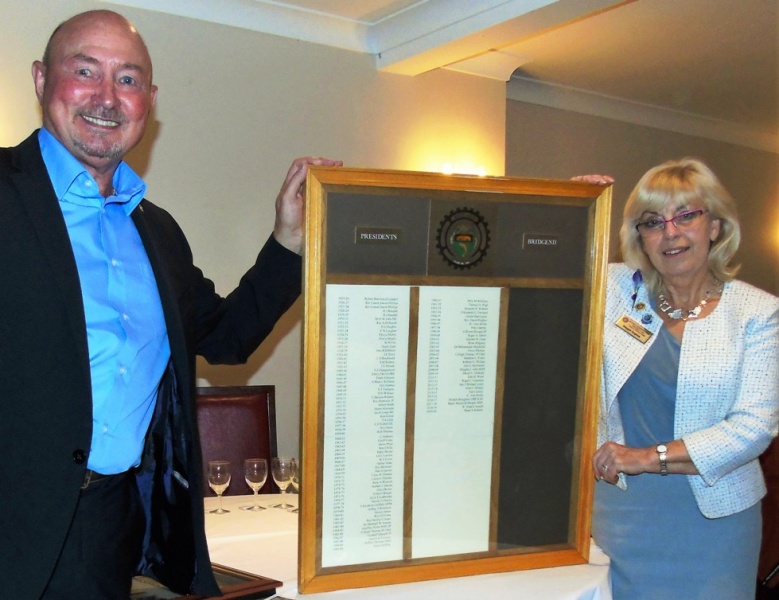 In thanking Maggie for getting up early to attend our meeting President Wayne presented a Bridgend banner (her first), a proud moment for a Brynmenyn girl. She was also photoraphed with the recently resurrected Past Presidents board which shows the clubs continuous service to the town since 1925.
Alan Reeks
ELVIS FESTIVAL CONCERT SUNDAY 24th Sept 2017
Elvis was indeed "THE KING" in Porthcawl last weekend at the Elvis Festival. A party of some sixteen Rotarians and quests (Roy/Beryl Hodgkinson, Ken/Clare Freeland, Mike/Jane Lewis,Robin/Eve Bratton,Gillian Hale,Hopkin Joseph,Sue/DennisCassidy,William/Catherine Williams and Stan/Gillian Harding.) attended the 4pm concert on Sunday 24th Sept.The Grand Pavilion was rocking for 90 minutes to the vocal power of the Elvis on stage, supported by back up vocalists, a tribute band and the Cardiff Philharmonic Orchestra.Many of the audience at this sold out concert was up and "dancing in the aisles including several of the Rotary Party, a really great atmosphere filled the auditorium. A great shame that it was raining before and following the concert, so many of the hundreds of Elvis/Priscilla/GI look a likes in Porthcawl for the weekend had sought refuge in local coffee shops ,pubs and hotels. Perhaps we could do it all again next year on a sunny evening.

Hopkin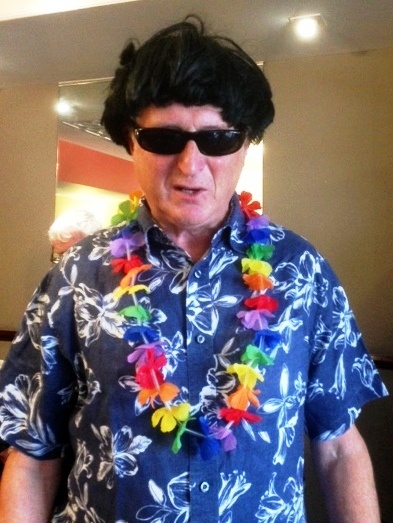 HOPKIN DID KEEP THE PROMISE THAT ELVIS WOULD MAKE AN APPEARANCE TODAY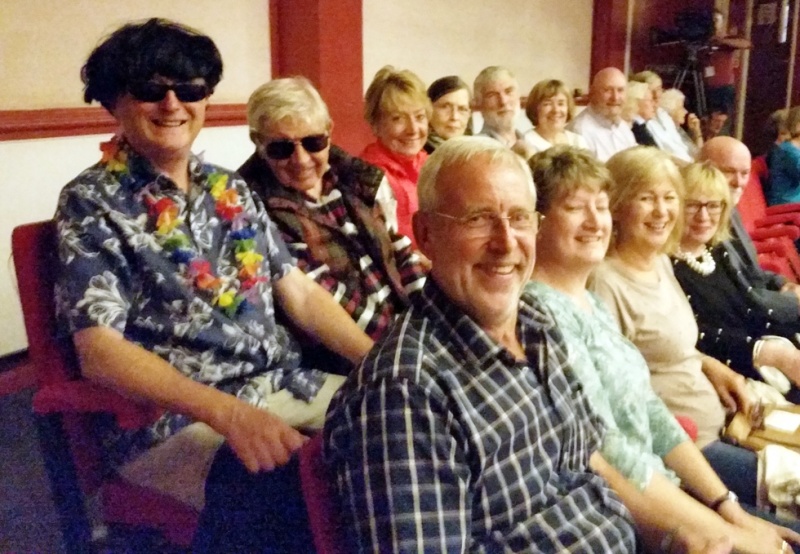 Bridgend " Runners Up " in Rotary Quiz at Neath Sept 2017
Assistant Governor Alison Southerland was Quizmaster (setting an unusual and wide ranging set of questions, including a round of charades ) at the Castle Hotel Neath on Monday evening 11th Sept.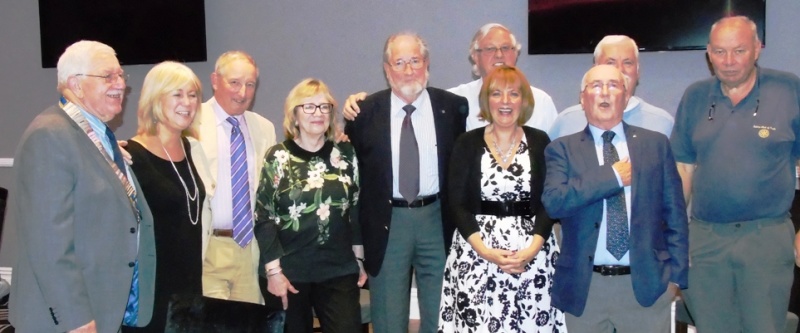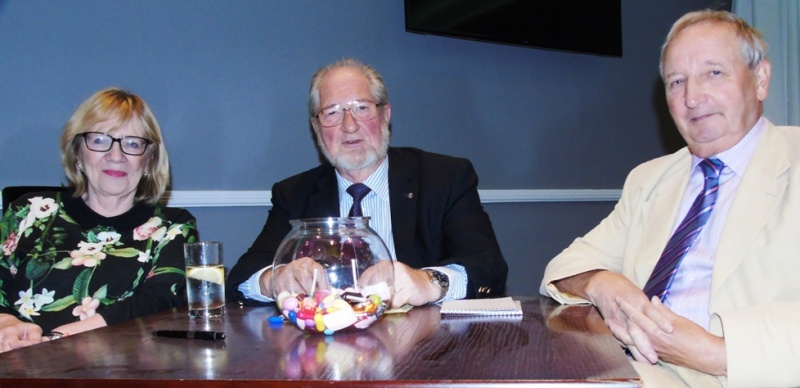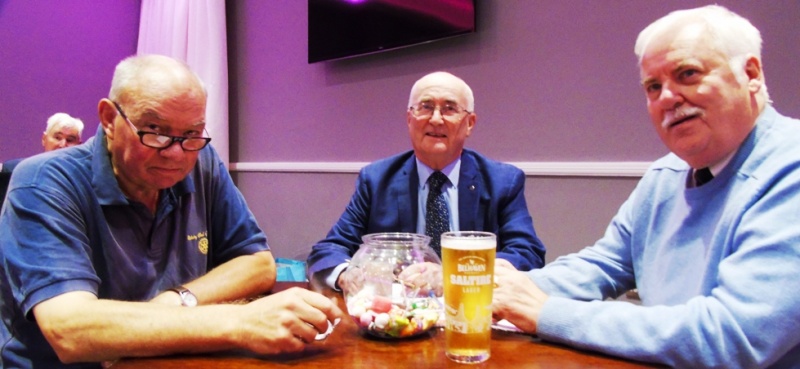 The Bridgend team - Bob Broughton Captain, Graham Hapgood and Sue Cassidy, with Gill Hale as scorer. The team had a poor start with no points from the first round,quickly gained ground to get very close to Neath by the fourth round but then Neath pulled away to achieve a comfortable win. The recently re-furbished hotel under new management provided a splendid two course meal.The Bridgend team and it,s fifteen supporters enjoyed a very convivial evening of fellowship with members and guests of the Neath Rotary Club Neath now meet Pontadawe in the next round.
Hopkin
Evening Dinner Speaker Rtn John Ward PHF with his

Technical Assistant Diane Ward September 4th 2017.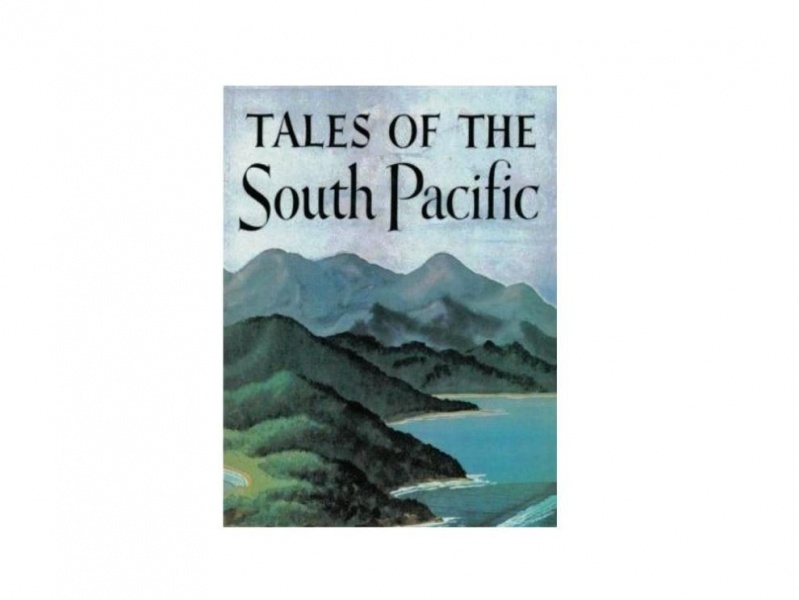 On Monday 4th September our very own John Ward with his wife as Technical Assistant gave us an interesting and amusing presentation of his two years in VANUATU. It is hard to believe that when he was offered the job he thought he was going to the Carribean, what a surprise for Diane when the plane landing in the South Pacific especially when she was told about the active volcanoes and earth tremors. John gave us some examples of the local language which we all accepted as being true.
OLSEM WANNEM : Greetings, How are you ?
ME FELLA TOOMAS : I am fine.
YUMETWOFELLA GOLONG : We are going to ...........
EMEGAT PLENNY KAKRI : He's got lot's to eat.
The following photograph was described by John as " The handsome Young United Nations International Labour Officer Expert with his crack team of workers " .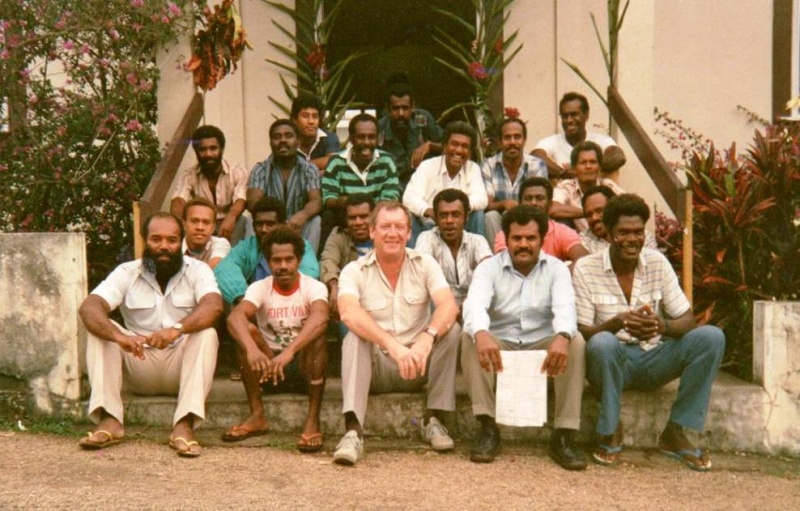 Can you find the Maesteg Cowboy.

An excellent evening's entertainment from John and Diane.
The full version of the evening is available on Power Point if you want to see the full story.
Roy H
William Williams visit to the Rotary Club of IRONDEQUOIT, Rochester, New York August 2017
The Speaker for the Evening Meeting on 30th August was WRW who gave a short input on Wales, Williamses and the Rotary Club of Bridgend and the projects undertaken and also the example of the truly Rotary International Fellowship by talking about the story which appeared on the cover of Spokesman where Wales and Philladelphia clubs had coordinated and raised funds for a young lady from the District and budding gymnast- to get very specialised back surgery undertaken in the USA.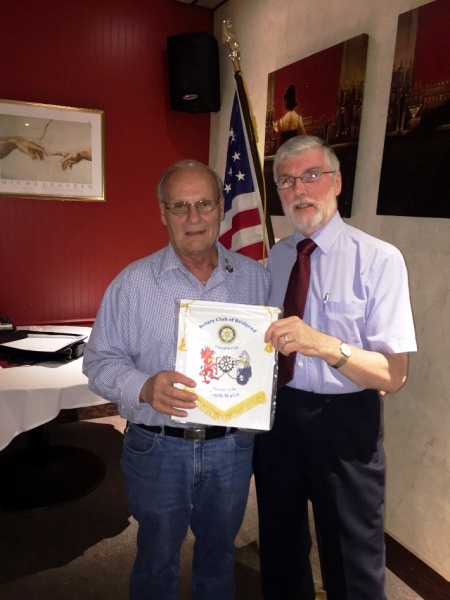 President Bob Spatola receiving the RC Bannerette.Club members were very impressed by the Bridgend flag.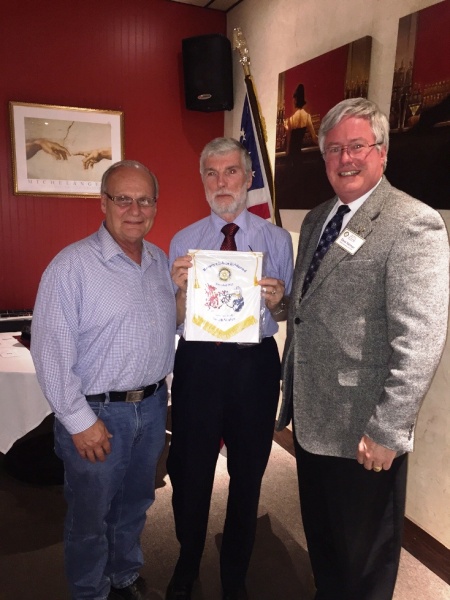 President Bob and the District Governor Nominee who had attended especially because of the visitors from Wales.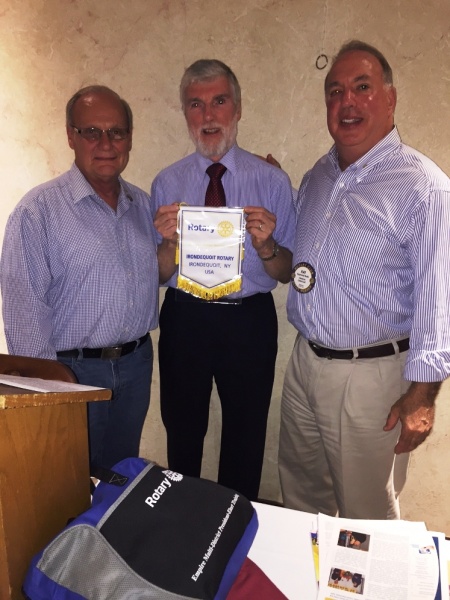 Past President Raymond Holla kindly provided transport for us from the hotel to the meeting and on the way drove us past a number of Rotary projects which had been undertaken for disabled and disadvantaged children - playing fields and related topics.
This, plus three scholarship's per year for Higher Education seemed to be the major drive for this very active ,enthusiastic and lively Club of 30 members.
WRW
Tribute to Past President Rotarian Harold Fletcher PHF 1926 - 2013

In 1989 he received a special Rotary award for fifteen consecutive years of 100% attendance at club meetings.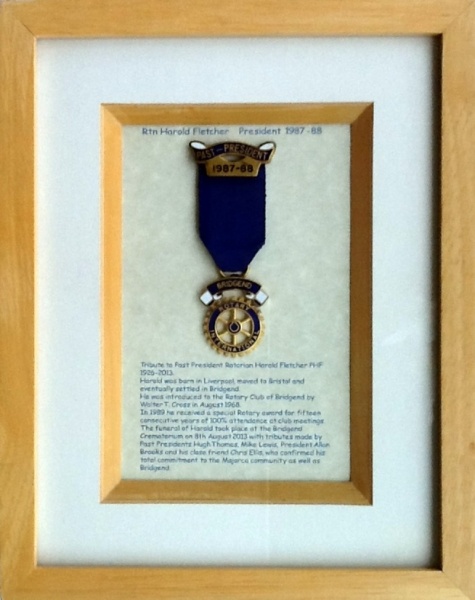 Harold's Past President's Jewel held in secure store ( Sept 2017 )
---------------

ROTARY CLUB OF BRIDGEND
ORIGINAL CHAIN OF OFFICE HELD IN SECURE STORE (Sept 2017)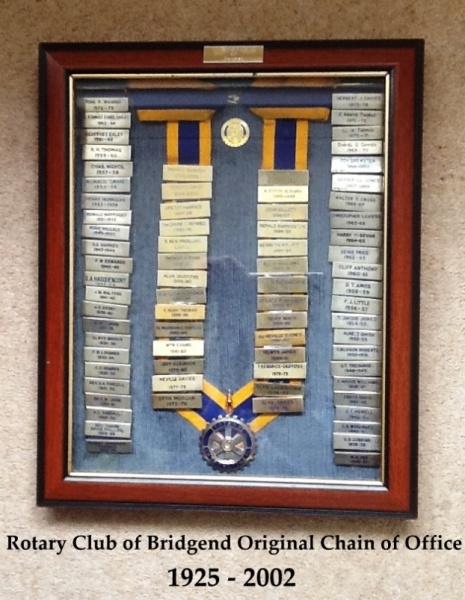 President Wayne Morgan MBE exchanging Rotary Club Banners

with Vice President Robert Whalley from the Rotary Club of Guernsey

September 2017

Bridgend Hospital Radio Celebrates
The Trustees and supporters of Bridgend Hospital Radio hosted the stations First Anniversary celebration as a Registered Charity at Pen-y-Bont football club.
Supported by Bridgend County Borough Mayor, Cllr Pam Davies ,her consort, the President and members of the Rotary Club of Bridgend and many other supporters the celebration was entertained by the fantastic vocal talents of Wayne George and Alex John and by Luke Jukes from Bridge FM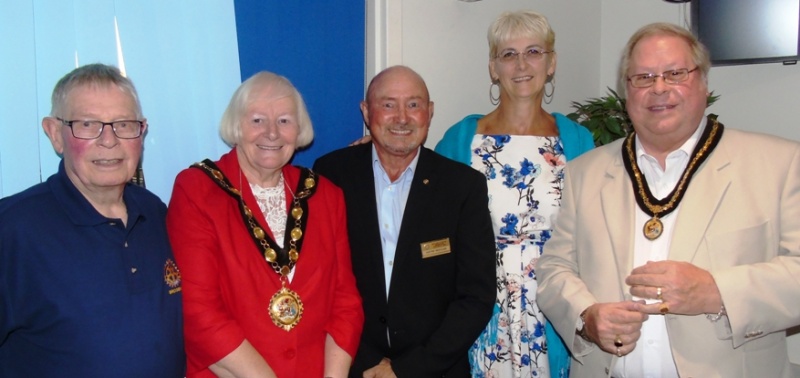 .
Rtn Bridgend Boro Mayor President Rtn Consort

Neil Solman Pam Davies Wayne Morgan Soja Cain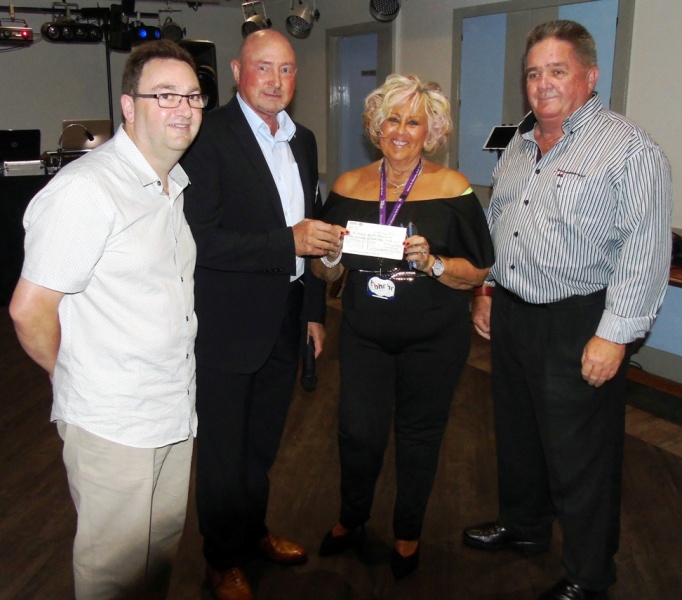 BHR Manager Rotary President BHR Volunteers

Wayne Dunkley, Wayne Morgan, Sheila Hollins, Haydn Powell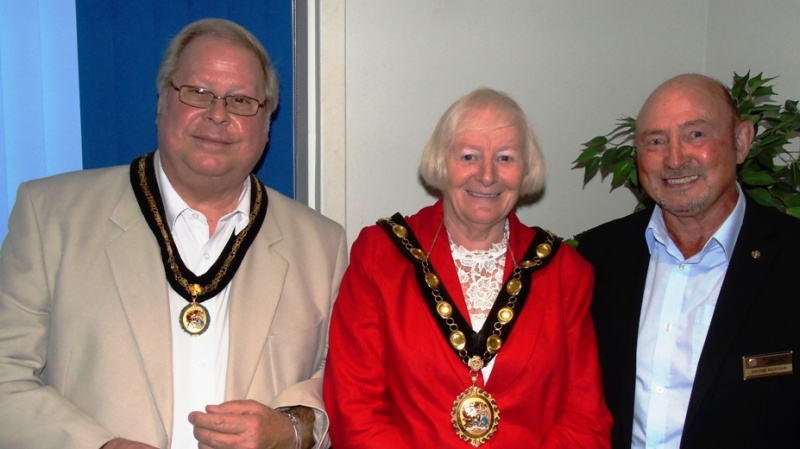 Bridgend County Borough Mayor,Cllr Pam Davies her Consort and Rotary Club of Bridgend President Wayne Morgan MBE

Induction of Mrs Jackie Thomas into the Rotary Club of Bridgend
At the dinner meeting on Monday 4th September the Rotary Club of Bridgend inducted Mrs Jackie Thomas as it's first Associate Member.
In a ceremony conducted by Past President and Chair of the Membership Committee, Rtn Alan Reeks, Jackie, the local Sainsbury's store PR Ambassador, was welcomed and admitted into the Club as an Associate Member representing her workplace organisation.
Mrs Thomas was elected to associate membership because the Rotary Club members believe that she is a worthy representative of her calling and possesses qualities that have and will permit her to exemplify the true spirit of Rotary in her public,business,social and private life and because the Club believes its principles and organisation are safe in her keeping.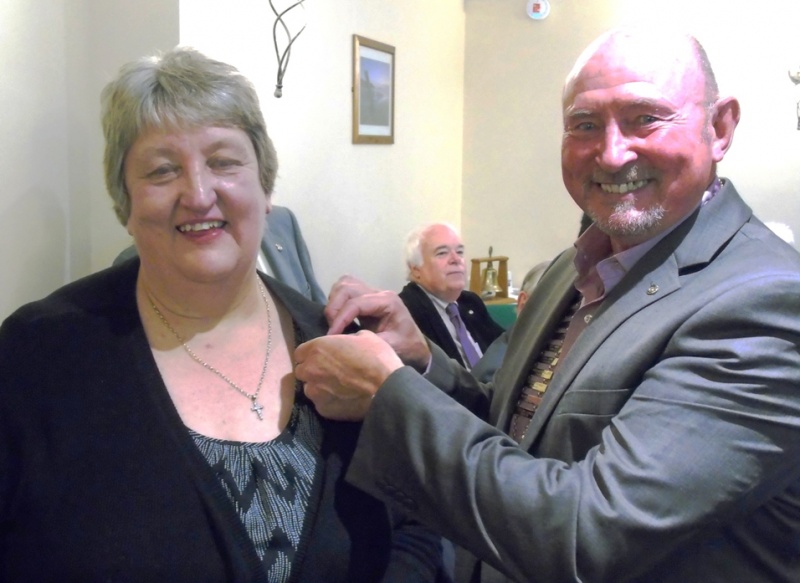 Mrs Thomas was formally admitted into the Club by President Rtn. Major Wayne Morgan MBE who affixed the Rotary emblem to her lapel and presented her with her new members " welcome pack "
A Reeks
Hopkins Rotary Ramble Wed 30th Aug
Meeting at 12noon at the car park at the top of Mynydd y Gaer Rotarians Alan Reeks plus dog,David Hubbard plus dog,Rob Bratton, Hopkin Joseph and 11year old Josh Morgan ( Alan's Partner's Grandson) all set off heading east along the Ogwr Ridgeway Walk.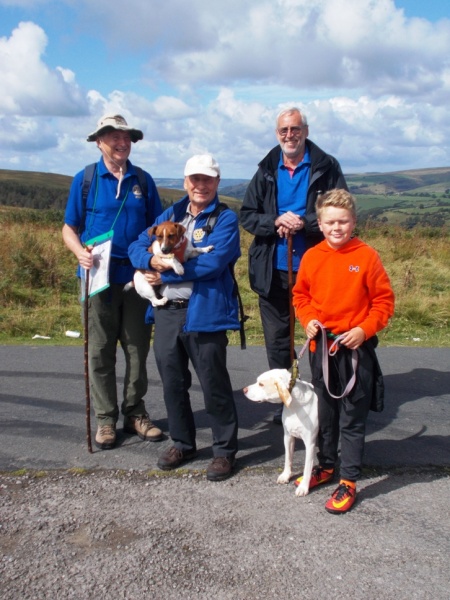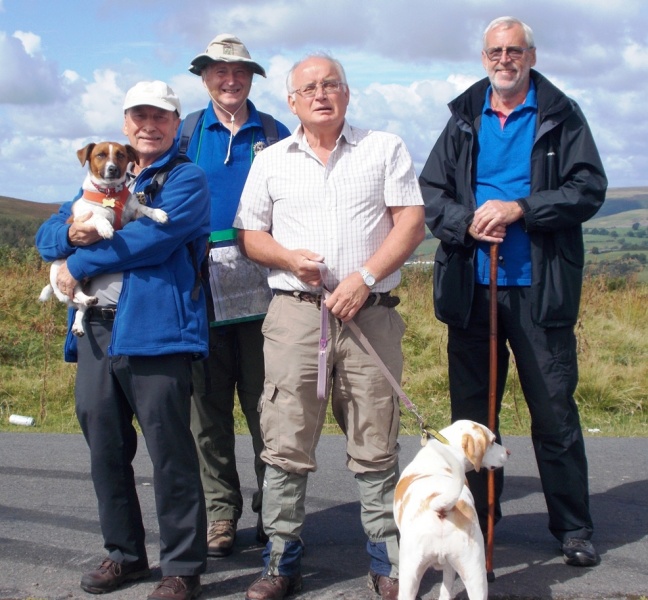 From it's elevated position fine views were initially enjoyed to the north ( Glynogwr, Gilfach and Gilfach Goch ) and for the whole of the walk views of the lowlands of Glamorgan ( Bridgend in the west running through eastwards most of the Vale of Glamorgan. Up and down then around Mynydd Hugh the Ridgeway brought us to Taff ELY Windfarm, initially 15 years ago just 20 turbines but now triple that number. The Ridgeway Walk after leaving the eastern part of Coity Gwalia Common runs along a well defined parish road track, unsurfaced and probably following the route of an upland pre-historic way, it leaves Bridgend County Borough and becomes the Glamorgan Ridgeway Walk, just 100 metres from our well earned lunch stop. To the south lies the ruins of St Peter's church, now in private ownership and the reputed location of the burial site of a King Arthur. We spent a few minutes looking around the ruins and then at a stone ridge viewpoint stopped for lunch. Despite rain being forecast the weather was warm and dry. We re-traced our steps back to the cars arriving at 2-45 pm when we had just a few spots of rain.
Hopkin

The Rotary Club of Bridgend Supports Bridgend's Hospital Radio
At It's luncheon meeting on Monday 21st August the Rotary Club of Bridgend presented a cheque to Mrs Jackie Thomas, the local Sainsbury's store PR Ambassador, as a donation towards the store's "Charity of the Year" for 2017/18.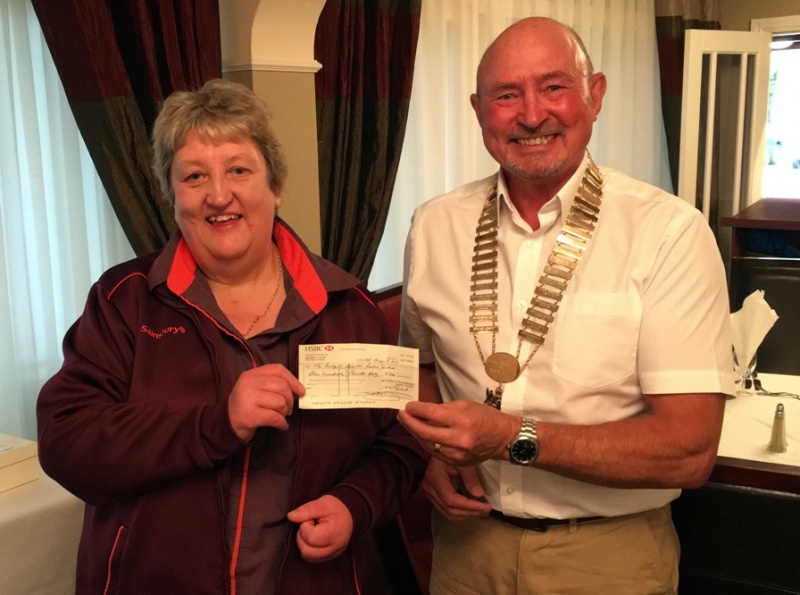 Established in 1982 Bridgend's Hospital Radio ( BHR ) broadcasts to the Princess of Wales Hospital and has been named as Sainsbury's Charity of the Year for 2017/18 at the Bridgend store.
Bridgend's Hospital Radio formally known as Bridgend League of Friends Hospital Radio, is a registered charity and will be celebrating it's first birthday on the 1st September.
BHR's aim is to aid the recovery and lessen the stresses of being in hospital, via the power of music. Approximately 12 people are involved in the day to day running of the station but volunteers are always needed. You should contact the station directly if you are interested Tel No 01656 752588. E-Mail studio@bhr.wales

Website hhtp:/www.bhr.wales.

Alan Reeks
THE DREAM TEAM
Presented by Rotarian John Ward AUGUST 2017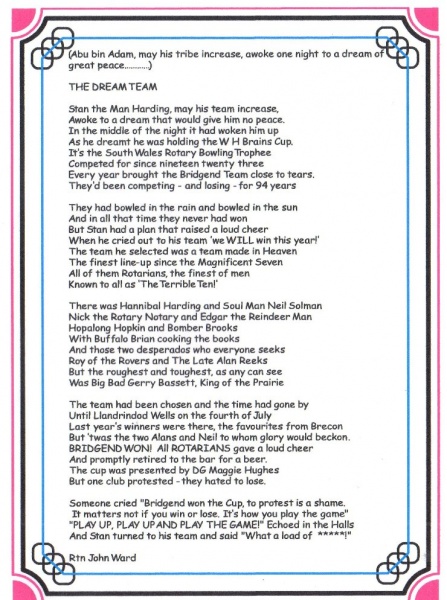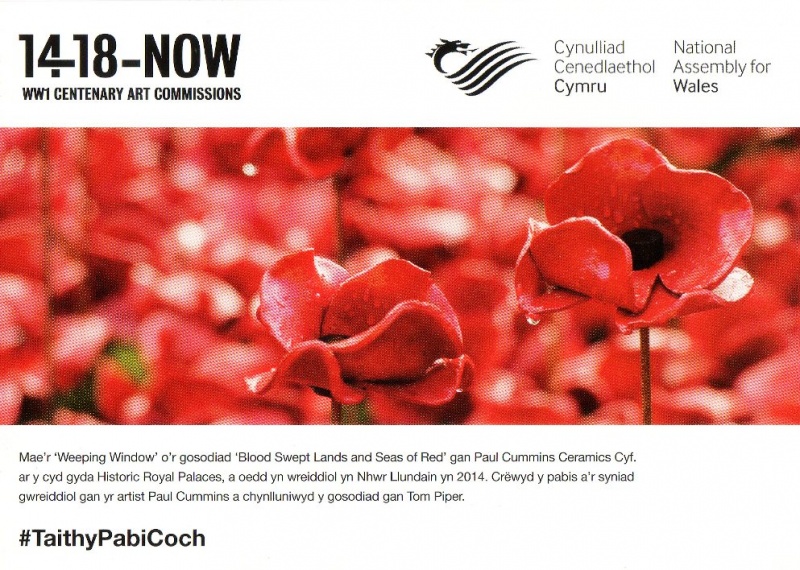 Poppy Display at the Senedd August 2017
A cascade comprising several thousand hand made ceramic poppies, Poppies: Weeping Window was originally seen pouring from a high window to the ground below at the Tower of London, as part of the installation Blood Swept Lands and Seas of Red.
The home of democracy in Wales, the Senedd is where the sixty elected members of the National Assembly for Wales debate issues that affect Welsh life. Situated in Cardiff Bay next to another of the Assembly Buildings, the grade 1 listed Pier Head, the Senedd looks out over a panorama of sky and water. Formally opened by H.M. The Queen on St David's Day 2006, the Senedd belongs to the people of Wales.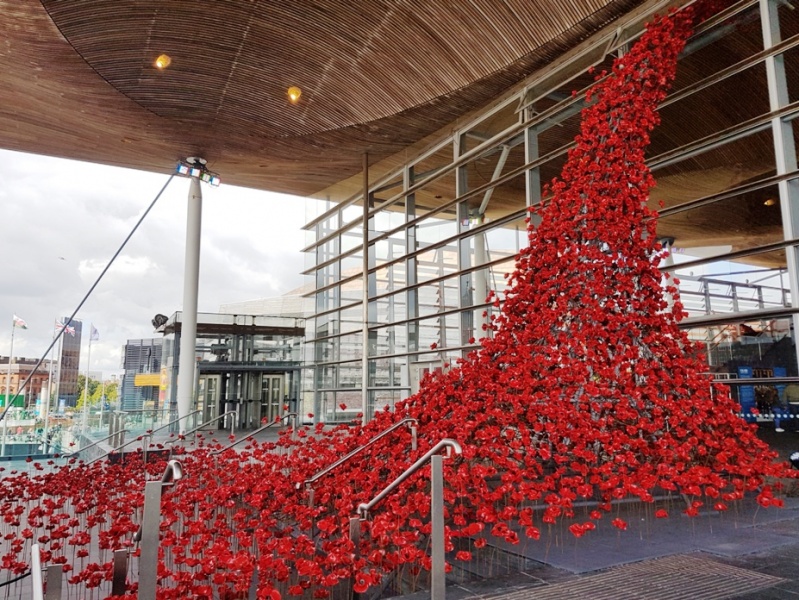 As part of its commitment to commemorate the centenary of the First World War, the National Assembly for Wales is holding a series of events over the four year commemorative period, contributing to the Cymru'n Cofio/Wales Remembers 1914-1918 National Centenary Programme of Remembrance.
As the focal point of Welsh public life, and the symbol of democracy in Wales and the United Kingdom, it is fitting that the Senedd hosts Weeping Window and a supporting programme of activities, which will be managed and developed in partnership with the Welsh Centre for International Affairs and their "Wales for Peace" programme.
Rtn Elwyn Williams

Monday 7th August 2017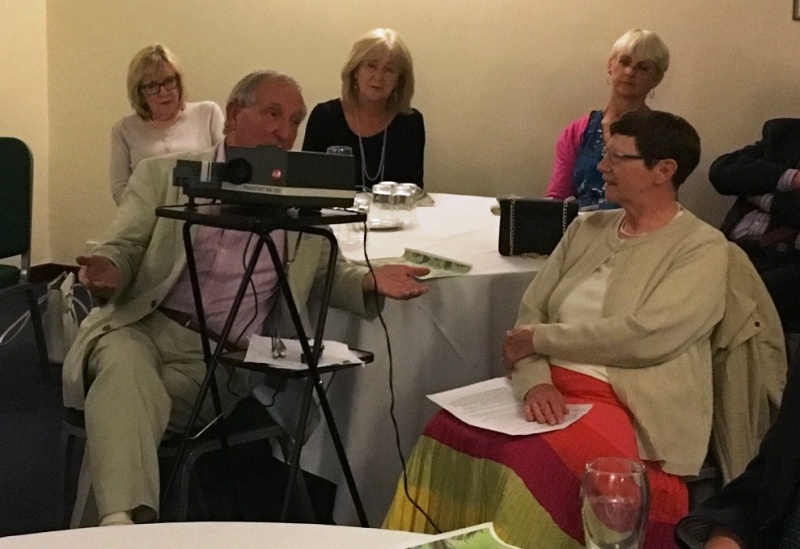 " Presentation by Rotarian Graham Hapgood on the subject of Malaria - it's cause, management and ongoing research projects, following he and Geraldene's experiences with the parasitic disease on a health care study tour to Ecuador."
GH

HARVEY PALMER AWARD 2017
Mr Mel James Bridgend Primary Schools Cross Country Organiser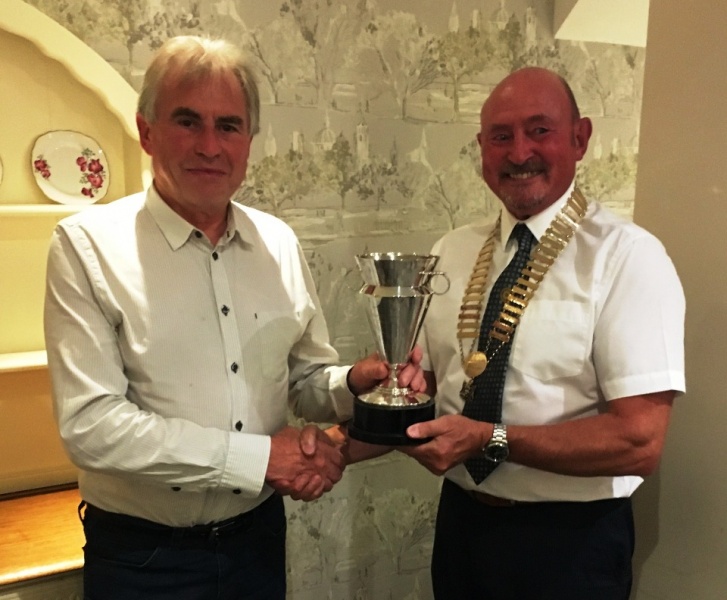 The Rotary Club of Bridgend welcomed Mr. Mel James and his wife to our evening meeting on Monday 7th August 2017 in order to receive the Harvey Palmer award.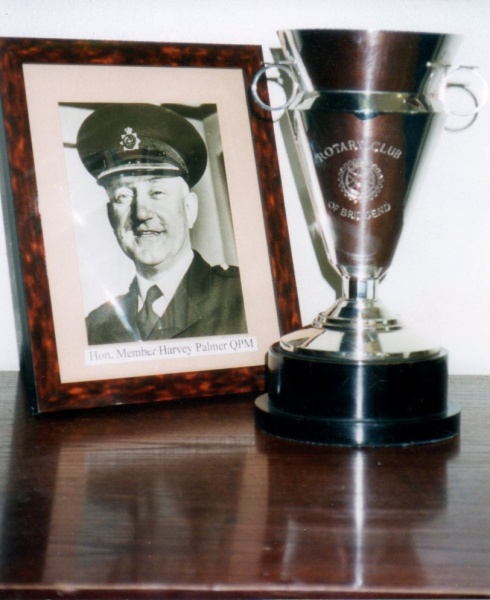 This award is made annually to identify and appreciate outstanding contributions to the county of Bridgend and District.
Having competed in several London marathons Mel has now become heavily involved in the administrative side of athletics, including Welsh Team Manager and is currently Chair of the Welsh Master Athletics and an Executive Member of British Masters Athletic Federation.
The Rotary Club of Bridgend pays tribute to the dedication of Mel to his sport and particularly to his work in organising the Cross Country League, which is encouraging so many local youngsters to take part in athletics.
Roy H
THE GARDEN PARTY WELL HOUSE FARM 2017

Once again by kind permission of Rotarian Gwyn Thomas, the Club Garden Party was held at Well House Farm, Pencoed. Very wet and windy weather forecast led to Gwyn's decision to ask members to delay putting up the marquees/tables/chairs until 09.30 on Saturday morning 29th July, but the day thereafter until 5.30 p.m. was dry and overcast.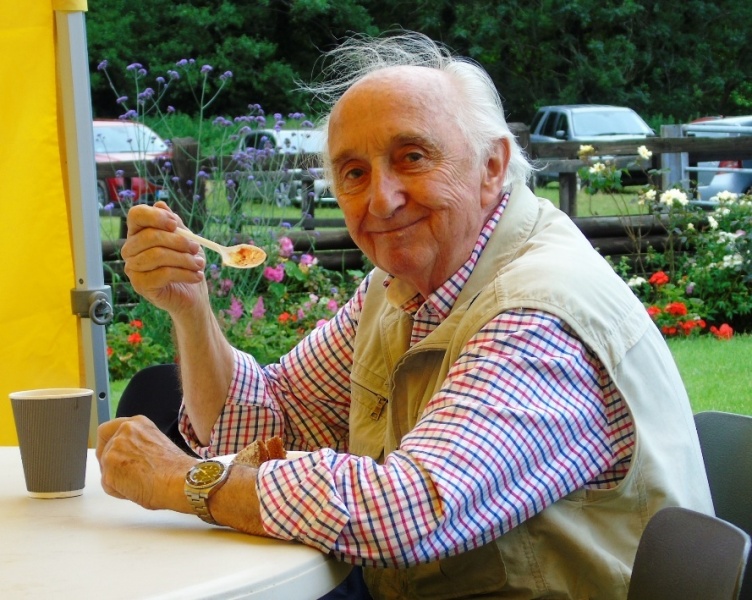 The Garden Party which started at 2.30 p.m. attended by 50 people, the best attendance for several years, with President Wayne welcoming guests, District Governor Maggie Hughes and her husband, Graham and his wife (Father Christmas at the Christmas collections), Amy representing members of the former Bridgend Inner Wheel and children/grandchildren of members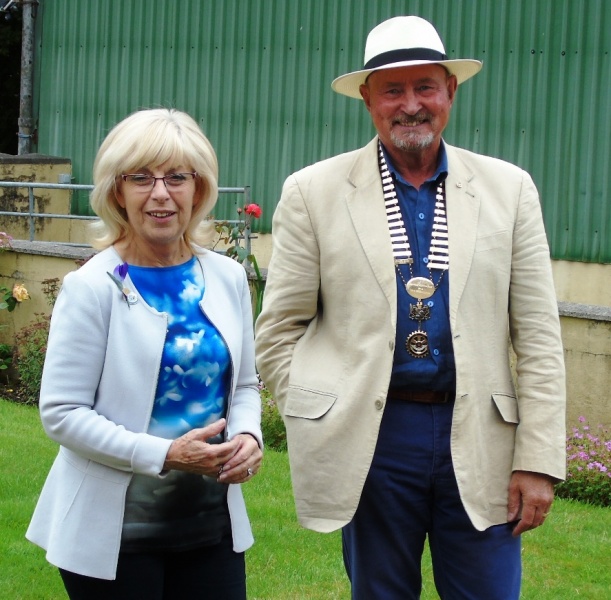 Rotarians Alan Reeks and Neil Solman ran the bar and raffle, almost all of which had been donated, with the net proceeds of £142.00 being donated to two charities - REMIT - Rotary eliminating malaria in Tanzania, and Bridgend Hospital Radio Service via the Sainsbury's Charity Scheme.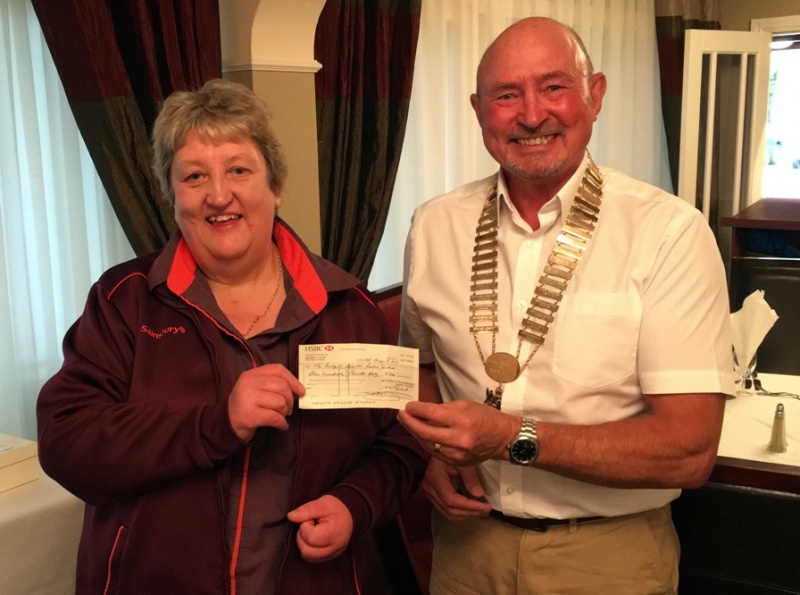 Jackie Thomas representing Sainsbury's store receives the donation from the Rotary Club of Bridgend President Major Wayne Morgan MBE.

A really super food provision (cold meats and salads, puddings, cheese and biscuits, then tea and coffee, all supplied and served by a local Pencoed retailer and outside caterer - The Sandwich Company.
One of the highlights of the afternoon was Rotarian John Ward reliving his youth as a pop group singer in Maesteg. If a career overseas in engineering and poverty relief had not intervened, the Llynfi Valley would now be an historical mecca for music fans, just as Liverpool is for John Lennon. John made the afternoon with everyone joining in as they did when Graham (Father Christmas) later sang a few melodies.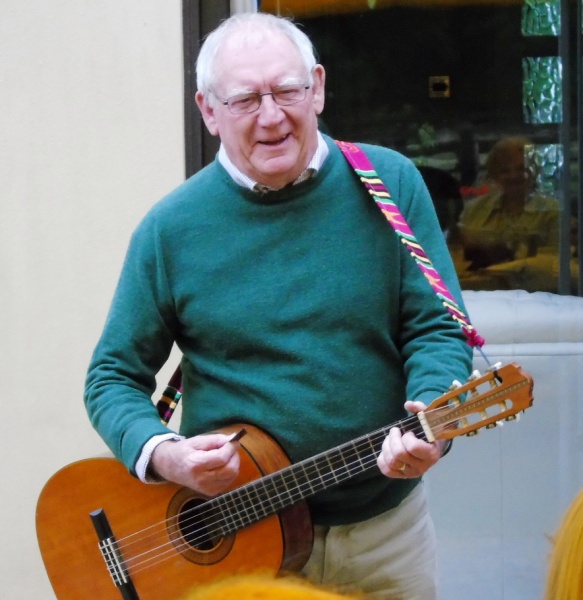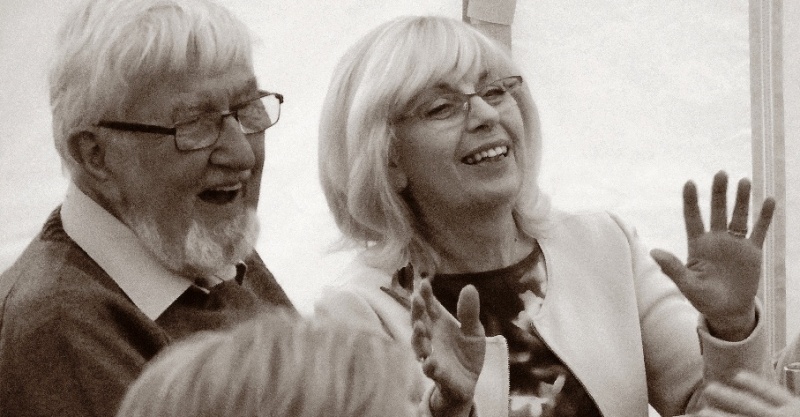 The real plus of the afternoon was the chance for Rotarians, friends and guests to meet and chat under open-sided marquees in a beautiful setting. Gwyn's gardens were looking at their best in a rural location. President Wayne closed the day at 5.30 p.m. and then it began to rain.

The marquees etc. were taken down on Monday afternoon, which was the first dry spell.
Hopkin

JOINT KIDS OUT COLLECTION WITH MAESTEG AND PORTHCAWL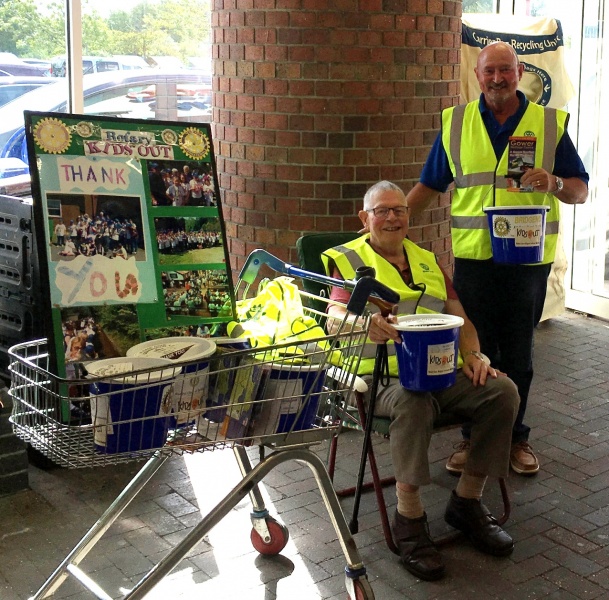 President Wayne Morgan and Neil Solman
The Rotary Clubs of Bridgend, Maesteg and Porthcawl held their annual collection at Tesco Brewery Lane in June and at Tesco Cowbridge Rd in July.They were both very well supported and raised the magnificent sums of £598 and £529. A superb total of £1127.

By far our best two collections for KIDS OUT
Grateful thanks to all our staunch supporters and especially to TESCO for their continued support and assistance.
NS
Hopkin's Rotary Ramble - Tuesday 18th July
The ramble started at Blackmill. Three members, John Ward, Robin Bratton and Hopkin Joseph met in the car park at the Sheep Sales Field at 10.30 and set off at 10.45 a.m.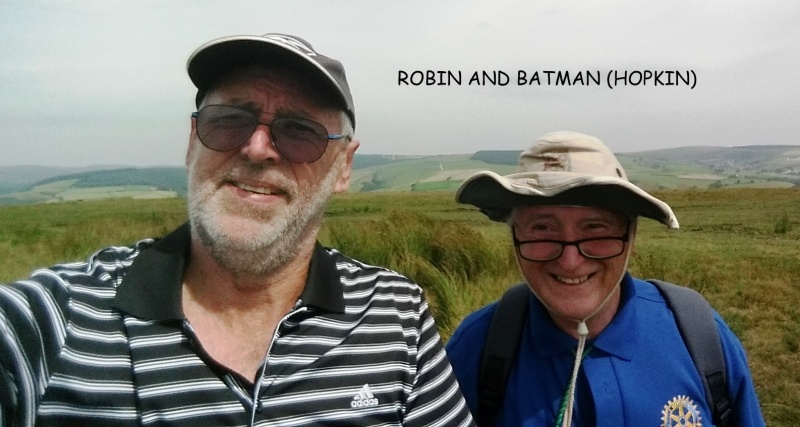 We crossed the valley road in front of the Fox and Hounds, leaving Blackmill along the Ogwr Ridgeway Walk, walking in an easterly but up some steep sloping ground. John decided that it would be better if he returned to walk the former railway track up the Ogmore valley. Robin and I continued to follow the Ogwr Ridgeway walk, skirting past the northern side of the ancient oak forest of Cwm Dwr/Allt y Rhiw, walking upwards to Caner Bach Farm through in part some quite high fern. We took a short cut following a footpath leading alongside Caner Bach, a big mistake (three high styles, a narrow sloping over-grown section with wires across and a steep ravine to cross). We were glad to re-join the Ridgeway Walk heading south and south east towards Ty Gwillym, just below Mynydd y Gaer. Another short cut and another mistake, more high fern with wet boggy ground underneath. There were super views in every direction, especially to the south and east across the Vale of Glamorgan with the buildings of Central Cardiff on the far sky line. A little further to the north east we turned back and walked directly west up Mynydd Gaer, we crossed the site of the Celtic Hill Fort, the reputed location of the 5th Century Peace Conference with low earthworks clearly visible,in order to reach the trig point. The views to the north were now very good, Tonyrefail, Gilfach, Glynogwr, Llangynwyd. We walked down to re-join the Ogwr Ridgeway Walk just south of Caner Mawr Farm. No more short cuts, in fact a different route - we followed the farm access road back to Blackmill, arriving at 12.45 to find John in the Fox and Hounds with a drink ready for us.

The weather had been good, dry and warm albeit quite windy at the top of Mynydd y Gaer. Lunch at the Fox and Hounds after all that walking was very welcome.
Hopkin
INTERACT CLUBS OF BRIDGEND AND PENCOED
The original Interact Club of Bridgend, sponsored by the Rotary Club of Bridgend was formed in October 1975 during the Presidency of Rotarian D.Bryn Morgan.

Founder members were President Stephen Richard Williams (Laleston), Vice President John Stephen Williams (Brynmenyn), Secretary Ceri Miller (Bridgend), Treasurer Fiona Mary Davies (Bryncethin), Director Philippa Ann Jones (Cowbridge), Director David Lewis (Bridgend), Director Mark Thomas (Bridgend), David Wayne Biddle (Bridgend), Colin Downham (Bridgend), Gareth Wynford Jones (Litchard), Karen Jones (Litchard), Penny Ladbrooke (Ewenny), Primrose Ladbrooke (Ewenny), Kathy Miller (Bridgend) Louise Ann Morgan (Bridgend) and Neil Williams (Pen-y-fai).
Regular meetings of the Club were held on the second and fourth Monday of every month at Bridgend College of Technology and Brynteg School.

The Club survived for eight years and eventually closed due to the demands on members of examination committments and extended holidays away from home.
The Presidents of Bridgend Interact Club were Stephen Williams, Aled Miles, Penny Ladbrooke, Ann Pugh, Paul Williams, Jane Ilis, Elke Jantzen and Mark Thomas.
Penny Ladbrooke and Primrose Ladbrooke, two former members, are daughters of Beryl and Glyn Ladbrooke, a former President of the Rotary Club of Bridgend in 1976.
The Interact Club of Pencoed, again sponsored by the Rotary Club of Bridgend, was formed in July 2000 during the Presidency of Rotarian Roger David.
This Interact Club started with nineteen members under the Presidency of Abbey Watkins. Bridgend Rotarian Edgar Burt and Past President Byron Morgan were in attendance. Edgar has been a regular attender for the last seventeen years.
The original Interact files are held in secure storage by Rotarian Hopkin Joseph (July 2017). The original chain of office was handed over for safe keeping and display to (Interact President Chloe Jones) on Monday 24th July 2017.

Roy H
ORIGINAL CHAIN OF OFFICE FOR INTERACT CLUB OF BRIDGEND

OCTOBER 1975 - 83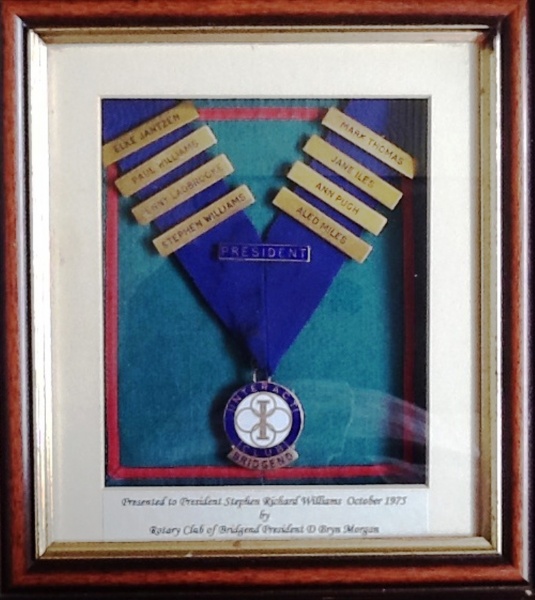 ROTARY CLUB OF BRIDGEND WINS ANNUAL ROTARY DISTRICT 1150 BOWLS COMPETITION
LLANDRINDOD WELLS 4th JULY 2017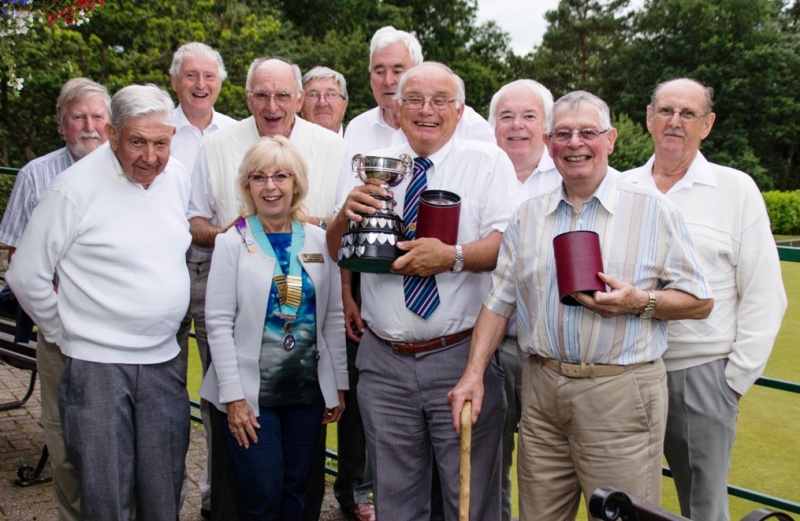 Presented in 1923, by Rotary Past President W.H Brain,the South Wales Rotary Bowling Trophy has been the reward for the Rotary triples bowls competition held annually,even in war years,for 94 years.
Although designed to promote the developement of acquaintance and fellowship amongst the Rotary Clubs in South Wales there is much competition and rivalry amongst the competing teams and the trophy is one all Rotary bowlers seek to lift.
The competition hosted by last year's winners,the Rotary Club of Brecon,was held at the regular venue,the Llandrindod Wells Bowling Club.
History was against Bridgend, it had competed regularly but unsuccessfully since the club was founded in 1925. It was therefore,with much enthusiasm but little expectation of victory that the Rotary Club of Bridgend registered three teams in the competition and early on the morning of 4th July ten club members (Rtns Gerry Bassett, Allan Brooks, Edgar Burt, Stan Harding, Roy Hodgkinson, Hopkin Joseph, Nick Lewis, Alan Reeks, Brian Roberts and Neil Solman ) set off essentially to enjoy the fellowship the gathering of clubs would generate.
However in a close run competition the Rotary Club of Bridgend " C " team was undefeated, overcome all opposition and much to the surprise of their travelling companions won " THE TROPHY " for the first time in the history of the Rotary Club of Bridgend.
District Governor Maggie Hughes presented the Trophy and souveniers of the occasion to the winning team and reminded them that as an additional award it would be their privilege to organise the 2018 competition.
Alan Reeks

Rotary Club of Bridgend Annual Handover Dinner

The Rotary Club of Bridgend held its President's Handover Dinner at the Heronston Hotel on Monday 3rd July, when the out-going President Dr. Bob Broughton OBE KStJ inducted Rotarian Major Wayne Morgan MBE as his successor for the new Rotary year 2017-18.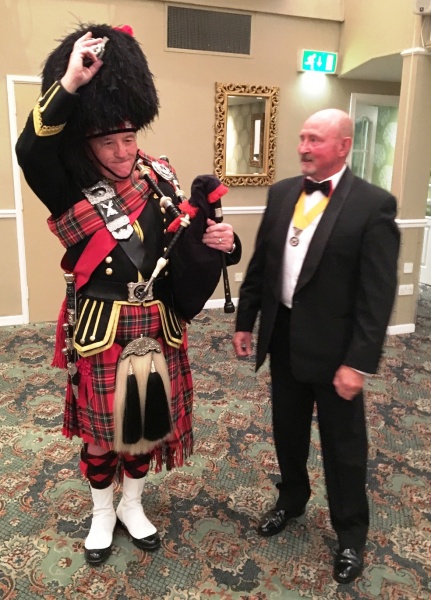 The Incoming President was welcomed in spectacular style by Pipe Major Michael Kelly of the Swansea Pipe Band.
In a simple ceremony Rotary Dr.Bob Broughton presented the Rotary Bell as a symbol of the transfer of the Club's administration to Rotarian Major Wayne Morgan, who promised, to the best of his ability, to administer the duties of office of President in a business-like manner and in accordance with the Club's Constitution and Bye-laws.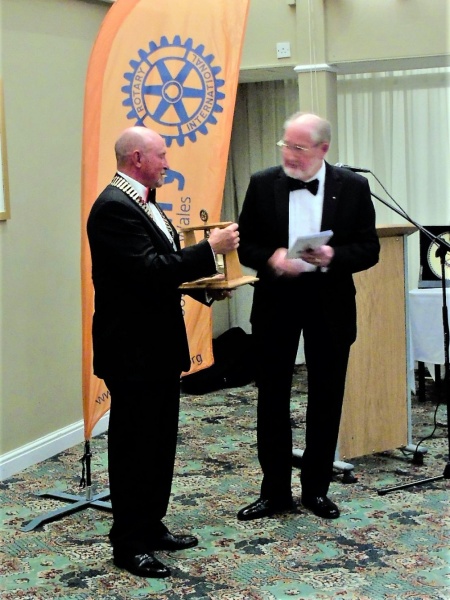 In handing over the Presidency, Rotarian Bob said that it had been a privilege and a joy to represent the Club over the past year. He expressed his sincere thanks to the Chairs and Members of his committees for all their had work and also to the families of members for the support given during the year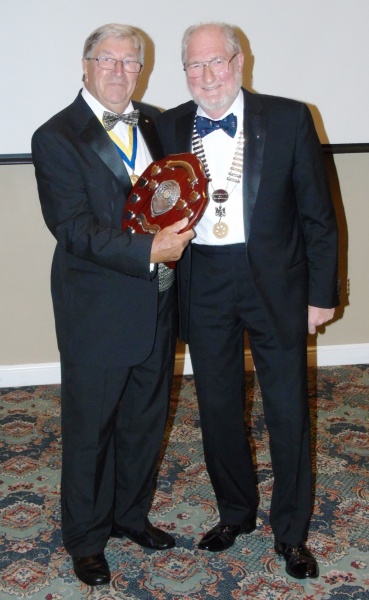 In his final act as President Rotarian Bob presented the Rotarian of the Year Award to Rotarian Roy Hodgkinson MBE, the club's administrator and IT advisor. Rotarian Bob said it is always difficult to single out an individual for recognition as there are so many dedicated Rotarians who are fully committed to the organisation but on this occasion he was recognising the work undertaken by Rotarian Roy in promoting the Club during the year.
New President Wayne thanked his predecessor for his steady hand at the helm throughout his year in office, which had been the hallmark of a calm and assured continuity, steady progress and harmony and expressed his wish to emulate the excellent work achieved during the past year and looked forward to working with his new team, his President Elect Rotarian Hopkin Joseph and his President Nominee Rotarian Brian Roberts and the Chairs and Members of the various committees.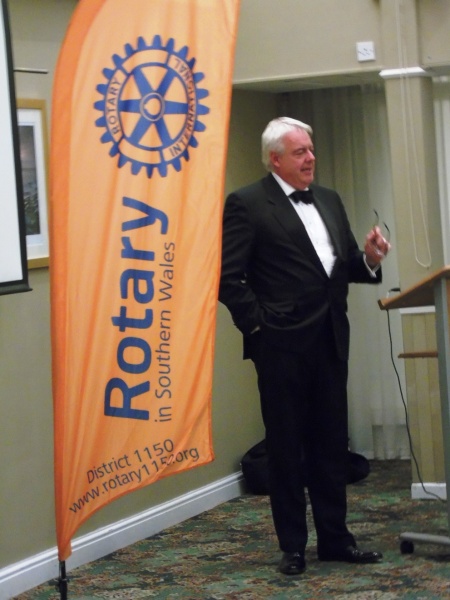 The Rt.Hon.Carwen Jones AM, an honorary member of the Rotary Club of Bridgend and a Past Rotary Ambassadorial Scholar, addressed the new President and the Club.
Rotarian Alan Reeks
Hopkins Ramble June 2017

The June ramble started from the White Horse Inn Coychurch on Wed 28th June at 11.30am.Rotarians Edgar Burt, Alan Reeks plus dog, David Hubbard plus dog, Robin Bratton, Wayne Morgan, Mike Lewis and Hopkin Joseph.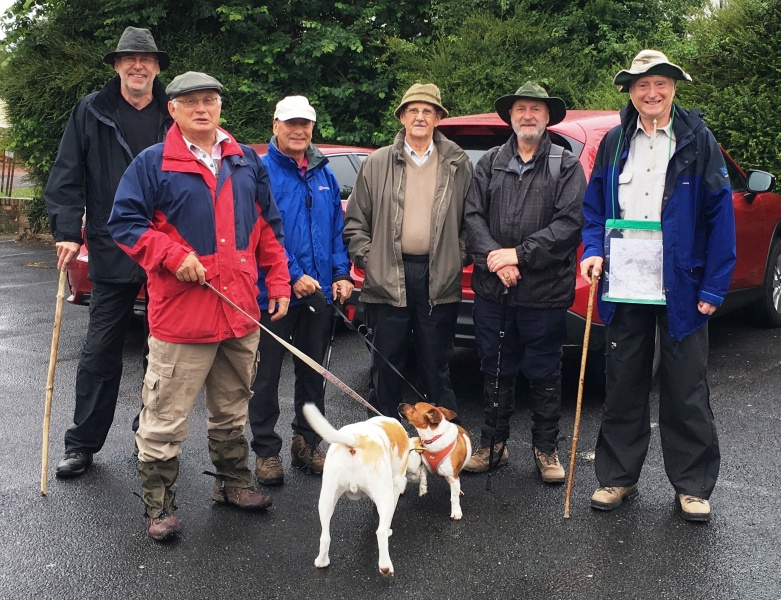 President Elect Wayne Morgan M.B.E was the volunteer photographer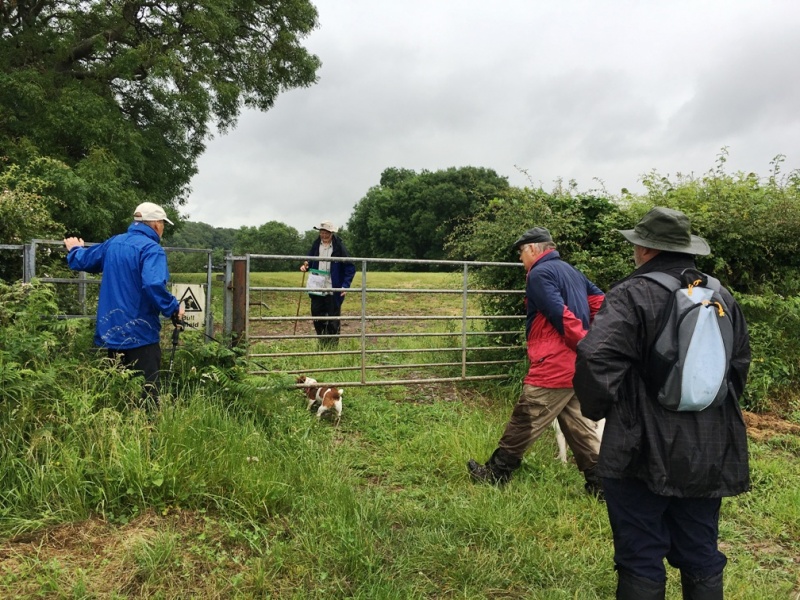 " Do we all have to go under the gate? "
The walk followed the footpaths northwards out of the village, crossing the railway and through fields up alongside the Nant Bryn Glas- a really attractive rural valley walk- to just the rear of Simonstone Farm. At that point an unplanned detour took place (commonly known as "loosing one's way") but just for five minutes .Aftrwards heading upwards and downwords but across fine countryside in an easterly direction to Coed y Mwystwr Ganol Farm. The prospect of calling for help loomed large after one walker fell. but the prospect of liquid refreshment at the White Horse worked wonders. As it had been overcast and raining during the walk it was decided to head back direct to Coychurch, passing on the way the main entrance to the Coed y Mwstwr Hotel. Back over the railway into Coychurch village seven Rotarians in need of liquid refreshment and food arrived at the White Horse at 1.15pm.
Poor weather but a really enjoyable walk.
Hopkin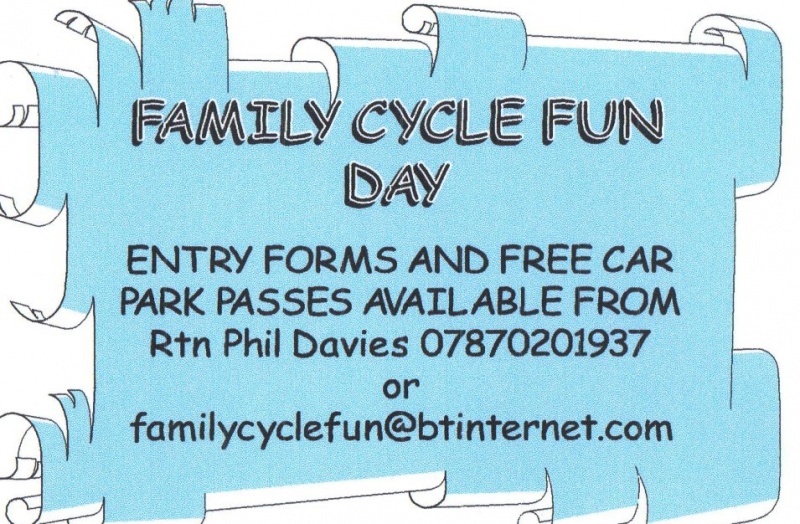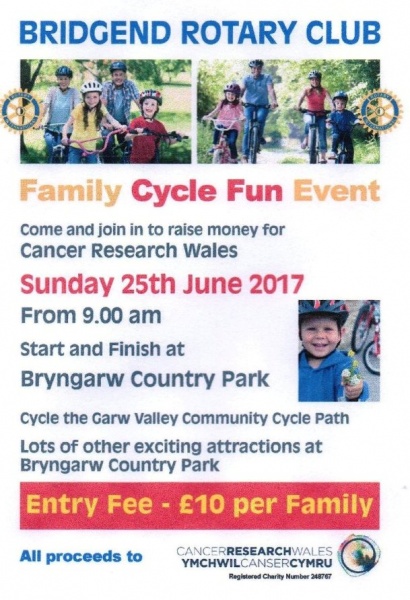 THREE ROTARY CLUBS CELEBRATE KIDS OUT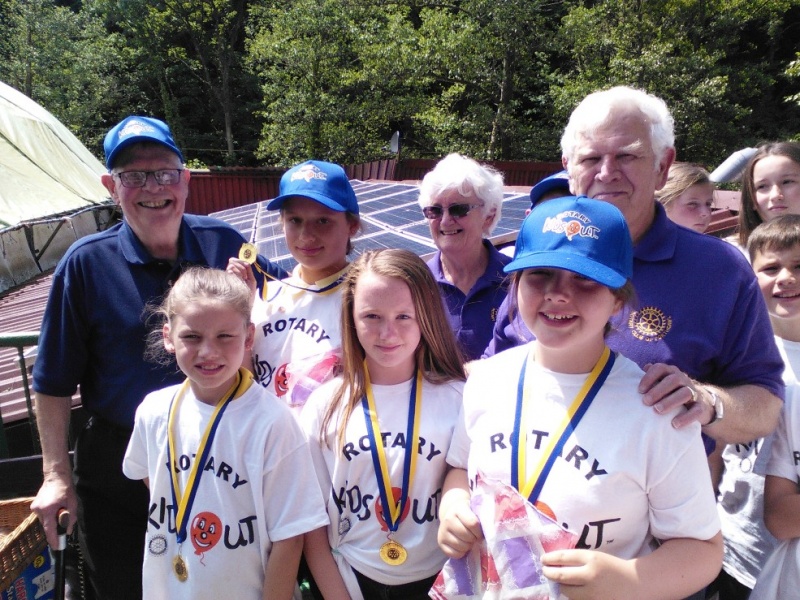 The Rotary Clubs of Bridgend,Maesteg and Porthcawl took 130 ,9 to 11 year old children in three coaches to The Gower Heritage Centre Parkmill on Wednesday 14th June for the Annual Rotary Kids Out Day, which is always celebrated on the 2nd Wednesday in June by Rotary Clubs throughout the UK and Ireland.
Each child received a Rotary Kids Out T-Shirt,Cap and Pen. The Gower Heritage Centre provided a varied programme including a film show in it's 22 seater cinema, Pottery Making and a Coracle demonstration,tour of the farm equpemeent,animals and much more,concluding with the traditional Duck Race with medals and prizes for four winners.
The Rotary Clubs of Bridgend, Maesteg and Porthcawl are extremely grateful to the magnificant staff at the Gower Heritage Centre Parkmill also to Express coaches for their continued support of this annual event.
Neil Solman
Rotary Meeting Monday 19th June 2017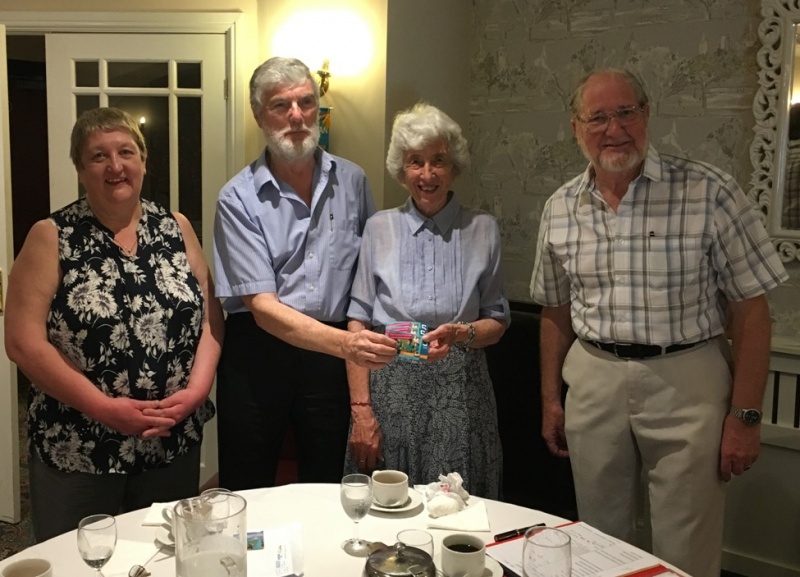 Photograph shows Ella Dodd, Chair of the Board of Governors of Coety Primary School, accepting the Sainsbury's Active Kids Vouchers collected by the Rotary Club of Bridgend members, together with Jackie Thomas of Sainsbury's in attendance.

Rtn William Williams
ROTARIAN BYRON MORGAN JP REMEMBERED JUNE 2017

Bridgend and District Fishing for the Disabled and the Rotary Club of Bridgend remembered Past President of the Rotary Club, Rtn Byron Morgan JP , on the 14th June in the form of a fishing competition for the disabled which was held at the Seven Oaks Fishery, Ystradowen.
Rtn Byron Morgan was a founder member of the fishing club which is now in it's 21st year.
Teams from Heronsbridge School, Cwm Calon Day Centre and the Bridgend Resource Centre competed.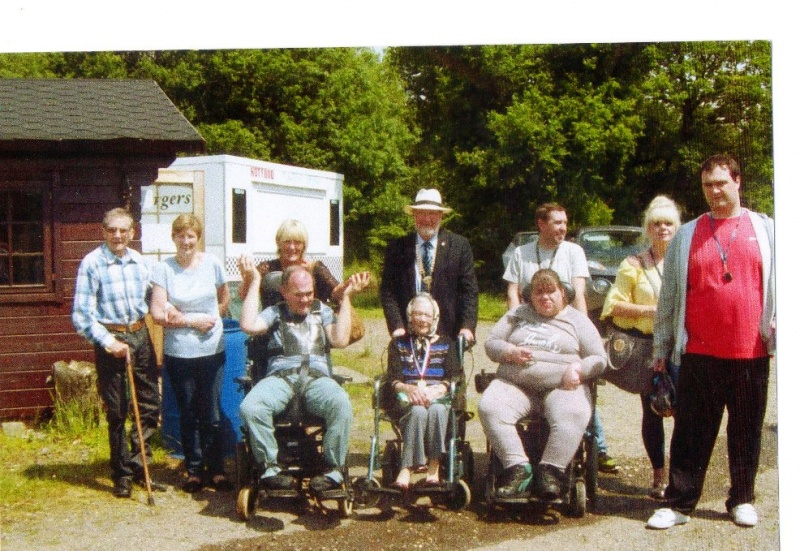 Grace Dodge Bridgend Resourse Centre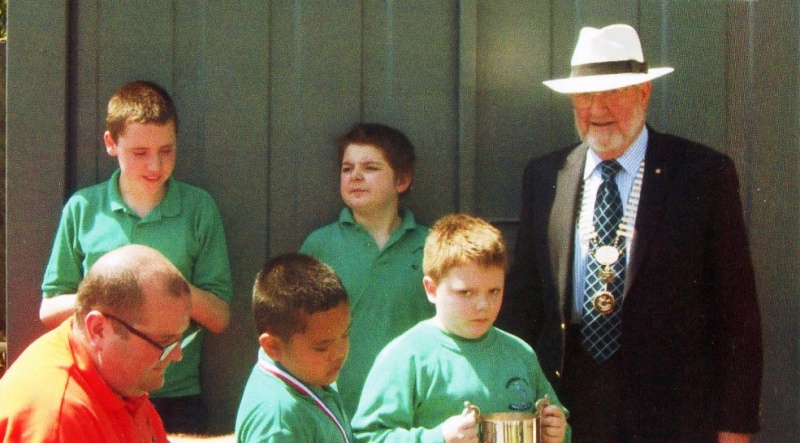 Kieran Payne Captain Heronsbridge

With a winning team catch of 16ib 8oz the Byron Morgan Memorial Cup was presented to Kieran Payne the team captain of the Heronsbridge School team by the current President Dr Bob Broughton OBE, who also presented a medal to Emmanuel Vista for the team's largest single catch of 2ibs 8oz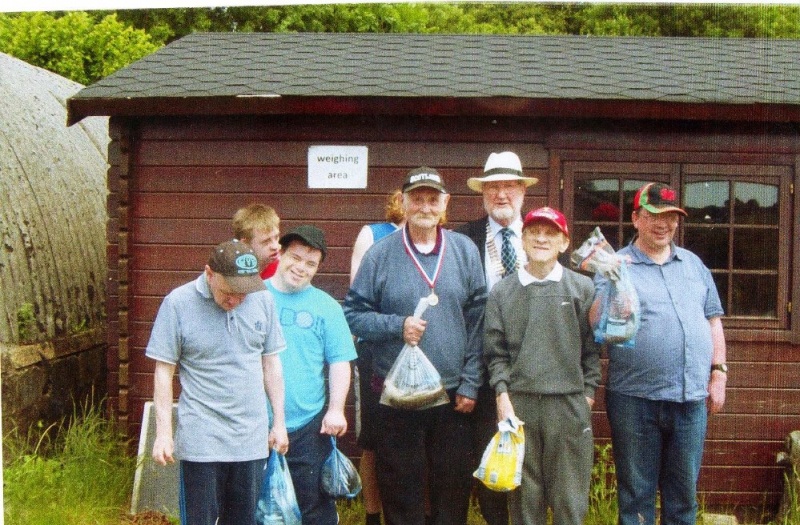 Mal Watkins Cwm Calon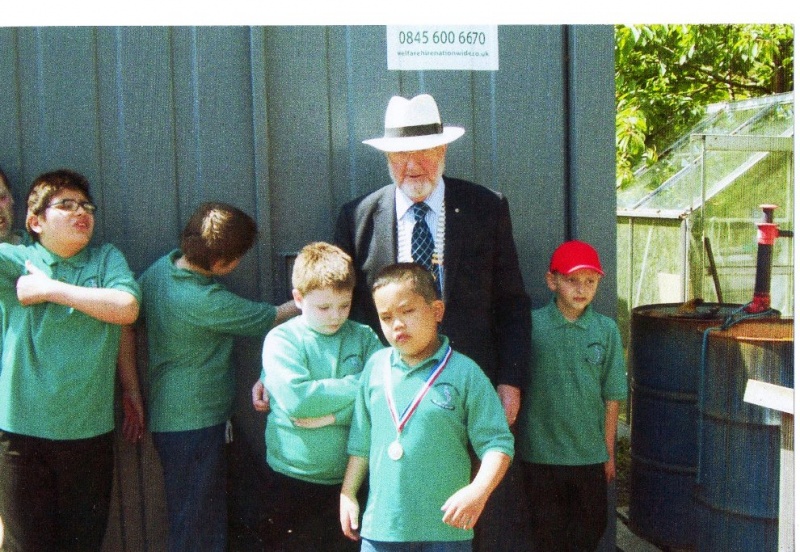 Emmanuel Vista Heronsbridge School

Medals were also presented to Grace Dodge of the Bridgend Resource Centre, who had the heaviest individual catch of the day at 3lb 2oz and Mal Watkins of Cwm Calon for their respective teams heaviest individual catch.
Rtn Byron Morgan had a larger than life personality, known as "Morgan the Blind" because of his association as Headmaster of the Bridgend Blind School, or "Ponty" . His ashes are spread under the posts on the Club House end of Pontypridd Rugby Ground.
Edgar Burt
BRIDGEND ROTARY JUNIOR QUIZ
The Rotary Club of Bridgend held its annual Junior Quiz at Tondu Primary School on Wednesday 17th May. It was an exciting event with pupils, parents,staff and Rotarians supporting the evening. There were four pupils from each school answering a variety of questions from a range of categories. Seven local primary schools entered the competition. These included Brackla, Litchard, Maes Yr Haul, Pencoed, Tondu, Trelates and Tremains. The pupils demonstated their wide range of knowledge to the delight of a packed audience who were all there to support their teams.
Pupils from years 3,4,5 and 6 represented their schools and answered four questions each. It was a very close score throughout the evening but on the final analysis the winners were declared to be Litchard Primary School. The winning team included Jacob Best representing Year 3, Anwen Thompson Year 4, Evan Richards Year 5 and Thomas Lewis Year 6.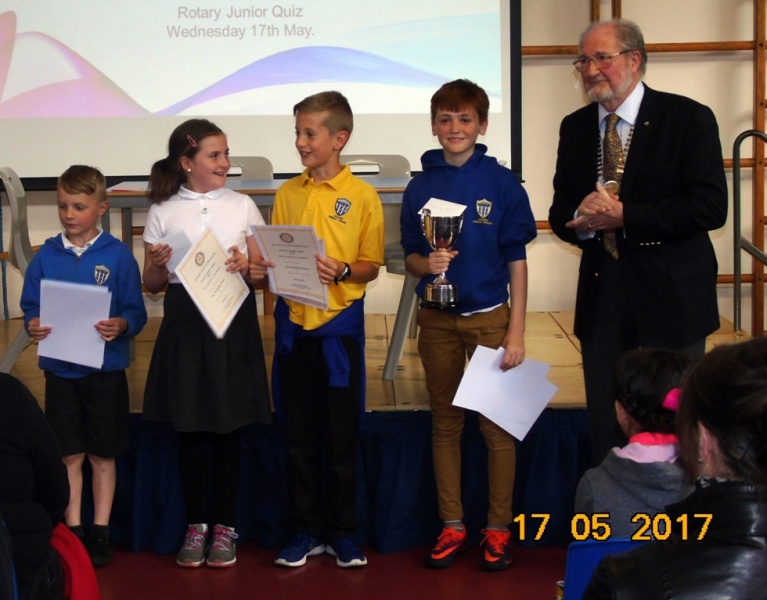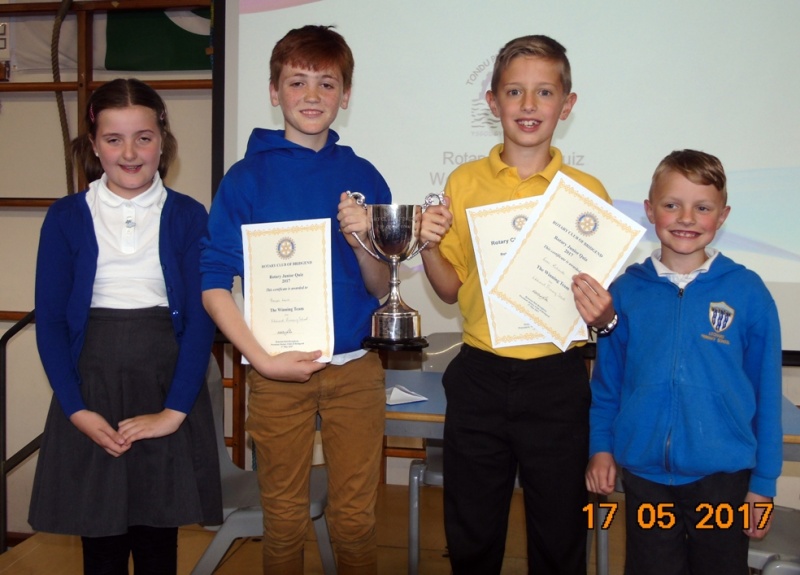 The winning team was congratulated by the President of Bridgend Rotary Club , Bob Broughton, and awarded with a Winner's Cup for the team. Vouchers and certificates for each member of the Winning Team were also presented. All other competitors received certificates. The Rotary Club would like to thank Tondu Primary School and the Head Teacher, Mrs Pilcher, for hosting the event. Thanks also goes to all of those people who attended to encourage the competitors and make it an exciting evening.
Gill Hale
Fishing for the Diabled May 2017
On the 17th May Heronsbridge School and Pencoed Comprehensive Special Unit went fishing at Seven Oaks Fishery at Ystradowen. Although the weather was poor with heavy rain it was ideal for catching fish.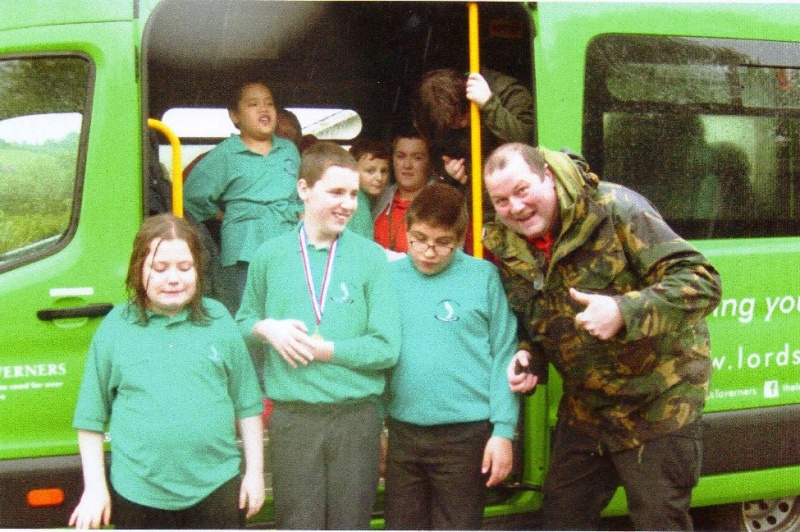 Heronsbridge School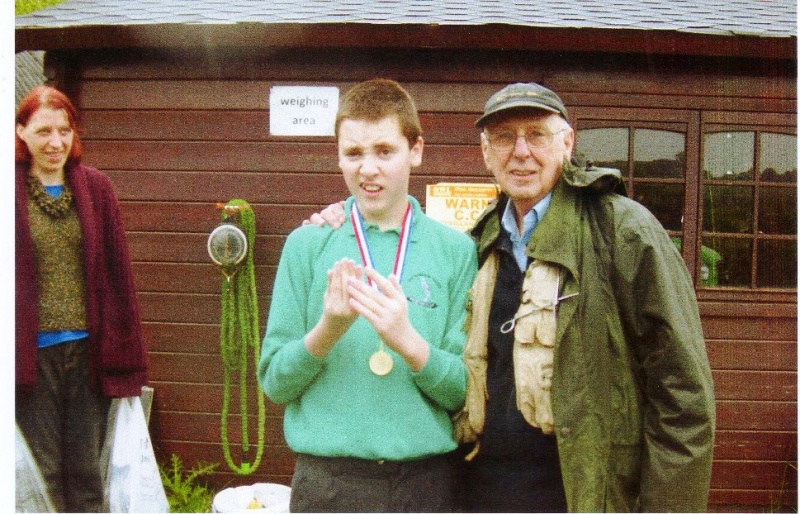 David Jenkins Heronsbridge School had a catch of 2lb 7oz.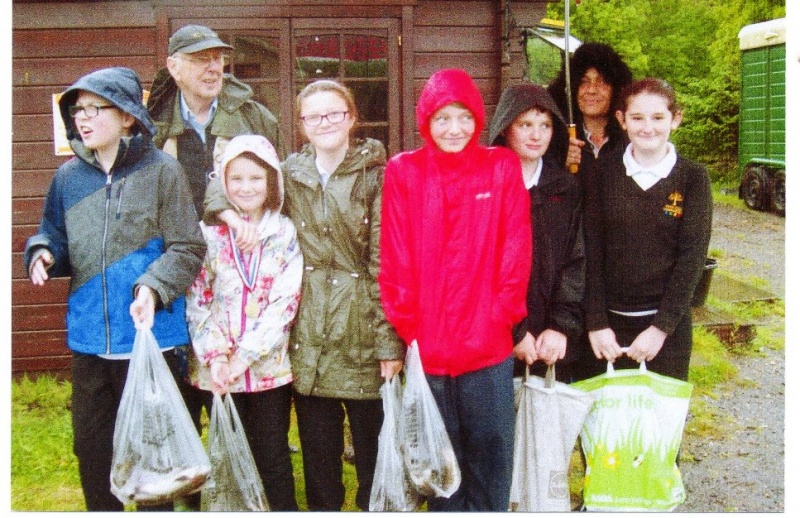 Lowri Gibon Pencoed Special Unit had a catch of 3lb 2oz and both competitors were presented with medallions by Dave Smith a regular supporter of the fishing club.
Twenty Four trout were caught on the day with a total weight of 29lb 7oz.
Edgar Burt
WOULD I NOT LIE TO YOU 19th May 2017

The Rotary Club of Bridgend held their 3rd annual " WOULD I NOT LIE TO YOU " evening at the Blandy Hall Laleston on Friday 19th May. this years event was to raise charitable funds for Bridgend Young Carers. The B Team comprising Rotarians Sonja Cain,David Hubbard and John Ward triumphed over the A Team of Rotarians Neil Solman,Jenny Myerscough and Alan Reeks by 8 points to six.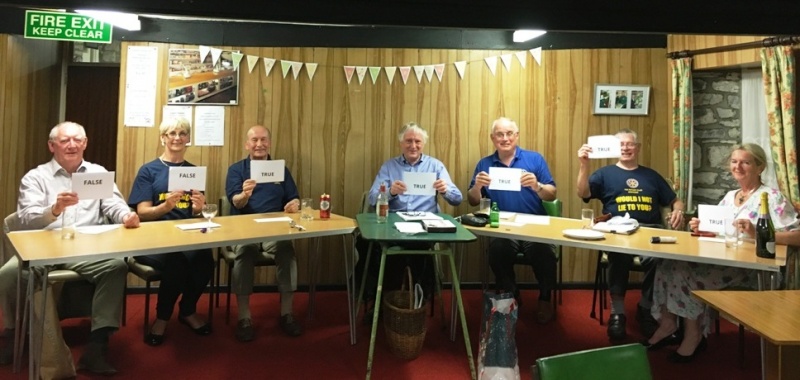 The audience was entertained and amused for 2 hours by several astonishing truths and countless believable lies. Special thanks go to Rotarian Hopkin Joseph for the control of the teams and Rotarian Jenny Myerscough for the excellent catering.
The enjoyable and succesful evening raised £417 for the Bridgend Young Carers .

Neil Solman
Fishing for the Disabled Competition April 2017
On the 16th April Bridgend and District Fishing for the Disabled and the Rotary Club of Bridgend took the Bridgend Resource Centre,Cwm Calon (Maesteg), Pyle and Porthcawl Life Centre and Valley Gateway Club (Sarn) fishing at Seven Oaks Ystradowen. Thirty trout were caught on the day shared between all the happy competitors.
CWM CALON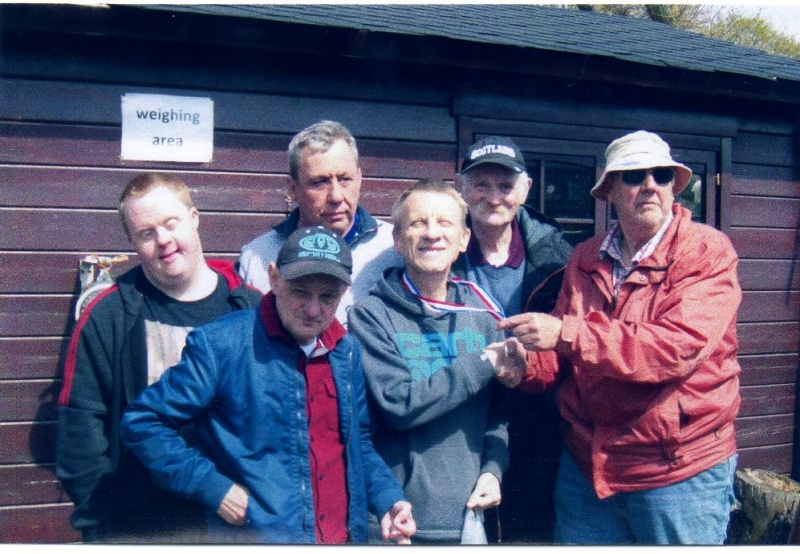 PYLE AND PORTHCAWL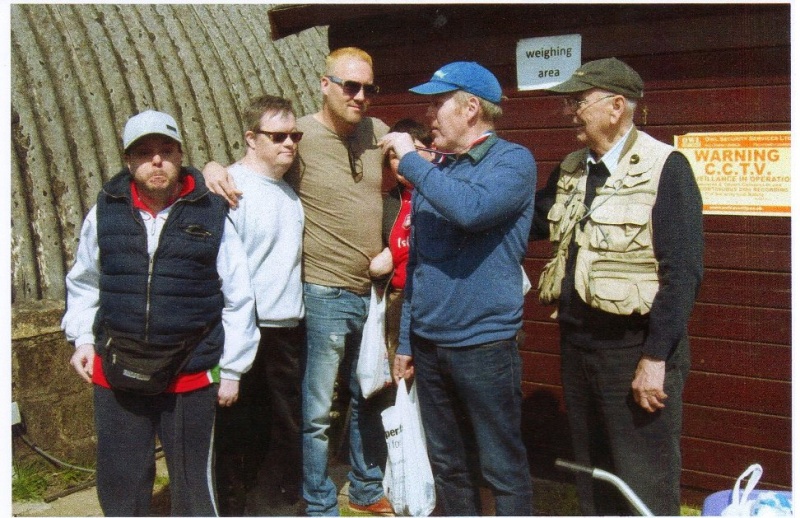 VALLEY GATEWAY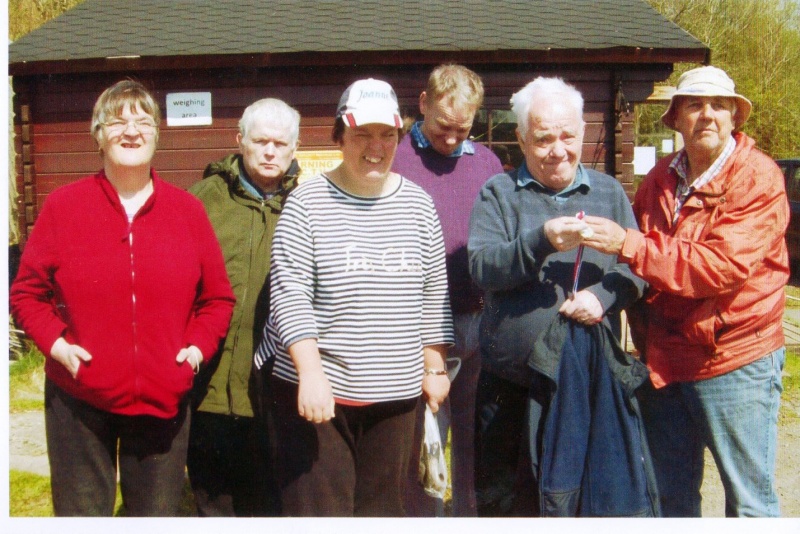 Edgar Burt
Hopkin's Ramble to Parc Calon Lan on Wed 26th April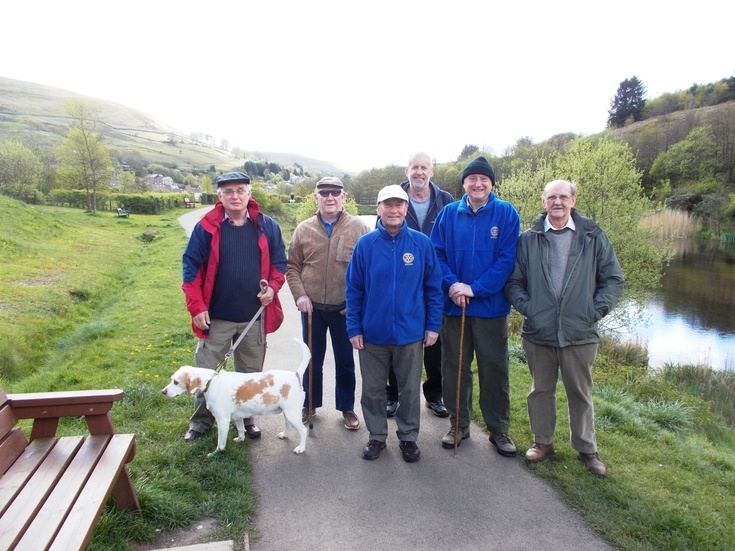 Parc Calon Lan in Blaengarw is named to recognise that the text of this most well known of Welsh hymns was written in Blaengarw over 100 years ago.
The park and the surrounding countryside along both sides of the Garw river between Blaengarw and Potycymmer have been created during the last 20 years by extensive landscaping of former colliery sites and waste tips.
Several lakes have been created by the weirs on the Garw river holding back the now clean water.There are also cycle tracks, mountain bike trails and walkway paths.
On a sunny morning a stroll along the path's surrounding the lakes was enjoyed by Rotarians Edgar Burt, John Ward, Alan Reeks, David Hubard, Robin Bratton and Hopkin Joseph. Good exercise too for the dogs which Alan and David had brought with them. John Ward was able to point out the Coll over which he walked during his miss-spent youth many, many years ago returning home to Maesteg from Pontycymmer. A story perhaps for " Would I Not Lie to You".
A local resident pointed out to us the Coll at the top end of the valley which would take you over to the Afan Valley. Perhaps a ramble for another day, perhaps John would have another longer story to tell.
After ninety minutes we arrived back at the car park and drove to the Llangeinor Arms for an enjoyable pub lunch.
Hopkin
BRIDGEND PRIMARY SCHOOLS CROSS COUNTRY

The annual Presentation and Fun Day of the Bridgend Primary Schools Cross Country was held at Bryntirion School last Saturday.
The trophies were presented by the President of the Rotary Club of Bridgend, Dr. Bob Broughton O.B.E.

Over 250 children from the participating local schools took part in four contested races in front of a large crowd of parents and supporters.
Oranisers Mel James and Neil Clode (Head teacher of Llangewydd Junior School) thanked Rotary for their continuing support and paid tribute to the enthusiasm of the children and the support of parents and teachers.
Rotary President Bob Broughton thanked the organisers Mel and Neil for their valuable work and the presented cups to the winning teams and trophy running shoes to individual winners.
The winning schools were as follows. Form 3+4 Boys,points shared by Maes Yr Haul Primary and Ysgol Gymraeg Bo Ogwr Primary. Form 3+4Girls winners were West Park Primary. The individual winners were Boys Ioan James (Maes Yr Haul) and Aneira Phillips (St Brides Primary)

In Years 5+6 Boys the winning team was West Park Primary and the succesful Girls Section winners wereYsgol Cymraeg Bro Ogwr Primary. Individual winners trophies going to Trystan James (Maes Yr Haul) and Anna Rose Merchant (West Park). The school collecting the most points to win the overall shield was Ysgol Gymraeg Bro Ogwr Primary School.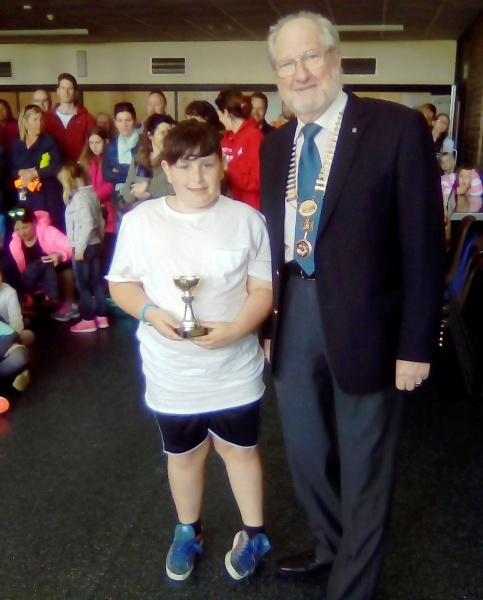 A Special Best Endeavor trophy was presented to Cohen Hicks of Faldau Primary School.
Rtn David Hubbard
Evening Meeting Monday 3rd April Guest Speaker Debra John

"Aspects of the First World War"
President Bob Broughton welcomed Debra to our Rotary Meeting.
At our evening meeting in the Heronston Hotel on 3rd April we were entertained by Debra John, giving a dramatised account of "Aspects of the First World War".
Through the eyes and experiences of five historical figures, she traced significant events, happenings and horrors from 1914 to 1919.

Hedd Wyn (Ellis Evans) Poet, George Butterworth Composer, John Campbell Miner, Hertha Marks - Ayrton Scientist and Nurse Betty Clement had their lives markedly and often tragically affected Debra's composition and fluid dramatic delivery had members and guests gripped with attention and made for a very memorable evening.
Vote of Thanks was given by President Elect Wayne Morgan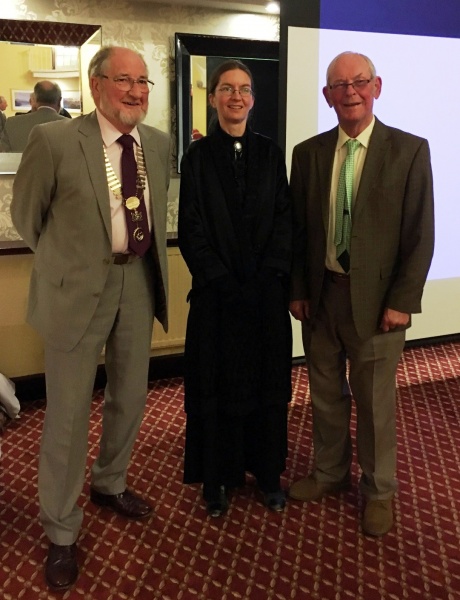 President Bob Broughton,Debra John and Rtn Allan Jones Speaker Sec.


Recently Retired Rtn Mike Lewis has realized his lifetime ambition

On 31st March this year I began to fulfill an ambition I had held for fifty years - to sail on a tall ship. During my teenage years, the Sir Winston Churchill was launched as a sail training ship for young people. I was quite disappoined to learn that places on this ship were granted to delinquents, and despite my best efforts I never managed to reach delinquent status. Then school exams, college, career, marriage and family took over my life and it was only on retirement that I thought now my chance had come.
I retired on 31st August 2016 and by 14th September I had secured a place on Bessie Ellen, a west country trading ketch built at Plymouth in 1904. For those of a technical bent the ship is 35.5 m in length, a deck length of 25.6 m with a beam of 6 m and carries 330 m.sq of sail. Bessie Ellen is owned and skippered by Nicky Alford, a Cornish woman who has sailed all over the world and whose expertise and tuition inspire confidence. She is also a descendent of Captain Willian Bligh, late of the Bounty. There was no danger of mutiny.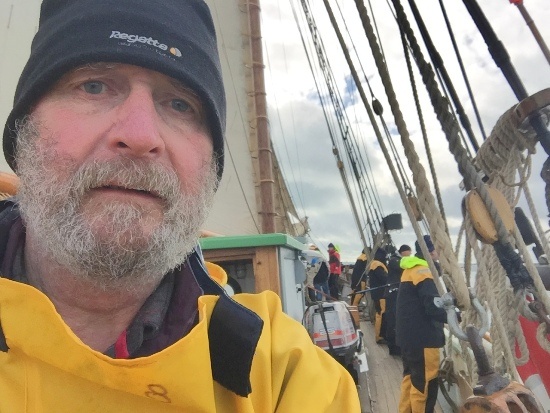 So, along with twelve others, mostly of a similar age, and six crew, we set sail from Fowey on the south coast of Cornwall for a weekend's sailing. The idea is that the guests join in with all aspects of sailing the ship, under the guidance of captain and crew. After setting sail on the Friday evening, we were forced to turn back after an hour. Sea conditions were interesting, and a south-westerly wind meant we were unable to make any headway. At times it felt as if the ship was almost vertical amongst the waves and some words from the hymn "Eternal Father Strong to Save" did cross my mind.
Once safely berthed at Fowey, we enjoyed a hearty supper, even those who had lost their tea during the previous few hours sailing.
On the Saturday morning we were once again under way by 8.15 and heading towards the Lizard. During this day of moderate seas and good wind, we all experienced hauling up the sails, taking the helm and generall sailing the ship. For an elderly lady Bessie Ellen proved to be pretty spritely and my greatest privilege was to take the helm for an hour and a quarter whilst we were ripping along at 16 knots.
During my turn at the wheel we also tacked through 90 degrees, to bring us along side the Cornish coast, and we eventually dropped anchor in the Helford River estuary for the night. Most people visited the pub, but believe it or not I turned down this trip in favour of a shower and a chat with the ships cook, Peter. When you have a dozen gentlemen of a certain age all wanting to use the facilities at 7 am and with only two bathrooms, you have to keep your ablutions to the minimun so a leisurely shower was a rare luxury. Sleeping accommodation was in the former cargo hold with twelve bunks, each with a privacy curtain and storage area. Not luxurious but comfortable enough, and after a day's sailing and a good supper, sleep came easily enough.
The food on board was exceptional, with wine and beer also available. I had also taken a bottle of single malt to share, which made for a very convivial evening. The following morning we pumped out the bilges, scrubbed the decks, hoisted the anchor, hauled up the sails and got underway, sailing along the coast back to Fowey by 4 p.m.
For me it was a fantastic experience and one I would like to repeat before too long. I was quite proud of my shifts at the helm and was asked to take the wheel on several occasions. I was also quite pleased with my knot work and coiling and stowing of roped. But most of all, the thrill of sailing in a tall ship was beyond description. There is no intrusive noise from an engine, and curious dolphins approach and play.
If you have a long held ambition, whatever it may be, I would urge you to go for it. Life is too short to be boring, and it is not a good idea to be left with a feeling "I wish I had done that". For those interested have a look at the website www.classic - sailing.co.uk which give details of several other tall ships and their schedules.

Mike Lewis

Hopkins Ramble Wedneday 29th March 2017

Although the weather forecast was heavy rain, when Rotarians Wayne Morgan, David Hubbard, Alan Reeks, Edgar Burt and Hopkin Joseph, plus two dogs, all met at the Heritage Coast Centre, just off Southerndown Beach, at 11.30 a.m. on Wednesday 29th March it was dry but overcast.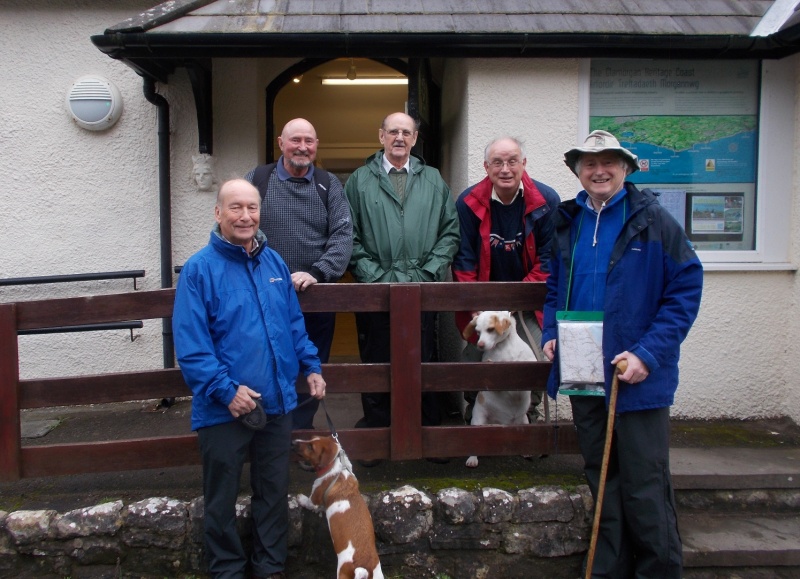 We first spent 10/15 minutes inside the centre, which displayed some interesting wall panels setting out the history of the immediate area (from iron age forts at Witches Point to the Roman Times, through the Norman invasion and how from the 16th century the Wyndham family - later enobled as Earls of Dunraven - developed the area, including building in the 18th Century what became known as Dunraven Castle, albeit a castellated manor house - with gardens and deer park). We set off then along the footpath to St.Brides, passed the bottom gardens of Slade House, and through a gap in the wall entered the deer park: an area of about 100 acres enclosed on three sides, west, north and east, by a six foot wall and to the south bounded by the sea cliffs overlooking the Bristol Channel. We walked inside the western wall in a northerly direction, then inside the northern wall heading east. It was great, in early springtime, to see in the fields we walked through ewes with two week old lambs and single suckler cows with two months old calves, but it did mean the dogs had to be on leads and sticks were quite helpful to keep the cows at bay. Mid way along the northern wall we came to the gate house, which would have formed an impressive carriage way entrance to the park leading on to the castle itself: a little run down now but easy to visualise horse-drawn carriages passing through. Walking further east we reached the highest point of the park - having started near sea level we were now some 150 ft. up and with panoramic views in all directions save north (none of us tall enough to see over the wall). It was a clear morning and Southerndown village with on to Porthcawl clearly seen, with two fields across the Bristol Channel (that visibility is seldom a good weather omen). We travelled to the north eastern corner of the park (where ruins of an old gamekeepers house are to be found) and then down the inside of the eastern wall to the cliffs. A really pleasant walk followed along the cliff top park (with much evidence of continued erosion) back to the site of Dunraven Castle (the buildings having been blown up 50/60 years ago due to fears about the cost of maintenance. The wall plaques within the former castle grounds gave indications of its former extent with fine views over Dunraven Bay. We arrived back at our cars at 1.0 p.m. just as the first spots of rain started to fall.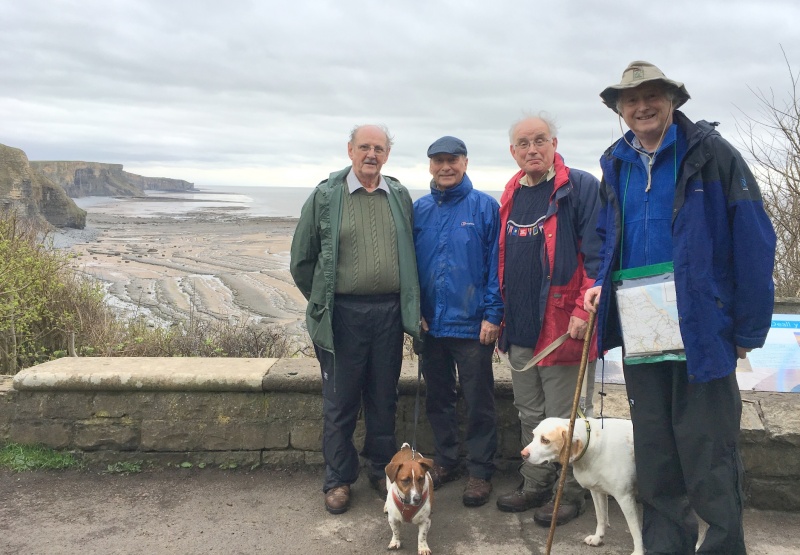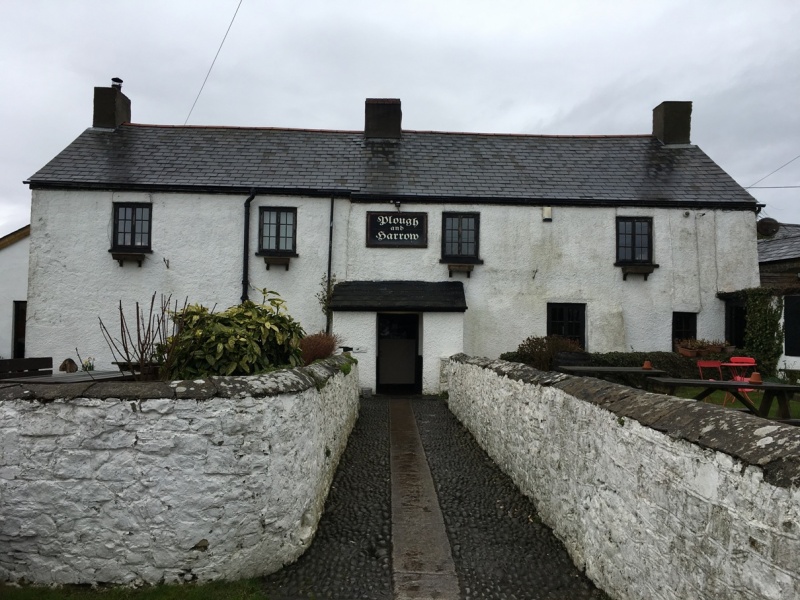 A short drive to Monknash where at 1.15 p.m., with heavy rain outside, we found a table inside the Plough and Harrow near the log fire and enjoyed a pint, some food and some good conversation.
Hopkin
ROTARY JUNIOR YOUTH SPEAKS 2017

On Thursday 16th March eight local primary schools competed to win the Rotary Junior Youth Speaks Shield. The event was held in Pencoed Primary School. The competition proved to be a successful evening again this year, with speakers impressing and entertaining the audience. The winner on the evening was Madeleine Pondevie from Croesty Primary School. However all of the competitors should be commended for the high standard of public speaking that they offered.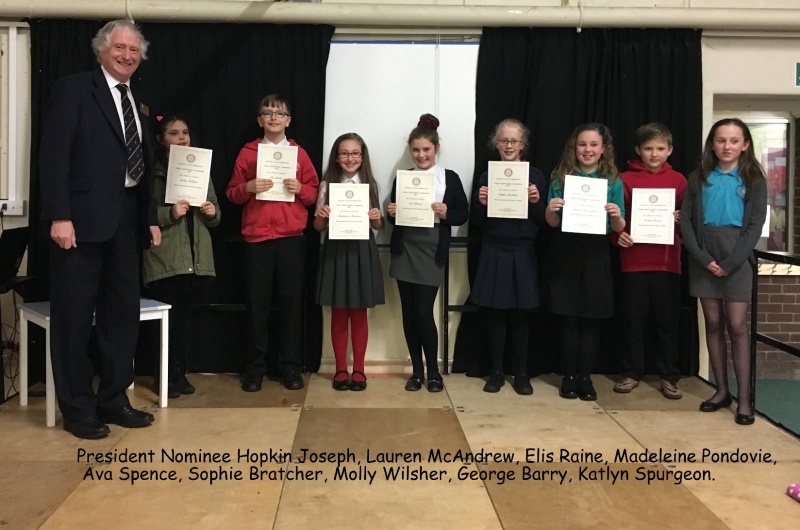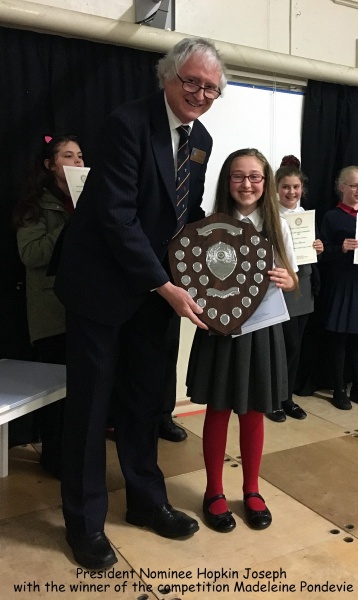 Pupils, parents, brothers and sisters, grandparents, teachers and Rotarians gathered in the anticipation of an exciting evening and they were most certainly rewarded with lively and entertaining presentations from the entrants. The audience was held spellbound listing to a list of speakers including Molly Willsher, Elis Paine, Madeleine Pondevie, Ava Spence, Sophie Bratcher, Lauren McAndrew, George Barry and Katlyn Spurgeon.
An extra delight to the evening was the return of Roan Goulden, who was last year's winner of this competition. He spoke about his pride in winning the competition last year and his public speaking skills and humour set the tone for the evening.
The eight competitors spoke on a range of diverse subjects, including "The gift of Dyslexia", "Why can't we all get along?", "Has technology changed the way we live?". The winner, Madeleine Pondevie, offered her intriguing views on "Nationality".
The Rotary Club of Bridgend would like to thank Pencoed Primary School for hosting the event. Thanks also go to all of those who took part and the many people who supported them, making the evening such a wonderful event.
We look forward to next year!!
Gill Hale
INTERACT CLUB OF PENCOED COMPREHENSIVE SCHOOL

Presentation of £250 to help finance the URDD NATIONAL EISTEDDFOD 2017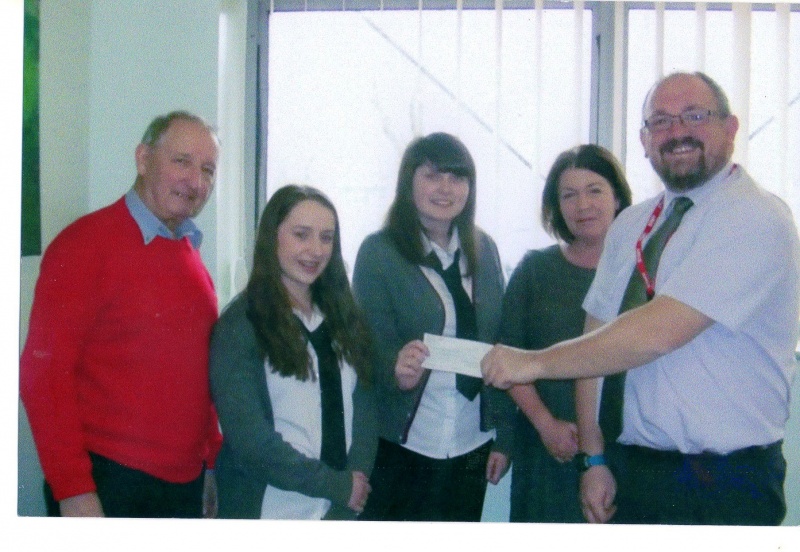 Left to Right Rotarian Dr. Graham Hapgood, Interact member Ellie Priddy, Interact President Chloe Jones, Welsh Teachers Elizabeth Sayers, David Owens.

The Interact Club of Pencoed Comprehensive School sponsored by the Rotary Club of Bridgend presented a cheque for £250 to their welsh school teachers. This will be used to assist in the funding of the Urdd National Eisteddfod to be held at the Bridgend College Campus between 29th May and 3rd June 2017.

Edgar Burt

K.P.C. YOUTH IN PYLE MEET BRIDGEND ROTARY

The Rotary Club of Bridgend welcomed Paula Lunnon to a breakfast meeting. Paula is the Chair of K.P.C.Youth in Pyle and thanked the Rotary Club for their continued support.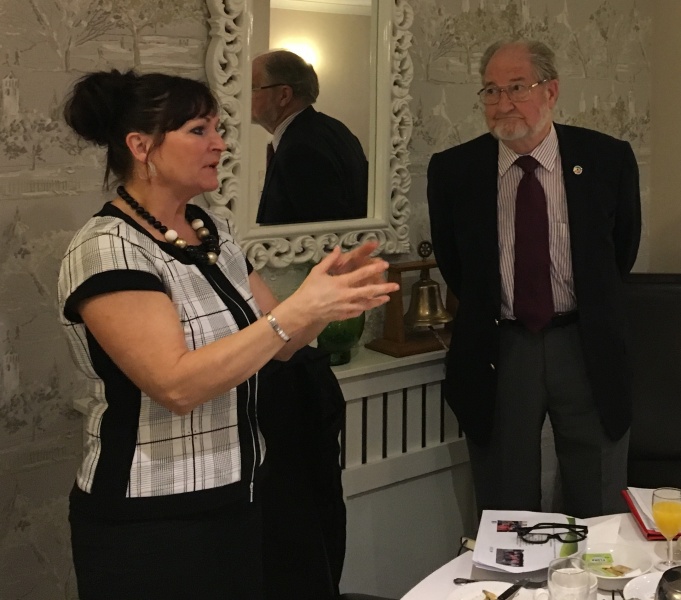 Paula explained that K.P.C. was established as a charity in 1998 by Helena Parobij following the tragic drug related death of her son, Brett. Helena did not want this to happen to any other young people so she set up the charity to give young people a safe and fun place to attend away from the dangers of anti-social behaviour, drug and alcohol abuse.
As well as the open access facilities for over 250 young people, K.P.C. provides support and training in I.T. for older people, an after school club for 5 - 7 years old and daytime sessions for the wider community covering over a dozen different training courses. They also offer training and support for local unemployed people.
Despite a very active fund-raising programmed and successful grant applications, K.P.C. have a shortfall in their budget for the coming year and the help provided by Rotary and many other organisation is very welcome and very necessary.
Rotary President Bob Broughton thanked Paula for her excellent talk and for the valuable work which K.P.C. do in the community.
David Hubbard
ROTARY CLUB INTERNATIONAL DINNER MEETING 6th March 2017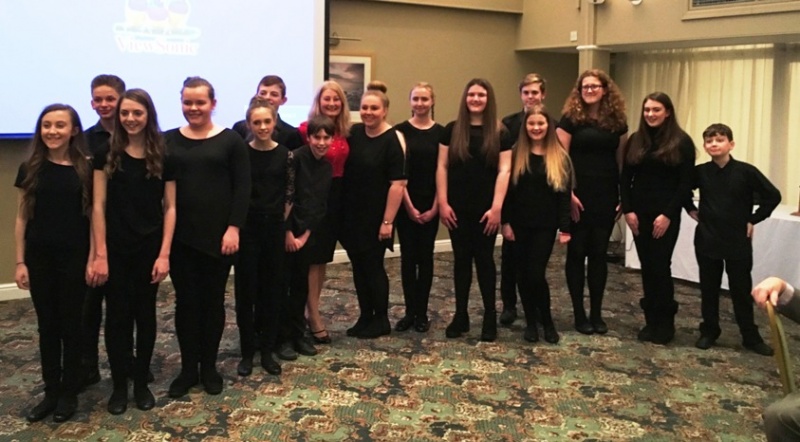 Students from Pencoed Comprehensive School Vocal Group
under the direction of Rhian Jenkins.
Rotary President Bob Broughton Kay Smith,Charlotte Jones,Rhian Jenkins

Interact President Chloe Jones Kay Smith Head of Drama and Performing Arts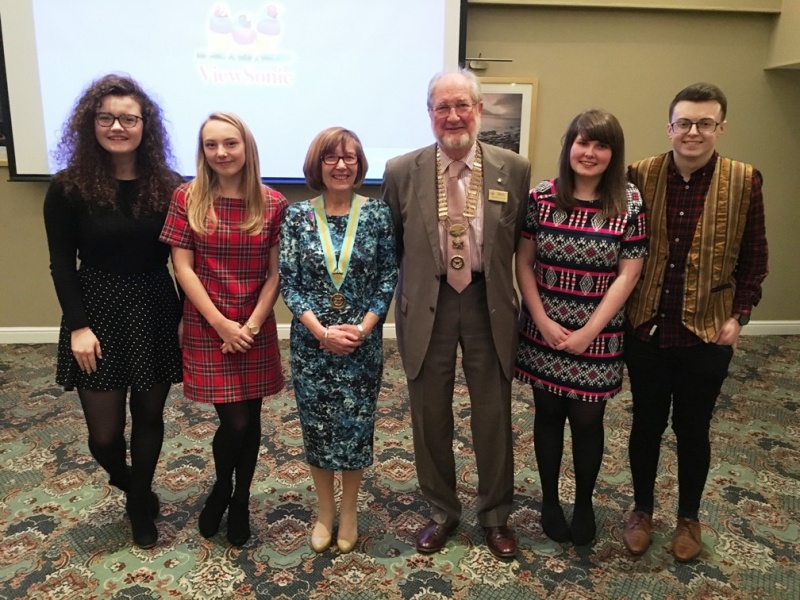 Jasmine Green,Charlotte Costello,ADG Liz Davies,Pres Bob Broughton,Pres Chloe Jones and Josh East.

At this enjoyable evening the Bridgend Rotary Club was pleased to welcome, amongst other guests including A.D.G. Liz Davies, the President and members of the Interact Club of Pencoed Comprehensive School.
Through their fundraising efforts they were able to present a cheque for £250 to Club President Bob Broughton for the purchase of a Community Aquabox. This is a portable water purifying system for use in poor communities worldwide.
The entertainment for the evening was provided by Pencoed Comprehensive School Vocal Group, Department of Music and Dramatic Arts. This choir comprising mainly Year 9 pupils was under the direction of Rhian Jenkins.
They all gave an absolutely wonderful performance, including a mesmerising rendition of the musical "Les Miserables" with many animated solos. The whole performance was very much appreciated by all who attended and was roundly applauded.
The Rotary Club of Bridgend are organising a Charity Concert in May with the Bridgend Male Voice Choir and are delighted to say that the choir from Pencoed Comprehensive School has agreed to be part of the programme. This is surely a concert not to be missed.
ROTARY SUPPORTS BRIDGEND COLLEGE - SEASONS RESTAURANT
February 2017
The Rotary Club of Bridgend members, partners and guests again celebrated Valentine's Day Dinner at the Seasons Restaurant.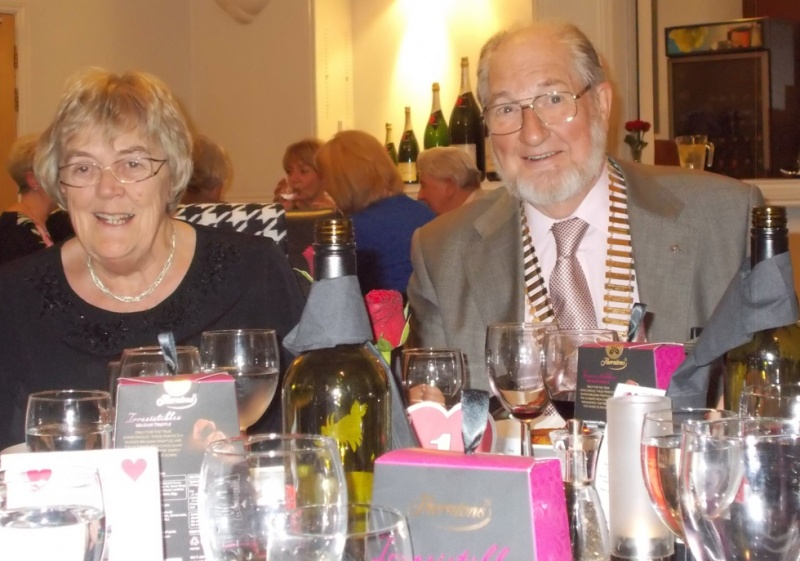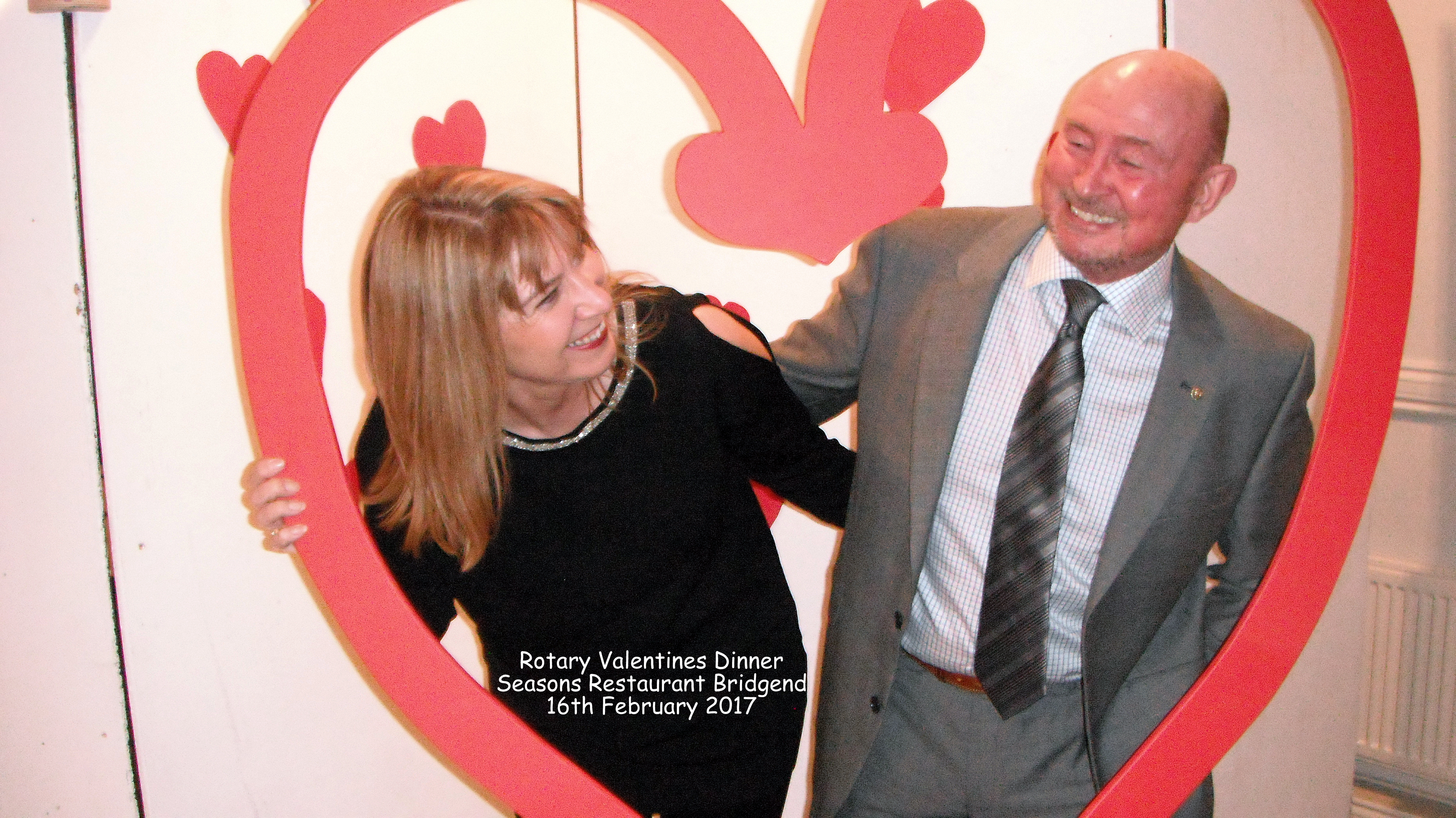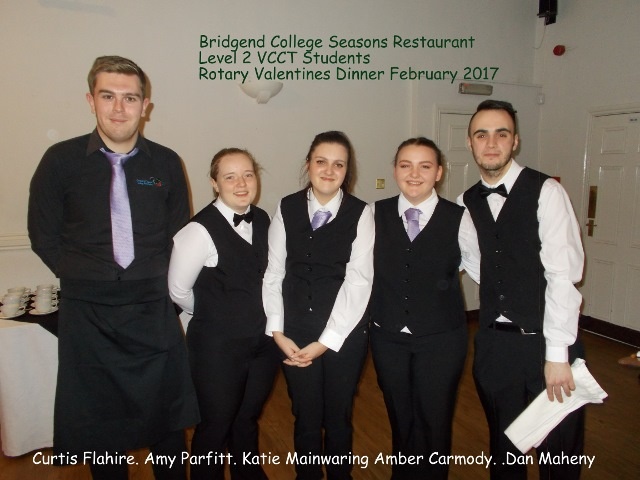 This was the 27th consecutive year of attending and quite by accident 27 diners attended.
Many thanks should go to the members of staff, Kim Jenkins, Neil Hughes, Tracey Bond and all the Level 2 VCCT Students, who managed, prepared and served an excellent three course meal.

Rotary President Bob Broughton thanked the staff and students for this special evening and also Rotary members for the continued support of this student career developing event.
Roy H
Guest Speaker Mr John Pearman "Welsh Speakers in Patagonia"

John Pearman was the guest speaker at our evening meeting on 6th February.
He gave a beautifully illustrated account of the 162 Welsh speakers who departed from Liverpool on the "Mimosa" in May 1865 in search of 'Y Wladfa' in Patagonia.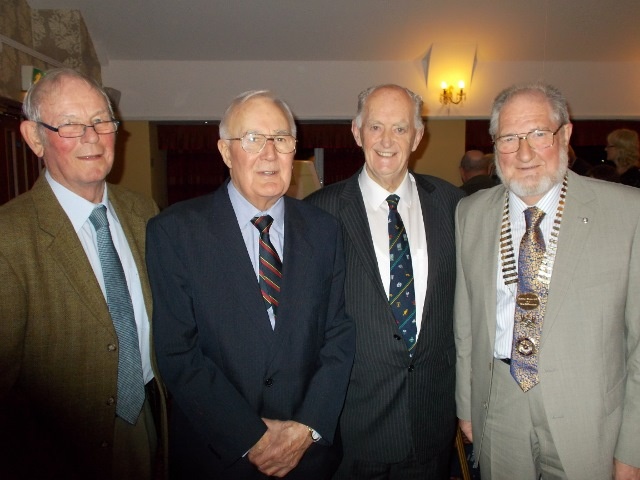 John traced their pathways through sparsely populated Native Indian land from Puerto Andes making progress with the Welsh language trade and frienships with the local peoples when possible.
The pioneering Welsh have influenced local traditions and the language is still evident particularly in the many chapels built in this predominantly Spanish influenced country.

John's talk was extrmely well delivered and received.
Allan Jones
Vote of Thanks given by Caron Jones
AREA YOUTH SPEAKS COMPETITION - FEBRUARY 2017

Bridgend Rotary Club sponsored Bryntirion Comprehensive School, the winners of the local round of the competiton. Their topic was "The Greatest Show on Earth", which offered a "Big Top" view of the recent Presidential election in America. The Chairperson was Caitlyn Jones, the Speaker was Olivia Davies and the Vote of Thanks was given by Mali Conway-Jones. Bridgend Rotary Club would like to thank the students for all their efforts and commitment in preparing for the competition. Many thanks also to their teacher, Mrs. Eloise Lowry, for guiding them through the task.
The Area Competition took place on Thursday 2nd February at Cowbridge Comprehensive School and was hosted by the Rotary Club of Cowbridge.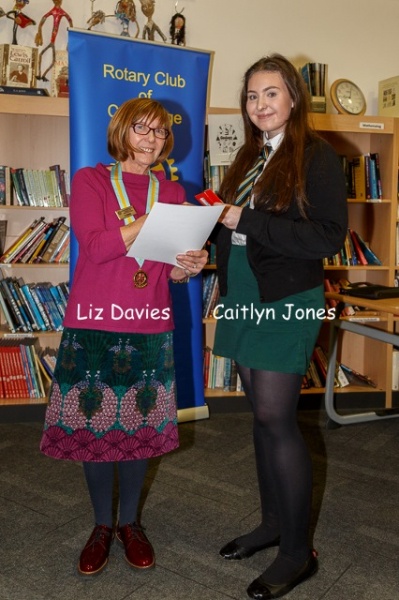 Three teams entered the competition including Maesydderwen Comprehensive School from the Swansea Valley, Cowbridge Air Training Cadets and Bryntirion Comprehensive School from Bridgend.
All three teams were of an excellent standard so the adjudicators, chaired by Mrs. Marjorie Page, had a difficult task. The eventual winners were Maesydderwen, whose topic was "The F - word: Is Feminism still relevant in the 21st Century?"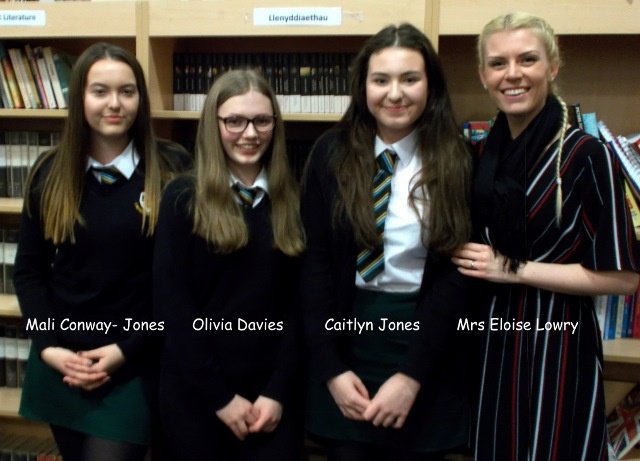 Nevertheless the Chairperson from Bryntirion Comprehensive, Caitlyn Jones, won the prize for "Best Chairperson" on the evening and so receiving a certificate and a prize. The prizes and certificates were presented by Liz Davies, the Assistant Governor.
Congratulations to all the competitors for such an entertaining evening.
Gill Hale
Hopkin's Ramble Wednesday 25th January 2017
On a crisp sunny January day,perfect for walking, Rtn Edgar Burt,David Hubbard and his dog,Mike Lewis,Hopkin Joseph and William Williams,tgether with guest Catherine Williams,all set out from the Prince of Wales at 11am to walk to Kenfig Castle. Walking northwards across Kenfig Burrows was easy walking initially but then the path became in part overgrown (probably we were walking "off piste") - in any event we finally stumbled on the ruins of the castle and must have walked over parts of the buried city!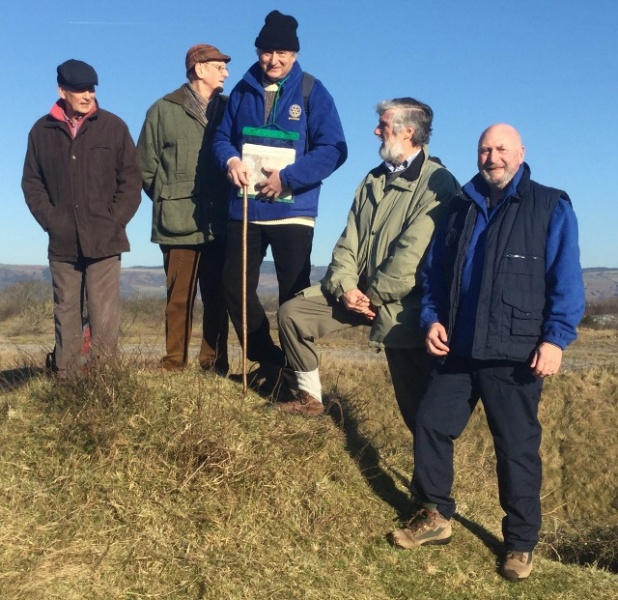 What a difference now to what the area would have been like in the 15th Century before the sand storms caused the settlement to be abandoned. We headed north westward immediately west of the now largely disused rail steel good years, crossing over the river Kenfig at it flowed under the railway, then into the goods yard to its western corner where we walked into Margam Burrows and headed to the north of the Kenfig river to the sea. Walking over sand we eventually reached the Haul Road (used in the 60's to carry stone from Cornelly Quarry to Port Talbot to build a new breakwater harbour) and turned to walk towards Sker crossing again over the River Kenfig on a footbridge. The route followed the Haul Road (but we did make one diversion on to the foreshore overlooking Kenfig Sands beach) until we reached the footpath which would take us almost directly eastwards through the dunes of Kenfig Burrows back to the Prince.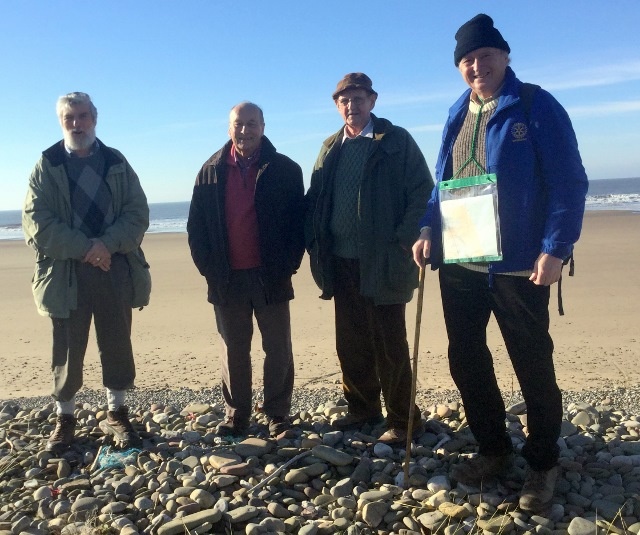 Just one mishap on the last section, Catherine stumbled and fell heavily. We arrived back at 1.15pm for a welcome drink at the Prince. It was nice for us all to sit down for a light lunch after the five mile stroll before Catherine and William left for A & E (she was well treated in Port Talbot Hospital - she has broken a bone in her wrist).
Hopkin
PRESENTATION TO THE URDD OF MONIES RAISED BY THE ROTARY CLUB OF BRIDGEND
Clwb Rotary Penybont - Cinio Hydref Sul 25 Medi 2016
Elin Mannion (Chair of the Bridgend Town Urdd 2017 Eisteddfod Fundraising Committee) and Sian Stephen (Development Manager with the Urdd) attended the Rotary Club of Bridgend lunchtime meeting on Monday 16th January 2017. Elin was able to say that nearly 75% of her Committee's target had been reached and that the whole fundraising for the Eisteddfod to be held at Pencoed in May was well on the way to raising the amount needed to assist in the funding to run the 2017 Eisteddfod. Sian gave a little background as to the range of competitions, the expected attendance at the Maes, the likely economical benefits and the likely cultural benefits that would flow from this year's Eisteddfod. The Eisteddfod moves to a difference location in Wales each year and was last in the Bridgend area some thirty years ago.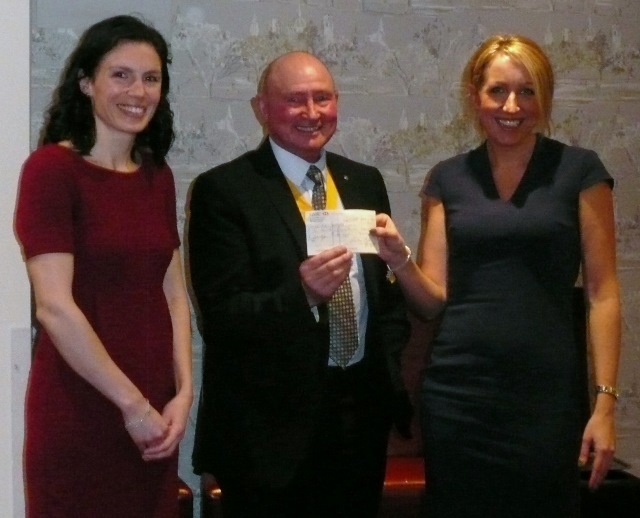 Vice President Wayne presented a cheque to Elin and Sian, being the balance of the £5,887.44 raised by the Rotary Club of Bridgend at an autumn luncheon on Sunday 25th September 2016.
Hopkin
First 2017 New Member Induction Robin Bratton

At the first meeting of the2017 New Year President, Dr.Bob Broughton inducted the latest recruit Mr Robin Bratton. Proposed by Rtn David Hubbard and seconded by Rtn Ken Freeland, Robin is already well known to the Club as he participates as an active Rotary Rambler and through his involvement in many local events.
Trained as an electrical engineer,Robin for many years managed a plant hire business in Bridgend.His classification is Electrical Engineer - Retired.
Robin's membership resolves the long standing riddle about "How many Rotarians does it take to change a light bulb ? The answer now is only one as Robin is by a good twelve inches the tallest member of the club.

We wish Robin well and trust he will have a long,useful and happy Rotary career.
Alan Reeks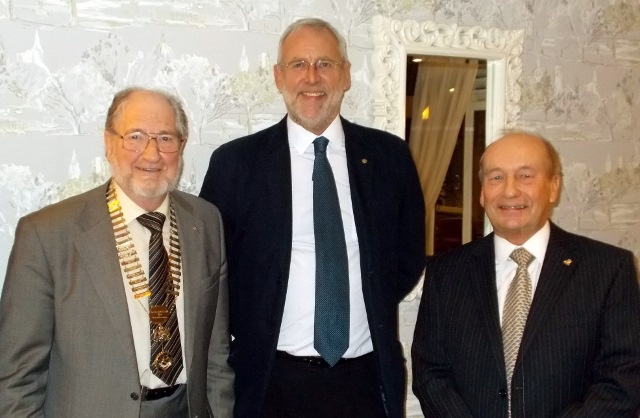 Alan Reeks
RECORD CHRISTMAS STORE COLLECTIONS 2016
The generosity of the public in Bridgend was evidenced again this year by the response to the Rotary Christmas collections at Tesco Brewery Lane, at Sainsbury's Junction 36 and at Tesco Cowbridge Rd.Over three weekends before Christmas teams of Rotarians (rostered by Rotarian Neil Solman) sometimes wearing festive clothing but always with a sleigh and reindeer (provided,fed and watered by Rotarian Gwyn Thomas,including christmas music and occasions with a Father Christmas) stood at the doors of the supermarkets with collecting buckets. A very large proportion of the Club membership were able to participate,and others helped in different ways (eg Rtn Gerald Bassett counted and banked the coin-no small task ). A super total of £5000 was collected, all to be donated to Bridgend based charities.
Hopkin
Foundation Chairman Dr William Williams PHF visit to California. Dec 2016

Whilst on holiday in California William and his wife Catherine had the opportunity to visitThe Rotary Club of Lomita-Torrance Airport.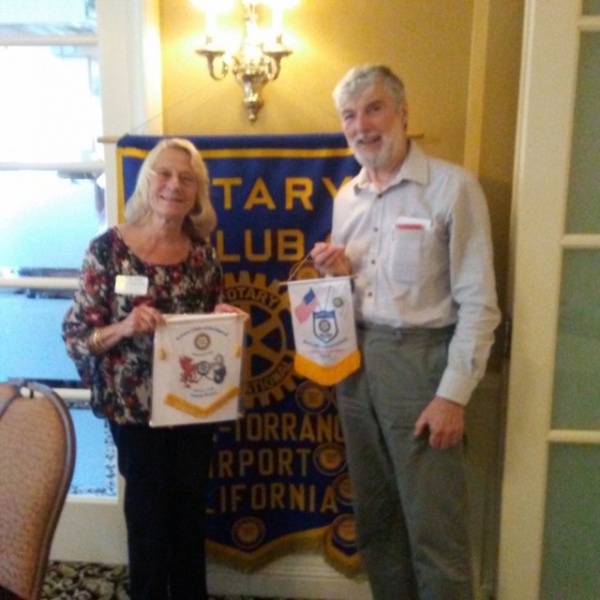 During the visit an exchange of club banners took place between William and Secretary Elaine Thompson as seen in the photograph.
ROTARY CLUB OF BRIDGEND CHRISTMAS COLLECTIONS AND SINGING SANTAS 2016.

The Rotary Club of Bridgend wishes the people of Bridgend a very Happy New Year and thanks all who have given most generously to the Club's Christmas Charity collections.
Once again the Rotary Club of Bridgend has used the celebration of Christmas to raise funds to assist those who are less fortunate, or in need, in the Bridgend area, and all the monies the Club collects at Christmas time are used to support local causes and charities.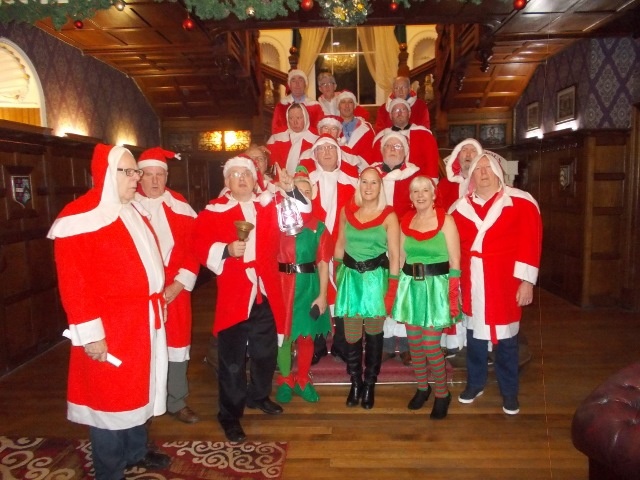 The Rotary Club would like to thank Sainsbury's and Tesco Stores for their assistance in providing stabling for the Rotary Sleigh and Reindeer during the collections at their stores.
The Rotary Club of Bridgend Singing Santas and their friends in the Bridgend Male Choir (assisted by a number of elves who were given the night off) performed their own blend of Christmas songs and carols in numerous establishments across the borough. The Santas gift of their time and the support they receive from the people of Bridgend actively reflects the true meaning of the festive season.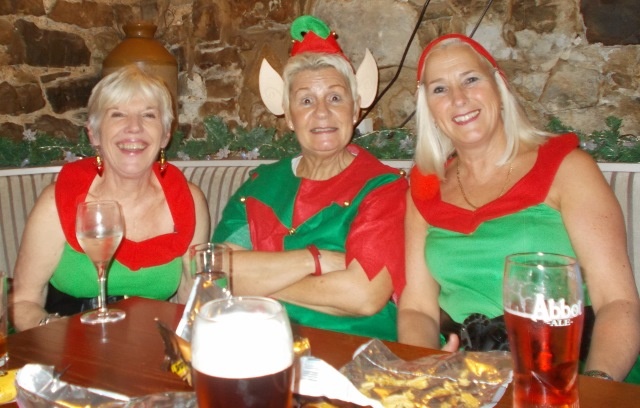 Rotary is a fellowship organisation dedicated to helping those less fortunate than themselves. Its motto is "Service Above Self". If you are interested in joining or would like to find out more about Rotary contact www.rotarybridgend.org.uk or the Secretary of the Rotary Club of Bridgend on 01656 652181.
Alan Reeks
BRIDGEND ROTARY YOUTH SPEAKS
The exciting competition was held at Brynteg Comprehensive School on Wednesday 16th November. Local teams from Bryntirion and Brynteg Comprehensive Schools were represented by extremely competent students to battle it out for the Rotary Youth Speaks Shield for 2016. The speakers had chosen interesting topics of discussion including "The Arts Subjects should have a more prominent place in the school curriculum", "The Greatest Show on Earth" and "As a result of media pressure young girls up to the age of 16 are growing up too fast". The attention of the audience was held throughout the evening, as the standard of competition was so high. The whole evening was thoroughly enjoyed by parents, students, teachers and Rotarians. The adjudicators was faced with a difficult task of choosing the winning teams.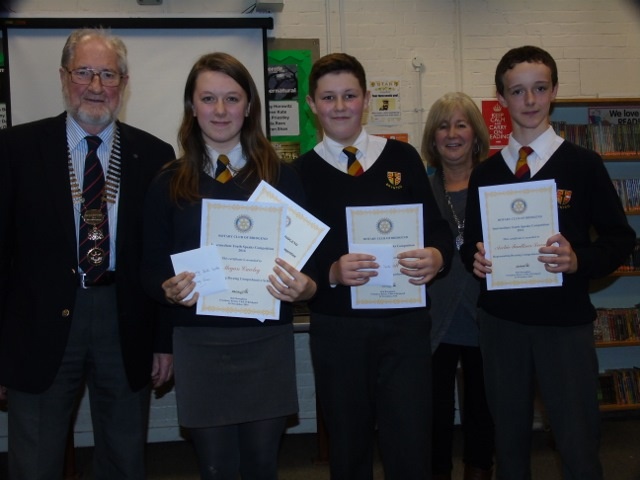 All competitors were praised for their performances but the winner of the senior Rotary Youth Speaks Competition was Bryntirion Comprehensive School. The Chairperson was Caitlyn Jones, the Speaker was Olivia Davies and the vote of thanks was given by Mali Conway-Jones. The winner of the Intermediate Youth Speaks Competition was Brynteg Comprehensive School. Their Chairperson was Lewis Hall, the Speaker was Megan Cawley and the vote of thanks was offered by Archie Faulkner-Leway. The students were presented with certificates and the Shield by the President of Bridgend Rotary Club, Bob Broughton.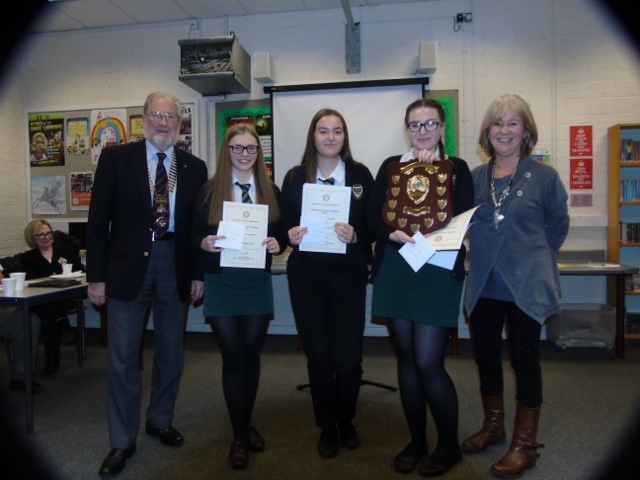 Bridgend Rotary Club would like to thank Brynteg Comprehensive School for hosting the competition again this year. Thanks also go to all the students who took part for their efforts in preparing their chosen topics and their skill in delivering them in front of an audience on the evening. Praise must also be given to the teachers who admirably guided their students to reach their potential in public speaking. Thanks also to the parents who were present to support their children on the evening. It was a delightful event for everyone concerned. We wish the teams every success in the next phase of the competition, which will be held at Cowbridge Comprehensive School on 2nd February 2017.
GH
FOUNDATION NIGHT 2016
Bridgend Rotary Club held its Foundation Dinner Evening on 7th November. The President welcomed the District Rotary Scholar, Assistant Governor Alison Sutherland, members of Swansea Bay Club, Honorary Member and Guests.
Foundation Chairman provided a short summary of the work of the Rotary Foundation (TRF),which is currently in its centenary year and a reminder given too, that this was the centenary of Rotary in Wales. A list of significant Foundation events over the last hundred years was provided on each table.
History of the Rotary Foundation
1917 - Arch Klumph's proposal for an endowment to "Do Good in the World" - first donation of $26.50 made.
1929 - $500 donated to International Society of Crippled Children
1947 - Fellowships for Advanced Study, later known as Ambassadorial Scholarships launched.
1953 - Paul Harris Fellow recognition begins
1965 - Matching Grant programmed launched and Group Study Exchange begins
1979 - Rotary begins Polio Immunisation
1985 - Polio Plus Programme launched
1999 - Rotary Peace Centres founded
2007 - Bill and Melinda Gates Foundation issue $100M challenge
2015 - Polio cases down 99.9% since 1988
2016 - Foundation Centennial Year began on 1st July
Since 1917 Foundation has received contributions of more than $1 Billion
An invitation was given to the District Rotary Scholar, Roberta Pellegrino from Italy to talk to those present. She gave a short account of her planned project for her year's study in Wales, which will combine Geology and Biology, with emphasis on the clean water issue. This is something which could be applied to various Rotary projects within the Third World where clean water is still a major problem. In answer to a question on likes and dislikes in Wales Roberta responded that she had found the people very friendly and helpful but that the weather could be a bit warmer.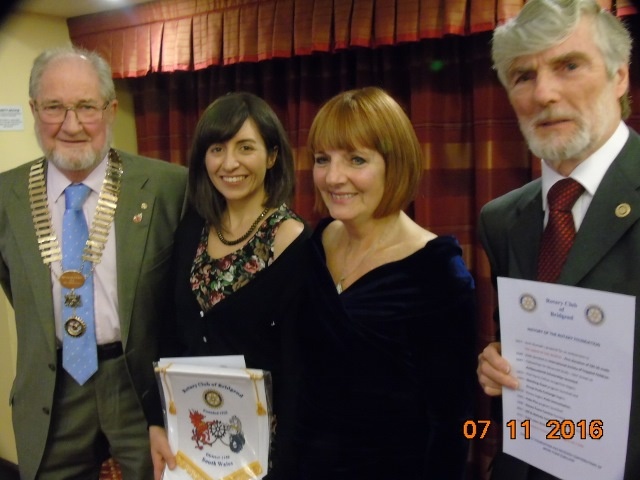 Moving on to the topic of Peace a reminder was given that the International Eisteddfod in Llangollen, now in its seventieth year, had recently been awarded the Rotary International Peace Award. An invitation was given to A.G. Alison to talk on more locally orientated Peace projects.
A.G.Alison provided some background to her life as a missionary and her work on the integration of migrants into the Cariff community and also on one of the projects that is ongoing on our own doorstep. She provided details of the courses she had put together to deal with conflict and rehabilitation of prisoners.
P.P. Gerald Bassett proposed the vote of thanks to the two speakers.
A number of people had kindly donated the seven raffle prizes and £124 was raised for Foundation.
The Foundation Chair added one last factoid on Foundation, that after a large detailed review of global charities, the Rotary Foundation has been voted in "the Top Ten" in the World. Something we can all be proud of.
A final thanks was given to Rtn. Caron Jones for his first class work in producing all the printed paper items which provided such a professional touch to the event.
W.R.W.
Guest Speaker Mr Mel James at the Breakfast Meeting on 24th October 2016
The Rotary Club of Bridgend welcomed to its recent breakfast meeting Mr. Mel James, who is the organiser of the Bridgend Primary Schools Cross Country League.
Mel spoke to the Club about his interest in running, which started with his first London marathon at the age of 38. Since then he has run several London marathons with a best time of two hours thirty-nine minutes. He also competed for the Welsh Veteran Team at shorter track events winning several medals along the way. Last year he competed in the World Masters Athletic Championships in Lyon and reached the semi-finals of the four hundred metres competition. He was then selected for the Great Britain 4 x 400 metres team, which achieved a silver medal in the final, breaking the British record for an over seventies team.
He has also become involved with the administration side of athletics and has held various offices including Welsh Team Manager and is currently Chair of Welsh Masters Athletics and an Executive Member of the British Masters Athletic Federation.
Now at the age of 73, as well as still competing, he has taken on the responsibility of the Primary Schools Cross Country. This involves nearly all Bridgend Primary Schools with monthly meetings during the winter with about 350 youngsters, taking part in age group races. A final summer event is held at which trophies are presented to winning schools and inscribed replica running shoes presented to individual winners.

The photograph shows Past President Alan Reeks with Mel James at the prize winning ceremony.

Mel thanked the Rotary Club of Bridgend for meeting the cost of trophies and presenting them to the children.
Rotarian Dr. Graham Hapgood gave the vote of thanks, advising that his daughter helped Mel by recording the results after the end of each race. He paid tribute to the dedication of Mel to his sport and particularly to his work in organising the Cross Country League, encouraging so many local youngsters to take part in athletics.
Rtn David Hubbard
SOUTH WALES SPECIAL SCHOOLS FOOTBALL CHALLENGE SHIELD OCTOBER 2016
This annual event organised by the Rotary Club of Bridgend and Heronsbridge School was again sponsored by Past Rotarian Derek Gaynor.
The Mayor of Bridgend County Borough Council Reg Jenkins presented the winners shield to Ysgol Bryn Castell from Bridgend. The runners up were Greenfields Merthyr Tydfil.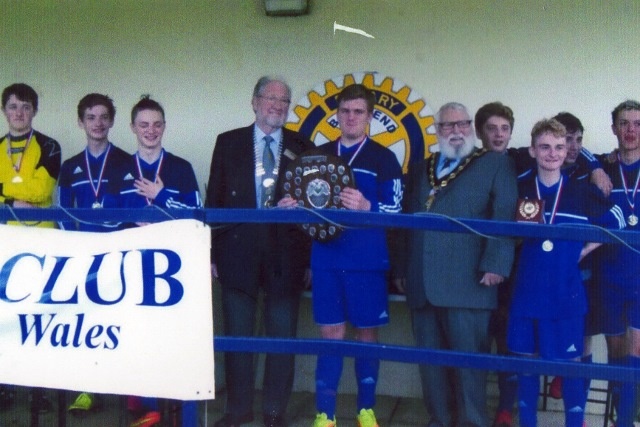 The most improved side was Pen Y Bryn from Swansea. The player of the tournament award was Cane Dickinson Ysgol Bryn Castell from Bridgend.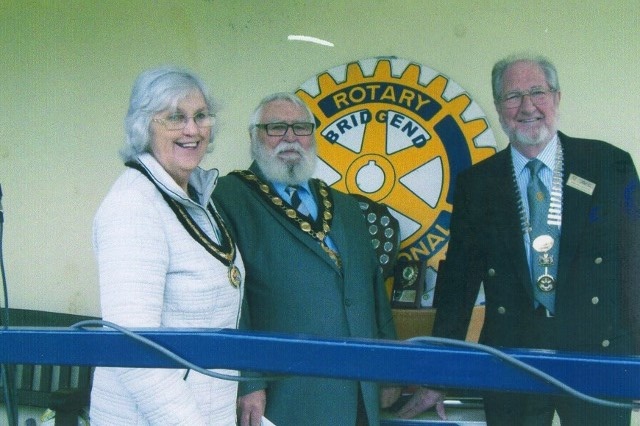 All the players were presented with medals by Mayor Reg Jenkins and Rotary Club of Bridgend President Bob Broughton.
Event Organiser Rotarian Edgar Burt.
Excerpts from Rtn Graham Hapgood's lunchtime presentation 17th Oct 2016

Voltaire's opinion on doctors

"Men who are occupied in the restoration of health to other men, by the joint exertion of skill and humanity, are above all the great of the earth. They partake of divinity, since to preserve and renew is almost as noble as to create."
I decided at a young age that I wanted to become a doctor. Whilst in grammar school the woodwork master advised me that in view of the poor quality of my woodwork skills, especially with a saw, I should never consider becoming a surgeon.
I became a medical student at the Welsh National School of Medicine, Cardiff, and after graduating I worked in the United Cardiff Hospitals for almost five years, reaching registrar grade in obstetrics and gynaecology.
I sat and passed a more advanced examination in obstetrics. The day before the written paper in Bristol, Professor Turnbull, for whom I was working, wished me luck and reminded me that no-one who had worked for him had ever failed it - so no pressure.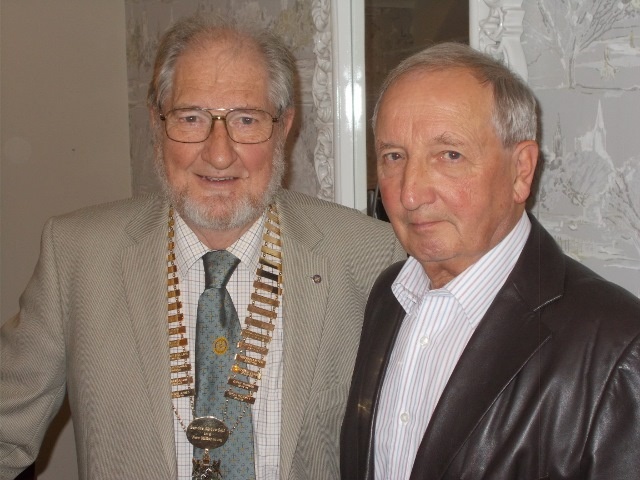 In 1966 I thought I was becoming involved in another smallpox outbreak similar to that in 1962. On Saturday 30th July 1966 I was senior casuality officer on duty in CRI when an Asian woman visiting the U.K. being unwell, with a temperature and rash mainly on her face and forearms attended the department. Being mindful of 1962 and not wishing to be held responsible for causing panic or responsible for missing the start of a dangerous smallpox epidemic, I contacted the dermatology consultant, who order complete isolation of the patient and closure of the casuality department until he attended. The importance of the date will now become apparent when I tell you I was quite happy to do this as I was then able to watch most of the England v West Germany World Cup Match while we waited. The eventual diagnosis was an abnormal distribution of chickenpox - panic over.
On another occasion Phil Hawthorn, the Australian Outside Half, was brought into Casualty Department by the team doctor, requesting an x-ray on his ankle because of an injury sustained whilst playing against Cardiff RFC that afternoon. I was a minor sprain of little significance and required no special treatment. However, as Wales were playing Australia the following weekend I advised ten days rest. My well meant advice was ignored amidst some unrepeatalbe Australian replies.
My hospital career came to an end when I was summoned to Professor Turnbull's house in Cyncoed early one evening and introduced to Professor Walker from Scotland. I was told that I was being appointed his registrar for the next four years, following which I would re-join Professor Turnbull at his new Professorial Unit in Oxford University, when he had just been appointed Emeritus Professor. Following discussion with Geraldine I had to decline the offer as I was unable to leave Wales at the time due to serious family commitment and responsibilities so I became a G.P. in the Garw.
Graham
Hopkin's Ramble to Llantwit Major Saturday 15th October

The ramble on 15th October was a ramble with a difference. Rotarians Gerry Bassett, Alan Reeks, Tony Berrow, Sue Cassidy and Hopkin Joseph, together with guests Teresa Griffiths, Denis Cassidy, Margaret Thomas, Meryl Bassett and Briony Berrow, all met at Bridgend Railway Station to catch the 09.42 train to Llantwit Major. Arriving at Llantwit Major we walked to the old town and to the old town hall.

The old town hall was a Norman manorial court house for the manor of Boverton and Llantwit Major (the manor created in 1088 but the court house was built sometime afterwards). It was re-built under the Lordship of Jasper Tudor (1485-95) and became a guild hall in the time of Henry VIII (around 1540). We were joined at the old town hall by Rotarian Gwyn Thomas and by guests Robin Bratton and Richard Reeks, with us all then meeting the Mayor of Llantwit Major (Mrs. Sally Hanks) who had kindly opened the building up. The Mayor showed us around the ground floor room of the History Society (with its historical artefacts displayed) and then let us up the external stone steps to the first floor hall.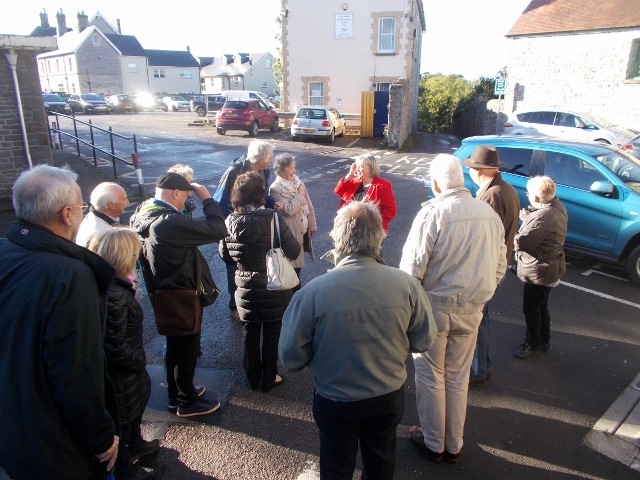 The Mayor then led us past the Old White Hart (now a pub but built as a house), the first know domestic building to be built after the destruction of the manor at the time of the revolt of Owain Glyndowr (around 1405), then taking us up to the old school.
The old school dates from around 1450, and was first built as a house for a member of the Ragan/Herbert family. It was for a while afterwards a vicarage, then between 1874 and 1975 an elementary school. It is now used for several community uses, but also houses the council chamber. The Mayor opened the Council Chamber for us, donned her chain of office and explained a little of what she had done so far during her mayoral year. As we left we thanked her for meeting and greeting us and giving us of her time.
We then set out to walk some of the blue plaque buildings in the old town. We passed Ivy House (built as a court house in the 16th Century), Ty Mawr (a late 15th Century house built for a member of the Nicholl family), Old Place (the ruin of a mansion built in 1596 for the Williams/Vann family) and Plymouth House (reputed to be on the site of part of the Celtic monastery given by the Earl of Gloucester after the Norman invasion of Glamorgan in 1088 to Tewkesbury Abbey - at one time the house now standing on the site was owned by the Earl of Plymouth). There are some links with Bridgend area as the Nicholl family built Merthyr Mawr House, and the Williams family at one time lived in Candleston.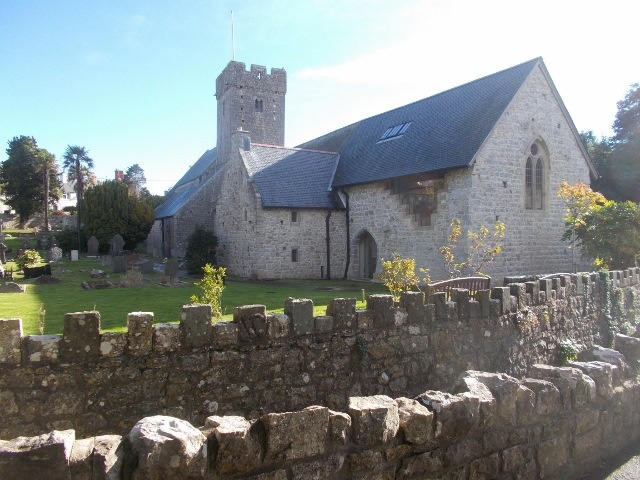 At 11.30 we arrived at St.Illtud's Church for coffee (kindly provided by the church) and then were led on a conducted tour of the church by Bill Henderson (a friend of Llantwit Church). Rotarian President Bob Broughton and his wife Jean joined the party. The church dates from the 5th Century(the Welsh Celtic "Age of Saints") for sure, but a lot of Welsh mythology places it as a Cor (or centre where Christian rites of Religion were honored) from the period AD 35/60. It was a Centre of Learning of the Celic Church up until the Norman invasion of Glamorgan. Bill told us that there was documentary proof that St Illtud attracted pupils from all over what is now the UK and Ireland in the 5th Century, he was a tutor to St Tudor and St Patrick and many others.We spent over an hour at the church with Bill, he explained the medieval wall paintings,the church artefacts,the periods of construction of parts of the church and we finished in the quite splendidly refurbished Galilee Chapel which houses several of the Celtic Christian Stones dating from the 5th century onwards. None of us could understand why in Wales we do not make more of this historical sacred place.
It was a very short walk to lunch at 1245 at the Swan Inn for a convivial lunch. We parted company at 3-30pm, some to return to Bridgend by train,some by car and a few by bus trip around the coast, a scenic route which was great fun, a free ride better than some of the fairground attractions at Porthcawl.
It had been a fine day until rain came in at 3-30pm,we were very lucky with the weather to be able to thoroughly enjoy the day.
Hopkin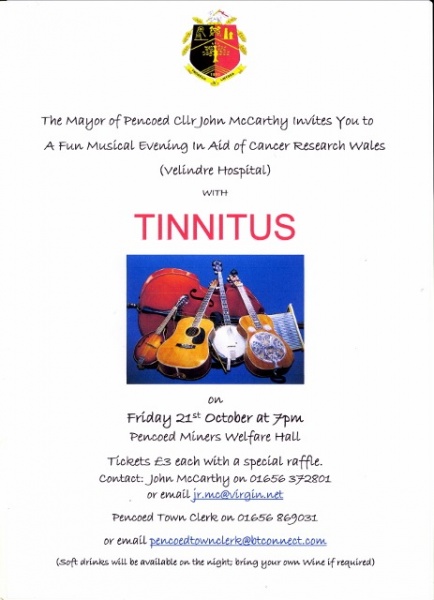 PRESIDENCY OF JOHN F. KENNEDY PRESENTED BY ROTARIAN GEOFF HENDERSON

After dinner on Monday 3rd October, Rtn Geoff Henderson, a member of the Rotary Club of Port Talbot gave an illustrated presentation and talk on John Fitzgerald Kennedy's presidency of the U.S.A.
Most of us remember J.F.K.'s presidency for two things - he was shot (where was I when J.F.K. died) and who shot him (the conspiracy theories), but Geoff reminded us that there was more, much more.
Born second son of a wealthy New England based family, J.F.K. grew up in an environment encouraged to succeed. After his elder brother was killed in World War II, J.F.K. primarly carried the burden of his father's desire for one of his sons to strive for high office. In fact all three surviving sons, J.F.K., Robert and Edward were at one time senators, collectively establishing a political dynasty for compare with the Rockerfellers earlier and the Bush family later.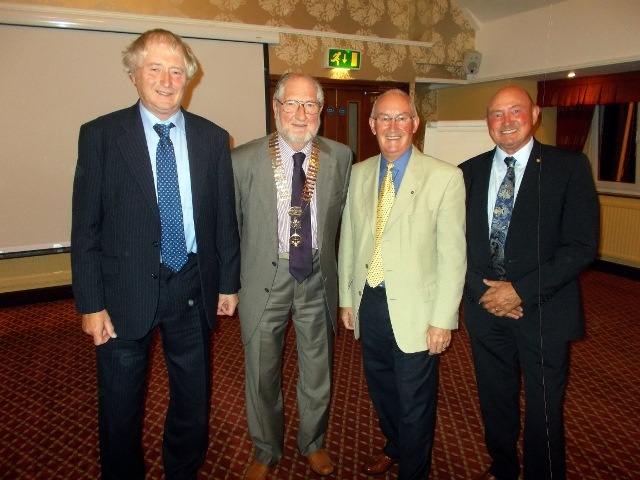 J.F.K. was elected president in 1960, a young man, a former war hero and a catholic. His inaugural address in January 1961 was inspirational, "Ask not what your country can do for you but ask what you can do for your country". He established an administration, drawing in distinguished, youthful and positive individuals from outside politics, with his brother, Robert as a key member as Attorney and also with his beautiful wife Jackie at his side. The White House soon became known as the new Camelot.
There were huge challenges abroad, three involving the Russian president Khrushchev, the Berlin blockade (Ich bin ein Berliner), the Cuban Bay of Pigs episode, the Cuban missile crisis and the build up of the war in Vietnam.
At home in the U.S.A. the Civil Rights Movement (in the main supported by the Kennedy's especially Robert) was politically charged, and the Mafia was a constant thorn (within and outside the Unions) in the background.
It was though an exciiting period, a period of hope and confidence. Martin Luther King in April 1963 "I have seen the promised land" and in August 1963 "I have a drean" really encapsulated the spirit of the Kennedy era. It was a dream shattered later that year in Dallas but nevertheless for nearly three years a reality.
Rtn Geoff constrasted too the Kennedy/Nixon election battle with the current Trump/Clinton race for the Oval Office, with Geoff's sobering view on what might happen if Trump succeeds.
A really interesting evening, reminding many of us about things we had forgotten and what an interesting political period 1960-63 we had lived through.
Hopkin
ROTARY FUND-RAISING LUNCHEON FOR THE URDD EISTEDDFOD

The Community Service Committee (Rotarians Hopkin Joseph, Sue Cassidy, Neil Solman, Jenny Myerscough and Tony Berrow) planned the event.
With some very effective marketing material produced by Rtn Caron Jones (who also produced the programme of events for the day), tickets were completely sold out within seven days and at the 31st August there was a waiting list.
Marquees had been erected in a field alongside Fairfield Court on Wednesday 22nd September and all the tables, etc. laid and made ready (by Rtns William Williams, Neil Solman, Sonia Cain, Sue Cassidy, Alan Reeks and Hopkin Joseph) for the 175 atendees expected on Saturday 24th. Early Sunday morning, 25th September, after a few wet days and the 25 mm of rain the night before, it was panic stations in Laleston as the field was very wet indeed. Some additional loads of chippings for the gateway and some carpets from a previous function to go in sections of the marquee saved the day and made ground conditions "not too bad".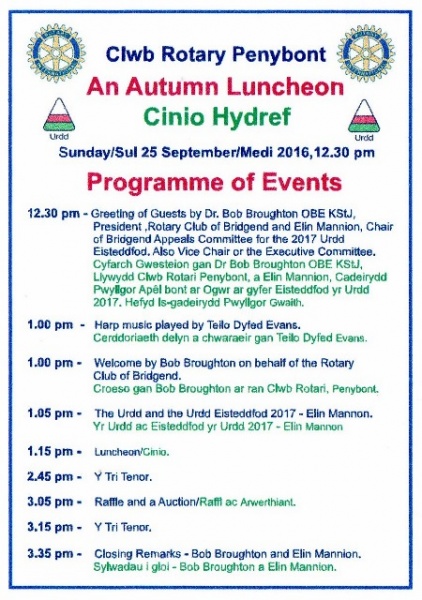 Many Rotarians had helped in previous days and weeks to get the lunch marketed and everything ready. On the day Rtns David Hubbard, Alan Brooks and Alan Reeks ensured the cars and people entered the field safely and cars properly parked. President Bob Broughton, with Elin Mannion, Chair of the Bridgend Fund-Raising Committee for the 2017 Urdd Eisteddfod, greeted guests whilst Teilo Dyfed Evans (an 18 year old student from Porthcawl) played the harp with great skill. Rtns Sue and Sonia directed people to the tables.
At 1 pm President Bob spoke to the 175 guests, welcoming them on behalf of the Rotary club of Bridgend, and Elin explained a little about the Urdd and next year's Eisteddfod in Pencoed. After a game of "Heads and Tails" to win a bottle of Bubbly donated by Andy Phillips, Rtn Mike Lewis said grace and the guests sat down to a meal, each table taking turns under the direction of Sue and Sonia to collect their food from the buffet whilst Dyfed played throughout the first course.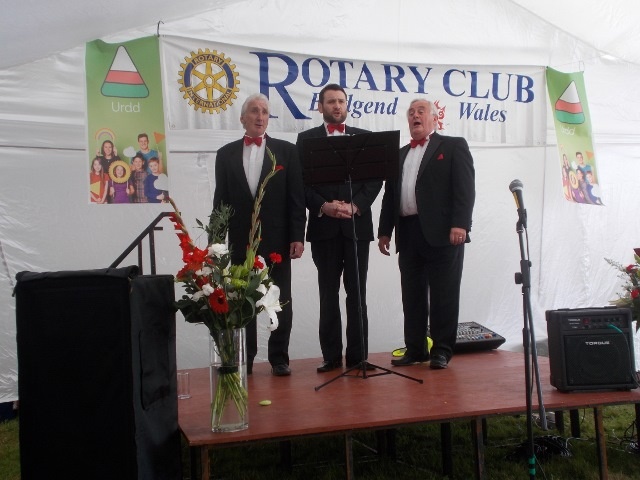 Drinks were collected without charge by guests as and when needed from the bar area with voluntary donations to the Urdd (popped into a pint glass on each table) - actually well exceeded what would have been made if the drinks had been sold. After puddings and coffee Y Tri Tenors (a trio of tenors from the Llandeilo/Tregaron areas) entertained the guests with a selection of Welsh/English melodies. The raffle was drawn, one £50 and two £25 prizes. Some donations (a basket of Welsh farm produced donated by Ty Tanglwst Dairy), a clock donated by Felicity Jewellers and an hour's horseriding lesson on Lusitanos (donated by Rtn Jenny Myerscough) were auctioned and Ty Tri Tenors came onto the stage again - this time to sing popular operatic areas.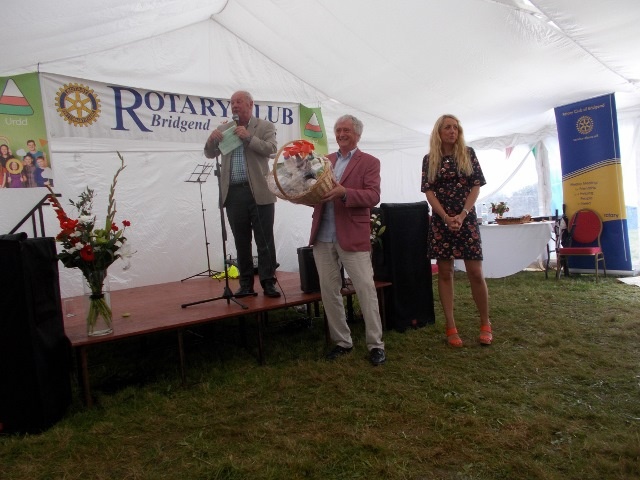 President Bob and Elin formally wound up the event with closing remarks at 3.45 pm, some guests left soon after, some lingered a while and the last left at 8.45 pm.
The event, including raffle, donations, auction, sale of flowers, "heads and tails" etc. will produce a net surplus of just over £5,000, which Rotary will have generated towards the cost of next year's Urdd Eisteddfod at Pencoed.
Hopkin
BRIDGEND ROTARY SUPPORT TALKING BOOKS FOR THE BLIND

Carol McKinlay, the Fund Raising Manager for RNIB Cymru gave a presentation to the Rotary Club of Bridgend, accompanied by Anne Wilkins, a local user of the Talking Books for the Blind.
Carol thanked the Rotary Club for their generous support and said that the service is now offered free of charge, which has resulted in a large increase in the number of members. There are now currently 92 users of the Talking Books in the Bridgend area.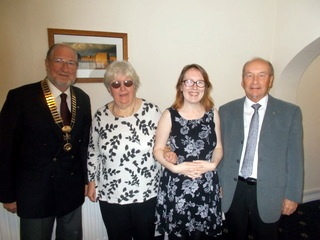 Ann Wilkins was blind from birth and gave an inspirational account of her experiences and determination to live as full a life as possible. She amazed members with her grasp of the latest technology and its uses in overcoming sightlessness . She is an accomplished singer and teacher and has won several Eisteddfod awards. She thanked the RNIB Cymru for their continuous support.
Pictured are Bob Broughton, President of the Rotary Club of Bridgend, Anne Wilkins, Carol McKinlay and David Hubbard.
David Hubbard
FISHING FOR THE DISABLED ANNUAL COMPETITION
ROTARY CLUB OF BRIDGEND PAST PRESIDENT KENDRICK GRIFFITHS QPM MEMORIAL SHIELD
Ex-Chief Constable of Merthyr Tydfil Griffiths QPM was remembered on 21st September 2016 when special schools within the area took part in a fishing competition held at Seven Oaks Fishery, Ystradowen.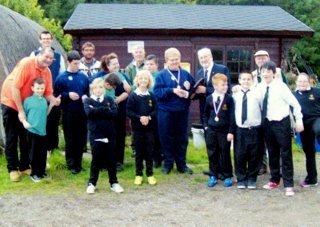 Representatives from Ysgol Bryn Castell, Heronsbridge School and Pencoed Comprehensive School Special Unit took part and the winning team was Heronbridge School with a catch of 11lb 4oz with the catch of the day being won by Jack Guard from Heronsbridge at 2lb 9oz.
The Shield was presented to Heronbridge School by Rotary President Bob Broughton OBE KSt.J.
Bridgend and District Fishing for the Disabled Association are seeking volunteers from experienced fishermen to assist and ensure the continuation of fishing for young disabled people. If you can assist in any way please contact Edgar Burt on 01656 667855.
Edgar Burt
BRIDGEND TOWN CHARTER
On Saturday 17th September 1516 King Henry VIII granted a Market Charter to the town of Bridgend. In a re-enactment of the ceremony the King visited Bridgend again on 17th September 2016 with his last wife Catherine and spoke to the Mayor and townsfolk assembled.
Three members of the Rotary Club of Bridgend (Alan Reeks, Gillian Hale and Hopkin Joseph) were there (with other Bridgend based organisations) to provide stewarding and security. The three Rotary members were granted an audience and witnessed the King's address, in which he apologised for Bridgend being the last of the Welsh towns to which he had awarded Charters - but he stressed his love of Wales (he reminded everyone of his father, Henry VII, having been born in Pembroke castle and his forebears, the Tudor family, being from North Wales). The King made clear he was delighted to mix with ordinary people, explained what had happened and why to all of his former wives, and both answered questions and accepted petitions from the people assembled.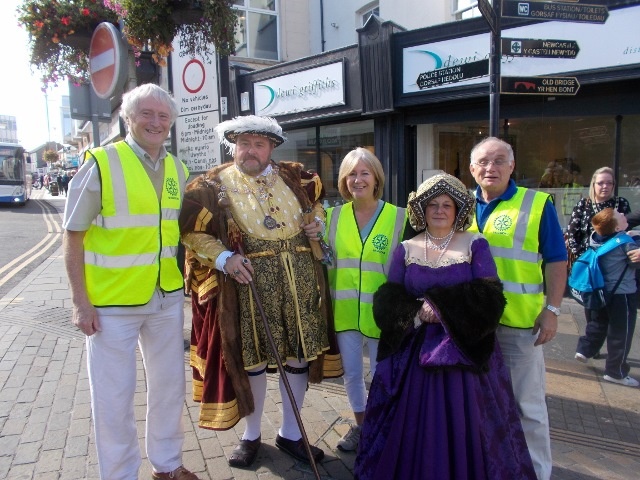 The King re-enacted his Charter presentation, which the Mayor of Bridgend graciously accepted and made a loyal address on behalf of the town and people of Bridgend. The King and Queen, escorted by the Mayor and consort, followed the Town Cryer around the streets of Bridgend. The Royal party inspected the shops and offices in the town and walked past the street traders (including arrow makers, wool spinners, dyers, barber/surgeons, bow makers, potters, wattle and daub makers, dough makers, wood carvers etc.) who had travelled to Bridgend from all parts of England and Wales for the Royal visit to Bridgend. Musicians played Tudor era instruments and Tudor music (an interesting one was "The Beer Song"). Jugglers performed, story tellers enchanted children, and walking tours took visitors both around the town and to the St.John's Hospice in Newcastle Hill.
The Rotarians helping were refreshed by mead and oat cakes and were permitted to sit for a short while on the Royal dias.
Having arrived at 10 a.m. the Royal Party departed the town at 5 p.m., hoping to return before the year 2516.
One of the Rotary objectives - service to the community - was met by members of Bridgend Rotary Club being in attendance and we were thanked for doing so by both the Mayor and Town Clerk. We actually had a really good time.
Rtn Hopkin Joseph
KIDS OUT COLLECTION AT SAINSBURY'S 10TH SEPTEMBER 20
The Rotary Clubs of Bridgend, Maesteg and Porthcawl held their annual fund raising day at Sainsbury's in Bridgend on Saturday 10th September. Thanks to the generosity of the public (some from as far as Cardiff, Swansea and the Valleys) the collections realised the magnificent sum of £635.43.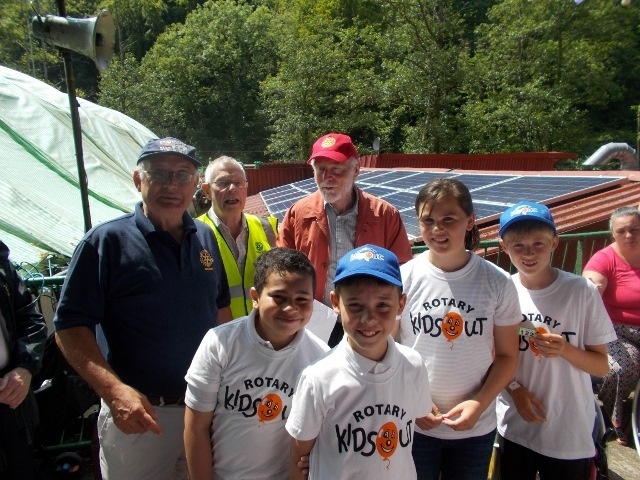 This will help fund the day out next June for 120 children (3 coach loads) from schools in Bridgend, Porthcawl and Maesteg for a trip to the Gower Heritage Centre at Parkmill, Swansea.
Our grateful thanks to the public for their support and to Sainsbury's for their assistance.
Rtn Neil Solman on behalf of the Kids Out Committee
Y BONT MEETS ROTARY
Clare Jenkins, the Fund Raising Manager of the Bridgend charity - Y Bont, attended a meeting of the Rotary Club of Bridgend to thank club members for their continuing financial support.
Clare explained how the charity started 19 years ago with help from Rotarians Byron Morgan and Ann McAllister, both sadly now deceased.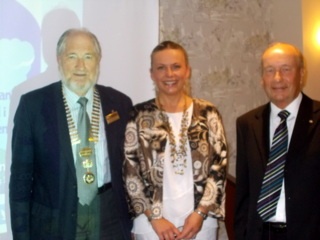 Each year approximately 140 disabled children and their families benefit from a wide range of support services, including pre-school day care and parent support groups provided by the Y Bont team of dedicated and highly trained staff who work closely in partnership with a network of health, education and social services professionals. All of this takes place at their purpose-built and well equipped premises at Ewenny Road.
Clare said they need to raise over £300,000 every year to maintain these invaluable services and Y Bont are grateful to Rotary and all the other individuals and organisations who help to maintain this essential service in Bridgend.
Pictured with Clare Jenkins are Bob Broughton President of Bridgend Rotary and David Hubbard Charity Officer.
Alan Reeks
ROTARY RAMBLE WEDNESDAY 14TH SEPTEMBER 2016
Tuesday evening 13th September was wet and windy in Porthcawl with very heavy thunder, rain and flashes of lightening. What a difference a day made;
Wednesday evening 14th September was bright, sunny and calm.

At 6 p.m. Rotarians Edgard Burt, Alan Reeks (plus dog), David Hubbard (plus dog too), Brian Roberts, Gillian Hale, John Ward with his wife Diane, and Hopkin Joseph met at the Lifeguard station near the Porthcawl Pier, all then setting off westwards walking along the Porthcawl Upper Promenade. It had been, and was, not so much a ramble as a slow pace amble; with the setting sun in the distance a very enjoyable walk to the end of West Drive. A short detour over the Common with then retracing steps back to the Pier via the Lower Promenade (the only stop being a few moments at Porthcawl's most recent tourist attraction - the wrong facing benches on the seafront). Thereafter it was down along the Marina to the Eastern Promenade, followed by a visit to Beales at 7.15 pm for fish and chips (which were taken back to the Eastern Promenade and eaten by all, with everyone sitting on the seawall overlooking Coney Beach).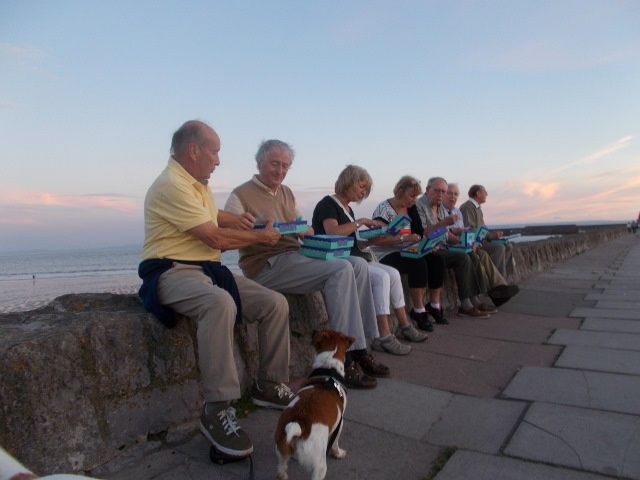 A red glowing sunset, with the light fading, and delicious food - a good ending to an enjoyable stroll. Almost the end, Alan and Hopkin got delayed at the Jolly Sailor, Newton, for something to wash the food down.
Hopkin
Bridgend County Day Centres Go Fishing
On 17th August Bridgend and District Fishing for the Disabled and the Rotary Club of Bridgend took members of the Bridgend Resource Centre and Valley Gateway Day Centre (Sarn) fishing at the Seven Oaks Fishery.
Although the sun was shining and the water crystal clear the fish were biting and all twenty three participants caught two fish each.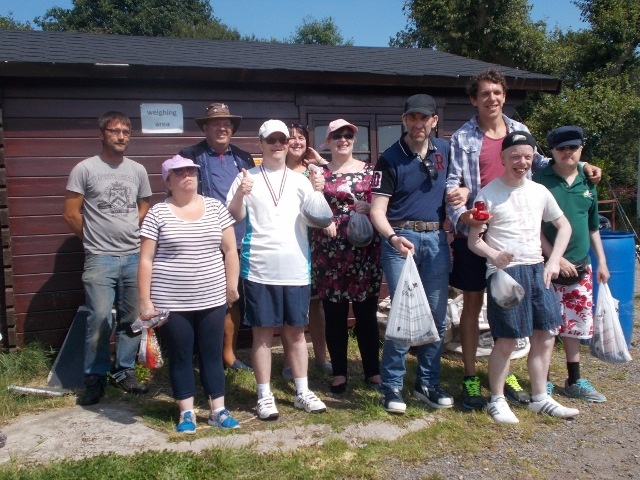 Each team winner was presented with a medal. Cathy Spanswick of Valley Gateway and Richard Williams of Pyle and Porthcawl each had "catch of the day" with bags of 2lb.1oz.each.
There were forty six trout caught and all participants went home with a smile on their face.
The Rotary Club of Bridgend would like to thank the various organisations in Bridgend and Pencoed for their support in making the event possible.
Rtn. Edgar Burt
ROTARY CLUB OF BRIDGEND ANNUAL GARDEN PARTY

It's not all fund raising!!!
The Rotary Club of Bridgend held its annual garden party in the grounds of Well House Farm, Pencoed, the home of Rtn.Gwyn Thomas on one of the sunniest days of the year and was, as ever, a great success. Thank you once again Gwyn for the use of your home and all its facilities.
Newly installed President Dr.Bob Broughton OBE KStJ welcomed some seventy five members and guests to an afternoon of relaxed fellowship punctuated by rousing brass band and other marching music.
Anticipating the forthcoming Olympic dressage events the Club was entertained with an illuminated and informative demonstration of the requisite equestrian skills by Rtn.Jenny Myerscough, who with a colleague was riding two of her Lusitano horses.
The competitive spirit was not entirely missing as members and guests were challenged on the skittle alley and in garden quoits and darts.
Alan Reeks
Rotary Walk with RC Cheltenham August 2016

After some challenging navigational issues, Edgar Burt, Hopkin Joseph, Catherine and myself arrived at the Gloucester Docks car park on the afternoon of 2nd August. We then linked up with President Michael and 16 members of the Cheltenham Club at the National Waterways Museum. After introductions we followed our leader Keith on to Alney Island, which is only a short distance from the city centre and is a Nature Reserve in the River Severn.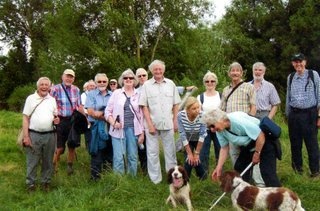 We headed north by the river and after seeing the swans and crossing a very busy A417, we doubled back south on a parallel course on the side of fields of barley via Richard's Woods to Gloucester docks 2.5 hours later, after about 4.5 miles of mostly flat land on paths and fields.
The weather was warm and very humid on the first half of the walk but thankfully we headed back into a breeze with the rain just trying to catch us out on the last few hundred yards.
We all enjoyed good fellowship and it was nice to be given such a warm welcome by those attending. The Cheltenham members made a request that the link between the Clubs be continued.
WRW
ROGER MARSH RETURNS FROM NEPAL
Vice President Major Wayne Morgan MBE (in the Chair) on behalf of the Rotary Club of Bridgend welcomed Mr. Roger Marsh to their August dinner meeting.
The Rotary Club of Bridgend had assisted Mr.Marsh with sponsorship for an assignment to assist victims of the recent earthquakes.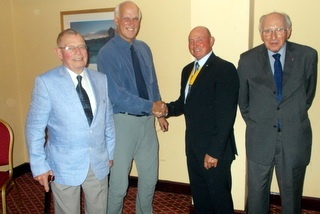 Mr.Marsh, a fully qualified Scro-cranial chiropractor and acupuncture specialist with added massage skills, addressed the Club about his experiences in Nepal following the two major earthquakes. He had spent nine weeks in Nepal during which time he personally had treated some 60 patients, mainly with back and joint problems, many on several occasions. Giving some 330 treatments with very satisfactory results, Roger had worked tirelessly from 7-11 am and 4-7 pm daily in a temporary clinic consisting of a small basic room with no air-conditioning, which was hot and humid with myriad flies and mosquitoes. He described how upon his arrival in the capital Katmandu he was horrified by the extent of the devastation, which was even more extensive in the remote village of Etay - his destination. The two major earthquakes (both over 7 on the Richter scale) had resulted in over 9,000 dead, 21,000 injured and 2.94 million people displaced. Twenty six hospitals had been damaged and over half a million homes destroyed.
Past President Allan Brooks thanked Roger for his illuminating talk and presentation and was pleased that the support of the Rotary Club had helped to bring some comfort to the victims of the disaster.
Neil Solman
Rotary District 1150 Bowls Competition, Tuesday July 12th 2016

The Rotary Club of Bridgend was represented at Landrindod Wells by Stan Harding (Skip ), Allan Brooks,John Ward and Alan Reeks (First Reserve,Chaffeur and official photographer).
After a close contest between 18 excellent club teams from District 1150,Bridgend did not actually win.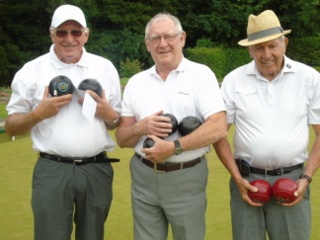 The Competition winners were Brecon and the runners-up were Aberystwyth.It is possible that Bridgend came in at third place,but it is just as possible that they came a little further down the list.The Team is united in their contention that they came close to the winners,since they shared a table with the winning team Brecon at the closing ceremony.

Whatever the result, it was a wonderful day for fellowchip.
Rtn John Ward PHF 13th July

ROTARY CLUB OF BRIDGEND HANDOVER CEREMONY
The Rotary Club of Bridgend held its President's handover dinner at the Heronston Hotel on Monday 4th July, when the outgoing President Rtn.Alan Reeks inducted Rtn.Dr.Bob Broughton OBE KStJ as his successor for the new Rotary Year 2016-2017.
In a simple ceremony the incoming President promised to promote the Objects of Rotary by encouraging and fostering the ideal of service in the development of acquaintance as an opportunity for service, by fostering high ethical standards in business and professions and dignifying each Rotarian's occupation as an opportunity to serve society and to advance international understanding, goodwill and peace through a world fellowship of persons united in the ideal of service.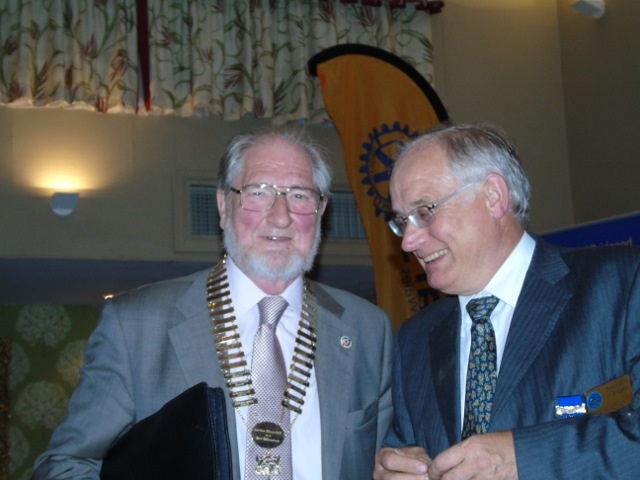 In handing over the Presidency Rtn Alan said that it had been a privilege and a joy to represent the Club over the past year. He believed that the many enterprises undertaken by the Club during the year had been interesting and varied and above all enjoyed by all. Much good work has been achieved and many thousands of pounds raised and distributed to local charities. He expressed his sincere thanks to the chairs and members of his committees for all their hard work and also to their families for their support given during the year.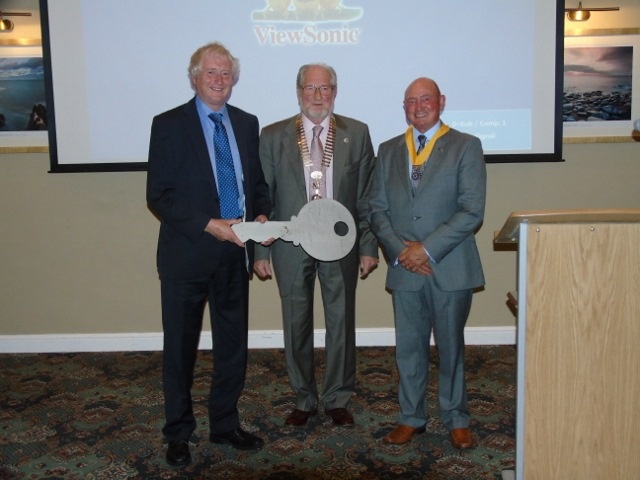 New President Rtn. Bob thanked his predecessors and expressed his wish to emulate the excellent work achieved during the past year and looked forward to working with his new team, Rtn. Major Wayne Morgan MBE, his President Elect Rtn. Hopkin Joseph, his President Nominee and the chairs and members of the various committees.
He said we have all been given a year to make changes to advice Rotary within our sphere of influence and to attract new members by making the changes that will meet the needs of the young business and professional people we hope to recruit to further the development of the ideal of service.
In his final act as President Rtn Alan presented the Harvey Palmer Trophy to Elaine Davies and Tracey Morgan of the Splice Child and Family Project based in Pyle/Kenfig Hill. The award and trophy was gifted by a past Rotarian and is to acknowledge and reward exceptional service in the Community by non Rotarians.
The presentation of the trophy was made by Mrs. Catherine Brooks, granddaughter of Harvey Palmer.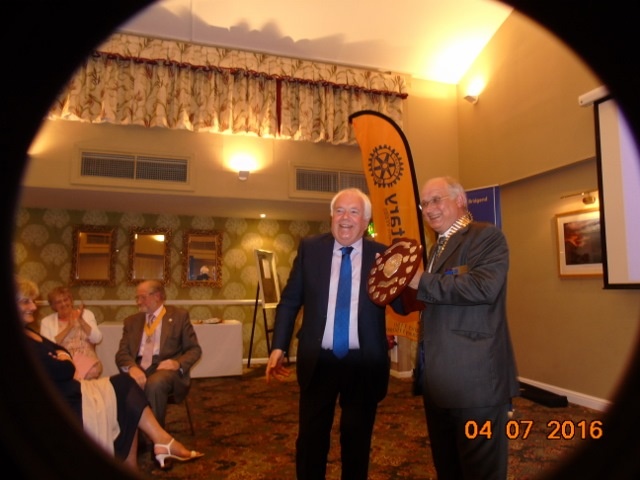 The presentation of the "Rotarian of the Year" award was made to Rtn.Brian Roberts the Club Treasurer. Rtn.Alan said it is always difficult to single out an individual for recognition as there are so many dedicated Rotarians who are fully committed to the organisation but on this occasion he was recognising the work, largely unseen, undertaken by the treasurer during the year.
BRIDGEND ROTARY SUPPORT SPLICE CHILD AND FAMILY PROJECT
Bridgend Rotary welcomed Elaine Davies and Tracey Morgan to a breakfast meeting and were rewarded with an excellent talk about the work of the Splice Child and Family Project based in their Community Centre in Pyle/Kenfig Hill.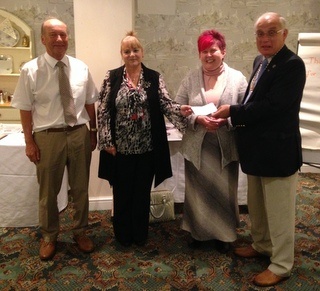 Elaine and Tracey explained how the Charity was established twelve years ago when they saw the need for support for vulnerable young families. Since then they have developed their services which aim to support Parents and Carers to play and learn with their children, developing confidence and self esteem.
The Rotary members were impressed with the skill and dedication of the Charity, particularly the way they had grown their service and developed their premises through voluntary donations and Grants. President Alan Reeks presented a cheque to Elaine and Tracey to help them continue with their valuable work.
Rtn David Hubbard
ROTARIAN BYRON MORGAN J.P. REMEMBERED
Bridgend and District Fishing for the Disabled and the Rotary Club of Bridgend remembered a Past President of the Rotary Club on 15th June 2016 in the form of a fishing competition for the disabled, which was held at the Seven Oaks Fishery, Ystradowen.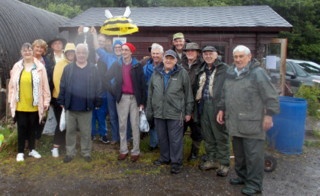 Rotarian Byron Morgan J.P. was a founder member of the Bridgend and District Fishing for the Disabled Fishing Club, which is now in its 20th year.
Organised by Rotarian Edgar Burt, a long time companion of Byron, teams from Valley Gateway, Pyle and Porthcawl Day Centre and the Bridgend Resource Centre were invited to compete for the Memorial Trophy.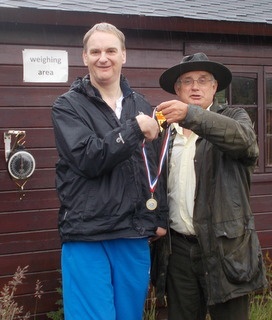 With a winning catch of 15lbs.15oz the Byron Morgan Memorial Cup was presented to Valley Gateway by the current President of the Rotary Club of Bridgend, Rotarian Alan Reeks, who also presented a medal to Colin Jenkins for the day's largest single catch of 2lbs 8oz.
Rotarian Byron Morgan had a larger than life personality. He was know as "Morgan the Blind" because of his association (Headmaster) with the Bridgend School for the Blind, or Ponty, and his ashes are spread under the posts at the Club House end of Pontypridd Rugby Ground.
Rotarian Edgar Burt
The founder and first President of the Rotary Club of Bridgend was Robert Horrocks previously a member of the Rotary Club of Cardiff. Our Rotary Club was formed on the 15th December 1925 but the charter was presented at a dinner on 15th March 1926 at the Wyndham Hotel Dunraven Place Bridgend.

Presidential and 90th Anniversary Dinner

The Rotary Club of Bridgend held its President's Dinner coupled with its 90th Anniversary at the Heronston Hotel on Friday 10th June 2016. The dinner was organised, attended and hosted by President Alan Reeks and President Elect Dr. Bob Broughton OBE KStJ.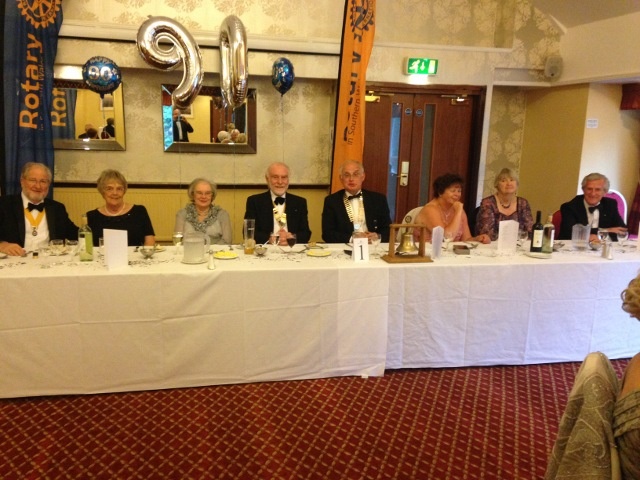 Guests for the evening were Mr.Win Griffiths OBE past Secretary of State for Wales and his wife Ceri and President of the Rotary Club of Maesteg Mr. Robert Davies with his wife Menna, both were honoured and thanked for attending by President Alan. Entertainment for the evening was provided by another guest, Mr. Bob Cater, who introduced the Club to the intricacies of the guitar with a musical feast from three different instruments and a musical competition. The event delighted the Club Members, who recognised the auspicious and historical occasion, an event worthy of a celebratory evening. President Alan thanked the guests, Bob Cater and the hotel staff for helping make this unique event all the more memorable.

Rtn Wayne Morgan
ROTARY KIDS OUT EVENT June 2016
The Rotary Clubs of Bridgend, Porthcawl and Maesteg took their customary three coachloads of deserving 9-11 year old children to the Gower Heritage Centre on Wednesday 8th June 2016. Everyone wore their tee-shirts and caps, receiving a Kids Out pen on their return. There were in excess of 120 children this year from Maes-yr- Haul,Cefn Crybwr,Llangewyd,Caerau,Garth and Nantyfyllan and they enjoyed pottery making, a cinema show, tours of the woollen and grain mils, a coracle display, petting young animals and feeding the trout.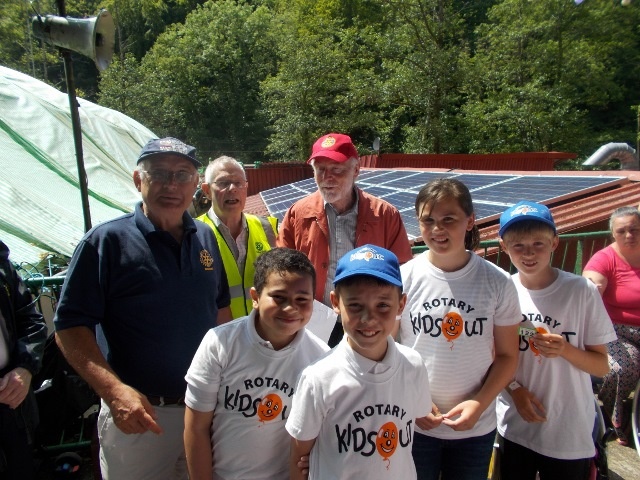 The conclusion was the eagerly anticipate Duck Race with medals and prizes for the four winners. Each school also received a medal as a momento of the occasion. The organisation by the Gower Heritage Centre and the travel arrangements by Express Travel were first class and contributed to a most enjoyable and successful day out. Our thanks to Tesco and Sainsbury's for their support and funding from the Kids Out Charity and our South Wales District 1150.
Rotarian Neil Solman

DRAGON RIDE 'L'ETAPE WALES JUNE 2016

The Rotary Club of Bridgend helped and supported the 2016 Dragon Ride "L'Etape" Wales, helping to raise thousands of pounds for local charities 2016/17.
The UK's most prestigious Sportive returned for its 13th year in 2016. The South Wales event once again started from the picturesque Margam Park, Port Talbot, having moved there successfully in 2012. 2014 saw the introduction of a mammoth Dragon Devil distance, which once again was part of the offering for 2016.
The Gran Fondo had taken in approximately 2,905m of climbing, passing through the beautiful Brecon Beacons with the Medio Fondo approximately 2,060m.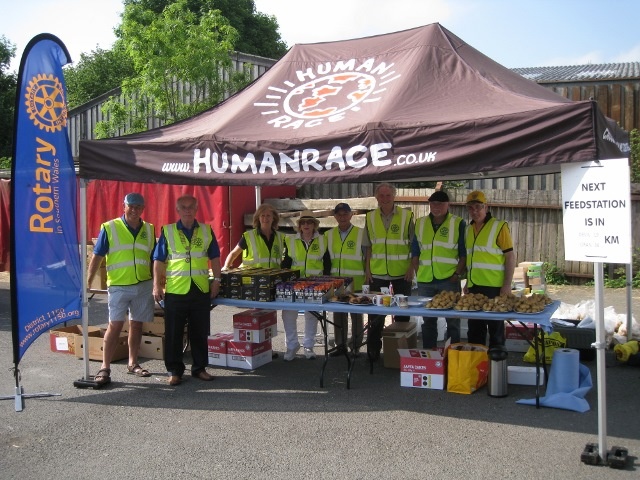 The Dragon Devil was certainly not for the faint hearted. There were limited numbers of places available for this option, so those who were keen would need to have grit, stamina and a "sense of fun". Those lucky enough to get a place would be well rewarded with an incredibly stunning cycling route which took in the Rhigos, Black Mountain and the Devil's Elbow - the Dragon ride's signature climbs - with the addition of the Devil's Staircase, a climb with a 15% gradient and elevation of 480m.
Brand new for 2016 was the Macmillan 100 100km distance.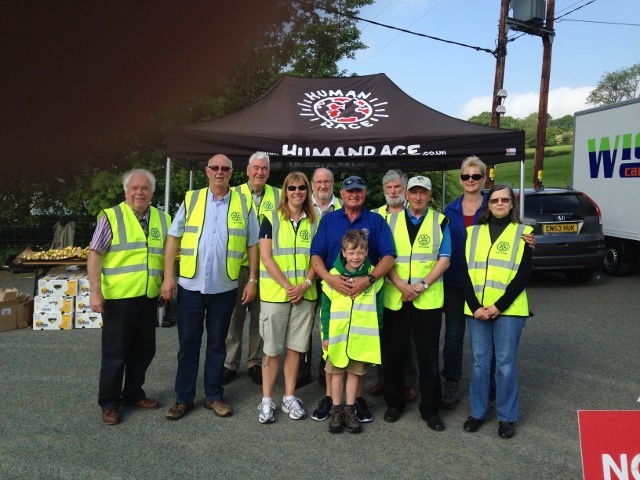 Two of the four feed stations were manned and run by the Rotary Club of Bridgend, Ystradefellte and Sennybridge, both of which proved challenging with over 3,500 and 2,900 riders respectively passing through each station. At Ystradefellte President Elect Dr.Bob Broughton OBE KStJ said that he was proud of his team's efforts, especially Tomi and Pauly Cain, who managed to help serve all of the riders throughout the very long, hot and tiring day. The event was spectacular raising many thousands of pounds for the Rotary Club of Bridgend's local charities during 2016/17.

Rotarian Wayne Morgan
Bridgend Rotary's Junior School Quiz
The Rotary Club of Bridgend held its Junior Schools Quiz at Litchard Primary School (winners of last year's quiz) on Thursday 19th May. Pupils from eight primary schools in Bridgend participated, these included Brackla Primary, Litchard Primary, Maes yr Haul Primary, Oldcastle Primary, Pencoed Primary, Tondu Primary, Trelales Primary and Tremains Primary School. Each school had four team members representing them, consisting of a pupil from Years 3, 4, 5 and 6 respectively.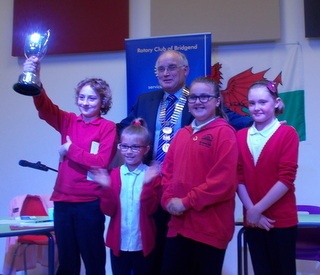 The youngsters answered a broad range of questions from the Quiz Master, Rotarian Gillian Hale, which tested their knowledge of geography, history, maths, spelling, literature and many other subjects. This highly entertaining and very enjoyable evening was well supported by teachers and families of the team members. Every team did extremely well and the overall winner was Tondu Primary School, represented by Emily Williamson Year 3, Lillie-eve Cronin Year 4, Seren Dare Year 5 and Benji Lock Year 6.
All of the pupils participating in the quiz received a Certificate from the President of Bridgend Rotary Alan Reeks and the winning team members each received a Gift Token, which had been kindly sponsored by Apollo Teaching Services Ltd.
Rtn Sue Cassidy
Rotarian John Wards Visit to the Palace for Afternoon Tea 10th May 2016

At about 3.15pm on 10th May we joined a long queue outside the Buckingham Palace Grand Entrance Gate. Fifteen minues later we entered the quadrangle through the Grand Entrance and continued through two sumptuous ground floor rooms into the garden, an area larger than Wales!!! We immediately followed the advice we had been given by those Rotarians who had been here before us, by finding seats as close to the Royal Tea Tent as possible. Diane sat and I joined one of the many lines at the main Tea Tent. When I emerged with a plate of cucumber sandwiches in one hand and a cup of tea in the other, it had started to rain and the lawn between me and Diane was very crowded. By squeezing a way through this huge rugby scrum I had almost reached Diane when the band struck up "God Save The Queen". I had to stand to attention with the rain by now pouring down over the sandwiches and into the tea. By the time I got back to my seat the sandwiches were a soggy mess, the tea was cold, and the rain was falling steadily.

Then the Queen appeared, the rain stopped and the sun came out. She looked fresh and chic in a pink suit as she passed through the throng. Prince Philip followed, trim and tall in his morning suit and topper. They stayed for about thirty minutes. We were then able to take a leisurely stroll around the Palace grounds, taking in the lake with its islands, the many commemorative trees, the hundred and seventy metre long herbaceous border, the rose garden and so much more. At 6.00 pm the National Anthem signalled the end of the Garden Party and we left we way we had entered.
It was a wonderful, never-to-be-forgotten day. I have no idea who advised the Lord Lieutenant to put my name forward, but Diane and I would love to be able to thank them for giving us this Dream-come-True Experience.
John Ward
Hopkin's Ramble Saturday 14th May 2016

We set off at 10.15 and walked from the Cattle Market car park alongside the South Town Wall to South Arch Gate, turning then south and headed for Llanblethian. Crossing the bridge over the Thaw, walking a little way to Constitution Hill within Llanblethian we turned off the road to a footpath through fields and skirted the western then southern sides of St.Quentin's Castle ruins and back into the village. We followed some roads within the village, taking us to the south western edge of the village and then took a footpath into some fields, following the footpath along and over the river Thaw (a stretch of tranquil countryside) until we reached the Cowbridge to Llandough Road. The footpaths towards St.Hilary ran along a wide valley towards New Beaupre Farm, another stretch of very attractive countryside. Just before the farm the footpaths changed direction and we walked gently upwards through a forest path (with carpets of wild garlic under the trees) to join the highway just north of New Beaupre Farm; a road which ran upwards through forestry to the village of St.Hilary. We arrived at St.Hilary at 11.30; good timing as the Bush public house opens on a Saturday at 11.30.

The weather was warm and dry, the walk up to St.Hilary had deserved some liquid refreshment. At a 15 minute break we set off through the village to join the footpath running north to Stalling Down, walking until we reached the Clump, the highest point on the Down with views to the north and west but no sign of any medieval gallows!! The Roman Road (Via Julia Maritima) seemed the route to follow and it was downhill all the way from the Clump to Cowbridge/Bont Faen (or as we were on the Roman Road, Bovium).
Within the Town Centre we spent a few minutes near the Physic Garden, looking at the dates on the Iolo Morganwg memorial stone - it records (or so Edgar Burt thought) a date of death some 20 years prior to Iolo Morganwg being recorded as dying in Bridgend. Is this a local "Glastonbury case"???

Hopkin
WOULD I NOT LIE TO YOU - FRIDAY 6TH MAY 2016
The Rotary Club of Bridgend held a charity "Would I Not Lie To You" competition at the Bridgend Lawn Tennis Club on Friday 6th May in aid of Macmillan Cancer Care. Two teams of three competed with Hopkin Joseph adjudicating and President Alan Reeks as Master of Ceremonies.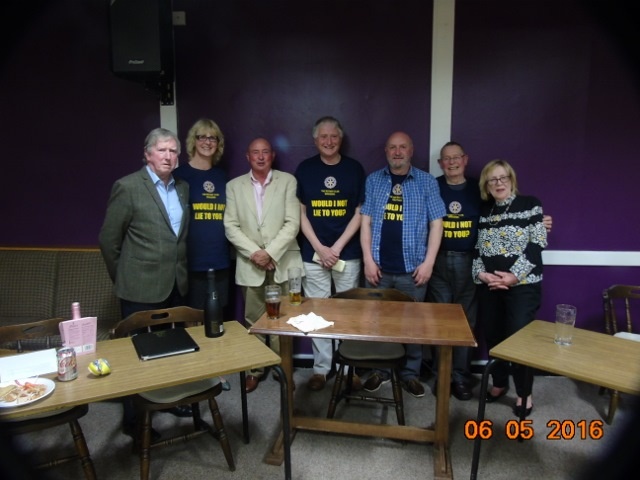 The Rev. Mike Lewis captained the winning "A" team who beat the "B" team 5-3 captained by Major Wayne Morgan. There were some incredible "Lies" and some unbelievably amazing "Truths". The evening was a great success and raised £503 with the aid of the raffle. Our grateful thanks to B.L.T.C. for the hall facility, Tesco stores for sponsorship assistance with the raffle and Catherine Brooks for the delicious refreshments. This follows the £530 raised last year. Can't wait for the 2017 event.
Neil Solman
MAYOR OF PENCOED'S CIVIC SERVICE OF THANKSGIVING 8th MAY 2016

Cyngor Tref Pencoed Town Council, The Mayor's Civic Service of Thanksgiving, Councillor John McCarthy at the Salem Chapel, Pencoed, took place on Sunday 8th May 2016.
The service was conducted by Reverend Ian Hodges with organist Mrs.Eluned Williams. The Act of Commitment for the coming year was made by the Mayor and members of Pencoed Town Council followed by an Act of Praise and Worship for the Community and of Thanksgiving for those who give their time and talents in the service of the Community.
The service was attended by civic dignitaries including the Borough Mayor Cllr. Richard Young and consort, representatives of local organisations including members of the Rotary Club of Bridgend. President Alan Reeks and President Nominee Wayne Morgan MBE both wished John and his wife Judy, both Rotarians of the Bridgend Club, warm wishes for a successful and rewarding year.
The service was full of fun, praise and song with a Welsh scripture reading from Mr.Norman Davies and Mayor Cllr.John McCarthy, musical interludes by Pencoed Primary School and Mid Glamorgan Mixed Choir and a prayer in Welsh by the Town Clerk, Mr.Geraint Thomas.
Wayne Morgan MBE
Pencoed Comprehensive School Interact Club
The Interact Club of Pencoed Comprehensive School, who are the junior section of the Rotary Club of Bridgend, presented a cheque for £250 to Action for Children-Bridgend Young Carers on Tuesday 19th April 2016. They also sent a cheque for £250 to Cancer Research Wales, Velindre.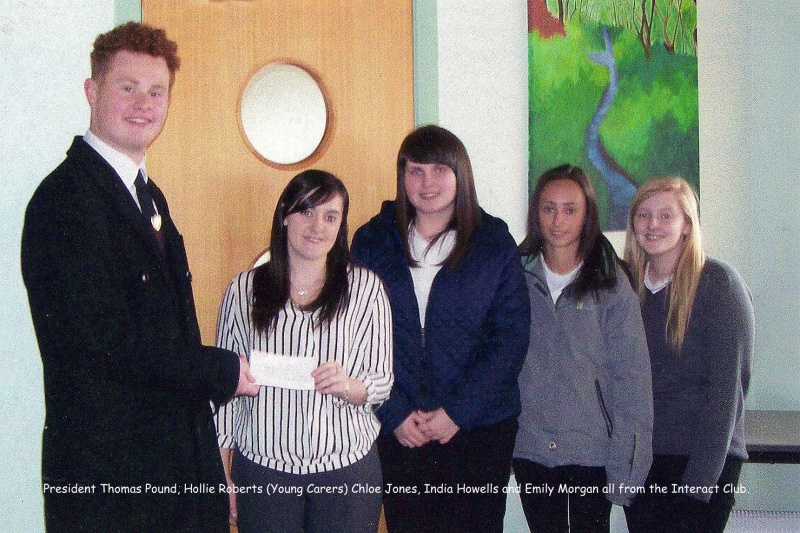 Interact is a group of 14-18 years old, who raise funds for charity and will be making further awards in the near future.
Rtn Edgar Burt
Bridgend and District Fishing for the Disabled

Bridgend and District Fishing for the Disabled, who organise once a month fishing from March to October, entertained Cwm Calon Maesteg, Pyle and Porthcawl Life Centre, Valley Gateway Sarn, Bridgend Resource Centre and Headstart on Wednesday 20th April. Fish ranging from 1lb to 3lb were caught with the 3lb fish being caught by Rhodri Jenkins of Cwm Calon Maesteg.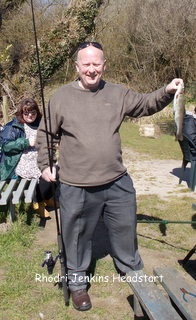 While fishing anglers were being closely watched by a swan, making sure they did not get too close to its nest and were sent packing if they did!!
We wish to thank the Rotary Club of Bridgend, Bridgend Lions, Ogmore Angling Association, Bridgend Fly Tying Association and Sunshine Lodge R.A.O.B. of Pencoed for their continuing support.
Rtn Edgar Burt
Roger Marsh's visit to Nepal to heal and comfort those in need.

The Rotary Club of Bridgend have raised £520 to assist Roger Marsh a well known and experienced acupuncturist and head and spine specialist to spend six weeks in Nepal to treat, heal and comfort those in need.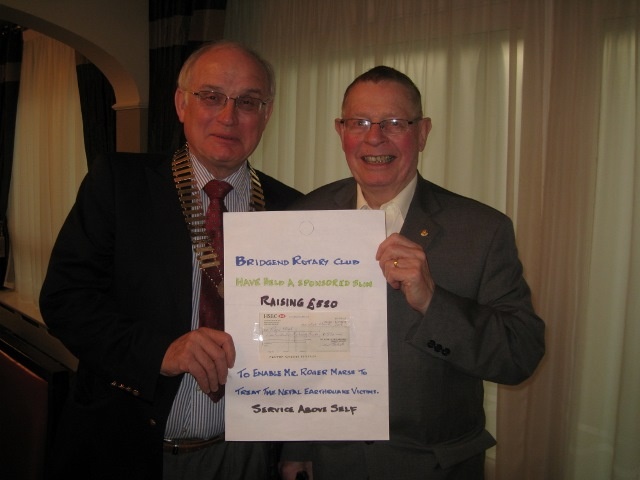 President Alan Reeks and Rtn Neil Solman

The money was raised by several members of the club being sponsored to lose and attain their target weight over a six week period. Many other ( less overweight members ) were contributing sponsors. Roger will be visiting our club on his return from Nepal to present a talk and slideshow of his experiences and memories.

Rtn Neil Solman
Bridgend Rotary's Junior Speaks Youth Competition a Resounding Success
The Rotary Club of Bridgend held its annual Junior Youth Speaks competition at Tremains Primary School on Thursday March 17th.

Youngsters who are in either year five or six participated from ten local schools in the Bridgend area, in what was a very enjoyable event.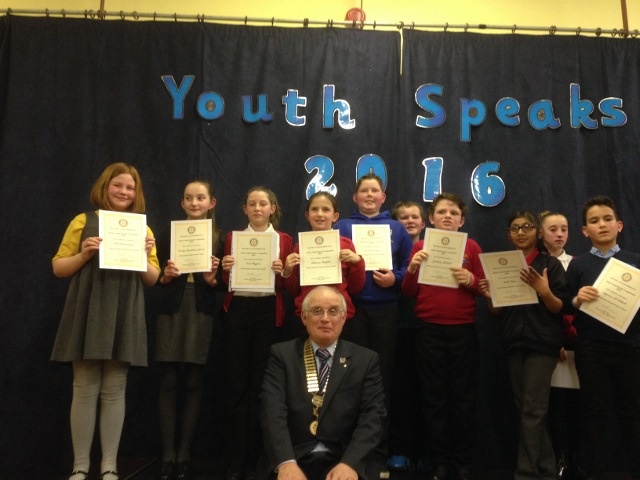 Once again the audience were captivated and entertained by the pupils' speeches, which ranged in topics from "Women's Equality", "To Stay or Not to Stay, that is the Question" and "Mathematics" through to "The Importance of Following Your Dreams", "My Grandmother", Preventing Cruelty to Animals" and "Should Children be Allowed Phones in Schools".
The judges, Gillian Hale, Dianne Hubbard and Felicity Ladbrooke, had the unenviable task of deciding on the competition winners. Chairman of the judges, Gillian Hale, thanked all the children for competing and also their families, friends and teachers for supporting them. "It was a very difficult decision to reach" said Gillian, "as the standard of each of the young people was so high. I am always amazed at the youngsters choice of topics and their confidence and ability to stand in front of an audience to present to them."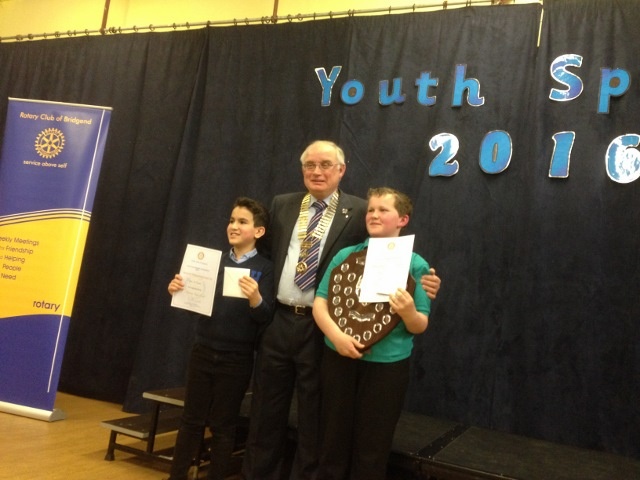 The runner up of the competition was Aymon Al Rikabi from Tremains Primary School, whose thought provoking topic was "Should we be so Self Conscious". The overall winner was Roan Goulden from Pencoed Primary School, who gave a very convincing and entertaining presentation on "School Homework".
The next Bridgend Rotary Junior Schools competition will be Junior Schools Quiz, which will take place at Litchard Primary School in May. (Exact date to be determined.)
Rotary International Evening Monday March 7th

It is tradition within our club to hold our International Dinner on the dinner meeting closest to the date of our patron saint, Saint David on March 1st. The evening was well attended by 40 Rotarians and Guests, including 4 from Interact Pencoed and 4 from Atlantic College.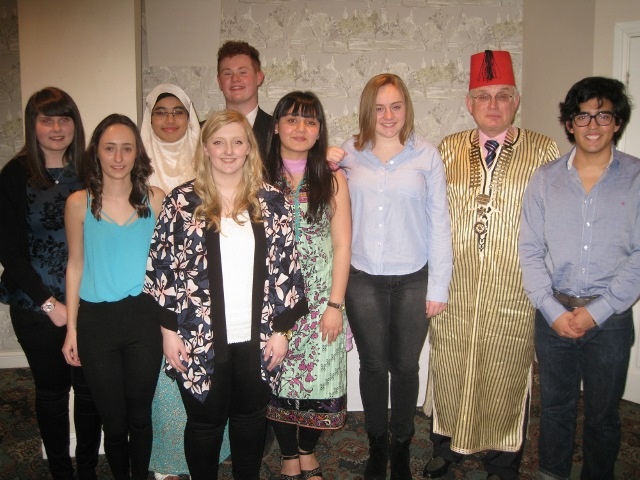 The Internation represtatives with the Pesident Alan Reeks were Jsephine / Switzerland and Czeck Republic; Amirah Wan Usamah / Malaysia; Sundas Khan / Pistan and Francisco / Argentina. The raffle gathered £85 towards International projects. Acclaim goes to Judy McCarthy and her team.
Rtn Wayne Morgan

Rotary Ramble 17th February 2016

Early morning on 17th February the idea walking (with rain at the time) seemed a bit silly; 11.00 am at the sheep sale field at Blackmill (with very heavy rain) it seemed more than just a bit silly!!! Wet weather gear absolutely essential as well as umbrellas!!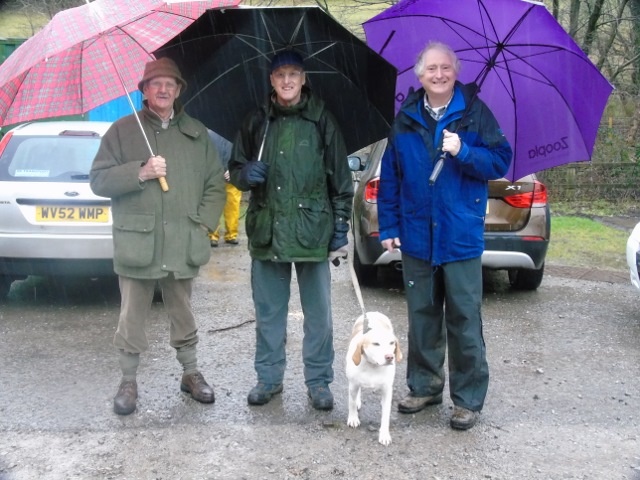 The first surprise of the day was to find the car park full of horseboxes and trucks, the next surprise was to see groups of huntsmen, some in pinks, and riders appeariong from breakfast in the Junction pub and then to see hounds and horses unloaded. The Llangeinor Hunt had arranged to meet at the same venue. President Alan Reeks, Edgar Burt, Hopkin Joseph and Matt Evans watched the riders and hounds set off, called to action by a hunting horn. It was a very colourful scene as they set off up the western side of the valley towards Blaen Cledwyn.

The next surprise of the day was that minutes after setting off up the former railway track, now a cycle path, towards Ogmore Vale the rain stopped and it was dry and warm for the rest of the morning.
The route followed the cycle track through interesting areas of countryside. Alan pointed out many industrial remains, partly overgrown, of collieries and associated workings and Matt identified many species of birds and animals seen along the way. Edgar explained much of the history of the area, including the last time passenger trains ran to Ogmore Vale. A level easy walk turning around just south of Ogmore Vale to return to Blackmill at 1.00pm for some welcome refreshment in the Horse and Hounds pub, appropriately named!!
Hopkin Joseph
Valentine's Dinner Thursday 11th February 2016
This annual event held at Season's Restaurant at the Bridgend College celebrated its twenty-seventh consecutive year of support by the Rotary Club of Bridgend.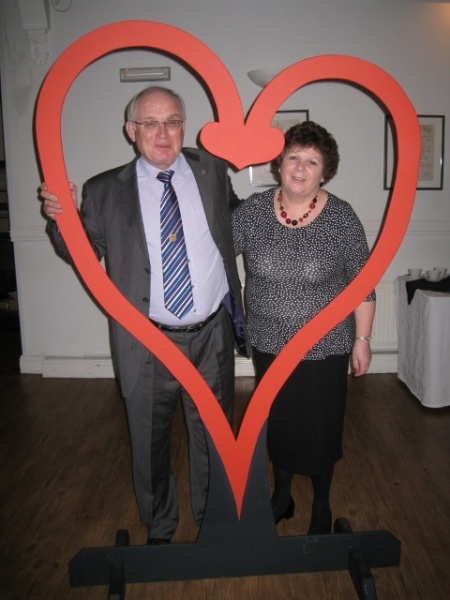 Recently retired General Manager Tony Trumper has for the last twenty five years set standards and improved performance which has now achieved very competitive facilities within the Bridgend area.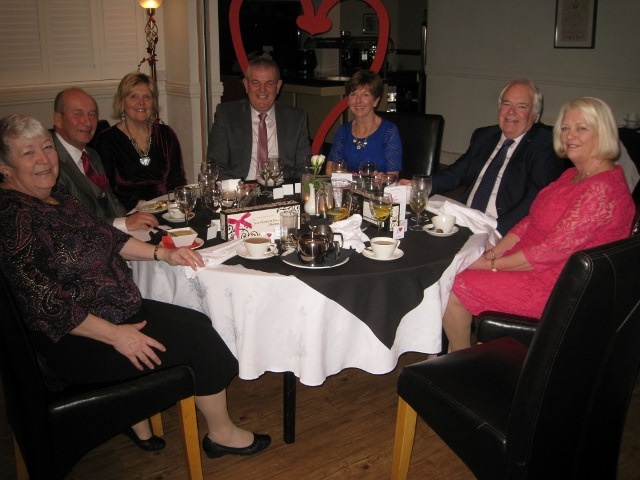 This evening was again well attended with a variety of menu choices and cheerfully presented by the waiting staff. President Alan Reeks thanked Kim Jenkins and all the staff for another very pleasant evening.
The January walk on Wednesday 20th was along Aberavon Beach.

Organiser Hopkin Joseph reported a very enjoyable two hours in splendid dry sunny weather with just a light breeze.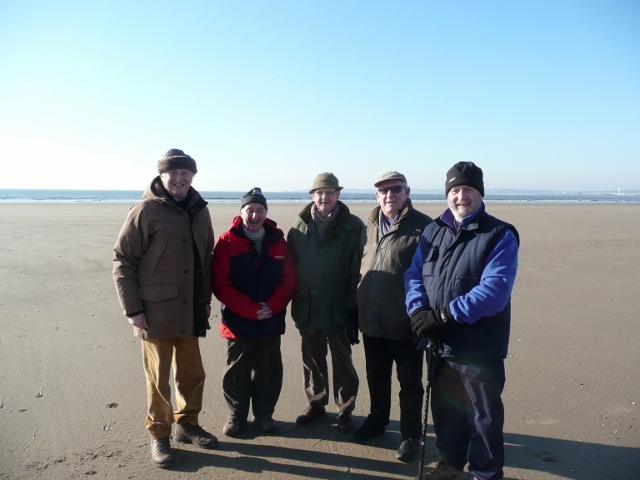 The 11am starters in the attached photograph - Mike Lewis, Edgar Burt, Gwyn Thomas, John Ward and Hopkin Joseph - set off from Remos Restaurant on the Aberavon seafront, walking westwards, initially along the promenade, then dropping down across a rock sea wall to the beach - one of the longest beaches in Glamorgan. The objective was to walk to the River Neath about one and a half miles away and this was reached at 12 noon. On the way most of the East Swansea/Mumbles was on the sky line ahead. The tide was low so the River Neath navigation poles were almost wholly out of the water. On the return journey Edward Jones, Phil Davies and David Hubbard plus David's dog, who had all set out at the correct time of 11.15 am, joined up and everyone then returned together, with a different vista of the Port Talbot breakwater and the dock cranes ahead, Remos Cafe was reached at around 1 p.m. when we enjoyed a good value snack and a welcome drink.
What might have been chaotic worked out very well.
Rotarian Hopkin Joseph
Rotary Christmas visit to The Princess of Wales Hospital 2015
As a result of the kindness of Tesco and Sainsbury Stores in Bridgend in presenting vouchers to the Rotary Club of Bridgend for use in the Christmas period, the Club was able to allocate a significant part of its traditional Christmas Charity collection to supplement the vouchers and buy a number of mobile DVD players for use by the children in the Children's Ward at the Princess of Wales Hospital.
Members of Rotary visited the Children's Ward in Bridgend in the week before Christmas to pass over the players and a selection of toys to the children there.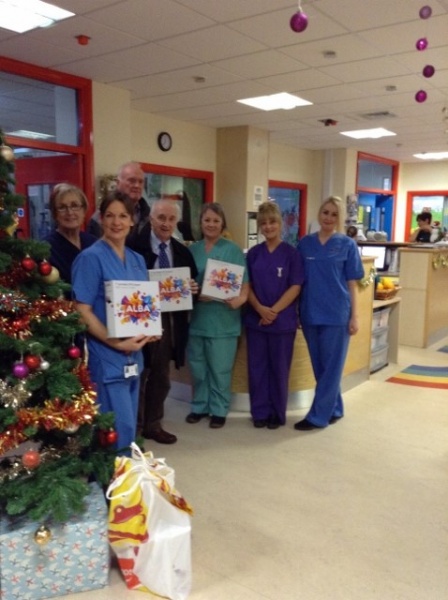 Pictured with the presents are Ward Sister Kaye Aherne and her staff. Rotarians attending Gwyn Thomas, Edward Jones and David Hubbard.

Rtn David Hubbard PHF

Rotary Christmas Charity Collections 2015

The Rotary Club of Bridgend wishes the people of Bridgend a very Happy New Year and thanks all who have given very generously to the Club's Christmas Charity Collections.
Since it was chartered in 1925, the Rotary Club of Bridgend has used the celebration of Christmas to raise funds to assist those who are less fortunate, or in need, in the Bridgend area and all monies the Club collects at Christmas time are used to support local causes and charities.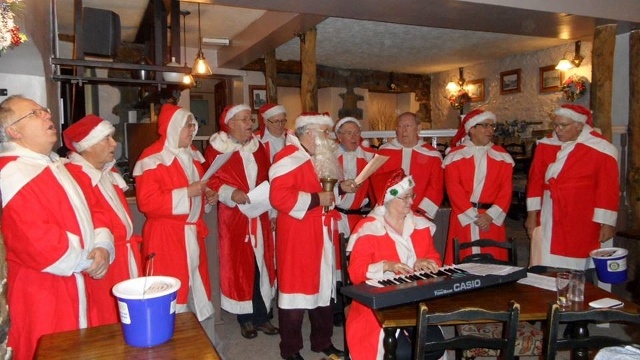 The Rotary Club of Bridgend Singing Santas and its friends in the Bridgend Male Choir perform their own blend of Christmas songs and carols in numerous establishments across the Borough. The Santas' gift of their time and the support they receive from the people of Bridgend actively reflects the true meaning of the festive season.
Rotary is a fellowship organisation dedicated to helping those less fortunate than themselves. To find out more about Rotary contact www.rotarybridgend.org.uk or the Club Secretary on 01656 652181.
Alan Reeks

President Rotary Club of Bridgend

Christmas Dinner 14th December 2015
At the Rotary Club of Bridgend Christmas Dinner, President Alan Reeks presented a Paul Harris Fellowship award to Rotarian and Past President John Ward.
The prestigious award is presented to Rotarians and others in recognition of oustanding service to the Community and the Club, Paul Harris Fellow awards were originally inspired by Rotary International's founder Paul Percival Harris (1868-1947) to recognise, as stated in the citation,"people who have done exceptional work on behalf of Rotary in appreciation of tangible and significant assistance given for the furtherance of better understanding and friendly relations among people of the world".
Rotarian John Ward has been a member of the organisation for some forty years and in addition to holding the office of Club President ,has been the Club's Secretary,and plays an active role in all of the Club's current activities and is currently developing a significant international project which will benefit from Rotary internation Grants.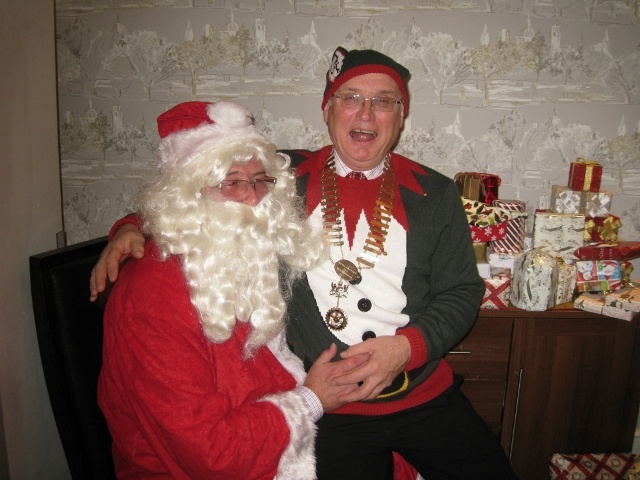 The Club was surprised by the unexpected visit of Father Christmas (Rotarian Tony Berrow) who distributed the bran tub gifts with the assistance of the President.
President Alan Reeks.
A CHRISTMAS ODE TO A YELLOW TABARD
Composed by our latest Paul Harris Fellow and Poet Laureate

Rtn John Ward
'Twas the night before Christmas, snow had been foretold
In the foyer of Tesco it was bitterly cold
The Bridgend Rotarians had been specially chosen
To parade with their buckets and be cruelly frozen
Despite their discomfort, they all felt quite mellow -
For they were beautifully dressed in Tabards of Bright Yellow
The collectors looked so pretty - especially the men
That the shoppers were giving again and again.
But the time passes slowly when the icy wind blows
And when you're holding that bucket you can't wipe your nose.
At least one Rotarian must have said to his wife
"That's the longest two hours I've spent in my life!"
The collecting is now over! At least for this year
We can all enjoy Christmas with consciences clear.
And when I open my presents I pray that I won't see
A Bright Yellow Tabard from Bridgend Rotary.
Recited by John at the Christmas Party held at the Heronston on 14th December 2015.
New Member

President Alan Reeks Inducted Dr Nigel Coombes as a new member, who was introduced by Rtn Wayne Morgan MBE.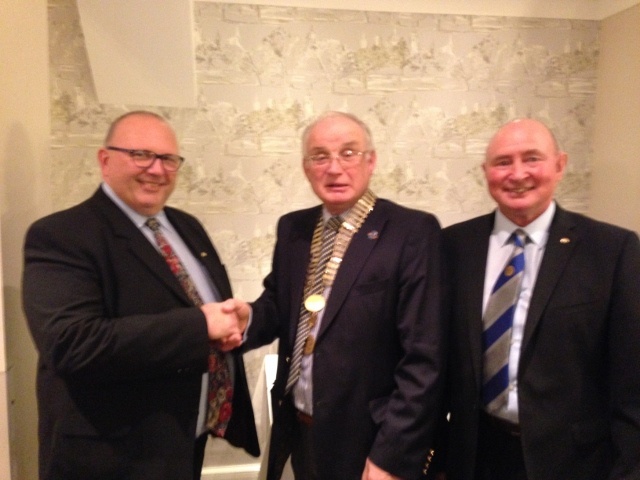 Foundation Evening November
The Foundation Evening dinner was attended by 41 people including support from a past District Governor, two District Assistant Governors,and Members from RCs of Cardiff Bay and Cardiff West, Newport Uskmouth and Satellite, Swansea Bay, plus Narberth and Whitland.
The speaker for the evening was Dr David Price from RC of Cheltenham. A Rotarian for over 30 years who has held most posts in the Club, and was President 12 years ago. He has always been involved with the organisation of the club's Fund Raising Schemes and has very deservedly been awarded Multiple Paul Harris Fellow (MPHF) for his efforts.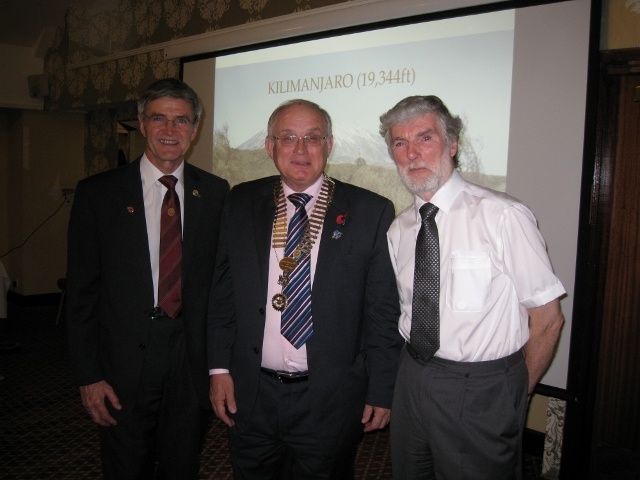 After retiring as a GP, he has ventured on some more adventurous ways to raise money for Rotary Charities and he gave examples of that on the evening.
His talk was entitled 'Getting high for Rotary' and he provided a very well illustrated account of his climbs to the top of Kilmanjaro for Polio Plus / End Polio Now, and then to Everest Base Camp for Rotarians Eminating Mlaria in Tanzania (REMIT) - a RC Cheltenham Global Grant Project. Over £10K was raised from sponsorship of these climbs.
A raffle was held with prizes kindly donated by local companies. All proceeds will go towards the Rotary Foundation (TRF).
Rotarian Dr. R W William.
Rotary Ramble October
The October Rotary Ramble took place on Saturday 17th October and was intended to be a short walk over level ground through part of the Parc slip Nature reserve at Aberkenfig. Six Rotarians (Gwyn Thomas, Edgar Burt, John McCarthy, Gillian Hale, Sue Cassidy and Hopkin Joseph) met at the reserve cafe and set off at 10:30, walking initially alongside a former canal to reach a hide overlooking the northern wetland area. From inside the hide it was easy to pick out (without disturbing them) several species of birds / fowl on and around the water feature. Leaving the hide after a brief stop (to sit on a most unusual shape bench) the next stage was to walk past wildflower meadows and woodland areas to reach a hide on the opposite side of the Northern Wetland area.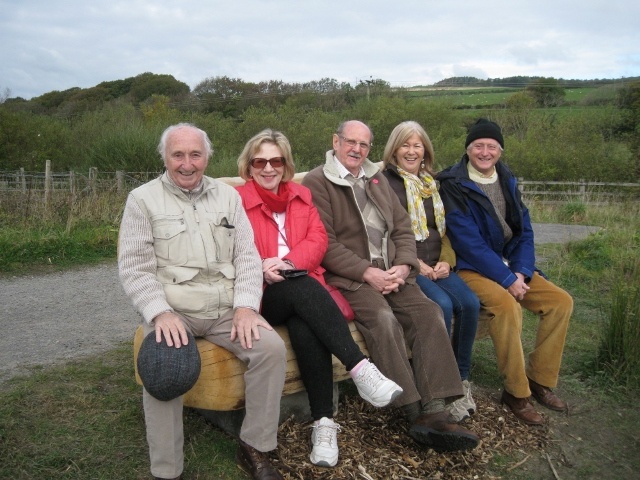 The Return route to the Cafe and car park (picked up a message from President Alan Reeks sent from a very cold Newcastle) followed footpaths, cycle paths and bridleways to get back to the cafe at 11:45. During a period of just over an hour it was only possible to walk through less than one tenth of the reserve area, but with wouderful October weather and picturesque Autumn foliage it was a very enjoyable stroll, with John, Hopkin, Gillian and Sue enjoyed a well derserved post walk cup of tea in the cafe.
Rtn Hopkin Joseph

Hopkin Walks
August Ramble - a short walk along level ground starting at Bryngarw Country Park.
Gwyn Thomas and Edward Jones (Edward on crutches after a hip operation) decided to remain close to Abergarw House.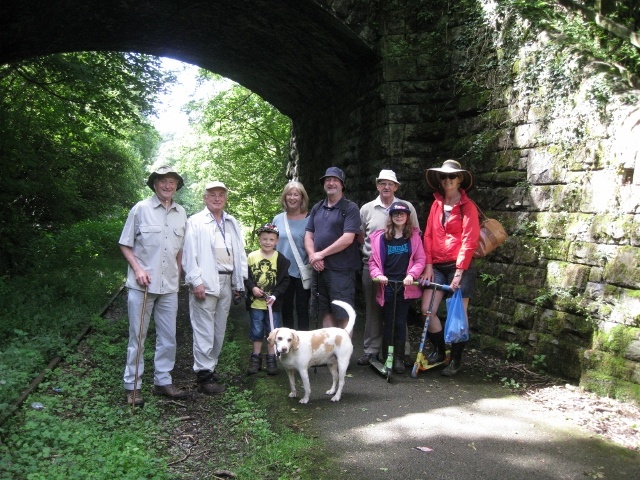 Hopkin Joseph, President Alan Reeks (plus dog), Paul, Gillian Hale, Mike Lewis, Edgar Burt,Tomi, Sonja Cain and John McCarthy. The walk set off, walking initially down to the western bank of the Garw River (running with crystal clear water albeit after summer rain and then northwards through the well maintained Japanese garden of Abergarw house the route crossed pasture fields, through some overgrown footpaths and muddy (very muddy in part) trails to reach the South Bettws to Llangeinor Road. The major route obstacle was encountered here; a 5 bar gate (locked) to "leap over" closely followed by two frisky horses (who encouraged a quick exit) - all safely over one member landing rump first backwards with an Olympic display of gymnastics!!! Crossing a road bridge over the Garw River then next down a stepped path into the railway land of the Brynmenin to Pontycymmer rail track with cycle track adjoining (a gentle, dry, hardsurfaced pathway) for the return journey to the Country Park, reaching the car park.
Jane Lewis joined the group for a convivial light snack in the Country Park Cafe. A really good menu, very well presented food and good value; a good end to an enjoyable stroll.
Rtn Hopkin Joseph
Annual Garden Party
The Rotary Club of Bridgend annual garden party was held recently at Gwyn Thomas's house in Pencoed which was a great success, held on one of the best days this summer.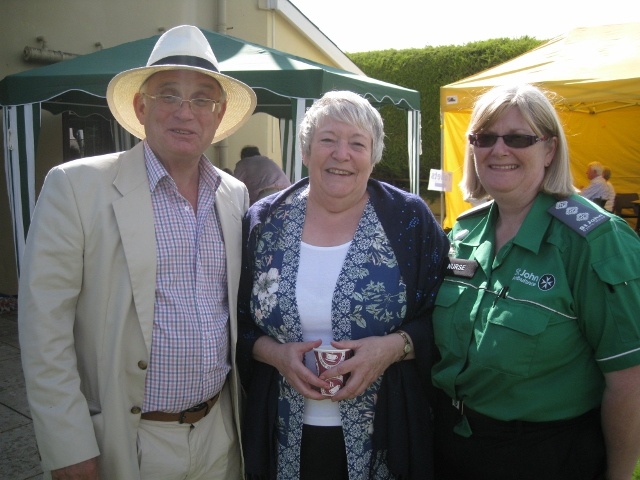 President Alan Reeks, Chair of the International Committee Judy McCarthy, St John's nurse Joy Evans
Rotarians said: Our new president Alan Reeks, hosted guests including the past district governor, Sandra Townsend, the Ogmore Vale Silver Band and 1062 Air Training Corps. "An afternoon of Festive Fayre was enjoyed by 60 people with a magnificent display of equestrian riding by one of our newest Rotarian members Jennifer Myerscough. "The Ogmore Vale Silver Band stirred emotions with some wonderful entertaining music. With Cathrine Lewis serving excellent food with many activites such as out door bowls being played.

President hand over Dinner
The Bridgend Rotary Club Presidents hand over dinnerevening was held at the Heronston Hotel on Monday 6 July. Handing over the Presidents chain of office took place between the outgoing President Rtn Sue Cassidy and the incoming President Rotarian Allan Reeks. Sue stated, that she was delightted to have had the honour of being elected to represent the club and its members over the past year,which had at times had its moments, but that so much good work had been achieved and many thousands of pounds had been raised and distributed to local charities that She could only expressed here sincere thanks to the chairs and members of her committees for their hard work. Sue will now act as the clubs past President for the ensuing year, offering support and guidance to the incoming President Rotarian Allan Reeks.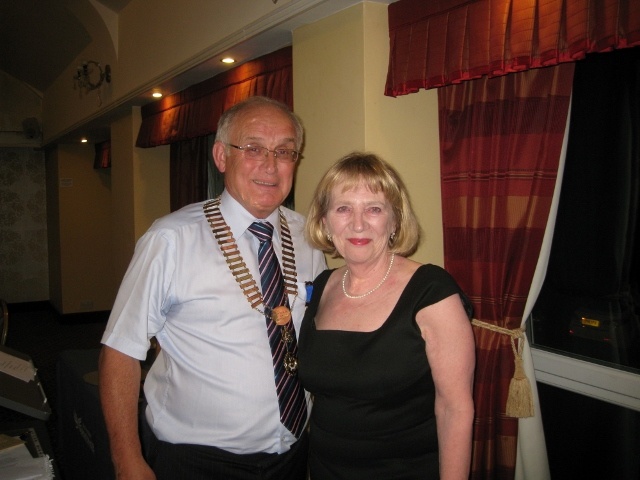 Rtn Allan expressed his wish to emulate the excellent work that Rtn Sue had achieved during her year of office and looked forward to working with her, the chairmen and members of the various committees many of whom will come together as a whole on major projects like the Wggle Dragon Cycle Ride, the BikerFun Ride, Disabled Fishing and football competitions, the Cistmas collections and many more fund raising activities.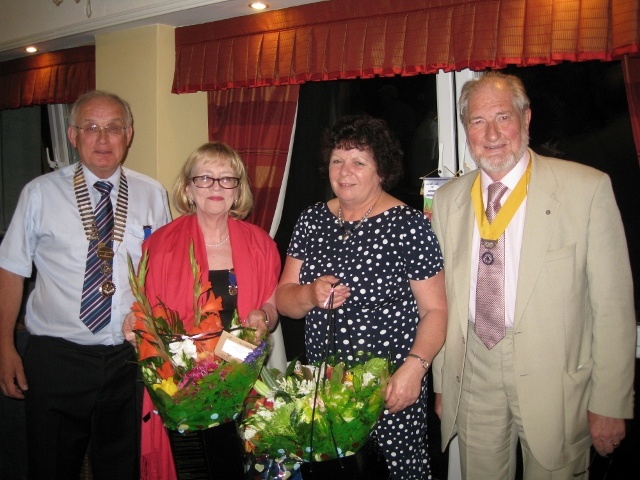 He wished Rtn Sue, now his past President, Dr Bob Broughton OBE the clubs President Elect and Rtn Wayne Morgan MBE President Nominee his very best wishes for a coming year which will be filled with help, support and goodwill from all of the club members.
Rtn Wayne Morgan MBE.
Dragon Ride 15
At the turn of the century,a time when "sportives" did not exist on British shores, a small collection of 270 cyclist braved the fearsome, yet stunning terrain of the South Wales mountains to complete an epic 226m ride; unbeknownst to this journey would become a world renowned cycling challenge, the wiggle Dragon Ride.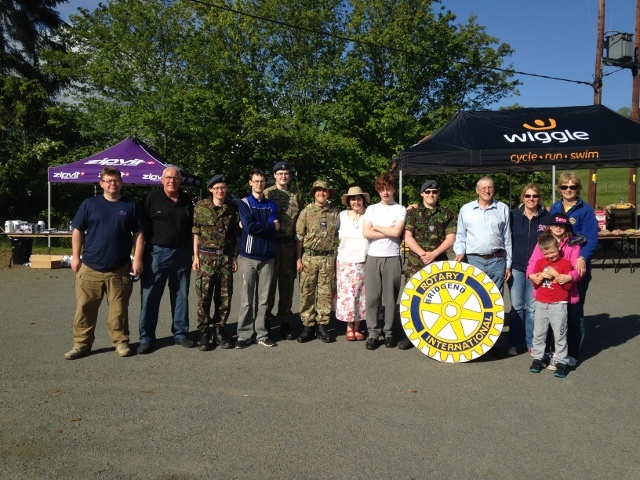 The group were faced with some of the country's most testing climbs including the 'Rhigos' , 'Black Mountain' and 'Devil's Elbow' and working together they conquered everything in their path, returning home in glory. Each cyclist was hailed a hero and become part of cycling legend.
For over a decade thousands of cyclists from over thirty countries around the world have journeyed to South Wales in the tracks of these brave pioneers; their goal, to claim that they too have "slayed the Dragon". It is now said that for one to become a "true sportive rider" one must have completed this famous ride; with its long and relentless alpine-like climbs it's one of the UK's toughest and most rewarding cycling challenges and a "bucket-list"event for cyclists across the globe.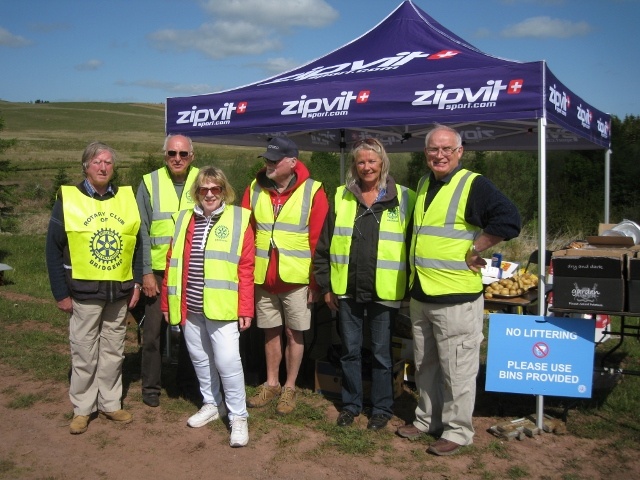 The Bridgend Rotary Club has been the leading the leading organisation to support this event by manning the essential feed stations spread out at various intervals around the route. The Bridgend Rotary Club is proud to be associated with the event and each year over the past 4 years we have raised a significant amount of money through our involvement for our local charities. We are looking forward to next year's event which is promising to be bigger and better than in pervious years.
Event details distances Corto 43km, Medio Fondo 153km, Gran Fondo 226km, Dn Devil 302km, Women Only 43km.
Rtn Wayne Morgan

Junior Rotary Quiz 13th May 2015
The Bridgend Rotary junior quiz was held at Trelales Primary School on Wednesday 13th May and it proved to be great success. Six Schools each entered a team of four pupils representing years 3,4,5 and 6. Tondu,Ffaldau,Maes yr Haul, Litchard, Oldcastle and Trelales Primary School prepared teams whose general knowledge was to be admired.
Every pupil demonstrated his / her enthusiasm and depth of knowledge as each competed for the first prize and the winner's cup. There was a lot of support on the evening from teachers, pupils,family,friends and Rotarians.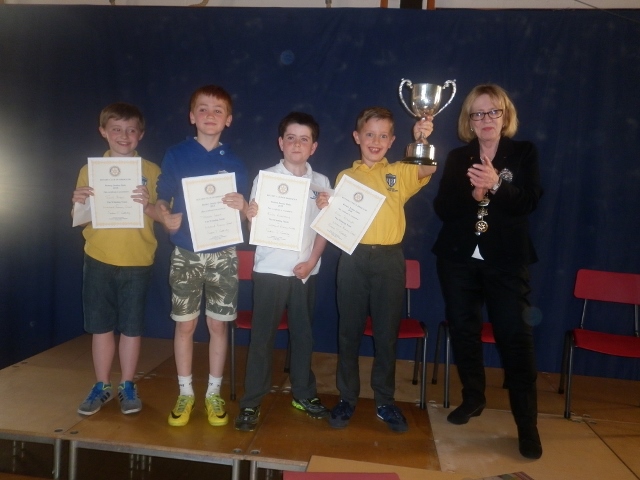 After a very closely fought competition Litchard Primary School emerged victorious to claim the cup. The team comprised Evan Richards (Year 3), Thomas Lewis (year 4), Finley Armstrong (Year 5) and Jack Biggs (Year 6).
The Rotary Club of Bridgend would like to thank Trelales Primary and the Head teacher, Mr.Morrison, for hosting the event. They would also like to thank all the pupils who participated and all those who turned up to support and make it such a wonderful evening.
Rtn Gill Hale.
' Would I Lie to You ' Charity evening
An evening of entertainment was held by the Bridgend Rotary Club billed as ' would I Lie To You. The Bridgend Rotarians presented their own version of the popular show 'WINLTY' at the Blandy hall in Laleston on Friday evening 1st May. There were two teams which were captained by Rev Mike Lewis and Dr Bob Broughton with the urbane and much loved 'Adjudicator' Gerry Bassett (he of the attendance register and bonus ball fame) in the chair. Two hours of fun and ribaldry ensued with the 40 plus audience enjoying the 'put-downs', lies and damn lies.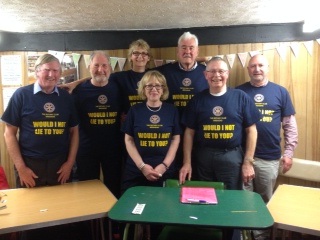 The event a buffet and fun evening in aid of McMillan Cancer support and raised £502.60 through a raffle and donations. The participants all wore WINLTY tee-shirts and of course, these will be worn again next year at a repeat challenge.
Rtn WM
Fellowship day RC Bridgend and Cheltenham - 25th April 2015
Twenty six members and friends, including ten from Bridgend rotary met at the coach and horses in Llangynidr, near Crickhowell between 10:30 and 11:00 on Saturday morning. This grave an opportunity to provide the pub with lunch orders and / or have a cup of coffee, and also to meet everyone from both localities prior to setting out on the walk at 11:00. The four and a half mile, two hour walk was ably led by a Cheltenham member, and covered road, fields and a very pleasant canal path for the return to the pub.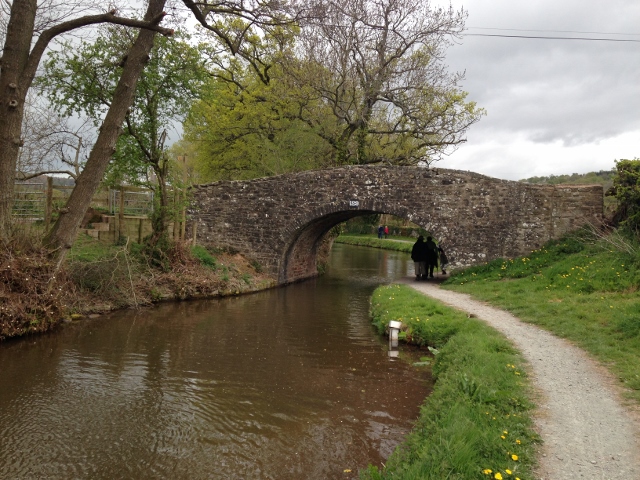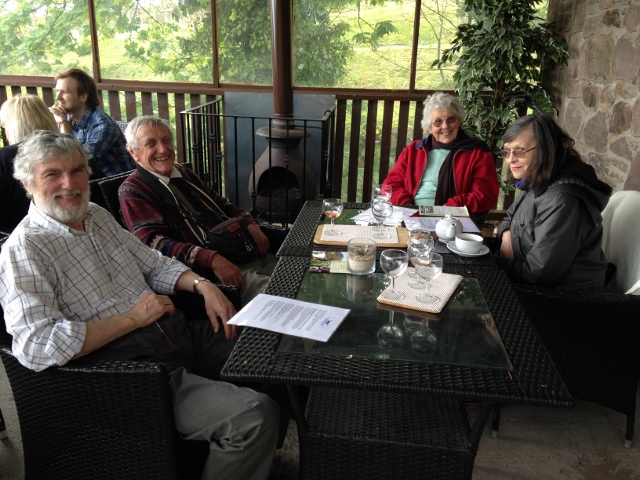 A very good lunch was enjoyed in the pub, with good opportunity for fellowship. The presidents of both clubs expressed their appreciation for this combined fellowship.
A Bridgend member provided instructions and guidance on how to proceed to the Sugarloaf Vineyard where everyone met around 15:00. This provided time for refreshments, a DIY tour of the vines and also, an opportunity to sample four of the wines. There was ample space for everyone to sit down around the tables for further inter-club fellowship. The successful and enjoyable day ended, for a few, with dinner at the Angel Hotel in Abergavenny.
WRW
Junior Youth Speaks
Bridgend Rotary Club held its annual competition at Croesty Primary School on Thursday 19th March. It was a very exciting event with 11 primary schools competing for the Rotary Shield awarded to the winner. Each competitor chose his/her topic and presented it to the audience. Diverse subjects such as Drones, Super heroes, the impact of Poverty on Education and Winston Churchill were presented in an interesting and lively manner.The standard of the speakers was exceptional, making it a very difficult task for the adjudicators. The event was well attended by parents, teachers, friends and Rotarians to make for a friendly evening and an audience who offered great support to the pupils on stage.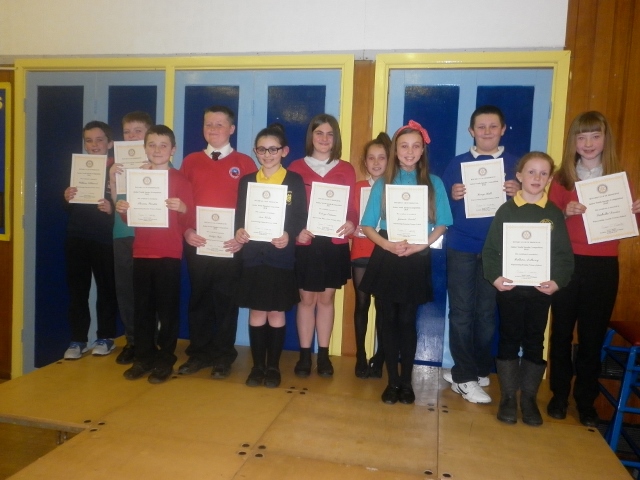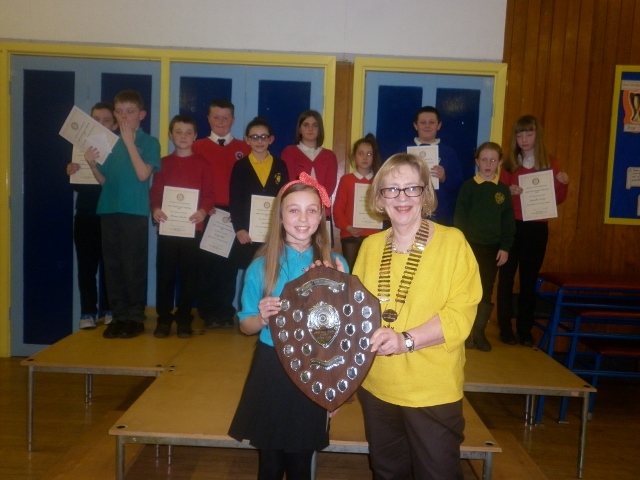 The final result was that Jasmine David of Tremains Primary School was declared the winner on the evening. Jasmine presented a lively and persuasive argument to convince her audience that "More boys should be encouraged to become involved in Dance". Jasmine was presented with the Shield and a gift voucher by President Sue Cassidy. David Sheldon from Pencoed Primary School was also awarded a prize as the runner up on the night. He offered an extremely interesting and engaging point of view on "School Attendance".
The whole evening was a great success and was enjoyed by all those present. Bridgend Rotary Club wish to thank all those students who took part to make it such a wonderful competition.
Rtn Gill Hale
International Evening
On 2nd March the International committee put on an International evening with speaks from Ty Cariad Africa With guests from Interact at Pencoed Comprehensive School.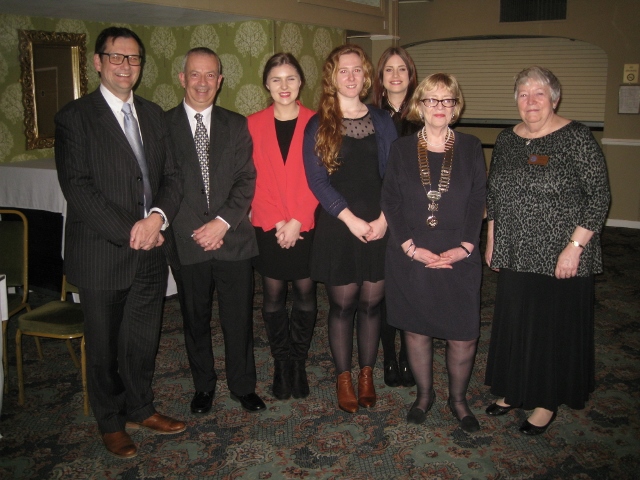 Speaks from Ty Cariad Paul Booth and Harvey Jones, Guests President of Interact, Ellie Taylor,Treasure Rhian Bateman and Secretary Carwen with President Sue Cassidy and Chair of International Committee Rtn Judy McCarthy.
Ty Cariad Africa
Ty Cariad children's home in Namugongo was established in 2003 following a visit by Paul Thomas (Chaplain to South Wales Fire and rescue Service) to the Uganda fire and rescue headquarters in Kampala. His visit coincided with a local fire fighting team's return from an incident where they rescued two babies, who had been dropped into latrine. Sadly these babies died and Paul shared in the fire crew's distress.
Ty Cariad Africa is a UK based charity that raises money to help orphans and vulnerable children in sub-Saharan Africa. There aim is to relieve poverty, sickness and distress and to provide access to education amongst orphans and vulnerable children. They have a partner with organisations that promote tracing, re-linking and resettlement of children in their families and extended communities wherever possible. They believe that all children have a right to be loved and to be safe from harm. They should have nutritious food, clean water and good healthcare a right to education and a right to play - to be children.
Rotary Web Team
Rotary Club of Bridgend Valentine's Dinner
This special annual event which is organised and run by Rtn Roy Hogkinson has been well supported for over 25 years by Bridgend Rotary Club which was held at Bridgend College Seasons Restaurant on Thursday 12 February 2015.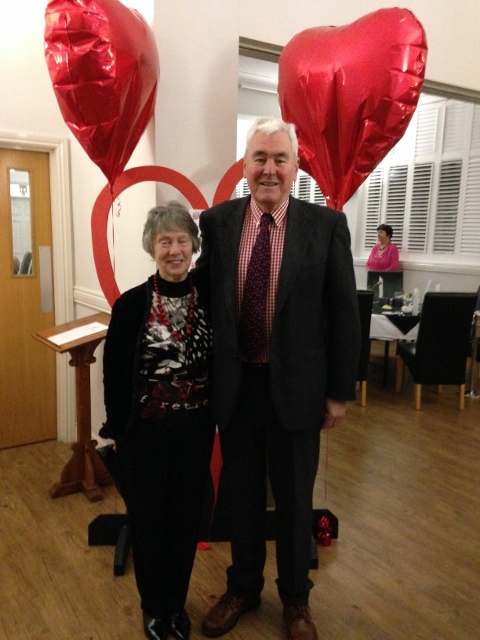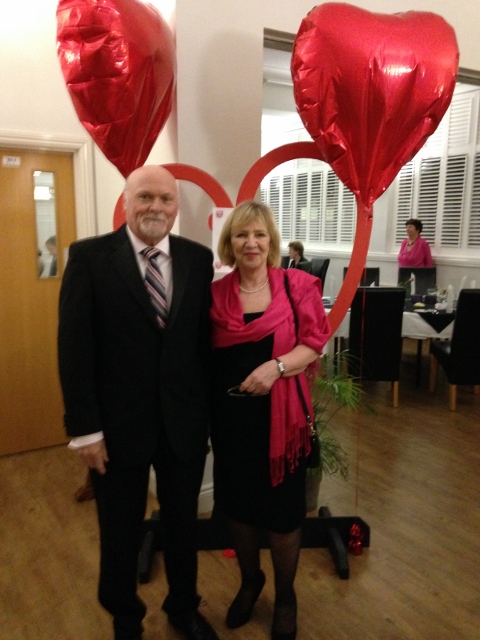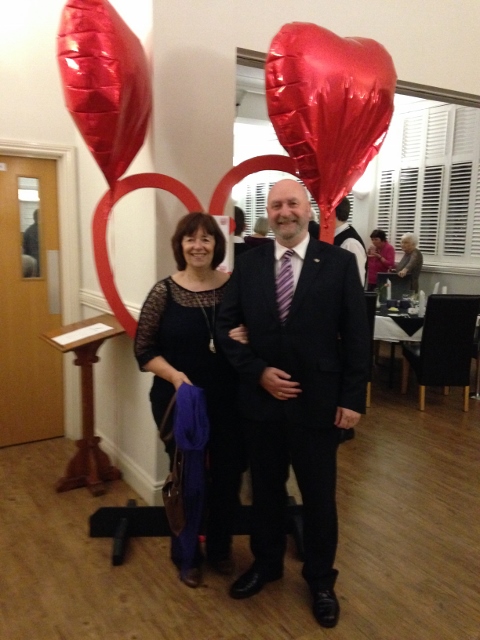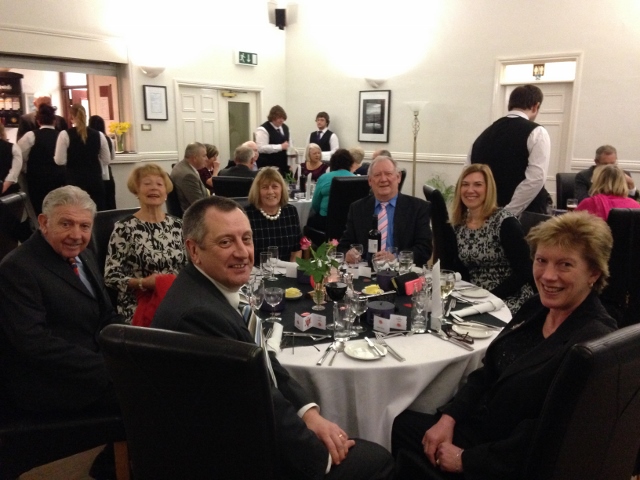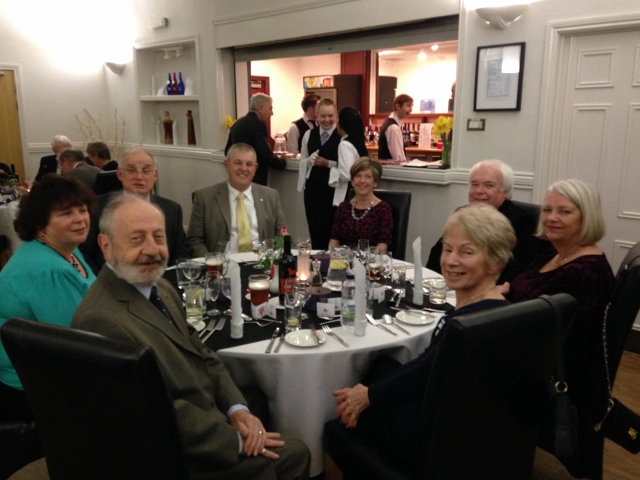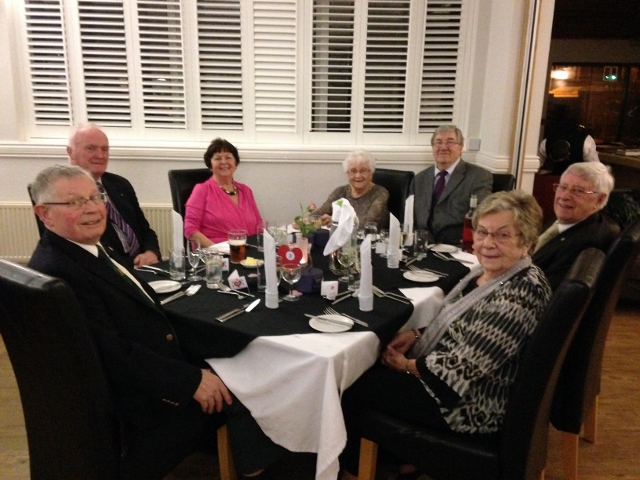 Many thanks should go to Restaurant Manager Anthony C Trumpery, h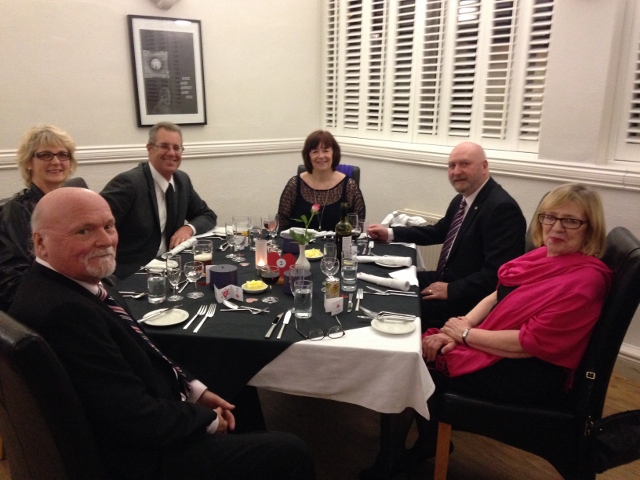 ead Chef Neil Hughes and all the students who prepared the food and the waiting staff who courteously provided an excellent services.
Rotarian President Sue Cassidy thanked the College staff for this special evening and Rotary members for the continued support of this Student career development event.
Rotary Web Team.
Bridgend & Porthcawl Rotary District Final Quiz Competition
The competition was held in the Atlantic Hotel, Porthcawl on Monday 9 February. The competition was hosted by Porthcawl with the Assistant Governor, Mansel Thomas adjudicating. Both teams started slowly with an inspired guess from Bridgend winning the first round. As the rounds continued Bridgend started to edge away with the final score of Bridgend 42 points Porthcawl 30 points with both teams been congratulated on a hard fought contest.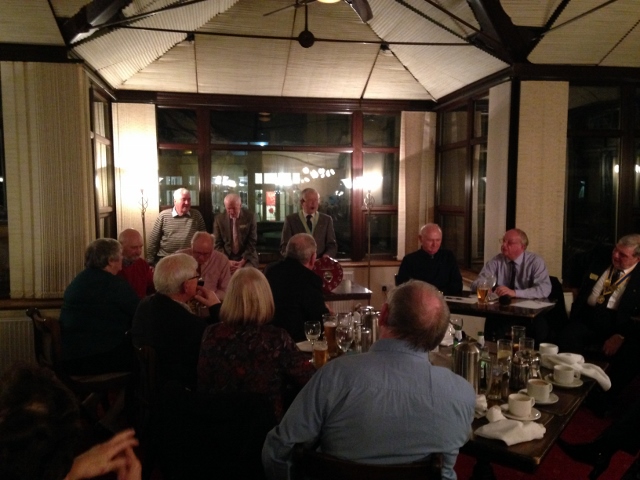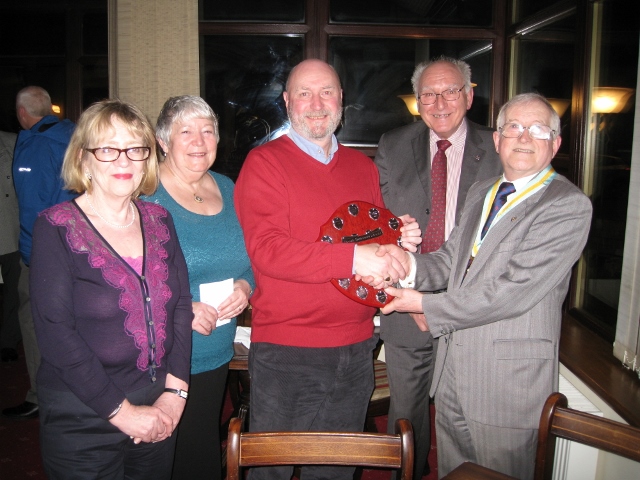 The President of the Porthcawl Rotary Club, Rotarian Wayne Warlow, was magnanimous when he congratulated the Bridgend Rotary club team an a deserving win and wished them well in the next round of the competition, the inter-district final. President Sue Cassidy of the Bridgend Rotary club said; that it was a most enjoyable evening with good company , food and fellowship with the win coming as a bonus. She thanked the Porthcawl Rotary club and President Wayne for hosting the evening and suggested that a rematch could be arranged at some point in the future. The teams were delighted with their efforts and were congratulated by the assembled Rotarians on a well run and competed contest.
Rtn Wayne Morgan.
International Youth speaks area final
The Bridgend Rotary Club was delighted to host the Rotary International District 1150 area Youth speaks final at Brynteg Comprehensive school on Monday 19th January 2015. The competition aims to offer young people; An experience of speaking on a public platform as members of a team. An in contrive to formulate ideas on topical subjects. The discipline in dealing with a topic in a limited time. The opportunity of learning and practising high standards of expression,presentation and appearance. the impartial criticism and assessment of performance by experienced adjudicators. Each team is comprised of three members; the chair person, the speaker and the proposer of a vote of thanks.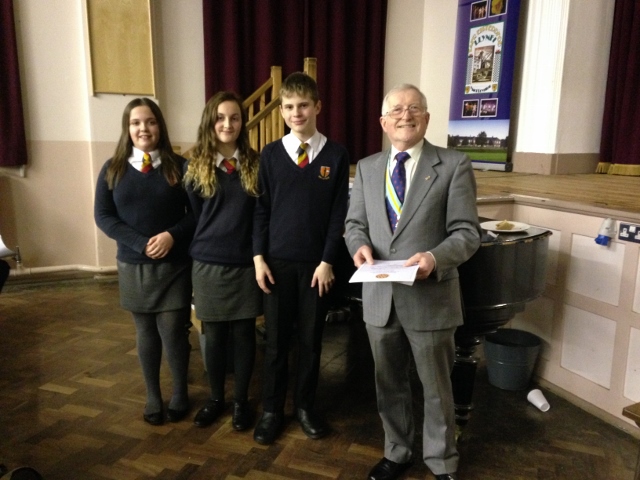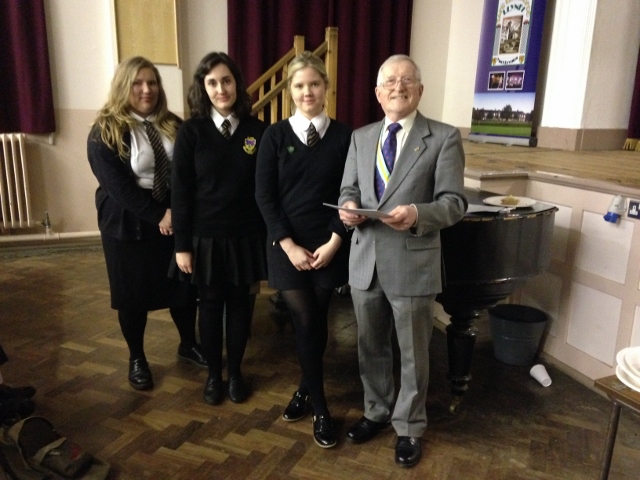 There were in effect two competitions at the area final; Intermediate competitors from Brynteg Comprehensive School their topic"Welsh should remain mandatory in schools and the current system should not be altered" speaker Halle Bletsoe, verses, 293 (Cowbridge) Air Training Corps their topic "Will space tourism change humanity for the better" speaker Thomas Wood. The senior competitors comprised; Ysgol Gyfun Maesydderwen, Swansea, topic "Better off a life on benefit" speaker Isabelle Truscott. Brynteg Comprehensive school topic "Should the global community be making a greater contribution to prevent the spread of Ebola" speaker Conner Lomax and Cowbridge Comprehensive School topic "The UK should do more to help developing countries combat disease" speaker Elliot Macneil.
The adjudicators Mr Andrew Wood, Reverend Hywel Richards and Mr James Ledyard stated that the competition was very tight with the winners taking honourers by the narrowest margin. Questions to each team were put by Rotarian Caron Jones and the time keepers were Rotarian Roy Hodgkinson and Rotarian Edward Jones. Rotarian Mansel Thomas, District assistant governor presided over the competition along with Bridgend President Sue Cassidy. Both stated that this was a very high calibre completion and congratulated the contestants encouraging them to continue the good work and wished them well in their future careers.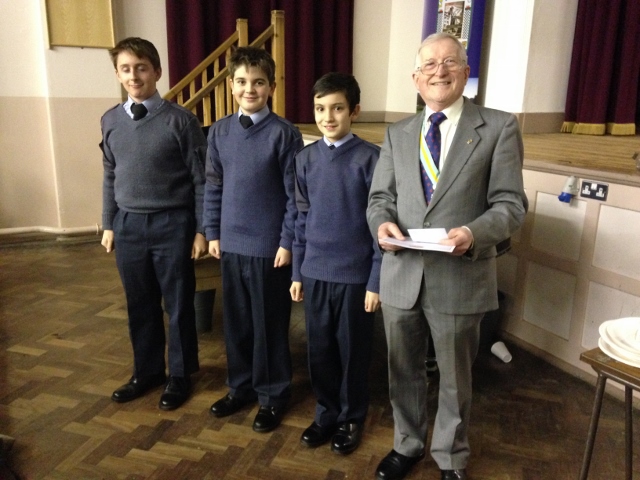 Winners Intermediate Competition: 293 (Cowbridge) Air Training Corps. Runners up, Brynteg Comprehensive school.
Winner Senior Competition: Cowbridge Comprehensive School. Runners up Brynteg Comprehensive School with third place going to Ysgol Gyfun Maesydderwen.
The winners of both categories will now go forward to compete in the district final on Friday 6th March 2015 at Cowbridge Comprehensive School.
Rtn Wayne Morgan
Shelter Box
At a resent Tinnitus concert, sufficient funds were raised to purchase a shelter box. This box can be traced via the shelter box web site, www.shelterbox.org/trackbox box number UK0073210. Thank you to all who helped to make this possible.
Tree Planting at Pen - y - Fai Primary School
On Friday 14th November, First Minister Carwyn Jones planted the first tree, part of a landscaping project, at Pen-y-fai Church in Wales School, ably assisted by the County Borough Mayor, Cllr Gary Thomas and his Consort Mrs Kay Jenkins, Head teacher Mrs Christina Bach,pupils, teachers and parent from the school, President Sue Cassidy and other assorted Rotarians.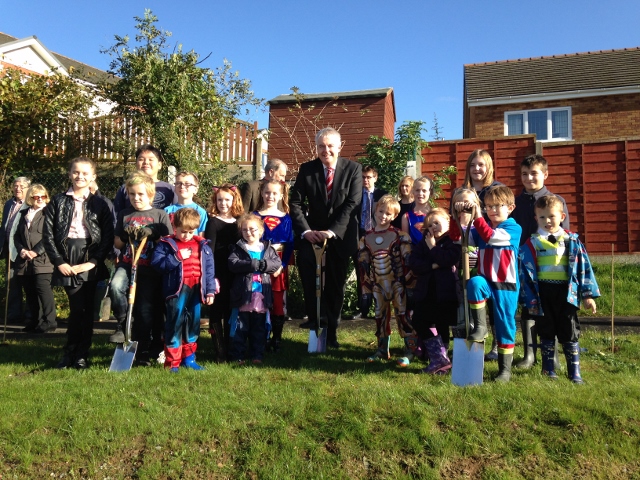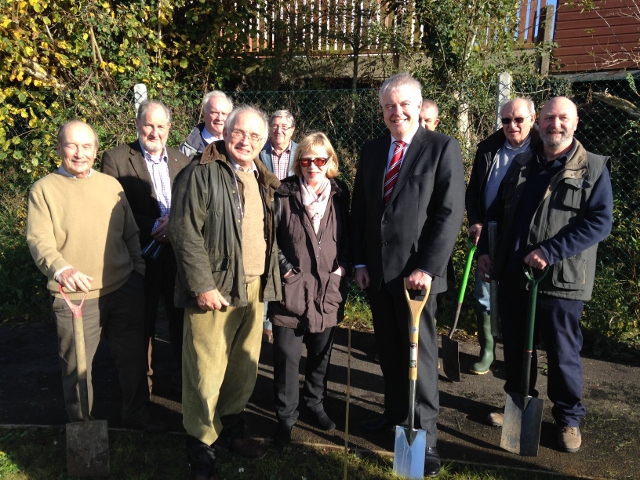 First Minister with Children planting the first tree. First Minister with President Sue Cassidy with Rotarians planting trees.
120 trees were provided by the Woodland trust, along with bamboo stakes and protective sleeves. species planted were hawthorn,hazel,holly,rowan,crab apple and downy birch.
The project has involved pupils at the school in planning the planting site, and they will be involved in future maintenance of the trees as the grow. Planting will provide hedging and shelter, and will encourage the return of wildlife disturbed during the building of the new school, in due course, the bats which were re-homed during the building work will be able to return also.
In addition, in keeping with commemoration of WW1 projects across the country, part of birch wood will be dedicated as a WW1 Memorial wood.
The new planting, as well as providing pleasant landscaping, will also be a valuable teaching resource for the school.
Thank you to all who turned up to assist on the day.
Rtn Mike Lewis
Foundation evening with the First Minister
On November 3rd the Rotary Club of Bridgend held its annual Foundation evening with the First Minister Carwyn Jones as guest speaker,with Presidents and guests from Cowbridge and Porthcawl Rotary Clubs.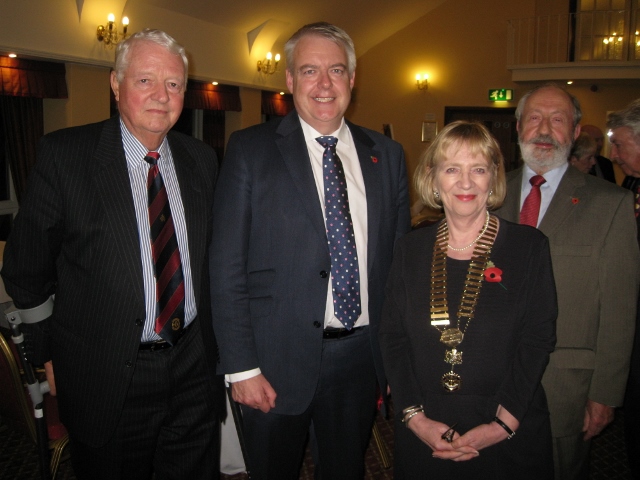 Rtn Caron Jones, First Minister Carwyn Jones, President Sue Cassidy and Rtn Hugh Thomas.
After an excellent meal, Carwyn spoke at first on his experiences in New Zealand as a bachelorette student sponsored by the Rotary Club of Cowbridge. He then went on to speak on the NATO conference telling humorous stories of the event, closing with a question and answer session on Wales and local government.
SOUTH WALES SPECIAL SCHOOLS FOOTBALL CHALLENGE SHIELD OCTOBER 2014
This annual event organised by the Rotary Club of Bridgend and Heronsbridge School was again sponsored by Past Rotarian Derek Gaynor.
The Mayor of Bridgend County Borough Council, Gary Thomas, presented the winners shield to Maes Gwyn School from Aberdare. The runners up were Ysgol Bryn Castell from Bridgend.
The most improved side was Woodlands High School, Cardiff, with the fairplay award going to Penybryn School, Swansea. The player of the tournament award was Dan Thomas from Maes Gwyn School, Aberdare.
All one hundred plus players were presented with medals by Mayor Gary Thomas and Rotarian Gillian Hale, Chair of the Bridgend Youth Services Committee.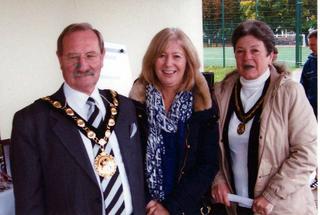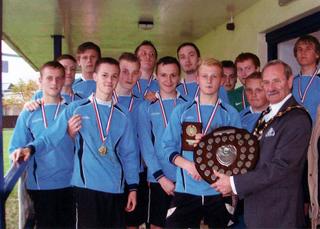 Mayor Gary Thomas,Rtn Gillian Hale and Consort Ms Kay Jenkins Maes Gwyn School Aberdare
Autumn Walk Saturday 11 October 2014
Cardiff Bay
9 members of the Rotary Club of Bridgend (President Sue Cassidy, Rotarians Hopkin Joseph, Edward Jones, William William, Mike Lewis, Gillian Hale, Sonja Cain, David Hubbard and John McCarthy) plus 7 guests and a dog left the Custom House at Penarth Marina at 09:30 to walk around the eastern perimeter of Cardiff Bay to Mermaid quay.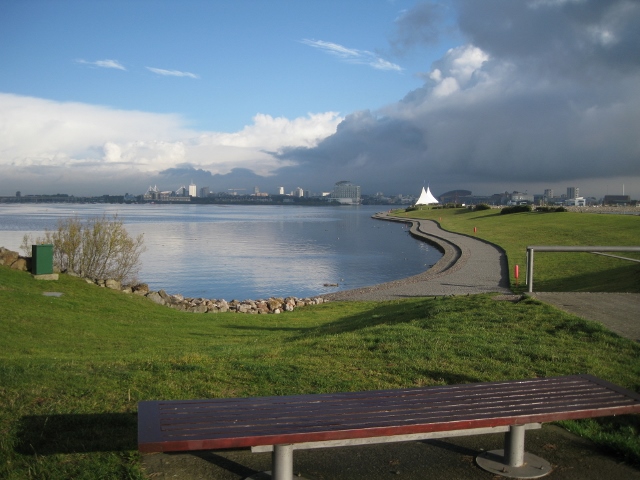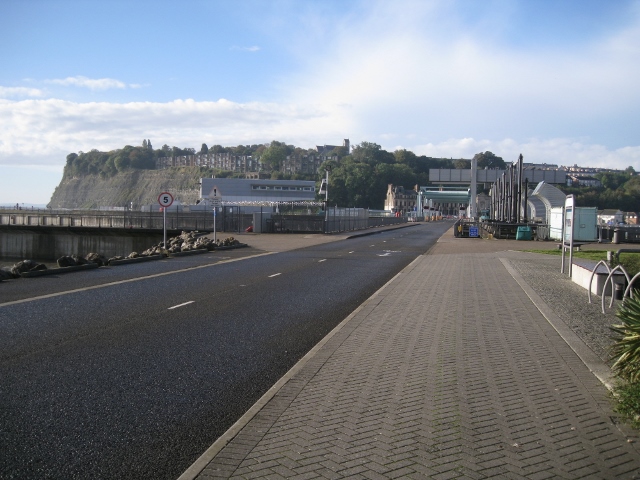 After crossing the barrage locks, passing by the fish pass, walking along the open elevated section of the barrage provided a good vista out to the Bristol channel (where it was high-tide with a seawater level higher than the freshwater level within the barrage) and inland looking towards the Penarth Marina, the Ely River Marina, the Sports village, the Taff River Marina, the Wetlands Reserve and Mermaid Quay. After a brief stop at the Scott Memorial display (recording that it was from Cardiff over a 100 years ago that the expedition set off to the South Pole) walking further along the barrage provided better views of the entrance, on the seaward side of the barrage, to Cardiff Docks (still a very busy freight port), with to the North views to the Senydd, the Millennium Centre and the Pier head building. In the distance Cardiff City Centre buildings (e.g... the Millennium Stadium) were clearly visible. There after the walk proceeded, passing the Colliery exhibition, undeveloped docks, the " Dr Who Exhibition Centre" , and the Norwegian Church to reach Mermaid Quay.
At Mermaid Quay,as the Norwegian Church cafe had not opened, a very welcome coffee was taken at Cawalladers. Some of the party then visited the shops at Mermaids Quay, others walked on westwards,past St David's Hotel, to the Wetlands Reserve;a habitat for lots of water fowl and birds.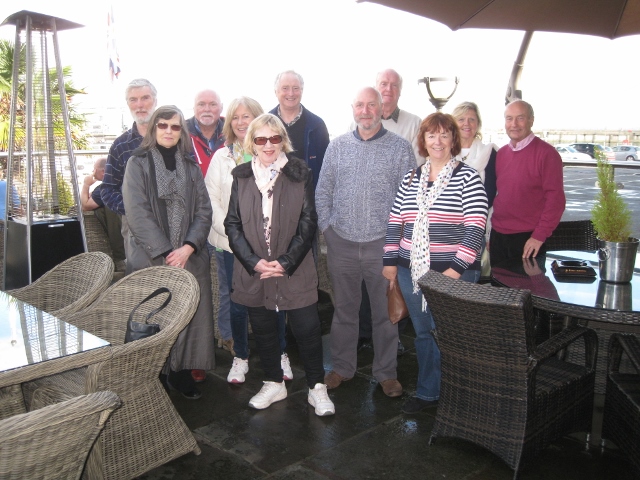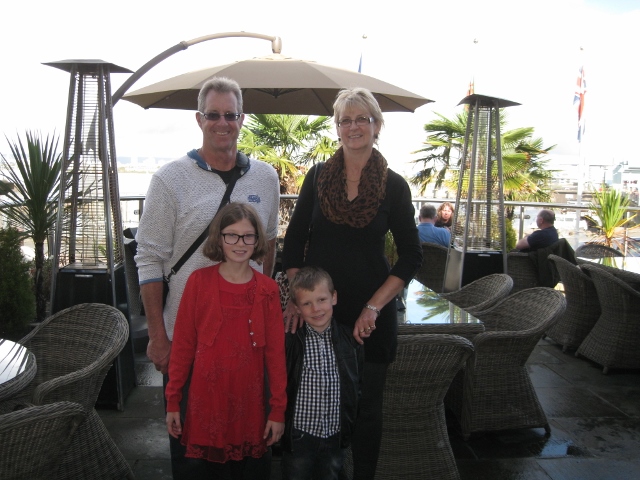 The Whole party then re-assembled at the Pier head Building to watch a 10 minute film of the changes in the docks at Cardiff; growing as a coal exporting port in the 80 years to 1914 (exporting at it's peak to over 10 million tones of coal) declining for that use in the 60 years afterwards to nothing in 1970 but still a very busy freight port.
Three of the party walked back to Custom House, the remainder taking a water taxi (which toured the western side of Cardiff Bay passing the sports Village-the national swimming pool, the white water rafting centre etc). All metup at the Custom House at Penarth Marina, now a very good restaurant, for a welcome two course lunch to finish the trip.
The weather forecast had been for rain so all had wet weather gear. In the event it was a warm dry morning ideal for walking but whilst at Lunch there were torrential downpours. Some-one was looking after the Rotary Club of Bridgend that morning !!!!
Rtn Hopkin Joseph
Rotary Club of Bridgend Bake off
The rotary club of Bridgend recently held a fun bakeoff in the Blandy Hall, Laleston, to raise funds for the supply of LifeStaw, a portable water filter. These will be distributed to vulnerable ethnic groups in developing countries. The LifeStraw Filter effectively removes all bacteria and parasites,responsible for causing common diarrhoeal diseases, from polluted water sources.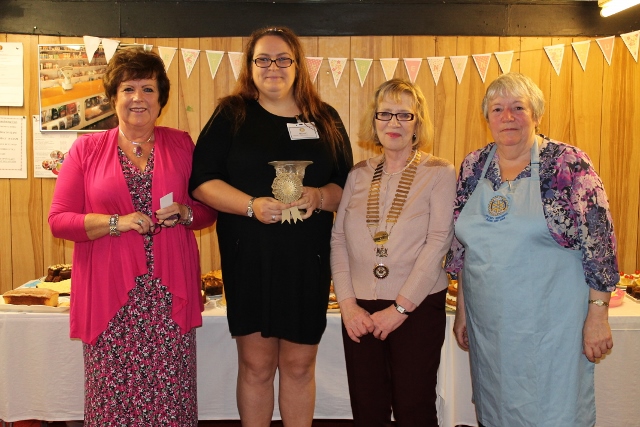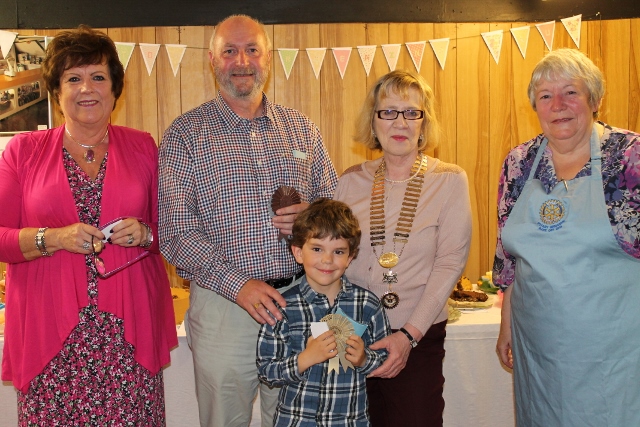 In the photos Judge Carol Moon, overall winner Gemma Brooks, President Sue Cassidy,Rtn Judy McCarthy,Past President Michael Lewis and Morgan.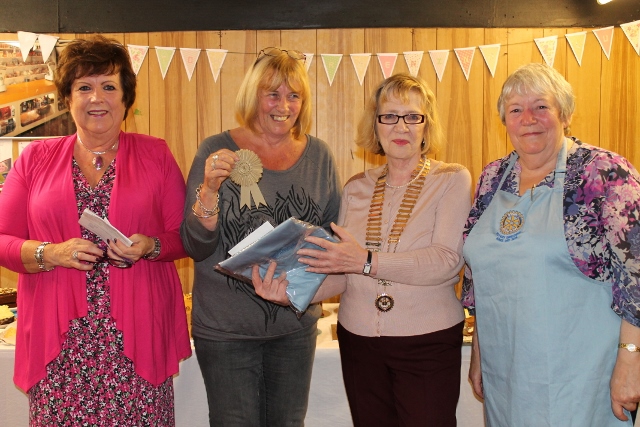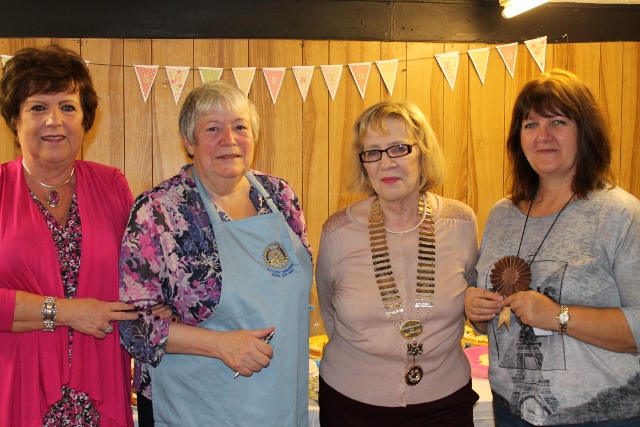 Diane Ward receiving her gold award. Gaynor Davies receiving her Bronze award.
A gold rosette and one prize of a �25 cookware voucher, sponsored by Procook and Tesco, were awarded to each of the winners in 3 categories: Large cakes; Gemma Brooks. Small Cakes (plate of 6); Diane Ward. Cakes an with International Theme; Doreen Watts. The overall winner, Best in show; was Gemma Brooks, who received a trophy Vase. Each winner also received a specially commissioned Rotary Bakeoff apron.
A special Award was presented to young Morgan, the grandson of Rotary Past President Michael Lewis, for his expertise in producing a mouth-watering plate of small cakes. The show was competently judged by Carol Moon. Silver rosettes were awarded to Juliet McIver and Julie Williams, with one unclaimed. Bronze rosettes were awarded to Kyra Lewis, Gaynor Davies,Stacey Thomas and Reverend Mike Lewis. Rotarians Haydn and nick, from the Rotary club of Brynmawr, gave an impressive impromptu demonstration of the LifeStraw that really brought home to all present the purpose of the evening. The Rotary Club of Bridgend would like to thank all those who entered cakes in the Bakeoff, plus our sponsors and Judge Carol Moon.
Rtn John Ward
FISHING FOR THE DISABLED ANNUAL COMPETITION
ROTARY CLUB OF BRIDGEND
PAST PRESIDENT KENDRICK GRIFFITHS QPM MEMORIAL SHIELD
Ex-chief Constable of Merthyr Tydfil Kendrick Griffiths QPM was remembered on 17th September 2014 when Special Schools and Adult Training Centres within the area took part in a fishing competition at Seven Oaks, Ystradowen, for his commemorative shield.
Representatives from Bryn Castell, Heronsbridge, Valley Gateway Training Centre, Bridgend Resource Centre and Pencoed Comprehensive School (Special Unit) took part. The winning team was Pencoed Comprehensive School and they were presented with the trophy by Rotary President Sue Cassidy.
The Bridgend and District Fishing for the Disabled Association are desperately seeking volunteers from experienced fishermen to assist and ensure the continuation of their very worthwhile, and very much appreciated, monthly fishing competitions for young people.
If you can assist in any way please contact Ralph Merchant Tel.No.01656-667855 for further information.
District Governor visit and Wheel Chair presentation
The Bridgend Rotary Club dinner held on 1st September was delighted to Host Cellan Hall and his immediate family,his Mother Mrs Anita Davies and her partner Mr Gareth Clode. They were there to see Cellan Receive his sports wheelchair, which he hopes will help him get selected to play top flight table tennis at the Rio Para Olympic games in 2016. The Rotary Club has raised a significant amount of funding through various means to fund the wheelchair and are delighted that they were able to support Cellan in this way.President Sue Cassidy told the assembled audience that Cellan was an inspiration to all young people not only is he dedicated to his table tennis and plays at every opportunity in all major competitions, but is also focussed on his studies. Cellan recently achieved 10A's and 3B's in his GCSE exams.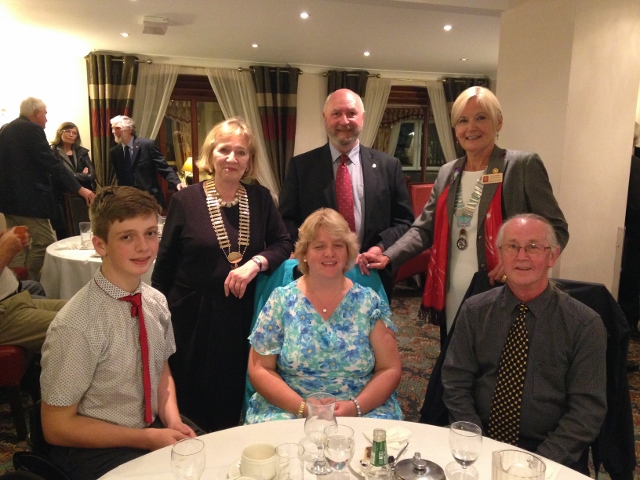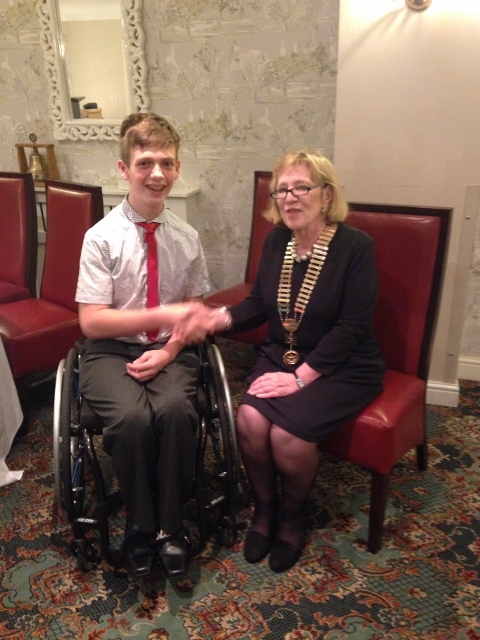 President Sue with past president Mike Lewis, District governor Sandra, Cellan and his family.
Happening soon...
Meetings and events happening soon
Monday 22nd October 08.00
Breakfast Meeting Guest Speakers Anthony Morris and Diane Williams teachers at Trelales School
---
Thursday 25th October 09.00
Special Schools Annual Soccer Challenge
---
Local special schools competition held at Penybont Football Club.
Monday 29th October 08.00
Breakfast Meeting SPECIAL MEETING TO NOMINATE DISTRICT COUNCIL OFFICERS.
---
Tuesday 30th October 13.30
Visit Interact Club Pencoed Comprehensive School Arrange with Edgar Tel 667855
---
Club Members consider a visit with Edgar or Graham.
Arrange with Edgar 667855.
Wednesday 31st October 10.30
Robins Rotary Ramble Approx 2hours
---
Further details to follow
Monday 5th November 19.30
Dinner Meeting FOUNDATION EVENING Guest Speaker Alan Pitt District Foundation Officer
---
Monday 12th November 08.00
Breakfast Meeting
---
Tuesday 13th November 13.30
Visit Interact Club Pencoed Comprehensive School Arrange with Edgar Tel 667855
---
Club Members consider a visit with Edgar or Graham.
Arrange with Edgar 667855
Wednesday 14th November 18.00
Rotary Youth Speaks Competition for Senior and Intermediate pupils
---
Speaking Competition
More details to follow
future events completed calendar district events local events
---
---
Rotary News
Be part of a global network of volunteers, trying to make the world a better place. Please also see the 'links & news' page for information from the local district and live feeds from Rotary International and Rotary International in GB&I.
Family Rotary club use skills to kick-start local charities
---
Rotary members unite to tackle world hunger
---
---
Meetings & Venue
Where and when:
We meet on Mondays at various meal times
(
1st Monday DINNER 7pm for 7.30pm. 2nd, 4th & 5th Monday BREAKFAST 8am. 3rd Monday LUNCH 1pm.
)
The BEST WESTERN
Heronston Hotel
Ewenny Road
Bridgend
CF35 5AW
01656 668811