President's Message
Thank you for visiting the website of Mumbles Rotary; I trust it provides the the information you are seeking. The best way to understand Rotary is to speak to one of our members and to visit a Club meeting. There is a telephone you can call and you will receive a reply phone call, the number to use is 07999 865617. Alternatively you can complete and submit a request for information, a form for this purpose is on this Home Page under "Contact Us".

Like all Rotary clubs the Mumbles Rotary club is made up of local business people and professionals who have a common aim of having fun, enjoying fellowship and helping the community. Rotary International is a worldwide organisation of local clubs which

Provide humanitarian services to the community

Encourage high ethical standards in all vocations, and

Work for goodwill and peace throughout the world.
During the pandemic we met online using ZOOM. We hope that in August 2021 or soon after we will be allowed to meet face to face, in which case we plan to meet on a Monday evening at 7.00pm on the second and fourth Mondays of each month for a meal and a meeting. We plan to meet at Norton House Hotel, Norton Road, Mumbles SA3 5TQ - in the meantime we continue with Zoom. Where there are spare Mondays we plan to arrange visits to plays, concets or places of interest.
Why join Rotary?
Mumbles Rotary provides friendship which is one of the two main reasons why Rotary began in 1905. Business was the second original reason for Rotary starting. These days family programmes are important, Rotary has a host of programmes to help families increase their circle of friends and their interests. Rotary is a Service club; its business is mankind, its product is Service.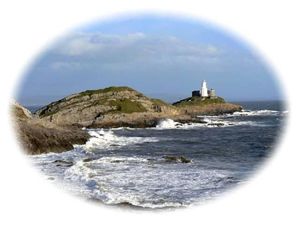 The Rotary Club of Mumbles, formed in 1970. After the Coronavirus Pandemic members have been holding a Zoom meeting on alternate Mondays. Otherwise members normally meet at 7pm in Norton House Hotel, Norton Road, Mumbles SA3 5TQ, on the 2nd and 4th Monday of each month (unless there is a Public Holiday in which case an alternative Monday will be chosen). Meetings include Speaker, Business and Fellowship Evenings. Whatever the occasion we aim to enjoy friendship and fun!
Follow us on Facebook - See Menu in top left corner above.
We are a Club of 9 members (plus one honorary member) enjoying fellowship whilst working on Community and International projects. If you would like to help your community and be part of an organisation that has 1.2 million members in over 200 countries worldwide, then why not visit us and see if you would be interested in joining? Just come along, take a look and have a chat without any commitment!
We welcome potential new members so please contact us if you would like more information. For enquiries use the "CONTACT" Tab at the top right
We would be delighted to hear from you!
We provide support for National, International, but mainly Local Good Causes. This year we will be supporting several local charities including Ty Olwen Hospice, Ty Laura and whilst in recent years we have contributed to organisations such as:- Talking Hands, Maggie's Cancer Caring Centre, Mary's Meals etc..
END POLIO NOW
Rotary International is working in partnership with the Bill and Melinda Gates Foundation aiming to eradicate Polio throughout the World - something we are close to achieving. Since Rotarians started this humanitarian programme to counter polio in 1985, more than two billion children have received the oral polio vaccine and reported cases have dropped by over 99%!
To find out more, please take a few minutes to view the following short films:-
http://youtu.be/HZp1VNr44Bw http://youtu.be/-qFQiIdhgmE
Please have a look at this website-