The Usk Arboretum
The Rotary Club of Usk in conjuction with Heritage Lottery, The Welsh Assembly Government and a host of local organisations is developing an Arboretum for us all to enjoy.
Please look at our 'What We Do' page for a report of progress so far.
Usk Show 2021
We enjoyed a gloriously sunny day at Usk show and we took along our High Striker, inviting passing visitors to ring the bell by striking the button with the big hammer twice.
Over 60 people were successful and went into the draw for the star prize; a wheelbarrowful of assorted bottles and cans - in short a good few months supply of wines, beers and some spirits.
The lucky winner has been contacted and, I hope, collected his prize..
One passing visitor to the show allowed us to take a few photos. He did ring the bell three times and was entered into the draw, but on this occasion he was not the lucky winner.
Our thanks go to our local MP Mr David Davies for being such a good sport.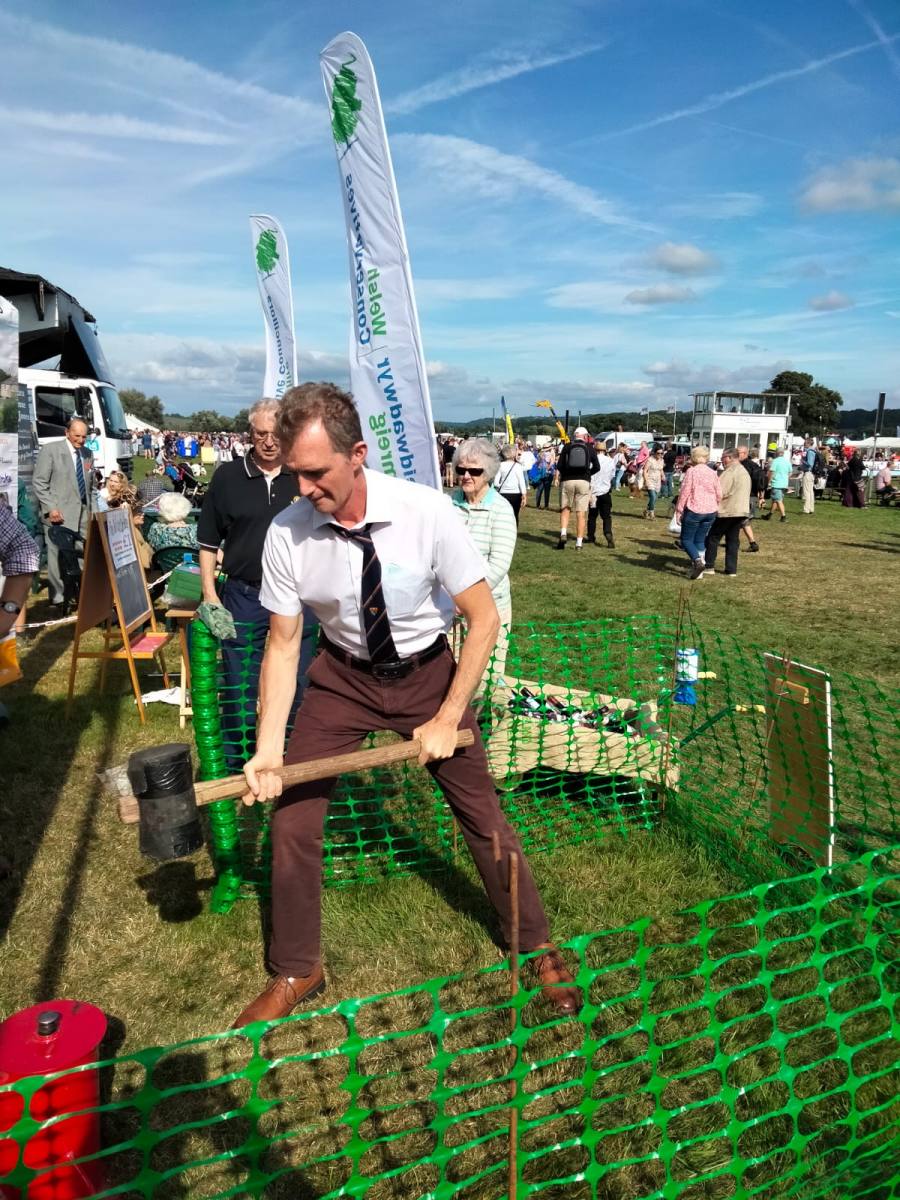 Alongside the High Striker we had our Cup and Ball Game. A little less energetic but lots of fun. Our youger visitors walked away with small toys and sweets and the winner, with the highest score of the afternoon, was, in fact our final visitor. We hope Dexter enjoys his two boxed games.
Usk Rotary Club Raising Money for Charities and Good Causes
The members of Usk Rotary Club are proud to have helped a large number of charities and good causes, Here is a list of some of the recipients of our donations.
Ty Hafan Children's Hospice

St David's Hospice

Message In A Bottle

Gwent Cardiac Rehabilitation

Usk Panto Players

Usk Show

Usk In Bloom

Usk Mayor's Appeal

Usk Venture Scouts

Llandenny Church

Rotary Welsh Disabled Sports

Shelterbox

Albella Boys Home

Crocuses For Polio

Purple For Polio

Mary's Meals

Ryla

Friends Of Chernobyl's Children

Ribi Foundation