RYLA - Rotary Youth Leadership Award
Usk Rotary Club has sponsored a young person to attend Storey Arms Outdoor Education Centre on a 6 day Youth Leadership Course. Our picture shows Millie with her mother and Usk Rotary Club's Almoner, Geoffrey Williams. The picture was taken at the start of the course. Six days later, Millie had made new friends and experienced a wide variety of activities, which she thoroughly enjoyed.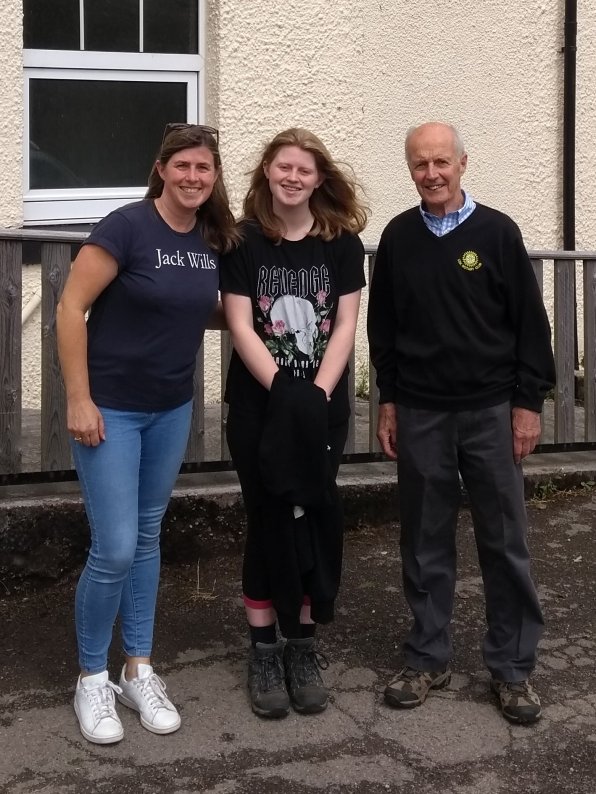 The Usk Arboretum Project
Planting has started - Lots of Community Involvement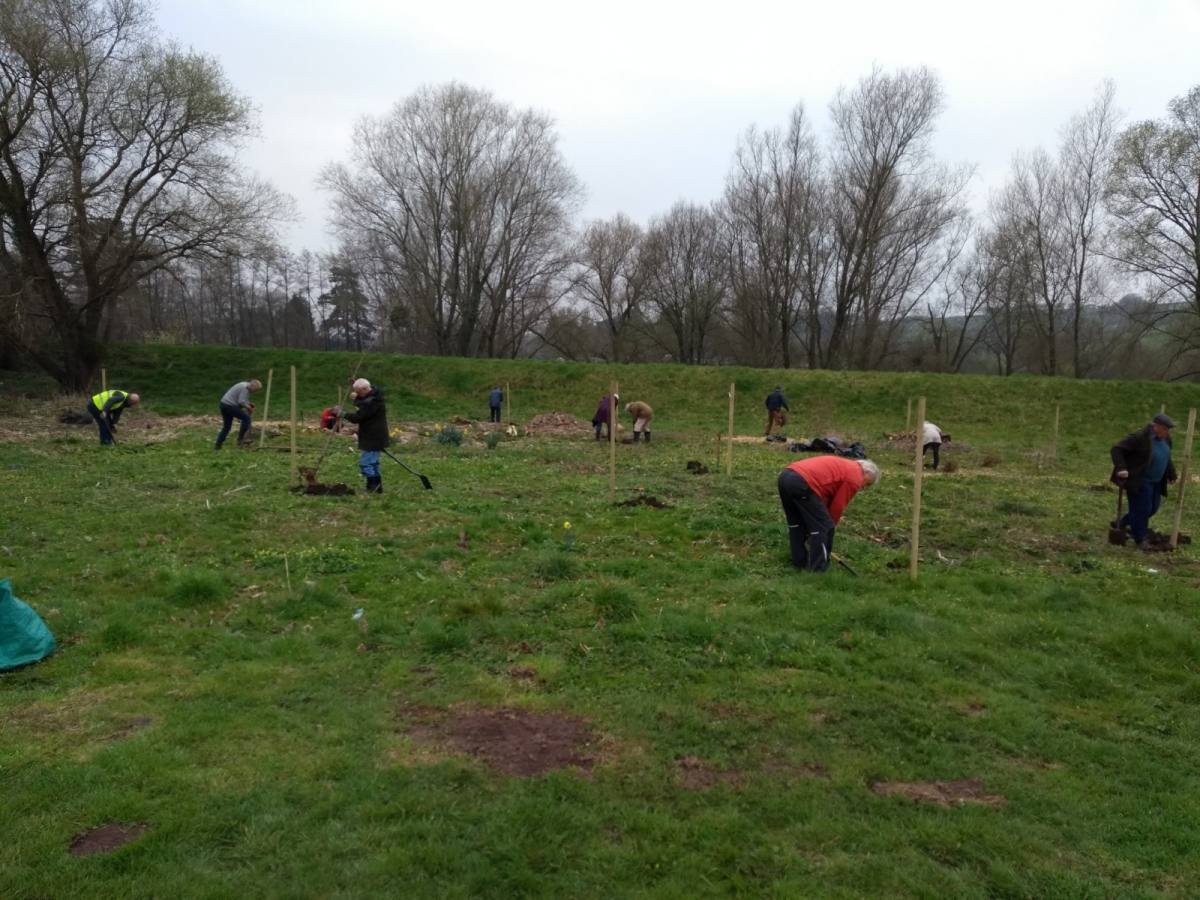 On Tuesday 29th March a large number of the trees were planted. About 15 people turned out to help, representing many Usk organisations, including The Rotary Club, Usk In Bloom, Usk Conservation and Environment Group, The Town Council, Friends of Usk Castle to name a few. Many of the trees are quite mature (two metres or so tall) and there were over 100 small whips that will mature and grow on site. See our 'What We Do' page for a collection of photographs.
We are, as ever grateful to Barry Embling, our Tree Expert, for organising things, making sure that we got it right, and arranging the trees in their new homes.
Much welcomed refreshments were provided by Sue and Shan including some beautiful cakes and biscuits.
More trees will appear towards the end of the summer as the project continues.
None of this would be possible without the funding provided by The Heritage Lottery and The Welsh Government, or those generous (and hopeful) people who buy the lottery tickets and provide the funding.
The Ukraine Crisis Appeal
We are very pleased to announce that we have been able to provide help with the transport of donations for the benefit of the Ukrainian refugees. One of our members has been driving between Usk and the collection point with full loads of useful items, kindly donated by the people of Usk.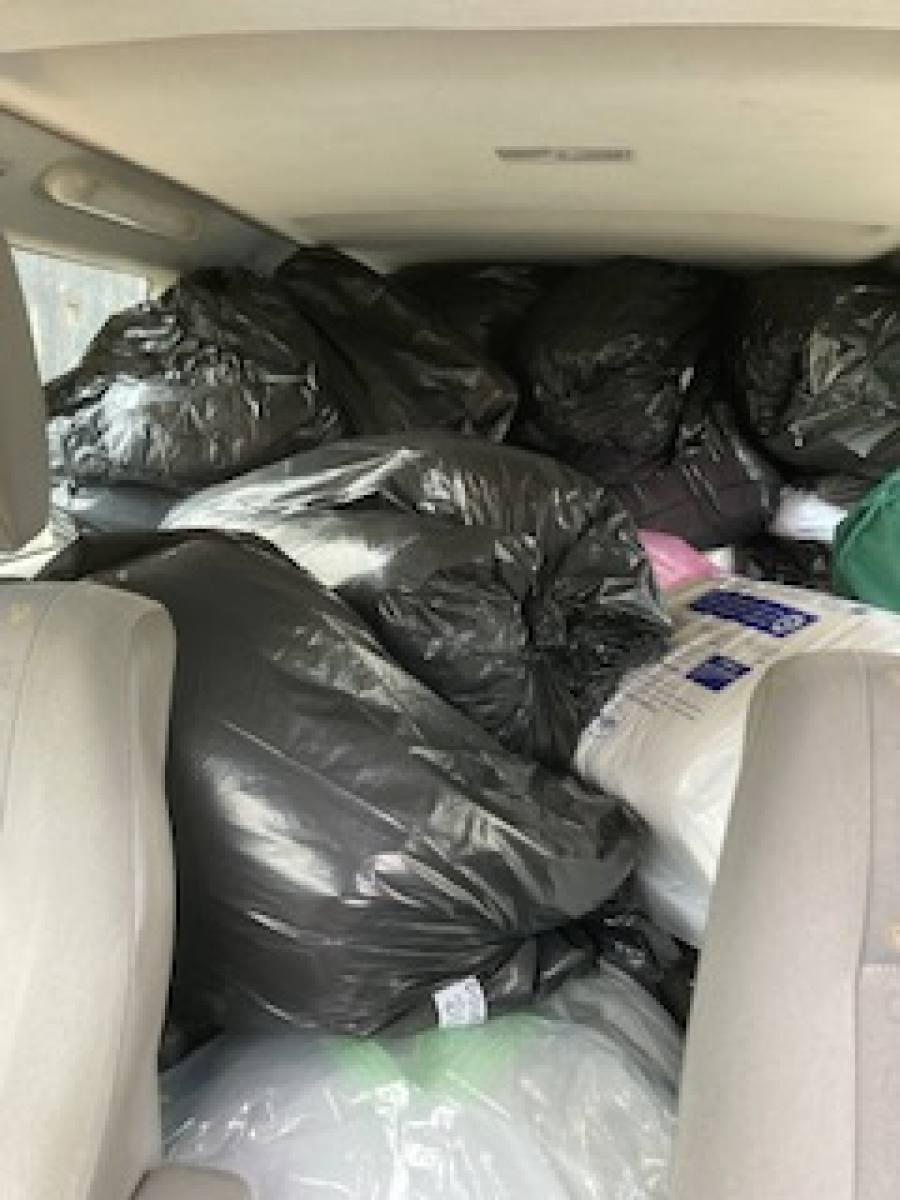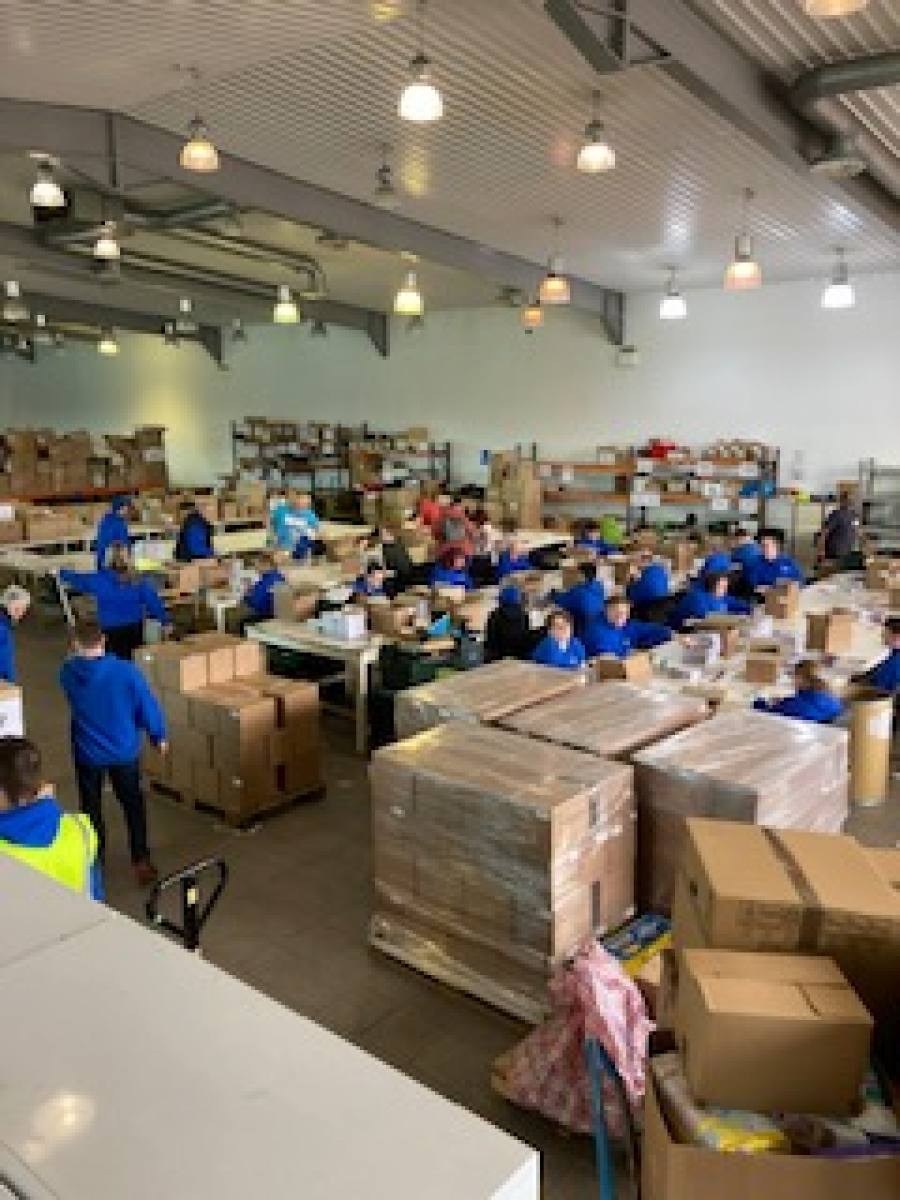 The pictures show a car full of donations from Usk (One of many trips) and the collection centre in Newport sorting the donations ready for their long journey.
Members of The Rotary Club of Usk have made contributions to the Ukraine Crisis Appeal, opting for Gift Aid in order to increase the value of their contributions. Your contributions will really make a difference. You may make a contribution via the Rotary Foundation web site at
Rotary Foundation Ukraine Crisis Appeal
click on the light blue text above.
Members have also contributed goods which will be on their way to help those in need very soon.
---
Usk Show 2021
We enjoyed a gloriously sunny day at Usk show and we took along our High Striker, inviting passing visitors to ring the bell by striking the button with the big hammer twice.
Over 60 people were successful and went into the draw for the star prize; a wheelbarrowful of assorted bottles and cans - in short a good few months supply of wines, beers and some spirits.
The lucky winner has been contacted and, I hope, collected his prize..
One passing visitor to the show allowed us to take a few photos. He did ring the bell three times and was entered into the draw, but on this occasion he was not the lucky winner.
Our thanks go to our local MP Mr David Davies for being such a good sport.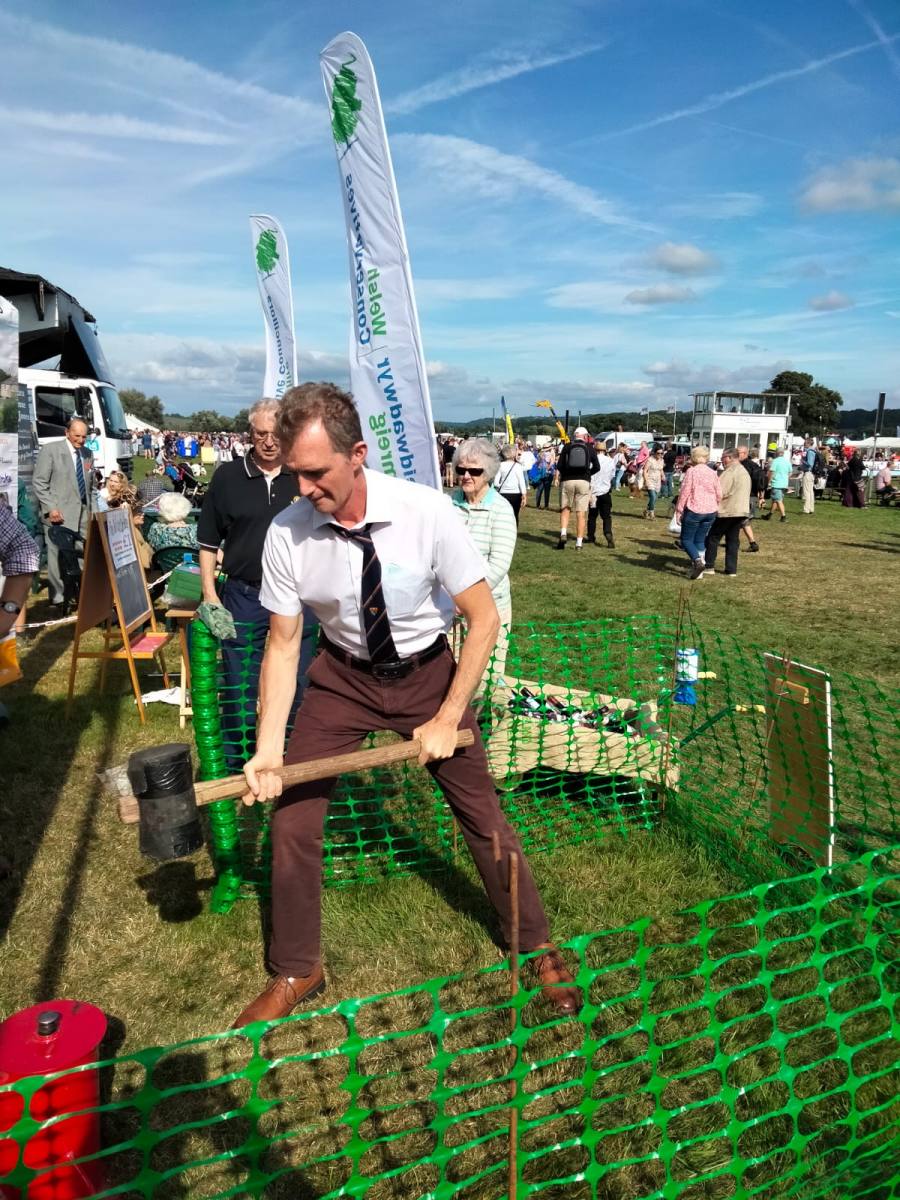 Alongside the High Striker we had our Cup and Ball Game. A little less energetic but lots of fun. Our youger visitors walked away with small toys and sweets and the winner, with the highest score of the afternoon, was, in fact our final visitor. We hope Dexter enjoys his two boxed games.
Usk Rotary Club Raising Money for Charities and Good Causes
The members of Usk Rotary Club are proud to have helped a large number of charities and good causes, Here is a list of some of the recipients of our donations.
Ty Hafan Children's Hospice

St David's Hospice

Message In A Bottle

Gwent Cardiac Rehabilitation

Usk Panto Players

Usk Show

Usk In Bloom

Usk Mayor's Appeal

Usk Venture Scouts

Llandenny Church

Rotary Welsh Disabled Sports

Shelterbox

Albella Boys Home

Crocuses For Polio

Purple For Polio

Mary's Meals

Ryla

Friends Of Chernobyl's Children

Ribi Foundation