Shibden Spooktacular
Thu 27th October 2016 at 17.30 - 22.00
Shibden Spooktacular. Gates open at 17:30hrs Free park and ride from Eureka - first bus leaves at 17:15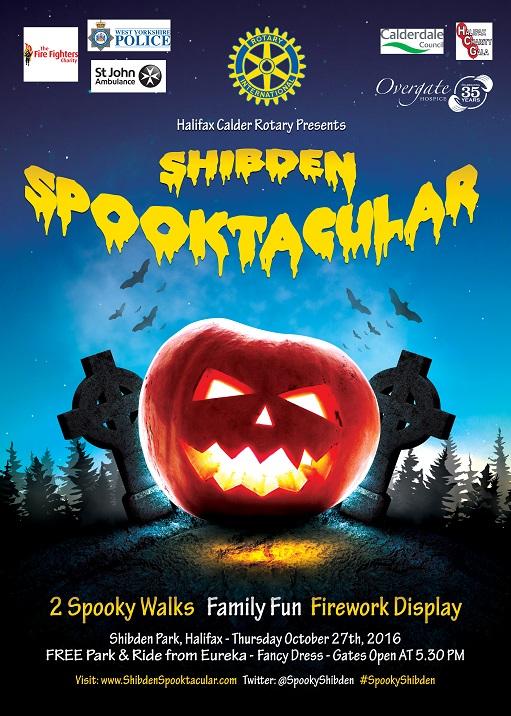 Spooky Spectacular
October 27th saw Shibden Park turn into a spooky Spectacular – the first time it has been organised by Halifax Calder Rotary and it proved to be a bigger and more successful event than in prevous years.
Over 3000 people attended the event which featured a spooky walk through the woods followed by a spectacular firework display. In addition visitors were able to take a ride on the spooky express or visit the Ghost Tunnel. The event was supported by West Yorkshire Fire Service who had an engine on site and assisted with car park management and marshalling. West Yorkshire Police were also present with their Crime prevention display. Children could also test their skills on the bikeabilty course.
Halifax Calder Rotarians were really impressed with the help and support they received from so many other organisations and individuals who contributed to the success of the event and for the tremendous support they received from the gardening and museum staff at Shibden Park and from Total Awareness Promotions and Overgate Hospice supporters.
Despite costing over £6500 to stage the superb event, there will be a good profit from the night which is being used to support a number of Charities involved in the evening.
Halifax Calder Rotary is already planning for a bigger , better event next year and anyone interested in being involved should contact Andrew Bateman, Club Presid